Finally, after a long wait, Realme Buds Air 5 Pro has been launched in the Indian market. I have been testing it for the past week alongside the Realme Buds Air 5, Oppo Enco Air 3 Pro, Oneplus Buds Z2, Nothing Buds Pro and Nord Buds 2. All these earbuds have similar features and prices, so deciding which one is better can be difficult. But don't worry; I will also briefly compare these TWS earbuds in this review article.
Realme Buds Air 5 Pro Specifications
| | |
| --- | --- |
| Colors | Sunrise Beige, Astral Black |
| Drivers | 11mm bass driver + 6mm micro tweeter |
| Bluetooth codecs | SBC, AAC, LDAC Hi-Res |
| ANC | Yes, 50DB |
| Mic | 6-mic array |
| Water-resistance | IPX5 |
| Bluetooth | 5.3 |
| Support | Android 6.0+, iOS 12+ |
| App Support | Yes, Realme Link |
| Battery | 60mAh (earbuds) / 460mAh (charging case), 7-10h (single charge) / 28-35h (with charging case) |
| Charging time | 1h quick charge |
| Other Features | Touch control customizes, Ambient Aware, Low latency gaming mode, Fast charging, Alive Audio, In-Ear Detection, Dual Pairing |
| Weight | 50G |
Box Content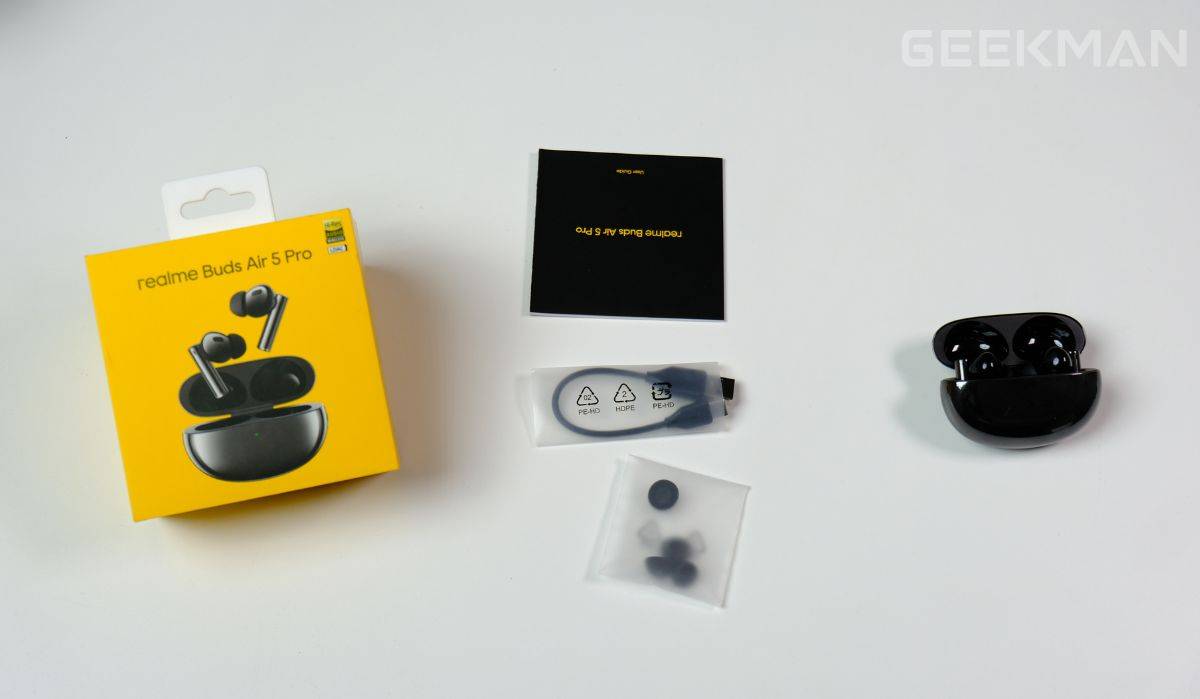 Buds Air 5 Pro in Astral Black colour (Also available in Sunrise Bridge colour)
Small USB Typ-C charging cable
User manual
Design, Build & Comfort
Starting with the design, the Realme Buds Air 5 Pro looks quite similar to its predecessor, the Realme Buds Air 3. It features the same pebble-shaped charging case, and even the earbuds look almost identical to the previous version.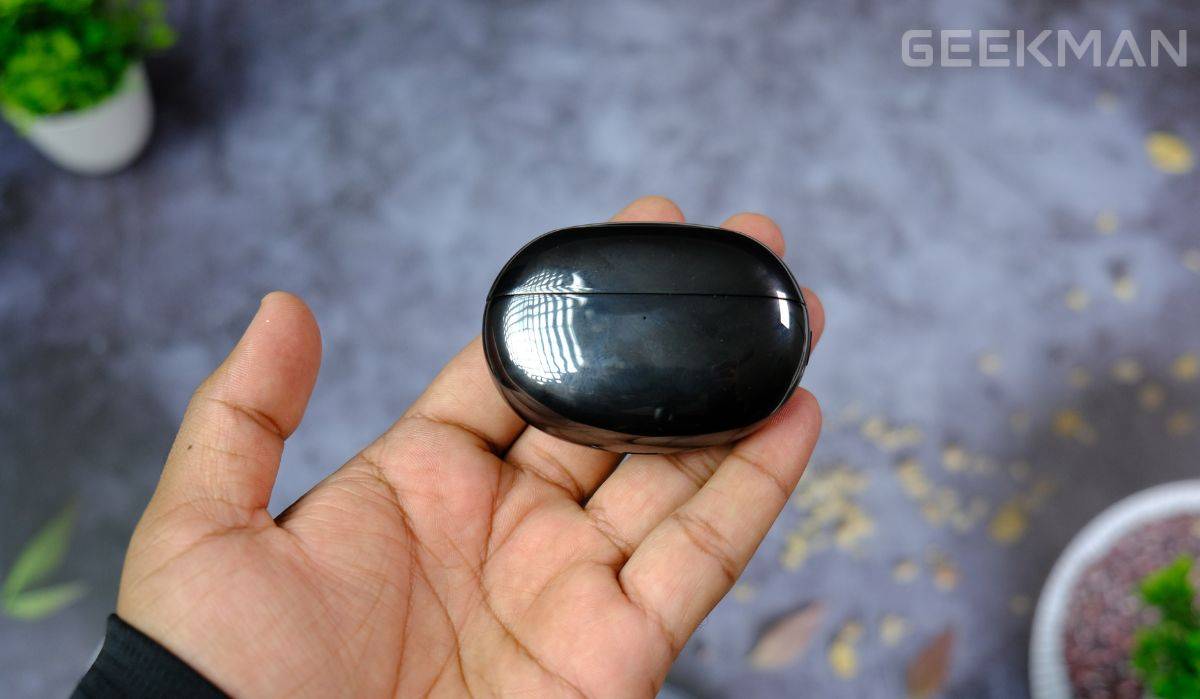 The big change in this new version is that they added a shiny finish on the top, making it feel metallic. I have an Astral Black colour variant, which has this mirror-like finish. But here's the thing: it looks more like dark grey than black. We've seen the same design on Oppo Enco X2, which looks quite premium, but this one doesn't quite hit that premium vibe. One reason is the transparent part on the top, where the Realme logo is. It doesn't match the overall design, making it seem cheap.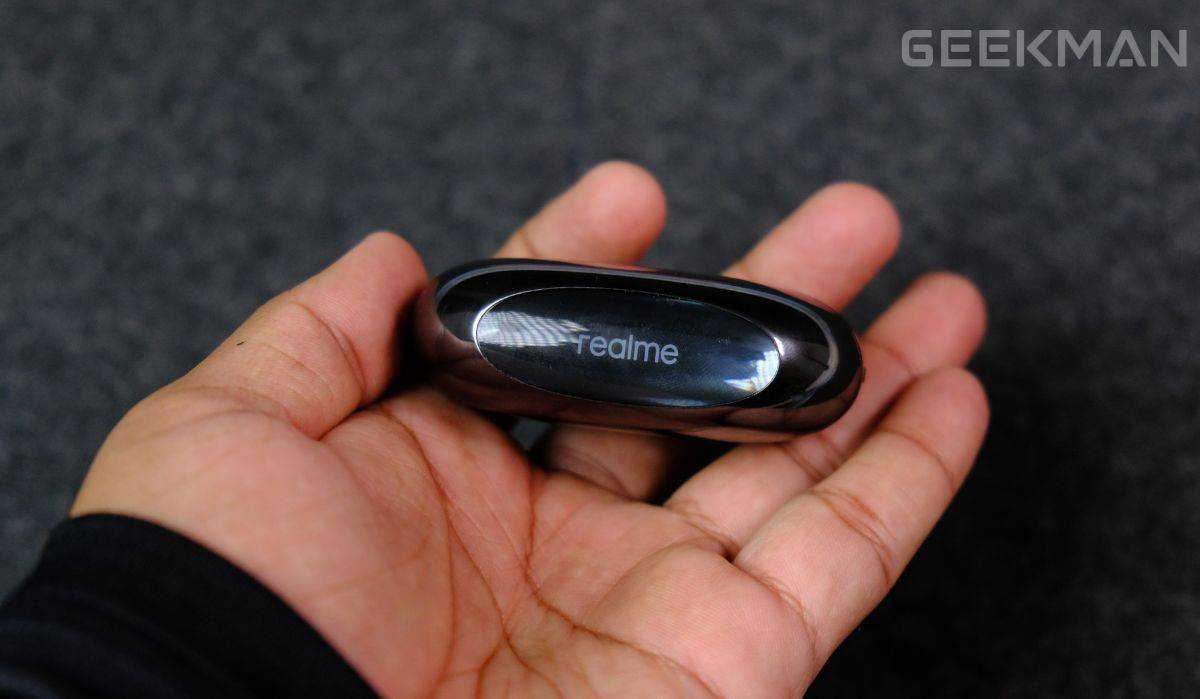 In comparison, Opp Enco Air 3 has a very simple-looking design, but it still gives a more premium feel than Realme Buds Air 5 Pro. I think the Sunrise Beige colour variant of the Realme Buds Air 5 Pro might look more premium and stylish. Another downside of the shiny finish of Buds Air 5 Pro is that it easily catches scratches and fingerprints, so you may need to clean it frequently.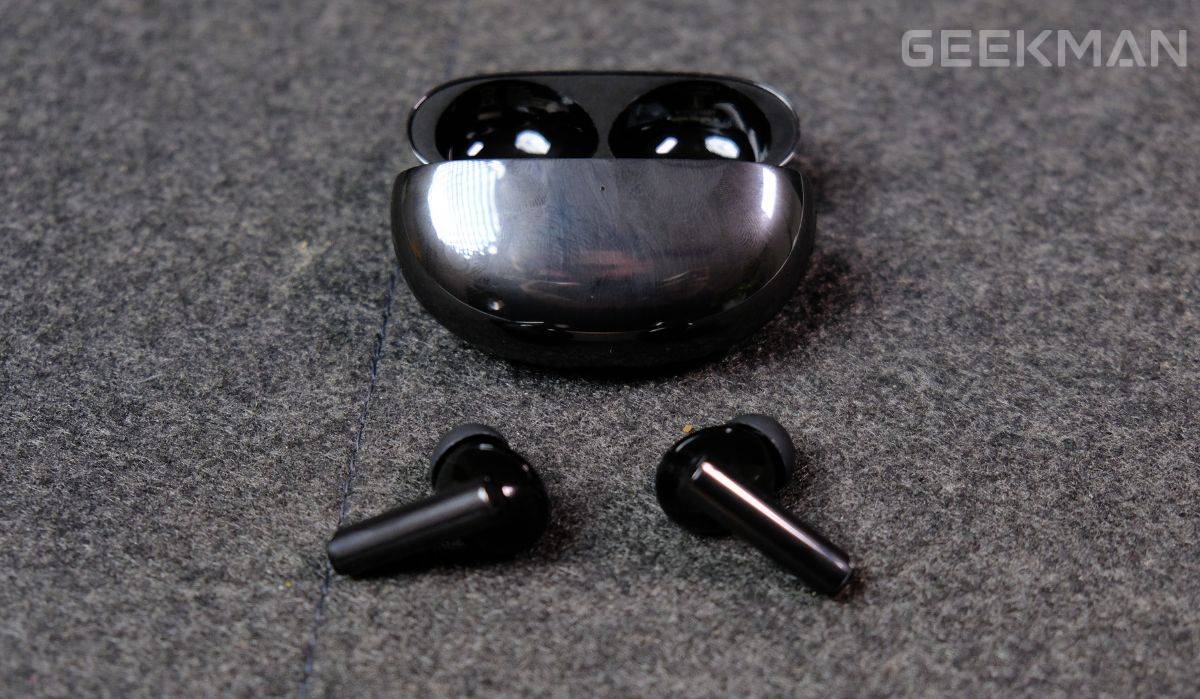 There is no compromise in terms of build quality. The Realme Buds Air 5 Pro has an excellent build for a charging case and earbuds. And Yes, It also feels very durable. The charging case is compact and lightweight, making it easy to carry in your jeans pocket or during day-to-day use.
Additionally, this time, Realme has added a power button on the charging case, which proves to be quite useful, especially for dual pairing. With this button, you can easily switch between devices without any hassle.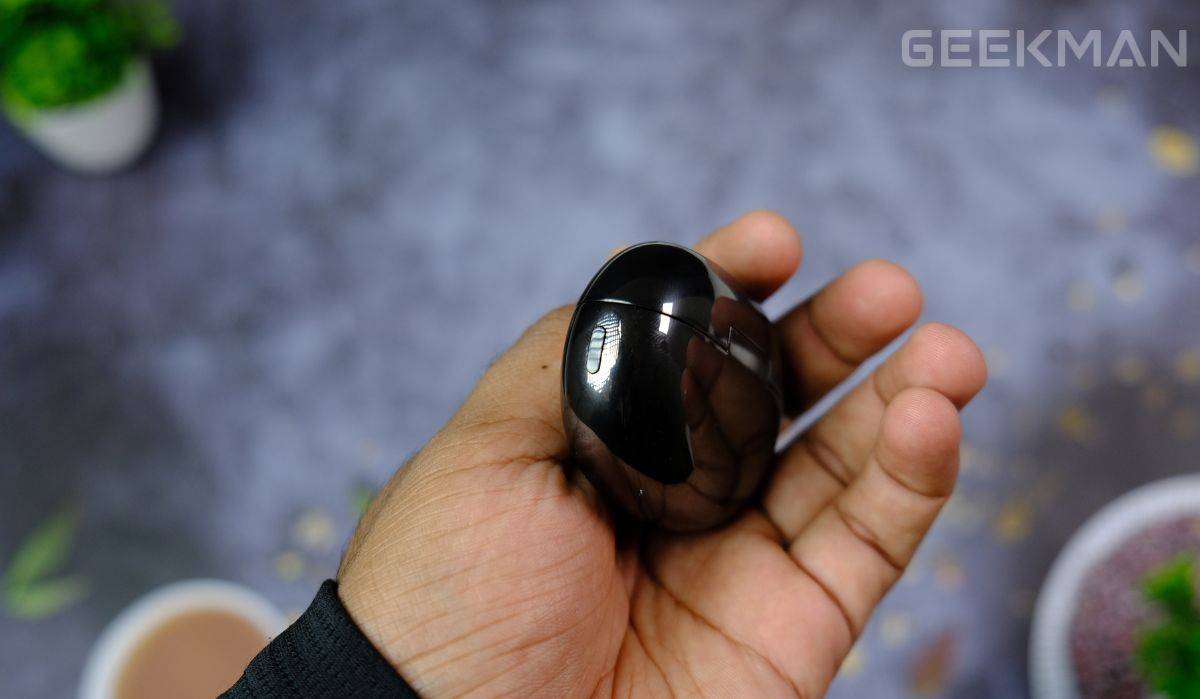 The earbuds have a long stem design with 120-degree angled in-ear ear tips for a comfortable fit. It has the same shiny finish as the charging case, which easily catches fingerprints. The top part of the earbuds acts as a touch control panel, which is responsive and user-friendly. There are no issues when it comes to using touch controls. Additionally, you can customize the touch controls using the Realme Link app, although it's worth noting that volume control is not available.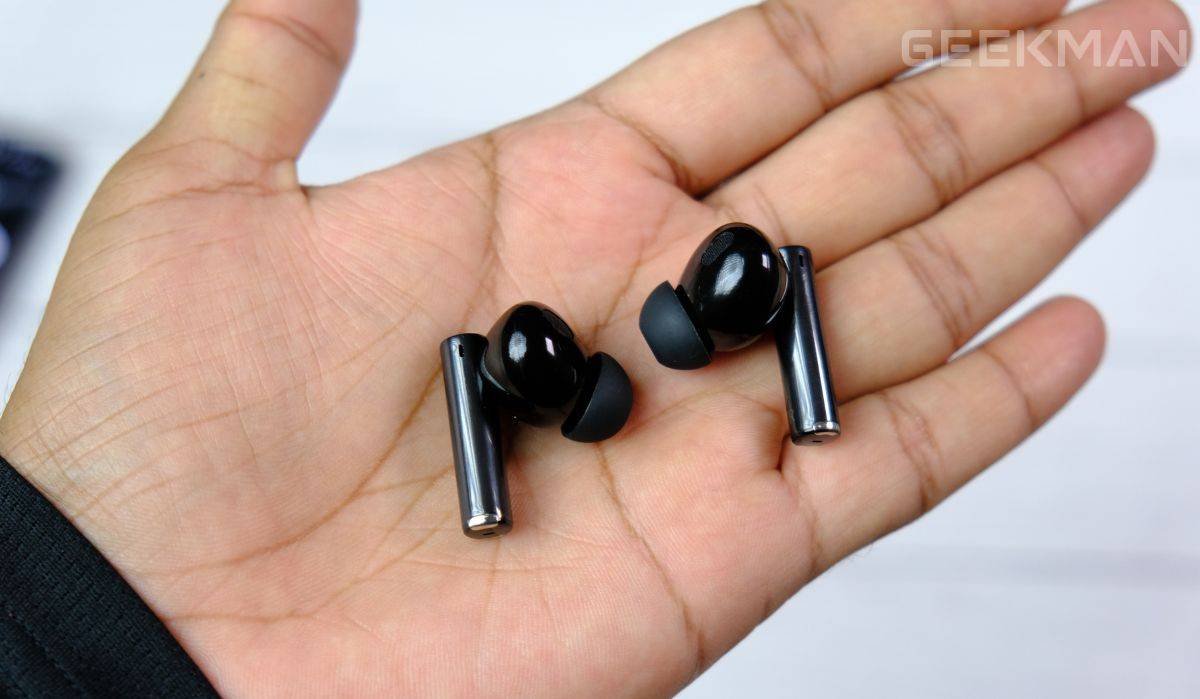 Comfort is not an issue with Realme Buds Air 5 Pro. They are lightweight, and the tangle-free ear tip design ensures a comfortable fit. I have used these earbuds for a week and found no comfort-related problems.
In terms of comfort, I would rate Buds Air 5 Pro as the second most comfortable earbuds under 5000 Rs. Now, you may wonder which ones are the most comfortable ones. In my opinion, the Oppo Enco Air 3 Pro holds the top spot. Overall, they feel slightly more comfortable than the Realme Buds Air 5 Pro, although the difference is minimal. But rest assured, the Realme Buds Air 5 Pro is still quite comfortable, allowing you to use them continuously for 2-3 hours without any issues.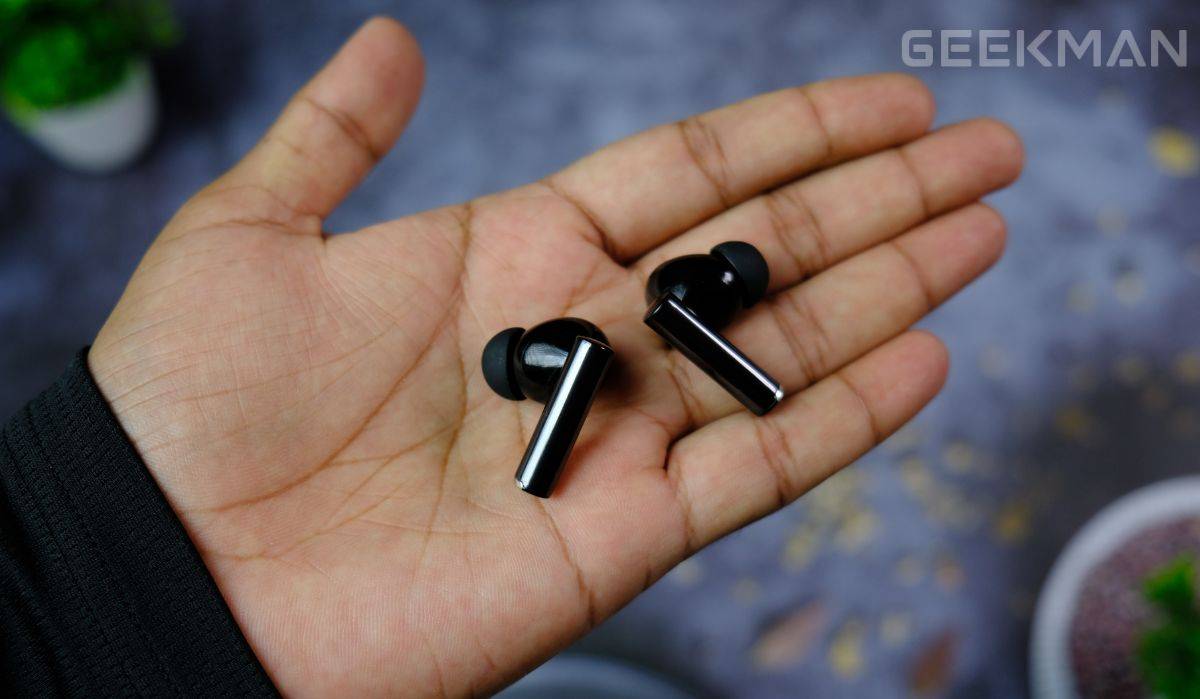 One thing I liked about them is that while the Oppo Enco Air 3 Pro may offer a slightly more comfortable experience, but they don't provide as secure of a fit as the Realme Buds Air 5 Pro. This makes the Realme Buds Air 5 Pro a great choice for activities like gym workouts and sports where secure fit is important. The Buds Air 5 Pro also comes with an IPX5 waterproof rating, so you don't have to worry about sweat or rain affecting them.
Overall, there are no issues with the Realme Buds Air 5 Pro's design, build quality and comfort.
Connectivity
I don't find any connectivity-related problems in these earbuds. It comes with the latest Bluetooth 5.3, which ensures a fast pairing process, and the range is also quite impressive. It also has a Google Fast Pair support, dual-pairing support, and the ability to use them in mono mode. But what's most important and quite rare in this price range is the wear detection support, also included in these earbuds.
ANC & Features
You will need to download the Realme Link app to access the ANC and other settings of the earbuds. The app is also available for iOS devices, so don't throw your iPhone out of your window because I am there!
You must download the app even if you have a Realme, Oppo, or OnePlus phone. It's not like the Oppo Enco Air 3 Pro, where you don't need to download the app if you have an Oppo, Realme, OnePlus, or Vivo phone. But with Realme Buds Air 5 Pro, you must have to download the Realme Link app, doesn't matter which brand phone you use.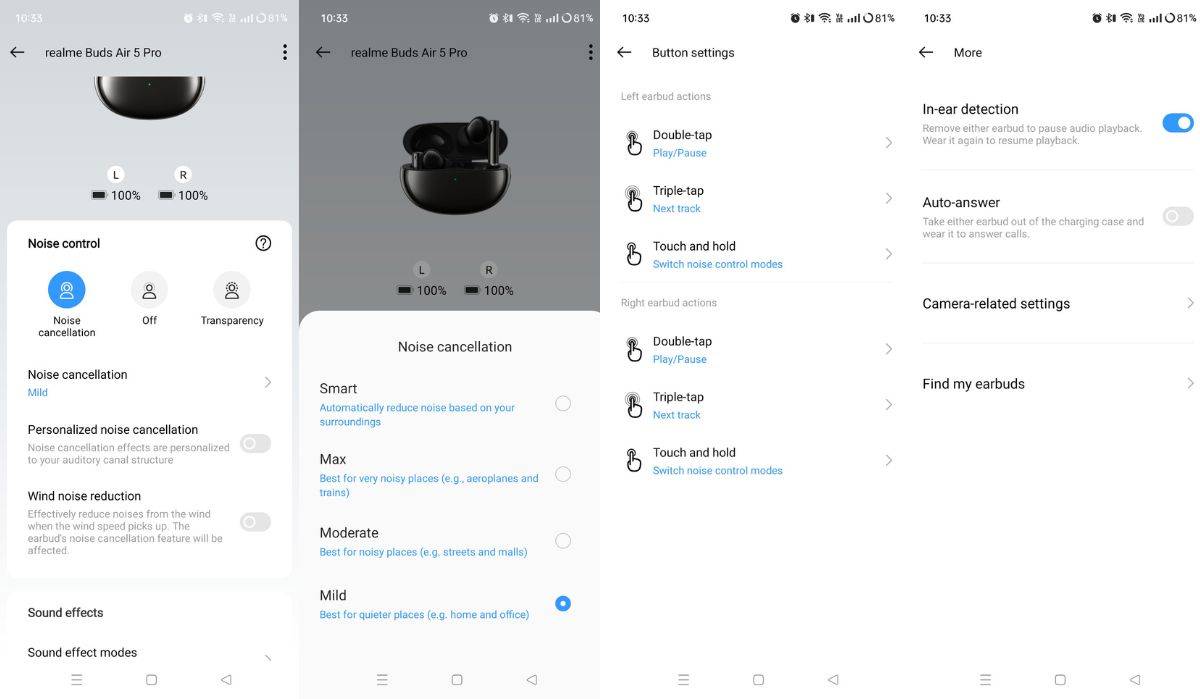 The key feature here is, of course, the ANC. It offers up to 50db ANC support, which is currently the highest in this price range. The Oppo Enco Air 3 Pro has up to 49db ANC, so they're similar. Even in terms of settings, there isn't much of a difference. Both have four different ANC modes; you can manually adjust them based on the environment and usage.
The Air 5 Pro also has a personalized noise cancellation option, which adjusts the ANC based on your ear size and fit. This is quite effective, so definitely turn it on. It also has a wind noise reduction feature, but in Air 5 Pro, you have to manually turn it on or off, unlike the automatic setting in the Enco Air 3 Pro. Transparency mode is also present, and it works well.
Talking about the overall ANC performance, I say it is quite good. You probably won't find better ANC in other earbuds in this price range. The Enco Air 3 Pro also has good ANC, but I felt that this one performs a bit better. Technically, there's not much difference, but the tight and secure fit of this one makes its ANC seem a bit better.
The app also has features like the earbud fit test, "Find My Earbuds," touch control customization, and dual pairing settings. It also comes with a low-latency gaming mode. While the Enco Air 3 Pro automatically activates gaming mode on most smartphones, with the Realme Buds Air 5 Pro, you need to enable it through the app manually. During my testing with BGMI, I noticed that the latency significantly reduced when gaming mode was activated. Moreover, thanks to Bluetooth 5.3, the overall latency is already quite low.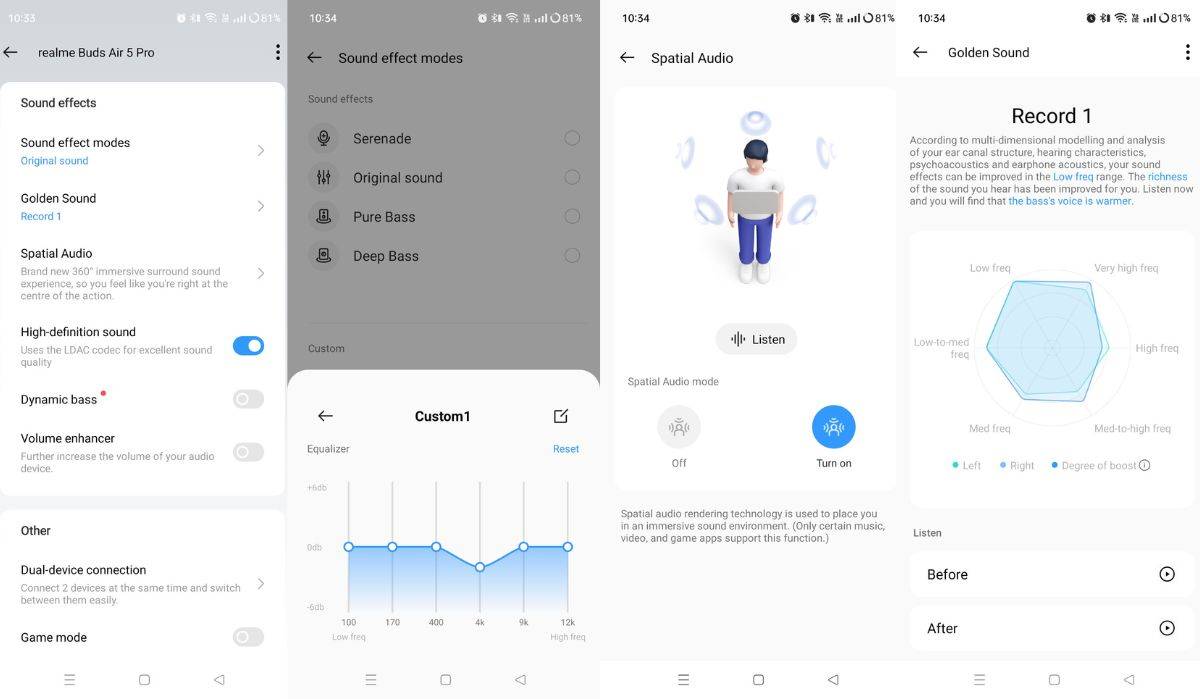 The earbuds offer a range of sound effects settings. After ANC, the standout feature is its LDAC hi-res codec support. However, your smartphone needs to support LDAC for it to work. Most recent Android phones have LDAC support, so compatibility shouldn't be a problem for most users.
If your device doesn't have LDAC support, don't worry. You won't miss out on too much, and plenty of other features to enjoy. I noticed that even in devices without LDAC support, the option is still visible in the app, including iPhones. It won't work technically without LDAC support, which might confuse. It would be helpful if the application could hide unsupported features for better clarity.
Battery
Let's talk about battery life. The earbuds have a 60mAh battery, while the charging case has a 460mAh battery. Based on my one-week testing experience, with LDAC enabled and without ANC, I got approximately 4 hours and 15 minutes of playback time at around 50-60% volume. With the charging case, it has a total playback time of around 20 hours.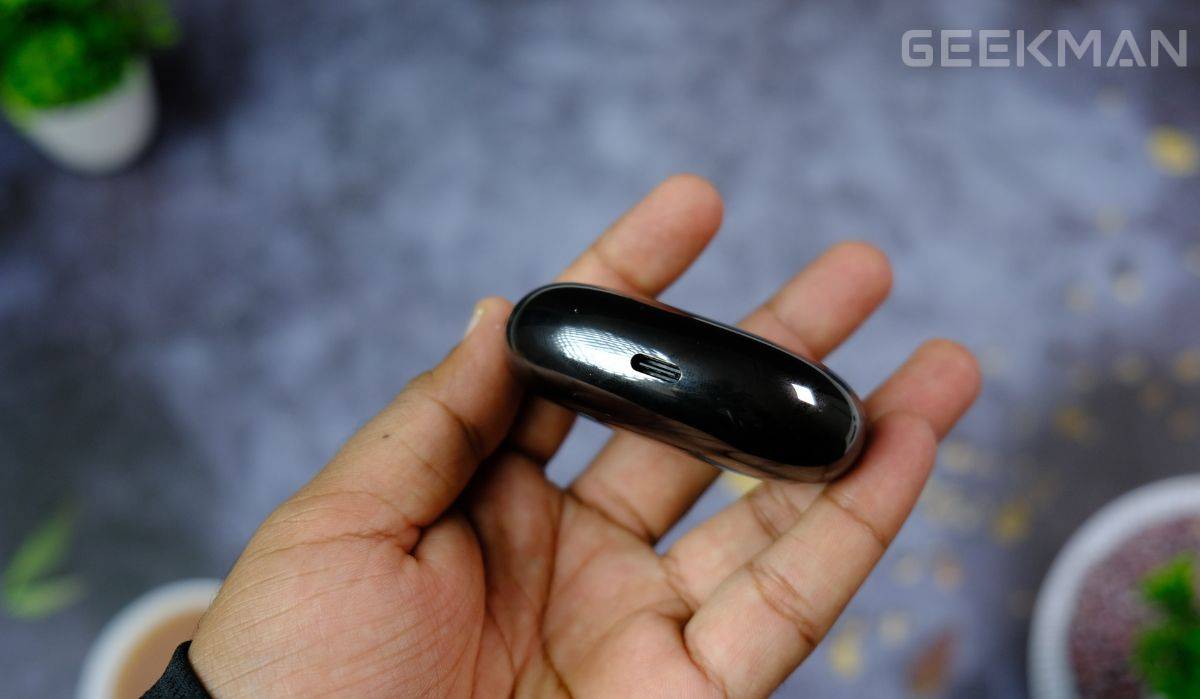 These numbers indicate that the Realme Buds Air 5 Pro battery backup is quite good. Generally, earbuds with similar sizes and features tend to offer a similar battery backup, and even the Oppo Enco Air 3 Pro provides a similar battery life. These earbuds also come with fast charging support, allowing you to charge them up quickly.
Microphone
Now, let's talk about the microphone because that is also important. In an indoor room environment, the microphone quality is quite good. The voice doesn't sound entirely natural, as there is a bit of bass boost applied to it, but overall, it delivers a decent result. I think it offers the best quality in its price range, under 5000 Rs.
In an outdoor noisy environment, it also works decently. It can pick up background noise, which is normal, but the good thing is that the voice remains clear and doesn't become too shallow.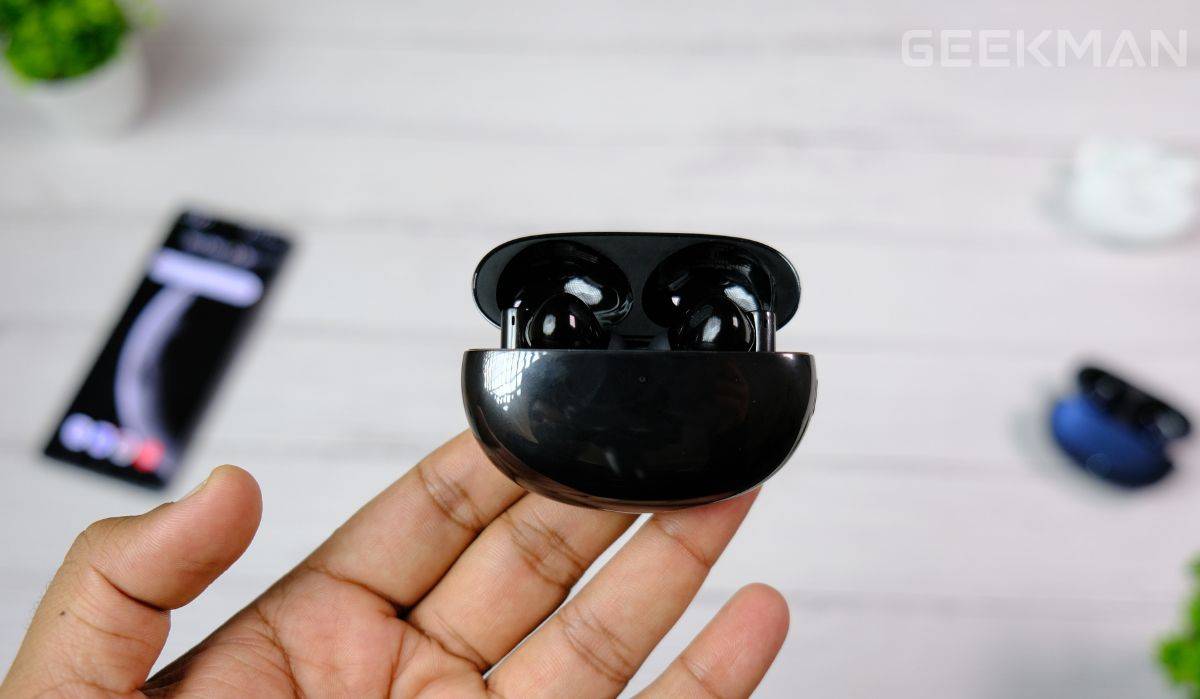 Sound Quality
When it comes to the sound quality, the Realme Buds Air 5 Pro really shines. The audio output is loud, clear, and detailed. It features 11mm bass-responsive large drivers and 6mm micro tweeters for better high-frequency response. So, yes, the Air 5 Pro manage higher frequency quite well.
Compared to the previous variant, the new Buds Air 5 Pro manages higher and lower frequencies better way, thanks to the dual driver setup. The bass is punchy and deep, although it might lack a bit of detail. But overall, it charges music tracks with just the right amount of energy. So, overall, the Buds Air 5 Pro does a great job in terms of bass. If you are a bass lover, then you will definitely like the overall tuning of the Realme Air 5 Pro.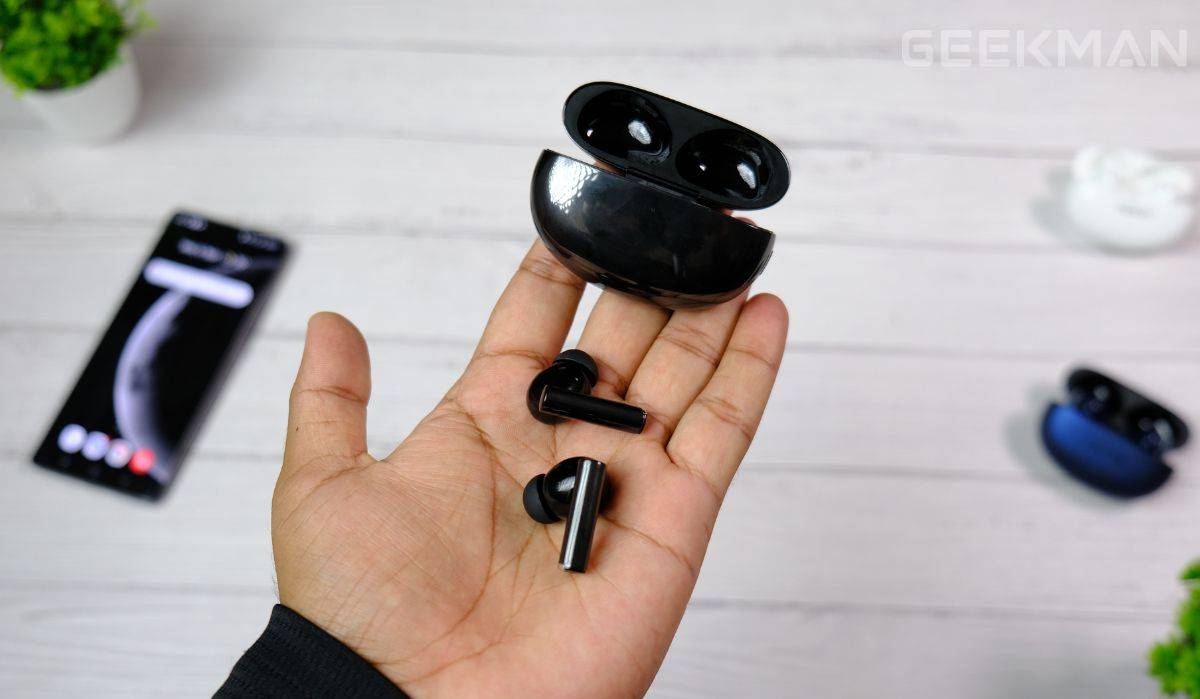 Apart from that, the vocals are clear but don't sound very natural. The mid-range frequency can sometimes feel a bit muddy, which is the main downside. Comparing them to the Oppo Enco Air 3 Pro, even though the Realme Buds Air 5 Pro may handle higher and lower frequencies better, the Enco Air 3 Pro delivers a more natural and enjoyable audio experience. The Enco Air 3 Pro's sound feels more balanced and clean.
Of course, Buds Air 5 Pro has a custom equalizer advantage, which allows you to adjust the audio output according to your preference. It offers four preset modes, but I would recommend only the default mode because the other three are not very impressive. I also recommend you play with custom EQ for the ultimate music experience. There is also a dynamic bass and volume enhancer mode, but they also don't deserve too much attention.
Additionally, there is a special audio mode known as 360 audio mode, which is worth trying out. It delivers an excellent sound experience in gaming, movies, and various music tracks. Another feature worth mentioning is the golden sound, which can be found in other brands like Sony, JBL, Oppo, and OnePlus. It is a custom sound profile that can be tailored based on your hearing capability and ear size. This feature is quite effective, so definitely give it a try.
Conclusion
Overall, the Realme Buds Air 5 Pro is a good package. It offers dual drivers and LDAC support, providing a decent and enjoyable audio experience. Its strong ANC, decent microphone, and good battery life are also advantageous. If you're considering purchasing it, you definitely can.
For more info, Check our list of best TWS earbuds under 5000 Rs.
Comparison
In my opinion, it is the second-best choice under 5000 Rs, with the Oppo Enco Air 3 Pro being the top choice. Although they are quite similar, the Enco Air 3 Pro offers slightly better sound quality, sounding more natural. This is the primary reason for its first position.
Other competitors include the Realme Buds Air 5, JBL Tune 230NC and 235NC, Nothing Buds Pro, Nord Buds 2, and OnePlus Buds Z2. The regular Realme Buds Air 5 doesn't have many differences in sound quality, lacking LDAC support, 360 audio, and golden audio features. The drivers are slightly different, resulting in a slight difference in sound. However, the variance is not significant.
The OnePlus Buds Z2 is a bit outdated now, but you can consider it if you prefer more bass-heavy audio. Nevertheless, I would recommend the Realme Buds Air 5 or Oppo Enco Air 3 Pro as alternatives. The JBL Tune 230NC and 235NC are good options with natural sound quality, but they compromise on comfort and design and lack other features. Ultimately, there are only three or four good choices available. The Nothing Buds Pro is a viable option at a lower price point but with fewer features.
Update
11/16/2023 – Update
Firmware 1.1.0.66 upgrade received – There's been some improvement in ANC (Active Noise Cancellation) and default equalizer modes.