I recently reviewed the Oppo Enco Air 3 and was quite surprised by its sound quality. It felt good to know that even in the under 3000 Rs price range, one can find a decent pair of TWS Earbuds. However, I was even more surprised by this new Oneplus Nord Buds 2. I have been testing them for about one week now, and I find them quite promising for 2999 Rs.
Although, at such a low price, the Oneplus Nord Buds 2 offers ANC and a large 12.4 mm driver setup. Well, there is some compromise as well. So, without wasting time, let's dive into the detailed review of Oneplus Nord Buds 2. And yes, don't miss the comparison section at the end!
Rs. 2,999
Rs. 3,299
as of 24/09/2023 7:12 pm
Oneplus Nord Buds 2 Specifications:
| | |
| --- | --- |
| Colors | Black, White |
| Drivers | 12.4mm dynamic driver |
| Bluetooth codecs | SBC, AAC |
| ANC | Yes, 25 dB |
| Mic | 2-mic |
| Water-resistance | IP55 |
| Bluetooth | 5.3 |
| Support | Android 6.0+, iOS 12+ |
| App Support | Yes, HeyMelody app |
| Battery | Charging case: 480 mAh, Per earbud: 41 mAh, ANC off: 7 hours (earbuds) / 36 hours (with charging case) |
| Charging time | 1h quick charge |
| Other Features | Touch control customizes, Custom EQ, Talk Thru, Ambient Aware, Low latency mode, Fast charging, Dolby Atmos support (Oneplus), Dirac Toner, OnePlus Fast Pair |
| Weight | 47G – With charging case, 4G – Single earbuds |
Box Content
Earbuds with charging case
USB Type-C cable
2 diffrent size ear tips
User Manual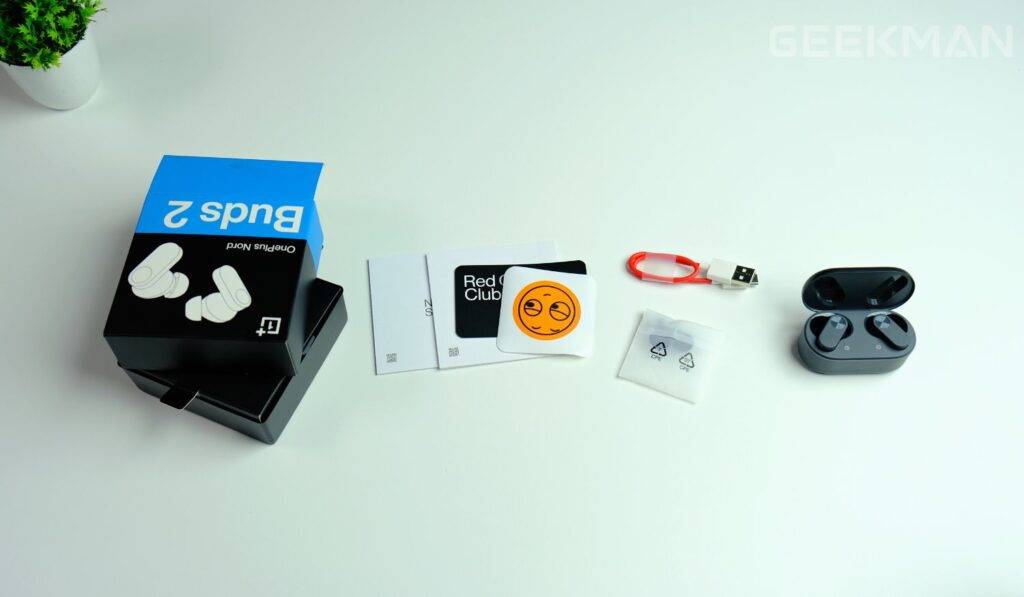 Design & Build
One of the first things that impressed me about the Nord Buds 2 is its design and build quality. In terms of look, it has a unique and premium design, even better than some medium-range TWS earbuds. The build quality is also impressive; you can easily feel it in the first in-hand impression. You can even tell how well-built it is just by opening and closing the lid. Both the charging case and earbuds have an amazing design and build quality.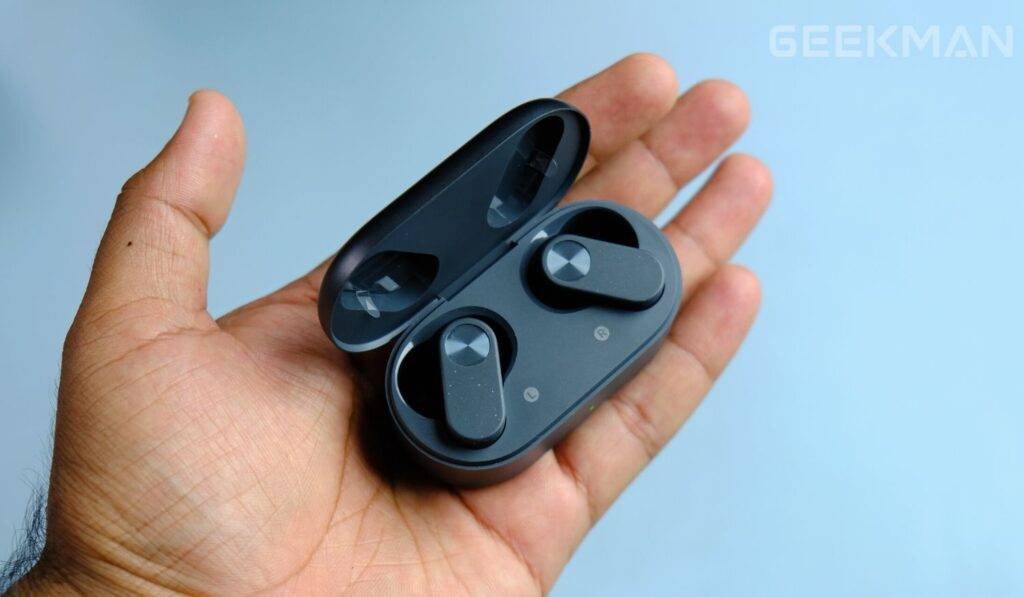 The charging case and earbuds have a matte finish with a stone-like texture on top, which looks good and provides a premium feel when touched. There's no doubt that there is no other TWS in the market right now under 3000 Rs that looks more premium than this one. The newly launched Oppo Enco Air 3 also has a good design, but overall this looks more solid and premium.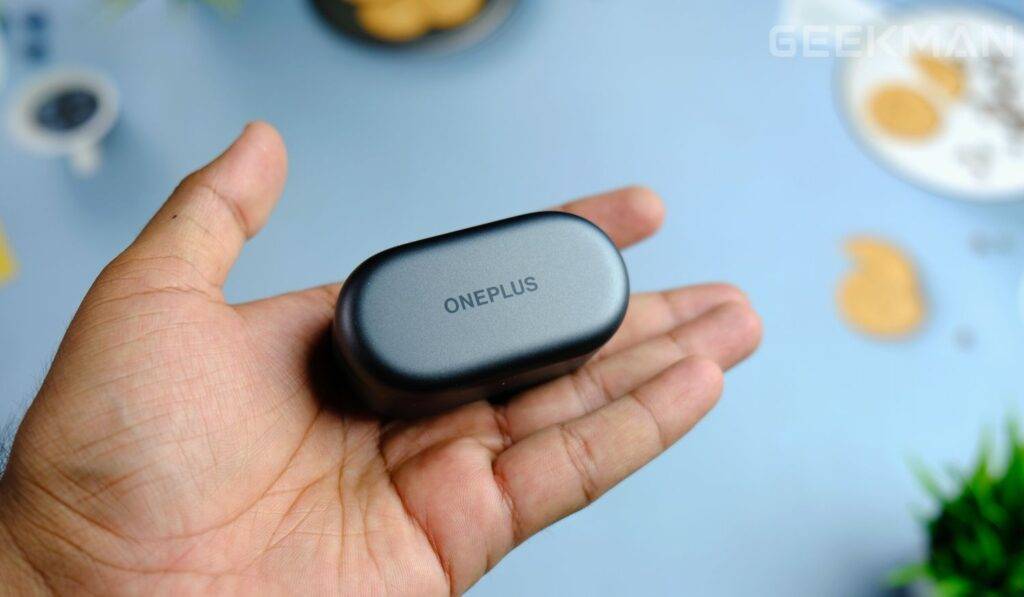 This Oneplus Nord 2 boasts a unique design and build and provides a great user experience. The charging case is compact and lightweight, so you can easily carry it in your skinny jeans during your day-to-day activities. And if you throw it in your backpack, no worries; the case's build quality is top-notch. It can handle all the pressure without breaking a sweat, making it one of the most durable TWS in this price range, which is quite rare, I must say!
Oh, and guess what? There's a power button on the backside of the charging case. But you know what's cool? Oneplus has hidden it so well that it becomes a part of the unique design. Kudos to the Oneplus design team for their creative touch!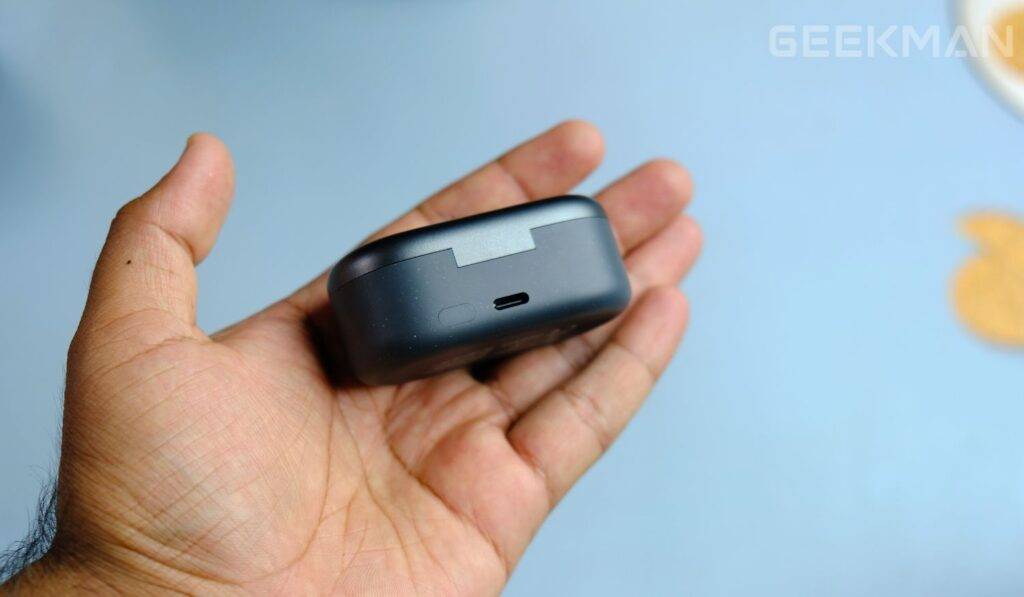 Hey, I totally forgot to mention that the OnePlus Nord Buds 2 headset comes in two color options – white and grey. So, you can choose whichever color tickles your fancy! The earbuds also come with an IP55 water-resistant rating, so you can bring these buds to outdoor activities without any second thought.
Comfort
Let's talk comfort now. The comfort level of the Nord Buds 2 is decent. I wouldn't say it's mind-blowing, but it's not terrible, either. It's not as comfortable as the Realme Air 3, Oppo Enco Air 3, or even the OnePlus Buds Z2, but it's still pretty good.
Recently, I tried the JBL Wave Beam; compared to that, these earbuds feel more comfortable. The main reason behind the average comfort is the large ear-tips portion. If you have smaller ears, it might not feel as snug or comfortable. It might feel a bit loose. But if your ear size is medium or large, you won't face any problems at all.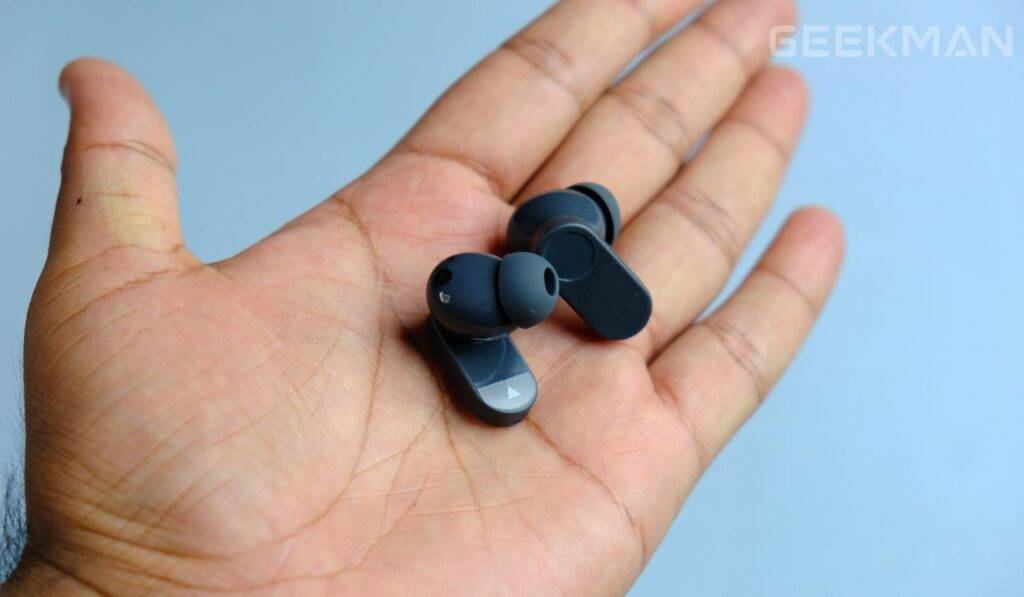 So yeah, comfort-wise, the Nord Buds 2 are average. But when it comes to the user experience, they are good at it. The touch area is easily accessible, and the touch response is also good. So using them won't be a problem at all.
Connectivity
Connectivity-wise, this TWS earbuds have no issues at all. It comes with the latest Bluetooth 5.3 support, and during my two days of testing, I didn't face any connectivity or range-related problem. However, there's one thing that I don't like – it doesn't have the option for dual pairing. It would have been nice to have that feature.
Oh, and another thing, it doesn't support Google Fast Pair, either. It does support OnePlus Fast Pair, but that's limited to OnePlus phones only. For other brands, you'll have to go through the usual first-time setup for pairing. However, it does have convenient auto-connection and auto-disconnection features.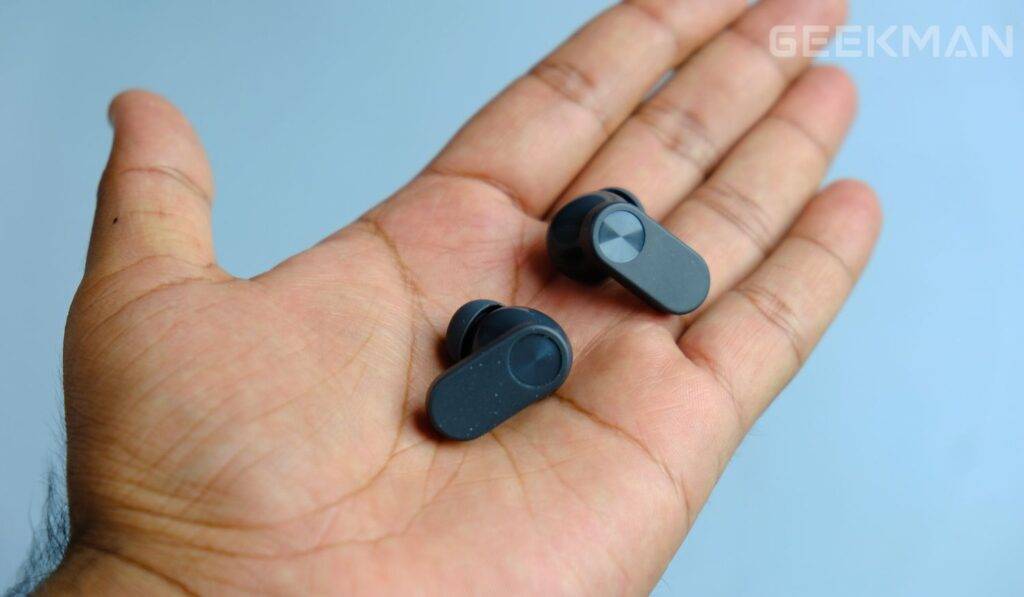 One interesting thing is if you have a OnePlus phone, you can easily connect these earbuds by simply opening the charging box lid. But if you don't have a OnePlus phone, you'll have to press the power button on the backside of the case for about 2 seconds to initiate the first time pairing with the device. So, in terms of convenience, I felt like I had to make a little compromise here.
ANC, App & Features
If you have a OnePlus phone, then all the settings can be found on the Bluetooth settings page. But if you have a different brand of phone, then you have to download the "Hey Melody" app to access ANC and other earbuds settings. The app is available for both Android and iPhone, so don't worry about that.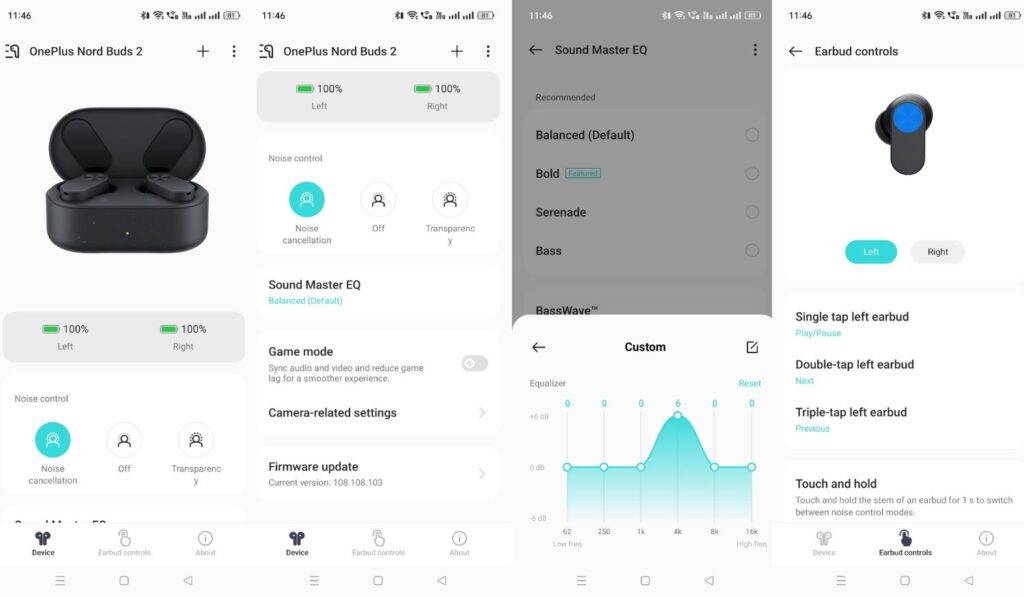 You can easily turn the ANC on/off and even access the transparency mode using the app. Speaking of ANC, this Nord Buds 2 offers up to 25dB of active noise cancellation, which is quite good considering the price. But in real-world usage, the effectiveness of 25dB ANC may not be that significant. While it's good to have ANC in the earbuds at this price, but I wouldn't recommend purchasing this TWS solely for just ANC.
Yes, Nord Buds 2′ ANC definitely useful for those who take lots of flights and car rides. But it may not be very effective for outdoor environments like in India. Even in indoor use, if the fan runs at 4-5 speed, it can't reduce even 50% of volume. So, ANC is a nice add-on, but don't expect too much.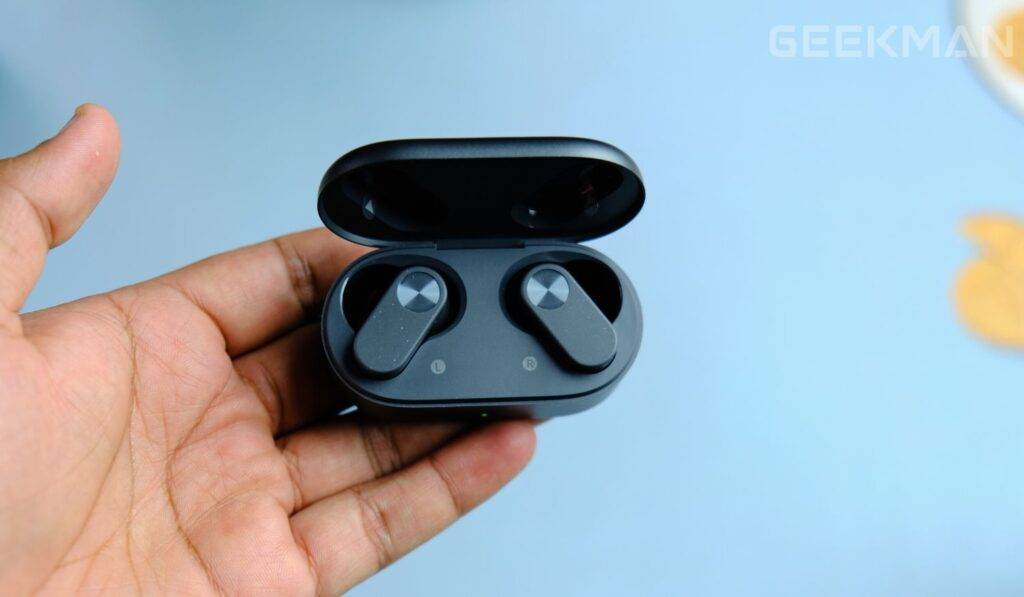 Apart from that, there are three good options in the app. One of them is a custom equalizer where you can adjust the sound according to your preference. You also get three preset modes – Default, Bold, and Bass. Like the previous OnePlus TWS, it also has a Basswave option which promises to enhance the bass. However, I didn't find it that effective, so let's don't talk much about it.
Another great feature is the low-latency gaming mode that works seamlessly. So, if you are a regular gamer, don't worry; you won't need to carry separate wired earphones.
Battery
The battery backup of the Nord Buds 2 is quite good. Combining the charging case and earbuds, the Oneplus promises up to 36 hours of playback time. With single earbuds, you get up to 7 hours of playback time with ANC off. If the ANC is on, then playback time decreases by around 25%.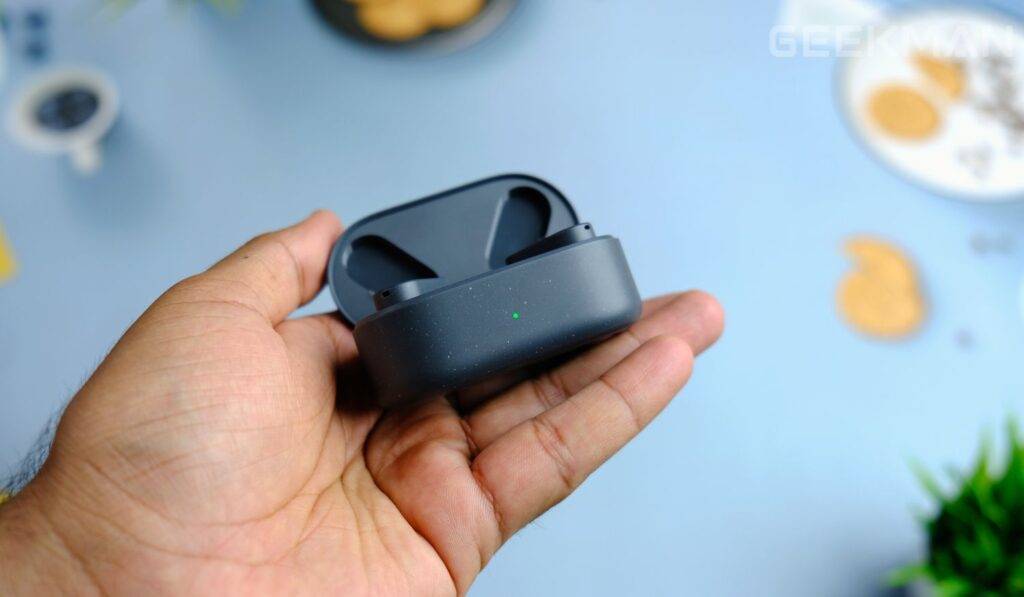 As always, results slide lower than the promised numbers in real-world use. Based on my two days of testing at 75% volume, I can confidently say that you can get up to 22-25 hours of total playback time with a charging case and earbuds both. At the same time, the single earbud lasts for approximately 3.1 hours (with ANC on). This may sound low to some, but it is quite typical for this size of TWS earbuds.
Overall, the battery backup is decent and sufficient for normal users. The Nord Buds 2 also supports fast charging, so you won't face any issues on that front.
Microphone
Like previous Nord Buds, the Nord Buds 2 has good microphone quality. While the voice is a little bit undertone, but overall you get a natural and clear voice with effective background noise suppression. So, if the microphone is one of your main priorities, then under 3000 Rs, Nord Buds 2 are a good choice for you.
Sound Quality
Let's talk about the sound quality in detail. Overall, the audio quality of the Nord Buds 2 is quite impressive. Frankly, I didn't expect such good audio quality in this price range. It seems that this TWS and the recently launched Oppo Enco Air 3 are setting a new benchmark in this price range, which is a positive sign. Continuous improvement is always a good thing.
In terms of volume, the Buds 2 can get quite loud. Even at 70% volume, it's more than sufficient. Even at full volume, the clarity is maintained, which is impressive. In the past, we have seen that OnePlus has focused more on bass in their audio products and the same can be observed here. Although it's not explicitly marketed as a bass-heavy earbud, but there is definitely an emphasis on bass in the audio tuning.
Personally, I am not usually a fan of high-bass earphones, especially within a budget, but I quite liked the overall tuning of Nord Buds 2. Even the OnePlus Z2 and Bullet Z2 had similar bass-focused audio, which I didn't appreciate as much since I prefer proper V-shaped or balanced audio. However, with these Nord Buds 2, there have been notable improvements, making it a better option for bass lovers in this price range.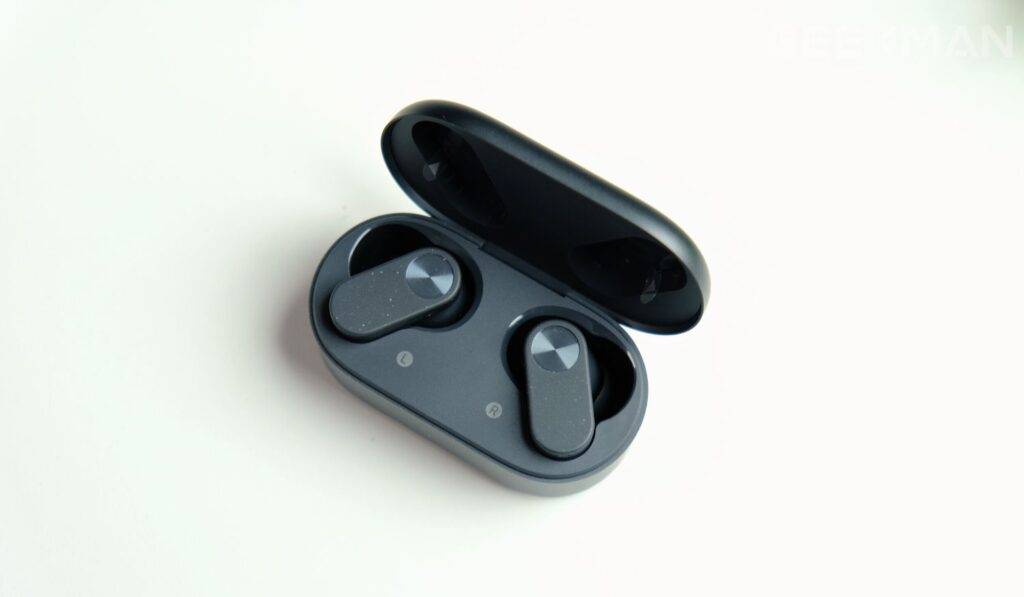 These earbuds offer a deep and punchy bass that adds an energetic touch to all types of tracks. So, if you like little high bass in your audio, then you won't find a better option than this in this price range. Furthermore, there is a custom EQ feature that allows you to adjust the audio to your liking. It's a great addition, especially if you want more control over the sound profile.
A positive aspect is that other frequencies don't get overshadowed as much due to the emphasis on high bass. This is often a common issue with budget earphones and earbuds that focus heavily on bass. However, the absence of such problems characterizes a good product, and these earbuds excel in that aspect.
The vocals and treble are also well-balanced and present in the right amount. The treble has a slight sharpness to it but nothing too excessive. After trying out various best-selling TWS earbuds in this price range, I can confidently say this improvement is noticeable. The overall audio output provides a satisfying feel, particularly with pop and rock music.
Of course, there are some downsides as well. The mid-vocals may not be as clear or prominent as desired. This is especially noticeable when listening to female singers. However, it's important to keep in mind that perfection is rarely achieved in any product, particularly within this price range. Overall, the audio output is smooth, pleasant, and it will be well-liked by most listeners.
Oneplus Nord Buds 2: Buy or Not?
The Nord Buds 2 are a solid upgrade from its predecessor, offering active noise cancellation and improved battery life. They also provide a comfortable fit, decent, enjoyable sound quality, and bass-heavy emphasis. No doubt! The Oneplus Nord Buds 2 are the best true wireless earbuds with ANC in this price segment (under 3000 Rs). That said, if you're looking for more balanced and natural tuning or more features, you can increase the budget a little and go with Oppo Enco Air 2 Pro or OnePlus Buds Z2.
Rs. 2,999
Rs. 3,299
as of 24/09/2023 7:12 pm
Comparison
When it comes to comparisons, there are five major competitors in the under ₹5000 price range. The first one is the OnePlus Buds Z2, followed by the Realme Air 3, Oppo Enco Air 2 Pro, Oppo Enco Air 3, and the new JBL Wave. However, one direct competitor in the under ₹3000 range is the Oppo Enco Air 3. Although their prices are the same, but they cater to different target audiences.
In terms of comfort, the Oppo Enco Air 3 is more comfortable and provides a more natural sound. Its balanced sound signature makes it a suitable choice for those who prefer a balanced or decent V-shaped audio profile. On the other hand, if you are looking for better bass, decent overall tuning, and good battery life, the OnePlus Buds Z2 would be a great option. Both of these earbuds are highly recommended in the under ₹3000 price range.
Moving on to the under ₹5000 range, the OnePlus Buds Z2 certainly surpasses the competition, and even the Oppo Enco Air 2 Pro remains ahead. I found the Nord Buds 2 tuning to be better than the Realme Air 3 (just sound quality). Hence, I would rank them at the same level.
As for the JBL Wave, while its sound quality is decent, its design and comfort level are not as impressive. Therefore, I would not highly recommend it.
Also Read:
FAQ
Oneplus Nord Buds 2 price & availability
The OnePlus Nord Buds 2 are priced at 2999 Rs. They are available for purchase on various platforms, including Amazon India, the OnePlus online store, OnePlus offline stores, and other OnePlus partner retail stores.
Does Oneplus Nord Buds 2 work with iPhone?
Yes, the OnePlus Nord Buds 2 are compatible with iOS devices. The companion app called HeyMelody is also available for iOS users. However, it's important to note that not all features may work on iOS as they would on Android.
Nord Buds 2 have Dolby Atmos?
Yes, the OnePlus Nord Buds 2 does support Dolby Atmos, which provides an immersive audio experience. However, it's essential to note that Dolby Atmos functionality is limited to OnePlus phones only. The Nord Buds 2 also has Dirac Toner support, but this feature is specific to Realme and Oppo phones (some Xiaomi phones).
Does the OnePlus Nord Buds 2 feature noise cancellation?
Yes, the OnePlus Nord Buds 2 are equipped with Active Noise Cancellation (ANC) technology. This feature can reduce ambient noise by up to 25 dB.
Nord Buds 2 have dual pairing?
Unfortunately, the OnePlus Nord Buds 2 does not support dual pairing or Google Fast Pairing. They are compatible with OnePlus Fast Pair technology, but this feature is limited to OnePlus devices, specifically the OnePlus Nord.