The TOZO Golden X1 offers amazing sound thanks to its dual drivers and LDAC support. While it may not have a ton of fancy features, and its battery life and noise-canceling are just okay, but it truly shines when it comes to audio quality. If you're all about that natural and crystal-clear audio experience, then the Golden X1 is a strong contender. But here's the catch: pricing matters. It becomes a real steal if you can snag it for under 10,000 Rs (around $120-130). Read the full review for detail information.
What we like
Amazing Sound Quality
Clear & Natural Tuning
Comfortable & Lightweight
Decent ANC
LED Display For Battery Status
IPX6
16 Preset EQ Modes
What we don't like
Average Battery
No In-ear detection feature
Introducing the TOZO Golden X1, a pair of True Wireless Earbuds (TWS) that have recently hit the Indian market. TOZO might be a new name for many in India, but it's a recognized brand in Europe and the USA for providing good sound quality at an affordable price. The Golden X1 is a step into the premium earbuds territory for TOZO, offering features like hi-res audio support with LDAC technology, 12mm Hybrid Dynamic Drivers, 42db Active Noise Cancellation, and a companion app for personalized audio settings, wireless charging, 8 microphones for calls and ANC, and much more.
But how well do they actually perform in real life? Is their sound quality as impressive as their specs suggest? With a price tag of $149 (10,000-15,000 Rs approx.), are Golden X1 earbuds offering great value for what they bring? Or should you explore other options on the market? Let's delve into a detailed review of TOZO Golden X1.
TOZO Golden X1 Specification
| | |
| --- | --- |
| Colors | Black |
| Drivers | 12mm dynamic driver + Knowles balanced armature driver |
| Frequency | 12Hz – 44.1kHz |
| Bluetooth codecs | SBC, AAC, LDAC |
| ANC | Yes, |
| Mic | 8-mics |
| Water-resistance | IPX6 |
| Bluetooth | 5.3 |
| Support | Android 6.0+, iOS 12+ |
| App Support | Yes |
| Battery | Earbud: 55 mAh, Charging case: 500 mAh |
| Charging time | 1.5h approx |
| Other Features | Touch control customizes, Custom EQ, Talk Thru, Wireless Charging, Custom Audio, 16 Preset Audio Modes |
| Weight | 353G – With charging case, 4G – Single earbuds |
Box Content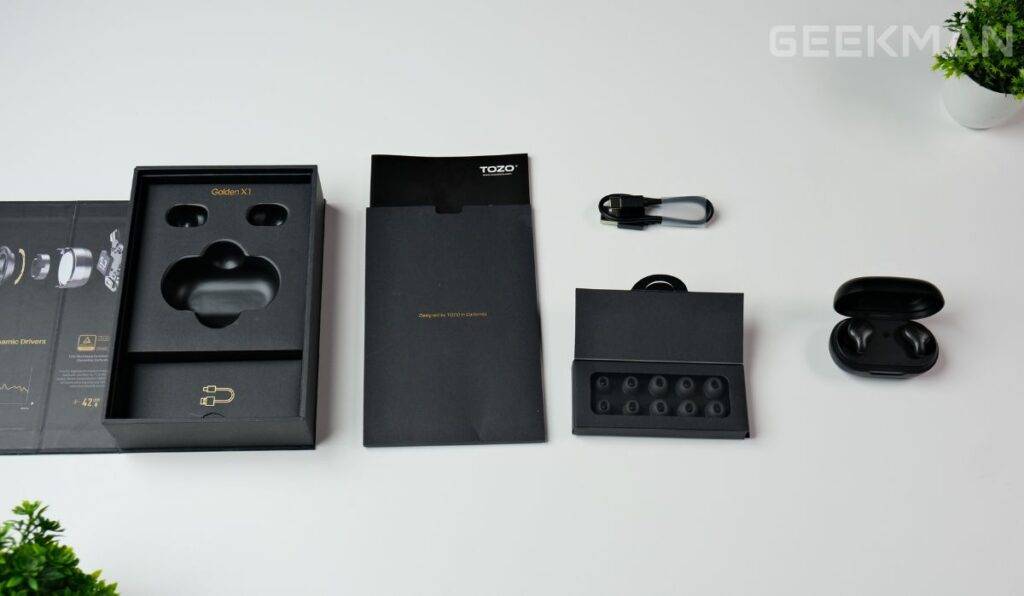 The Golden X1 earbuds come in a premium packaging.
Earbuds
Wireless charging case
Silicone ear tips in five different sizes
USB-C charging cable
Quick start guide
Design, Build & Comfort
First of all, I liked the charging case of the Tozo Golden X1. It doesn't look very different in terms of appearance, as it has a typical pill-shaped design. However, what caught my attention was the unique and cool indicator light with a breathing effect in the front. Another cool feature is the small LED display inside the charging case. Don't worry; It doesn't have a separate glass panel, so it has no cheap feel.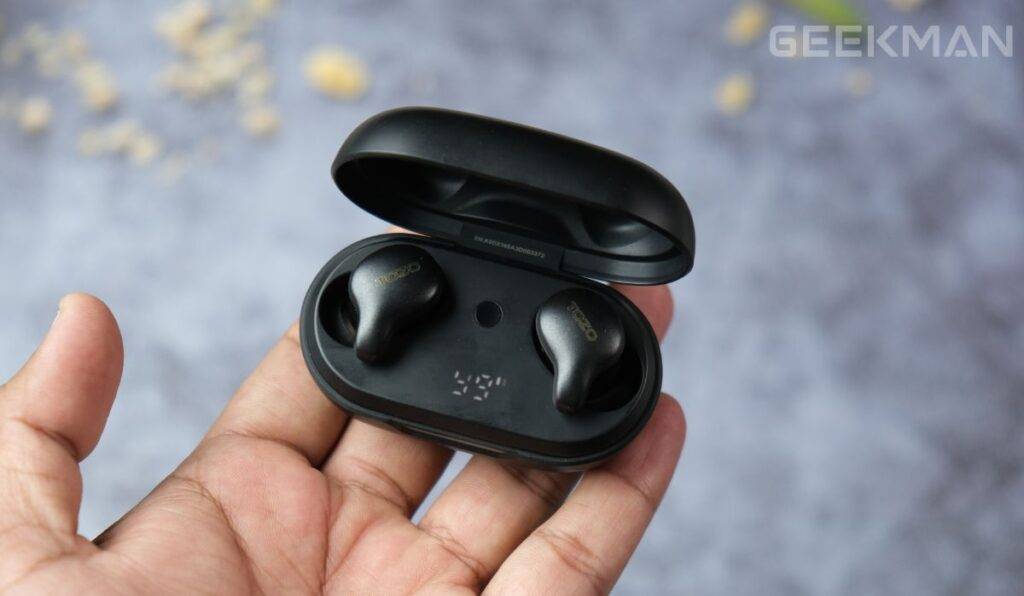 The inclusion of an on-board LED display on the case is a welcome addition; it definitely more convenient than a normal indicator. The display shows a clear picture of the remaining battery and the charging status of the charging case. Additionally, it also shows the charging status of the earbuds.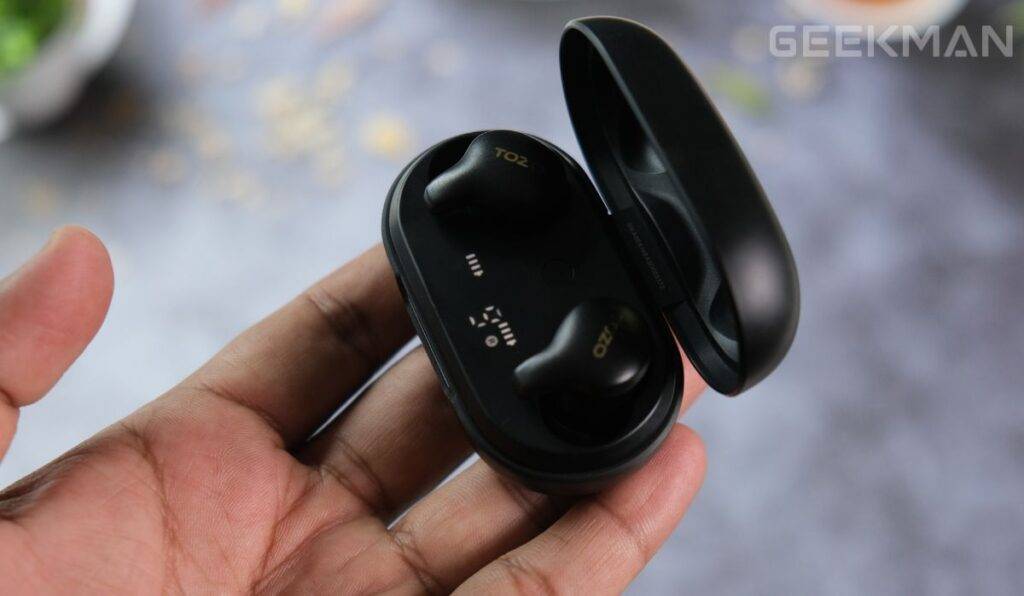 The overall build quality of the TOZO Golden X1 is decent. I can't say that it has a very high-quality build, but the build is not poor either. Both the charging case and earbuds have a matte finish, which definitely enhances the design, but it can easily attract scratches. On the other hand, the charging case is compact and lightweight, so it's very convenient to carry in your pocket for day-to-day use.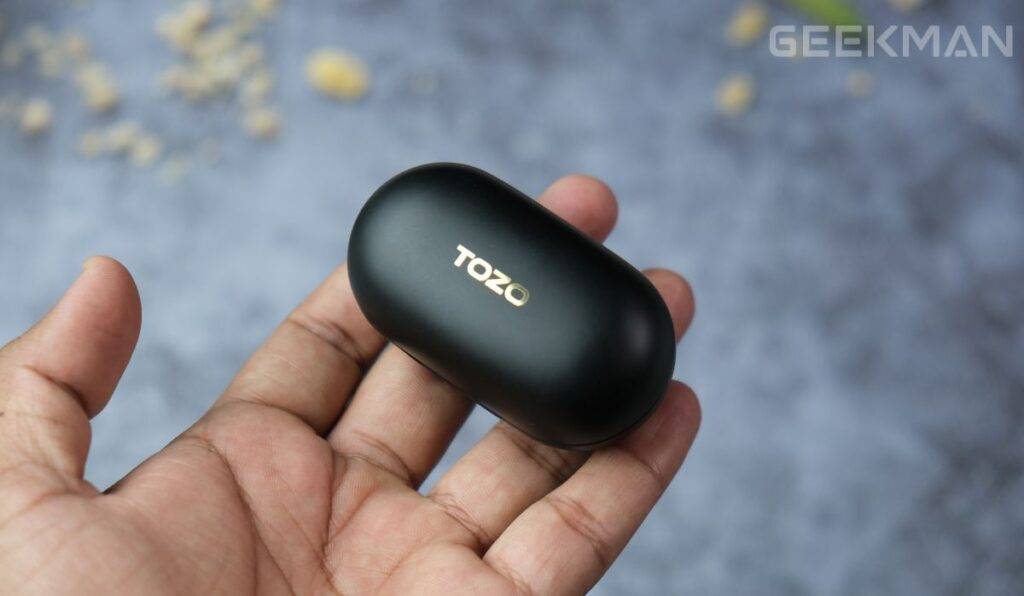 The earbuds have a unique bean-shaped design with a half stem. At first glance, they might appear large and bulky, but they are surprisingly very lightweight, weighing just 4g per earbud. This makes them comfortable to wear for extended periods without any major discomfort. I personally tried Golden X1 for continuous 1-2 hours, and I also had some other people test the earbuds to properly gauge the comfort level. Overall, the comfort is average (not too bad, not too good). If you have smaller ears, it might take a bit of time to get used to them, but overall, you can easily wear Golden X1 for 2-3 hours.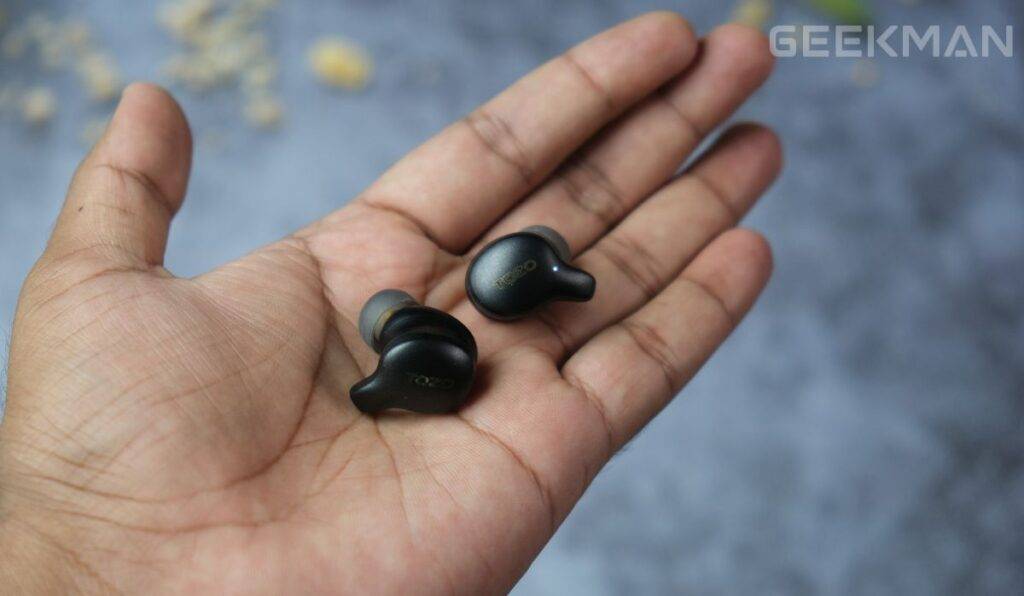 The build quality of the earbuds is solid, giving them a sturdy and durable feel. The touch controls are quick and responsive, making them easy to use. And yes, you can easily customize the touch control using the companion app.
In terms of feating, there are no issues with the TOZO Golden X1. It offers a tight and secure fit, making it an ideal option for outdoor and gym use. What's even better is its IPX6 waterproof rating, providing complete protection against sweat, rain, and dust. Another thing worth mentioning is that there is minimal sound leakage, so people around you won't be able to tell what you're listening to.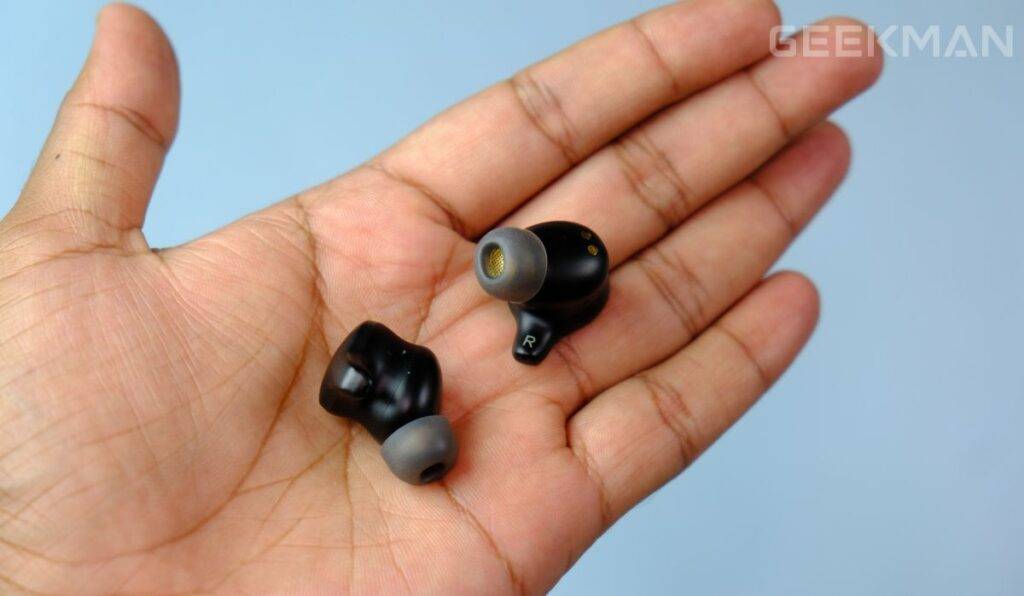 Connectivity
The TOZO Golden X1 comes with the latest Bluetooth 5.3, making the pairing process fast and without any range issues. Each earbud is equipped with two Bluetooth antennas, ensuring no audio delay or signal dropouts occur. Additionally, the Golden X1 also supports single mono mode and dual pairing. However, Google fast pair support and wear detection are missing. I am ready to settle for Google Fast Pair, but wear detection definitely should have been there.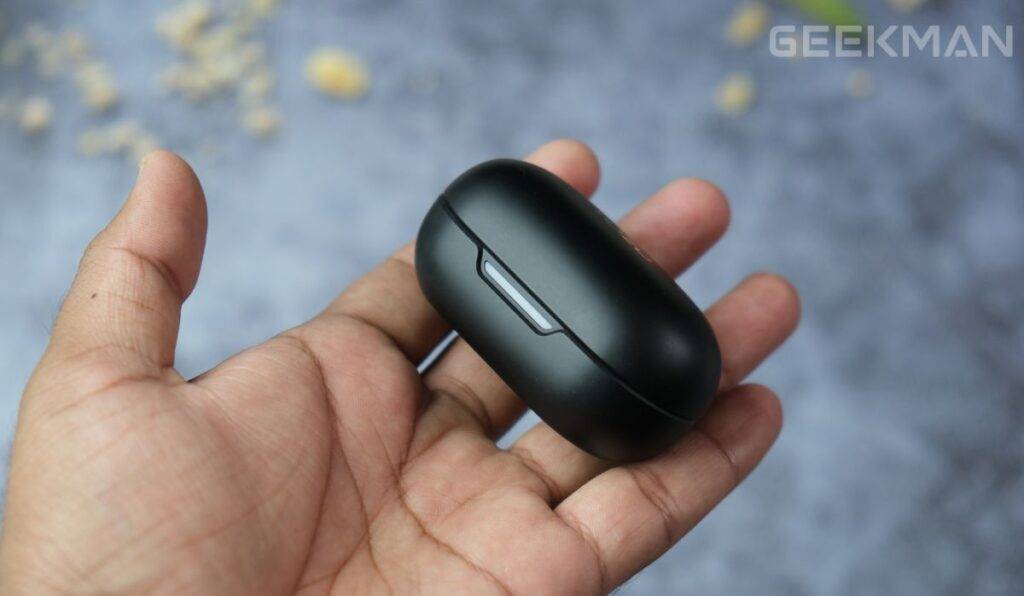 Features & App Support
To access its additional features, you'll need to download the companion app, which is available on both Android and iOS platforms. The app is refreshingly simple and user-friendly. However, it's worth noting that the features it offers are somewhat limited, falling in line with what you'd typically find in earbuds within this price range. There aren't any unique or particularly advanced features in the app.
Now, let's talk about the standout feature – Active Noise Cancellation (ANC). The TOZO Golden X1 supports up to 42db of ANC, and you get five preset modes, including a transparency mode and a dedicated wind noise canceling mode. This wind noise canceling feature has been spotted recently in earbuds from brands like Oppo and OnePlus, and it's surprisingly effective, especially for outdoor use. So, try it if you're using these earbuds in breezy conditions.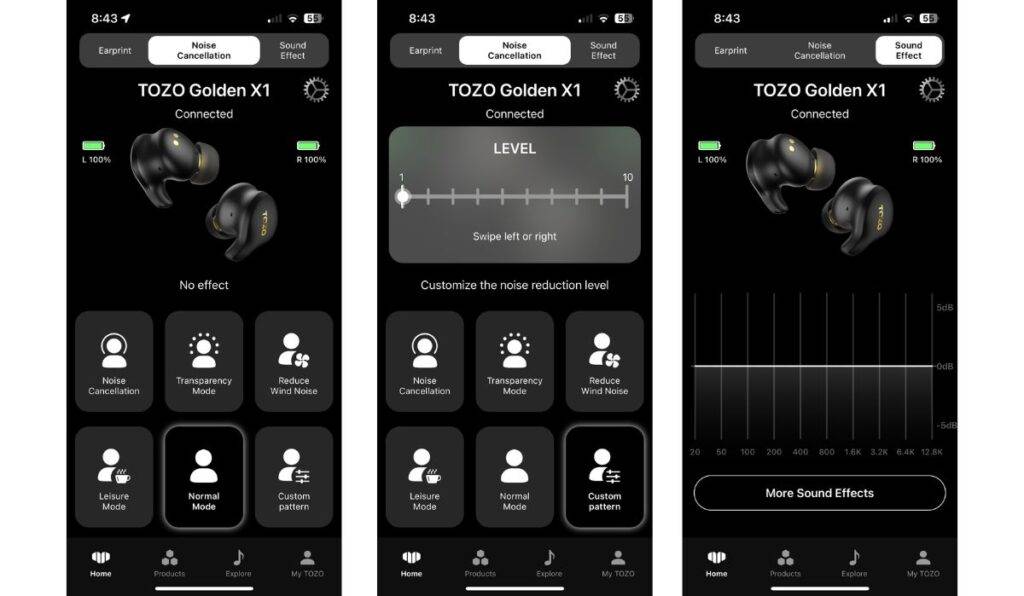 Additionally, the Golden X1 offers the option to customize the ANC levels through the app. However, it's worth mentioning that there's no auto-level adjustment feature. Now, in terms of ANC performance, I took these earbuds for a spin outdoors a few times, and I must say, the ANC is quite promising. It might not be on par with the likes of Apple's AirPods or the OnePlus Buds Pro 2, but it's not far behind either. Overall, you can consider its ANC performance as decent.
Apart from that, there's another interesting feature called "earprint," essentially an audio profile feature. You'll find this in high-end TWS earbuds from brands like Sony, Oppo, OnePlus, and Realme. The idea behind this is that everyone's ears and hearing capabilities are unique. So, what sounds good to you in a pair of headphones might not sound the same to someone else. With the earprint feature, you can create a personalized audio profile. Honestly, this can significantly enhance your audio experience, so you should consider turning it on.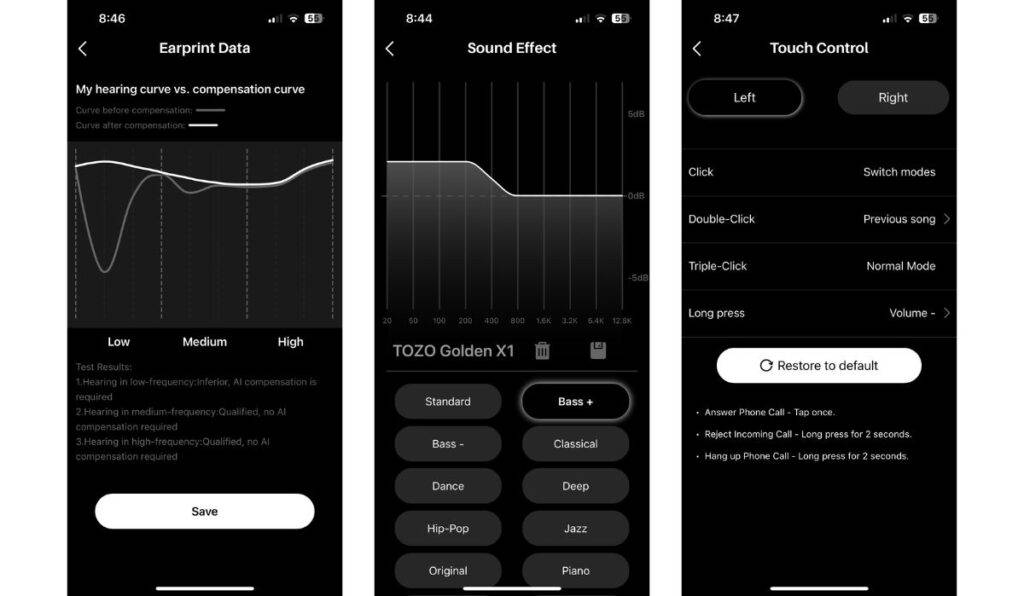 Now, besides that, you do get the option to customize touch controls in the app. However, some features, like a dedicated gaming mode and 360 audio, are missing, which I think would have been nice to have.
But here's the big one – custom equalizer settings and 16 different preset EQ modes. This is the TOZo app's standout feature. I've tested these preset modes, and generally, in most TWS earbuds, I don't find preset modes all that effective. But here, I was pleasantly surprised. Modes like "Bass Plus," "Hip-Hop," "R&B," and "Pop" really stood out to me. They make a noticeable difference in how your music sounds. Plus, there's the option to create your own custom EQ settings.
Sound Quality
Now, when we bring all these settings together and talk about the overall sound quality, things get interesting. The earbuds support AAC and SBC codecs and the LDAC high-resolution codec. They come equipped with 12mm hybrid drivers, a combination of dynamic and armature drivers. This combo promises a better bass response and a crisp high-frequency range and delivers on these promises.
Nothing, Just Clear & Natural Sound
The audio output overall is notably clear and natural. Let's dive into some specifics. Starting with the lower frequencies, the bass is particularly impressive. The dual-driver setup makes the bass punchy and deep without overpowering the other frequencies. It manages to keep the mid-range frequencies clear and distinct, avoiding any muddiness. It handles the sub-bass elements exceptionally well, so if you're a bass enthusiast, you'll likely appreciate the tuning here.
And if you're craving even more bass, there's a separate bass mode you can try out. The drivers are quite capable and can handle it without any trouble.
Now, diving into the midrange and vocals, they sound quite natural and smooth. Even midrange instruments come through as clear and natural. However, in a few tracks, I did notice that vocals, especially from female singers, could sometimes come off as slightly compact or thin, but it's a minor issue and not something you'd easily pick up on, especially if you're not using high-end in-ear monitors or headphones. For most folks, it won't be noticeable.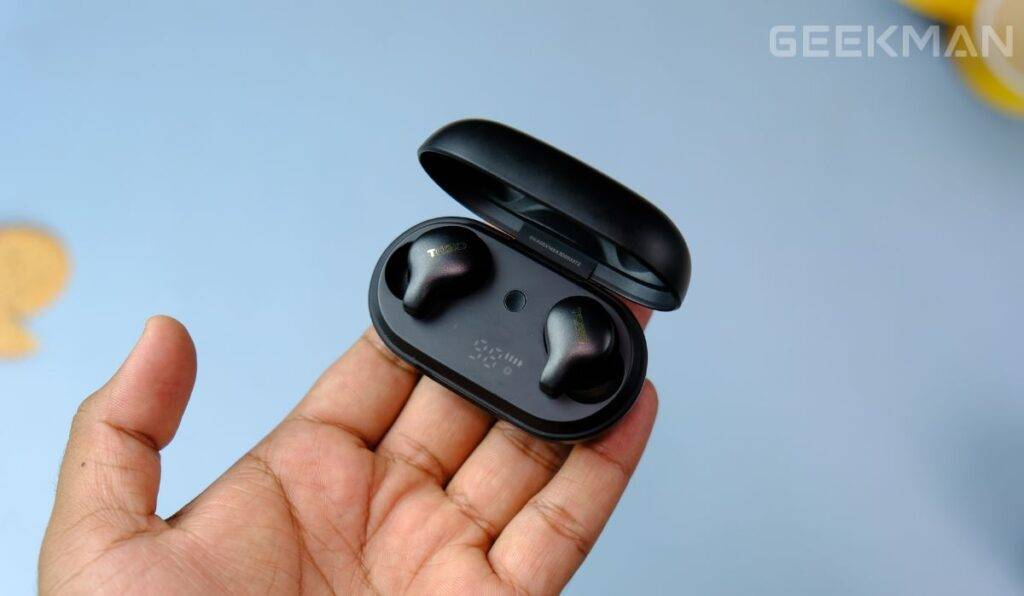 Moving on to the higher frequencies and treble, they are textured, rich in detail, and slightly bright. This brightness might appeal to some audiophiles but not to everyone. Thankfully, you can easily manage it through the app to suit your preferences.
In terms of soundstage, it's decently wide, and the music never feels congested. Imaging, which is how accurately you can pinpoint the location of instruments and sounds, is also good.
Overall, the sound quality leans toward a U-shaped tuning, which should cater to a wide range of users. I believe this is its most significant selling point. However, it's worth noting that the default tuning might not be everyone's cup of tea. I'd say about 50% of users, and perhaps even up to 80% in the Indian market, might find it not to their liking. Even I wasn't overly impressed with the default settings, so you might need to tinker with the app settings to get the sound you prefer. The good news is that the drivers are quite capable, so you have room to customize the sound to your liking.
Microphone
These Golden X1 have 8 tiny microphones to make calls clear and block out noise. In the indoor environment, the voice is loud and easy to understand. But in outdoor use, the voice doesn't sound that good. It gets a little bit thinner. Overall, the microphone is decent (Not the best, but not too bad either).
TOZO Golden X1 Microphone Demo
Battery
Finally, let's talk about battery life. The earbuds pack a 50mAh battery, while the charging case has a 500mAh battery. The TOZO claims up to 8 hours of playback time on a single earbud without ANC and approximately 5 hours with ANC. But in real-world use, based on my one-week testing, I'd say you can expect around 4 hours of playback time with ANC on at 50% volume. This means with the charging case, you'll get roughly 20 hours of playback time.
Now, these numbers might not sound super impressive, but they're not disappointing either. Additionally, there's fast charging support, with the case fully charging in about 2 hours. Plus, it supports wireless charging, which is a nice add-on.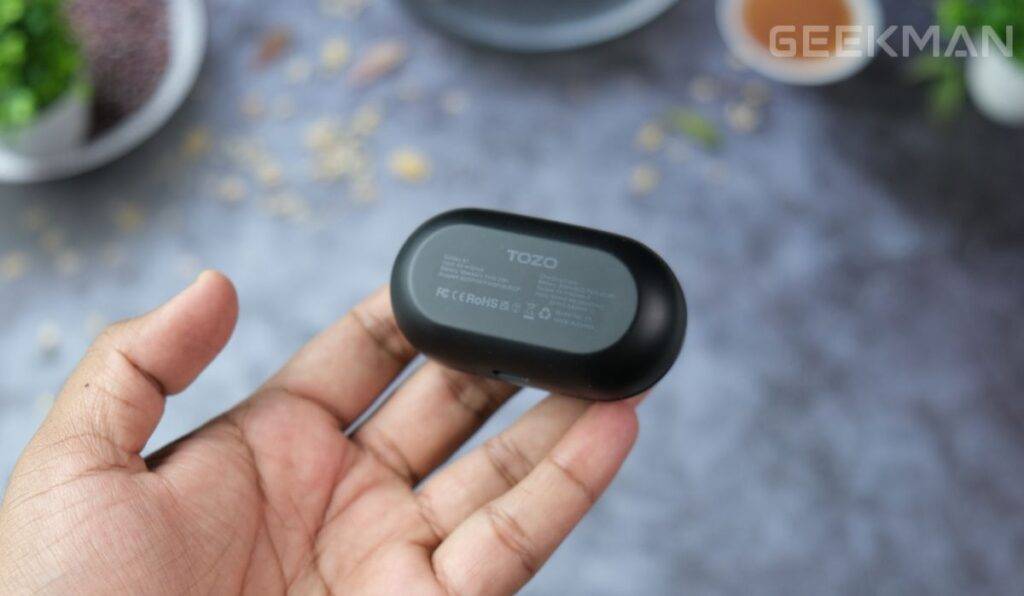 Should You Get TOZO Golden X1
Overall, the TOZO Golden X1 offers a good sound quality experience with its dual drivers and LDAC support. While it doesn't pack an extensive list of features, and its battery life and ANC performance are also average, but its sound quality stands out as a strong point. If you're looking for a natural and clear audio quality, then the Golden X1 could be a solid choice for you.
However, it's essential to consider the pricing factor, especially since there are several strong competitors in the market right now. It becomes a compelling option if it's available for under 10,000 Rs (120-130$).
Beyond that price point, you have alternatives like the Sony WF-1000XM4, OnePlus Buds 2 Pro, Samsung Buds 2 Pro, and Oppo Enco X2, which also offer good sound quality with extra features. Your choice should mostly depend on what matters to you the most. If having good sound is the most important thing to you, then you might want to think about getting the TOZO Golden X1. But if you're looking for a more feature-rich package, you may want to explore the other available options.
That concludes our detailed review. I hope you found this information helpful. If you have any questions, please feel free to ask in the comments section below. You can also check out our list of the best TWS earbuds.
TOZO Golden X1 Review In Hindi
Alternatives
FAQ
Does Tozo Golden X1 have Bluetooth Multipoint?
Yes, the Golden X1 has Bluetooth multipoint.
Does the Golden X1 have in-ear detection?
No, the Tozo Golden X1 TWS doesn't have any wearing detection.
Can we use TOZO Golden X1 with the iPhone?
You sure can. Like most Bluetooth earbuds, the Golden X1 works with iPhone or Android devices.
Also Read: