The market for truly wireless earbuds in India started to grow in 2020 when we were introduced to the Word From Home culture. Many working professionals and audio enthusiasts started opting for these TWS earbuds primarily because of the sound quality, the lightweight design, and the great mic quality. They are so popular because of the wire-free experience offered by these TWS earbuds and the great audio and call experience.
The Indian market is filled with Earbuds under 10000 Rs segment, and you can get them for as low as a thousand bucks. However, most TWS earbuds in the budget segment do not offer much. Thus, you might be confused because of the numerous options if you are looking for the Best TWS Earbuds under Rs. 10000 in India.
The Rs. 10,000 segment is just below the flagship TWS earbuds segment, and you get some great offerings from major players like Sony, Jabra, and many mobile phone brands. If you are confused and unable to decide for yourself, this article will surely help you. We have gone through many TWS earbuds offered in this segment and compiled this list of the best TWS earbuds in India under the Rs.10,000 segment.
+5500 Happy Buyers, Every Month. We update this list weekly so that you will get the latest and best TWS earbuds from the Indian market. Still, if you need help, we are available 24/7 on our Youtube channel, Facebook, and Instagram.
---
These are the best Earbuds under 10000 In India
---
OPPO Enco X2
Overall Best Choice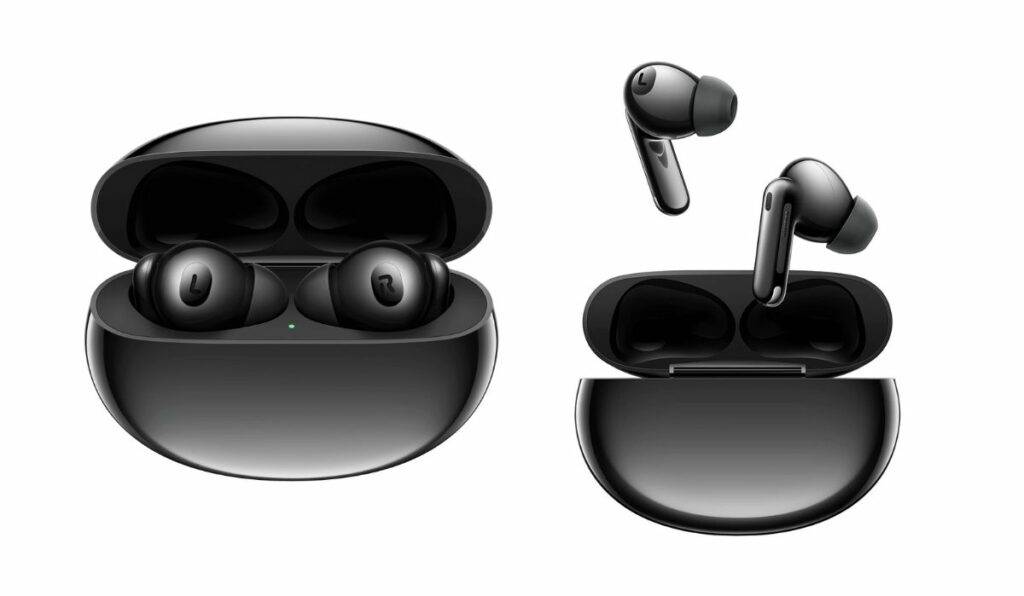 The OPPO Enco X2 is a pair of TWS (true wireless stereo) earbuds with great sound quality, effective noise cancellation, and a number of other useful features. They look nice and are built to last, and their charging case is light and easy to carry. The earbuds fit well in the ear and come with various ear tips to ensure they stay in place.
Oppo Enco X2 uses Bluetooth 5.2 for seamless connection and supports binaural low-latency Bluetooth transmission. They have a strong link range of 10 meters and can synchronize audio and video well. The earbuds are easy to pair with both Android and iOS devices, and the HeyMelody app gives you access to more features.
Its features include squeeze-style buttons for playing/pausing and managing calls and slide-style buttons for changing the volume. The squeeze controls work well, but some users may find the slide controls less handy. The HeyMelody app lets you change settings like noise control modes, earbud controls, and software updates, among other things.
Coming to sound quality, the Enco X2 has dual coaxial speakers with 11mm dynamic drivers and 6mm planar diaphragm drivers, which make for great sound. The sound is well-balanced, has good clarity, and sounds like it should. A little more emphasis is put on the bass and treble, which adds a bit of energy to the listening experience. The earbuds also have a large volume and accurately separate the sounds of each instrument.
The Enco X2 works well in terms of call clarity. It sends and receives voices clearly and blocks out noise well. They have good battery life. The earbuds can last up to 32 hours on a single charge, depending on your use and settings. Both USB-C and Qi wireless charging can be done with the charging case.
Overall, the OPPO Enco X2 is a great pair of TWS earbuds for their price. They have great music quality, block out noise well, have a good battery life, and fit comfortably. Whether you're looking for TWS earbuds under Rs 10,999 or are ready to spend more, the Enco X2 compete well with higher-priced models and is worth looking into for their overall performance and features.
Show more +
Lowest Price (Update: 30 min ago)

---
OnePlus Buds Pro 2R
The second best choice, ideal for a bass lover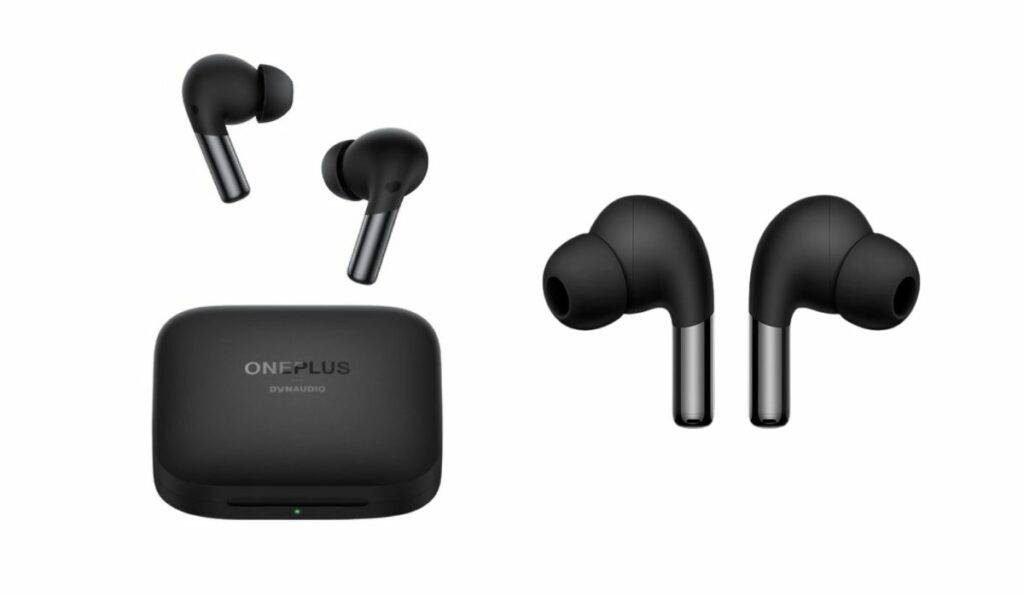 The Oneplus Buds Pro 2 or 2R are our next choice on the list of best earbuds under 10000 Rs. The Buds Pro 2 is the company's second version of high-end wireless earbuds. It aims to be better than its predecessor by having better sound quality, better adjustable noise cancellation, and longer battery life. The Buds Pro 2 resembles the first version, with a small case and nice-looking earbuds. The earbuds are well made and comfortable to wear for long amounts of time.
In terms of software and functions, the Buds Pro 2 can be used with the built-in software on OnePlus phones or the Oppo HeyMelody app on other smartphones. The earbuds have different noise-canceling options, including one that adjusts the sound based on your ear canals and how well the ear tips fit. The EQ choices have been increased, and a six-band EQ makes it possible to make custom presets. The Buds Pro 2 also has a Hi-Res mode, but it's not yet clear what it does.
One of the best things about the Buds Pro 2 is that they have spatial music with head tracking, which works with a OnePlus device. Critics, on the other hand, have said that the use of spatial audio and head tracking creates a fake and unnatural sound field. The microphone does an average job, with muffled sounds in quiet places and mediocre quality in loud places.
In terms of sound quality, the Buds Pro 2 has a V-shaped sound profile with a dip in the mid-range. The low and high frequencies are emphasized. The bass can be loud and overpowering, and the mid-range can make the singing sound fuzzy and muted. The high end makes the sound sparkle and sizzle, but it can also be harsh, especially at higher settings. The tone is fine for some kinds of music, but the sound can feel crowded and squished.
The Buds Pro 2 does a good job of blocking out noise, especially low-frequency sounds. It works better at low frequencies and less well at mid and high frequencies. This makes it good for plane travel but not as good for other noisy places. The personalized noise cancellation feature is not always clear, and its effectiveness relies on the environment. The ANC does change the sound clarity, making it more bassy and muddy. But when ANC is turned on, no background hiss can be heard.
Compared to the original OnePlus Buds Pro, the Buds Pro 2 have slightly better ANC, but the sound quality is worse. In theory, the ANC-on mode should give the best sound quality, but the way it works now needs to be fixed. The ANC on the Buds Pro 2 is not as good as the ANC on the Sony LinkBuds S. The LinkBuds S has better ANC performance in many different scenarios.
Overall, the OnePlus Buds Pro 2 is better than the first version. For example, they block out noise better and are more comfortable. But the sound quality and use of spatial music are not as good as they could be, but still, it is a good option for those who love bass in sound quality.
Show more +
Lowest Price (Update: 30 min ago)
Optional: Buds Pro 2
---
OPPO Enco Air 3 Pro
Value For Money TWS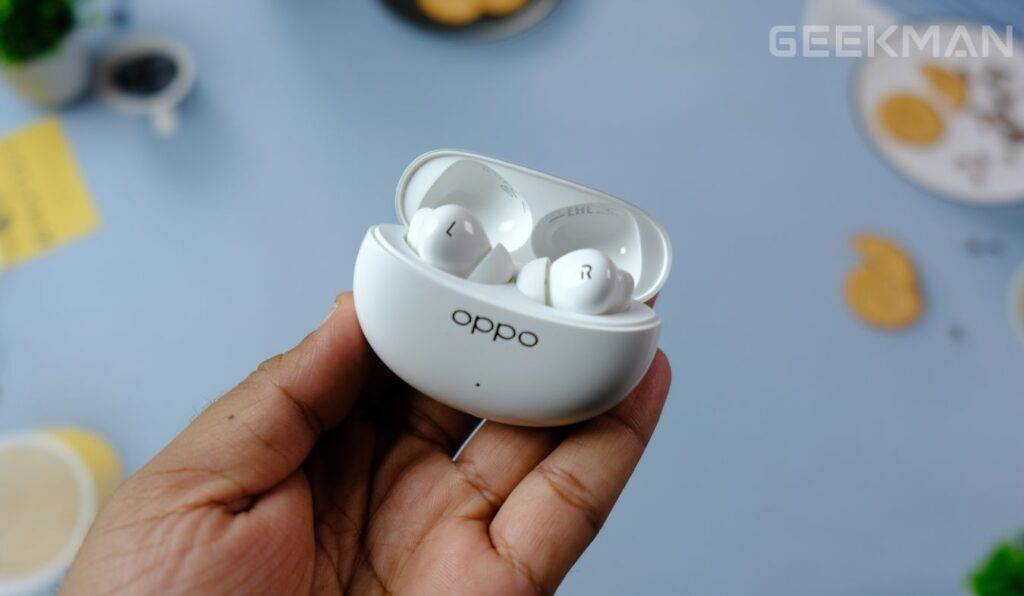 The Oppo Enco Air 3 Pro is an impressive addition to the TWS earbuds market. Priced at Rs 4,999, it offers several features that are not commonly found in this price range. The design of the earbuds is sleek and attractive, with a premium feel and a sturdy charging case. The earbuds themselves are comfortable to wear, even for extended periods of time.
Oppo Enco Air 3 Pro Detail Review
Speaking of sound quality, the Enco Air 3 Pro delivers a remarkable audio experience. The 12.4mm drivers provide a well-balanced sound with good detail, and the bass is punchy and energetic. While the high-range frequencies may lack some detail, the soundstage is wide and enjoyable overall. Including LDAC hi-res audio support further enhances the audio experience for those with compatible devices.
Connectivity is smooth thanks to Bluetooth 5.3, and it even supports Google Fast Pair for easy pairing with Android phones. The Enco Air 3 Pro also boasts active noise cancellation (ANC) of up to 49dB, which is impressive for its price point. The ANC can be adjusted through the HeyMelody app, which also offers customization options for touch controls and sound quality.
The battery backup is decent, offering up to 30 hours of playback time with the charging case and approximately 7 hours with a single earbud. Fast charging is supported, allowing for 2 hours of playback time with just 10 minutes of charging. The microphone quality for calls is also decent, with minimal voice breaks or muffled sounds.
In conclusion, the Oppo Enco Air 3 Pro is a highly recommended choice for those looking for TWS earbuds under 5000 Rs. Its combination of design, sound quality, ANC, customization options, and battery life make it a standout option in its price range.
Show more +
Lowest Price (Update: 30 min ago)
OPPO Enco Air 3 Pro

---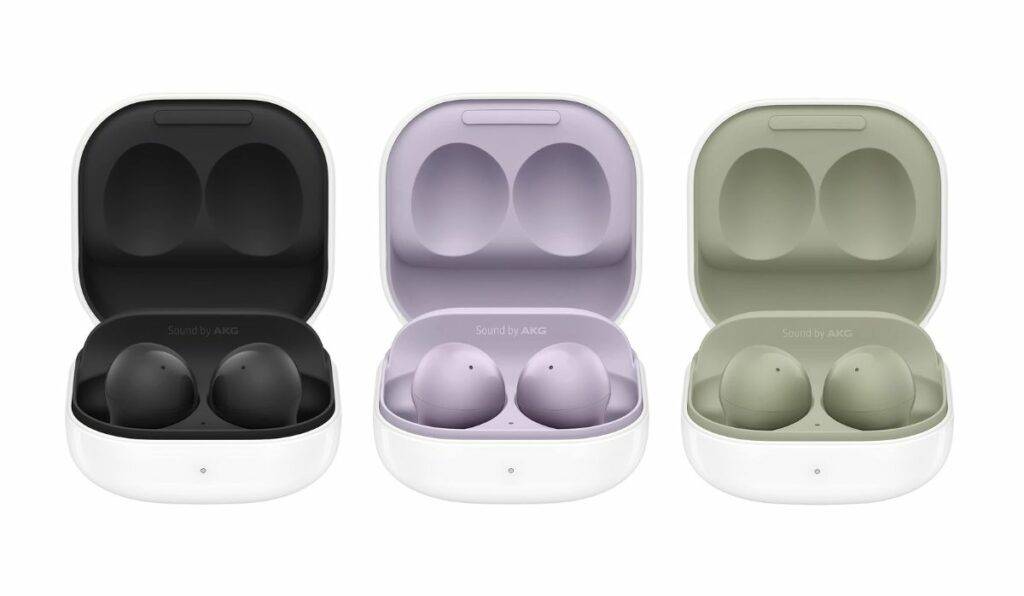 The Galaxy Buds 2 is our next choice on the list of best earbuds under 10000. It is a good improvement over the first Samsung Galaxy Buds. They are better in a number of ways. At Rs 7,999, these truly wireless earphones have a lot of features, like Active Noise Cancellation (ANC), Galaxy Wearable app support, Qi wireless charging, and more.
In terms of sound quality, the Galaxy Buds2 has a 2-Way driver setup that was tuned with the help of Samsung-owned AKG. They handle SBC, AAC, and Samsung Scalable codecs and offer good audio quality with a slightly bass-heavy sound signature. Mids and vocals are brought out well, and the range and separation of instruments are good. Even though it picks up background noises during talks, the quality of the microphone is fine.
The buds link wirelessly through Bluetooth v5.2, and the connection is usually stable and has little latency, especially when the Samsung Scalable codec is used. The Galaxy Wearable app gives you access to features like noise cancellation modes, EQ settings, and the "Find my earbuds" function. But the app's controls aren't very customizable; users can only change how touch and hold features work.
The Samsung Galaxy Buds 2 have decent ANC but aren't as good as rivals like the Oneplus Buds Pro 2 at blocking out high-frequency sounds. The Ambient Sound can also be changed through the app on the Buds 2. The app works with Android devices, but at the moment, iOS users can't use its features.
Battery life is average, with 5 hours on the buds alone and 20 hours with the charging case, but it increases to 7.5 hours on the buds alone and 29 hours in total with ANC off. The buds can be charged quickly, and the case can be charged wirelessly with Qi-enabled chargers.
The Galaxy Buds 2 are small and light, which makes them comfortable to wear and gives them a safe fit. The charging case has a clamshell shape and a shiny finish. But the buds only have an IPX2 grade, which means they might not be good for hard workouts or people who sweat a lot.
Overall, the Samsung Galaxy Buds 2 are a good change. They sound better, have noise cancellation, and fit well. They are a good choice for people who use Samsung devices because they have their own features and work well with them. But for people who use iOS, the OnePlus Buds Pro 2 and Oppo Enco X2 may have better functions and sound quality for the same price tag.
Show more +
Lowest Price (Update: 30 min ago)


---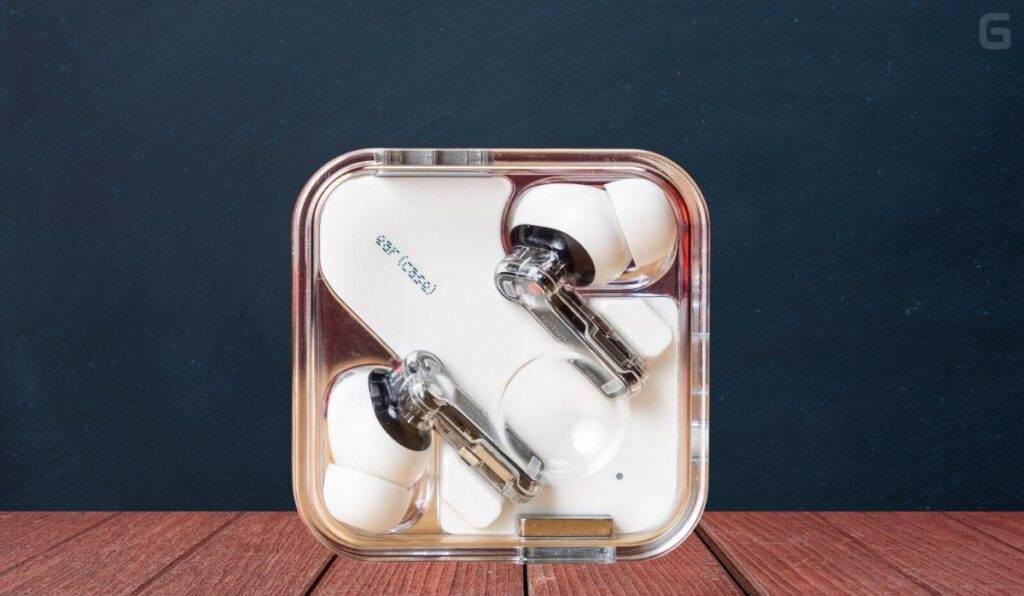 The Nothing Ear (2) is the company's second generation of ANC earbuds, following the release of the Ear (1) in 2021. It retains the signature see-through design with a drop stem, resembling the AirPods design, and is available only in white. The earbuds have been upgraded to an IP54 rating, providing better protection against dust, sweat, and moisture compared to the original Ear (1).
Comfort levels are high, with a secure fit even during gym workouts. The touch controls are responsive and offer various functions such as play/pause, call management, volume adjustment, and toggling between Active Noise Cancellation and Transparency Mode.
The Ear (2) is equipped with 11.6mm dynamic drivers tuned by Nothing to deliver a balanced and rewarding sound across the frequency range. The Nothing X app provides personalized sound profiles based on a short hearing test, allowing users to tailor the sound to their preferences. Four EQ presets are also available, with the default "Balanced" profile recommended for most users.
However, Ear (2) falls short in terms of audio quality. Certain music tracks exhibit treble sounds that are unrefined and accompanied by digital noise or artifacts. Despite efforts to adjust the EQ settings, this effect can detract from the listening experience. The lack of support for codecs like aptX further hampers the audio quality.
In terms of active noise cancellation (ANC), the Ear (2) offers three levels (High, Mid, and Low) along with an Adaptive mode. While ANC somewhat reduces background noise, it is not as effective as competitors like the AirPods Pro 2 or Samsung Buds Pro. The Transparency mode performs well, and wind resistance is good.
The Nothing X app provides additional features such as touch control customization, ear tip fit test, find my earbuds, dual connection, and firmware updates. The Ear (2) has a battery life of 4 hours with ANC enabled, which is relatively short compared to other earbuds in the same price range. The charging case extends playback time to 22.5 hours with ANC or 36 hours without.
Call quality is good, with clear and intelligible sound on both ends of the calls. The Bluetooth 5.3 connectivity is robust, offering a stable connection.
In conclusion, Nothing Ear (2) offers a range of features and customization options but falls short in terms of audio quality and battery life compared to competitors. While it excels in personalization and app functionality, the overall sound balance and ANC performance are mediocre.
Show more +
Lowest Price (Update: 30 min ago)

---
Google Pixel Buds A-Series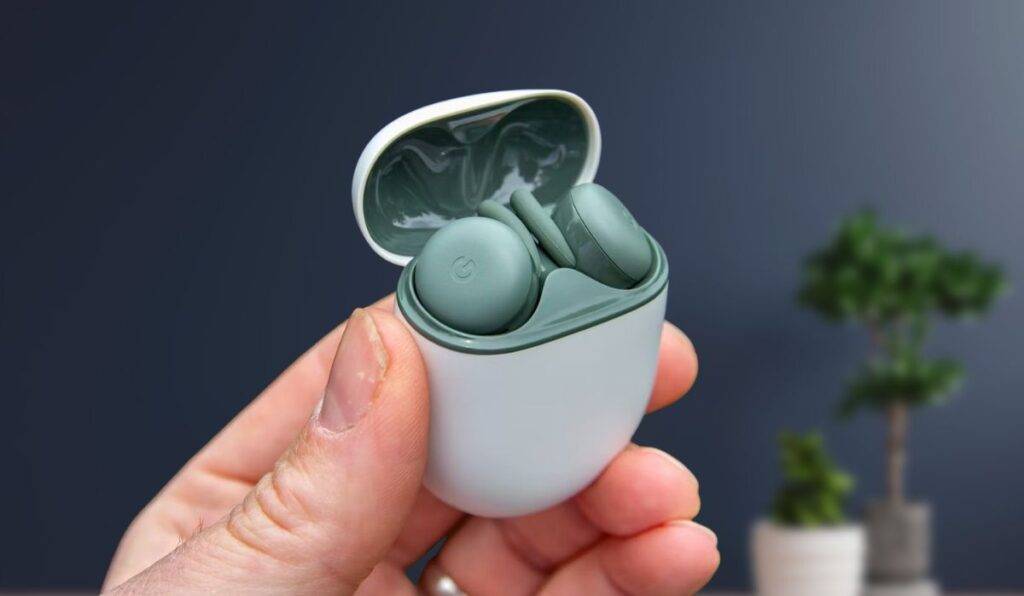 The Google Pixel Buds A is our next choice on the list of best earbuds under 10000. The Google Pixel Buds A-series is an affordable TWS earbud by Google, and they are one of the most valuable wireless earbuds in the segment. The Buds A-series boasts some useful features but misses out on many others.
If we were to award marks, the Pixel Buds A-series would score a 10/10 in the design segment, even though they look almost identical to the Pixel Buds launched last year. The charging case looks similar but is lighter when compared to the one provided with the Pixel Buds. The earbuds themselves are quite lightweight and comfortable. They fit perfectly, and you will not find them uncomfortable, even if you have been wearing them for extended periods. Furthermore, each earbud has a wear sensor, i.e., if you pull them out, the music playback is paused automatically.
The Buds A-series offers great sound quality. Although the bass is not the best on these earbuds, they perform well during the lows and highs. Although it is not recommended for gaming purposes, it is a good choice for attending regular calls and meetings. The Buds A-series use AAC codec on iOS and Android smartphones. There is no relaying between the buds because they both connect individually.
Overall, if you are on a tight budget and can make do with some features like the ANC, then the Google Pixel Buds A-series would be a great choice.
Show more +
Lowest Price (Update: 30 min ago)

---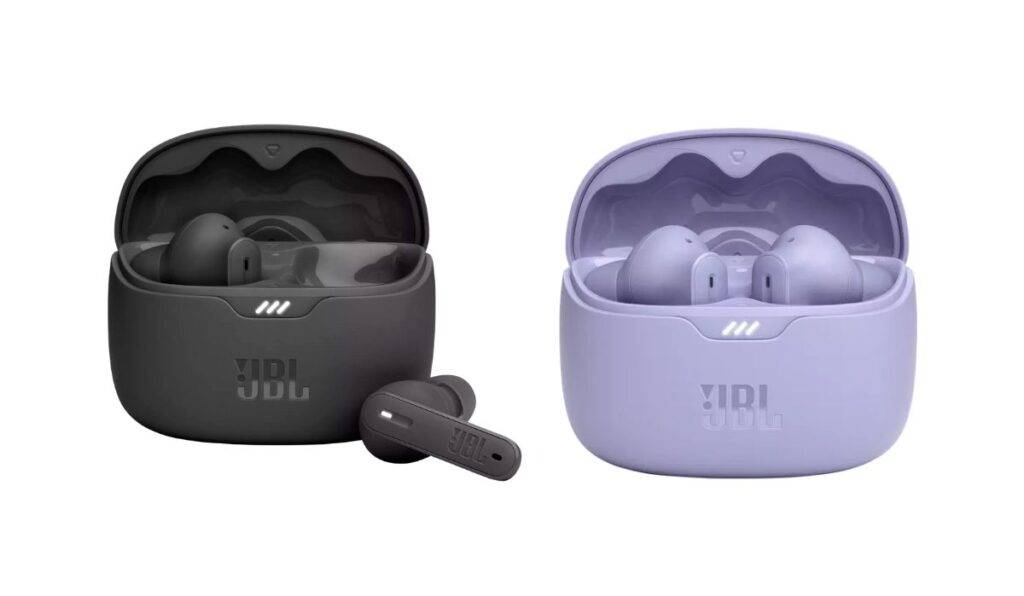 The JBL Tune Beam is a true wireless earphone priced at Rs. 6,999 in India, offering active noise cancellation, app support, and a competitive price. While facing strong competition from the likes of the OnePlus Buds Z2 and Oppo Enco Air 2 Pro, the JBL Tune Beam manages to hold its ground.
In terms of design, the JBL Tune Beam features the typical characteristics associated with the brand, including large logos, hints of color, and a solid industrial look. The earpieces are comfortable to wear for extended listening sessions, and the charging case strikes a balance between size and convenience.
The earpieces come with indicator lights, touch-sensitive zones, and an IPX4 water resistance rating. However, it lacks wear-detection functionality. The JBL Headphones app allows for customization and control, although control customization options are limited.
Sound quality is a standout feature of the JBL Tune Beam, with a comfortable and balanced sonic signature. The sound is clean and straightforward, making it enjoyable for extended listening. The bass is refined and mellow, although it may not satisfy bass enthusiasts seeking a punchier experience.
Active noise cancellation is basic but effective indoors, although it struggles to block out external noise in outdoor environments. The hear-through mode amplifies wind sounds, making it less preferable. Connectivity and call quality are acceptable, with stable connections and decent call performance.
Battery life is impressive, offering around 6 hours and 30 minutes of playback with ANC enabled and moderate volume levels. The charging case provides three additional charges, resulting in a total runtime of approximately 26 hours per charge cycle.
Overall, the JBL Tune Beam competes well in its price segment thanks to its balanced sound, good app functionality, reliable connectivity, long battery life, and comfortable fit. While its features may be slightly expensive, it remains a worthwhile option for those with a budget of around Rs. 6,500.
Show more +
Lowest Price (Update: 30 min ago)
Optional: Tune 230NC
---
OnePlus Buds Z2
Best Budget TWS For The Bass Lover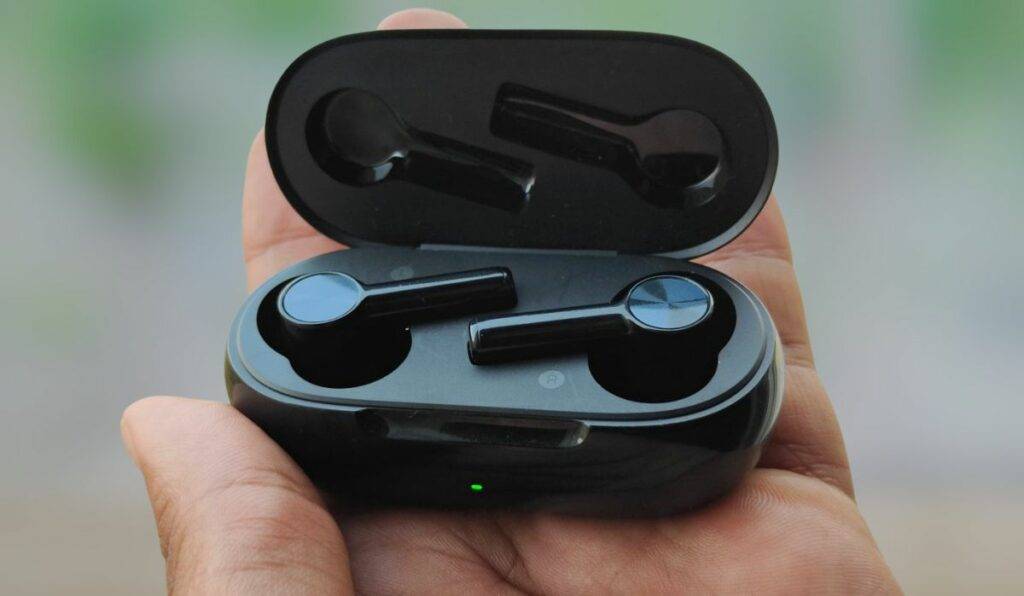 The OnePlus Buds Z2 is a budget-friendly pair of true-wireless earbuds with several impressive features. They have an in-ear fit and utilize 11mm drivers, similar to the OnePlus Buds Pro. One notable addition to the Buds Z2 is active noise cancellation and pass-through sound, which are often found in higher-priced earbuds. The glossy plastic bodies of the buds provide IP55 water resistance, and the charging case is rated IPX4 for splash resistance. The compact size of the buds and the charging case makes them convenient for travel.
To access features like active noise cancellation (ANC) and other options, you can download the Hey Melody app, which is compatible with both Android and iOS devices. However, additional features like an equalizer and bass adjustment are exclusive to OnePlus devices. The Quick Switch feature allows easy switching between two paired devices.
In terms of performance, the sound quality of the OnePlus Buds Z2 is decent, with powerful bass and loud mid-ranges. If you love high bass in your audio, then you will love the Buds Z2. However, the treble can sound blown out and unpleasant, as the earbuds prioritize loudness over a well-balanced sound. The transparency mode effectively allows outside sound to enter the ears and intelligently pauses when there is wind. The noise cancellation performs well, especially at around 45-50% volume, effectively blocking out most external noise.
The battery life of the Buds Z2 is impressive, with a total listening time of 38 hours when ANC is turned off. The buds themselves last up to 7 hours on a single charge or up to 5 hours with ANC enabled. The charging case supports OnePlus "Flash Charging," providing 5 hours of listening time with just a 10-minute charge.
In conclusion, the OnePlus Buds Z2 is an attractive option for budget-conscious consumers, offering active noise cancellation and pass-through audio at a reasonable price point. The compact size, comfortable fit, and solid battery life make them convenient for daily use. However, the sound tuning could be improved, with overpowering bass and unbalanced treble.
Show more +
Lowest Price (Update: 30 min ago)
---
Also Read:
There you have it. Best TWS Earbuds under 10000 Rs approved by the Geekman team. All the earbuds mentioned in this segment have some unique features, and they all are the best in their own ways.