JBL is back with a buzz in the market with its all-new TWS named JBL Wave Beam. The TWS is being offered at an exclusive price of Rs. 3,500, which JBL says could be hiked after a little while soon, which looking at the competition, would never happen.
Anyways, cutting out all the BS and moving on straight to the point, I have got my hands on these newly launched TWS, and my task for today would be reviewing one of these so you can decide if you want to invest your hard-earned money on it or not. So without wasting any moment, let us get right into it.
JBL Wave Beam Specifications:
| | |
| --- | --- |
| Colors | Black, White, Mint, Beige |
| Drivers | 8mm |
| ANC | No |
| Water-resistance | IP54 |
| Bluetooth | 5.2 |
| Support | Android 6.0+, iOS 12+ |
| App Support | Yes, JBL Headphones |
| Battery | Up to 32h, 530 mAH |
| Other Features | Touch control customizes, Custom EQ, Talk Thru, Ambient Aware, Low latency mode, Fast charging. |
| Weight | 49G – With charging case, 4G – Single earbuds |
Box Contents
As always, we start with the box contents and have basic stuff in the package. First, we have some starter guides and a warranty card. Then we get a few extra earbud tips and a Type-C cable to charge your earbuds. Lastly, you get the earbuds fitted inside the case. These earbuds are available in 4 colors: Black, White, Beige, and Mint.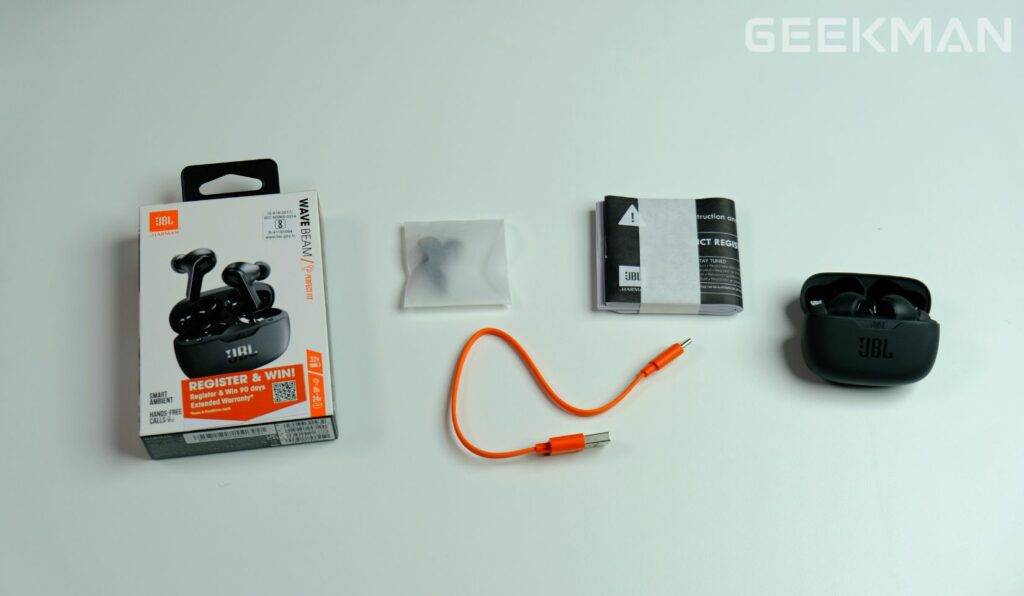 Design, Build Quality & Comfort
Moving on to the design and build quality, JBL has done a decent job with it. Well, there is nothing new or interesting about the design. Instead, it has a strikingly similar resemblance to the JBL Wave 200 I recently reviewed. The good part about the design is it feels solid and is built of good quality material, making it feel durable. Although the design lacks a premium touch, it looks pretty average.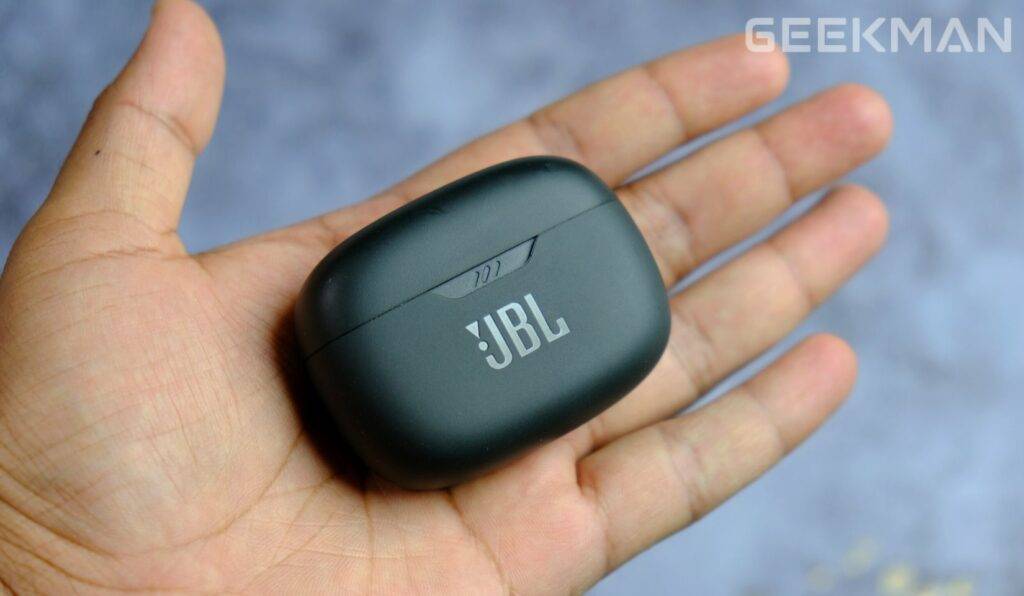 The earbuds are quite lightweight, and the ear tips are swirled, which makes them comfortable on paper, but there's a little catch. Surprisingly, the JBL Wave 200 also had the same issue with its design: the big earbuds make it harder for continuous usage and can turn uncomfortable when used for long hours. Well, my explanation for it would be the big size of the earbuds, which makes it a little hard to be comfortable with them. I have had this experience with at least a few last TWS from JBL, so I think JBL really needs to look into it.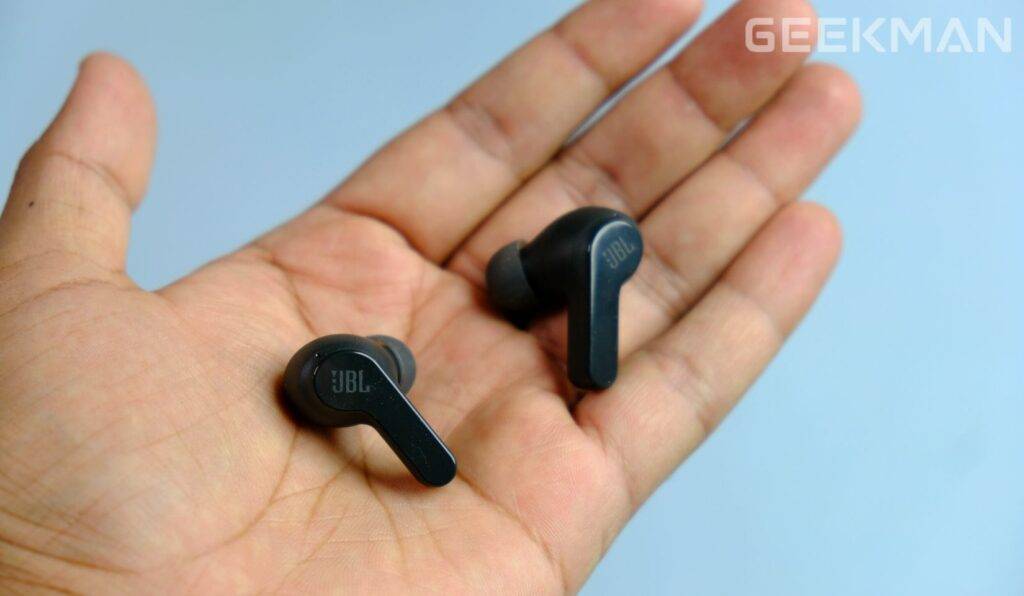 Besides that, you get an IP54 rating with it, which means it can handle a few water sprays or a sweaty workout by itself, but you can't consider it completely waterproof.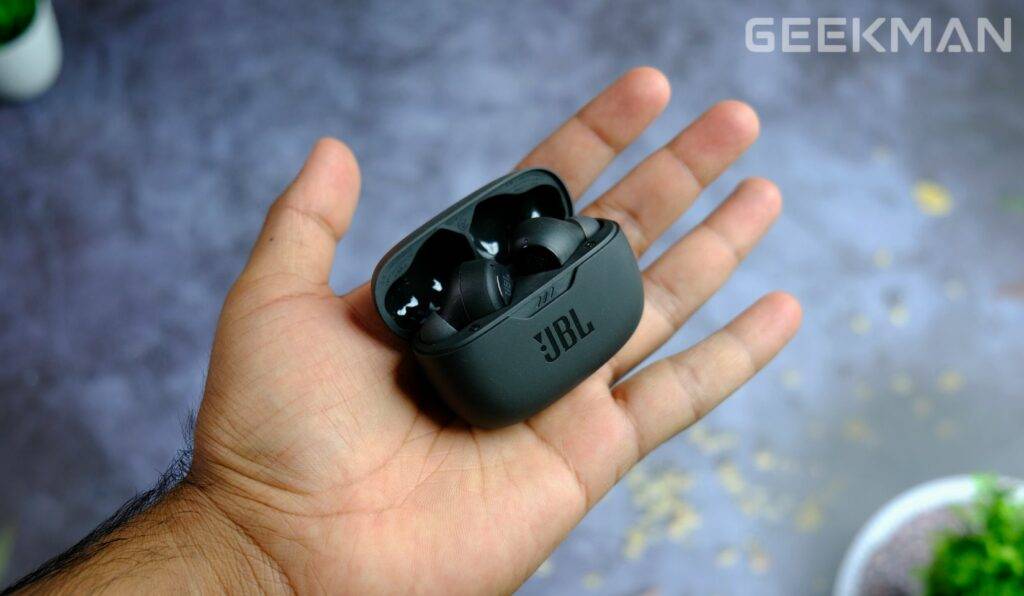 Features
Moving on to features, JBL packs it with Bluetooth v5.2 and also supports Google Fast pair, which makes it really convenient to pair up with your devices quickly. The next good thing would be the JBL Headphones app support which enables features like custom EQ support which are exclusively available on premium JBL headphones. You get about four preset EQ modes along with an option to set a custom EQ for yourself.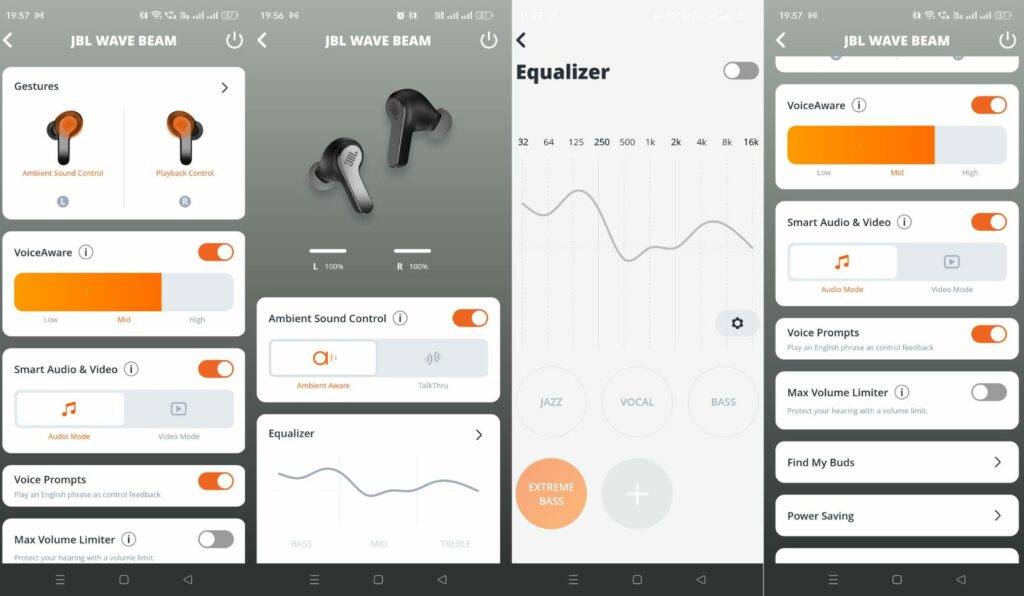 One feature JBL should have included was the ANC, which would have been a nice addition to the package and a game-changer for the JBL Wave Beam. If we put that aside, you can customize your earbuds' touch gestures, which is a really required feature. Other features include finding my buds, auto power off, volume limiter, and even a video mode, which can also be called a low latency mode and can be used for gaming or watching movies.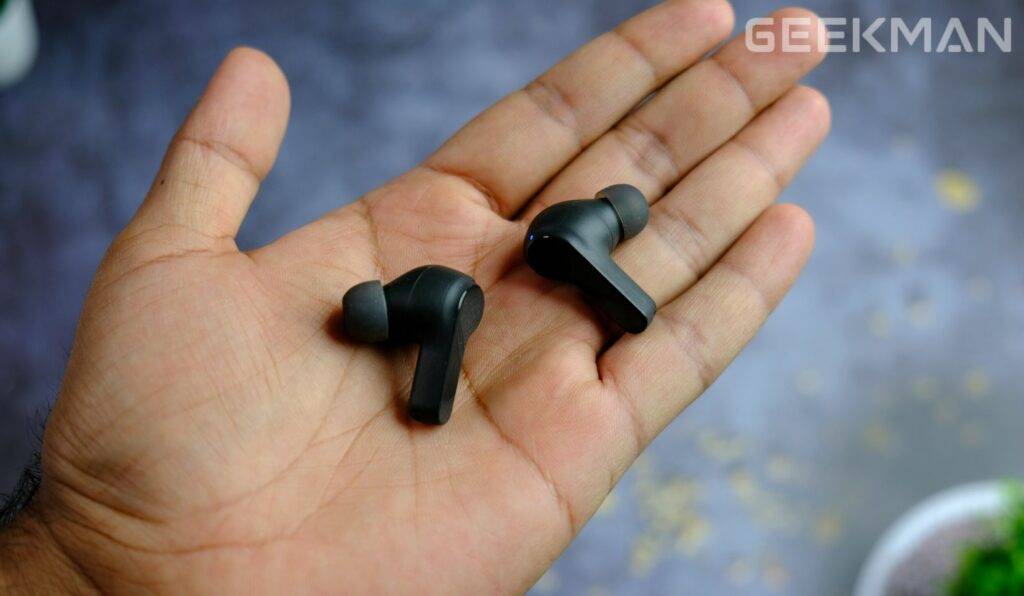 Another good thing is that despite not having ANC support, the TWS does a good job canceling out background noises passively. Lastly, you get an in-built microphone with these, which isn't surprising as almost all TWS at this price point offer that, but the quality it records will surely surprise you. I have tested out a lot of TWS at this price point, and none has this quality of background noise reduction and audio recording, which is a plus point.
Audio Quality
Finally, moving on to the most crucial part, the Audio Quality. JBL Wave Beam offers 8 mm drivers with SBC codec support. I would have liked it more if it had AAC support, but the drivers are nicely tuned, which makes it a little bearable. The audio quality is clear and crisp, even at 100 percent volume levels. So, the audio is more on the natural and balanced side.
For the downsides, the treble could have been a little stronger, and the sound stage could have been a little wider, but we cannot complain about that at this price point. Overall, the audio quality of the JBL Wave Beam is very impressive for its price bracket and would be the prime selling point for it.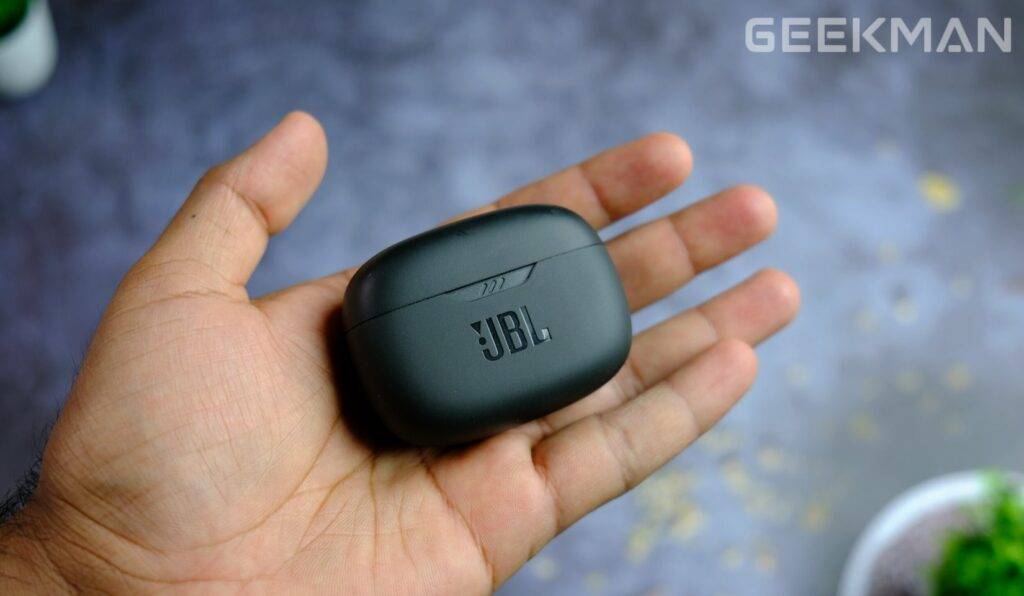 Battery
Now on to the battery; JBL says that the JBL Wave Beam can last for about 32 hours which is pretty good on paper. On the actual grounds, the number depends upon your usage and the volume you use it. If I share my experience, the earbuds lasted for about 20 hours on 80% of volume, which is quite decent at this price point.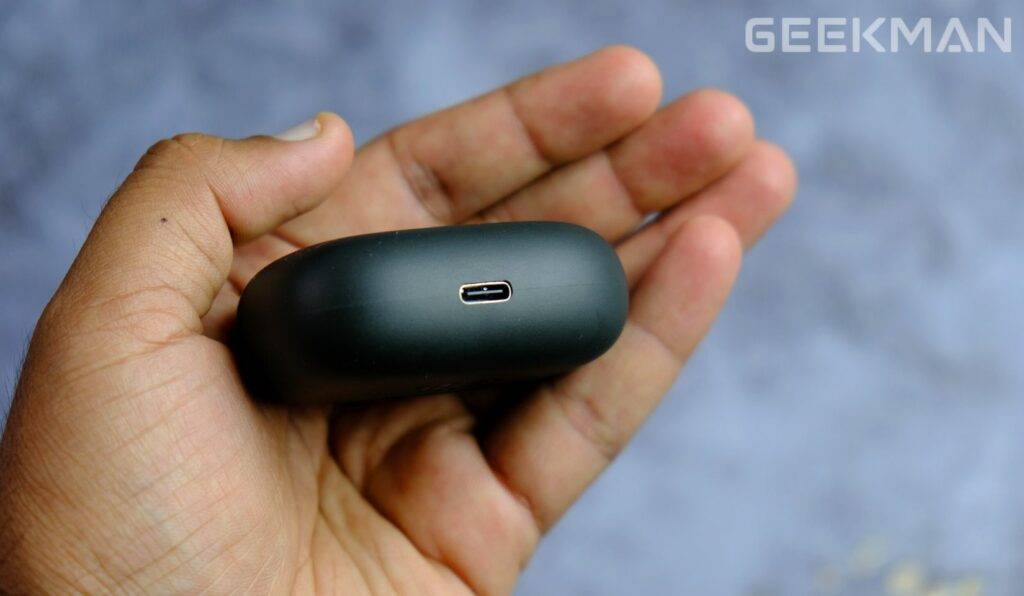 Verdict
Finally, is JBL Wave Beam a good option in its price range?

Well, it definitely is! The sound quality is phenomenal, and the design and build quality are also nice. You get almost all the features in it that you could expect at this price point, except for the ANC. What it lacks is the comfort part, but that still is okay, considering other plus points.
If you want to look for alternatives, the Realme Buds Air 3, Oppo Enco Air 2 Pro, and the Oppo Enco Air 3 would be their real competitors, with the Air 2 Pro being a clear winner in all segments.
With these final words, I would like to end my review of the JBL Wave Beam. If you have queries or suggestions of any sort, you are always invited to write them down in the comments below. Thanks for reading.
Check our list: Best TWS Earbuds Under 5000 Rs
JBL Wave Beam Review In Hindi
Alternative
Also Read: