JBL is one of the brands that never fail to impress you with the audio quality it has to offer. Recently, they have made two new additions to the JBL Tune series, the JBL Tune 130NC and the JBL Tune 230NC. So I am pretty excited as I have finally got my hands on the JBL Tune 130NC, which is released at a price of Rs. 4,999. These buds offer some cool features like active noise cancellation and promise a battery life of 40 hours on a single charge. So let's not waste much of our time, and let's quickly start with the JBL Tune 130NC review.
You can also check out the review video for the JBL Tune 130NC here.
Box Contents
Starting with the box contents, you will get some basic paperwork along with a warranty card in the box. Next, you will get a small USB Type-C cable, two spare pairs of ear tips that are of small & large sizes, and one medium-sized pair that comes pre-installed in the earbuds. Finally, you will get a pair of JBL Tune 130NC earbuds and a charging case. They are available in Black, Blue, and White color variants.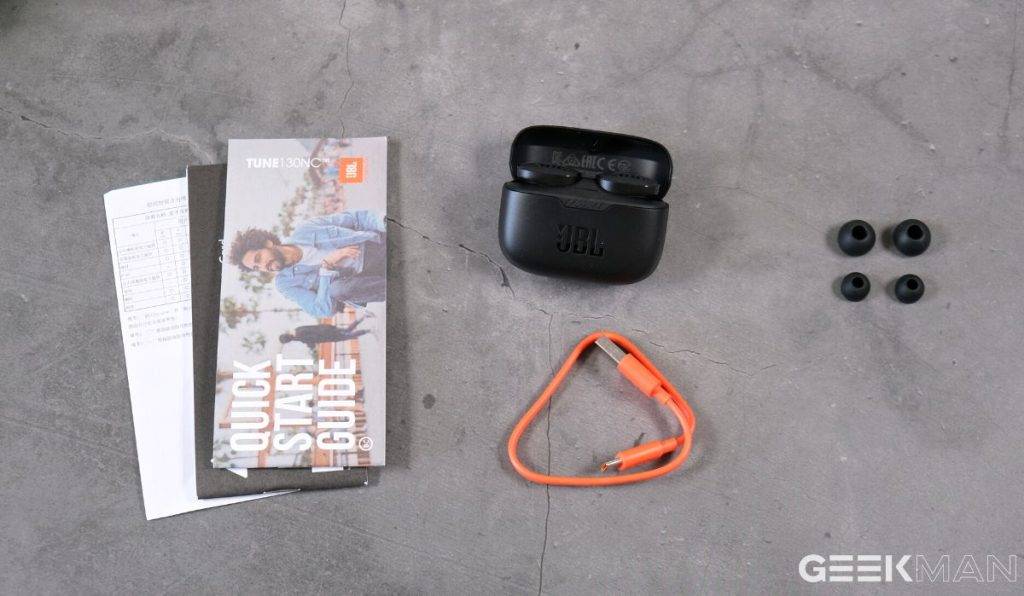 Design & Build Quality
Moving on to the design and the build quality, the first thing to notice about the charging case is its minimal design. I got the black color variant which comes with a single-toned body that looks pretty neat. The case is compact-sized and a bit slippery on the hands, so you may need to handle it carefully. It comes with a matty finish over it and has a glossy JBL branding at the front, which looks good. The three white-colored LED lights at the front look complementary to the design and indicate the battery charge status of the charging case. Meanwhile, on the back of the case, you will find a USB Type-C port to charge your case whenever required.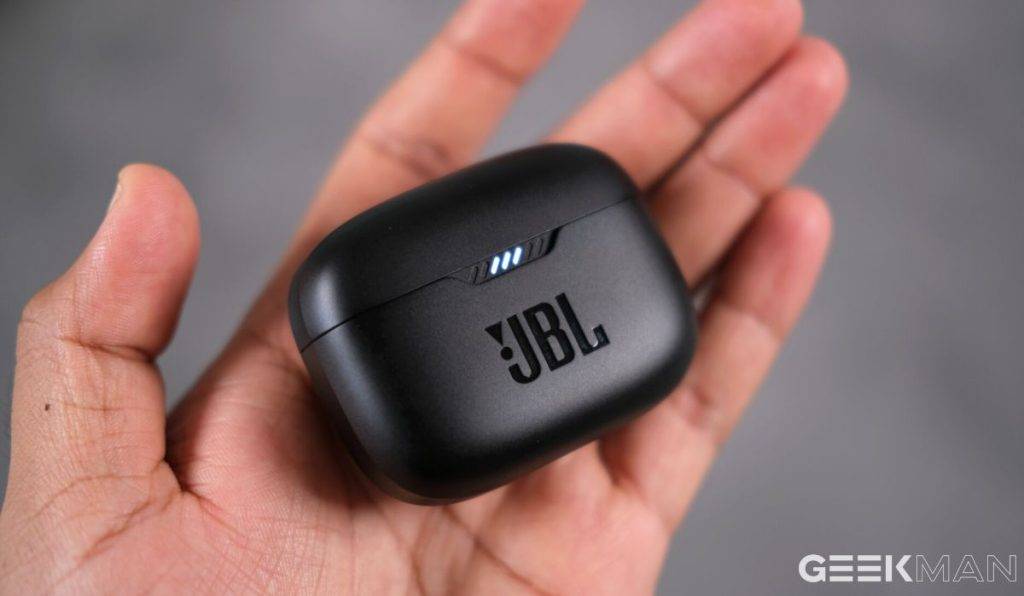 The earbuds also follow the same design pattern with a matty oval-shaped body and some glossy finish around the corners. They have a big touch-sensitive area which makes them very easy to operate. This touch-sensitive area has a JBL branding over it with a tiny blue-colored LED indicator which indicates the pairing and connection status. Both the earbuds and the charging case are made out of plastic, but they feel pretty solid in the hands and would easily survive a few accidental drops without any issues.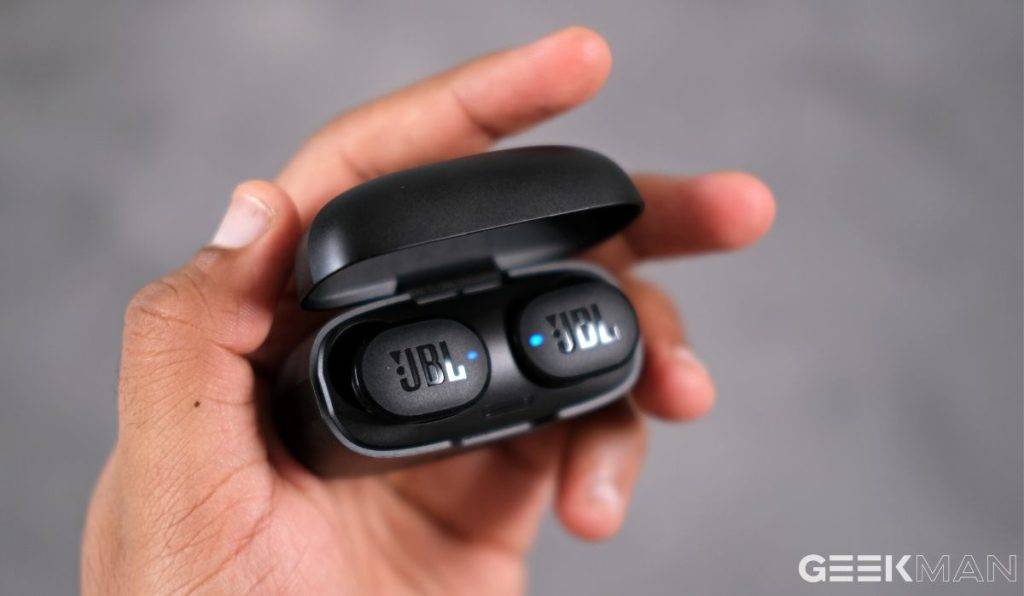 The JBL Tune 130NC is IPX4 rated, making them resistant to sweat, dust, or rain. This also means you can use it in the gym as well without any worries. Although taking it for a shower or a swim would not be a good idea. Also, the case has no IP ratings at all, so you must ensure that you dry your earbuds well before putting them in your case.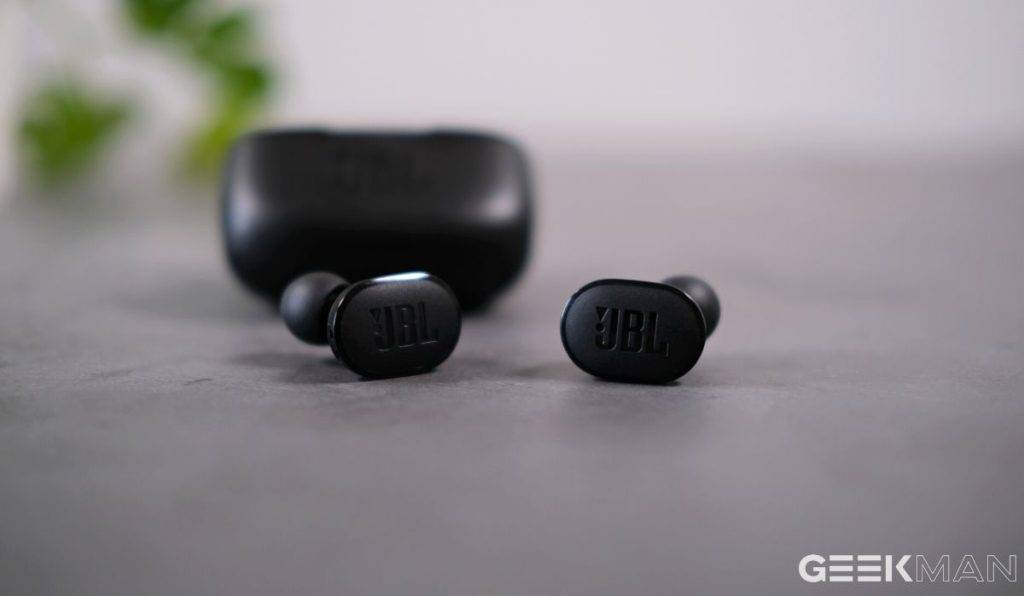 Comfort
So now, let's quickly go through the comfort as that's what TWS is all about. The JBL Tune 130NC weighs about 52 grams in total, whereas each bud individually weighs approximately 6 grams each which is not the lightest in the market but would not feel bulky at all, which is a good thing. Honestly, on my first impression, I thought the JBL Tune 130 NC would not be comfortable due to its bulky design, but after using them for a while, the earbuds turned out to be very comfortable. You can easily use them for 3-4 hours without worrying about ear fatigue at all.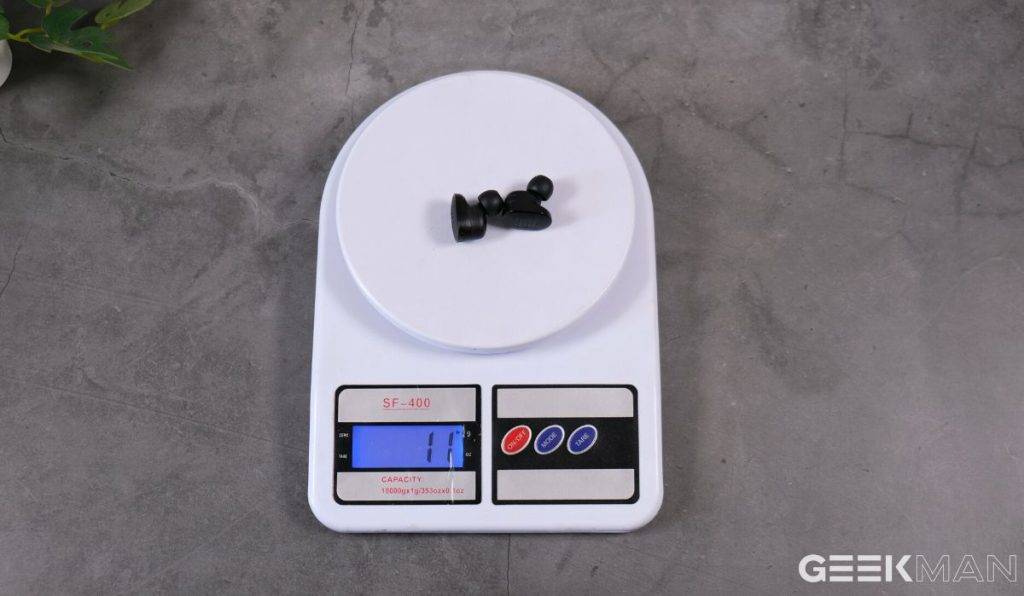 These true wireless earbuds nicely fit in your ears and offer a nice secure fit, which adds a decent amount of noise isolation to them. The touch controls are nicely placed and can be easily accessed whenever needed. I will also like to mention that these controls are super responsive and work pretty well. You also get audio feedback each time your command gets registered, which is handy as you usually get no idea if the command actually did anything or not. Another good part is that you can customize these commands for individual earbuds using the JBL headphones app.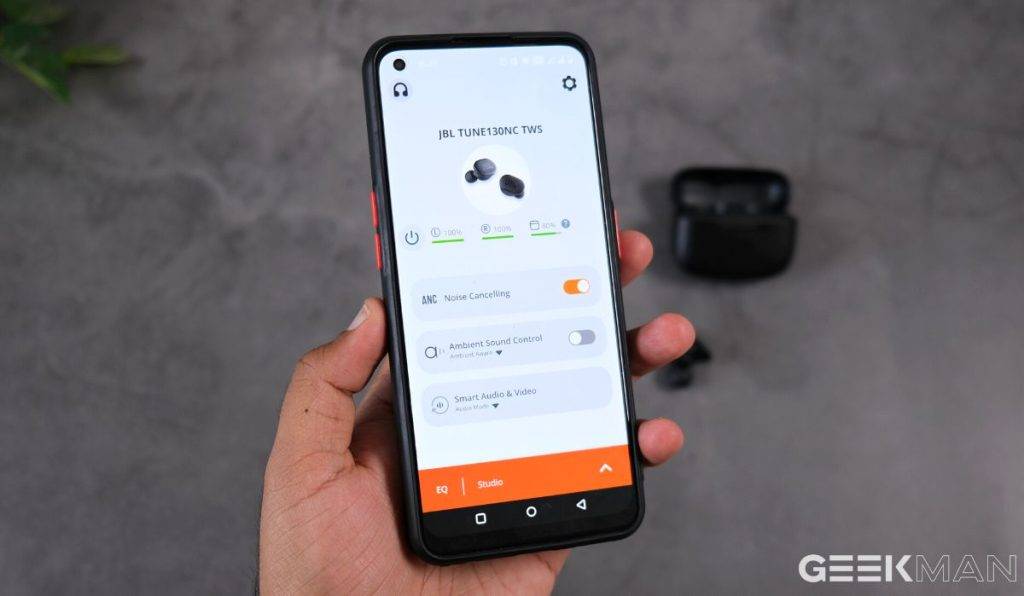 Features & Microphone
The JBL Tune 130NC TWS comes with Bluetooth v5.2 and Google Fast Pair support which makes the pairing process pretty fast. Since it uses Bluetooth v5.2, the Bluetooth connection is pretty stable and consistent. These true wireless earbuds come with AAC and SBC codec support. They also have a low latency mode which you can activate using the JBL headphones app. Unfortunately, it lacks multiple device support, one of the good features that come in handy when you have more than one device to work on.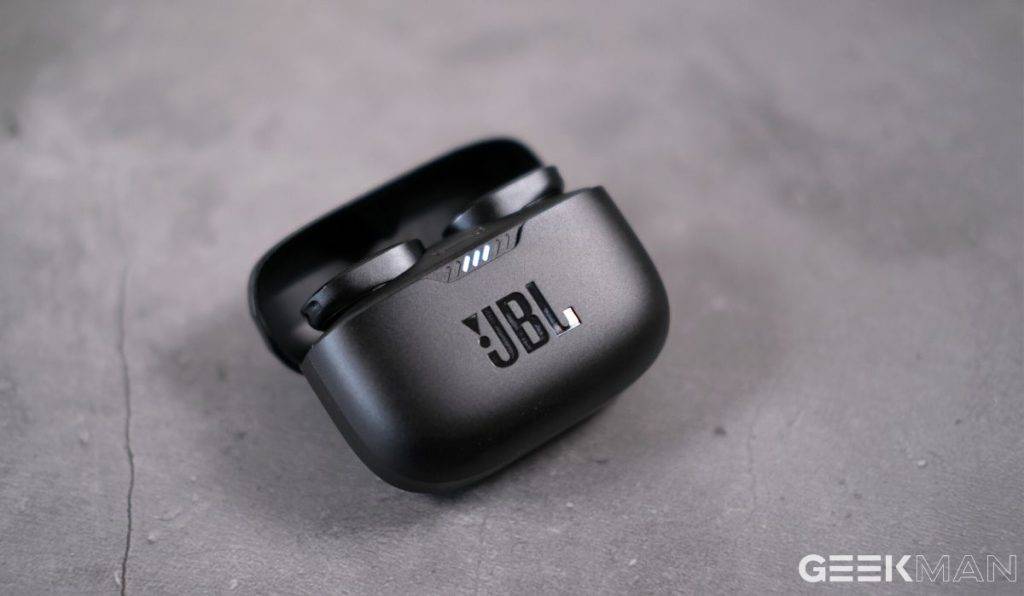 The JBL Tune 130NC TWS comes with active noise canceling capabilities which does a decent job of canceling out background noises. These earbuds are not the best active noise-canceling earbuds I have tested out, but they are good enough for their price. You can also switch to the ambiance mode or the transparency mode using the companion app, which also works pretty well.
Meanwhile, the companion app, the JBL headphones app, is one of the most refined and optimized apps I have tested. The main highlight of the app is its customizable audio settings, allowing you to alter the settings as per your liking. You can also choose from a few presets in the app by default. You also get audio and video modes for a lower latency which does a fairly decent job. Video mode has a lower latency rate than the audio mode, and you won't find any video lip-synching issues that are common in low-budget TWS earbuds.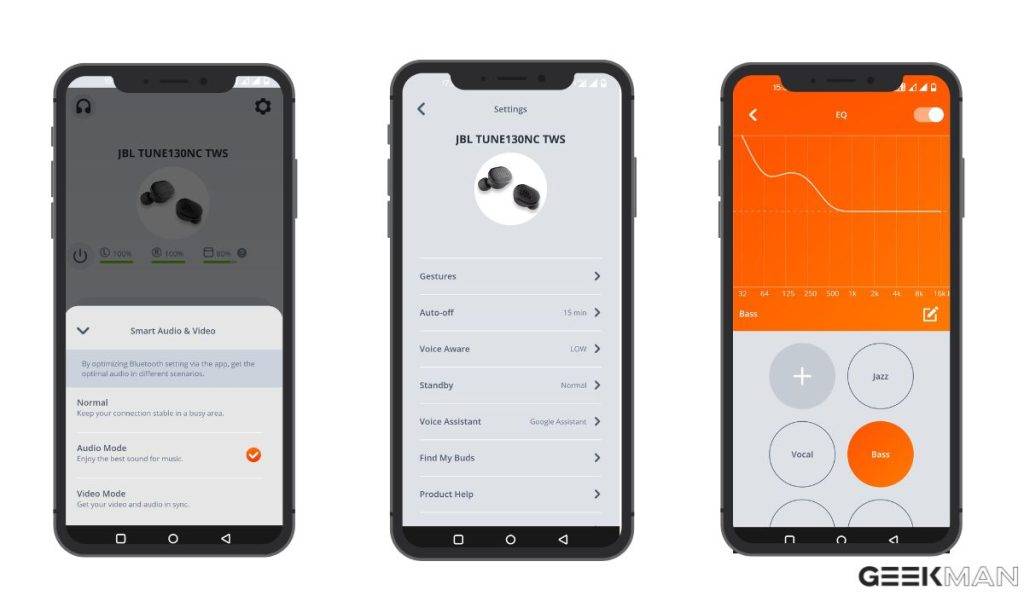 Although when it comes to in-game performance, you will feel a noticeable amount of audio delay, which is okay if you do casual gaming. If you're someone who has gaming as one of your main priorities, then these might not be the best choice for you.
Finally, coming to the microphone, the JBL Tune wireless earbuds house four microphones (2 on each earbud) that record good quality audio. Yes, it does capture a noticeable amount of background noise, but taking some calls or attending meetings is okay.
Audio Quality
Now finally, coming to the part that is one of the best highlights of the JBL Tune 130NC TWS, the audio quality. These true wireless earbuds house 10 mm JBL tuned drivers, which deliver a bass-rich audio output. The audio volume is perfect and hence does not gets uncomfortable or distorted even at 100% volume. The bass output is excellent and adds a good amount of thump to the audio, enhancing your overall experience. Another good part is that the bass does not overpower any other frequencies, which is a good thing. The overall audio output of the JBL Tune 130NC is pretty impressive and is one of the best in its price segment.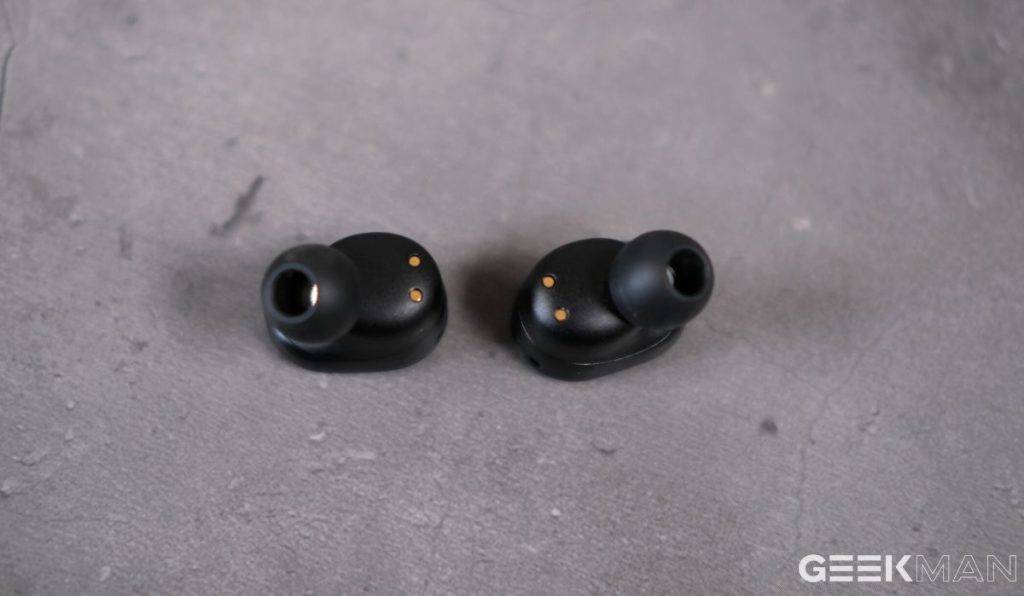 Battery Life
The JBL Tune 130NC TWS offers a battery life of about 10 hours; meanwhile, with the case, you can expect about 40 hours of battery life which is pretty good when compared to other similarly priced wireless earbuds. Meanwhile, these true wireless earbuds easily give 7-8 hours of battery life on regular usage. When you turn on the ANC mode, you will get around 6-7 hours of battery backup. They take about 1 hour to charge themselves up fully.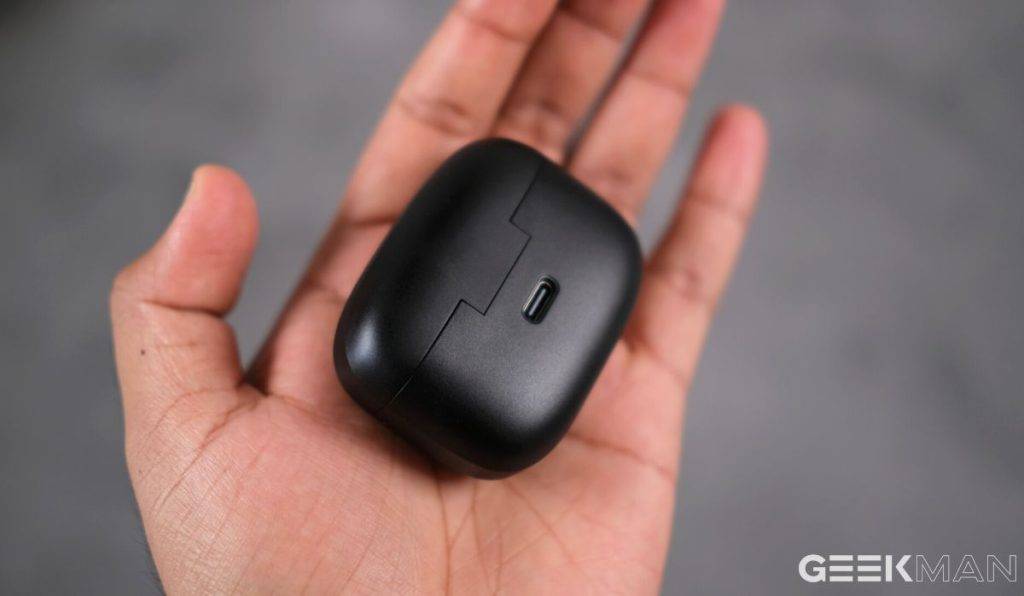 Final Words
So, is JBL Tune 130NC a good pair of earbuds for its price and worth buying?
The Tune 130NC offers excellent audio quality and decent active noise canceling capabilities. They provide good battery life and have plenty of valuable features like customizable audio settings and touch controls. Yes, these are not the best-looking earbuds and lack features like in-ear detection or multiple devices connected, but when it comes to the sound quality, these wireless earbuds are the best earbuds under the price bracket of Rs. 5,000.
If you have any questions or suggestions, you are always welcome to write them down in the comments section below, and I will get back to you as soon as possible. Thanks for reading.
Also Read: