I've had the chance to try out and review numerous earbuds and headphones because I have a strong passion for exploring new audio devices. So, when EarFun Air Pro 3 launched in India, I couldn't resist giving them a go. I've been using these TWS earbuds as my daily companions for the past week, and now I want to share my thoughts on the EarFun Air Pro 3 earbuds and whether they offer good value for their price of Rs. 6,999 (85$).
Earfun Air Pro 3 Specifications:
| | |
| --- | --- |
| Colors | Black |
| Drivers | 11mm wool composite dynamic |
| Bluetooth codecs | SBC, AAC, aptX Adaptive |
| ANC | Yes |
| Mic | 6-mic array |
| Water-resistance | IPX5 |
| Bluetooth | 5.3 |
| Support | Android 6.0+, iOS 12+ |
| App Support | Yes |
| Battery | 8h + 36h in case |
| Charging time | 1h quick charge |
| Other Features | Touch control customizes, Custom EQ, Talk Thru, Ambient Aware, Low latency mode, Fast charging, Wireless Charging, Apt-x |
| Weight | 53G – With charging case, 5G – Single earbuds |
Box Content
EarFun Air Pro 3
Charging case
4 pairs of silicone ear tips (S, M, L, XL)
USB-C charging cable
User manual
Swab stick for cleaning earbuds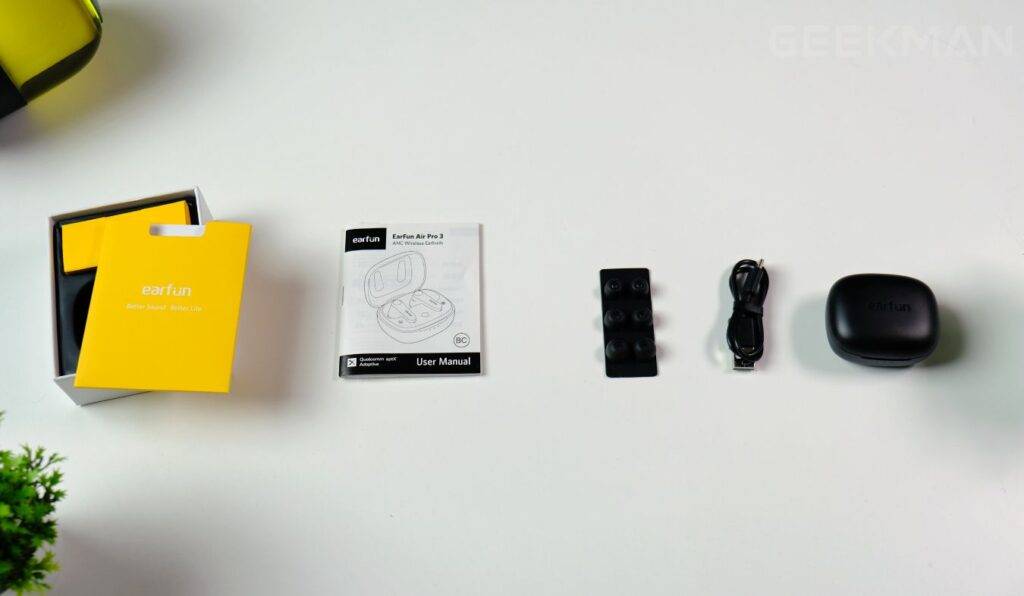 Design & Build
From the way it looks to how it is made, the charging case is simple and plain. It doesn't try to impress you immediately like some other fancy, truly wireless earbuds. But after a while of use, it starts to have a slightly more elegant feel. The charging case is small and easy to carry. It's almost the same size as the OnePlus Buds Pro 2 charging case. It also has a similar look and build quality, making it easy to scratch. So, you should keep it away from anything sharp.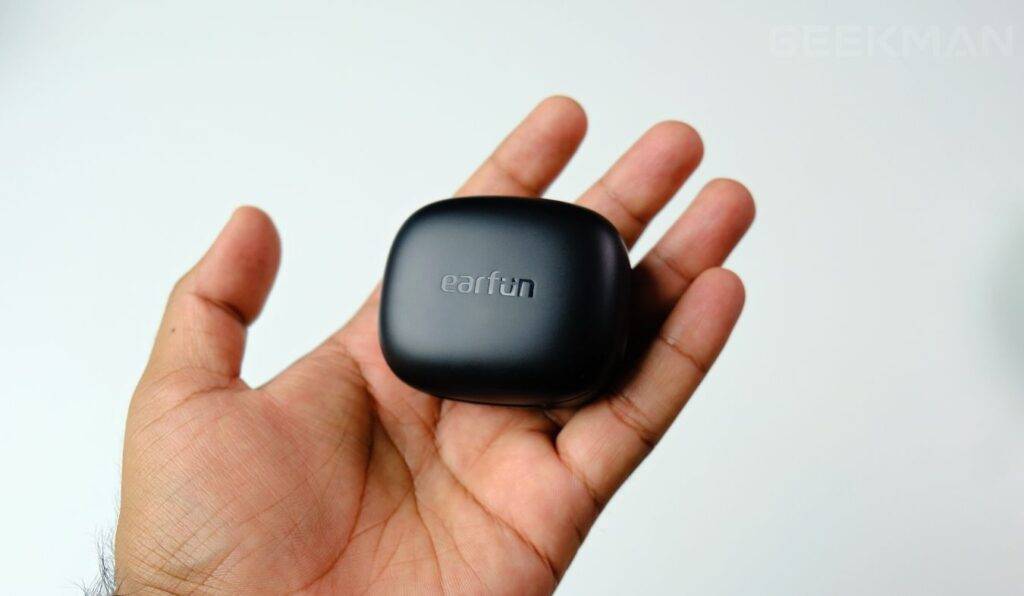 Regarding build quality, the charging case feels a little plasticky. It could have been better designed and built to provide a more premium feel. Nonetheless, it is relatively lightweight, making it suitable for daily usage. The earbuds are also very light and made totally of plastic. They look high-end because of their sleek design, glossy finish, and metallic gray paint layer. A small LED light on the touch buttons fits in well with the rest of the design.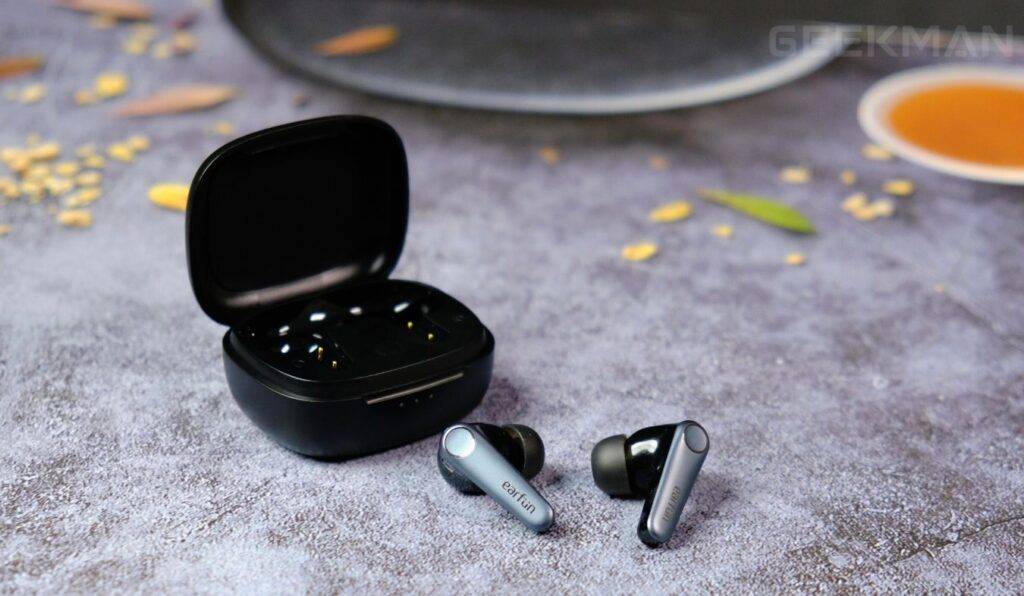 But here's the good news: the Earfun Air Pro 3 is waterproof up to IPX5 standards. That means you don't have to worry about them getting damaged by sweat or rain. So, go ahead and enjoy your activities without worrying about water-related mistakes.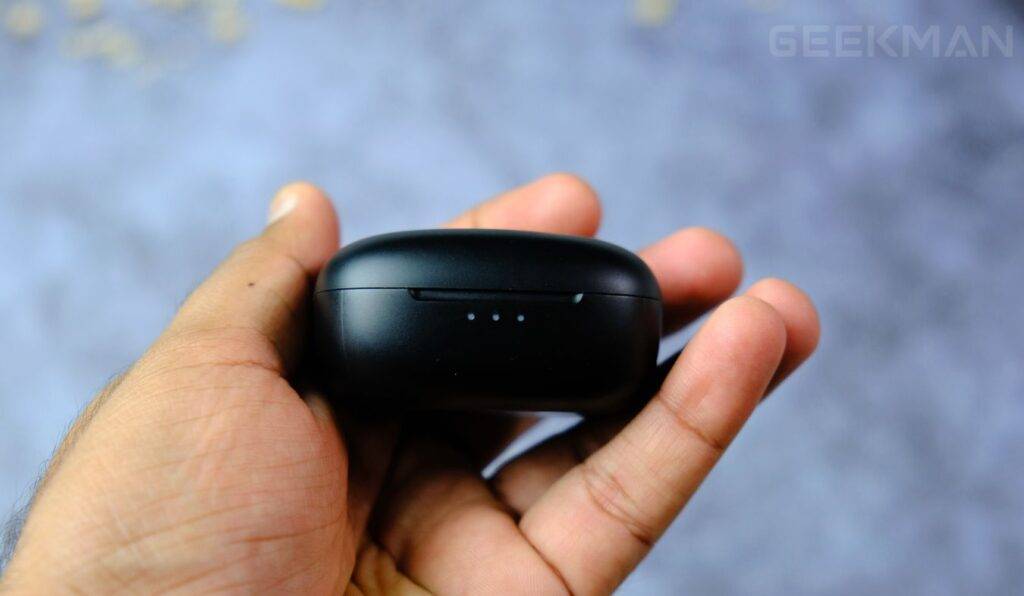 Comfort
In addition to comfort, the Earfun Air Pro 3 works great for me. I've been using it as my regular true wireless earbuds for the last week, and I have no complaints about its comfort. The main reason for its comfort is its lightweight build. You can easily use it continuously for around 4-5 hours without any issues. In terms of fit, it might feel slightly loose, but don't worry, it doesn't slip easily from the ear. So, it's ideal for sports or gym activities without any concerns.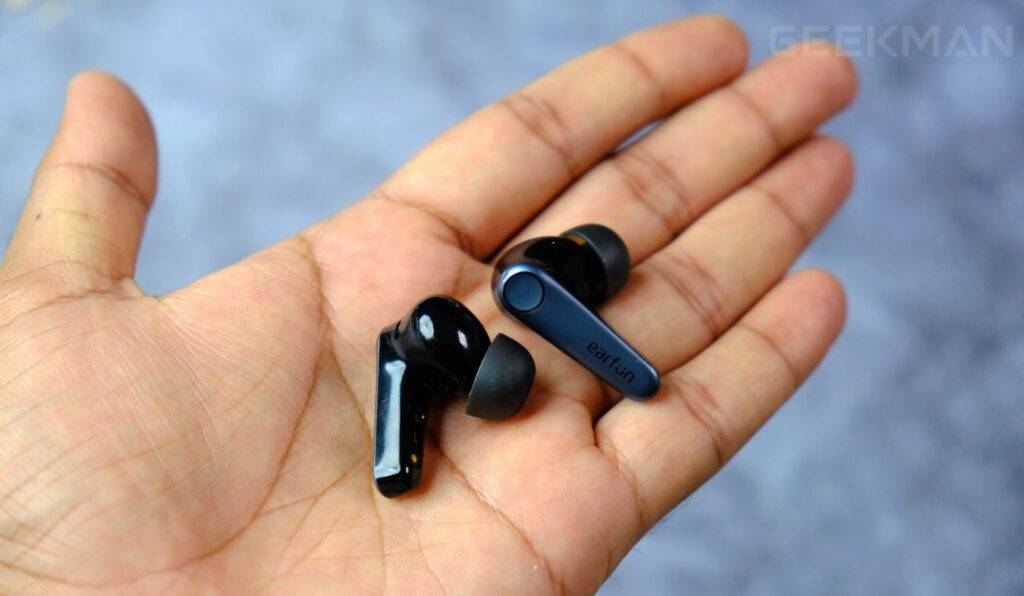 Connetivity & App
The connectivity of the Earfun Air Pro 3 has been flawless, in my experience. I tested it with various devices, including Android, iPhone, and Windows laptops, and it seamlessly connects to all of them. It comes with the latest Bluetooth 5.3 support. Pairing and range are smooth, and there are no problems in that regard. With the latest Bluetooth 5.3 support, there are improvements in data transmission and battery life. Additionally, it supports dual pairing and single mono mode.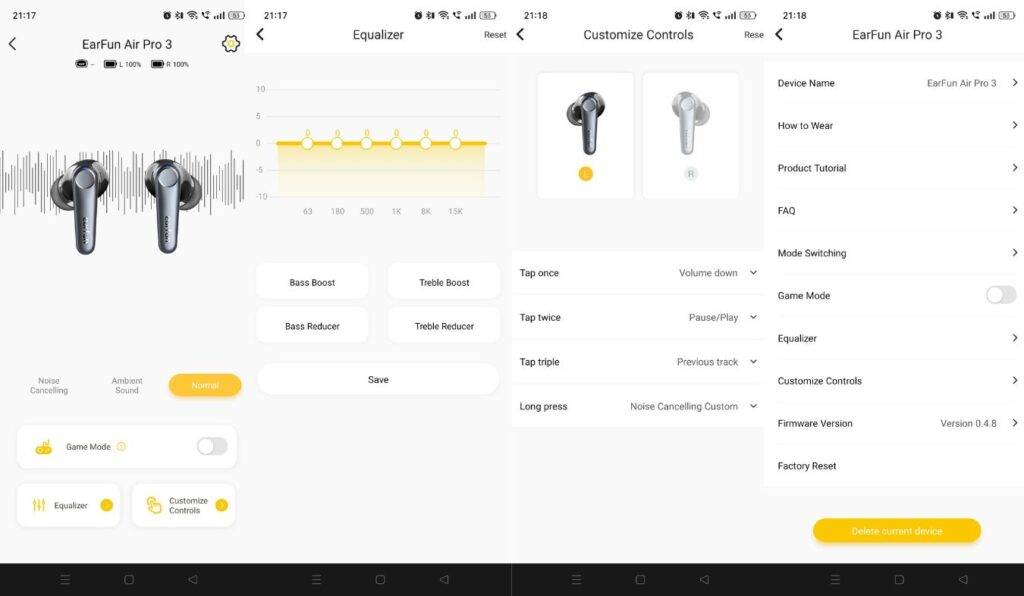 The only thing missing is Google Fast Pair support and wear detection, which would have been great to have. However, you'll need to download the Earfun Audio companion app to access features like ANC and gaming mode. It's available on both Android and iOS platforms. The app is clean and easy to use, but it's worth noting that it only offers basic features. It lets you turn ANC on/off, enable/disable ambient mode, and activate the low-latency gaming mode. There's also a custom EQ with preset modes that can be further customized according to your preferences. Moreover, touch control customization is available too.
In the past week, I received two updates for these earbuds, indicating that the company is actively working to improve the Earfun Air Pro 3. Overall, it's great to see the company putting effort into enhancing its product.
ANC
Speaking of ANC performance, Ahmedabad is experiencing strong winds these days, which provided me with a good opportunity to test the ANC and microphone. The Earfun Air Pro 3 offers up to 43dB of ANC, which is quite impressive for earbuds in this price range. Moreover, it comes with a hybrid ANC, which is not commonly found in most true wireless earbuds at this price point. Usually, you'll find earbuds with Feedforward ANC in this price range.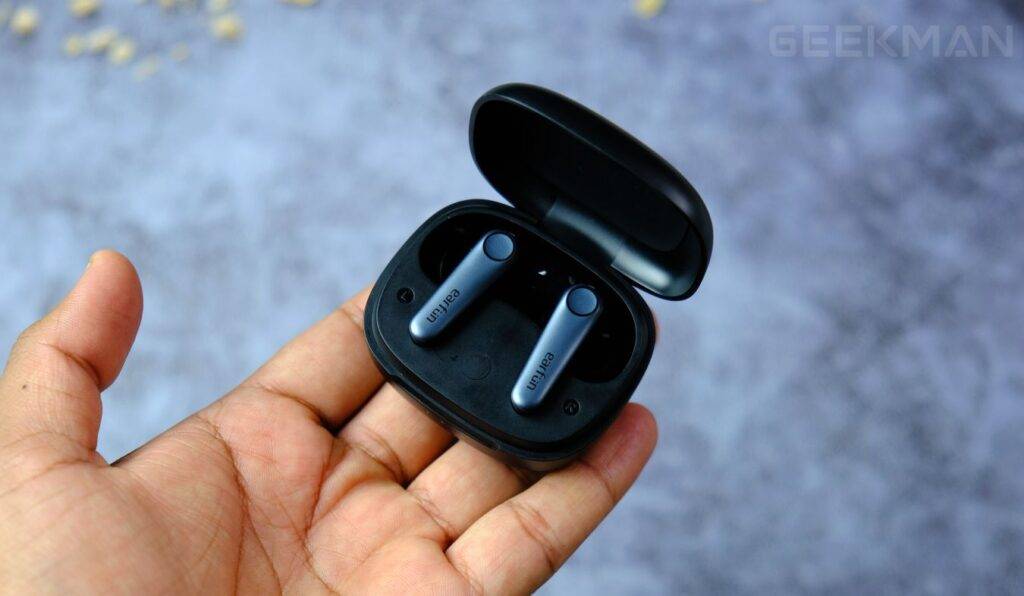 I tested the ANC in both indoor and outdoor settings, and I must say, I was really impressed with its performance. It's quite rare to find such good ANC in this price range. I even tested it amidst road traffic, and the earbuds were able to make the noise from car and bus engines almost silent. However, it's worth noting that you can still hear vehicle horns or strong winds to some extent, which is normal for earbuds in this price range.
Overall, considering the price, the ANC performance of the Earfun Air Pro 3 is quite remarkable. It's a great option for those looking for effective noise cancellation without breaking the bank.
Latency
Thanks to the aptX codec support and Game Mode, you can use EarFun Air Pro 3 for competitive gaming. I tested it with BGMI (BattleGrounds Mobile India), and I must say that I would recommend it to gaming users. I like to add that you shouldn't see any lag when watching videos on YouTube or social media.
Microphone
The EarFun Air Pro 3 has six microphones and the latest Qualcomm chip to ensure great call quality. When it comes to phone calls, you'll be heard clearly without any annoying clicks or background distortion that often plague wireless headphones. However, one minor drawback is that your voice might sound a bit thin. It's not a major issue; most TWS in this price range have the same story.
On the positive side, the new chip really shines in terms of reducing ambient noise. Even if you're talking near a busy road, the microphone will keep your voice clear and free from muffling.
Overall, the Air Pro 3 is more than suitable for quick phone calls and maybe even video calls.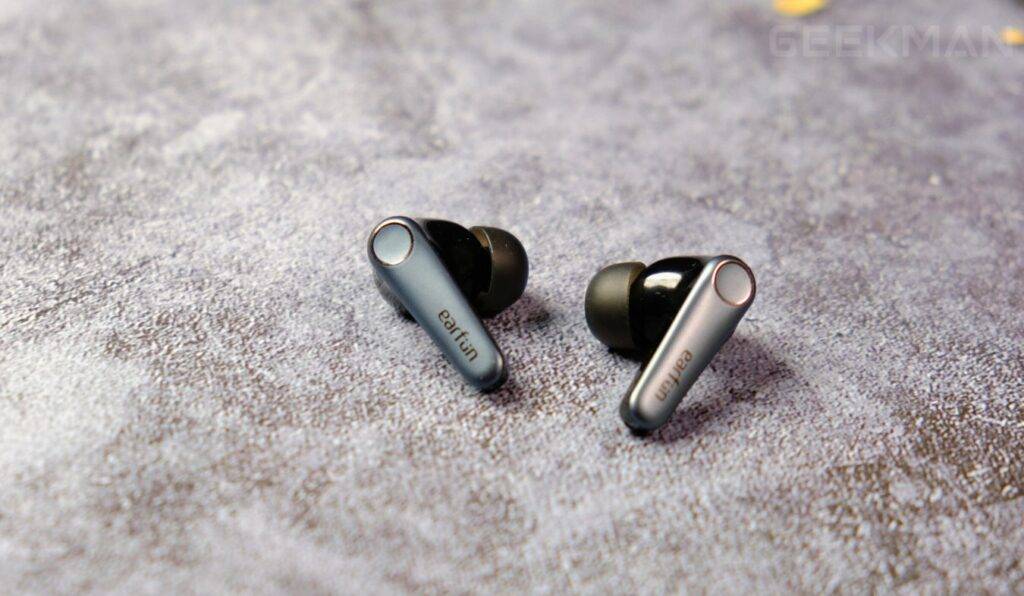 Battery
Besides ANC and aptX, another significant advantage of these TWS earbuds is their battery life. The company promises a playback time of up to 45 hours. When considering a single earbud, with ANC turned off, you can expect up to 9 hours of playback time, and with ANC enabled approximately 7 hours. From my personal usage, I found that at around 50-60% volume with ANC on, I obtained approximately 3 hours of playback time with around 40% battery remaining. So, the battery backup is quite promising. Additionally, it supports fast charging, which can fully charge the earbuds in just 2 hours. Moreover, it also has wireless charging support.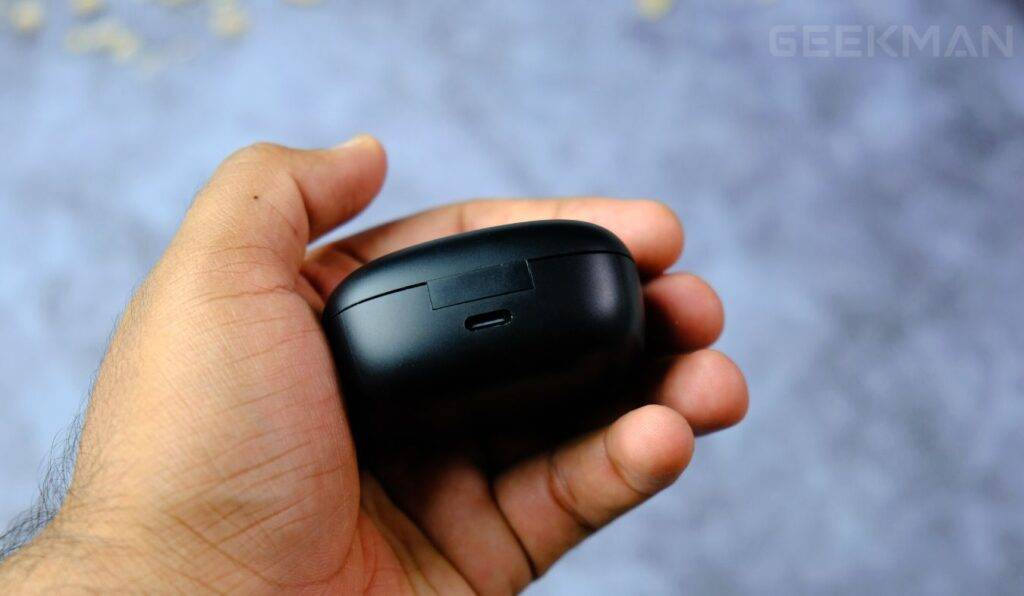 Sound Quality
Finally, let's talk about the sound quality. The Earfun Air Pro 3 has 11mm drivers and supports SBC, AAC, and aptX codecs. This combination delivers a good level of volume with clarity. The overall volume is not excessively loud, but the output is clear and punchy. This adds an energetic touch to music tracks, which most people will appreciate.
When it comes to lower frequencies, the bass response is quite impressive. Especially in the lower bass range, these earbuds handle it well. The bass is punchy, boomy, and detailed. If you enjoy listening to EDM, pop, or any music with prominent bass, you'll really like these TWS earbuds.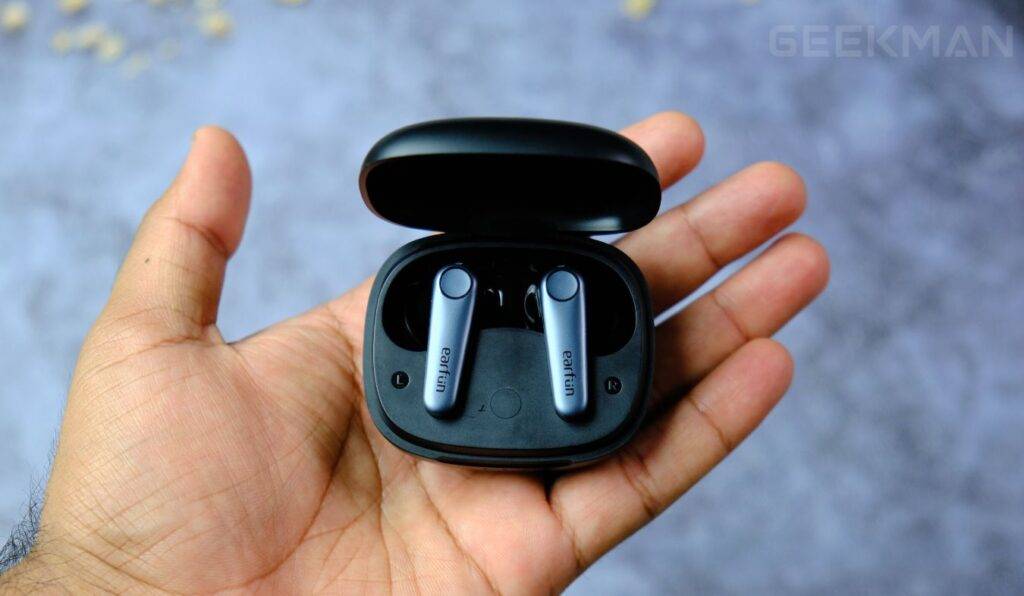 When it comes to the other frequencies, the EarFun Air Pro 3 slightly stretches the lower frequency, which results in the vocals and mid-range instruments sounding a bit less vibrant, and there is a slight loss of detail in some tracks. However, an effort has been made to sharpen and adjust the mid-high and treble frequencies. As a result, the vocals and the low-high frequencies get some brightness, but it feel slightly artificial. Particularly in certain tracks, the vocals may sound somewhat flat. Well, it's nothing new. It's common for TWS earbuds with a slight bass boost in this price range.
However, one positive aspect is that even though the lower frequency is somewhat boosted, it doesn't overpower the other frequencies. Overall, the sound quality of the EarFun Air Pro 3 is decent and enjoyable. However, it may not offer the absolute best sound quality in this price range, and the soundstage could have been a bit wider.
The EarFun Air Pro 3 has a custom EQ option in its application, allowing for significant sound quality adjustments. I like to mention that as a reviewer, I have provided this review based on its default tuning.
Should You Get EarFun Air Pro 3?
If you listen to a lot of bass-heavy, pop, and EDM tracks, you will likely enjoy the Earfun Air Pro 3. However, if you're an audiophile searching for natural tuning and an excellent soundstage, the Earfun Air Pro 3 may not impress you as much. In that case, I would recommend considering the OPPO Enco X2 or OnePlus Buds Pro 2 by increasing your budget slightly. There aren't many standout options in the market between the price range of 5000-7000 Rs, with only three notable choices: JBL Tune Beam, Samsung Galaxy Buds 2, and Nothing Ear (1). While JBL Tune Beam and Galaxy Buds 2 offer a wider soundstage, but they lag behind in other features compared to the Earfun Air Pro 3.
Overall, within the 5000-7000 Rs range, the Air Pro 3 is a good package. If you're looking to step slightly above the budget segment and want decent TWS earbuds with good bass response, battery life, microphone quality, and decent ANC, you can certainly consider it. Although I felt that 7000 Rs is a bit high, it could still be a good option under 6000 Rs. If you like it, you can definitely buy the Earfun Air Pro 3.
Alternative
Also Read:
FAQ
Is EarFun Air Pro 3 waterproof?
EarFun Air Pro 3 earbuds come with IPX5 waterproof rating, so don't worry about water and dust. Please note only the earbuds are waterproof, not the charging case.
Does EarFun Air Pro 3 work with iPhone?
Along with Android, the Air Pro 3 also work with iOS, Mac, and Windows laptop.