I've been reviewing budget smartwatches for years and have very infrequently come across something that genuinely excites me. The AmazFit Pop 3S (Rs. 3,499) is one of the few watches in this price range that I was quite interested in checking out. The Pop 3S comes with perks like Bluetooth calling, a metal build, a large AMOLED display, an Always-On display, Spo2, and more. So, if you're in the market for a new budget smartwatch, here is my review of the AmazFit Pop 3S.
AmazFit Pop 3S Specs
What's in the Box
First off, let's take a look at the contents of the box here.
Pop 3S Smartwatch
Charging cradle
Manuals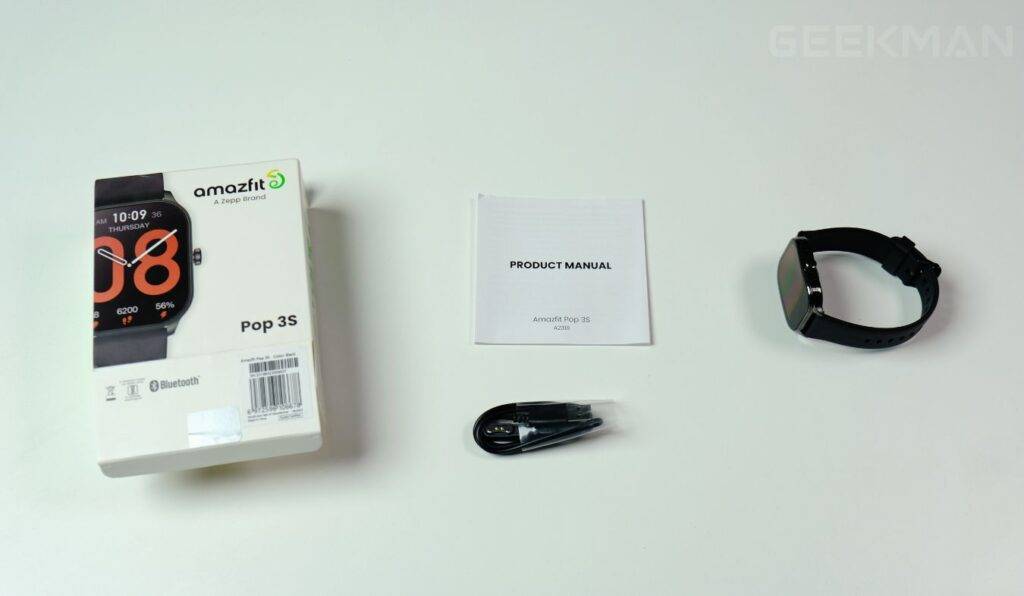 Design, Build & Comfort
The first thing that caught my attention about the AmazFit Pop 3S is its design and build quality. This smartwatch's design is impressive, and I think it is one of the best in its price range. I was previously impressed with Nord Watch's design and built quality within this price range, yet I must admit that the Pop 3S has impressed me even more and has become my favorite pick.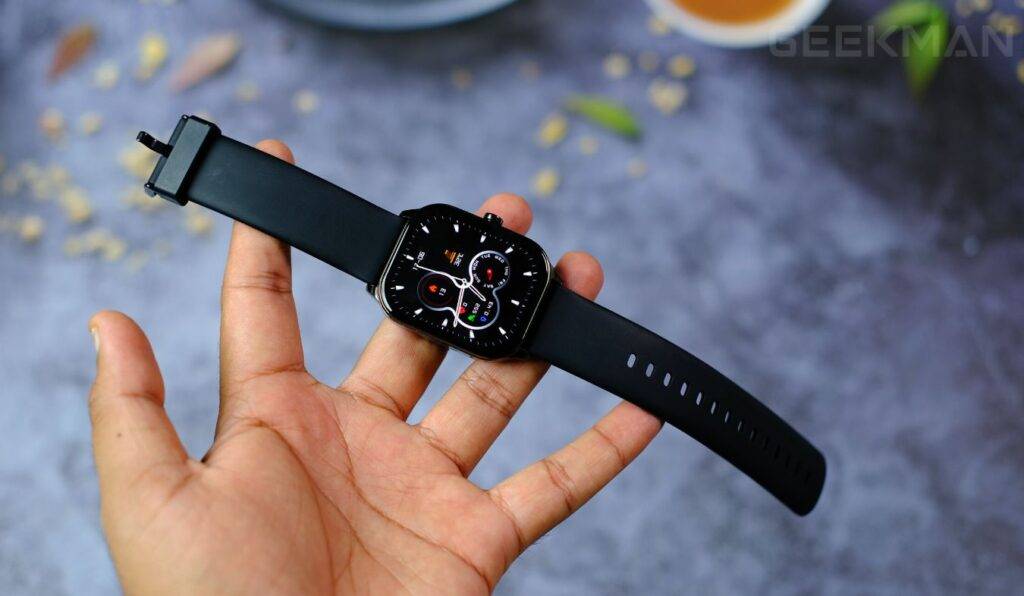 At first glance, you can easily feel this watch's top-notch design and build. The design and build are comparable to Amazfit's renowned mid-range smartwatches, like the GTS 4 mini or GTR 2. Such good quality build is a significant advantage and certainly serves as a key selling point for this smartwatch at this price point.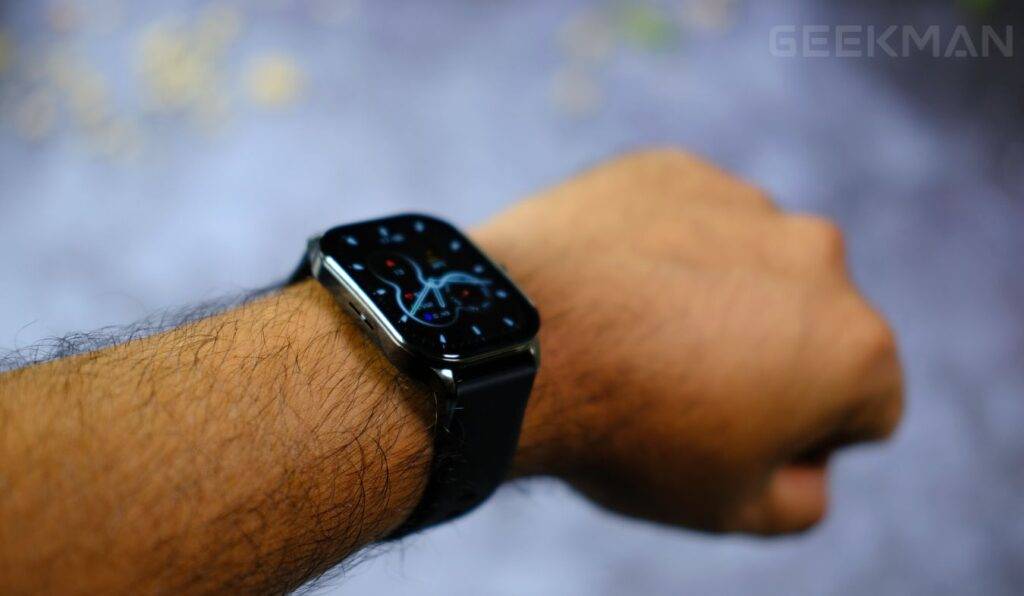 Well, it's true that the AmazFit Pop 3s is slightly bulkier compared to the Oneplus Nord Watch or the Realme Watch 3 Pro, and it's not exactly compact either. So, if you prefer a lightweight smartwatch like me, you might need to give it some time to get used to the comfort level. But hey, if you're looking for a large display and sturdy metal build, it's definitely worth the weight! Plus, the strap quality is top-notch – super soft and skin-friendly. I wore it for two days straight and didn't experience any skin irritation. So, overall, I wouldn't say it's the most comfortable watch out there, but it's not bad, either. Let's call it average.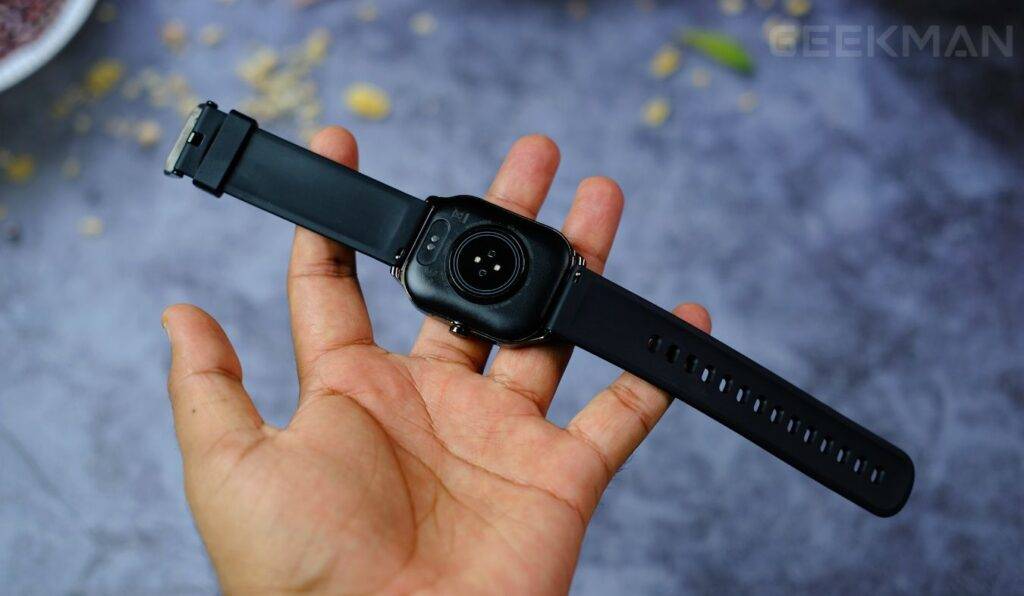 As I was saying, the overall build quality of this watch is pretty good. It has a glossy finish with a metal chassis that enhances its looks and adds to its durability. So, you can expect a long and fruitful relationship with this smartwatch. No doubt! The build quality is the second plus point of the AmazFit Pop 3S smartwatch.
The one I bought for the review is a black variant, but if this color isn't your cup of tea, then don't worry, my friend. You've got two other color options to choose from. And if you want that classic watch feel, then you can go for the stainless steel option. And yes, the strap belt is removable, so you can also try some cool-looking aftermarket options.
Display: Vividly Clear
Another thing that makes this watch attractive is the slightly curved glass covering the display. It gives a unique look to the watch and seems to give a slight 3d vibe to some of the watch faces. I don't know if it's because of this curved glass design or maybe the good-quality display behind it. But whatever it is, the display looks fantastic.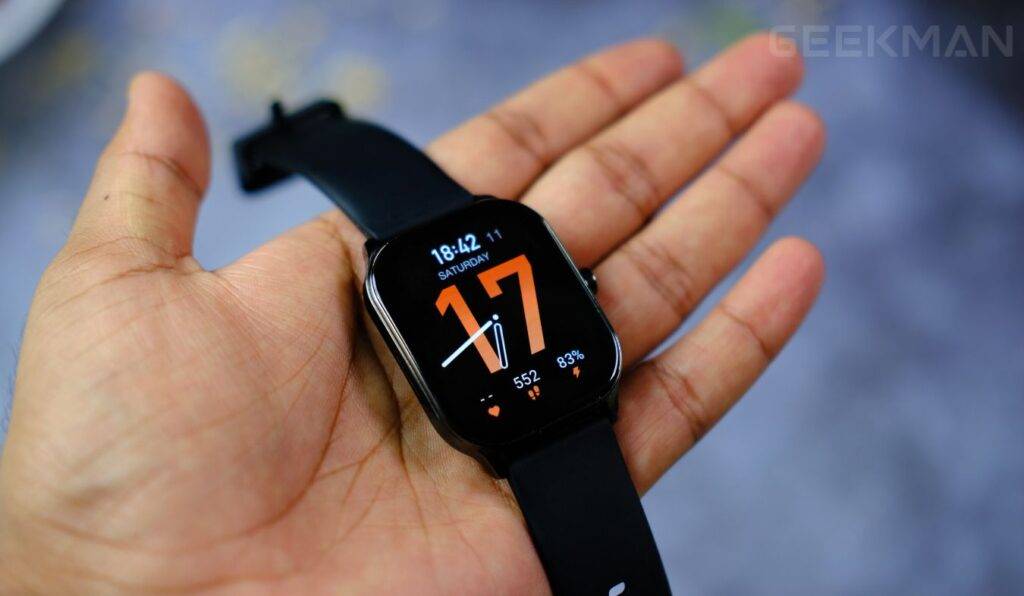 It has a large 1.96-inch AMOLED display with a 330 ppi brightness and 410 x 502 resolution. The quality of the display is really good and offers good vibrant color reproduction and brightness. Overall, you get a great on-screen viewing experience. Even in bright sunlight, the display is easy to read.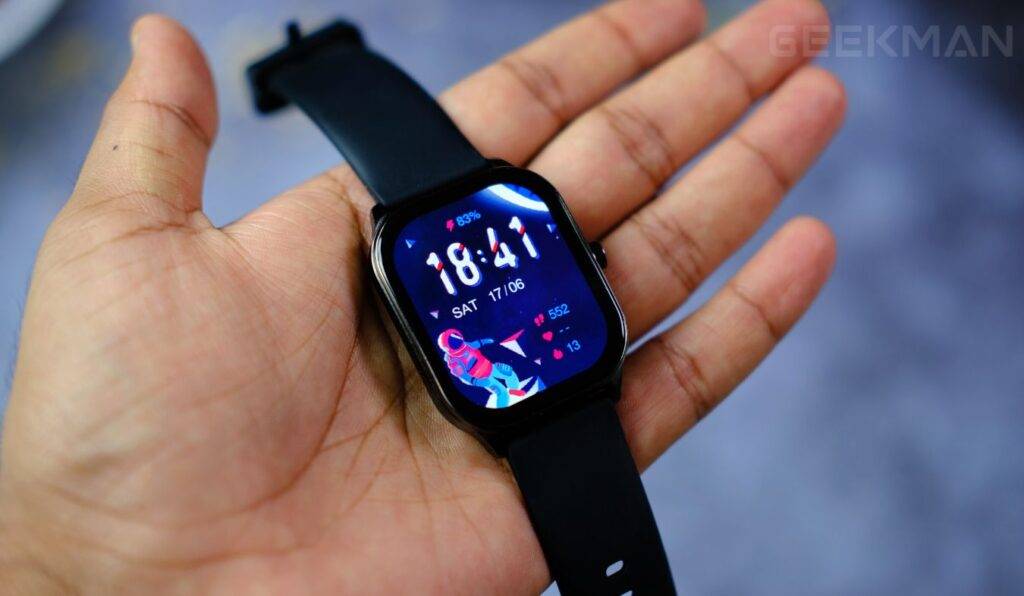 Another thing worth mentioning is the narrow bezels, which provide a large display area that looks great and also enhances the watch's overall aesthetics. The Nord watch, and the Realme Watch 3 Pro are already known for their top-notch display quality in this price range. But guess what? We've got a new contender stepping into the ring – AmazFit Pop 3S. And you know what? I personally found the display quality on the Pop 3s to be a tad better overall.
Yes, it doesn't come with a 60Hz display like the Nord watch, which would have been a nice addition. But you know what? It's totally okay. Here's the thing: it's way more affordable and packed with a ton of features and functions. So, honestly, we can't really complain too much about it.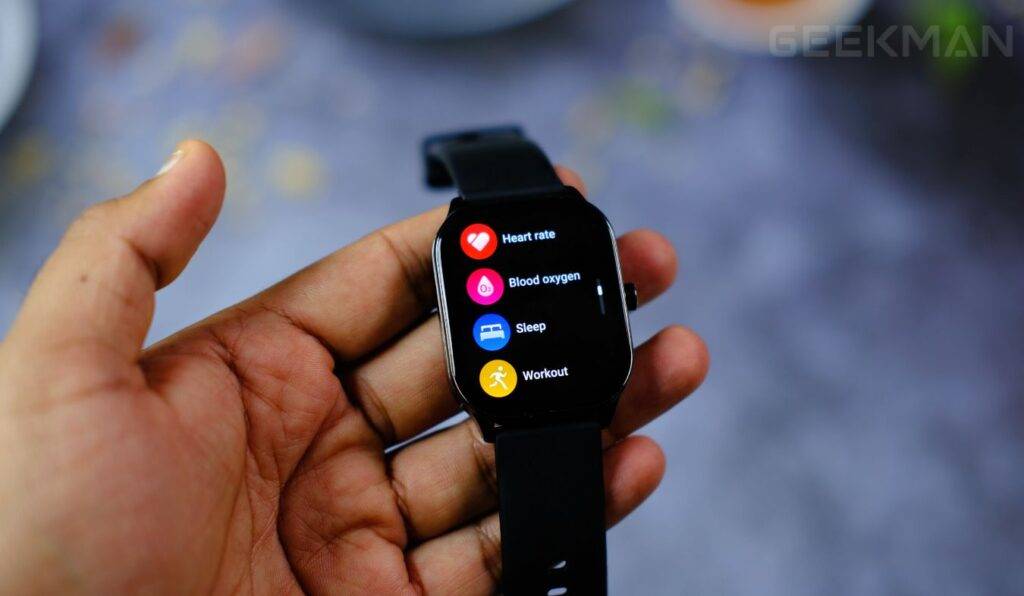 The UI interface is also quite colorful, and the icons are well-designed and vibrant, which adds to the overall display experience. So, thanks to the good design UI and good quality AMOLED panel, you will get a visually engaging experience and not be bored with the AmazFit Pop 3S any time soon.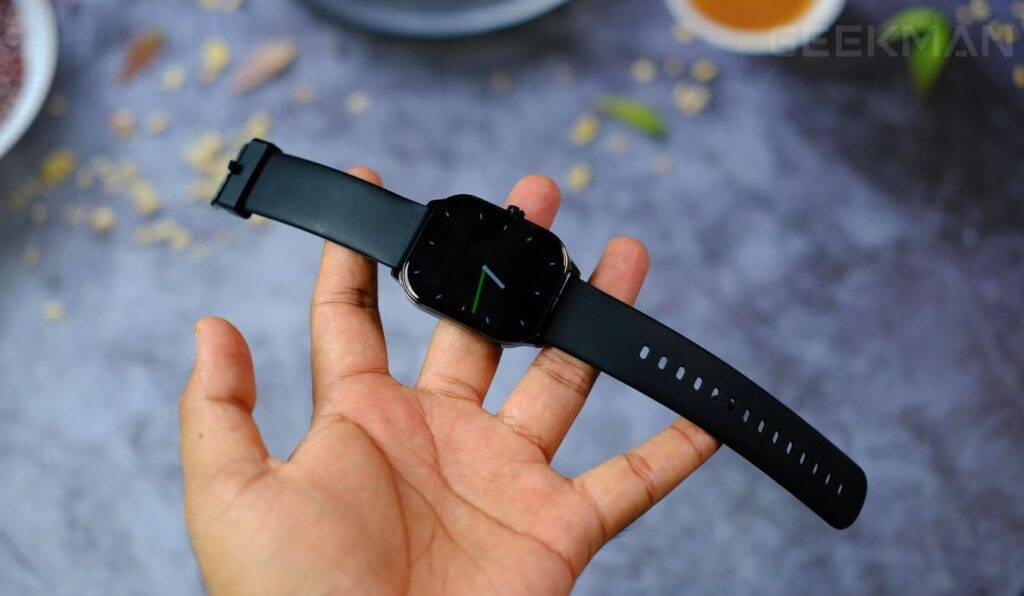 Apart from that, you also get 100 plus well-designed watch faces. Plus, there's an option to set up a custom watch face. With such a fantastic display, you'll always feel tempted to keep it on. And guess what? They've got your back with an always-on display mode. It has dedicated two cool clock skins just for that— they can remain on for up to 30 minutes.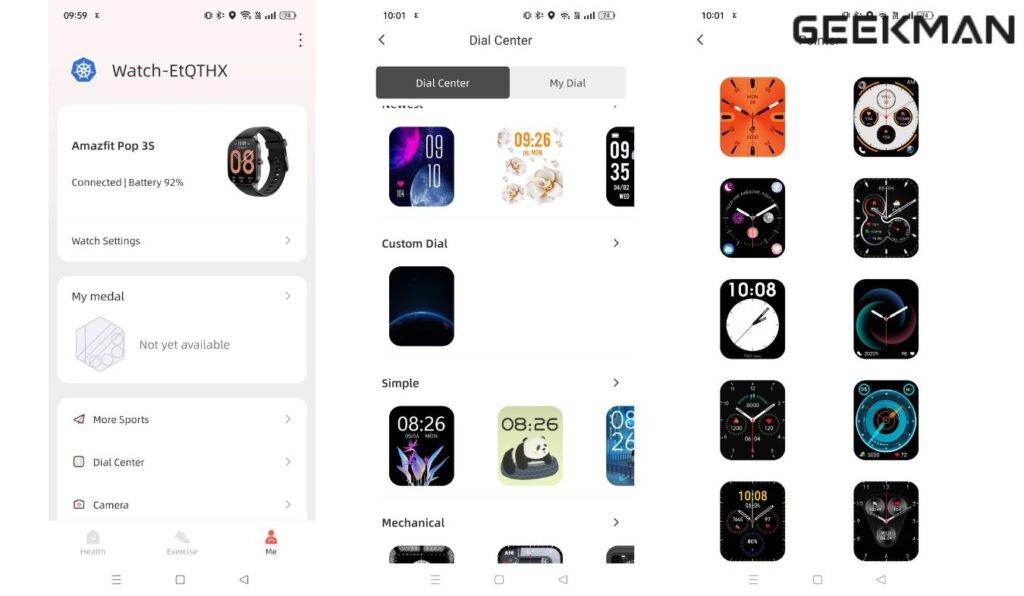 Features
Let's talk about the fitness features and other utility options. This time I thought maybe Amazfit would launch this watch with its Zepp OS. But that didn't happen. It would have been a game-changer step if they had, right? But no worries, even without Zepp OS, this AmazFit Pop 3S still comes with a bunch of fitness-related and customization options.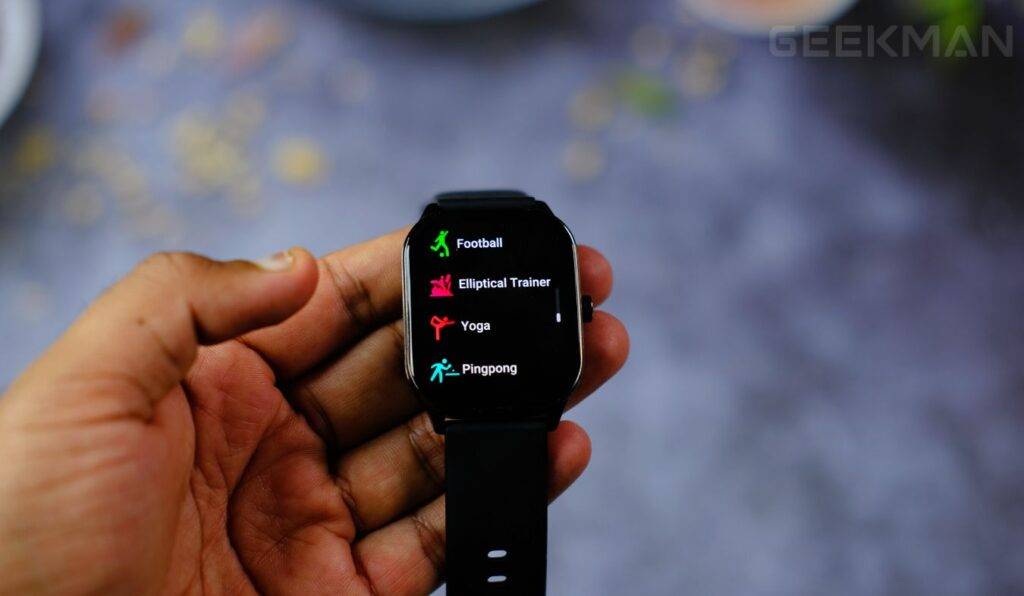 In terms of fitness tracking, you've got over 100 sports modes, daily activity tracking, continuous heart rate monitoring, sleep tracking, SpO2 tracking, and even stress measurement. And that's not all! It also has alarm, stopwatch, weather updates, find my phone feature, music control, and a couple of inbuilt games.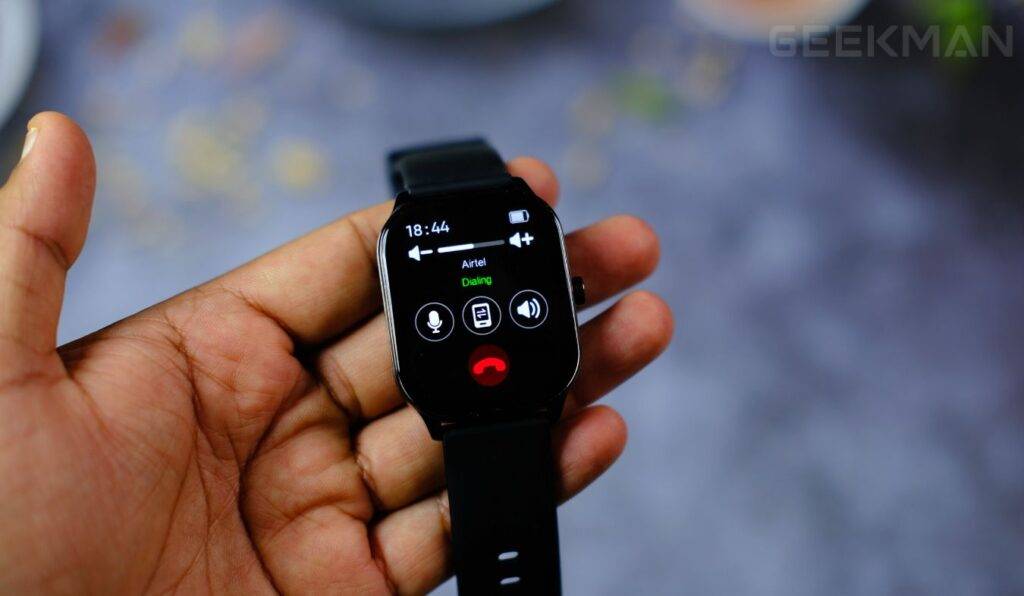 Besides all that, you also get messages and app notifications on the watch screen, and not just from major apps but from all applications. It has a microphone and speaker, so you can even make Bluetooth calls directly from your smartwatch. You can dial calls, save contacts for quick dial, reject incoming calls, and even send quick reply messages. You can set custom quick replies, too (with the application).
Moreover, you can change call and message notification ringtones, adjust volume, turn vibration on/off, and silence the watch. You can also set a password and access Google Voice Assistance and Siri directly from your wrist. So, yes, the watch comes with a ton of options that you don't usually find in this price range.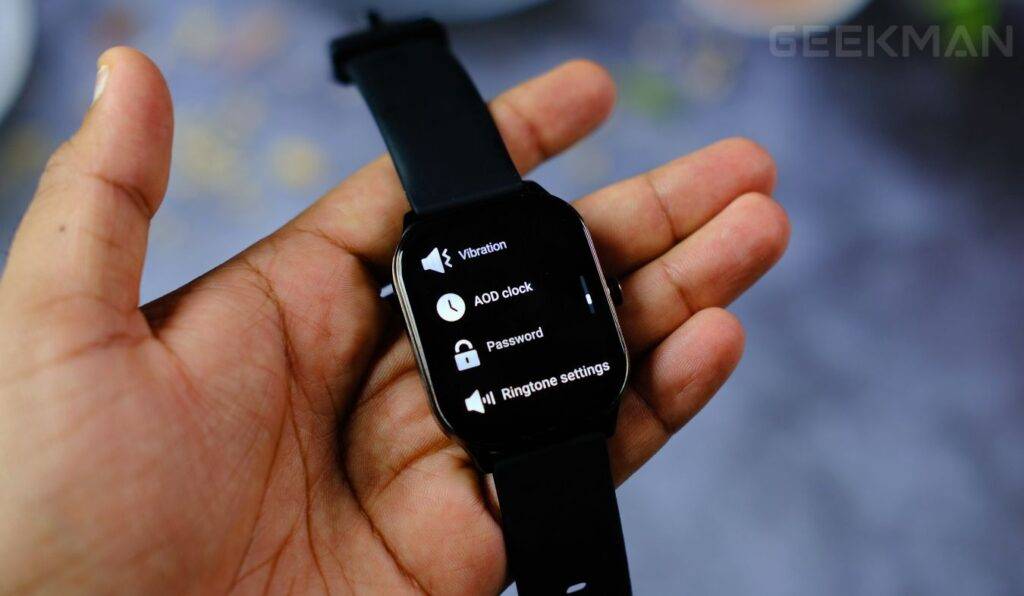 Performance
The overall user experience of the AmazFit Pop 3S is excellent. It delivers a lag-free performance, showcasing its strong capabilities. Although it's important to note that we can't expect performance on par with the Galaxy Watch 5, it still provides an impressive user experience.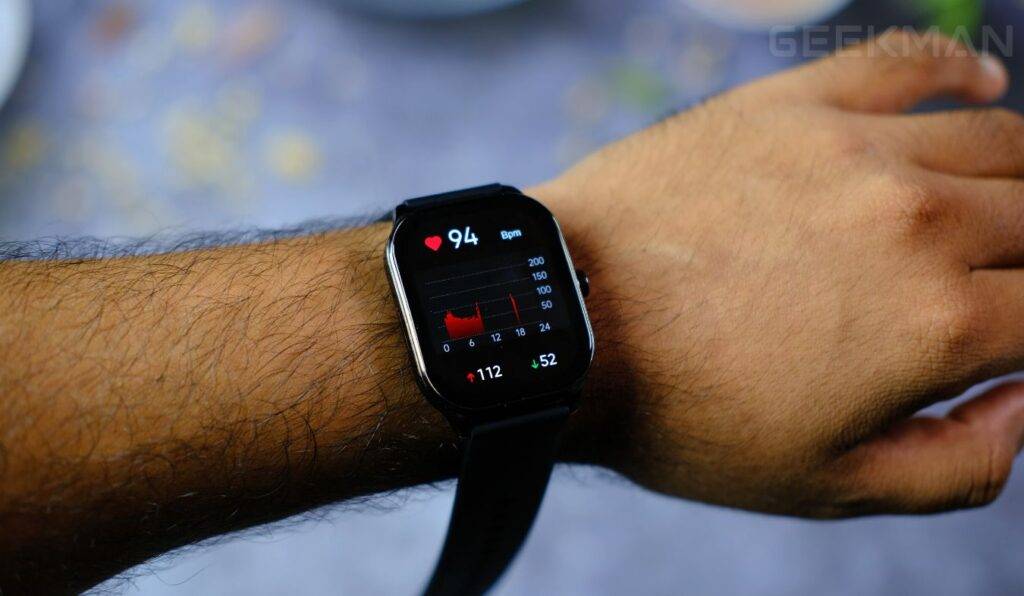 When it comes to accuracy, this is one area where Amazfit stands out from other brands in the mid-range and budget price range. Amazfit has set a high bar in terms of accuracy, surpassing many other smartwatches in the market. Following its procedure, the AmazFit Pop 3S also provides decently accurate data. The sports modes work decently and deliver satisfactory results. Other fitness features like daily activity tracking (steps, calories, distance), heart rate monitoring, and sleep tracking are reliable. Please note that 100% accuracy is impossible (applied for all smartwatches).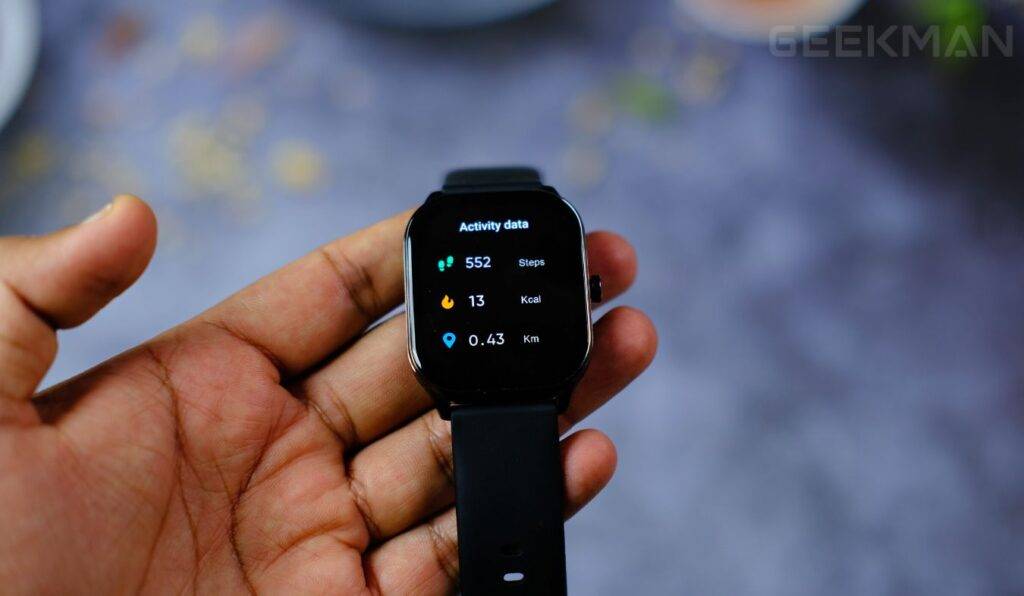 Companion App
To use the Pop 3S, you'll need to download the Zepp Active app, which is available for both iOS and Android platforms. The app is clean and user-friendly, and I haven't encountered any bugs or connectivity issues. It provides detailed information and allows access to essential settings for the smartwatch.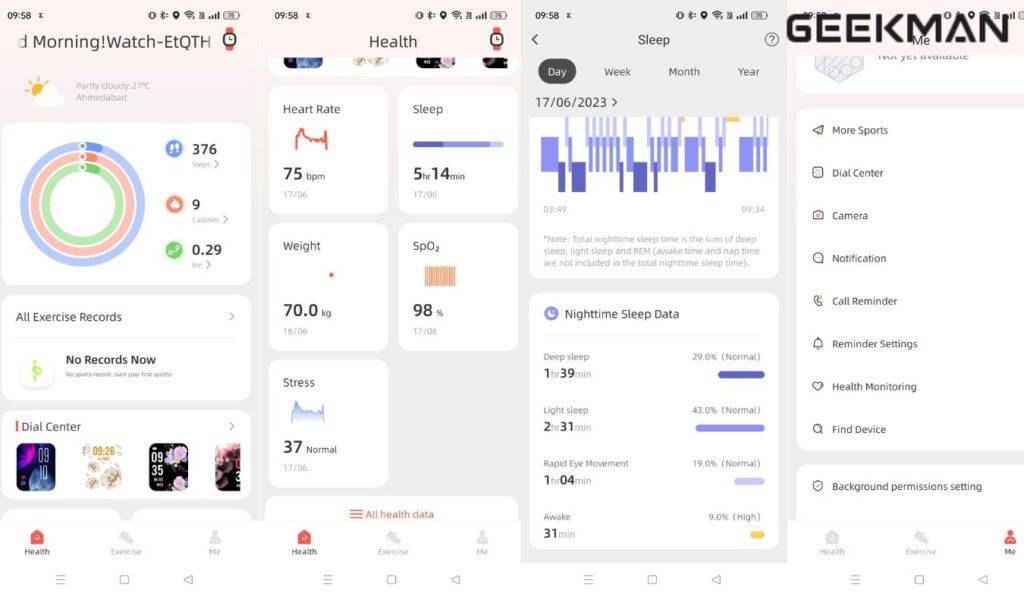 Although the watch doesn't have built-in GPS, the app utilizes your phone's GPS to provide accurate tracking information. This optimized and feature-rich application is a definite plus point for the watch. I'm highlighting this because, without mentioning any brand names, it's well-known that many watches in this price range have poorly optimized or unreliable apps. So, having a great app is a significant advantage for a budget smartwatch like this one.
Battery
Finally, let's talk about battery backup. The AmazFit promises a battery life of up to 12 days. However, based on my real-world usage of 2 days with all options turned on, such as full-screen brightness and Always-On Display set to 15 minutes, I would say you can expect approximately five days of battery life. If you turn off certain options, you might even get more. But on average usage, this amount of time is quite impressive. Not many watches can deliver such good battery life.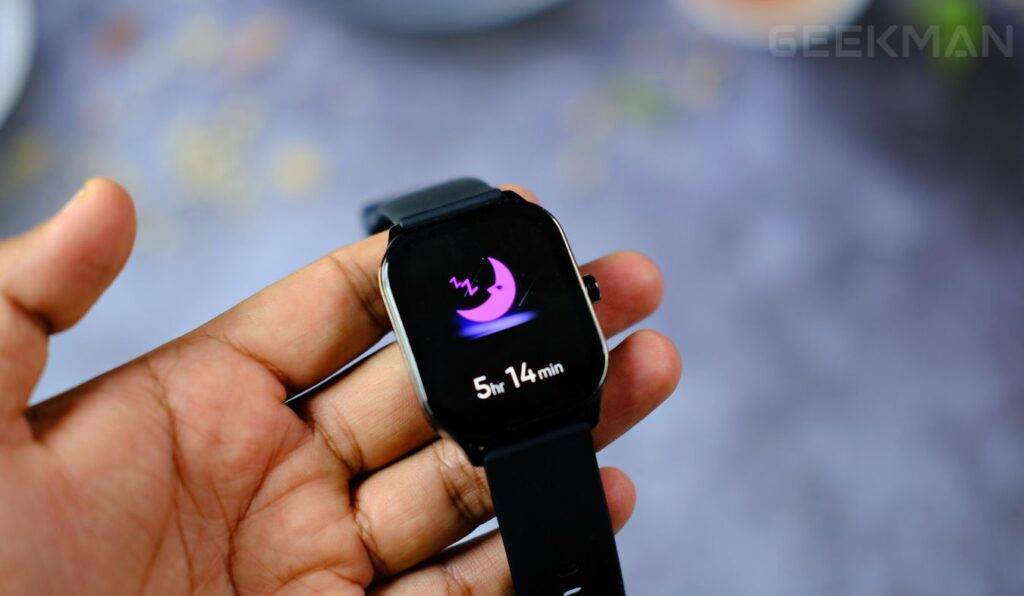 AmazFit Pop 3S: Should You Buy?
Finally, would I recommend the AmazFit Pop 3S to anyone? Well, my answer is Yes in the capital and bold!
Overall, the Amazfit Pop 3S smartwatch offers incredible value for money. It's hard to find any compromises considering its price. It has numerous features, a stylish & sleek design, and a solid build quality. The display is also impressive, and the supporting application is bug-free. The accuracy of its fitness features is also commendable. For now, the AmazFit Pop 3S is a great option for under 5000 Rs; you can buy this.
Comparison
When it comes to comparisons, there are indeed several options available in this price range. However, the two biggest competitors at the moment are the Realme Watch 3 Pro and the OnePlus Nord Watch. Compared to the Realme Watch 3 Pro, the Pop 3S excels in terms of design, build quality, and display. Even the user interface is better, in my opinion. However, the Realme Watch 3 Pro does have the advantage of built-in GPS, which the AmazFit Pop 3S lacks. So, if GPS is your priority, you might consider purchasing the Realme Watch 3 Pro. On the other hand, if you can slightly increase your budget, I would highly recommend the Amazfit GTS 4 Mini.
Compared to the OnePlus Nord Watch, I believe the Pop 3S offers a better overall experience. In my opinion, for now, the AmazFit Pop 3S is the best option under 5000 Rs. However, I cannot predict what new and exciting options might come up tomorrow. But you can always check our dedicated list of the best smartwatches under 5000 Rs. If there are any new and great watches available, you'll find them there.
Rs. 4,999
Rs. 6,999
as of 24/09/2023 10:51 pm
Rs. 7,999
Rs. 10,999
as of 24/09/2023 10:51 pm
Also Read: