So, here we have the Realme Buds Air 5, which was recently launched in the Indian market alongside the Realme Buds Air 5 Pro. I have already shared the Realme Buds Air 5 Pro review separately. Both variants have diffrent features, drivers, and a large price gap, so I decided to cover these earbuds in a separate review article.
The Realme Buds Air 5 lacks a few advanced features compared to the Pro variant. But let's move away from the on-paper details and focus on real-world experience. How good is Realme Buds Air 5 in terms of sound quality? And where does it stand compared to other best-selling TWS earbuds?
Realme Buds Air 5 Specifications
| | |
| --- | --- |
| Colors | Deep Sea Blue, Arctic White |
| Drivers | 12.4mm |
| Bluetooth codecs | SBC, AAC, Dolby Atmos |
| ANC | Yes, 50DB |
| Mic | 6-mic array |
| Water-resistance | IPX5 |
| Bluetooth | 5.3 |
| Support | Android 6.0+, iOS 12+ |
| App Support | Yes, Realme Link |
| Battery | 43mAh (earbuds) / 460mAh (charging case), 6h (single charge) / 30h (with charging case) |
| Charging time | 1h quick charge |
| Other Features | Touch control customizes, Ambient Aware, Low latency gaming mode, Fast charging, In-Ear Detection |
| Weight | 48G |
Box Content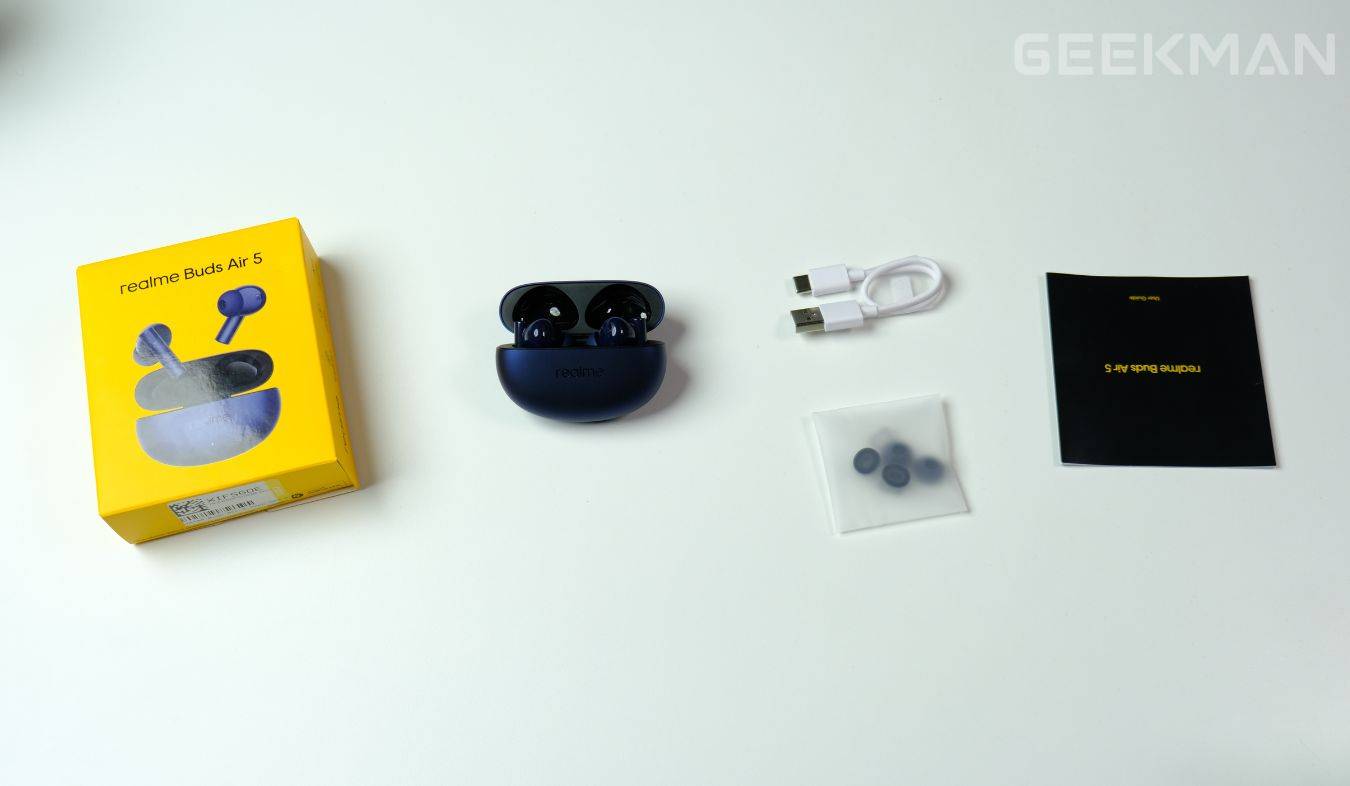 Earbuds in Deep Sea Blue colour (Available in Arctic White colour)
USB Type-C cable
Two diffrent size ear tips
Design, Build & Comfort
The Realme Buds Air 5's charging case has this pebble shape, and while it didn't change much from the previous version, it did get a bit smaller and lighter. Nice and handy for everyday use.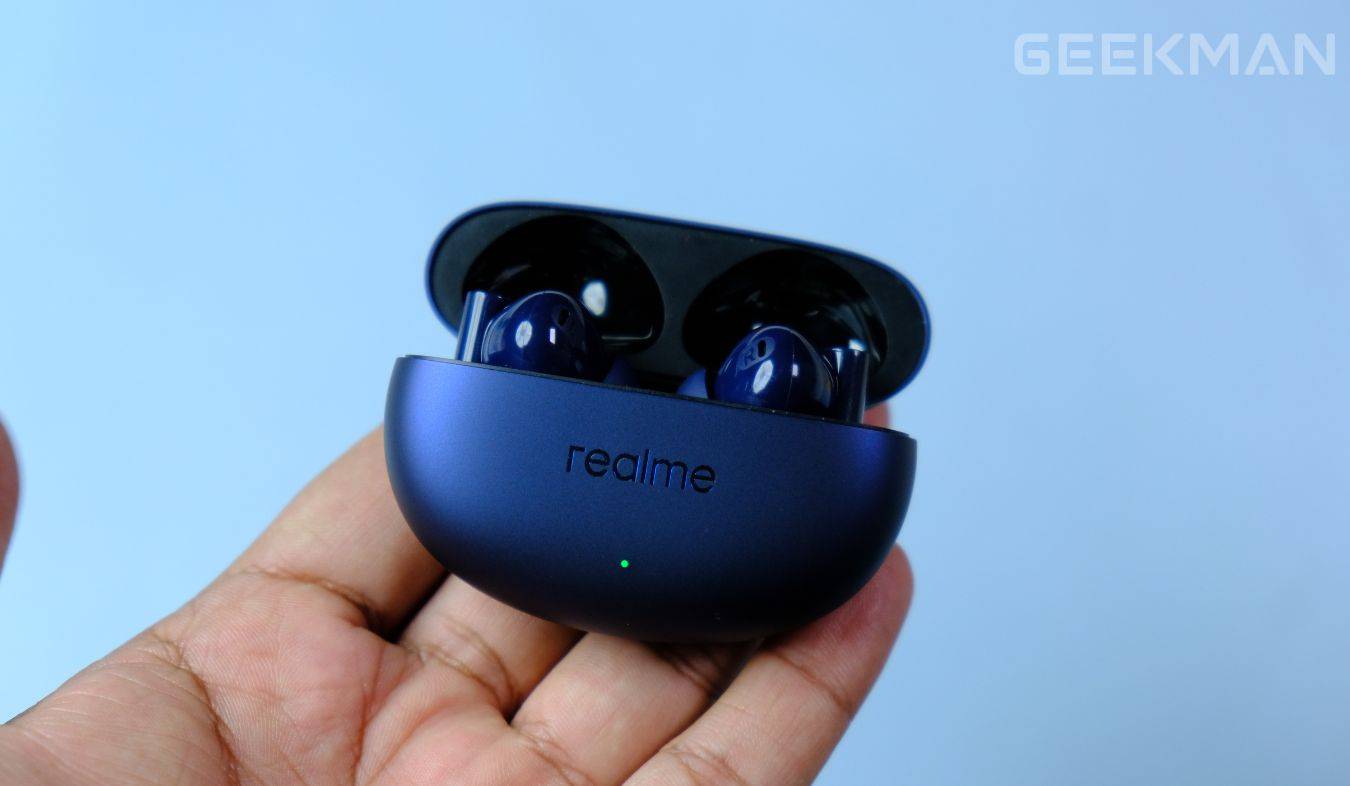 With its matte finish, the case feels good in your hand, but it's like a magnet for scratches—watch out for those. If you compare it to the Pro version, they look pretty similar, but the Pro has this shiny mirror finish that might make it seem a bit cheaper. Personally, I think the regular one looks better.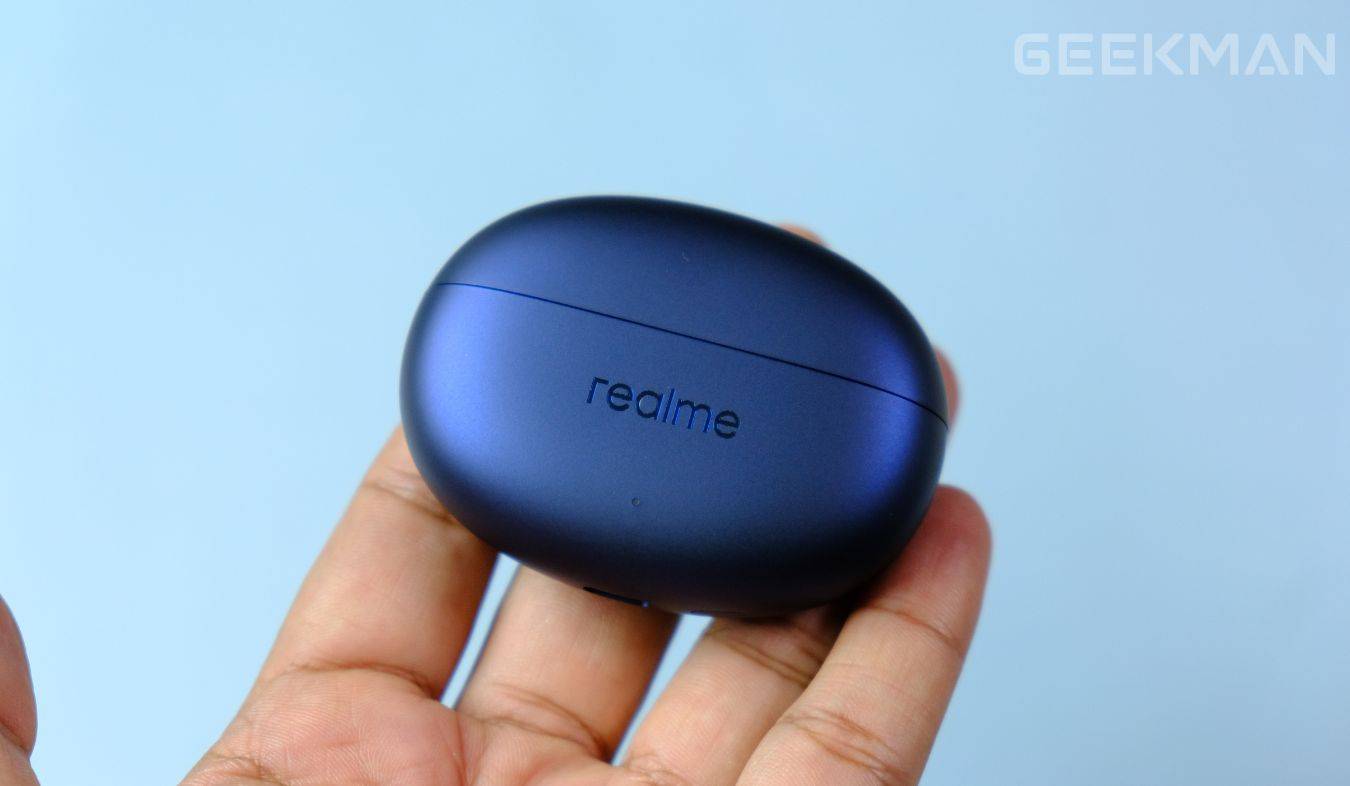 The build quality of the Realme Buds Air 5 is pretty good for the price, giving off a sturdy vibe, but there might be some tiny compromise in certain areas.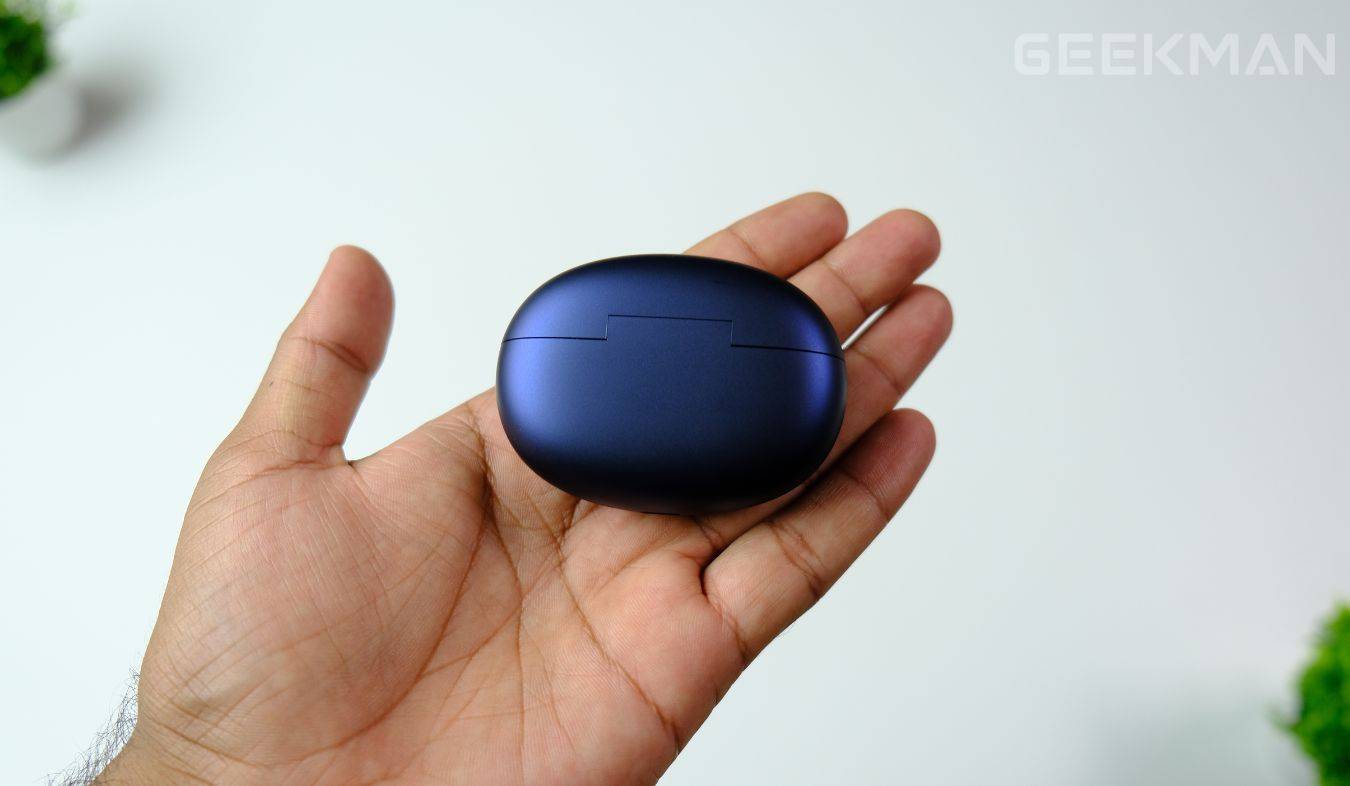 The earbuds themselves are light and have this long stem design that makes them easy to handle. I've tried them for about two days, and they're overall comfy, though not the absolute comfiest in this price range. The Oppo Enco Air 3 Pro and OnePlus Buds Z2 might have a bit of an edge in the comfort department, but the Realme Buds Air 5 still holds its own.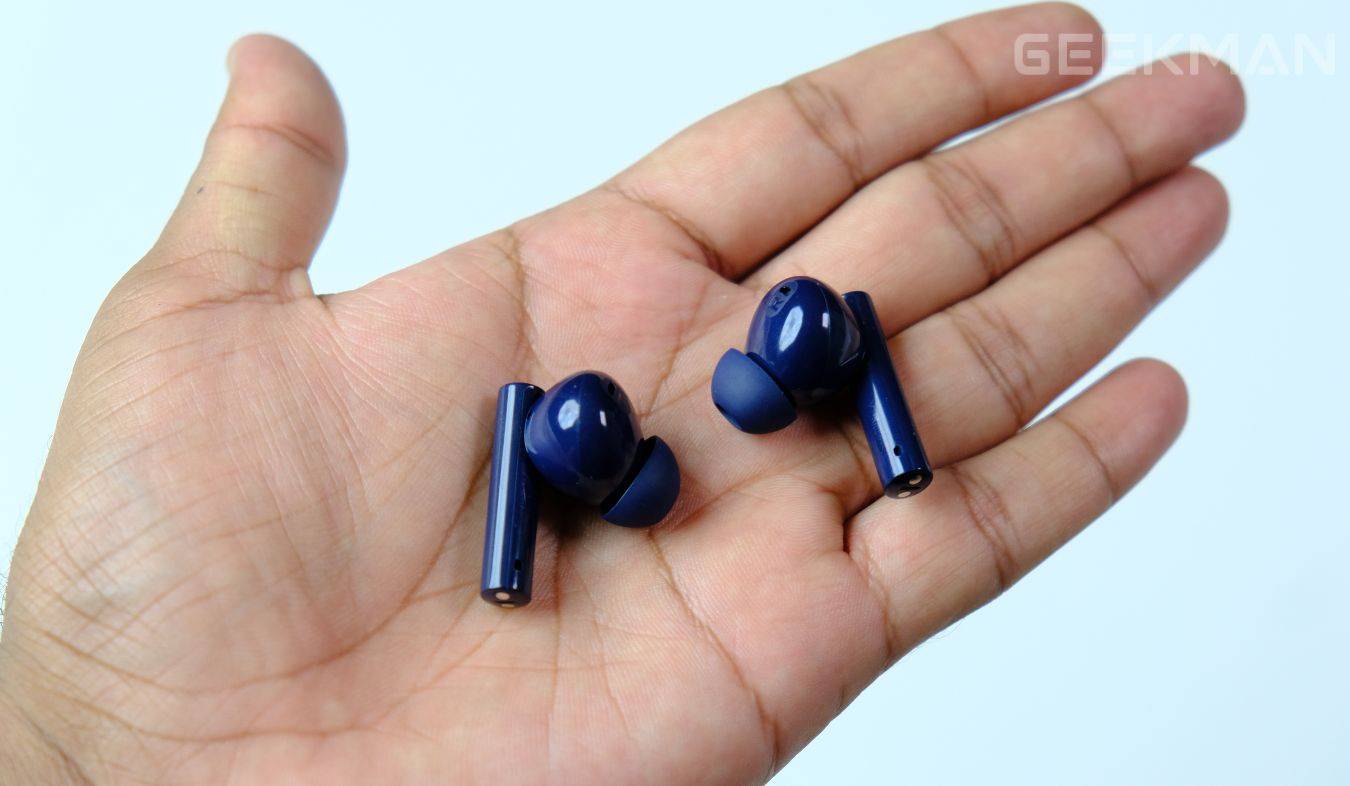 You can easily use them for 2-3 hours straight without feeling any discomfort, and they snugly fit in your ears, perfect for gym and sports activity. Plus, they're not scared of a little sweat or rain with that IPX5 waterproof rating. The touch controls respond very quickly and are easy to navigate, and they can easily be customised using the Realme Link app.
Connectivity
The Realme Buds Air 5 has the latest Bluetooth 5.3, so there is no worry about the poor connetivity range. It also has Google Fast Pair support for hassle-free pairing. The most important feature,' wear detection' support, is also there and works accurately and efficiently.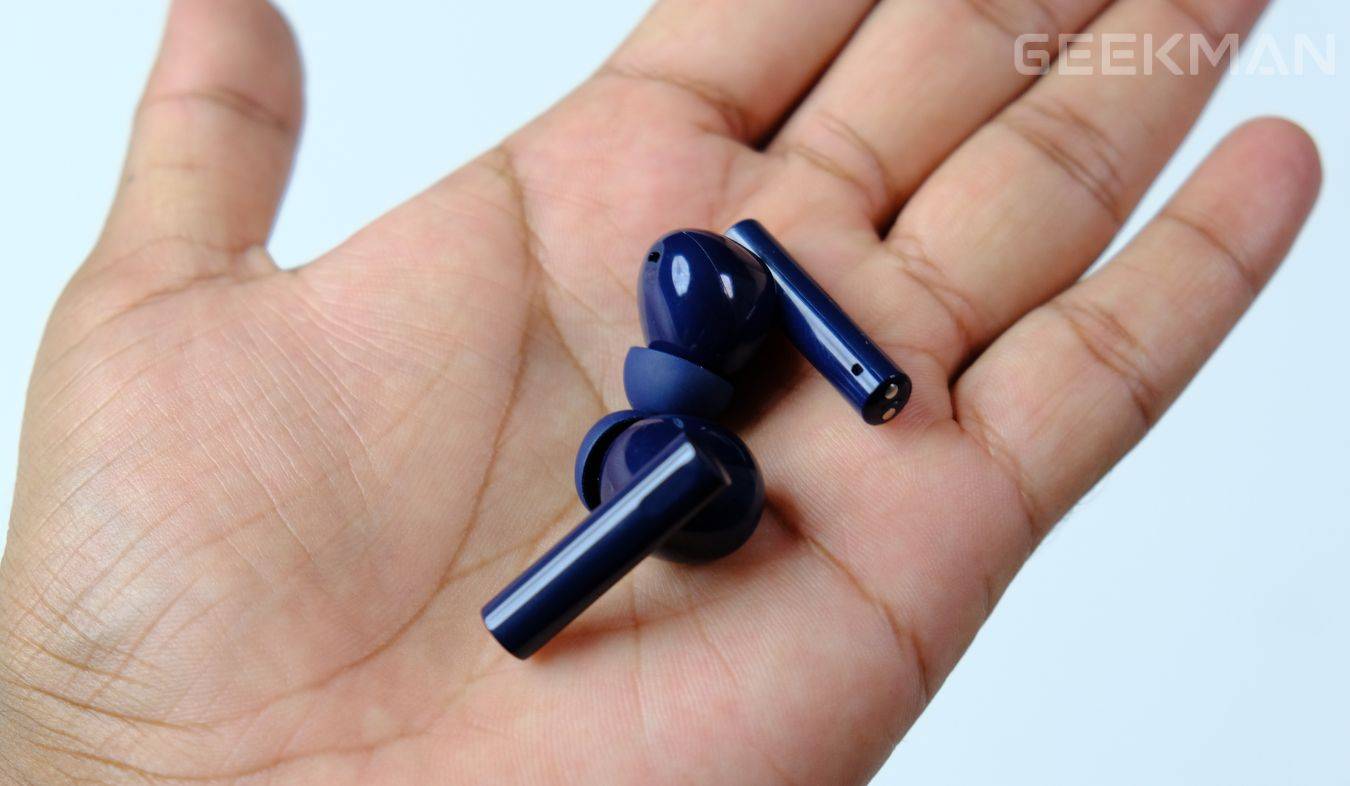 But here's the scoop— these earbuds don't have dual-pairing support. And one more thing: if you want to pair these earbuds with a second device, you must press the pairing button on the charging case, which may not be as convenient in day-to-day use.
ANC & Features
The Realme Buds Air 5's main prime feature is up to 50db active noise cancellation (ANC). The Pro variant of these earbuds also has the same level of ANC. Performance-wise, the ANC of Buds Air 5 stands out as the best in its price range.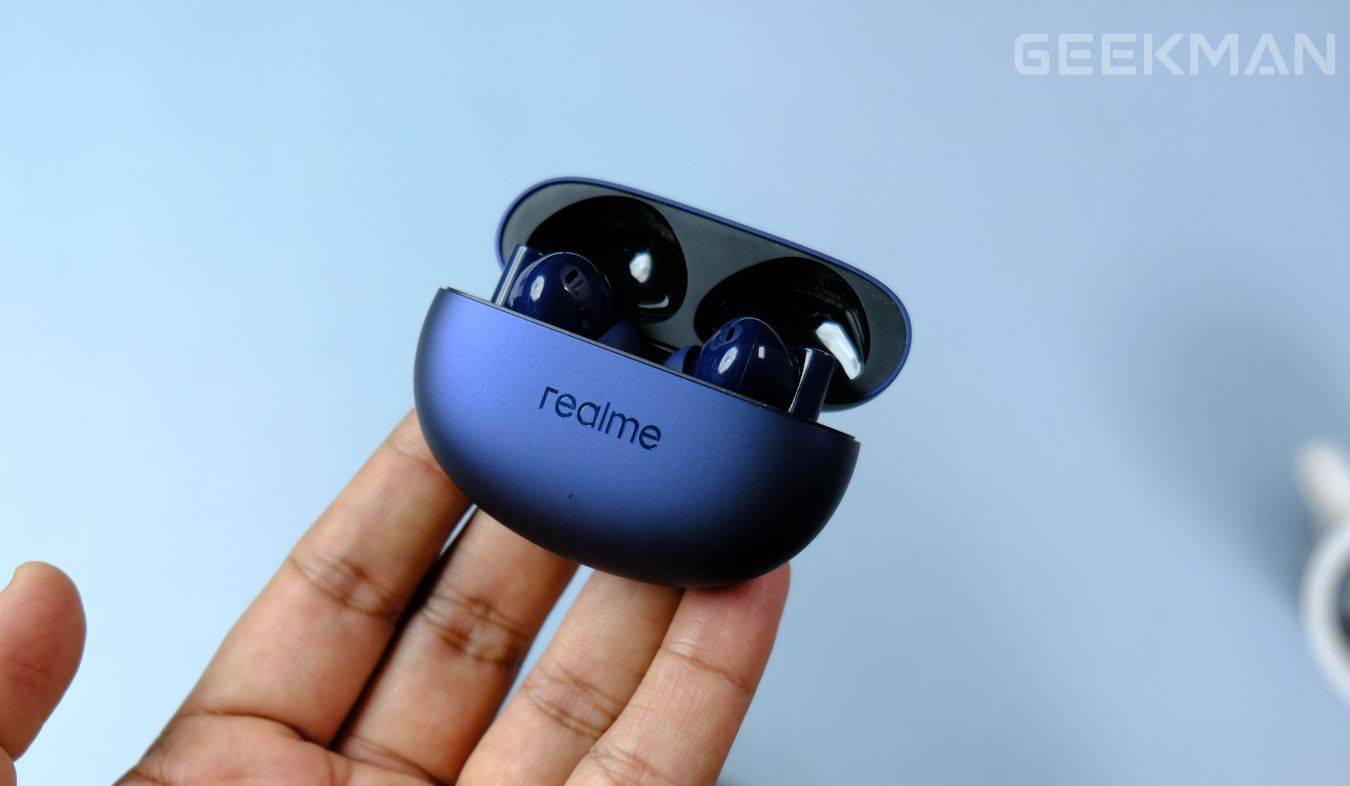 If we compare ANC performance with one of the best-selling TWS under 5000, the Oppo Enco Air 3 Pro, then there is not much difference. The Realme Buds Air 5 provides a more secure fitting, slightly improving its ANC. Of course, it cannot be compared to higher-priced earbuds like Apple AirPods or the OnePlus Buds Pro 2, but considering its price range, it performs quite very well.
You have to download the "Realme Link" app for ANC settings, which is available for Android and iOS. Even if you have a Realme, Oppo, or OnePlus smartphone, you still need to download the app, as it is not like the Oppo Enco Air 3 Pro, where all the settings are available on the Bluetooth page.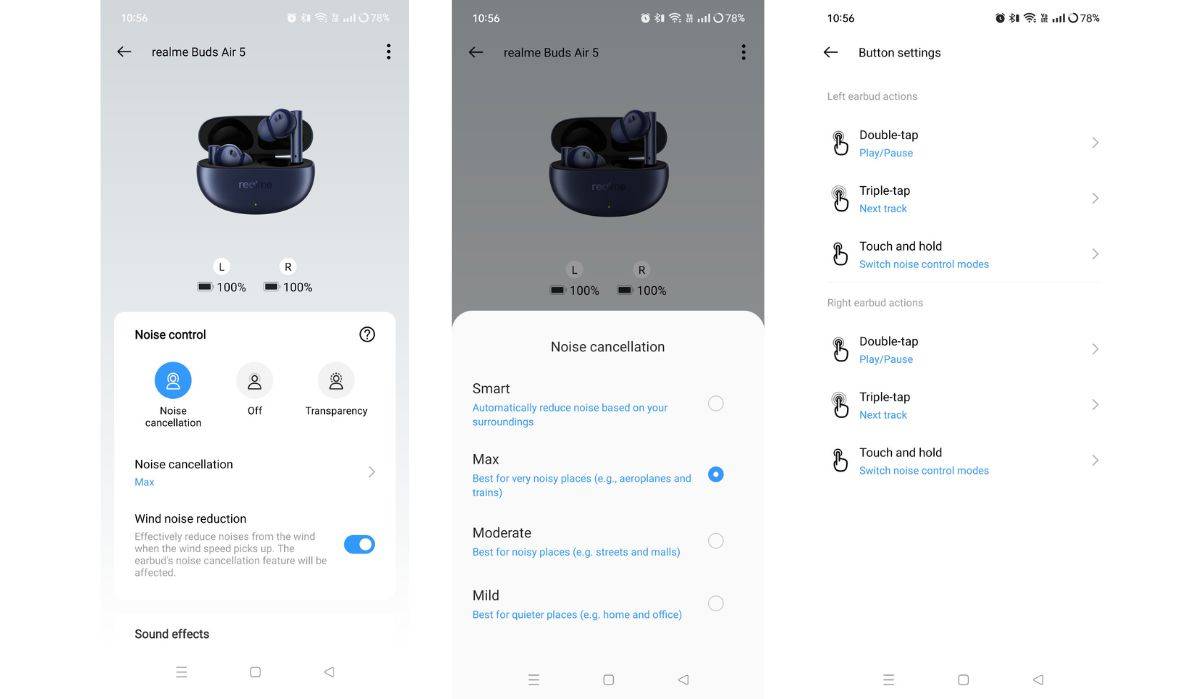 Regarding ANC settings, you get four preset ANC modes, among which the automatic smart mode is the most effective. It doesn't have an auto ANC adjustment option like the Pro version. But Buds Air 5 has an option for wind noise reduction, which is somewhat effective when there is strong wind during outdoor use. The transparent mode also works well.
The low latency gaming mode is also there, which promises 45ms of low latency. I tested it while playing BGMI, and I didn't notice any delay. Moreover, it comes with Bluetooth 5.3 and has low latency anyway.
It also has features like earbuds fit test and find my buds options. However, a few advanced features are missing from the application, which I wouldn't say they are missing but rather hidden to promote the Pro variant of these earbuds. These features include custom audio profiles like golden audio and 360 special audio mode, which are present in the Pro variant and even in the Oppo Enco Air 3 Pro. These features enhance the audio experience, and their absence in this model is likely a wrong decision to create differentiation between the Pro variant and this one.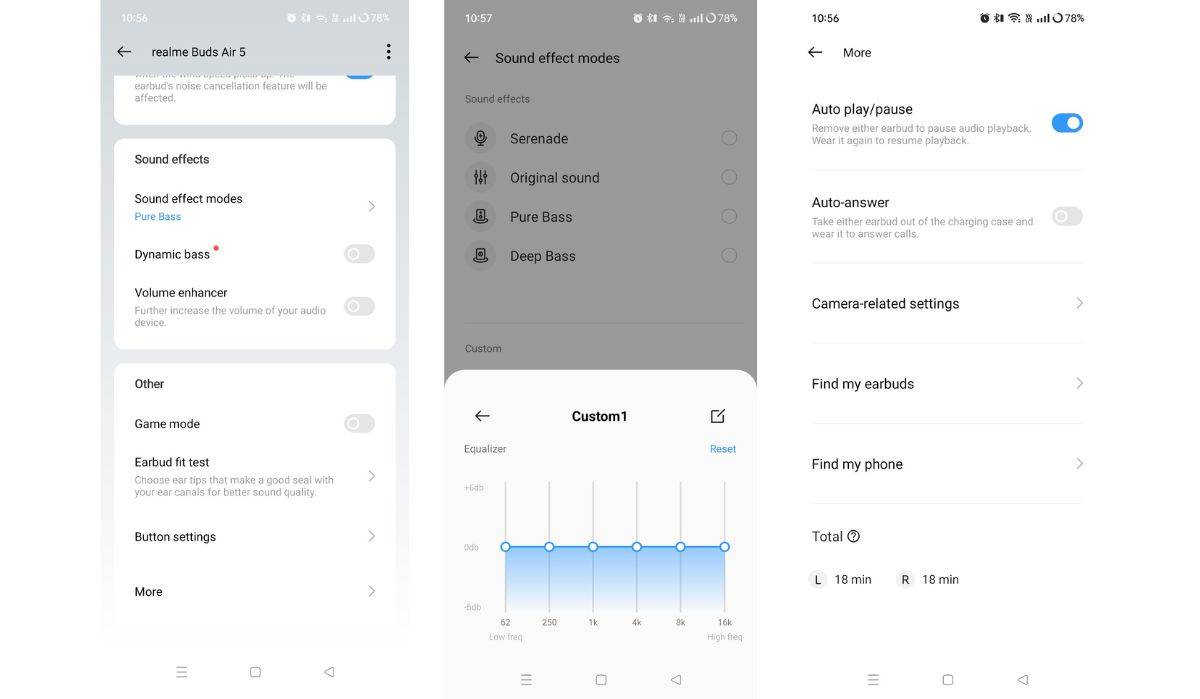 Apart from that, it also has the volume enhancer and dynamic bass options, but I think it's better to keep them off (not find them very useful in terms of sound quality). The custom equalizer is available in the settings and offers four preset modes. Personally, I found the default mode to be the best. However, I would recommend trying out the custom equalizer to find the best sound profile for individual preferences.
Battery
The Realme Buds Air 5 has a 43mAh battery in the earbuds and a 430mAh battery in the charging case. Based on my testing experience, I achieved approximately 5 hours of playback time at around 50-60% volume with the earbuds alone. With the charging case, you can expect about 30 hours of total playback time, which is quite promising. It can definitely be considered one of the best in terms of battery backup in this price range.
Additionally, it supports fast charging, providing 7 hours of playback time with just 10 minutes of charging.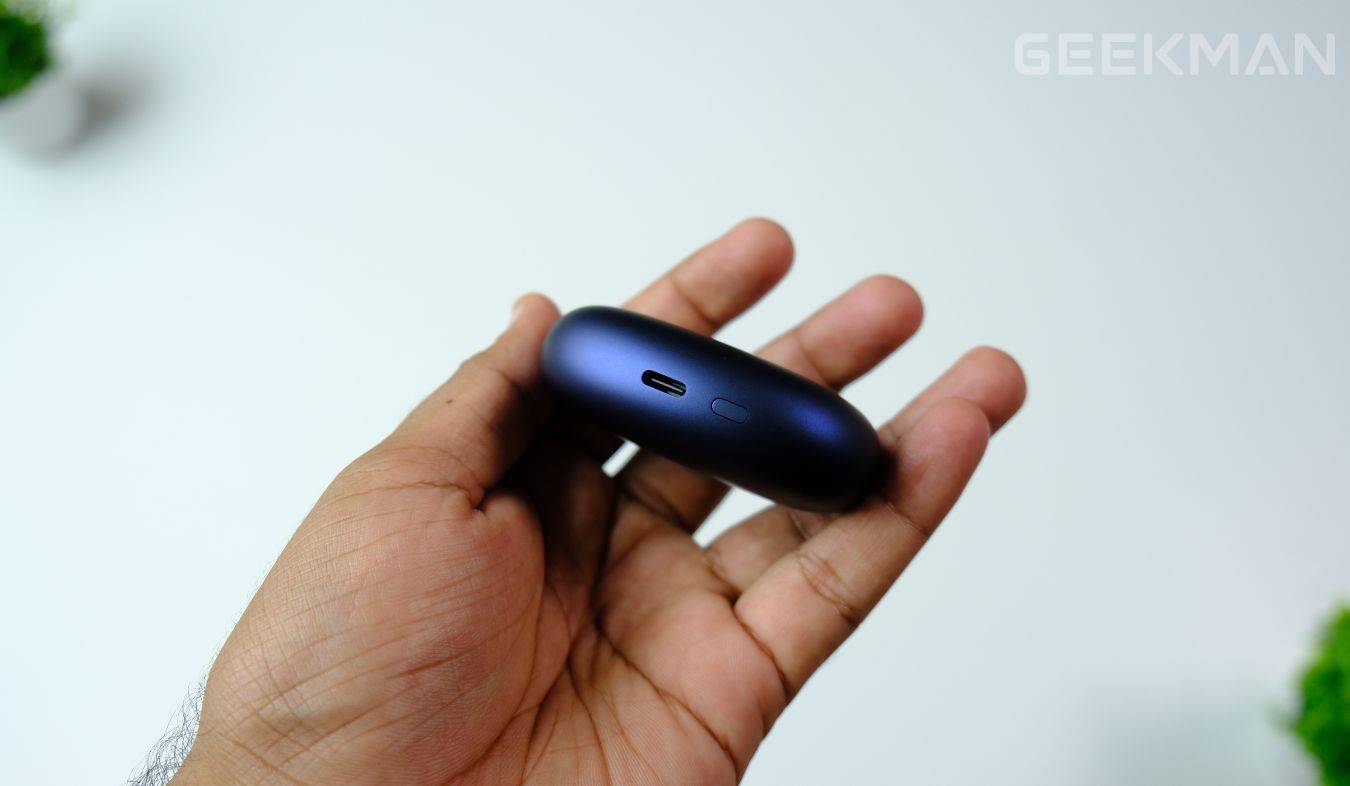 Microphone
Now, let's talk about the microphone. The quality of the microphone is really good. The voice is clear, although not natural, but acceptable. There seems to be a slight bass boost in the voice, but overall, it delivers a satisfactory result. If we compare it with other earbuds in the same price range, then Buds Air 5 has one of the best microphone qualities.
Even in noisy outdoor environments, it performs decently. It can pick up some background noise, which is normal for TWS, but the good thing is that the voice remains clear and doesn't sound too shallow. So, yes, the good microphone is definitely the main highlight of the Realme Buds Air 5.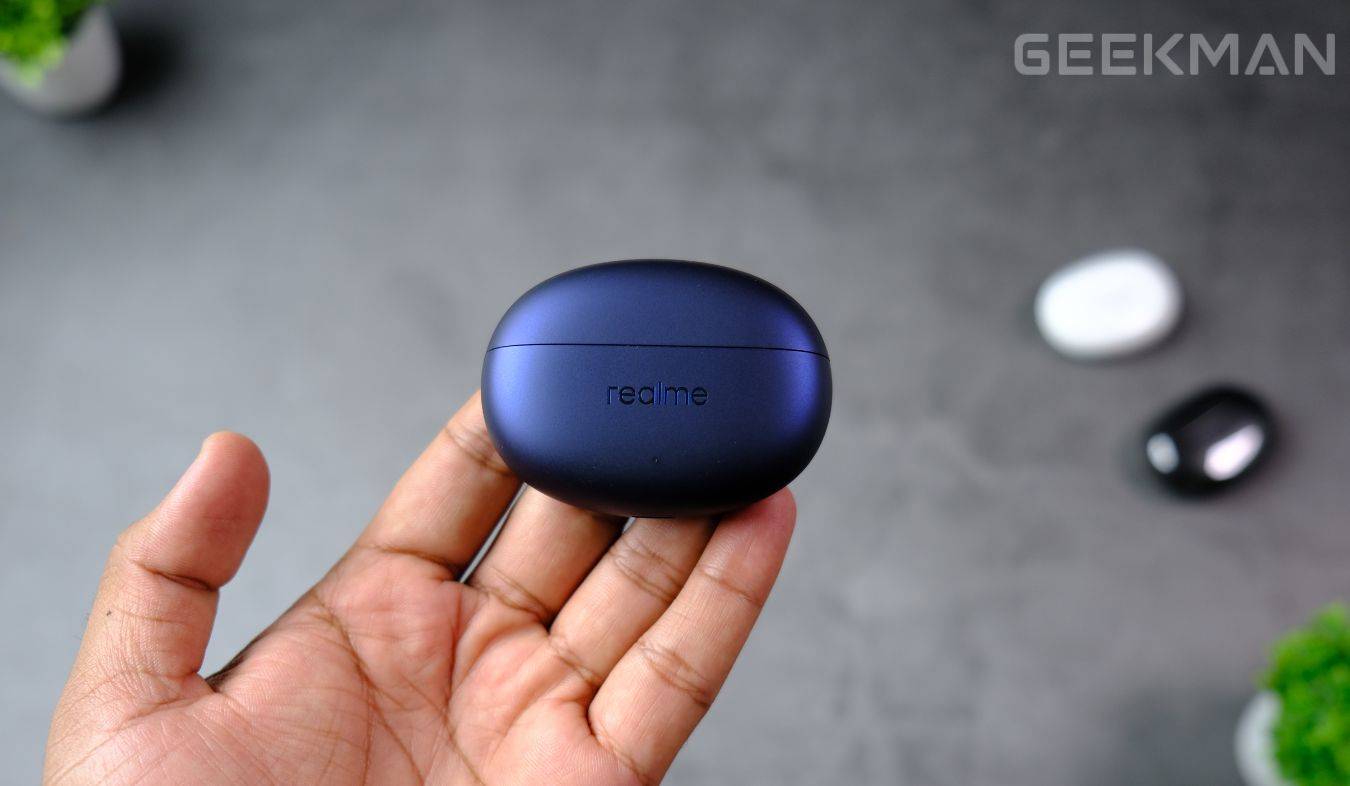 Sound Quality
Finally, Let's talk about the sound quality. The Realme Buds Air 5 has 12.4mm large drivers and AAC and SBC codecs support. It also has Dolby Atmos support, but this may not be the main highlight because there is only a 20% chance you will benefit from it. Why? Because your device should also have Dolby Atmos support. Currently, only a few Android devices in the market have Dolby Atmos support.
It provides a high-volume sound output and maintains clarity even at full volume. The overall tuning of the earbuds is bass-oriented (not like basshead, but still, the bass is strong), delivering a thumpy and decently detailed bass.
The low-end bass lacks some detail and depth, but it's OK; it successfully adds energy to music tracks, so you get an enjoyable experience. If you like bass more than anything in music, then you will like the Buds Air 5 tuning. However, if you prefer a more balanced sound signature, you must play with the app's custom equalizer.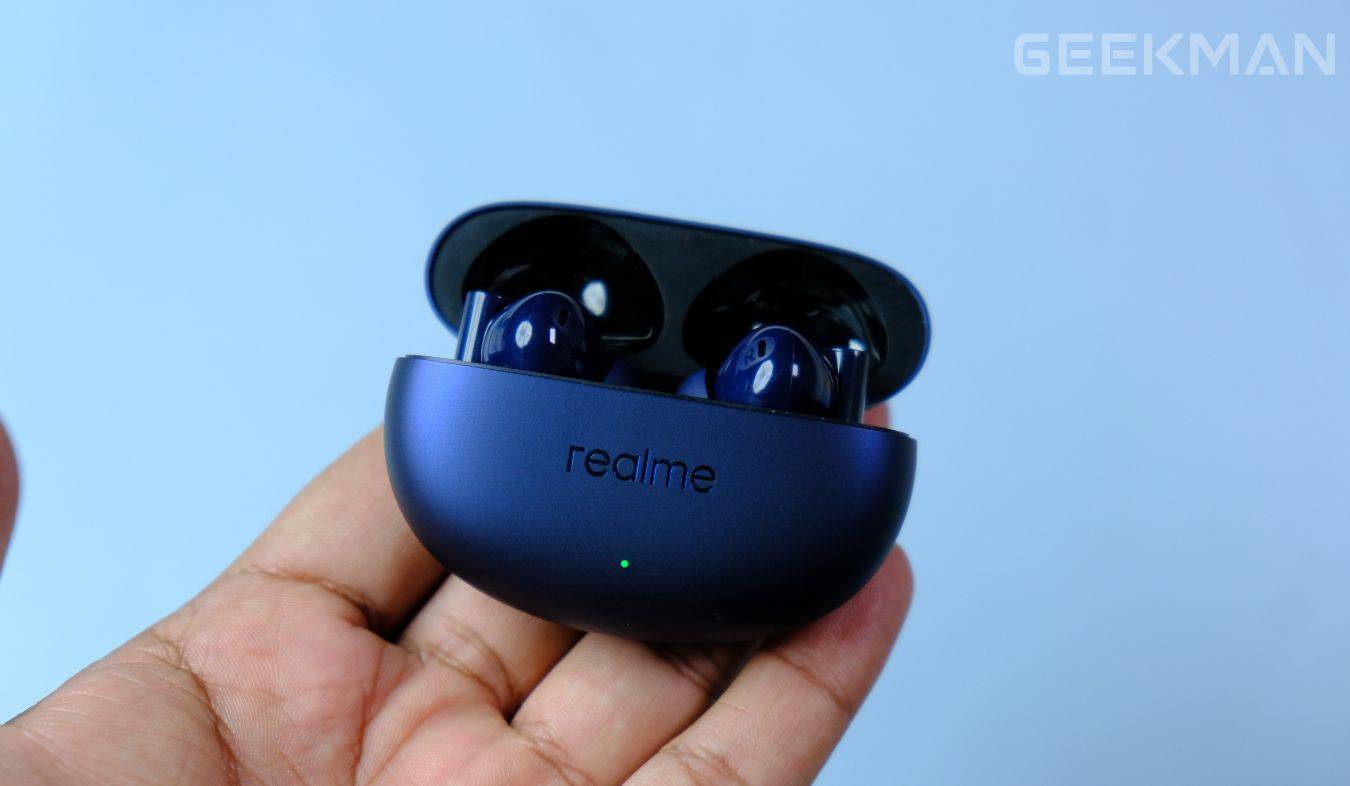 Comparing it to the Pro version, the overall tuning is almost the same, but the Pro version has the advantage of dual drivers, offering a slightly better audio experience, especially managing the high-end and sub-bass very well.
The mid-range frequencies, especially vocals, may sound average as they do not have much space or control in music. The low-mids may sound a bit muddy, which is also a common issue in the Pro version. However, it's important to note that every headphone has its own unique tuning, and what might be a problem for some may not be for others.
Overall, the Realme Buds Air 5's default tuning is bass-focused rather than natural, but with the custom equalizer, you can adjust the audio output to your preference. However, suppose you prefer a more natural tuning by default. You may consider increasing your budget and opting for Oppo Enco Air 3 Pro, which offers a natural tuning out of the box.
Conclusion & Compare
Overall, the Realme Buds Air 5 is definitely a good option. It offers a good bass-rich sound quality, impressive battery backup, promising ANC, and a comfortable design.
However, I also feel that Realme should have focused on just one variant, as usual. But it's OK; features-wise, there's quite a difference between the pro and the normal variants, and the price gap is also large, so we can accept this step. If budget is not an issue, I highly recommend the Pro variant because, with the Pro variant, you get better sound output with dual drivers, good battery life, LDAC support, 360 audio, and the advantage of golden audio.
Alternatively, you can also go with Oppo Enco Air 3 Pro, which is also a great choice under 5000 Rs budget as it offers all these features and a naturally balanced tuning that everyone likes. If we talk about other options, there are the OnePlus Buds Z2, the JBL Tune 230 and 235, the JBL Wave Beam, the Nothing Buds Pro, the Nord Buds 2 and the Oppo Enco Air 3.
Overall, the Realme Buds Air 5 is a better choice than these options, except for Nothing Buds Pro. If you don't want to spend over 4000 Rs, I recommend going with Nothing Buds Pro. It has bass-oriented tuning, but best under 4000 Rs.
For more info, please check our list of Best TWS Earbuds under 5000 Rs.
Realme Buds Air 5 Review In Hindi
Other Options
Also Read: