BoAt, the Indian audio brand, famous for providing budget-friendly headphones has now entered a new arena. The company has introduced its first-ever gaming headphone for the Indian market, and similar to most of the company's products, these are also getting launched in the affordable category.
The BoAt Immortal 1000D is a dual-channel gaming headphone that comes along with 7.1 channel surround sound, and also has support for Dolby Atmos audio. But, does the specification justify the ₹2499 price tag? Is it going to be the best gaming headphone under 3000? Let's find out all the answers in this article.
Box Content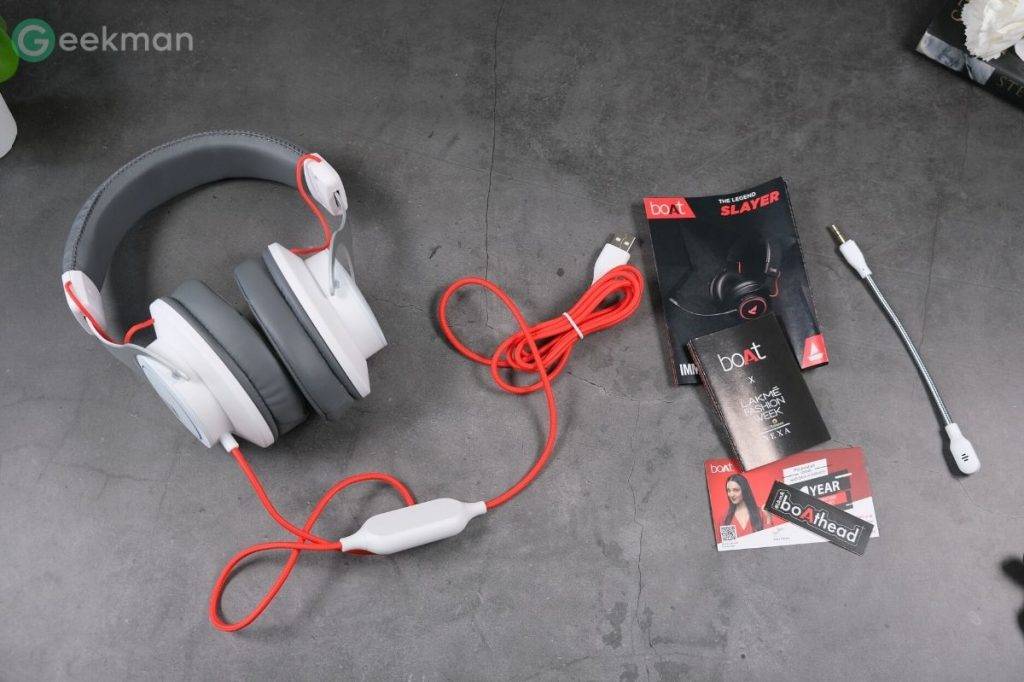 Immortals 1000D headphones
Usermenual & Warranty card
Design, Build & Comfort
Starting with the design and build quality, the product is available in 2 color variants, white-grey and black. The overall shape, and size of the headphone are also quite impressive, and it totally matches with the used color scheme. However, BoAt Immortal 1000D won't provide you with the same premium feel that you will experience in its competitors. There is also room for improvement when it comes to durability in the build quality. I guess these cut-offs have been done to reduce the pricing of these headphones.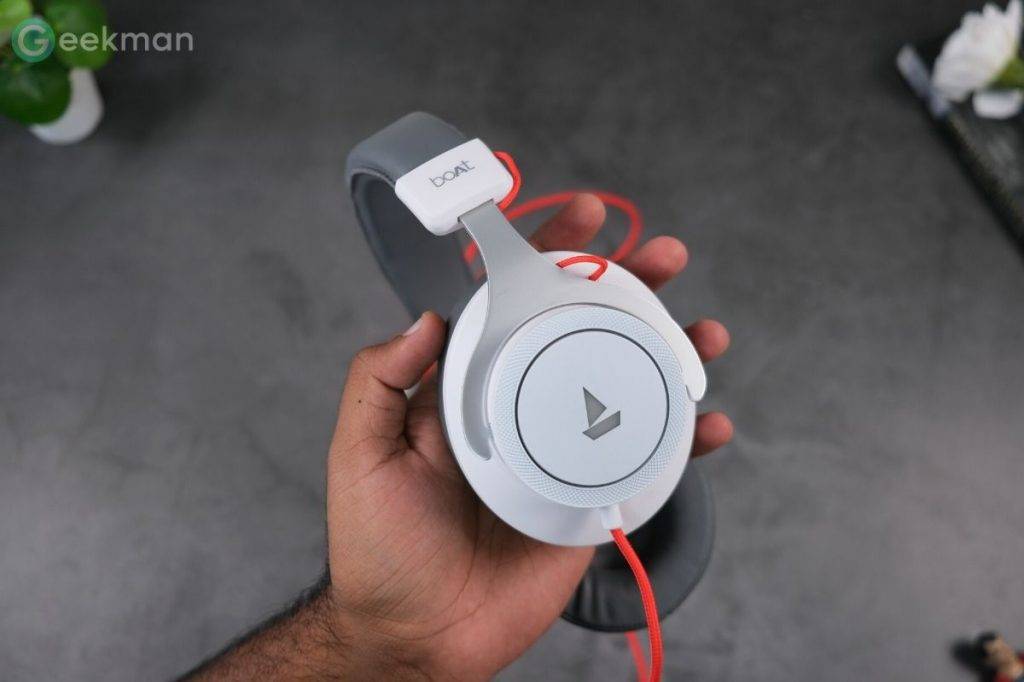 On a positive note, the headrest and size adjustable belt is made with metal, and other than these, everything is built with plastic. You will also find the rexine coating in the headrest area, which is not as fluffy as it should be, however, the softness is adjustable looking at the price tag.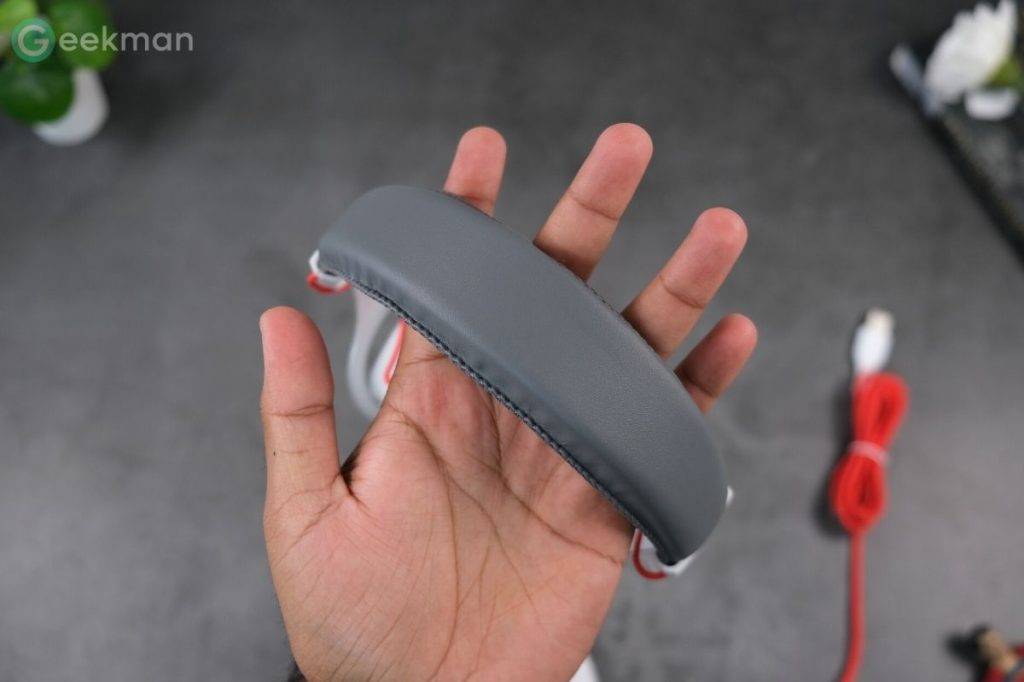 If I talk about the overall comfort of the headphone, I used them for 1-2 hours of continuous gaming, and frankly speaking, I wasn't that impressed with their comfort level. On the contrary, I agree the module size of this headphone is medium, and the overall weight of the headphone is also just 239 g.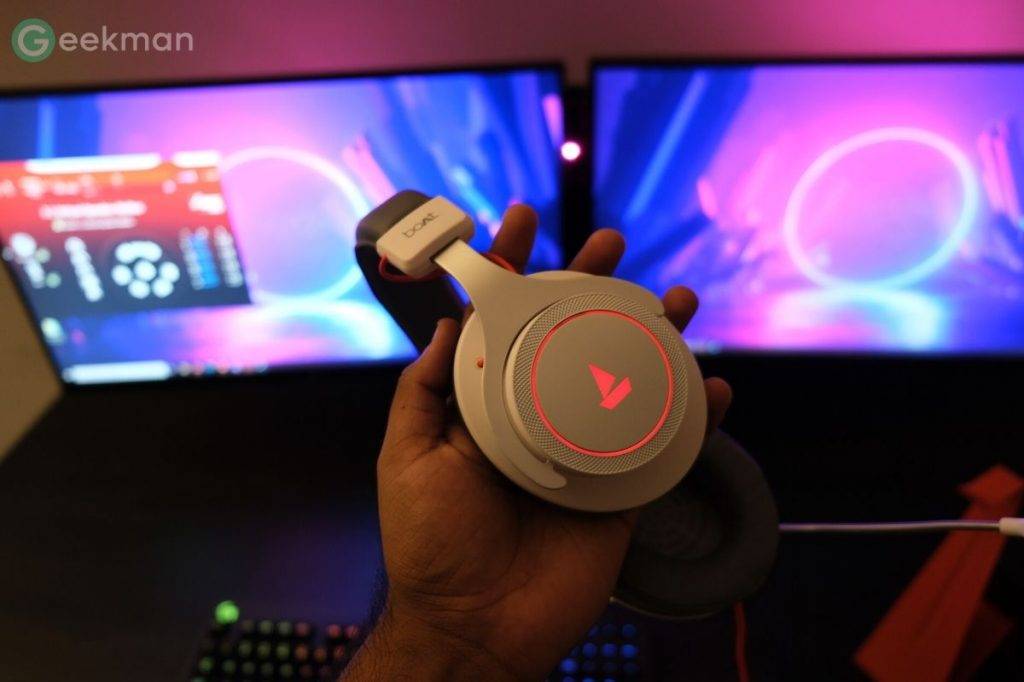 The cushion part of the module is also very soft and noticeable, and there isn't any complaint regarding its build quality. Also, you get better noise isolation in these headphones, all thanks to the size of modules. However, you will have to deal with the tight-fitting of the headphone which will put some pressure on your ears.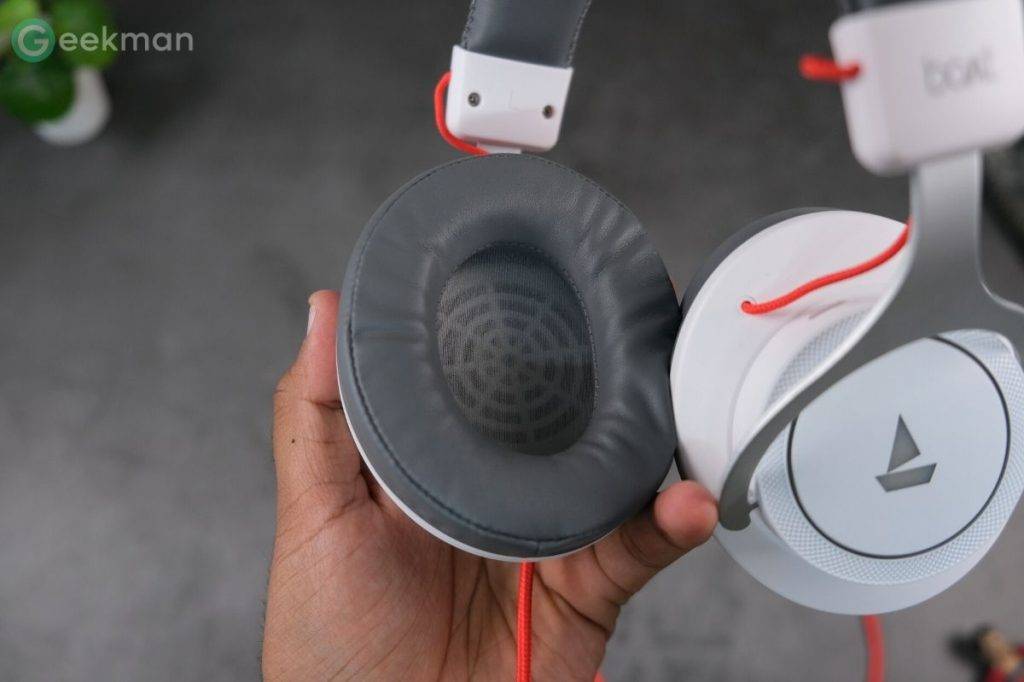 If we talk about the wire quality, we get a fabric-coated braided cable that is tangle-free up to many extents and seems durable. You won't have any problem with the length of this cable, so it doesn't matter whether your cabinet is under your desk, it will be very easy for you to plug in your headphone and start enjoying your favorite game. You will also find a normal USB port, as it is specially designed for PC gaming.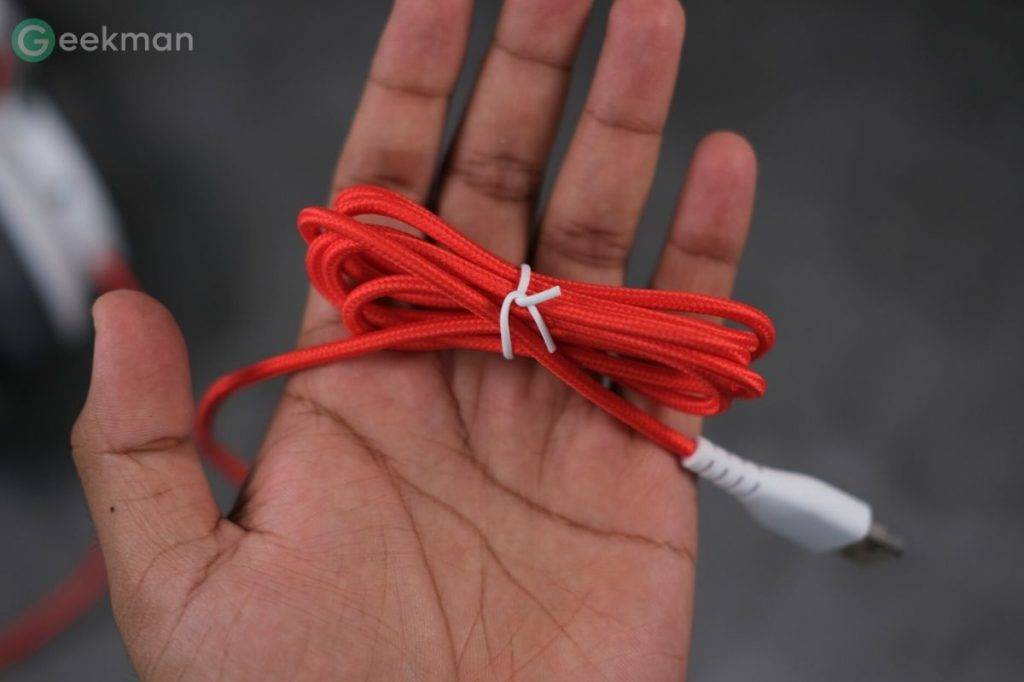 In the middle section, you get all the controls such as mute button, microphone on-off, RGB on-off, and on the side, you also get a volume up and down button.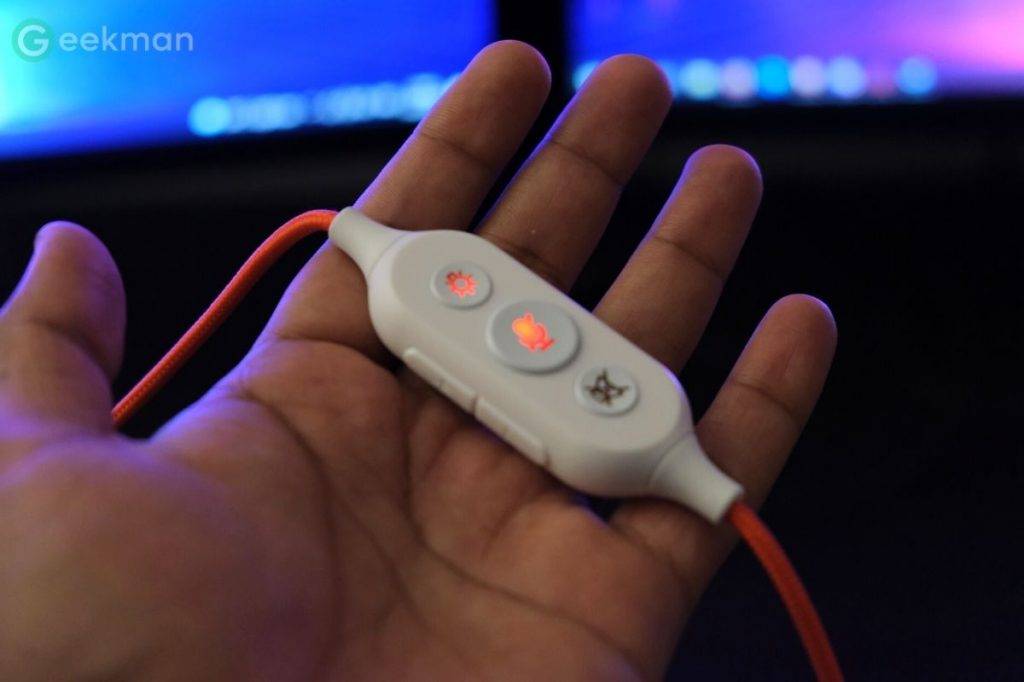 To summarise, BoAt needs to work on the design of this product, as you can't impress a pc gamer with this design quality. Moreover, you can't consider this product as a true RGB headphone, as you only get 3 color options and that too without any feature of customizing it through any app or software.
Microphone Test
We all know the importance of a microphone when it comes to good gaming headphones. Looking at the price tag, you can consider the microphone quality of this headphone quite decent. Even though there isn't any pop-off filter in the front, this headphone barely detects any background noise, which is a plus point for the product. And according to me, this feature will help you a lot when you are into hardcore gaming.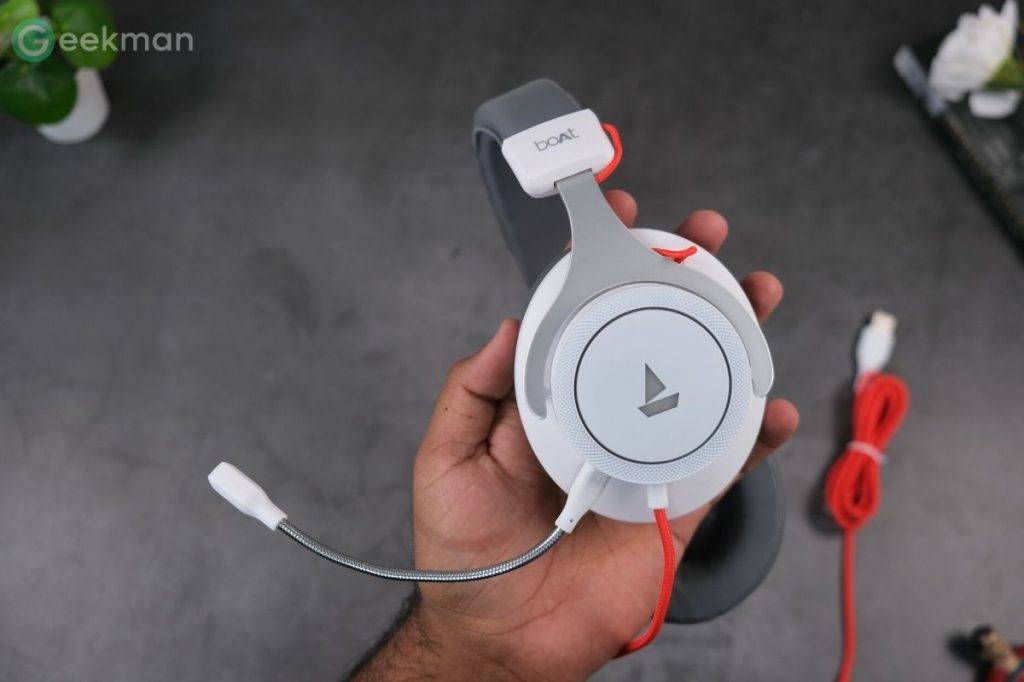 Sound Quality
Before talking about the sound quality of this product, you must know that you will have to install two software on your PC, namely, boAt Plugin Labz, and Dolby Access. You can download boAt Plugin Labz from the BoAt official website. Through this app you will get access to volume adjustment, changing sample rate, working with equalizer, and most importantly, you can enable or disable 7.1 surround sound.
BoAt Immortal 1000D also supports Dolby Atmos, therefore you will have to download Dolby Access software from the Microsoft Store. Please note, for Dolby Atmos support you have to uninstall the boAt Plugin Labz app.
One thing I would like to make clear is if you are more into games like PUBG PC, and CS: GO, then you won't find any benefit of using a Dolby Atmos supportive headphone. However, you might find some improvement while watching movies or playing Dolby supportive games.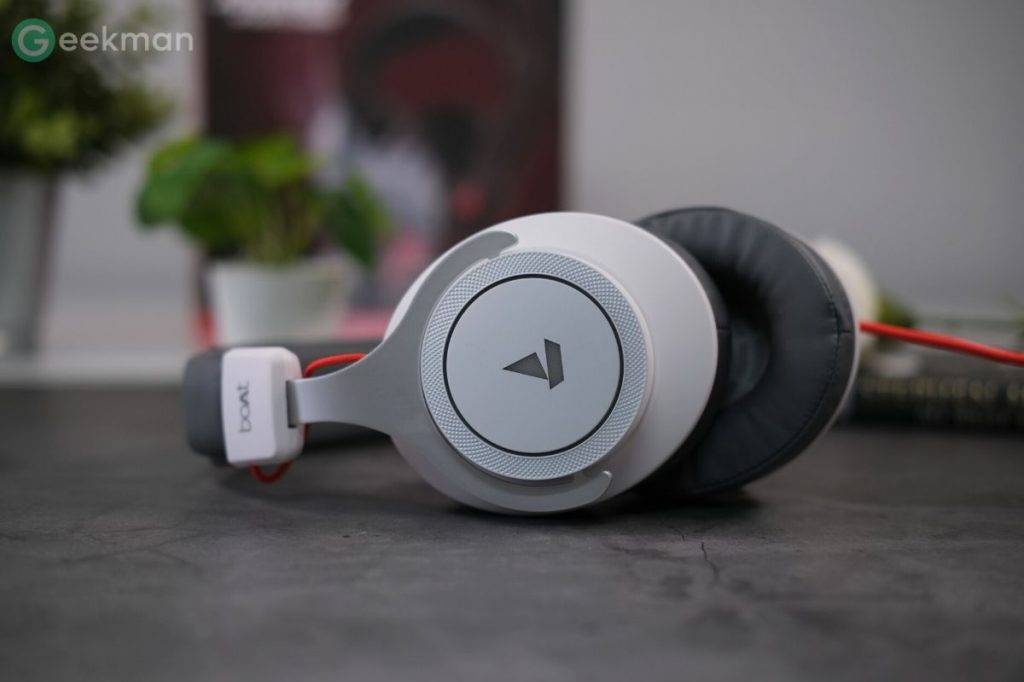 Lastly, talking about the overall sound quality, I tried the headphone with games like PUBG PC, Valorant, and CS: GO, and I was quite impressed with the surround quality that it offers. You won't find any difficulty to locate footstep direction, enemy location, and their movement. All thanks to the 50mm driver, because of which we get high output from this headphone. However, there isn't much balance in the sound notes. You can easily notice that the high notes go to extreme high because of which you won't find these headphones that comfortable when it comes to sound quality. You will witness a bit of difference in the original sound quality and the sound quality that you will receive from headphones.
The 7.1 surrounding sound is also not that impressive. Yes, you will definitely notice some difference compared to regular headphones, but as I have mentioned earlier headphones must have an impressive overall tuning. The problem isn't with this headphone only, as most of the 7.1 headphones that you will find in the budget segment, don't actually provide the true 7.1 surround sound quality.
Final Word
No doubt, BoAt is the number one brand when it comes to providing the best quality headphones at a minimal price. But, if we talk about the BoAt Immortal 1000D, there is plenty of room for improvement as I have mentioned in this article. If you are only thinking of buying these headphones because of the 7.1 surround sound or Dolby support, then I recommend you to skip these headphones and go with various other options present in the market.
You won't find any difference in the sound quality while watching movies and listening to music. After testing all the features that it offers, I will consider it as an average gaming headphone. If you will compare these headphones with other options of this price segment in terms of design, comfort, build, and sound quality, you will also end up at the same conclusion, i.e better go with any other option other than BoAt Immortal 1000D.
So, yes, this was my detailed review about BoAt Immortal 1000D. I better recommend you to increase your budget by 1000 rupees and go with JBL Quantum 200, JBL Quantum 300, or Hyperx Stringer. Moreover, for more detail on these headphones, you can check out the review video on our YouTube channel Geekman.
Buy Now:
Also Read: