We wake up every day to some new product in the market, but in this era of competition what makes JBL quantum 100 stands out from the rest, let us unravel it together.

We'll go through reviews of various quantum headphones one by one but first, I'm taking the upcoming market sensation JBL quantum 100. With its affordable price and extremely good sound quality, it not only outscores other gaming headphones like Corsair HS35, Readgear thunder, etc but also stands its own ground in the Indian market. It offers exclusive features in just Rs 2500, let's discover the pros as well as cons that come along with the product.
JBL Quantum 100 Unboxing
Digging into the box, you'll find a descriptive user manual that gives you a thorough preview of all the features and functions. Apart from this, you have extra guides as well which need not be paid heed to. JBL quantum 100 comes with a heavy-duty detachable directional boom microphone.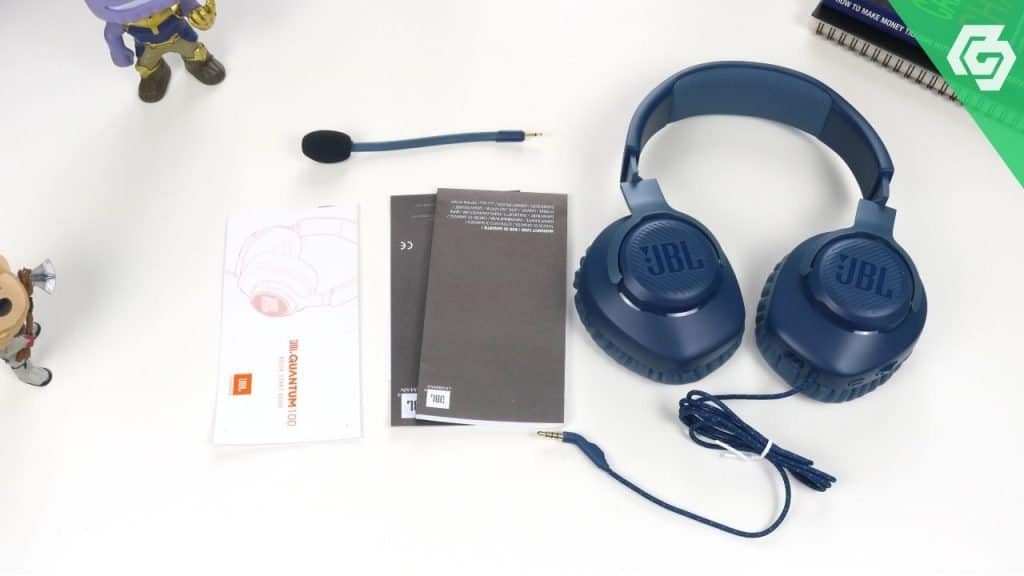 Design & Build and Comfort
JBL has kept a special emphasis on the build design and comfort offered by their product. They have tried to put forward a very practical and simple design instead of using the unnecessary LED lights or unique parts that give the gamer feels to the user.
The entire model features in one single colour and this is one of the biggest advantages of the design. JBL 100 offers excellent build quality which is astonishing to find in this price range and hence gives you a premium feel.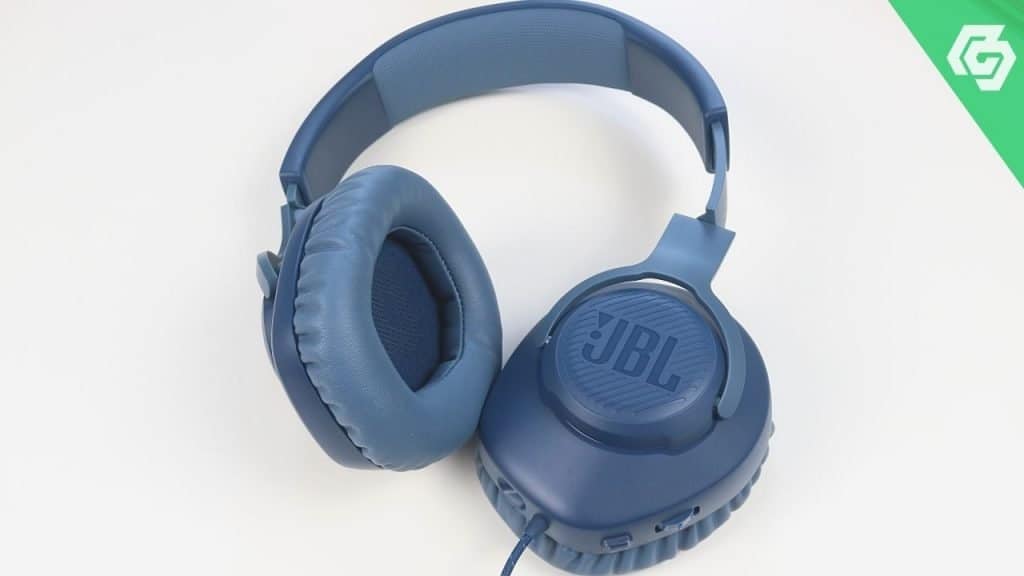 The entire model is made of plastic and this absence of metal makes it extremely lightweight and easy to carry. I have reviewed various headphones in the same price range and all of them seem to be bulky and heavy but this one has something different to offer, it's lightweight design makes it elegant and comfortable.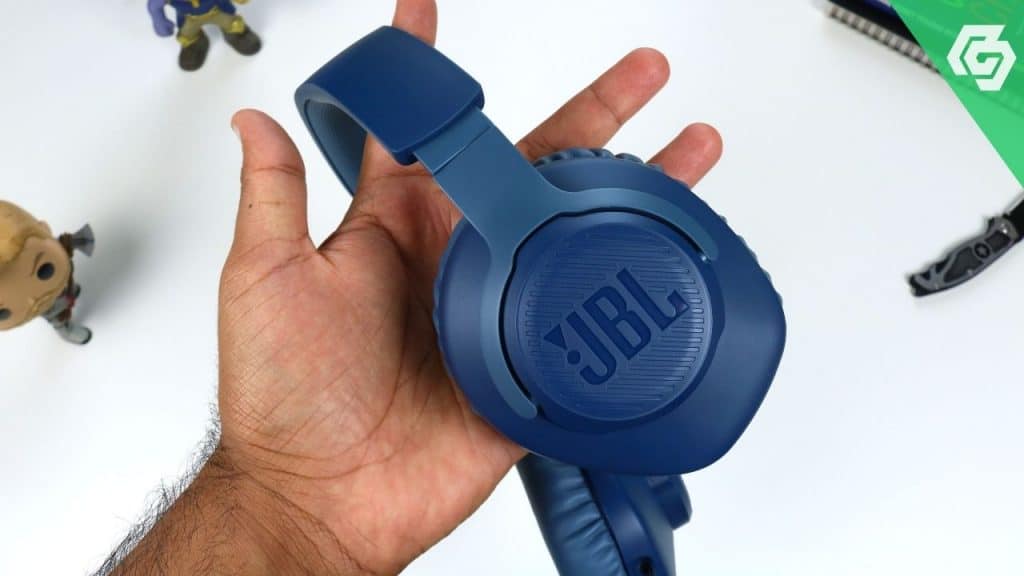 Apart from the build quality the design also has a role to play in this feature. The shape of the headphones themselves reduces the bulkiness, the headrest part of the headphone gives a premium touch and offers the perfect size for your comfort.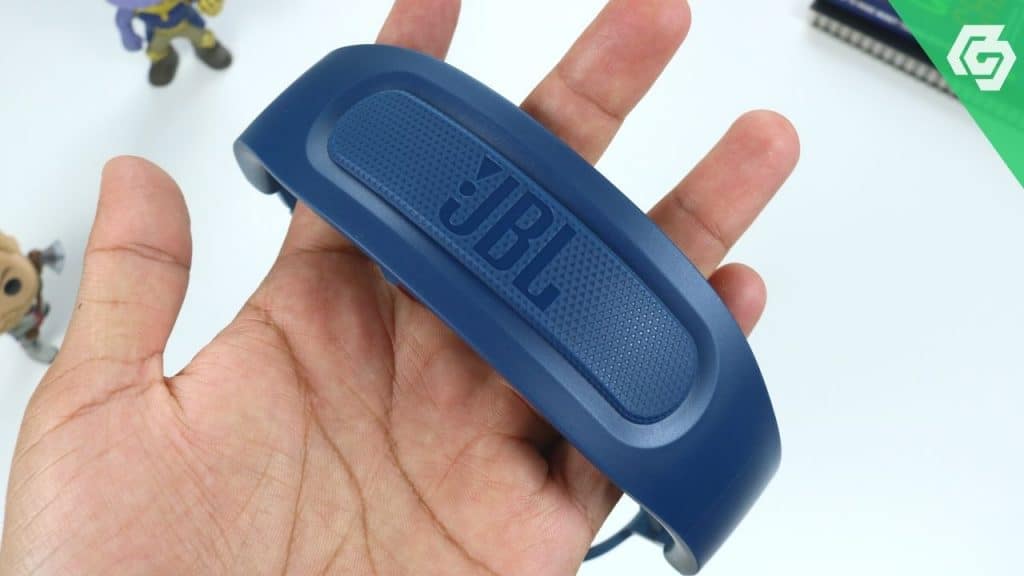 The design not only fulfils your satisfaction but it's headrest also offers extreme comfort. The model is built in such a manner that it completely covers your ears and its memory form soft cushion pad is made of superior quality materials. Its comfort is tried and tested and without a doubt, I can say even after continuous gaming for hours I did not experience any kind of discomfort.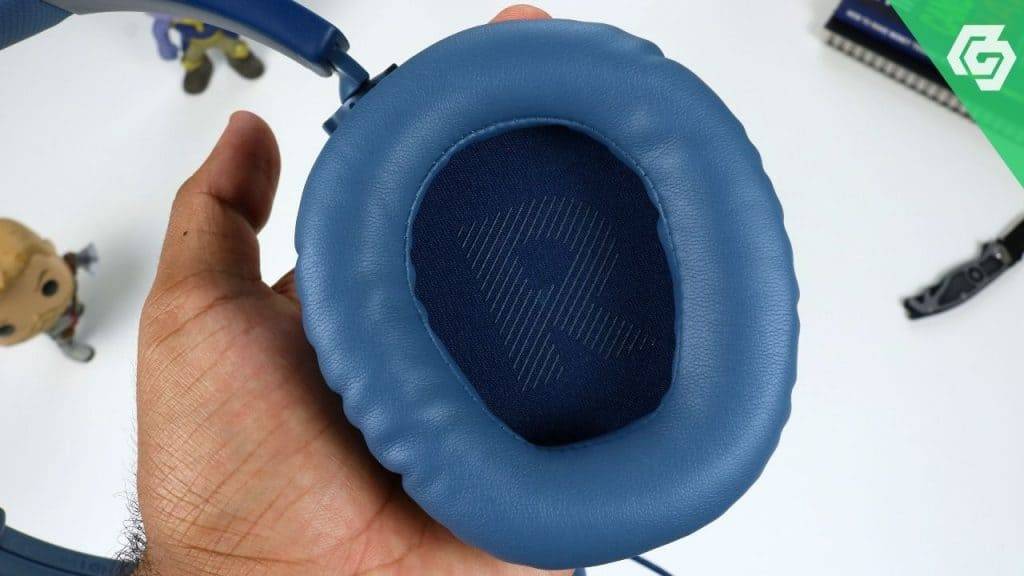 Talking about the wire quality, it comes with a 3.5ft long kevlar coated cable that is blue in colour. This tangle-free wire matches well with the overall design. It has easy connectivity, the audio jack i.e 3.5 mm from the end can be inserted in the phone, pc, tv, laptop, etc. If the jack of any device is different, then a splitter can be used which helps in the connectivity of the headphones. The link for the same is given in the description box, do check it out.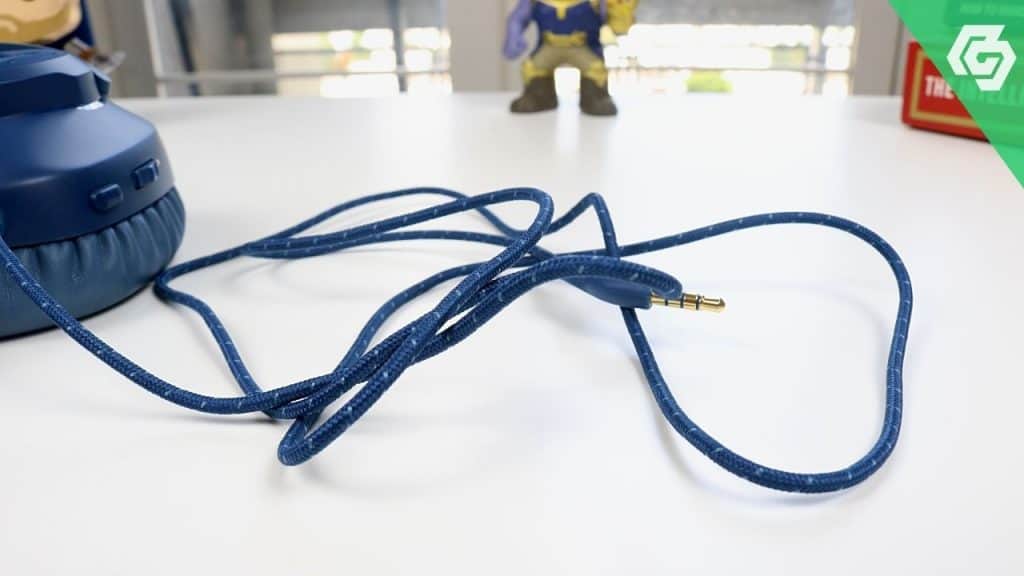 JBL 100 stands for its user-friendliness, like all other gaming headphones it is not completely fold-able, but comes with a right and left indicator engraved in it which makes its use much easier. Another phenomenal feature it has is that there is sufficient space between the mess grill and driver which eradicates any kind of irritation in the ear.
Apart from this, you can find the volume control scroll on the right-hand side which is convenient to use especially during gaming. It also provides a microphone port and allows you to access the button to instantly turn off your microphone.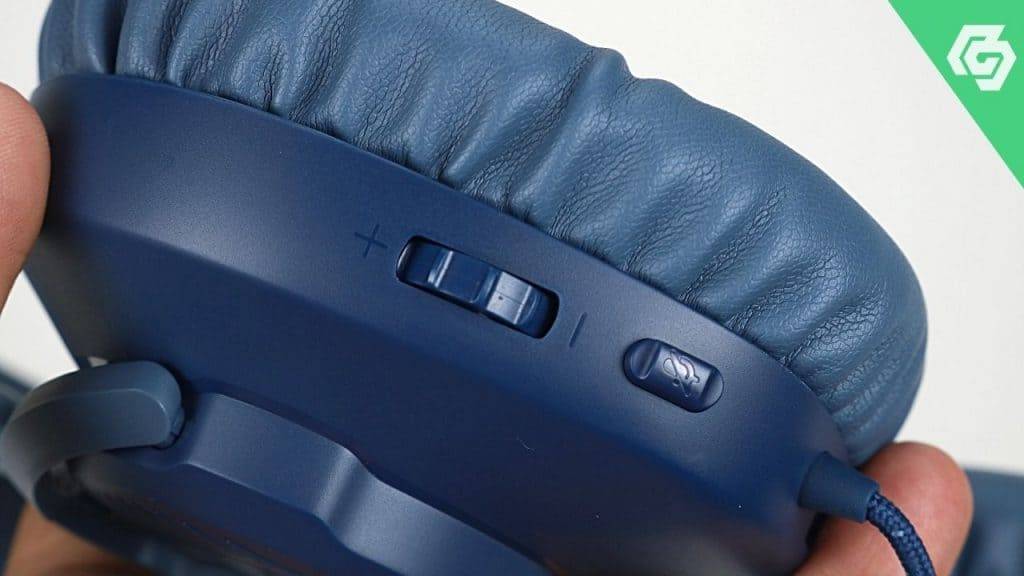 To summarize, it is a well-designed headphone and their usage is very efficient. It can be utilized for gaming as well as general use, to be honest, I am a little critical about the quality of the headphones but the design and build are excellent without a doubt. If I were to rate JBL quantum 100, I'll give it 4 out of 5 stars.
Microphone Quality
My stance on microphone quality, though I'm not satisfied with the build of the headphones, but I have no complaints with the voice quality. I assure you your voice will be 100% clear while gaming with minimum background noise.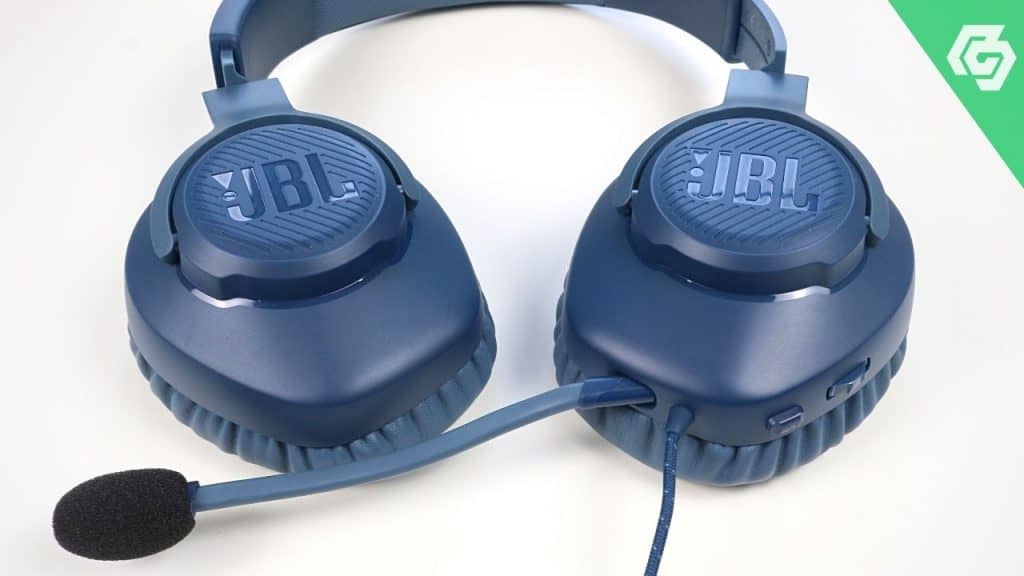 Sound quality: PUBG mobile, PUBG PC, CS GO
Talking about the technical aspect, JBL quantum 100 comes with a 40 mm dynamic driver and native surround sound. If I have to blunt about it, no user would purchase headphones only for gaming, hence after precise testing, I can conclude it is not only efficient for gaming but works well for watching movies, music, etc.
I'm going to share my experience with you so that you have better clarity. If we talk about gaming, I had some very satisfying results. For 3 days straight I had tested these headphones on PUBG PC and APEX, and I was quite surprised with the overall output. These JBL Gaming headphones serve very well as good quality gaming headphones, that we all want in this price range.
Another feature that astonished me was is the quality of the quantum sound signature and the neutrality and natural gaming audio output. Overall the sound effects were pretty balanced, unlike the usual headphones which tend to increase the bass in order to highlight the gaming effect. We all agree that it is not pleasant to hear and moreover it overrides the footstep sounds. I would like to commend JBL's sound quality while playing all the surrounding sound effects, fire, and vehicle directions are very clear.
If we talk about its usage over music and movies, we need to keep in mind that these headphones are built for gaming use but due to its natural tunning capacity you will get decent quality in this regard. Don't go on expecting too much, there can be instances where the treble goes flat so your movie or music experience is not going to be fabulous but again these are gaming headphones we should not forget their essence.
JBL Quantum 100: Should You Buy It?
Concluding the review, these headphones definitely have value for money and are quite efficient. If you're looking for decent headphones below the range of Rs 3000 for PUBG Mobile and PUBG PC types games, trust me this is the most appropriate for you. I've tried and experimented with all the headphones in this range from ReadGear to Cosmic bite and I can say with full confidence no headphone offers a balanced audio quality, stylish design, and the most important immense comfort. If I were you, I'd definitely go for JBL quantum 100, with all the exclusive features it's the best in the market today. But if you can stretch your budget up to 4000 Rs, then you can also go with JBL Quantum 200.