Sound effects have always been a major part of making any game a thriller and memorable experience. Remember Super Mario!! The game's minor "ting" sound is still stuck with all GenZs and even millennials. The gaming sector has evolved from a single dimension to multiple dimensions, giving the user a real-life experience of being in the game, provided that you have all the required tools to capture and enjoy every detail the developer has crafted. One such nonnegotiable gadget is Gaming Headphones, or else how will you feel buzz running inside your nerves?
We understand gaming is an expensive affair, and hence, buying additional pieces of equipment can be a burden on you. Hence, we have created the list of Best Gaming Headphones Under 2000, which will suit pockets and are perfect for giving the most amazing experience.
+5500 Happy Buyers, Every Month. We update this list weekly so that you will get the latest and best gaming headphones from the Indian market. Still, if you need help, we are available 24/7 on our YouTube channel, Facebook, and Instagram.
---
These are the best gaming headphones under 2000 Rs that you can buy today:
---
EKSA E900
Overall Best Choice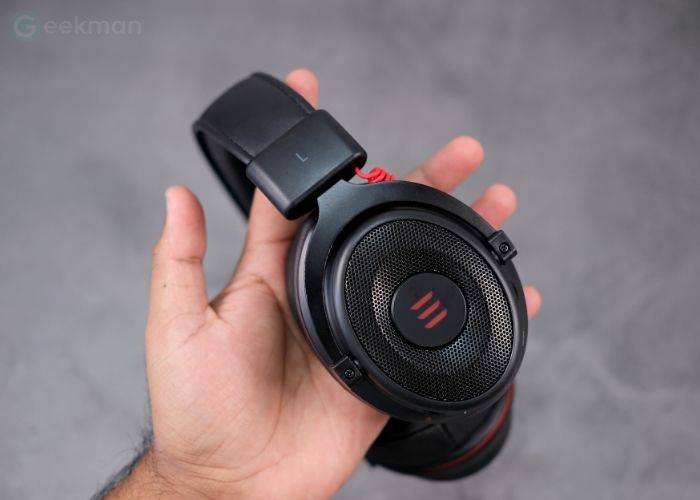 EKSA E900 is our first choice of ours, mostly because of its high-tech features, comfortable seating, and amazing sound quality, but also because of its low price, which can easily put many expensive brands to shame. It comes with a stylish, decent-looking, comfortable design and produces a wide range of sounds to enhance your gaming and music experience. It consists of 50mm speaker drivers and 20Hz-20KHz frequency responsible for crystal clear sound. There are headphones with bass in this price range but compromised music pitch and quality. This is not the case with EKSA E900, as you will get the perfect balance of music and bass.
In just 50% of the volume, you will get a mesmerizing sound experience with decibels and quality with utmost clarity. The stereo sounds of the Eksa E900 headset have good performance in gaming. Experts also give it a 10/10 for the stability of various sounds, be they high or low intensity. It will give clear sounds in calming conditions and also when there is a high pitch of a gun firing gunshots, without changing the volume manually. I highly recommend these EKSA gaming headphones for PUBG, CS Go, and Valorant-type games. For more info, please check the full Review: EKSA E900.
Show more +
Lowest Price (Update: 30 min ago)

---
JBL Quantum 100
Gaming + General Use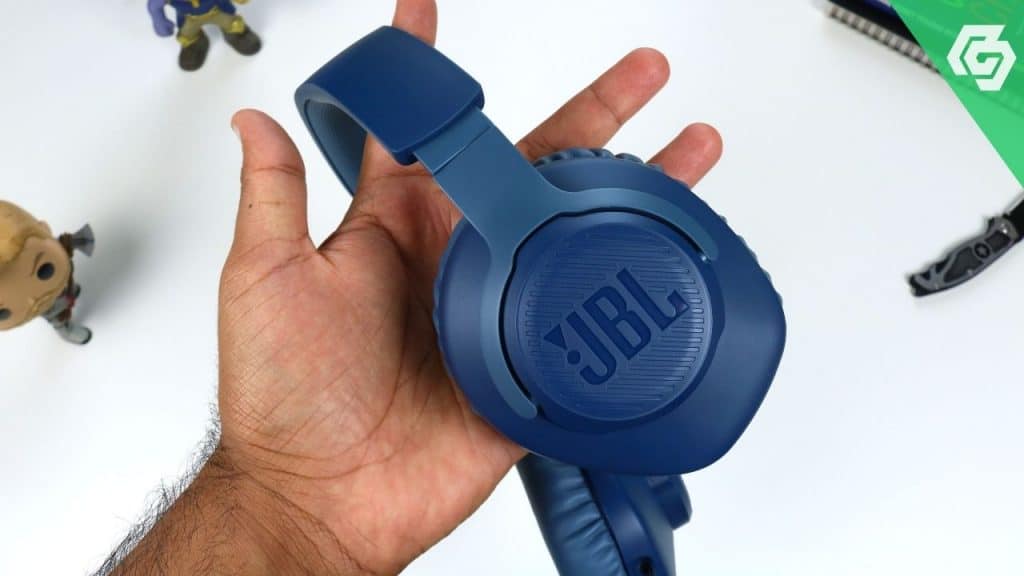 Moving on to the next headphones on our best gaming headphones under 2000 list, we have The JBL Quantum 100. The highlight of Quantum 100 is its boom mic. Considering the low price, the mic is outstanding. It outputs sound that is crisp, natural, and completely distortion-free. The comfort in these is good for the price. The in-earcups have plush padding, and the same goes for the headband. Moreover, it also does a good job of isolating the ambient noises.
Check the detailed review of JBL Quantum 100
These headphones boast a 40mm dynamic driver that produces fairly loud sounds. They are great on high frequencies, so you can easily hear enemies' footsteps in a game. As for the bass, they contain a fair amount of boominess, so explosions and gunshots in the games sound ok at best. The headphone is built entirely of plastic, which is reasonable for their price. In terms of looks, They look like basic headphones with no RGB lighting, unlike the other pricier headphones in the Quantum lineup.  So if your priority is the gamer looks, you should look into another headphone.
Show more +
Lowest Price (Update: 30 min ago)

---
Amazon Basics 7.1 RGB
Value For Money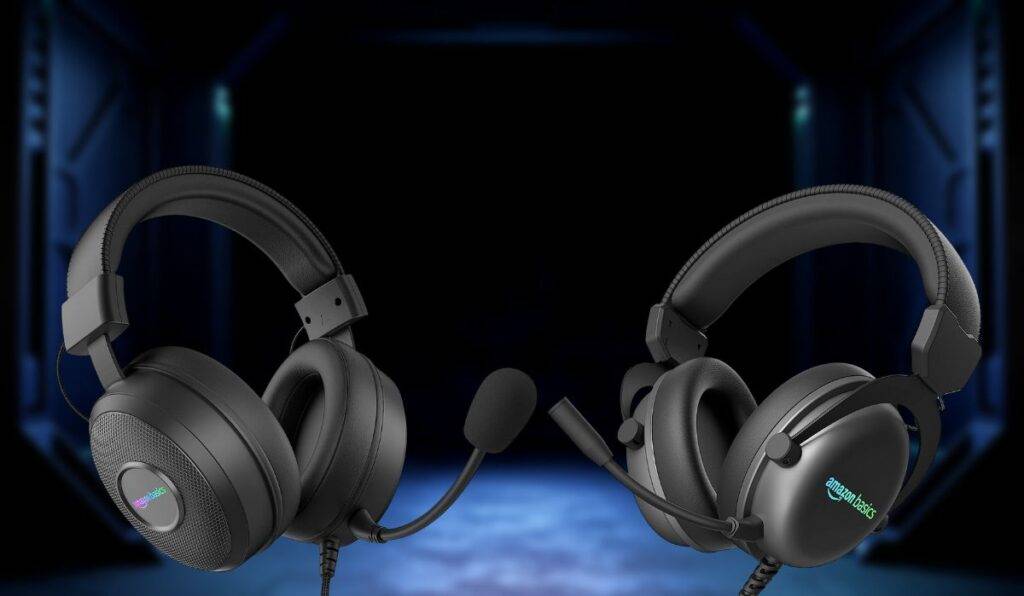 In this list, the next item is the Amazon Basics gaming headphones, which are available in 3-4 different variants. You can purchase any of them based on your preference. The only difference between them lies in their design and building materials. All three variants go by the name of Amazon Basics, which can lead to some confusion, but fret not. I have listed the top three options for you below.
In terms of design and build, these gaming headphones are fairly simple, but they do come with a subtle RGB branding that adds a cool look to the overall appearance. However, it is important to note that they are not fully customizable RGB, which is understandable given the price range.
The major highlight of these gaming headphones is their 7.1 surround sound support, ensuring that you can discern every footstep, explosion, and gunshot with cinematic clarity. Another notable aspect is that they are lightweight and comfortable, although the first variant may not be as comfortable as the other two.
As for connectivity, since these are 7.1-enabled headphones, they only offer USB A connectivity. Therefore, I apologize to mobile gamers, as these headphones are unsuitable for you. The microphone is decent and justifies the price, although I personally would have preferred a detachable microphone. Overall, I am quite impressed with this product. While Amazon Basics may not be a renowned professional gaming accessories maker, but these products are surprisingly good.
Show more +
Lowest Price (Update: 30 min ago)
---
EKSA E3000
Value For Money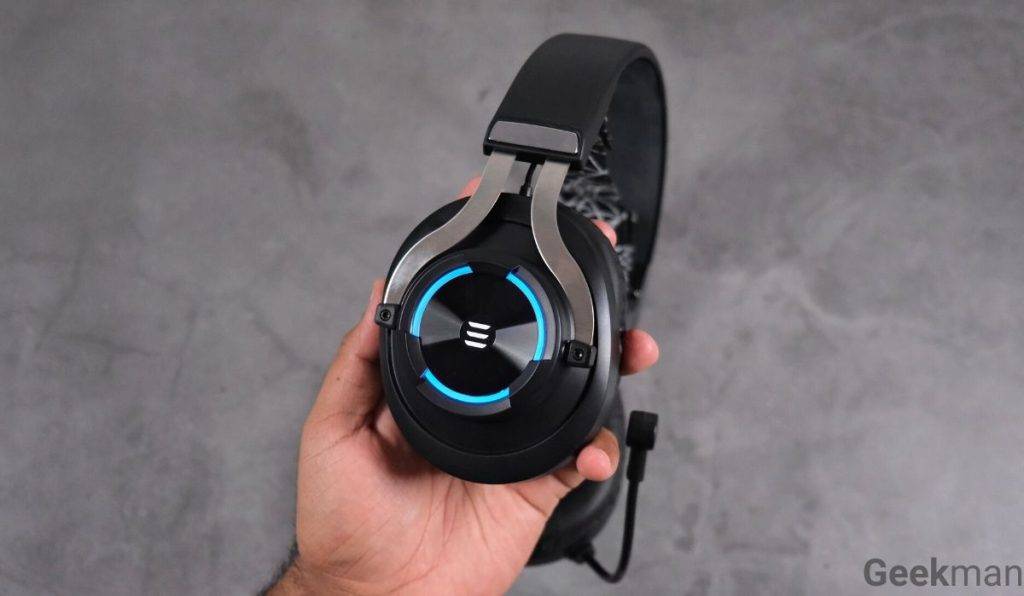 Moving on to the next headphones, we have Eska E300. Most budget gaming headsets suffer from poor audio quality and compatibility, but that's not the case for these headphones. With a 50 mm large driver, these headphones produce adequate sound output. The audio is not excessively loud, maintaining clarity even at higher volumes. The surround sound is impressive, allowing you to accurately identify the direction of enemy footsteps, gunfire, and approaching vehicles in games like PUBG and BGMI. And the bass response is tasteful and not overpowering, striking a good balance for a gaming headset.
Even the microphone delivers clear and loud voice output with minimal background noise. The design of the headphones is sleek, with minimal branding and ring-shaped LED lights. They strike a nice balance between a unique style and a decent gaming vibe. They have a solid build quality with a good amount of metal used, making them durable and giving them a premium feel. The entire frame is made of steel, adding to their sturdiness. The medium-sized ear cups and soft cushion pads provide ultimate comfort for long gaming sessions and help block out external noise.
Show more +
Lowest Price (Update: 30 min ago)

---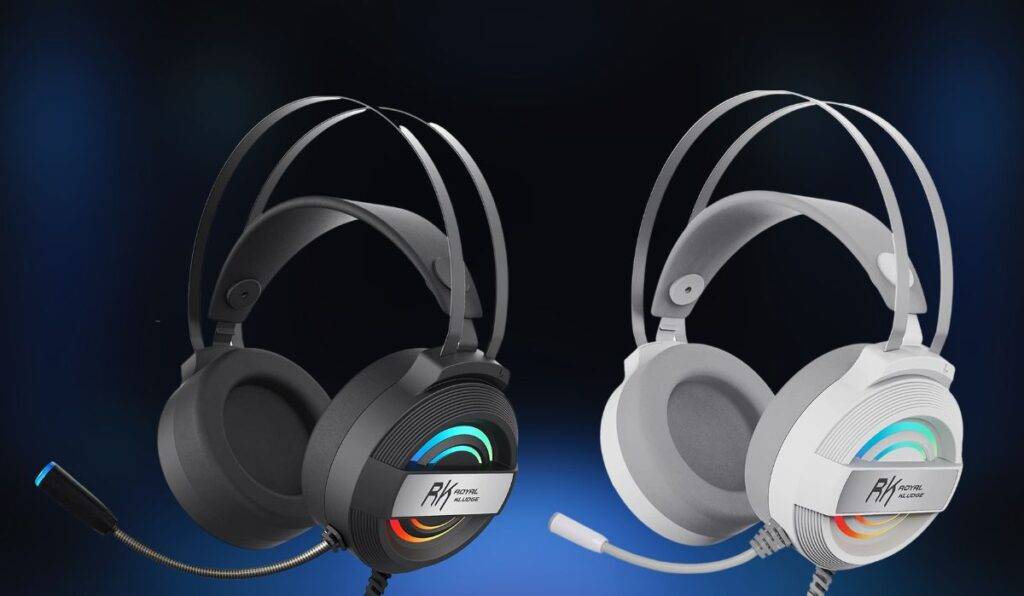 The ROYAL KLUDGE RKE6000 is our next choice on the list of best gaming headphones under 2000. This gaming headset offers powerful, high-quality audio with 7.1 Surround Sound support. Talking about comfort, these RKE6000 headphones are very lightweight and equipped with a stub microphone and RGB lights. To increase the sound clarity and overall experience with the sound, this headset is also coming up with 50mm neodymium drivers. To cancel out the ambient noise RKE6000 is designed to have 3D draping earcups that help provide one of the best sound insulation in the market.
The company has considered designing this particular headset as it has also incorporated a self-adjusting head beam, allowing you to use it in any position. The highly sensitive diaphragm of the headset has left earcup features that are perfectly placed for voice communication without any interruptions. The 2-meter tangle-free broader cable is equipped with the USB A connector and 3.5mm audio jack, which is compatible with all kinds of desktops, consoles, laptops, smartphones, and tablets and has built-in volume control and microphone regulators.
Show more +
Lowest Price (Update: 30 min ago)
---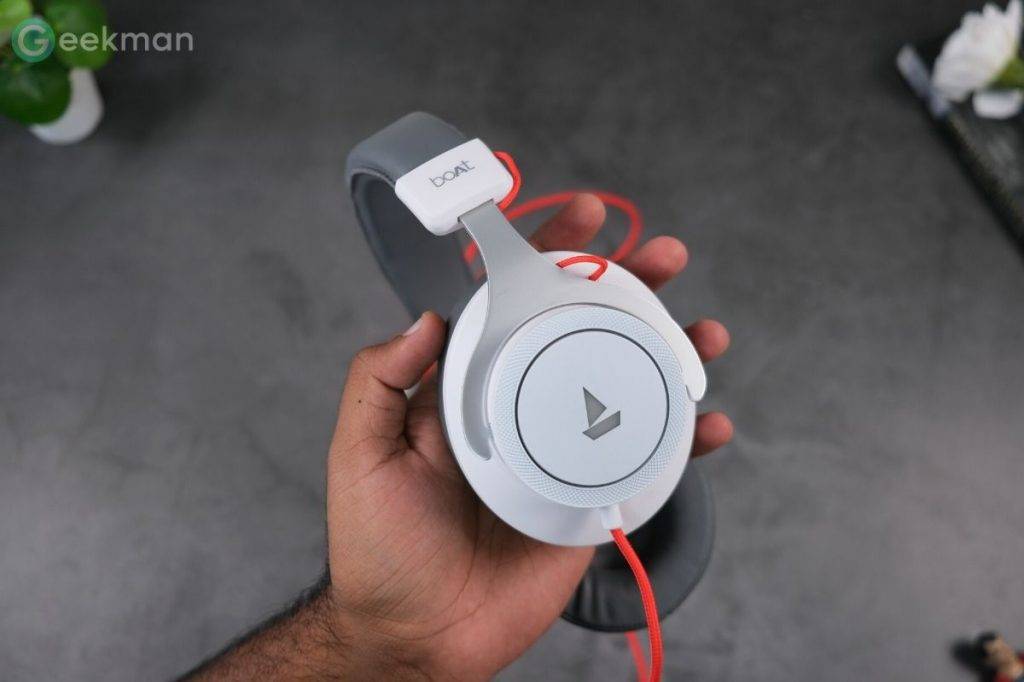 BoAt, the renowned Indian audio brand known for its affordable headphones, has ventured into a new domain by introducing its first-ever gaming headphones in the Indian market. The BoAt Immortal 1000D is a gaming headphone that boasts 7.1 channel surround sound and supports Dolby Atmos audio.
Starting with the design and build quality, the headphone is available in two elegant color variants: white-grey and black. While the overall shape and size of the headphones are impressive and harmonize with the chosen color scheme, it must be noted that the BoAt Immortal 1000D lacks the premium feel of its competitors due to certain compromises made in terms of durability. Nevertheless, the headrest and size adjustable belt is tastefully crafted from metal, while the remainder of the headphone is constructed from plastic.
Regarding comfort, it must be acknowledged that the BoAt Immortal 1000D falls slightly short of expectations. Although the module size of the headphone is moderate and its overall weight is a mere 239g, after a continuous gaming session of 1-2 hours, one cannot help but feel less impressed with its comfort level. Furthermore, these headphones provide effective noise isolation, thanks to the size of the modules. However, the tight fit of the headphones may exert some pressure on the ears.
In terms of wire quality, the headphone is equipped with a tangle-free braided cable coated in fabric, which appears sturdy and durable. The middle section of the cable contains all the necessary controls, such as a mute button, microphone on-off, RGB on-off, and volume adjustment buttons on the side.
The microphone quality of these headphones, however, can be deemed satisfactory, considering their price range. Despite the lack of a pop-off filter, the headphone minimizes background noise effectively, which is a significant advantage for dedicated gamers.
Moving on to sound quality, it is important to note that two software applications, boAt Plugin Labz, and Dolby Access, must be installed on your PC. The boAt Plugin Labz app, available for download from the official BoAt website, provides a range of functionalities such as volume adjustment, sample rate modification, equalizer settings, and the option to enable or disable 7.1 surround sound.
Finally, with regard to the overall sound quality, testing the headphones with games such as PUBG PC, Valorant, and CS: GO revealed an impressive surround sound experience. Footstep direction, enemy locations, and movements can be easily discerned, thanks to the 50mm driver that produces rich audio output. However, there appears to be a slight imbalance in the sound notes, with the high notes registering as excessively high. Consequently, these headphones may not be considered exceptionally comfortable regarding general sound quality.
In conclusion, the BoAt Immortal 1000D is not the best gaming headphone in this price range, but it's definitely a runner-up choice.
Show more +
Lowest Price (Update: 30 min ago)
---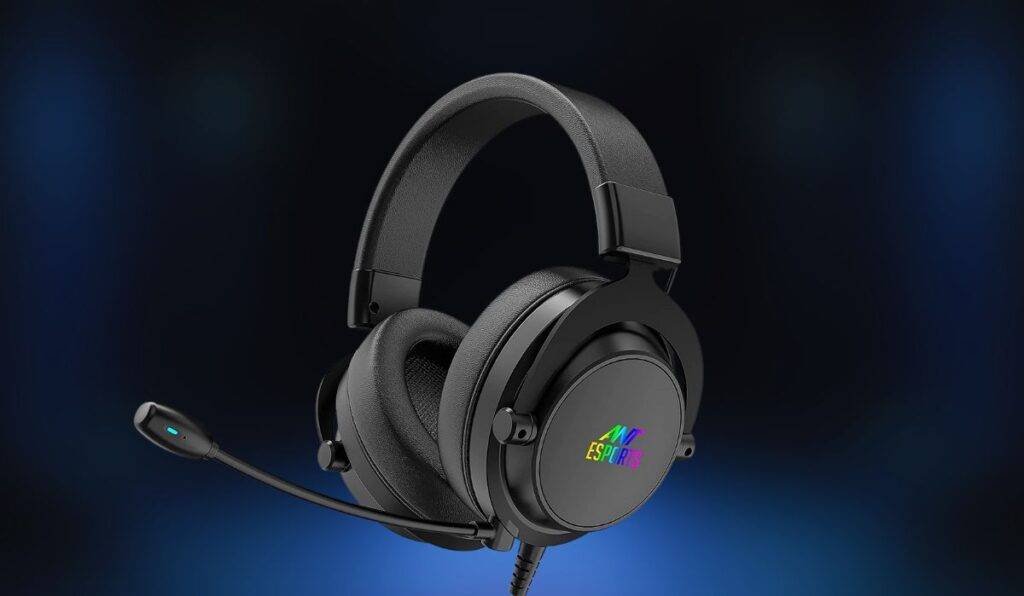 Ant Esports may be an unknown brand to many of our readers, but this is where we introduce you to underrated brands. The H series headphones have been buzzing lately in the budget gaming headset market. So it's obvious, this one is on the best gaming headphones under 2000 list. The H800 hosts a sleek and ergonomic design. Plus, the RGB backlighting on the earcups elevates the gamer aesthetics. For comfort, the headphones have a leatherette cover earcups with memory foam. So you can game on without any pain in your ear.
The 50mm drivers of the Ant Esports H800 gaming headset offer precise and clear audio quality. With the added 7.1 Surround Sound technology, the sound output covers a wider frequency range. So, any sounds, from the loudest explosion to the silent steps, everything can be detected easily. The mic is also good for the price. The noise cancellation in the mic ensures clear communication with minimum ambient noise.
For connectivity, the headphones come with a braided USB cable. This means most platforms are supported, except mobile devices. Also, the headphone is on the heavier side at 350 grams, but all the features make it worth every gram.
Show more +
Lowest Price (Update: 30 min ago)
---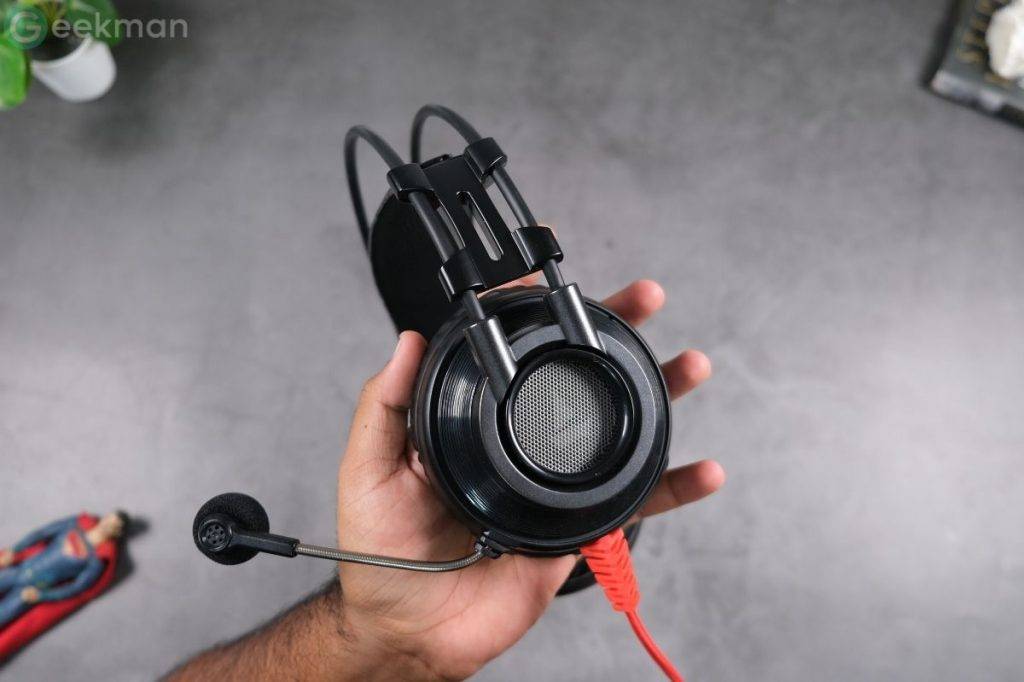 boAt, Known for its TWS, is also entering the gaming audio wear industry with the Immortal series. The brand has especially focused on its looks, with Immortal IM-200's funky design. The company has thrown in an RGB logo that looks neat to maintain gamer aesthetics. The In-ear headphone boasts a sturdy build with comfort kept in mind. There are no compromises in comfort since it has large earcups with soft foams and a dual headband that is customizable according to your head size. 
The combination of 50mm drivers and 7.1 channel virtual surround sound ensures the best sound experience at its price. The sound clarity is on point, and the bass is balanced and not too boomy, so explosions in games also sound nice. Speaking about the mic, it is adjustable but not up to an extreme angle. Thanks to the memory foam in the mic and the Enx noise cancellation, the mic output is free from background noise and muffles. The plus point is the braided 3.5mm cable for connectivity.
Show more +
Lowest Price (Update: 30 min ago)
---
Conclusion:
The headphone has become essential for the holistic gaming experience; hence, we have put out this list of Best Gaming Headphones Under 2000. Our thorough research has covered almost every required feature, be it comfort, sound quality, flexibility, or low cost. You can also see the Pros and Cons pointers to assist you in making an informed decision.
If you have feedback on our list, we will happily receive it in the comment section below.
Also Read: