It is easy to find a good pair of In-Ear earphones that could also be used for gaming. But what is near impossible to get is a good Over-Head gaming headset that also works really well at music playback. They may be good at providing an acoustic experience while gaming time but when you are listening to music or watching movies, that experience is more of a pain that you have to bear with rather than just enjoyable sound experience.
EKSA is a brand that we've come to know and like for their affordable gaming headphones. The new EKSA E900 Gaming Headsets aims to be a provide you with good quality music and movie-watching experience outside the gaming arena as well. Let us take a closer look at the review of EKSA E900 to see whether it achieves that or not.
Box Content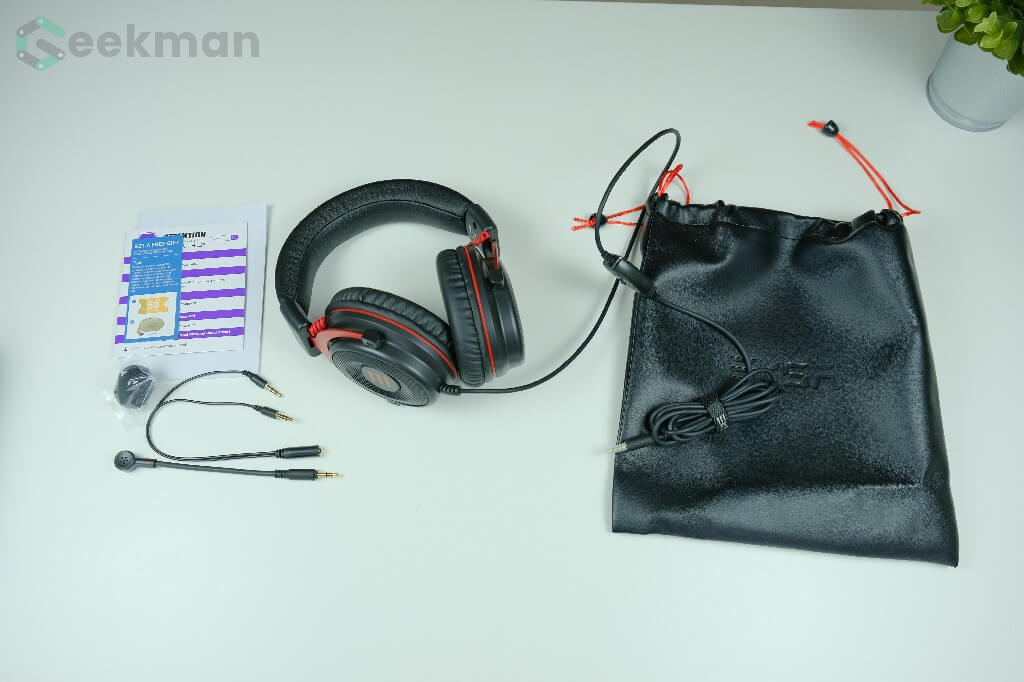 Gaming headsets in the black and red colour combo (you also have a green and all-black colour option).
Audio splitter cable.
Detachable microphone & pop filter.
Paperwork – User manual and warranty card (24 months).
Last, Good quality premium looking storage pouch.
Design, Build and Comfort
Starting with the design, I am quite impressed with the overall design of the EKSA E900. It has quite an encompassing design. The headsets designed as an around the ear headset and come with a premium finish and build. It feels really solid in the first impression, so much so that you might be surprised when you compare the actual price to the price that you built-up in your head.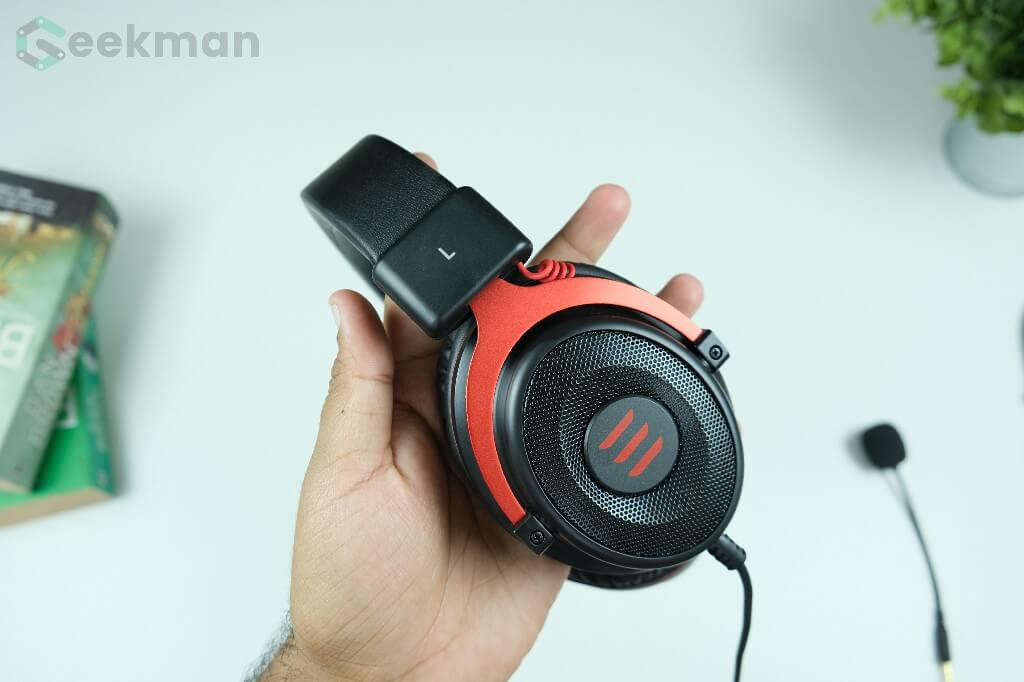 The best thing I like about E900 is that there are no cheap unnecessary plastic parts or colour coat for that 'Gaming Wali feel ', simple and straight forward design of E900 look really premium and go very well with all types of use.
Another reason that these EKSA headsets feel so premium is that there are in fact several premium materials used in the construction. The company used the right amount of plastic and aluminium in build, which offers good durability as well as improves weight distribution. Yes, there is a certain weight to the headphones as well that comes from having so much metal in its construction, but still, it feels very lightweight because of good quality material and unique design.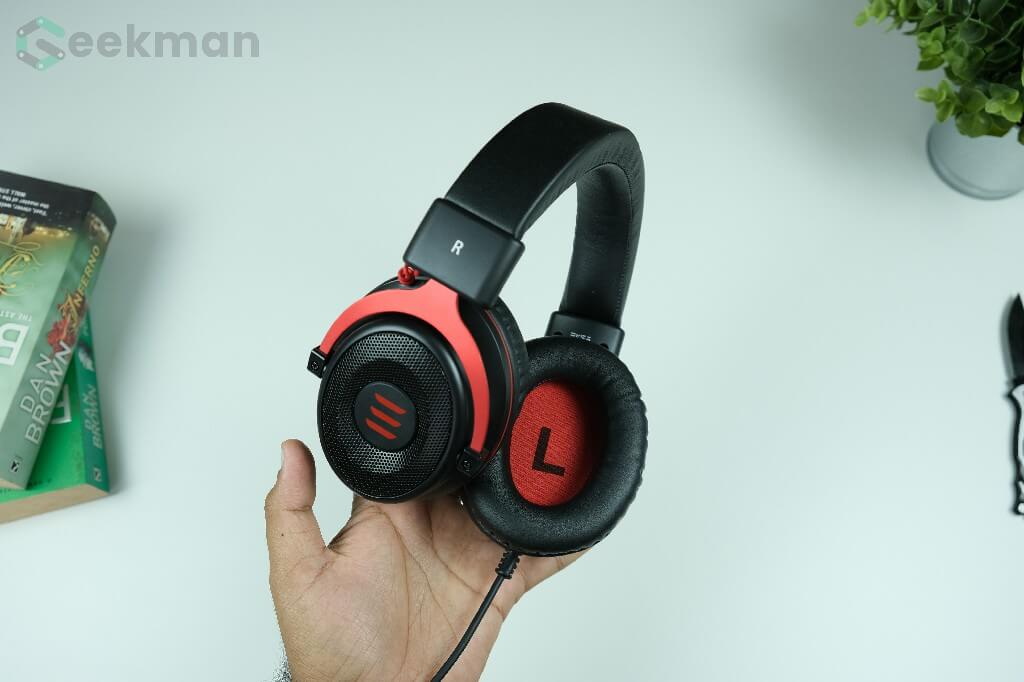 The ear cups also have a nice metal grill with the EKSA logo on either side. The earcups also have artificial leather sweat resistance foam padding which is really soft and adds to the ultimate comfort. Because of the soft padding, you can wear these headsets for hours without discomfort, even if you're sweating or have sensitive ears. The best part is that these cushion pads are detachable, which is really cool thing and even some premium gaming headsets do not offer this thing.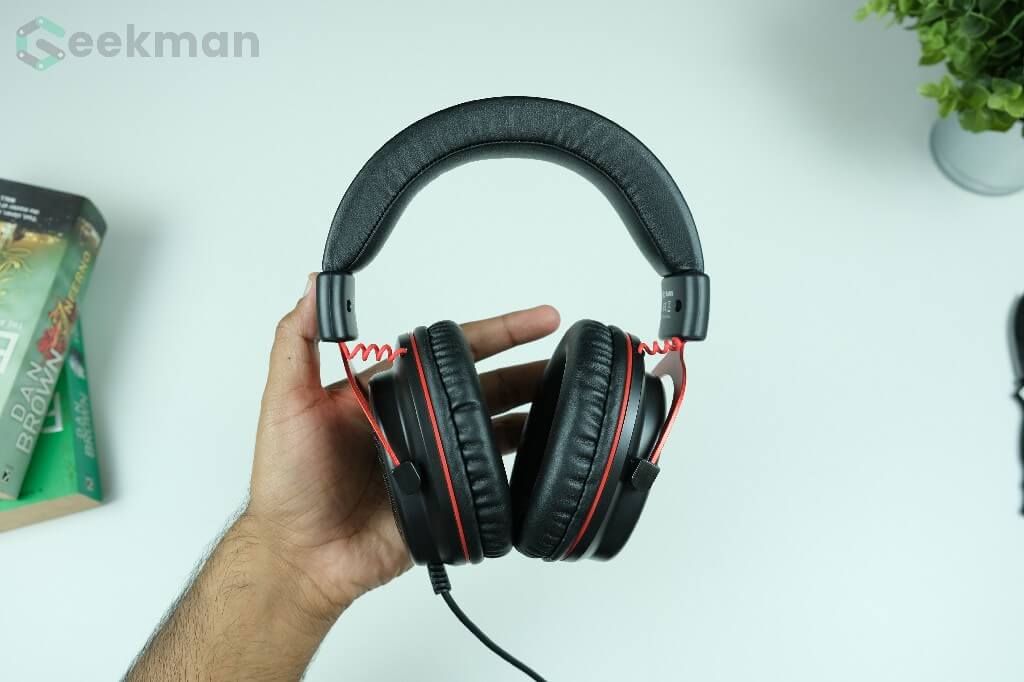 I tested these EKSA Gaming headsets for continuous 3-4 hours use, and I am really surprised with the overall comfort experience. As you know, I tried many gaming headsets in this price range, and after that all I can say these are one of the best comfortable gaming headsets under 3000 Rs, for now.
The ear cups are fairly large, and comfortably covers your entire ears. The ear cups attach to the frame via a set of anodized red colour aluminium arms. The arms provide 180 degrees of swivel, so the ear cups can conform to just about any face shape. No matter how your cheeks or temples are slanted, you'll enjoy full contact without excessive pressure.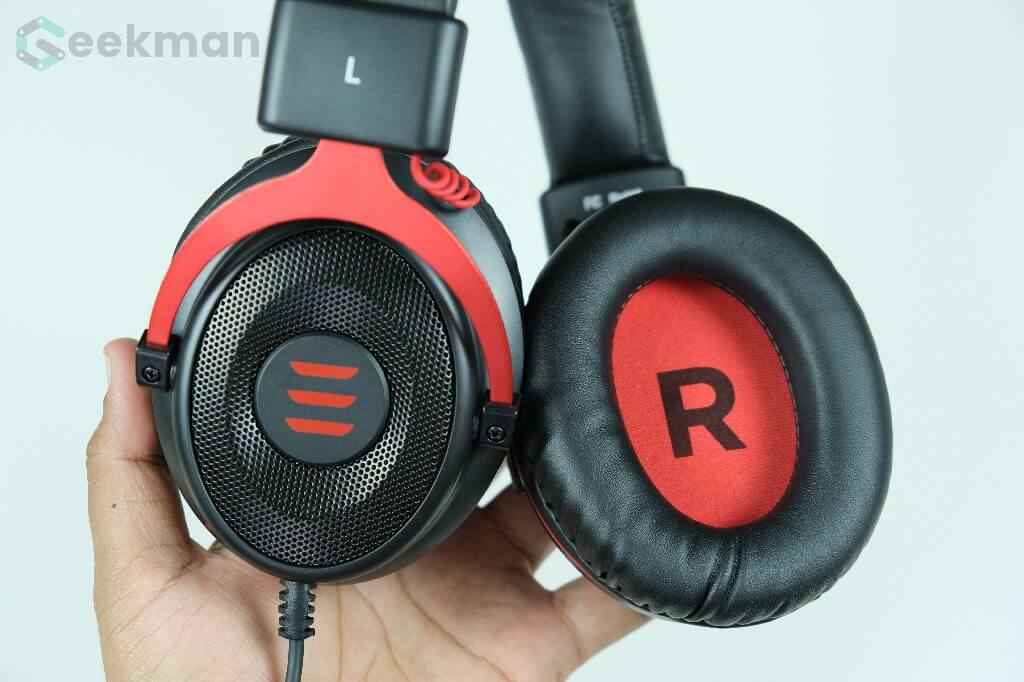 The swivel arms can extend or detract from the headband. This provides even more versatility and comfortable feating. Another best part I like most about EKSA E900 is how comfortable is the headband section. The headband easily constructed with an aluminium frame but is well-padded with memory protein. The padding is very thick and soft, which offer next-level comfort.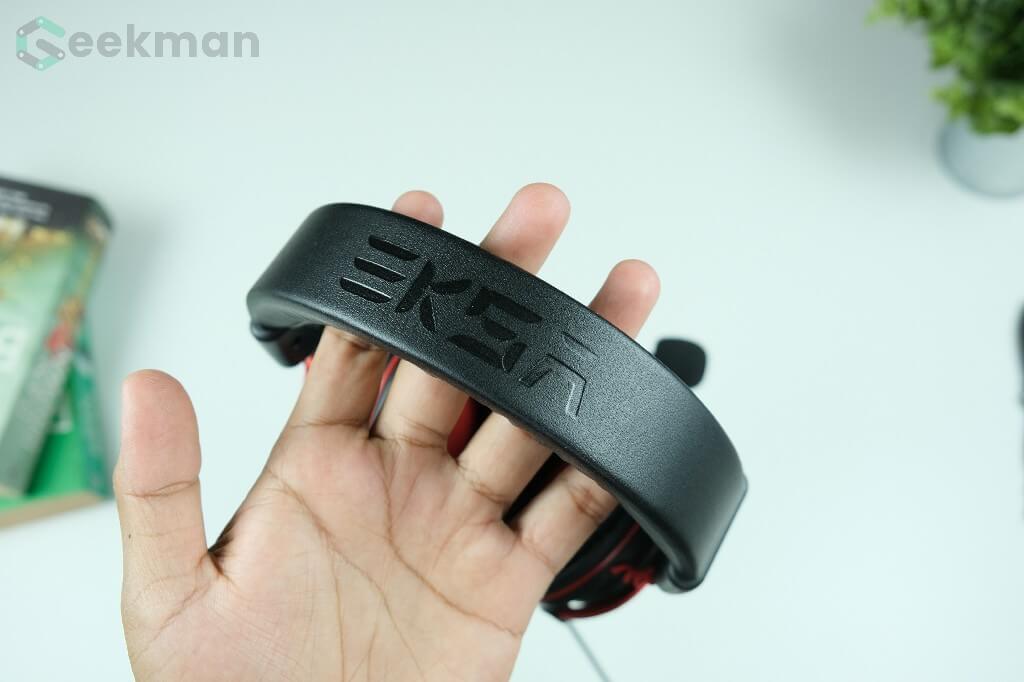 Along with these, there are 2m long PVC coated 3.5mm cable. The cable is enough long for you to plug it into the backside of the computer and then manoeuvre around comfortably from your chair or couch. There is a velcro cable tie attached on the cable, so you can wrap the excess length up and make it more manageable. And splitter cable also included inside the box, so you use these gaming headsets with a wider range of products, which is a big plus point.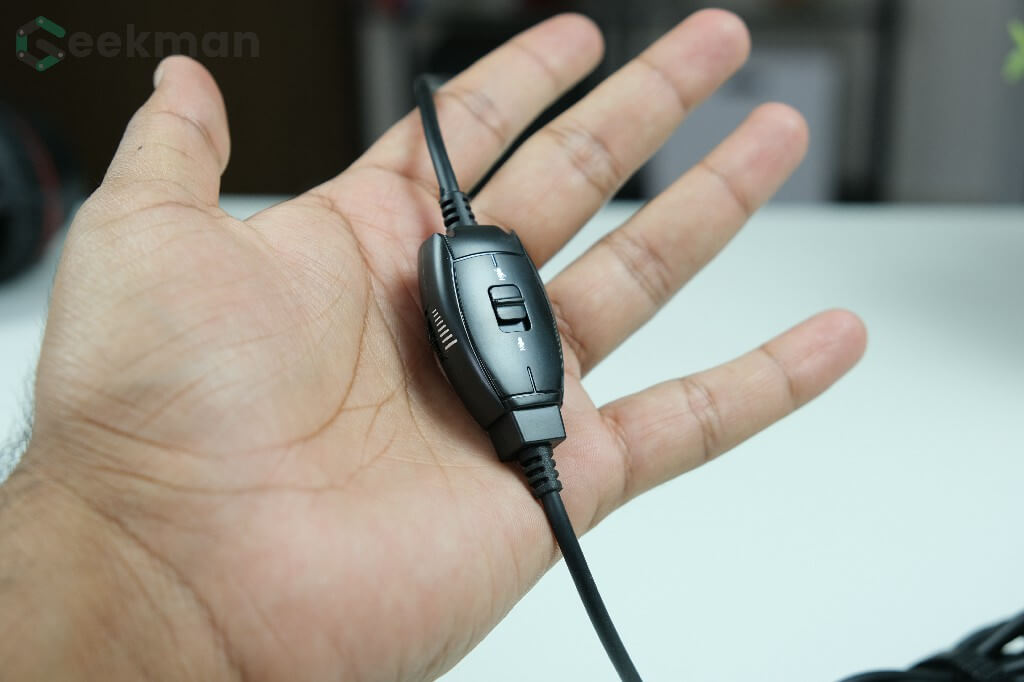 There is a dedicated control unit for volume control and microphone. You can easily adjust the volume using the volume control scroll wheel. Along with this, there is a dedicated. The microphone is detachable, but still, there is a dedicated on/off toggle switch for the mic, so during the gaming season If your girlfriend calls you, then you can quickly turn off the microphone.
Microphone
My stance on microphone quality, though I'm not satisfied with the build and design of the detachable microphone, but I am quite surprised by the quality of the microphone. I tested the microphone quality for several hours while playing PUBG PC with my friends. During that time, my friends were able to hear me clearly and consistently. The noise-cancelling works surprisingly well considering how inexpensive this headset is.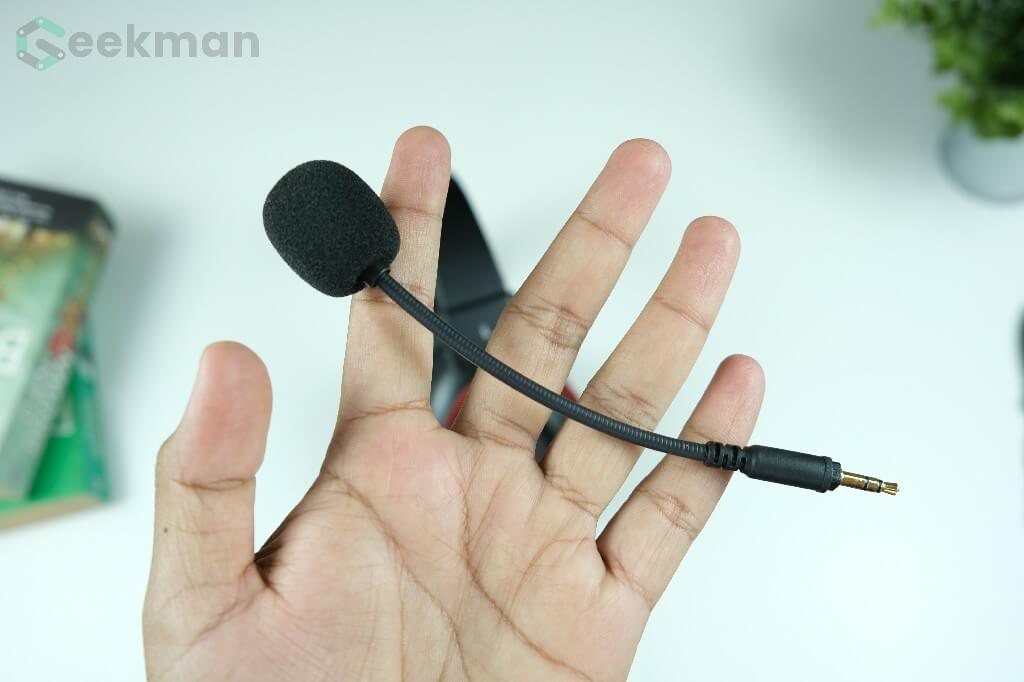 Sound Quality
Finally lest talk about sound quality. The EKSA E900 has a large 50mm drivers, this offers more reacher and powerful sound than most of the other gaming headsets in this price segment. I tried all the best selling gaming headset in the given price range, including JBL Quantum 100, Quantum 200, and Redgerar Cosmo, at the end I can easily say that EKSA E900 is better than them in terms of sound quality.
Yes, I agree JBL Quantum 200 & 100 offer more wind range of sound and offer little bit better audio output in normal music and movie watching. But in gaming use, I prefer E900. The result is a deep, rich sound that covers all frequencies equally well. You can easily hear high pitched whistles and dings just as well as you hear grenade explosions, bullet fire or a rumbling engine.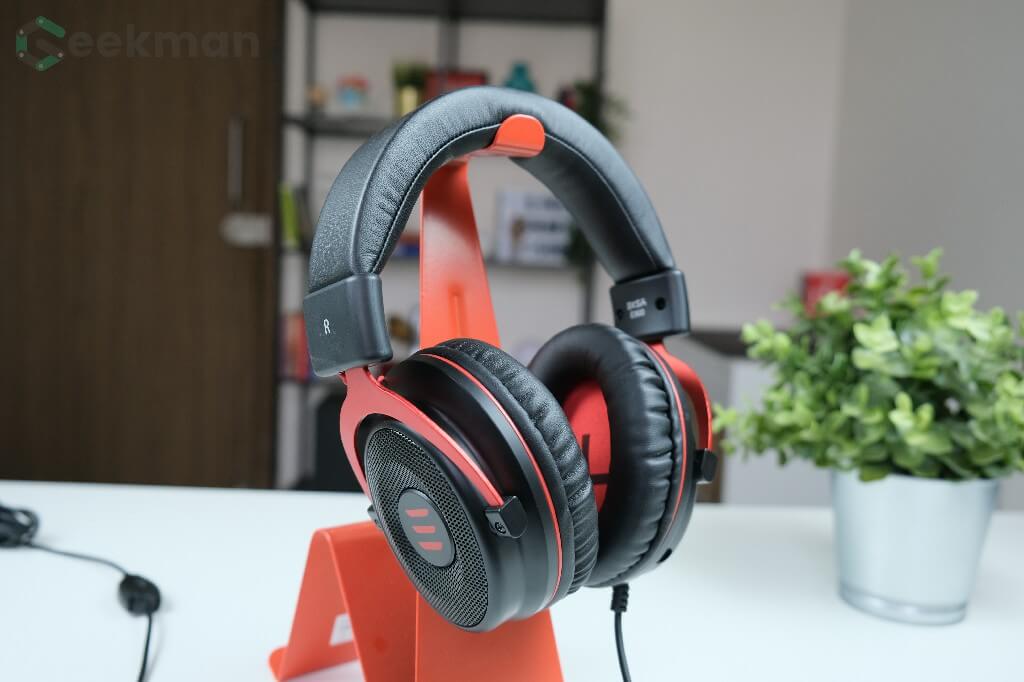 The surrounding sound is also amazing. You can clearly tell where a gunshot or vehicle is coming from. This is an essential feature in any first-person shooter game like PUBG and CS GO, where it's essential to know where your enemies are. Simply turn towards the sound, and you'll be facing where you want to go. The surrounding sound isn't just for the game, either. If you're listening to stereo music or movie, you'll get an ultra-wide soundstage, with excellent separation. You can clearly hear every instrument individually, without any unwanted crossover.
So overall, the EKSA E900 serve very well as a good quality gaming headset. If we talk about its usage over music and movies, we need to keep in mind that these headsets are built primarily for gaming use but due to its balanced audio capacity you will get decent quality while music and movie streaming. Don't go on expecting too much, there can be instances where the treble goes flat so your music experience is not going to be fabulous but again it can be your all-in-one daily use headphones.
Final Word
Although the Eksa E900 is definitely value for money gaming headphones and for now best at this price point. As gaming headsets, it works pretty well but it also capable of blurs the lines between gaming and daily use normal headphone. So, apart from gaming, you can also enjoy your favourite music tracks and movie. Of course, if you want super good sound quality, you'd need to pay more for a more expensive headset. But this one won't disappoint in music, and for gaming definitely not.
Overall, I can easily say the EKSA E900 is the best value for money Gaming Headphones under 2500 or 2000 Rs. More info please check full review video on our youtube channel Geekman.
Also Read: