If you are very serious PUBG or CS GO player then you must have a good quality gaming mouse. Because in gaming normal mouse won't help you too much, you need a proper gaming mouse with ergonomic design, customizable buttons and custom DPI. Buying the best gaming mouse is not an easy task, for that you have to spend a lot of time on the resource. But I don't want to waste your time and that's why decided to write an article about the best gaming mouse under 1000 Rs. So select the mouse from below list and save your time and money. More info please check our Youtube channel Geekman. If you have any questions, please comment on Post, and you also ask questions on Twitter and Facebook.
How Is a Gaming Mouse different than a normal mouse?
The mouse is very simple computer accessories and gaming mice aren't that much different from a regular one. The core difference between them, as I said, is that they're specialized for gaming. They are more accurate, have some useful additional buttons, various customization options that make them look much cooler and adjustable accuracy and speed settings that you can switch on the fly.
I update this list every month and I try my best to provide latest and best gaming mouse for you
Here is the list of best gaming mouse under 1000 to 500 Rs for this month
1.Redgear X12 Pro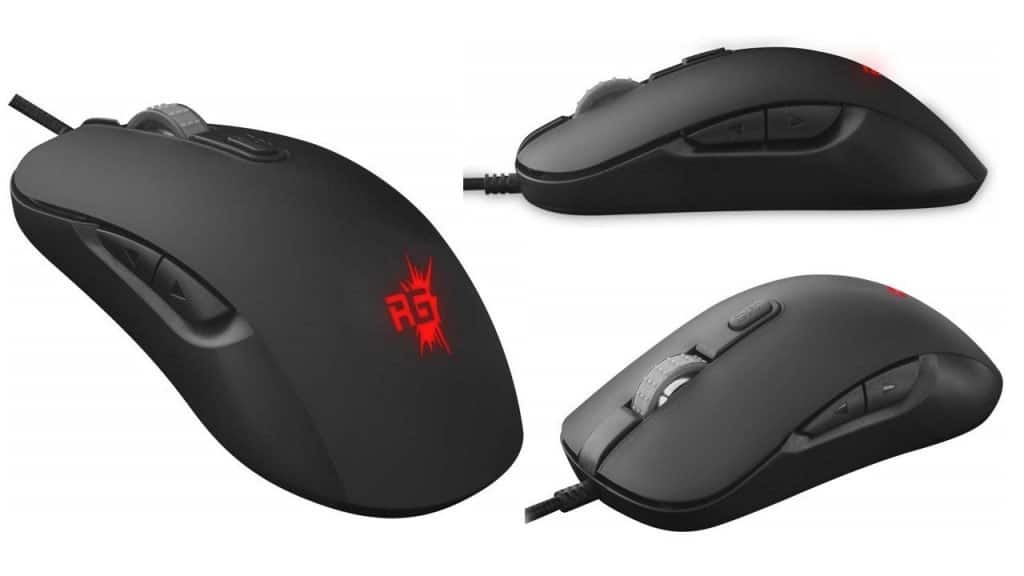 The Redgear X12 Pro is my first choice on this list because of its comfortable gaming experience and powerful tracking sensor. It comes with the industry's best Avago 3050 tracking sensor with 1000hz Pooling rate, which provides you with good gaming experience.
3050 is just entry-level sensor and it doesn't have a super high tracking speed, but for 1000 Rs is one the best sensor we can get. It provides you DPI from 200 to 4000, which is enough for gaming. You can easily change DPI using a given DPI button on the top. In my experience, the minimum 200 DPI really helped me to better sniping in PUBG.
The X12 Pro features 6 control buttons and 5 profile modes which are programmable using Redger customization software. The placement of all buttons is really good and easy to use. It also offers micro function.
Another best part is that the mouse support 16.8 m RGB colours and some coolest effect, which is really rare in this price segment.
The design is very simple but very comfortable at the same time. The ergonomic shape and rubber grips on both sides give you comfortable gaming experience. And it comfortable for both palm and claw users.
Overall, If you looking decent gaming mouse for PUBG and CS GO type games, then Redgear X12 Pro is the best choice under 1000 Rs.
MAIN HIGHLIGHTS:
| | |
| --- | --- |
| Premium look & comfortable design | No custom DPI |
| Avago 3050 tracking sensor | |
| 1000hz Pooling rate | |
| 200 to 4000 DPI | |
| 16.8 m RGB colours | |
| Good wire quality | |
Lowest Price Buying Options
2.Redgear A20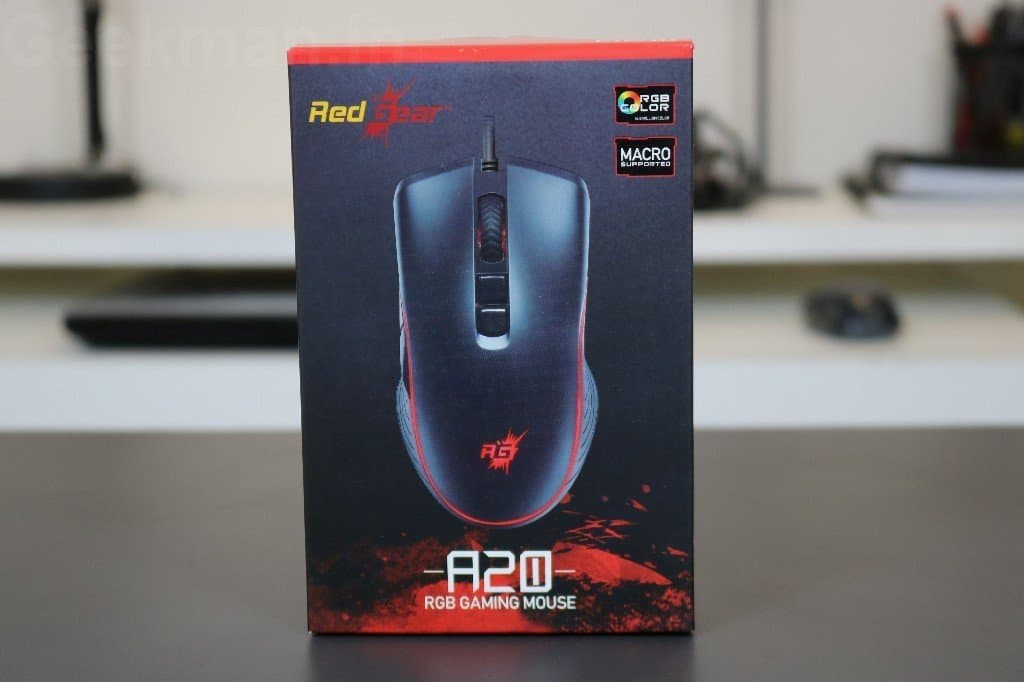 The Redgear is A20 is my second choice on the list of best gaming mouse under 1000 Rs. Currently, this one is the best selling gaming mouse under 1000 Rs on Amazon India. it comes with 4800dpi gaming optical sensor which supports six adjustable speeds, from 200 to 4800 DPI. I used this mouse for at least 2 days and play various games like PUBG and Apex. At the end of the day, I found the mouse is decent and done the job very precisely.
On the design front, it looks very stylish and premium with RGB lighting. It worth to say that is One of the best Looking gaming mice in the given price range. The mouse features a 16.8 million colour customization, which is really rear in this price range. You can easily change the colour and lighting effects by configuration Software.
The Red Gear is A20 is really comfortable, I used this mouse for continuous 4-5 hours and I didn't find any problem in comfort. It is suitable for both palm and claw users. But I want to say that it weighs a little more than normal (weight 150g), although it not too high, but I need to point out because lots of gaming users prefer a lightweight mouse.
It comes with 7 programmable buttons which at right place as well easily programmable using the software. For the DPI change, it has two dedicated buttons on the top, but you can also program this button according to your use. As like others, the micro function support also available on this mouse. Read full Review
All things considered, I think the Redgear A20 Gaming Mouse is definitely a great budget option for Beginner and casual gamer. So if you looking good RGB gaming mouse under 1000 Rs, then Redgear A20 is an ideal choice.
MAIN HIGHLIGHTS:
| | |
| --- | --- |
| Stylish look with 16.8m RGB colors | Little bulky |
| 200 to 4800DPI | |
| Palm and claw grip | |
| Comfortable  | |
| 16.8 m RGB colours | |
| Braided cable | |
Lowest Price Buying Options
3. Redragon Centrophorus M601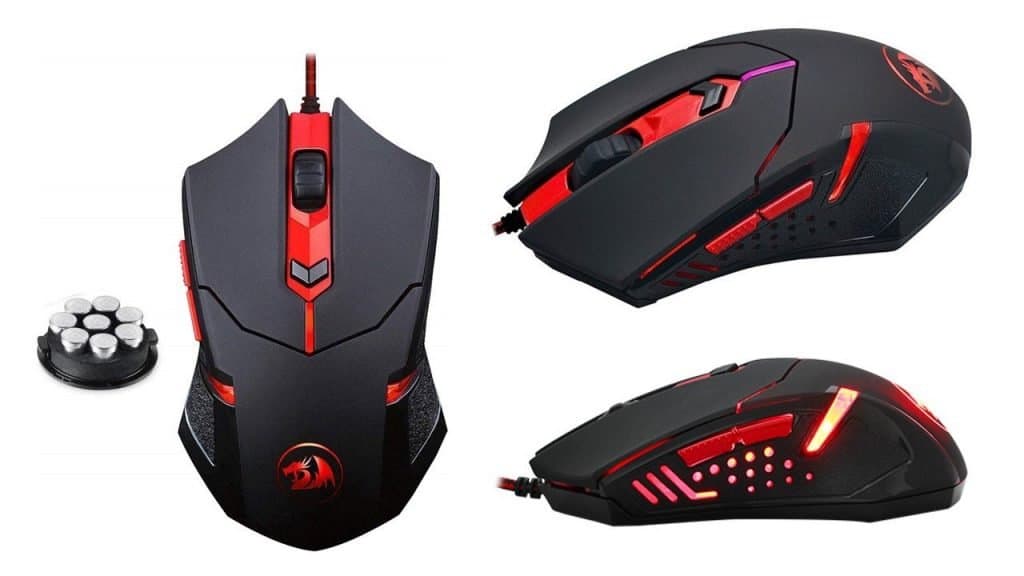 The Redragon Centrophorus M601 is the only one gaming mouse in this price range comes with 8-piece weights set, which provides adjustability for those gamers that enjoy light-weighed mouses or more precise movements.
It has a 4 level DPI adjustment of up to 3200 DPI(800/1600/2400/3200), which can be easily toggleable using software or given dedicated button. Additionally, it offers an output of 3500 frames-per-second respond rate for those needing to balance preciseness and accuracy.
The mouse comes with 6 programmable buttons, which gives gamers a variable set of key-binding options for their necessities. But I feel that the side buttons are a little bit difficult to manoeuvre.
The Sand Rubber Skin surface coating offers a secure grip, so you can play your favourite game for longer.
It has a "6ft high-strength braided fibre cable" that prevent damage from hours of gaming and at the same time offers considerable reachability for those users with longer needs.
The red and black colour combination looks really good and give gamer wali feal, but at the same time, the design looks little bit filmy.
MAIN HIGHLIGHTS:
| | |
| --- | --- |
| 8-piece weights set | No custome DPI |
| Up to 3200 DPI | Filmy look |
| 6ft cable | Limited Light settings |
| Teflon pad for smooth slide | |
| LED ligtht | |
| Low price | |
Lowest Price Buying Options
4. Redragon Gainer M610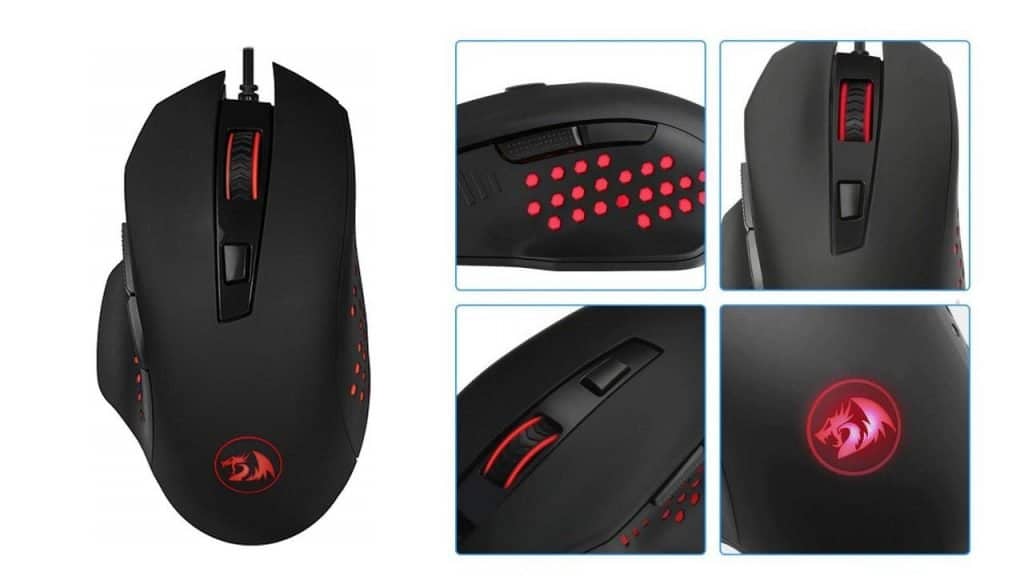 The Redragon Gainer M610 is the fourth choice on the list of best gaming mouse under 1000 Rs. This mouse is really value for money option with comfortable ergonomic design and High precision optical sensor.
The Redragon Gainer M610 supports up to 3200 DPI settings with 4 levels (1000/1600/2400/3200 DPI). You can easily change the DPI from customizing App or given a dedicated DPI button. But you can't apply your custom DPI settings.

It has 6 programmable buttons that can be easily configured for specific use cases with software. I like to say that the quality of the button is really good.
The button placement is quite good and easy to use. The scroll wheel with a special ribbed protector makes the mouse control easier.
The ergonomic unique design, textured surface and rubber strip on both side make this mouse very comfortable than its competitors.
It nicely fits in the palm curves and the button placements are very comfortable for the fingers to reach naturally.
MAIN HIGHLIGHTS:
| | |
| --- | --- |
| Erognamic design | No custome DPI |
| Comfortable | Only 4 lights |
| Up to 3200 DPI | Little bit bullky |
| Teflon pad for smooth slide | |
| Low price | |
| Good build quality | |
Lowest Price Buying Options
5. Dragonwar ELE-G9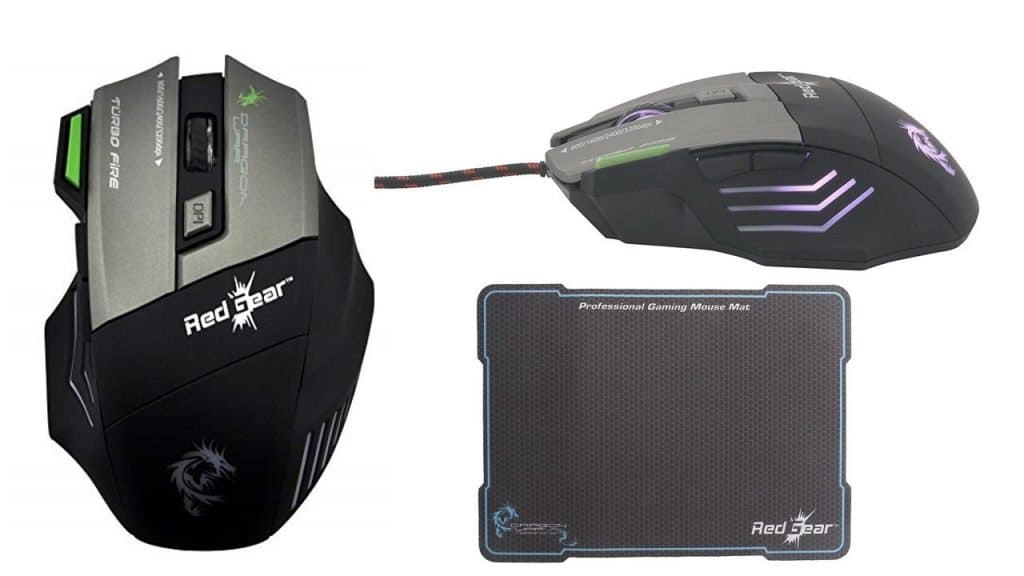 The Dragonwar ELE-G9 is an affordable budget gaming mouse packed with some really useful features. This one is the only mouse in this price range comes with 9 customizable buttons and good quality gaming pad.
The Dragonwar ELE-G9 looks pretty badass with the Dragon insignia and massive size. It is perfectly well designed, and have a Glowing Dragon logo on front, which represents DragonWar. It glows 7 Random colours in the logo and the designs on the sides, which are controllable via software which comes along it. Its finishing is also quite well. The buttons are well placed and easy to access.
Unique thing is that it comes with a "Turbo Boost" (green colour) button. One tap of a turbo boost button is equal to 2-3 taps from normal left click in the mouse.
Talking about the performance that Dragonwar ELE-G9 delivers is awesome, and as expected for its price. It Response Rate is < 5 milliseconds, that's good, especially if you playing PUBG like games. It offers you 800/1200/1800/3200 dpi with different sensor colours.
The mouse has pretty neat software for mapping and customizing and anything from DPI, to Sensitivity, to Refresh Rate, to Colours of the Backlight.
MAIN HIGHLIGHTS:
| | |
| --- | --- |
| Stylish look | No custome DPI |
| 9 Customize Buttons  | Only 4 lights |
| Up to 3200 DPI | Minimum 800 DPI |
| Turbo fire button | not for palm users |
| Macro Function | |
| Mouse pad included | |
Lowest Price Buying Options
So, here is the quick summary of the best gaming mouse under 1000 Rs:
Redgear X12 Pro
Redgear A20
Redragon Centrophorus M601
Redragon Gainer M610
Dragonwar ELE-G9
Also Read: