As you all must know, playing a competitive game requires top-notch stuff. Even the smallest thing can ruin your gaming experience, and being a gamer, I am sure that you guys do not want that. To make your gaming experience much better, the first thing you need is a gaming mouse. Those who don't know what a gaming mouse is, do not worry; I got you guys covered.
Why do you need a Gaming mouse?
A gaming mouse is a very simple computer accessories and gaming mice aren't that much different from a regular one. The core difference between them, as I said, is that they're specialized for gaming. They are more accurate, have some useful additional buttons, various customization options that make them look much cooler and adjustable accuracy and speed settings that you can switch on the fly.
Overall, a good gaming mouse will increase the chances of your winning the game, whereas a normal mouse won't be able to give you that much performance when it comes to gaming. If you are a pro gamer or a newbie in gaming, you should 100% opt for the gaming mouse. In this post, we will be talking about the best gaming mouse under 1000 Rs.
Best Gaming Mouse Under 1000 Rs for this month
Redgear X13 Pro RGB
Logitech Wireless Mouse M190
ANT Esports GM320
Dell Wireless Mouse WM118
Logitech B170
1. Redgear X13 Pro RGB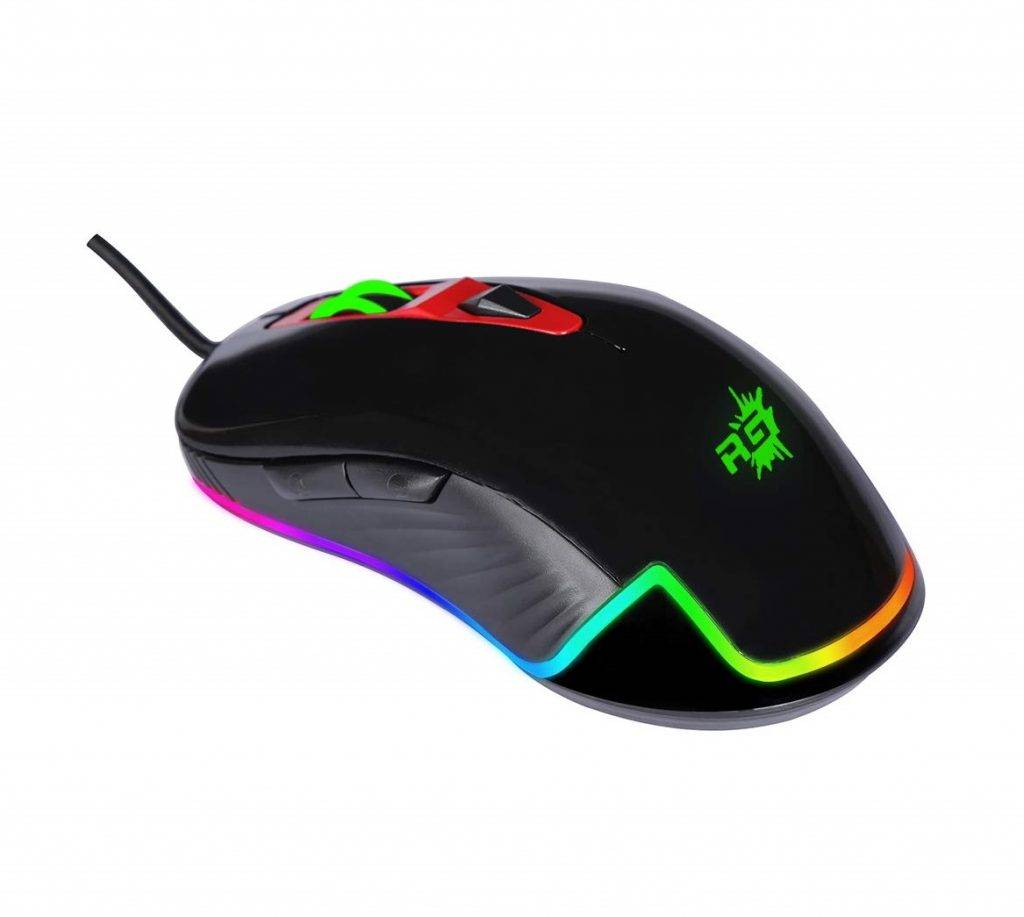 Lowest Price buying options:
---
The Redgear X13 Pro is a great gaming mouse under 1000 RS in India. with powerful Avago 3050 sensor, a comfortable design and unlimited RGB customization option. It has fully plastic construction, which is, in fact, the standard for most budget gaming peripherals.
This gaming mouse comes with a glossy finish at the top, whereas on the sides, you will get a rubberized texture, which will help you with a better handgrip. But, the glossy finish at the top of the mouse is a no for me. It is a great decision for those who love a better palm grip.
On the advanced side, the X13 pro comes with an Avago 3050 gaming-grade sensor that offers great sensitivity, which is best for competitive gaming like CS: GO, PUBG, COD, etc. Another best part is that it offers you a wide range of DPI settings – 200 to 4000DPI, which you can easily change by software or you will also have a dedicated button for that. It also has six programmable, which can be customized using Redgear gaming software. Check full Review: Redgear X13
Main highlights:
3050 Avago Optical Sensor, the best sensor in this price segment.
You can adjust the DPI between

200-4000DPI

as per your choice.

Comfortable

– suitable for both claw and palm grip users, and very

lightweight

.
1000Hz Polling rate.

Omron switches

.
1.8m long

braided cable

, almost tangle-free.
Unlimited

RGB Customization

gives a decent look to your setup.
Decent build and but glossy finish look little bit filmy, not ideal for

non-gaming use

.
Only for right-hand users, not ideal for the

left-handed gamer

.
Specification:
Connection: USB-wired, 1.8m long
DPI: 200-4000DPI
Sensor Type: Optical 3050 Avago
Buttons: 6
Polling Rate: Up to 1000Hz
Weight: 95g
Warranty: 1 Year
2. Lenovo Ideapad M100
Lenovo Ideapad M100 is my favourite gaming mouse and second choice on this list of best gaming mouse under 1000 Rs. The premium looking classy design and solid build are the prime points of this Lenovo gaming mouse. The ergonomic palm support lightweight design offer you ultimate comfort while playing your favourite game.
It has a DPI of up to 3200 DPI with a polling rate of 1000Hz. Switching the DPI levels is very easy, thanks to the dual DPI switches which let you change the DPI on the fly.
The biggest highlight is that it comes with a laser sensor which is a better sensor than an optical in some cases. If you looking gaming mouse for laptop, then the laser mouse is a good option rather than optical.
This gaming mouse is not that heavy and weighs just 90g, which is quite lightweight for a gaming mouse.
Main highlights:
Comfortable

Palm support design, ideal for long hours gaming.
Comes with a

Laser sensor

Lightweight

form factor

800–3200 DPI

and 1000 Hz polling rate, control with dedicated DPI buttons.

7

-color cycling LED backlights with

breathing effect

.
7 buttons but

not programmable

.
No Software support.
Not ideal for

left-hand
Specification:
Connection: USB-wired, 1.8m long
Sensor Type: Laser
DPI: 800-3200DPI
Buttons: 7
Polling Rate: Up to 1000Hz
Weight: 90g
Warranty: 1 Year
3. ANT Esports GM320
Lowest Price buying options:
---
If you are a person who is more into sniper fight games, then you should check the Ant Esports GM320 once. Ant Esports comes with high DPI customization, which makes you ready for the AR/Sniper fights. It has a sleek design that provides a very comfortable claw-grip. Once you get used to it, you would play games for long hours without getting your hand tired.
Ant GM320 features eight programmable buttons and also a fire button. These eight buttons support macro editing and can be easily customized with the Ant Esports easy to program software. During intensive FPS battles, the rapid-fire button on the Ant gives you the edge in the game.
Main highlights:
Comfortable

claw-grip

design with good grip
4 DPI level – 800 to

7200 DPI

4 polling rate – 500Hz-1000Hz
Features multicolour

RGB lighting

with effects
Ant claimed 20 million clicks lifespan on this mouse.
Dedicated Rapid-fire button.

8 Programmable

Buttons
You can program buttons, Change RGB effect, change DPI and pooling rate

using software

Not for

left-hand

users.
A little

bit bulky

and not ideal for small hand users.
Specification:
Connection: USB-wired, 1.8m long
Sensor Type: Optical
DPI: 800-7200DPI
Buttons: 8
Polling Rate: Up to 1000Hz
Weight: 120g
Warranty: 1 Year
4. Havit MS1001 Gaming Mouse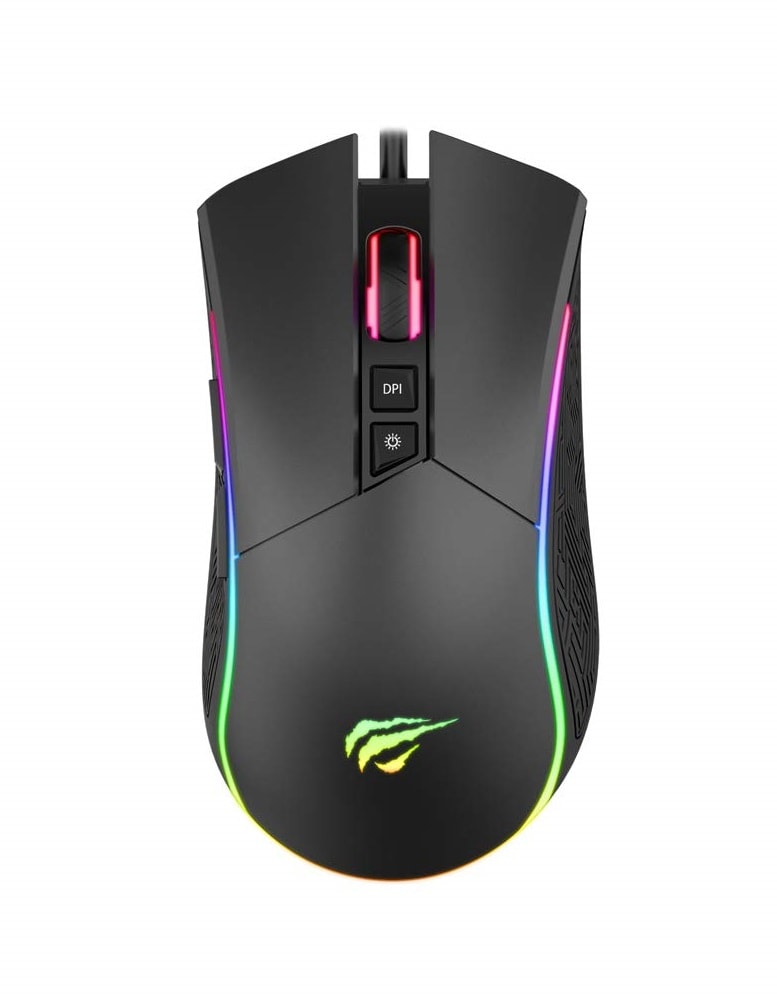 Lowest Price buying options:
---
Havit MS1001 comes with an ergonomic design and features an anti-slipping surface, which lets you play games smoothly. It adjusts perfectly to the player's palm, and because of that, the player can play for longer hours.
The MS1001 let you perfectly adapt to your needs and specific situation during the game by adjusting the mouse movements' sensitivity. The software of this gaming mouse provides additional button settings, which lets you meet the expectations. It has seven programmable buttons.
It can be used by both hands but practically more profitable for a right-handed person because two programmable buttons are on the mouse's right-left side. On the upside, it features 16 million colourful combinations that are fully customizable as per your need. You can also switch between 800 to 4800 DPI to make your gaming experience much better. Overall the Havit MS1001 is offering much more at the price of Rs 1000.
Main highlights:
Very comfortable, good soft rubberized grip

16M RGB

colour options, customization using the software
Six switches of DPI solutions (800-4800DPI)
Anti-slipping features work flawlessly.

7

buttons, the dedicated setting for key programmimng
Specification:
Connection: USB-wired, 1.8m long
Sensor Type: Optical
DPI: 800-4800DPI
Buttons: 8
Polling Rate: Up to 1000Hz
Weight: 120g
Warranty: 1 Year
5. Redragon M610
Lowest Price buying options:
---
The Redragon M610 is our next choice on the list of best gaming mouse under 1000 Rs. Redragon is known for its distinctive, high-quality products for gamers. The build quality of M610 is really decent, and it is best suitable for a right-handed person. It comes with LED backlights of 4 colours: red, blue, green, and purple.
For this price range, the reliability and features it offers are top-notch. It might not be made for high-end FPS gaming, but if you're a casual gamer, then without any doubt, you can go with this mouse. The Redragon Gainer M610 comes with 6 programmable buttons, which include 2 customizable thumb buttons. You can adjust it according to your own preference.
On the left side, it has Teflon pads that help in fast and smooth gliding. The scroll wheel of this mouse is designed in a way that offers maximum accuracy. Upon checking reviews on various platforms, I found that it is great for games like CS: GO.
Main highlights:
Ergonomically designed to fit perfectly in your hand, especially for a

big hand

.
6 programmable buttons using dedicated software.
The 1.8

braided cable

ensures longevity.
3200 DPI,

minimum

DPI 1000
5 memory modes

OMRON

gaming switch
7 RGB lighting modes, Not for RGB Lovers.
Not suitable for left-handed people.
Slightly large for small hands. Little bit bulky
Specification:
Connection: USB-wired, 1.8m long
Sensor Type: Optical
DPI: 100-3200DPI
Buttons: 6
Polling Rate: Up to 1000Hz
Weight: 130g
Warranty: 1 Year
6. Cosmic Byte Gravity and Cosmic Byte Hydra
This product is from Cosmic Byte, an Indian company specializing in marketing affordable and low-cost gaming peripherals. Both Cosmic Byte Gravity and Hydra comes at the same price point with almost similar specs. The difference is that the CB Gravity is good for both handed person and the CB Hydra is specially dedicated for right-handed persons.
The built quality of both the mouse is okay-ish as it's made from plastic. This mouse's surface is coated with a special anti-sweat and anti-slip texture to provide enhanced grip. Its unique design makes it very suitable and comfortable for both the claw grip and palm hand positions.
It comes with the Sunplus IT 6651 gaming-grade optical sensor, which is not the best performer out there, but it does the job at this price. The 8 buttons customizable buttons are good for specific functions and macros. Overall if you are looking for a reliable gaming mouse with minimal RGB effects, then consider buying one of them.
Main highlights:
Ambidextrous Design – Ideal for

left

and Right hand both.
Minimal design with no fancy RGB lighting
Stylish look but average build

8

Programmable buttons
Up to 6400 DPI
Lightweight (96 grams Hydra, 86 grams Gravity)
RGB Lighting Effects, but

not customizable

.
Specification:
Connection: USB-wired, 1.8m long
Sensor Type: Optical
DPI: 800-6400PI
Buttons: 8
Polling Rate: Up to 1000Hz
Weight: 96g
Warranty: 1 Year
Also Read: