Buying a good gaming headset is not an easy job, especially in the price range of Rs. 2000, because there are a lot of options out in the market from different brands, and as you know, not all of these gaming headphones are equally well built and comfortable. Many gaming headsets in the budget price range suffer from low-quality audio and compatibility. I've reviewed several gaming headphones in the budget price range, so I know how to avoid these pitfalls.
Recently, I reviewed the EKSA E3000 gaming headset and I am pretty impressed with the build, microphone and audio quality. Here is my full detailed review of the EKSA E3000 gaming headset.
Box Content
Before we get started with the review, let's check out what else is in the box apart from our headphones.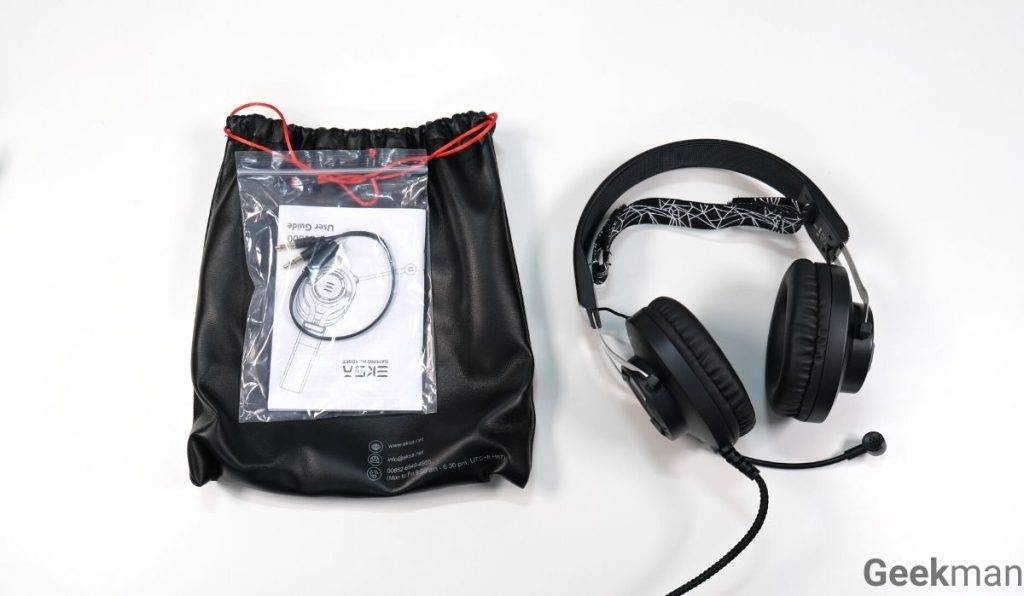 User manual
Y Splitter cable
Carry pouch
EKSA E3000
Design, Build & Comfort
Starting with the design and build quality, the EKSA E3000 are well-designed gaming headphones. It's available in two colour variants: Black and Silver. Both colour variant looks good, but I prefer the black variant. The overall shape and design of the headphone are also quite impressive, and it totally matches the build quality.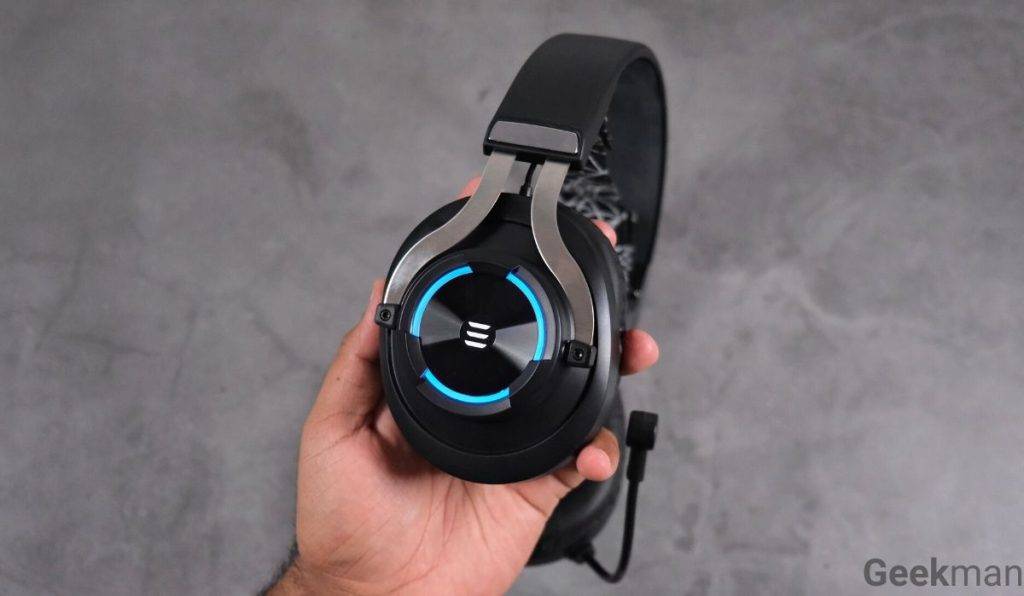 The build quality was quite good than my expectation. I can easily say, these headphones have one of the best build quality in this price bracket. There is a good amount of metal present in the build which ensures durability and also gives a premium touch to the headset. Overall there is nothing to criticize about the design and build of this gaming headphone.
Of course, due to the good quality build, it is not very lightweight. That said, it's not too heavy for comfort. It's just enough weight 254G to assure good quality build, without any cheap plastic build. Indeed, the entire frame is constructed from steel. This makes it headphones very durable. As a result, you're looking at gaming headsets that will last you for years if you so desire.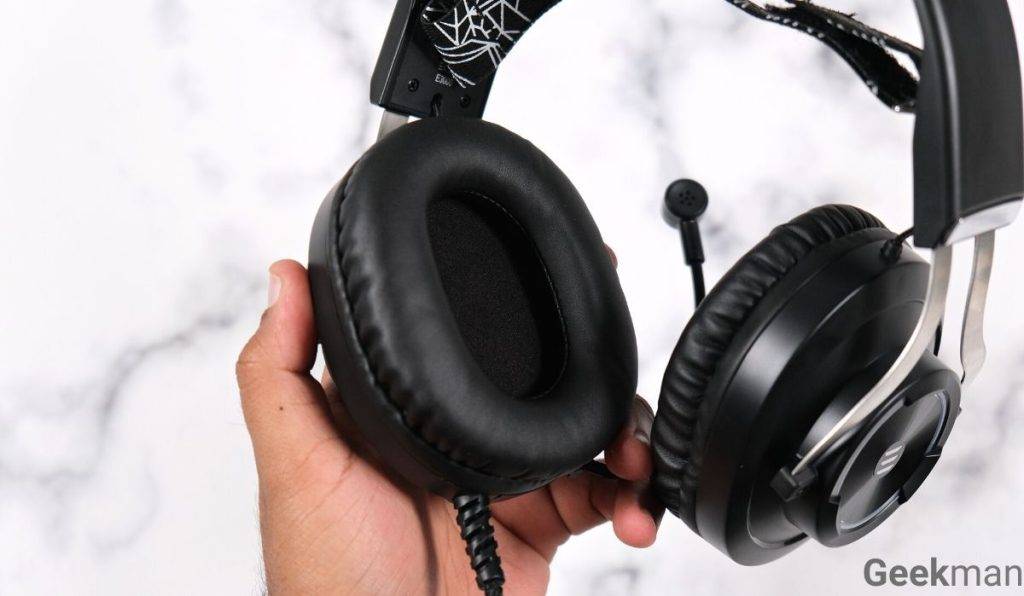 If I talk about the overall comfort, I used them for 2-3 hours of continuous gaming, and frankly speaking, I am quite impressed with their comfort level. The medium size ear cups and soft cushion pads offer ultimate comfort to my ears. The big soft cushion pads cover your entire ear, no matter how big your ear size. It also helps to improve the noise isolation of the headphones.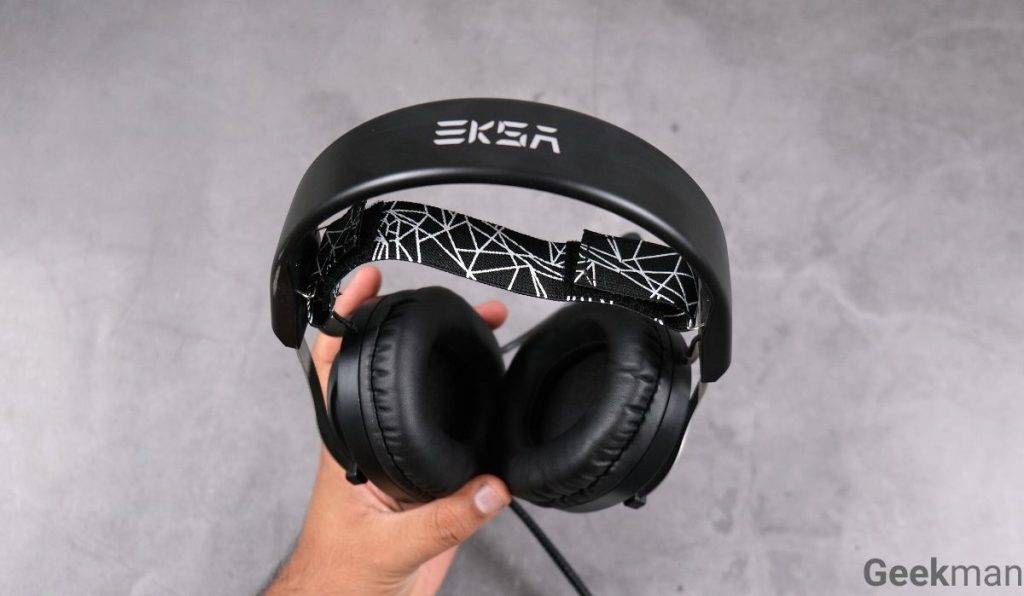 There is no cushion pad in the top section. It has a trending stretchable strap belt design like we previously saw in Logitech G335 and G733. If you didn't try this type of design before, then don't worry it is very comfortable to use and in some cases, you will find that it good option than a soft headband design. Another positive thing about this design is that you won't have to deal with the sweating problem on your head section during the summers.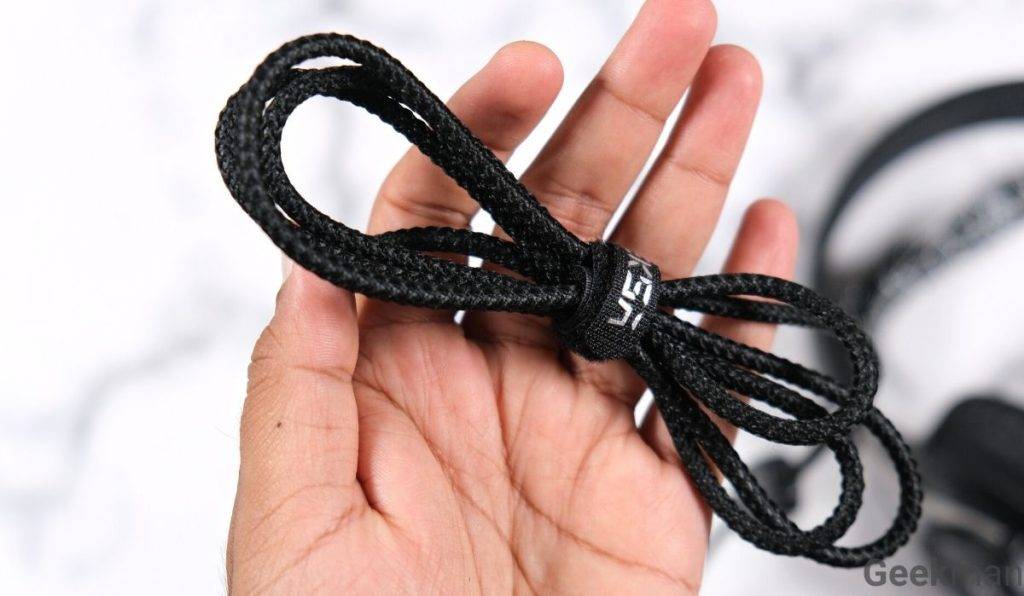 If we talk about the cable quality, we get a nice fabric-coated braided big cable that is tangle-free up to many extents and seems durable. You won't have any problem with the length of this cable (1.8m), so it doesn't matter whether your cabinet is under your desk.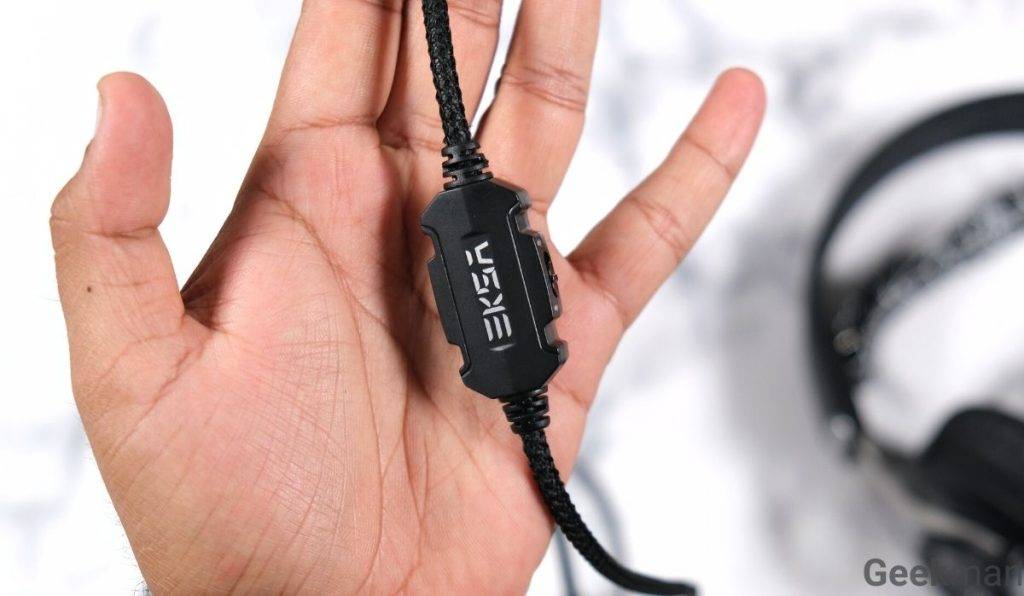 In the middle section, you get a small control unit, where you find the dedicated microphone mute button and volume control wheel. At the end of the cable, there is a standard 3.5 audio jack along with a USB port (it only works for LED light power).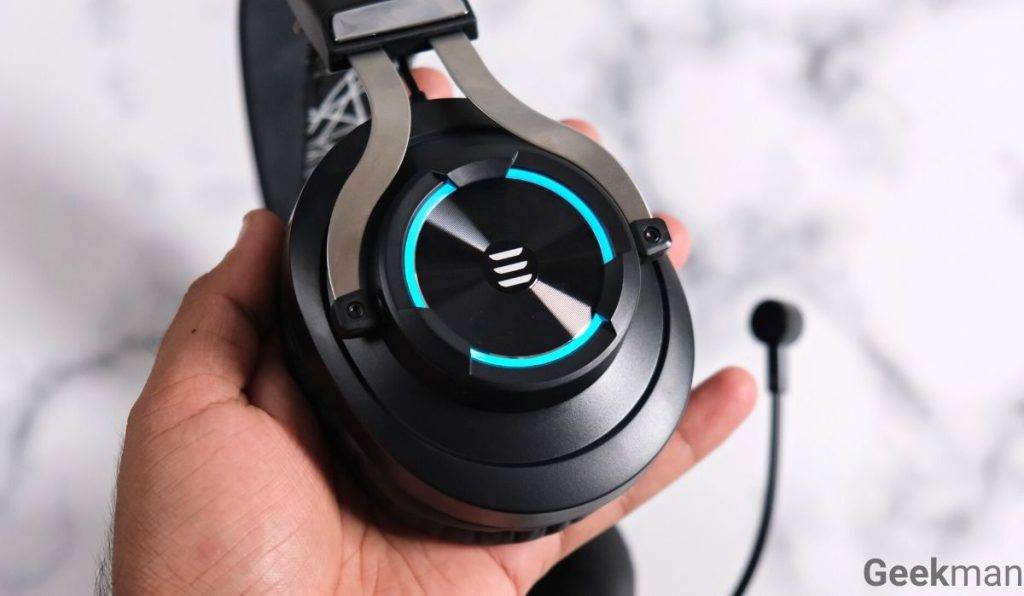 Another thing that we liked about the EKSA E3000 headset is the presence of Minimum LED lights. Along with the minimum branding on the top, the minimum ring shape LED lights to provide a unique attractive look and decent gaming vibe at the same time. It is worth noting that the E3000 does not offer unlimited lighting options, it has a nice rainbow LED light effect that goes very well with the overall design. Additionally, the headset also lacks software customization. Although we have to keep in mind that we can't expect these features at this price point.
Microphone
We all know the importance of a microphone when it comes to good gaming headsets. Honestly, I am quite surprised by the quality of the Mic. I tested the microphone quality while playing PUBG PC and discord chat. According to my friends, my voice is very clear and loud with minimal background noise. The EKSA E3000 uses an acoustic noise-cancelling capsule which does a decent job quieting the background noise.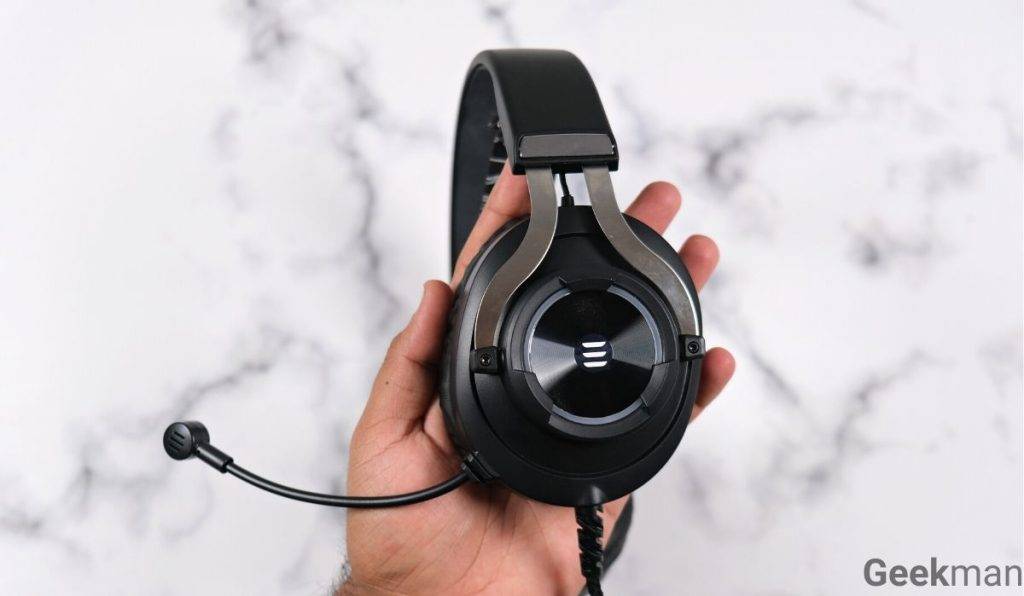 Sound Quality: Gaming Experience
In order to check the sound quality of EKSA E3000 from a gamer's point of view, I played games like PUBG PC and BGMI for almost 4 to 5 hours. It has a 50 mm large driver that is quite capable to provide adequate sound output. The good thing is that the audio output is not too much loud, so the remains clear even at high volume.
What I most loved about the EKSA E3000 is the surround sound. In the games like PUBG and BGMI, you can easily figure out the enemy's footsteps direction, bullet fire and vehicle approach direction. It's good to appreciate because the majority of budget gaming headphones struggle with this thing.
Apart from this, The EKSA E3000 offer a decent soundstage with a well-balanced frequency. However, there isn't much balance in the sound notes and the instrument separation isn't that great, but it's not the concern because it is quite enough for a gaming headset.
The bass response is tasteful and not heavy as you think it is – enough for a gaming headset. As you'd know, the E300 headset is specially tuned for gaming, so if you're expecting an amazing sound quality while listing to music, you're mistaken. However, the music listing experience is not too bad, much better than other budget gaming headphones in this price range.
The EKSA E3000 is surprisingly good for the price we pay, in terms of sound quality. Overall, the EKSA E3000 may be average for music, but much better for gaming.
Verdict
Now coming to the final part, are the EKSA E3000 is good enough for your money?
Well, these E3000 have a good overall audio performance especially when it comes to gaming. Overall, you can consider this headphone as a perfect combination of good build, comfort and sound quality. The mic works well enough too and can do the side jobs for you.
So overall, if you are a beginner gamer or a casual gamer who would like to have a pair of good gaming headphones that can offer a decent gaming audio output at a budget price, then you can definitely go with EKSA E3000.
Additionally, if you want extra help to buy the best gaming headphones under 2000 Rs price range, you should head to our buying guide section. For more information please watch the boat EKSA E3000 detail review on our Youtube channel Geekman.