When it comes to the best new-gen animes, you can't forget Demon Slayer. The series became quickly popular after its debut in 2019 thanks to its captivating story and gorgeous animation. The power Scaling in demon slayer is very well managed, with the notable characters divided into demons and demons. The strongest demon slayer characters are mostly considered to be the Upper Moon Demons. But there are some Hashiras who are even stronger than some of the upper-Rank Demons.
Fans are always on a debate on who is the most powerful demon slayer character. So, we've compiled a list of our top 20 strongest Demon Slayer Characters. Also, feel free to drop your opinions on who might be a stronger character in the comments.
Spoiler Alert: Warning! Readers should be careful because there are major spoilers for the characters.
---
These are the strongest Demon Slayer characters
---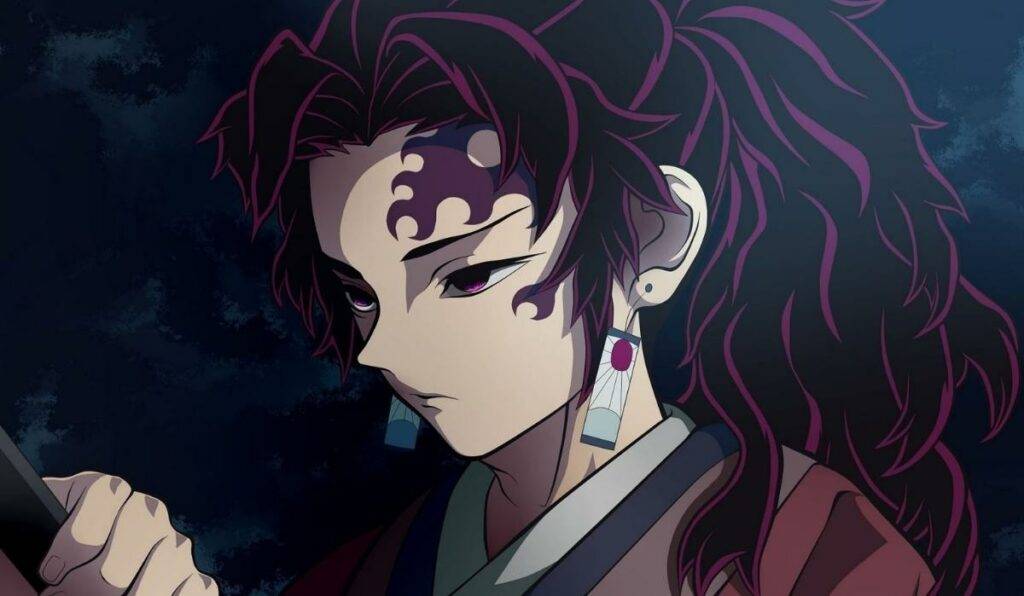 Position: First Demon Slayer
Combat Style: Sun Breathing
First Appearance: Chapter 99, Ep 8(partial appearance)
The strongest Demon Slayer Character is undoubtedly Yorichi Tugikuni. He is the strongest known demon slayer in history, possessing the Demon Slayer Mark, Transparent World, and Selfless State, as well as exceptional physical abilities and innate talent for swordsmanship. As a child, he easily defeated a trained sword instructor; as an adult, he could defeat multiple demons at once. He was able to corner and overpower Muzan Kibutsuji in an instant, leaving him on the verge of death. Even the memories of Yorichi caused Muzan to tremble in fear.
At at least 85 years old, Yorichi Tsugikuni battled his older twin brother Kokushibo, who had turned into a demon. Despite his advanced age and apparent blindness, Yorichi quickly gained the upper hand and killed Kokushibo with a single move, slashing his throat. Overall, His strength is unparalleled in the series. He was the first breathing-style user and the only one who could get Muzan Kibutsuji to his knees, making him deserving of the top spot on this list.
---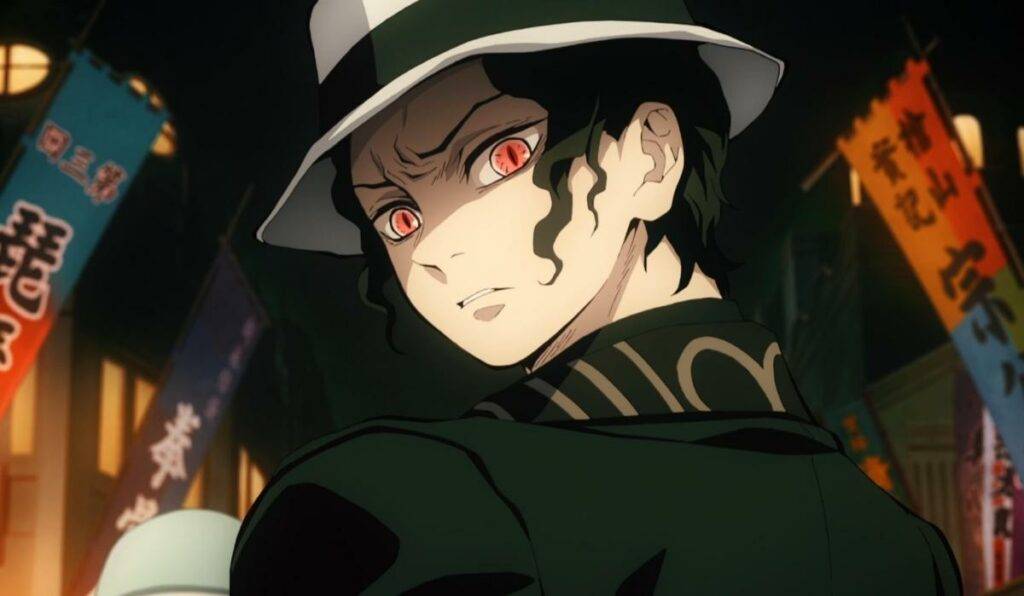 Position: Demon King
Combat Style: Demonic control, blood, and flesh manipulation
First Appearance: Chapter 13, Ep 7
Kibutsuji Muzan, the Creator of all demons and the first demon to exist, is the 2nd strongest Demon Slayer Character. After consuming the blue spider lily, he developed supernatural blood with special properties that can transform humans into demons and give rise to unique abilities such as regeneration, shape-shifting, immortality, and blood demon arts. Muzan can somewhat control the demons he created and even take over their bodies.
He was able to hold his own against five Hashiras and put Tanjirou in a state of near death in a single attack. Muzan's leg whips exponentially increased his attack speed, enabling him to trounce the exhausted demon slayers. Despite Tamayo's aging medicine affecting him, Muzan was still able to hold the advantage over the demon slayers and Tanjirou, who had mastered sun breathing. While Tanjirou's demon king form is briefly seen, Muzan's powers and attributes far exceed those of the other demons, making him the most formidable opponent in the series.
---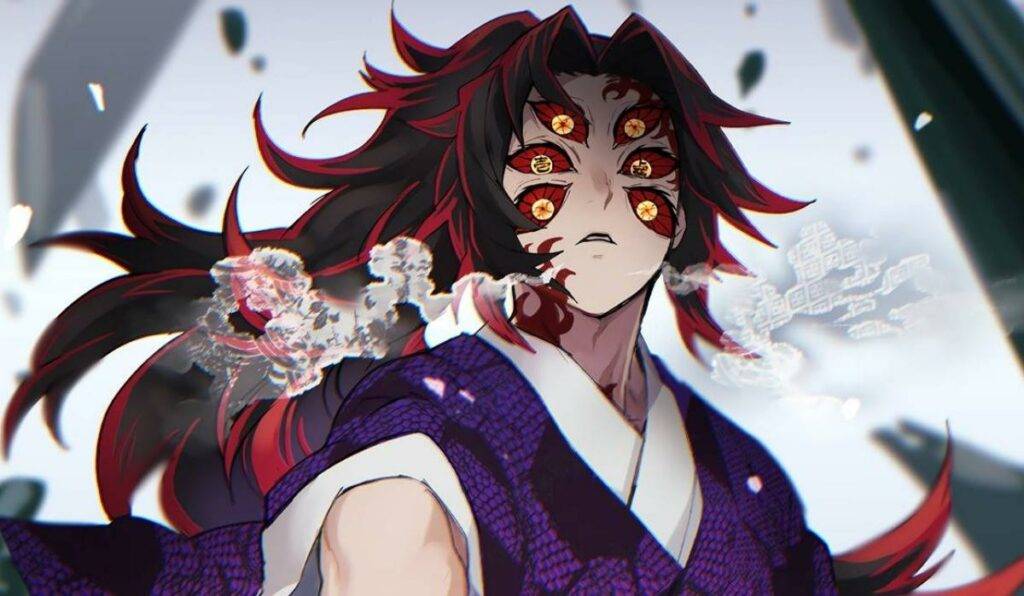 Position: Upper Moon One
Combat Style: Moon Breathing
First Appearance: Chapter 99
Number three on this list is Kokushibo. He is the brother of Yorichitsukuni, the original creator of breathing styles. Jealousy and hate towards his brother led him to accept Muzan's offer to become a demon, believing that he would become stronger than his brother and that he would never die.
Kokushibo is a user of Total Concentration Breathing, a marked individual, and a member of the 12 Kizuki who possesses the highest concentration of Muzan's blood. He created his own breathing style, Moon Breathing, which is still one of the most powerful breaths in the world. Even when Gyomei and Sanemi awakened their Demon Slayer Marks, which increased their physical abilities way above their normal limits, he was still capable of simultaneously holding his own against both of them.
Towards the end of their fight, he even acquired the ability to regenerate his severed head, leaving the sun as his only weakness. Ultimately, Kokushibo's loss was mostly a result of his resolve wavering upon realizing that his lust for power had turned him into a monster, causing him to stop regenerating.
---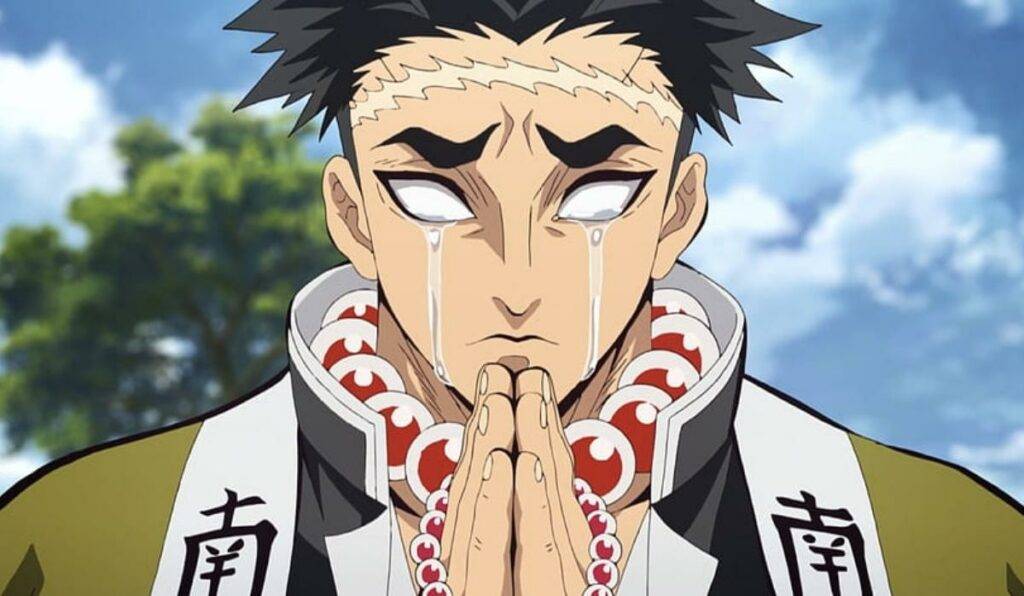 Position: Hashira
Combat Style: Earth Breathing
First Appearance: Chapter 44, Ep 21
Giome Himejima, also known as the Stone Pillar, is widely regarded as one of the most powerful humans to have ever existed. Himejima's remarkable strength is further evidenced by his climbing to the rank of Hashira within a mere two months, as confirmed by Tengen Uzui.
Kokushibo acknowledged that Himejima's physical abilities had been honed to their absolute maximum. Even without his demon slayer mark, Himejima was able to put up a strong fight against the strongest upper rank. During his battle, Himejima revealed that he had awakened his mark, which significantly boosted his physical abilities, including his strength, speed, and stamina. This allowed him to fight the upper rank for an extended period of time. Himejima, who is blind, has honed his other senses to a superhuman degree, particularly his hearing.
Himejima's proficiency with his weapon, a chain with an axe and flail, is remarkable. He uses the sound of the chain rattling to determine its exact position, enabling him to guide his axe and flail precisely. Overall, Himejima is one of the strongest Demon Slayer Characters and justifiably ranked high on this list.
---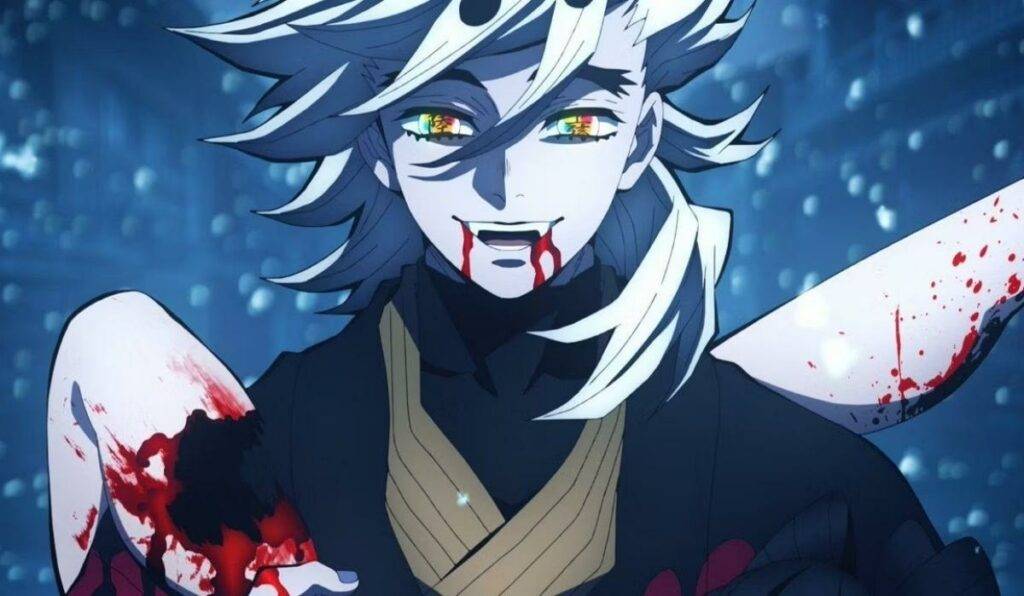 Position: Upper Moon 2
Combat Style: Cryokinesis
First Appearance: Chapter 98, Ep 44(flashbacks)
Doma ranked second in the 12 Kazuki and possesses a formidable combination of combat proficiency and a potent cryokinetic blood demon art. This unique power allows him to generate ice and frost from his own flesh and blood, manipulate it at will, and spawn it in his vicinity, thereby unleashing deadly ice techniques. Notably, the ice generated by his blood demon art can prove lethal to those who inhale it, leading to the death of lung cells and rendering them incapable of normal breathing.
Doma's formidable combat skills and blood demon art powers were demonstrated when he easily defeated the skilled insect Hashira, Shinobu, and the late flower Hashira, Kane Kocho. He also effortlessly dispatched both Inosuke and Kanao, who were simultaneously on par with the Hashiras. He only becomes serious when his life is genuinely threatened, as evidenced by his fight with Shinobu. He was compelled to take the situation seriously after experiencing the deadly effects of her poisons. Although defeated, Doma is still one of the strongest Demon Slayer characters.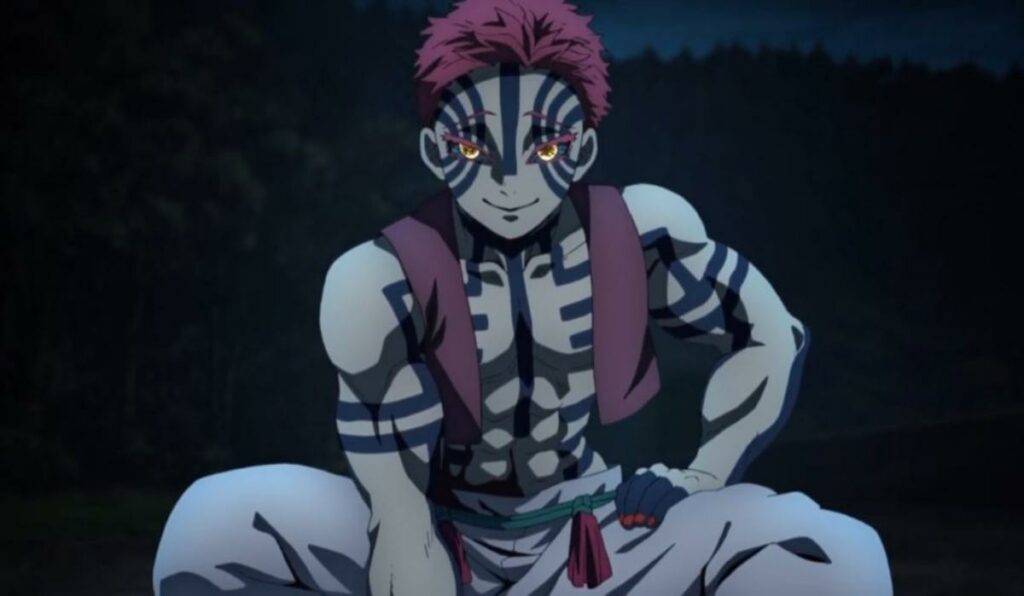 Position: Upper Moon 3
Combat Style: Master Hand-to-Hand Combatant
First Appearance: Chapter 63, Ep 32
At number six on our strongest Demon Slayer Characters list, we have Akaza. As a child without any martial arts training, Akaza was able to knock out grown men on his own. After learning martial arts from Kaizo, he was able to defeat 67 trained adult swordsmen with his bare hands, a feat that even Muzan found hard to believe. As a demon, Akaza continued fighting barehanded and held the third-highest position in the Twelve Kizuki, making him an extremely powerful combatant who has defeated many Hashira and demon slayers in the past.
Akaza can also sense his opponent's fighting spirit, allowing him to predict their attacks and weaknesses, making him highly unbeatable. During the Infinity Castle arc, he could fight and overwhelm Tanjiro and Giyu, despite them both being Hashira-level swordsmen with the Demon Slayer Marks. Even after being decapitated, Akaza managed to regrow his head through sheer willpower and his extraordinary regenerative abilities. If he had not lost his will to continue fighting, he would have certainly killed both Demon Slayers, as he had already rendered them extremely fatigued.
---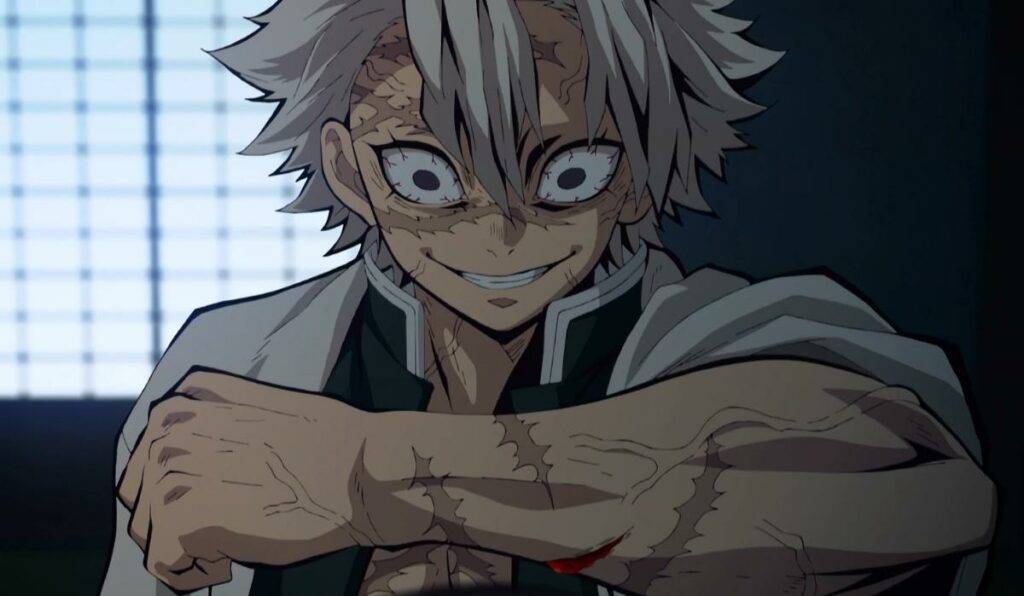 Position: Hashira
Combat Style: Wind Breathing
First Appearance: Chapter 45, Ep 22
The seventh character on our list is Sanemi, the Wind Pillar. Sanemi's Wind Breathing and attacking style are what made us rank him higher than other Hasiras below the list. Sanemi has shown his extraordinary combat abilities on multiple occasions. During the Infinity Castle Arc, he was able to take down dozens of demons comparable to lower-ranked ones and later held his own against Upper Moon 1 Kokushibu.
Kokushibu even commented that Sanemi's physical abilities are great. One of his signature abilities is his blood, which is one of the rarest blood types and incredibly intoxicating to demons due to its potency. Even the smallest drop of his blood can cause demons to lose focus, but its effects waned after a while and were ineffective against Muzan. Sanemi is also known to have the best stamina among the Hashira. He showed incredible endurance during his battle with Kokushibu, where he kept up with the Upper-Rank demon for an extended period by himself.
---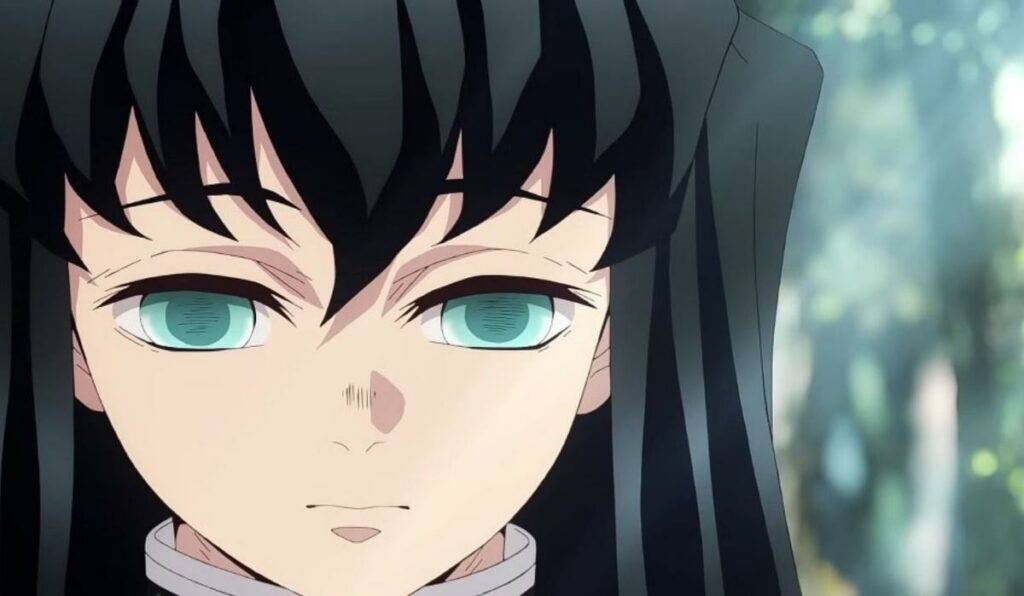 Position: Hashira
Combat Style: Mist Breathing
First Appearance: Chapter 44, Ep 21
Muichiro Tokito, also known as the Chosen One, is a member of the Demon Slayer Corps and the Mist Hashira. He's known for his incredible potential as he's the descendant of the former demon slayer, now Upper Moon One Kokushibo, who used Moon Breathing. Muichiro was born with special abilities and joined the Corps very young, becoming a Hashira in just two months, which surprised everyone.
After awakening his demon slayer mark, Muichiro defeated the upper Moon five demon, Gyokko, with ease, even in his true form. Kokushibu praised Muichiro's technique, which was well-developed for someone so young. Muichiro's contribution proved crucial in the defeat of the upper-rank One demon. After unlocking the Transparent World and the ability to turn his Nieto and sword into a bright red color, he landed a critical blow that played a pivotal role in the Kokushibo's defeat. All these feats prove he's one of the strongest Demon Slayer Characters.
---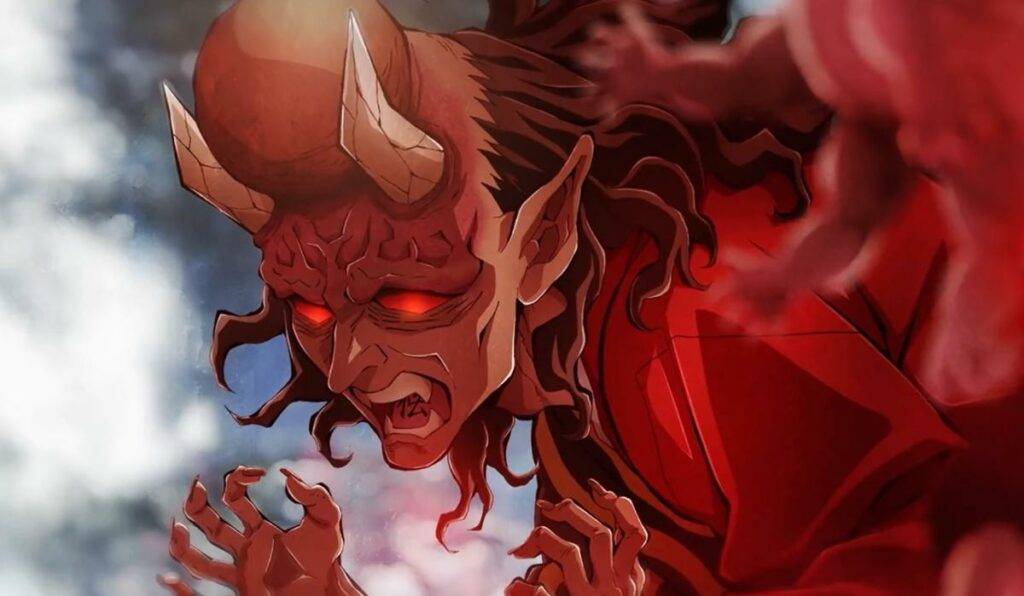 Combat Style: Multiple Clones with Special Abilities
First Appearance: Manga chapter 98
Hantengu and Gyokko are the main antagonists in the Swordsmith Village part of Demon Slayer. He's super interesting because he can transform into seven different forms, and each time you defeat one, he pops up in a new one. He's one of the strongest demons in the show because he's the fourth highest-ranked demon.
He can make four copies of himself with his blood demon art, and they're all as strong as Upper Moon demons, which is crazy. Even Tanjiro, Nezuko, and Genya had a hard time taking them all down. When the four clones fused into one big form called Zohakuten, they were still too tough for the demon slayers to beat, even when Mitsuri went all demon slayer mark mode. They only won because the sun came up, and Hantengu was finally killed. The Demon Slayer Corps member and Hasira were certainly worn out by him, proving his strength as one of the strongest Demon Slayer characters.
---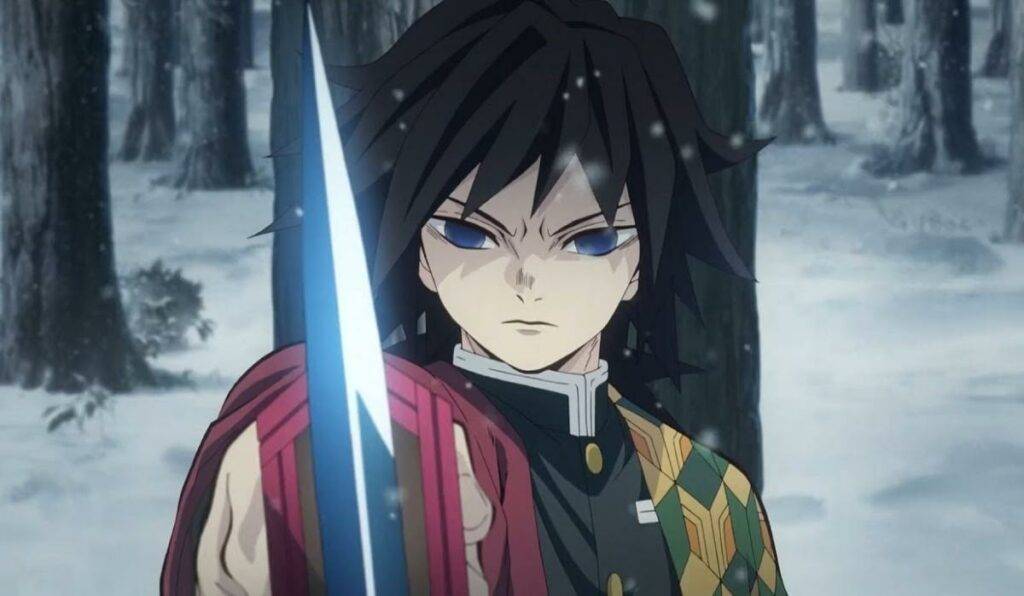 Position: Hashira
Combat Style: Water Breathing
First Appearance: Chapter 1, Ep 1
Tomiyoka Giyu is the first Hashira we meet in the anime and is the current Water Hashira. He's the reason why Tanjirou joined the Demon Slayer Corps because he sent him to train under Sakonji. Akaza, one of the Upper Moons, said that Giyu is the strongest Demon Slayer he's fought in a long time, which is pretty impressive. He's shown his strength by easily defeating the Father Spider Demon in his transformed state and Rui, who was a lower Rank Five that Inosuke and Tangiro couldn't handle.
During his fight with Akaza, he was able to hold his own and even overpower him at times. When they faced the Demon King Muzan, Giyu fought alongside Tanjirou and played a big role in defeating him. And when Tanjirou became a demon, Giyu was the first to defend against him while fighting evenly with him long enough for him to turn back into a human. This vital assistance made him one of the strongest Demon Slayer Characters.
---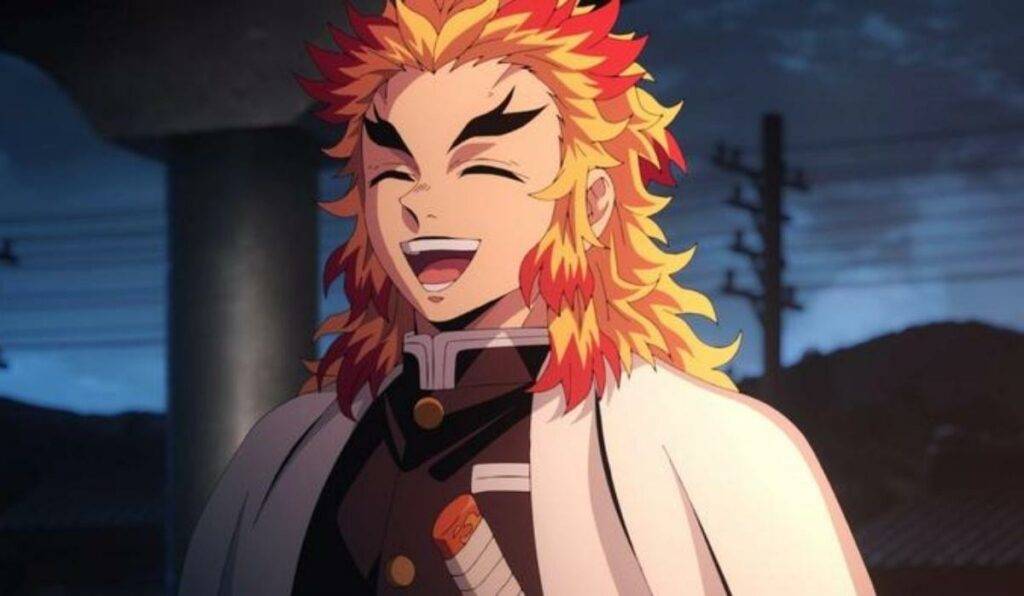 Position: Hashira
Combat Style: Flame Breathing
First Appearance: Chapter 44, Ep 21
Rengoku is the Flame Hashira, and he's got a lot of fans because of his silly personality. He became a Hashira by beating a lower-rank demon called Haido, who even praised his sword skills before he died. Kyojiro's dad was the previous Flame Hashira, and he said that Kyojiro taught himself by reading a book called The Guidebook of the Flame Breeding Style, which only had three volumes.
Kyojiro's really perceptive, too – he can sense demons way faster than Tanjiro can. He was also able to accurately assess Tanjiro's injuries and teach him how to stop the bleeding. Kyojiro is super strong, and even Akaza, who's like the fourth strongest demon ever, acknowledged that. Akaza even offered to turn Kyojiro into a demon so he could be even stronger. In his final battle against Akaza, Kyojiro showed just how amazing he was and almost defeated him all by himself. It's too bad he didn't make it, but he went out like a hero!
---
Position: Demon Slayer Corps Member
Combat Style: Water Breathing, Sun Breathing
First Appearance: Chapter 1, Ep 1
Tanjiro started off as a sword-fighting prodigy and only got stronger as he fought demons. He was even able to take down some lower-ranked demons when he was just a Mizunoto. When he faced the lower moon demon Rui, Tanjiro learned a new technique called Hinokami Kagura, which helped him defeat the demon.
After some rehab and training, he was able to go toe-to-toe with the upper moon demon Daki and even awakened his demon slayer mark. Rather than having a scar on his forehead, Tanjiro's Demon Slayer Mark resembles a flame-like pattern. Tanjiro also took down the upper-rank three demons Akaza, who killed his friend and Hashida Rengoku. He even faced off against one of the strongest Demon Slayer Characters, Kibutsuji Muzan, and managed to stall him until sunrise with the help of Obanai, putting an end to Muzan for good.
---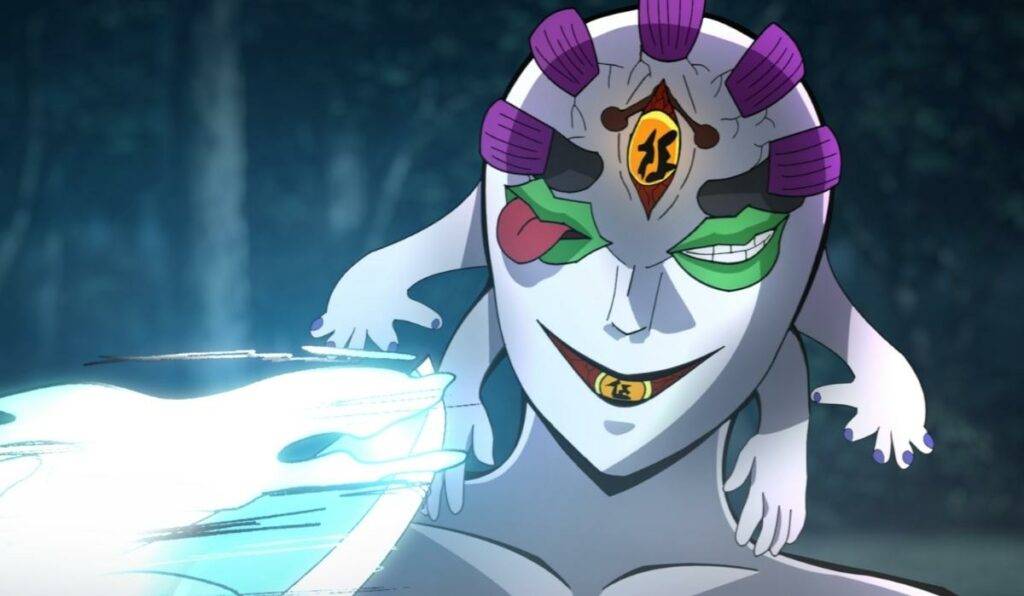 Combat Style: Flesh Manipulation and immense regeneration
First Appearance: Manga chapter 98
Gyoko, the Upper Rank 5 demon, is seriously strong. He's one of the top demons, ranking fifth among the "Twelve Kizuki." His blood demon art and techniques give him a big advantage over most other demons and even the most skilled demon slayers. When it comes to fighting, Gyoko is more powerful than Daki and Gyutaro, but we never saw them fight each other, so we can't say for sure. Since he's one of the Upper Moon Demons, it's obvious Gyokko is one of the strongest Demon Slayer Characters.
In an emergency, Gyoko can transform into his true form, which boosts all his abilities and allows him to move around without teleporting. His true body is tough, and he's covered in harder scales than diamonds. What's even crazier is that anything he touches turns into fish, which makes him super dangerous up close. When he fought Muichiro, Gyokko held his own and almost killed him, but Muichiro awakened his Demon Slayer Mark and narrowly escaped death. If Gyoko wasn't so full of himself, he probably could have taken Muichiro out.
---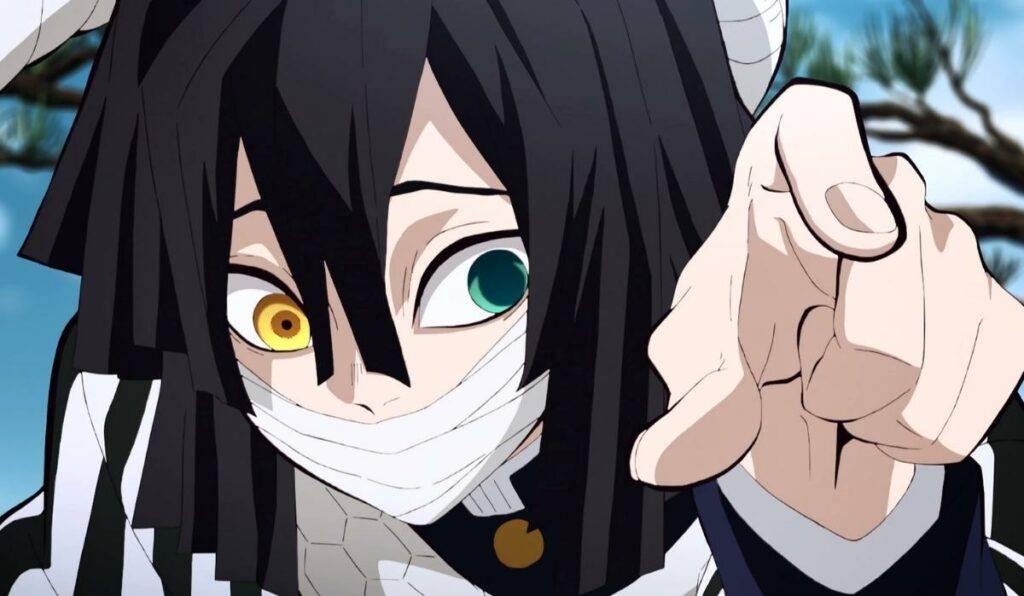 Position: Hashira
Combat Style: Serpent Breathing
First Appearance: Chapter 45, Ep 22
Obanai Iguro was a formidable fighter and an important member of the Demon Slayer Corps. Despite his physical limitations, he was able to ascend to the rank of Hashira and prove his worth in battle against powerful demons and even the Demon King Muzan.
His blindness in one eye did not hinder his fighting ability, as he was able to decapitate numerous demons quickly and hold back upper-rank demons like Nakime. His endurance and stamina were also impressive, as he was one of the first to regain consciousness after being heavily injured by Muzan's attack and was able to aid Tanjirou in the final battle against the Demon King. Despite ultimately losing his life, Obanai was an invaluable member of the Demon Slayer Corps and deserving of a place on this list of strongest Demon Slayer Characters.
---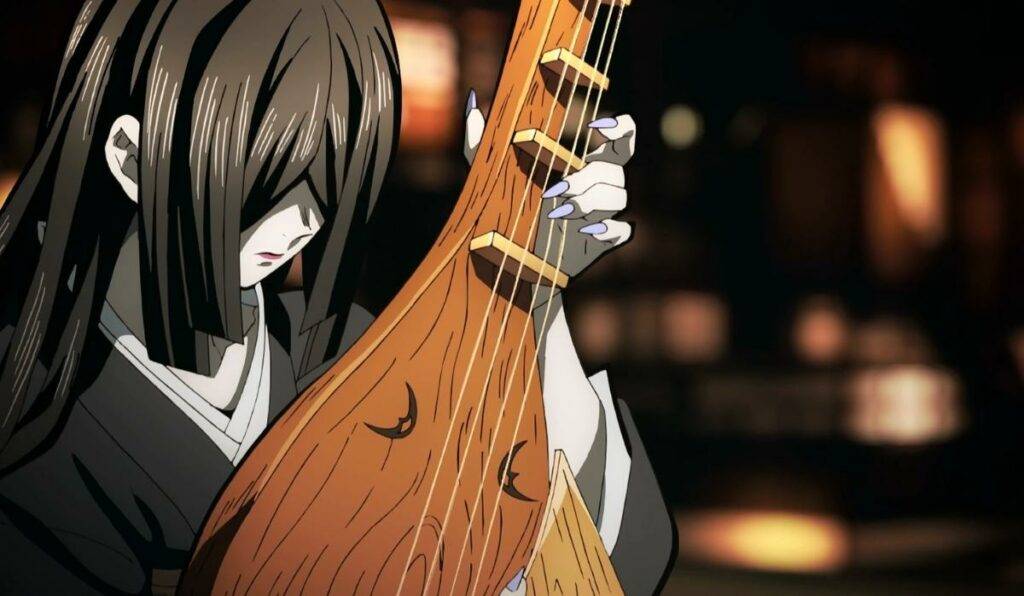 Combat Style: Infinite Castle
First Appearance: Manga chapter 51, Ep 26
Nakime is technically the first upper moon we meet, but she wasn't officially part of the 12 Kazuki yet. She got the title after the previous upper rank 4, Hantengu, was killed by Tanjiro. After some more blood from Muzan, Nakime gained the crazy ability to detach eyeballs from her body and spy on the demon slayer corps. She's not the best fighter, but as the holder of the fourth-highest position in the organization, she's super powerful.
Her signature move creates an infinite castle that she can manipulate just by playing her biwa. Inside are all sorts of rooms where fights happen, like one with giant pillars where they fought Kokushibo. Using a single large Bachi pick, she strums her Biwa(a four-stringed wooden musical instrument) to use her Blood Demon Art. Definitely see why she's Upper Moon four and one of the strongest Demon Slayer Characters.
---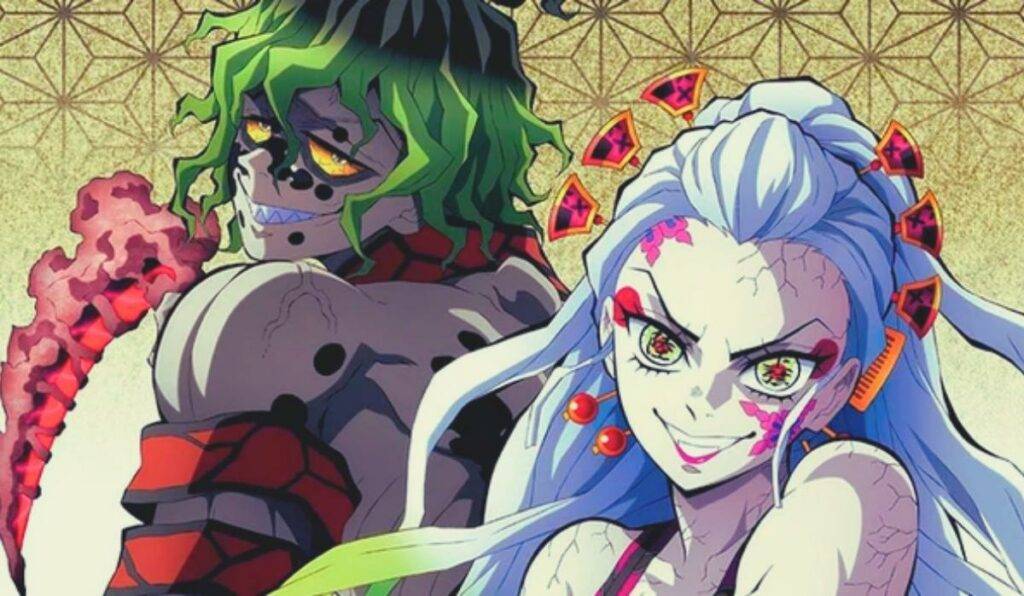 Position: Upper Moon 6
Combat Style: Blood weapons and flesh manipulation
First Appearance: Chapter 73, Ep 36
Daki is one of the main bad guys in the Entertainment District arc, along with her brother Gyutaro. Even the big boss demon, Muzan, thinks she's something special. Apparently, she's killed and eaten seven Hashida's in the past, which is pretty impressive.
Daki's power is crazy strong, but still, 15 other Strongest demon slayer characters are on the list who are even stronger than her! She can detach her flesh and turn it into a sentient obi thingy that's really tough to beat. When Daki's obi spreads across the city, her power increases even more. She becomes super fast, and her sashes can slice through Nezuko's body and destroy buildings like it's no big deal. And if that wasn't enough, her power gets a huge boost when her brother's eye gets implanted in her. She can move and attack even faster and coordinate her attacks with her brother to make them even deadlier.
As for Gyutaro, He's a deadly guy who can easily handle multiple opponents at once, as seen when he fought Tengen and Tanjuro together. Gyutaro's power was so intense that even after he was killed, he still managed to injure Tengen, Tanjiro, and Inosuke severely. He probably would have killed them all if it weren't for his own arrogance.
Even though Daki & Gyutaro has the lowest number among the upper-ranked demons, she's still incredibly strong and proves how tough those upper moons can be.
---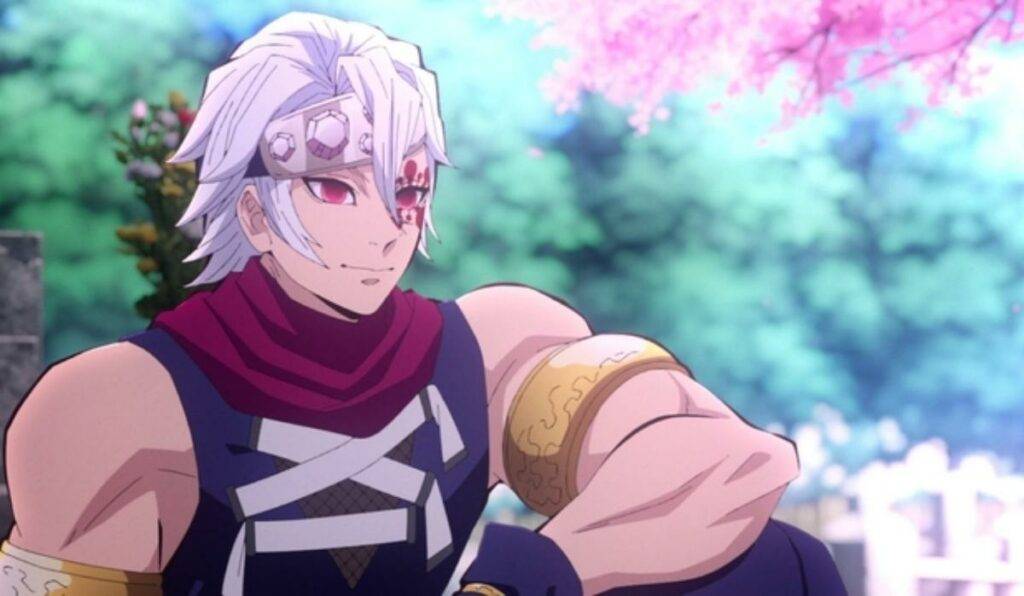 Position: Hashira
Combat Style: Sound Breathing
First Appearance: Chapter 44, Ep 21
Moving on to our strongest Demon Slayer Characters list, we have another Hasria, Tengen Uzui. He fought two upper-rank demons in the Entertainment District arc and showed off some insane skills. He's not only super strong and fast but also the fastest runner among the Hashira family.
He was raised by shinobis and trained like crazy to become one, so he has some great ninja skills. He even took on Daki and Gyotaro, who have killed a bunch of other Hashidas in the past. He sliced Daki's head off without her even noticing and held his own against both of them even though he was poisoned. He's also great at using explosives and has sharp senses, especially hearing. Even when he lost his arm, he could still keep up with the upper ranks.
---
Position: Hashira
Combat Style: Love Breathing
First Appearance: Chapter 44, Ep 21
Mitsuri Kanroji is ranked eighteenth because she demonstrated great strength by competing with Upper Moon 4 Zohaku. Although she could not defeat him, she could hold him off for a considerable amount of time. Mitsuri possesses exceptional speed, strength, and stamina like other powerful Hashiras. What makes her stand out is her Love Breathing techniques, which she uses with her long, whip-like Nichirin Sword.
However, Mitsuri's quick death in battle against Muzan puts her down on the list compared to other Hashiras who had previously fought and were fatigued.
Despite this, she is ranked higher than Inosuke and Zenitsu because she unlocked the Demon Slayer Mark, which is a significant boost, and competed heavily with Upper Moon 4 for a considerable amount of time. In contrast, Tengan Uzui lost to Upper Moon 6 Gyotaro quite badly.
---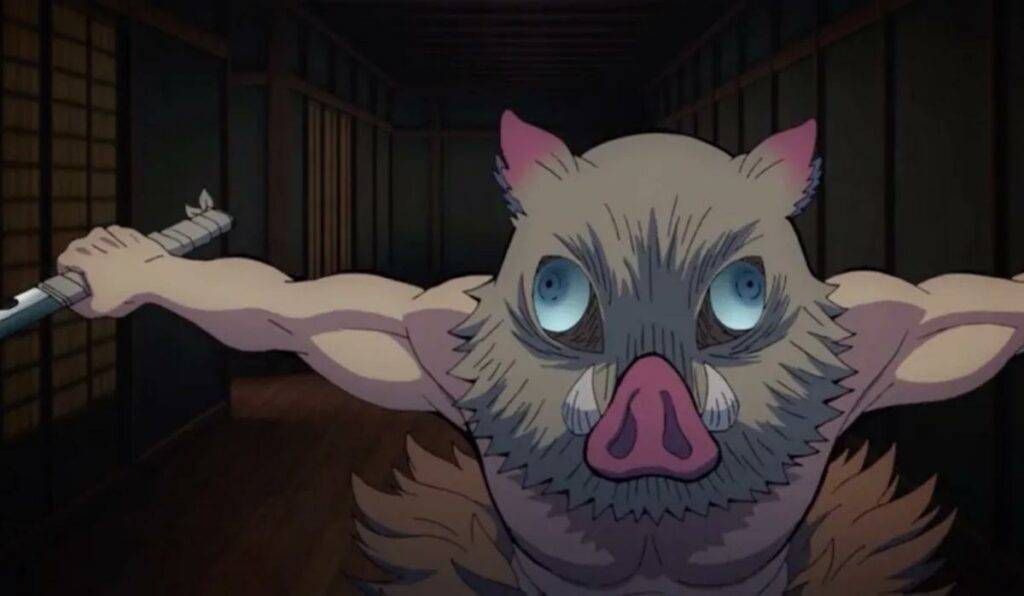 Position: Demon Slayer Corps Member
Combat Style: Beast Breathing
First Appearance: Chapter 21, Ep 11
Moving on to our strongest Demon Slayer Characters list we have, Inosuke. He's a fan favorite, for sure! Inosuke is a really skilled swordsman, even though he never had any formal training. He learned Total Concentration Breathing on his own and even developed his own breathing style, called Beast Breathing, based on his instincts and upbringing in the mountains with wild boars.
Despite his lack of training, Inosuke is more than capable of taking down demons on his own. He easily killed the horned demon in the Tsuzumi Mansion and has shown he can hold his own against upper-ranked demons like Gyutaro and Daki (who are also brother and sister)), as well as the much stronger upper-ranked 2, Doma. In addition to his skills with a sword, Inosuke has inhuman senses and superhuman flexibility.
---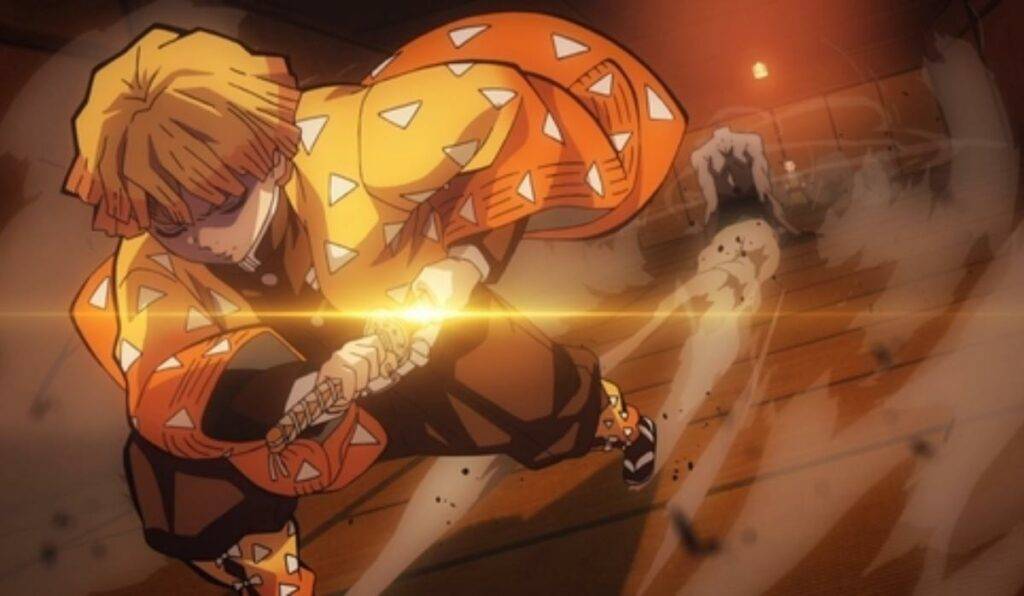 Position: Demon Slayer Corps Member
Combat Style: Thunder Breathing
First Appearance: Chapter 6, Ep 4
Zenitsu is a talented demon slayer, despite his tendency to deny it. His true strength is unleashed when he's asleep, as his nerves give out and he becomes calmer and more precise in combat. This allowed him to instantly decapitate the tongue demon and defeat the spider demon by himself. He later defended three entire train carts under attack by Enmu and could stand on equal grounds with an awakened Daki with the assistance of Inosuke. He even blitzed her with his signature ability, Thunderclap and Flash.
Zenitsu was able to advance to the highest point of the Hashira training, but his true strength seems to manifest when he can fight while awake. He was able to match the new Upper Rank 6, Kaigaku, in power by himself and later decapitated him using his own Seventh Form, Flaming Thunder God.
By the end of the series, Zenitsu's strength likely matched that of the Hashira, and they became one of the strongest demon slayer characters.
---
Also Read: