Over the years, the Anime and Manga industry has become a mainstream form of entertainment in today's generation. Every other day a new anime show is announced. Therefore, there is an infinite amount of content to consume. The backbone of anime, Manga, is also widely read. So, there are thousands of sites and apps where readers can read those stuff.
With the best manga apps, you can read new mangas, ensuring a continuous source of entertainment through manga content. We have compiled a selection of the best manga reader apps for Android and iPhone to help you find the perfect manga reader.
These Are The Best Manga Reader Apps & Sites That You Should Try
---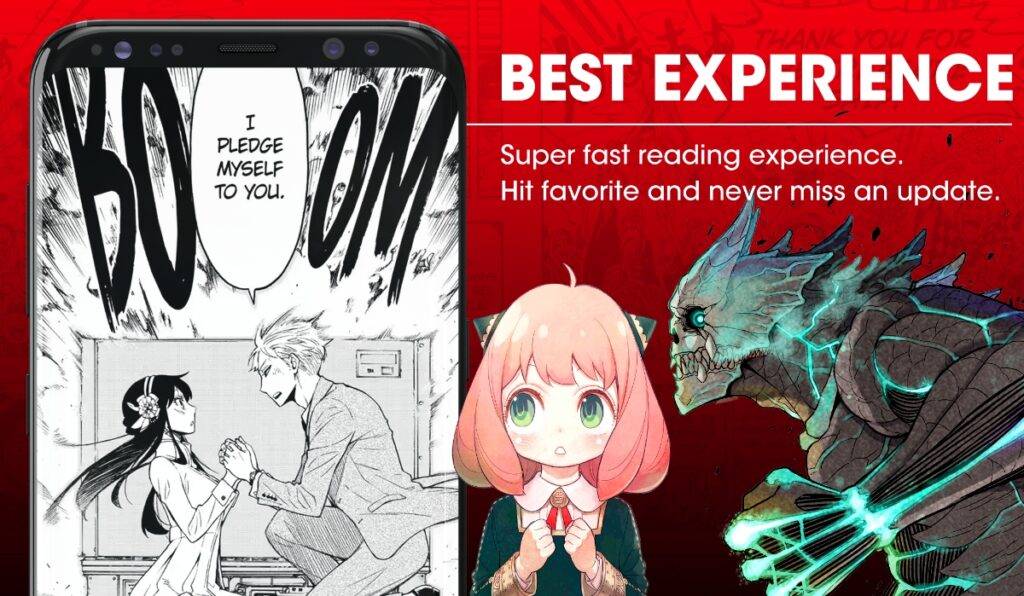 "MANGA Plus" is the official manga reader developed by Shueisha Inc. It features an extensive collection of manga titles, including popular series like Naruto, Dragon Ball, One Piece, Bleach, and more. So, it can be the best manga reader app for any anime fandom.
Users can access free manga titles like One Piece, Bleach, Naruto, Dragon Ball, and more, with new chapters regularly added. Users can also post comments, engage with the fan community, and show support to the creators.
The app allows you to access all its libraries without cost and read the most recent manga chapters as soon as they are released. However, there is a limitation: once you read a chapter, it is only free for a specific time, so be sure to grasp all the content while reading for the first time.
---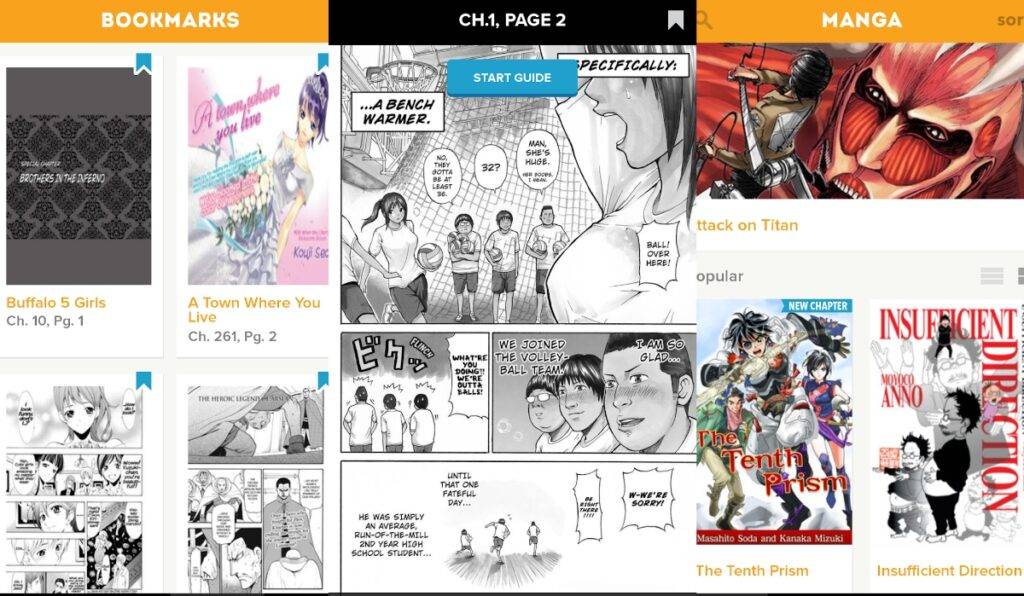 We all know Crunchyroll as a renowned anime streaming service, but do you know Crunchyroll has a dedicated app for reading manga? If not, then you do now. With this app, you can read the latest chapters from all the hit anime series as soon as they are released.
While some manga chapters can be read for free, access to all chapters requires a premium account on Crunchyroll. Premium users of the app will enjoy several benefits, including immediate access to the newest manga releases.
Interestingly, the Crunchyroll Manga app does not provide the option to subscribe directly. So, users must visit the main Crunchyroll anime app or the website for a subscription.
Users can access the entire catalog of manga series anytime and anywhere, with unlimited reading access. Overall, The app provides comprehensive mobile support for iOS and Android devices.
---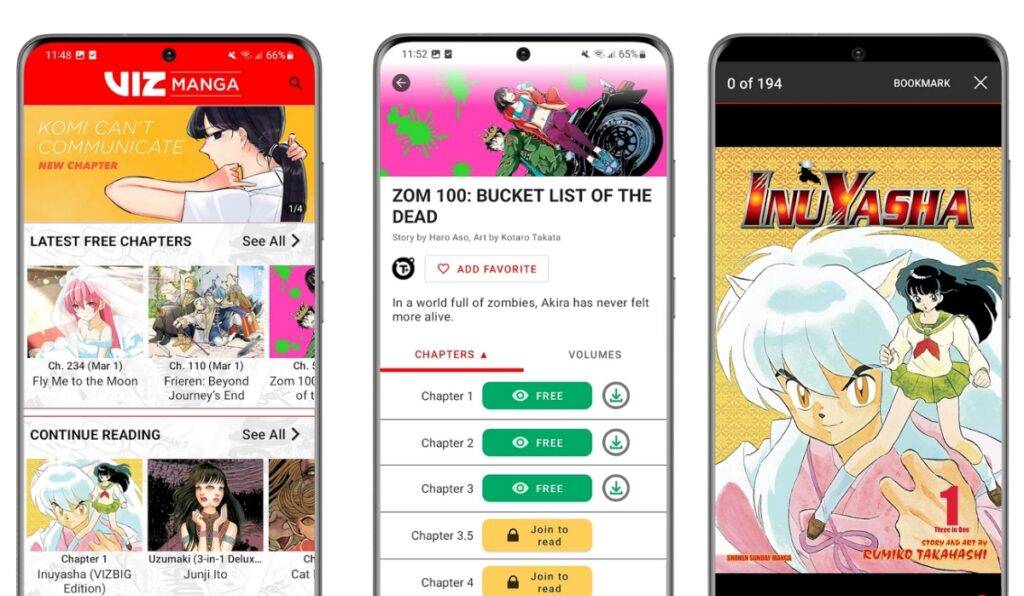 VIZ Manga offers a comprehensive library featuring manga from legendary creators. One of its main advantages is that it provides the most recent chapters from the Shonen Jump series at no charge. This makes it one of the top legal platforms for reading manga online for free.
You can read the newest chapters from popular titles like Naruto and Dragon Ball Super without paying anything. However, you must subscribe to VIZ Manga to access the rest of the chapters.
New series are regularly added, ensuring a constant influx of fresh content. Regardless of your preference, whether it's horror, shojo romance, fantasy, or traditional comedy and drama, you'll find your next favorite series within the VIZ Manga library.
The only downside is it may only be available in some regions. VIZ Manga is an excellent app for those seeking a smooth and enjoyable reading experience.
---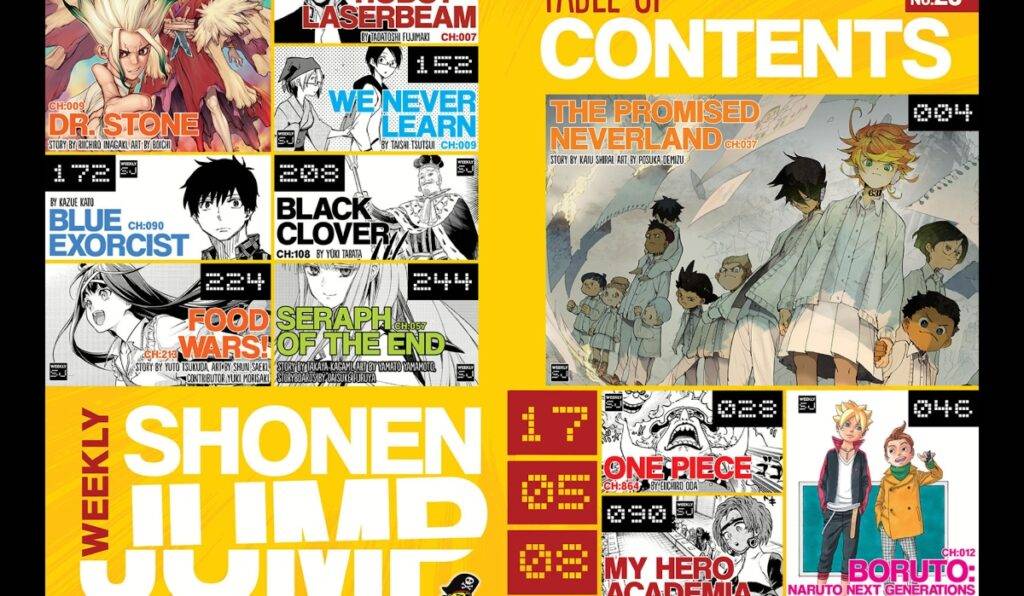 When it comes to manga apps for iPhone and Android, it's impossible not to mention the Shonen Jump app. If you're a fan of the Shonen Jump series, this app is perfect for you. You can find all your favorite series in one place! From Naruto and Jujutsu Kaisen to One Piece, Chainsaw Man, Demon Slayer, and many more.
You can read manga for free! It offers a manga reading experience with access to up to 100 free chapters daily. Plus, you'll always have access to the latest chapters without paying a dime. Moreover, you can even download manga to read offline when you don't have an internet connection.
With all the latest chapters from your favorite Shonen Jump titles, this app is a must-have for manga enthusiasts. For unlimited reading and more features, you get the premium version on a monthly subscription.
---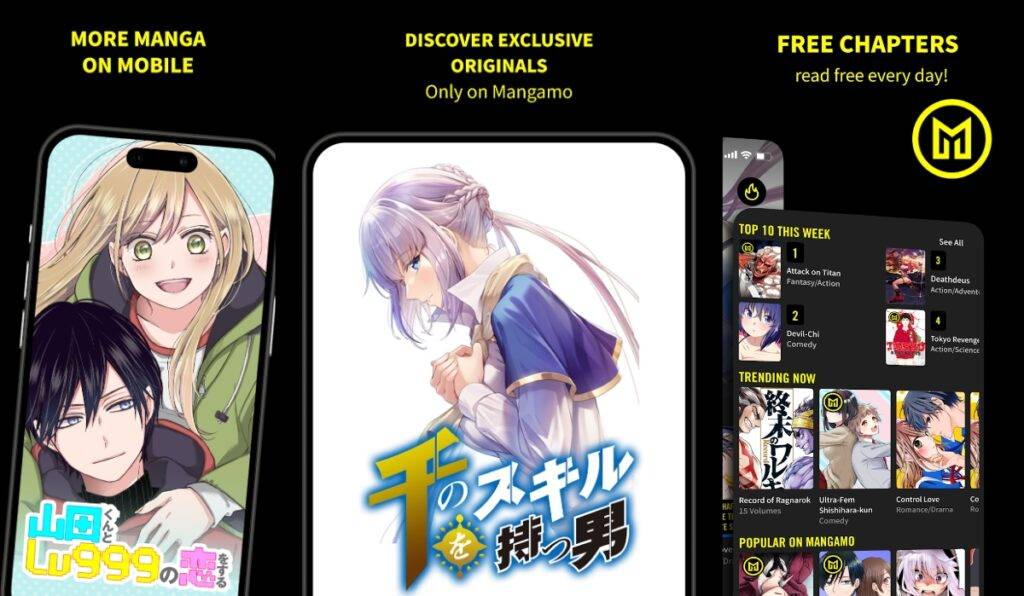 Mangamo is a straightforward app that offers a subscription-based model. If you're hesitant about subscribing immediately, Mangamo allows anyone to read one free chapter every 24 hours without registering.
Once you download the app and subscribe, you gain access to a library of over a thousand licensed manga titles, including popular series like Attack on Titan, The Seven Deadly Sins, and more. The subscription provides unlimited access to the entire library, adding new chapters daily.
With new chapters added weekly, you'll always have fresh content to enjoy. The absence of ads enhances your reading experience by eliminating random pop-ups and interruptions.
Additionally, Mangamo stands out with its well-designed app interface, adding to its overall appeal. Mangamo prioritizes legal sources, making it one of the best manga reader apps for Android and iPhone.
---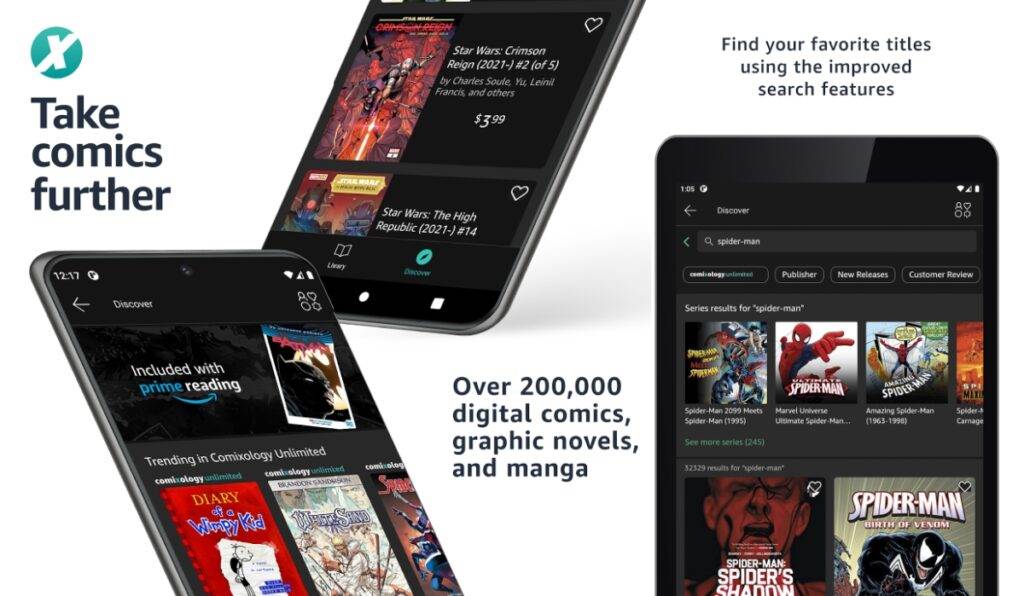 Comics & Manga by Comixology is an excellent app for manga and comic book enthusiasts. It boasts an extensive collection of graphic novels and manga, making it a go-to platform for fans seeking diverse content.
With new content regularly debuting, you'll always have something exciting to explore.
While the app primarily focuses on comic books, it still offers a decent selection of popular manga titles. Moreover, the app's library also holds hidden gems waiting to be discovered, expanding your reading wishlist.
Even better, you can access Comics & Manga by Comixology from your web browser on Windows or Mac, making it one of the top comic book readers available for those platforms. Whether you're a newcomer or a long-time fan, Comixology is set to change your journey into manga.
---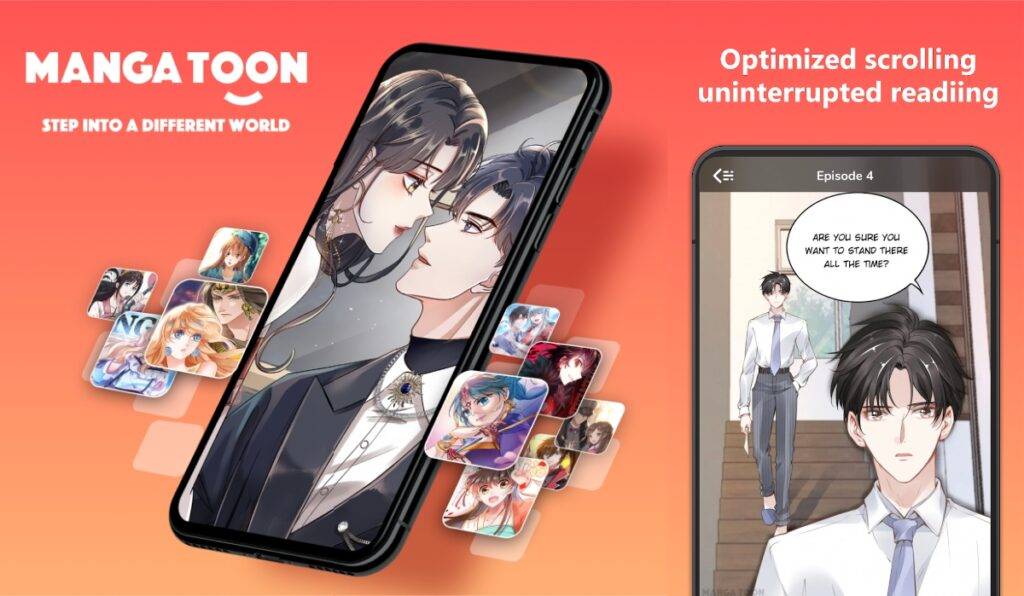 MangaToon is for those who want to search for hidden, underrated mangas. This app is designed for reading various comics, including Manhua, manhwa, and manga.
You can find content from all kinds of genres, including Action, Romance, Boys' Love, Yaoi, Comedy, Horror, and more. One of the app's standout features is its daily updates, providing readers with a constant stream of new content. Some comics even receive updates daily, resulting in seven weekly chapters.
The app offers free weekly comic releases, ensuring users have access to fresh material regularly. While most comics on MangaToon are free, the app also provides pay-per-view comics for those interested.
Overall, MangaToon provides a diverse collection of comics, and a platform for authors, making it an excellent app for Manga enthusiasts.
---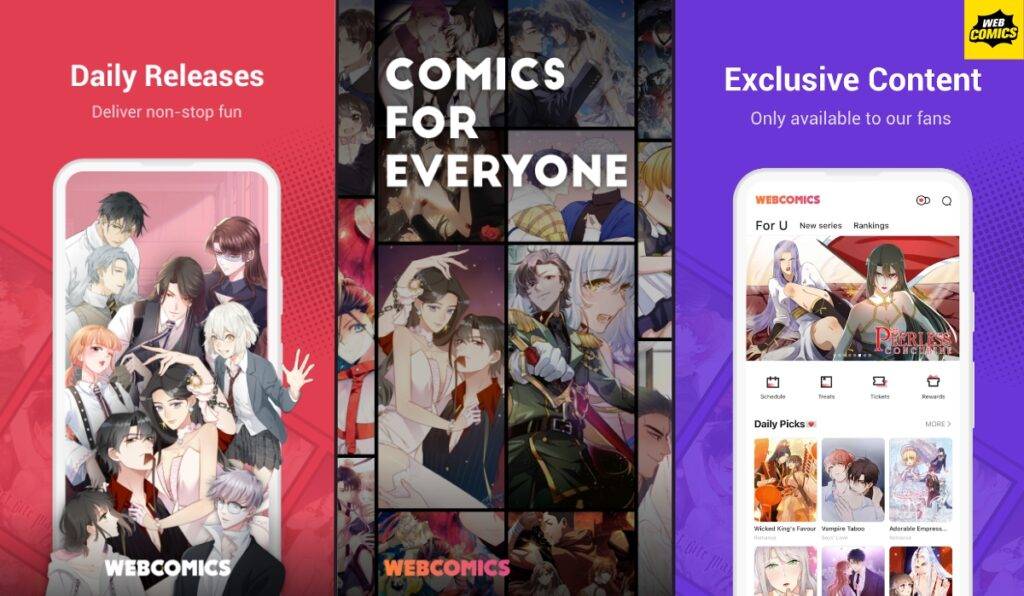 The WebComics app is an excellent platform for manga enthusiasts and fans of webtoons. WebComics aims to provide you with the best premium webtoons and manga collections.
What sets WebComics apart is that it offers a vast library of manga and comics covering various genres. The content is high-definition and full-color, featuring excellent panels and engaging storylines to keep you hooked.
Additionally, if you aspire to publish your own manga or comics, WebComics allows you to become part of their library. It also enables users to connect and interact with a large community of manga fans.
Overall, WebComics strives to provide a fulfilling experience for comic enthusiasts making it one of the best manga reader apps. Also, you can even showcase your artistic creations while connecting with fellow manga enthusiasts.
---
Best Manga Reader Websites
---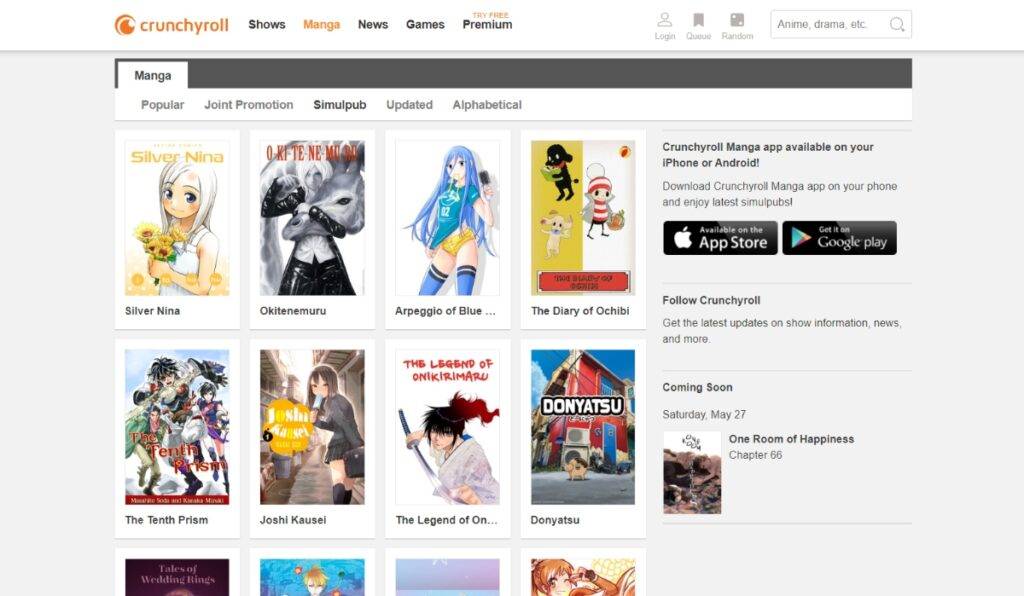 Everyone knows Crunchyroll as an anime streaming site, but it also caters to manga enthusiasts by offering manga series. The website provides numerous free manga options and a convenient app available for reading on the go.
One of the notable advantages of Crunchyroll is the option for an ad-free experience. But this works only if you're interested in a series hosted on the platform. The free version has a limited number of Mangas, but once you go premium, the content is endless.
For full access to the extensive manga library, you can subscribe to Crunchyroll Premium for $7.99 monthly. This subscription grants you access to the site's anime and manga content. Overall, Crunchyroll is a great choice for manga enthusiasts seeking the best websites to read manga.
---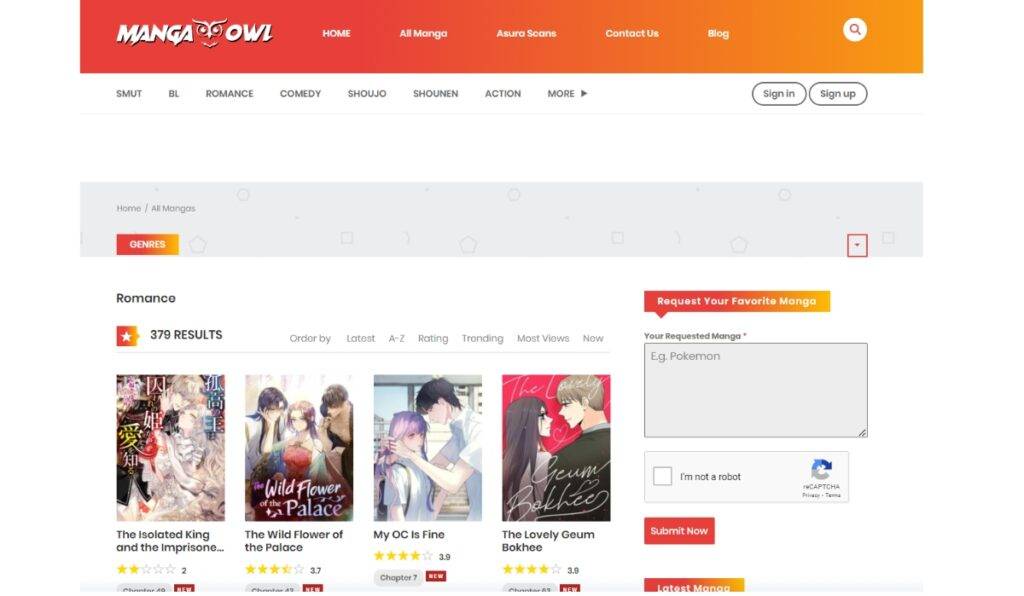 Another renowned Manga reading site is Manga Owl. Manga Owl offers an extensive range of manga genres, boasting over 100 categories for readers to explore. This vast selection ensures you'll find manga series within your preferred niche.
If you have a particular fondness for romance manga, Manga Owl is an excellent platform, as it houses a substantial collection. However, it's worth noting that the site also features a variety of adult-oriented manga, so it's important to be aware of that.
By registering and joining the site, you gain access to additional features. You can create collections of your favorite manga, allowing you to organize and access them easily. Additionally, you can participate in discussions and engage with the active community surrounding Manga Owl. Whether you're seeking romance manga or exploring other genres, this platform provides an engaging manga experience.
---
FAQ: Manga Reader Apps
The most popular way to read Manga is digitally on various apps and websites. Some popular options include ComiXology, Crunchyroll, Manga Plus, and Kindle.
Read manga digitally on various platforms. Some popular options include Mangaplus, Crunchyroll, ComiXology, and Mangamo. These platforms often offer free Manga reading, subscription, or purchase options.
The oldest way is the purchase manga series from bookstores, comic shops, or online retailers. Look for localized versions in your preferred local language.
Another way is the scanlation sites; these sites and apps host unofficial fan translations of the manga. These platforms can provide access to a broader range of manga volumes; please note that they may infringe on copyrights, so supporting the official platform is recommended whenever possible.
Here are some steps to help you get started with reading manga:
Choose a manga volume that interests you. Manga covers a wide range of genres, including action, romance, fantasy, comedy, and more.
Now, Select the platform where you want to read the manga. Here we shortlisted some best digital platforms where you can read the manga. Of course, you can also buy manga volumes from bookstores, comic stores, or any other online retailer.
Now, follow these simple steps to begin reading. Manga is read from the right to the left side, opposite the regular reading direction.
Orientation: Start from the rightmost page and work your way leftward.
Panels: Read each page by following the panels in the correct sequence. Panels are usually numbered to guide the reading order.
Dialogue and Text: Generally, the text and dialogue are written in the text bubbles within the panels. If the text and dialogue are in a foreign language or have translation notes, refer to the translation provided.
Action and Art: Enjoy visual storytelling, including action scenes, facial expressions, and backgrounds. Manga stories often use these visual elements to enhance the narrative.
Sound Effects: Manga incorporates onomatopoeic sound effects, which are typically written in Japanese. Some translations retain the original sound effects, while others provide translated equivalents. Interpret them based on context.
Remember, reading manga can be a subjective experience, so feel free to develop your own preferences and methods.
Where to read manga for free
Here we shortlisted some best digital platforms where you can read the manga for free.
Mangaplus
Crunchyroll
Viz Manga
Mangatoon
Manga Owl
Where to read one piece manga
If you want to read "One Piece" manga, you have several options:
You can read "One Piece" manga on VIZ Media, it's an official English publisher of "One Piece" manga. They offer both digital and physical copies of the manga.
You can also try Manga Plus, operated by Shueisha, which provides official English translations of "One Piece" and many other manga titles.
You can also purchase physical copies of "One Piece" manga volumes from local bookstores.
Also Read: