Online dating has taken off in the past few years, and it's clear that India has embraced this trend wholeheartedly. Just look at popular apps like Tinder, Hinge, and Bumble – they've got millions of users in India, which keeps growing. These apps have become the go-to platforms for folks looking to connect with others who share their interests and personalities in the virtual dating world.
So, if you're searching for the best dating apps in India, you're in the right spot. We're here to point you in the right direction so you can find your potential valentine. Check out our recommendations below.
These are the Best dating apps in India that you should try
---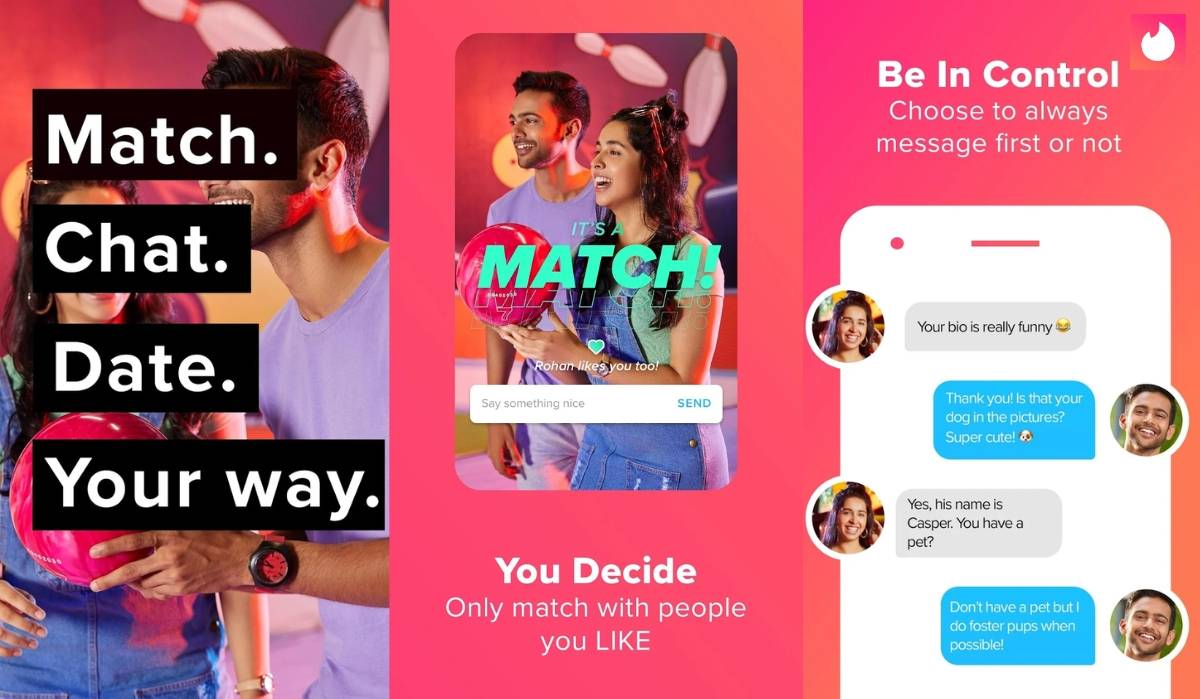 Tinder is undoubtedly the most popular and best dating app in India. It kick-started the dating app, and it's still going strong. This US-based app lets users engage in the fun activity of swiping left and right to express their interest or disinterest in other users' profiles.
One nifty feature worth mentioning is "Message Before Match." This handy feature lets users attach notes when they like someone's profile. This can boost your chances of striking up a conversation because the other users get a sneak peek at your profile before deciding to swipe right or left. Tinder also has a sleek, modern interface with robust privacy protection features. Its tagline sums up the experience well: "Match. Chat. Date." 
Some more Features:
With the Boost feature, you can become one of the top profiles in your area for 30 minutes.
You can highlight your best matches with Top Picks, a premium feature.
One can access an extensive database of matches with a quick search using filters.
---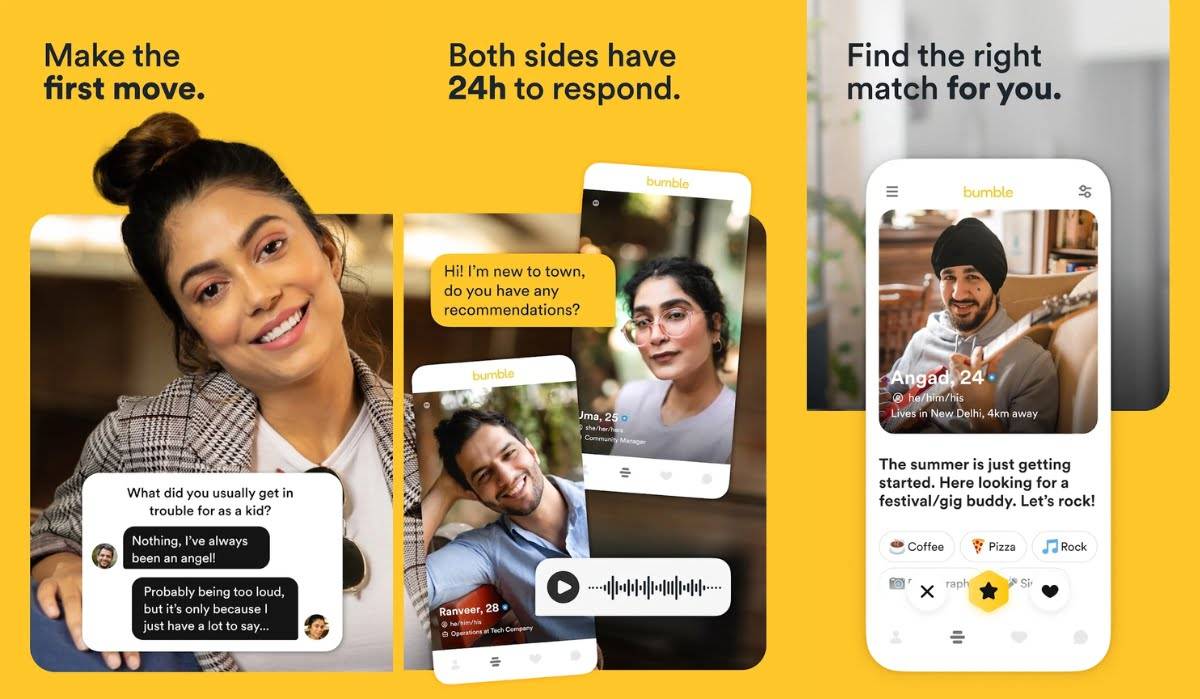 Bumble is definitely a strong contender for the second spot on the dating apps. What sets Bumble apart is its unique approach of combining dating, making friends, and advancing your career all in one social networking platform. It has this cheerful, yellow-themed vibe that's pretty inviting.
One standout feature is that on Bumble, it's the ladies who take the lead. Women can initiate the conversation and have a 24-hour window to make that all-important first move. The app offers a top-notch user interface and generally good profiles. While the app is free, there's the option to go for Bumble Premium, which unlocks a range of additional features. If you're tired of dealing with fake profiles, Bumble has your back in that department, too.
Some other features:
With the 24-hour texting window, you can match with someone genuinely interested.
There is a special BFFs Section for people who prefer friendship and do not seek dating.
Swipes can be undone free of charge (3 undoes every two hours).
---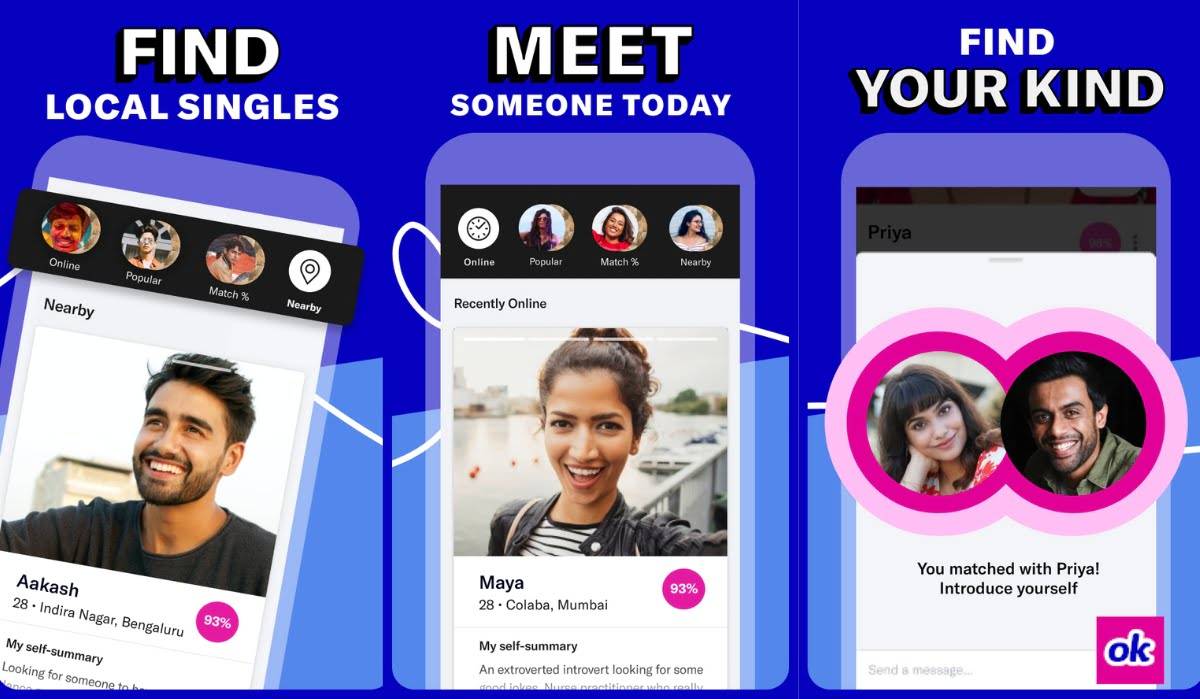 Next up on our list of the best dating apps in India is OkCupid. This dating app takes a unique approach by helping you find and match with singles through a detailed questionnaire. This way, the app learns your personality traits and offers profile recommendations that align with your preferences.
What's great about OkCupid is its straightforward interface. You can like as many profiles and respond to as many Intros as you want. Once you and someone else "Like" each other, you can exchange messages from your messaging page. If you're looking for even more perks, you can opt for OkCupid's premium subscription. With it, you'll see who's liked your profile secretly, use advanced filters for searching and sorting, and enjoy an ad-free experience on the app.  
Some other features:
You can check your compatibility with another person through the Match % feature. 
Users' preferences are based on their geological preferences.
There are no intrusive advertisements (premium).
---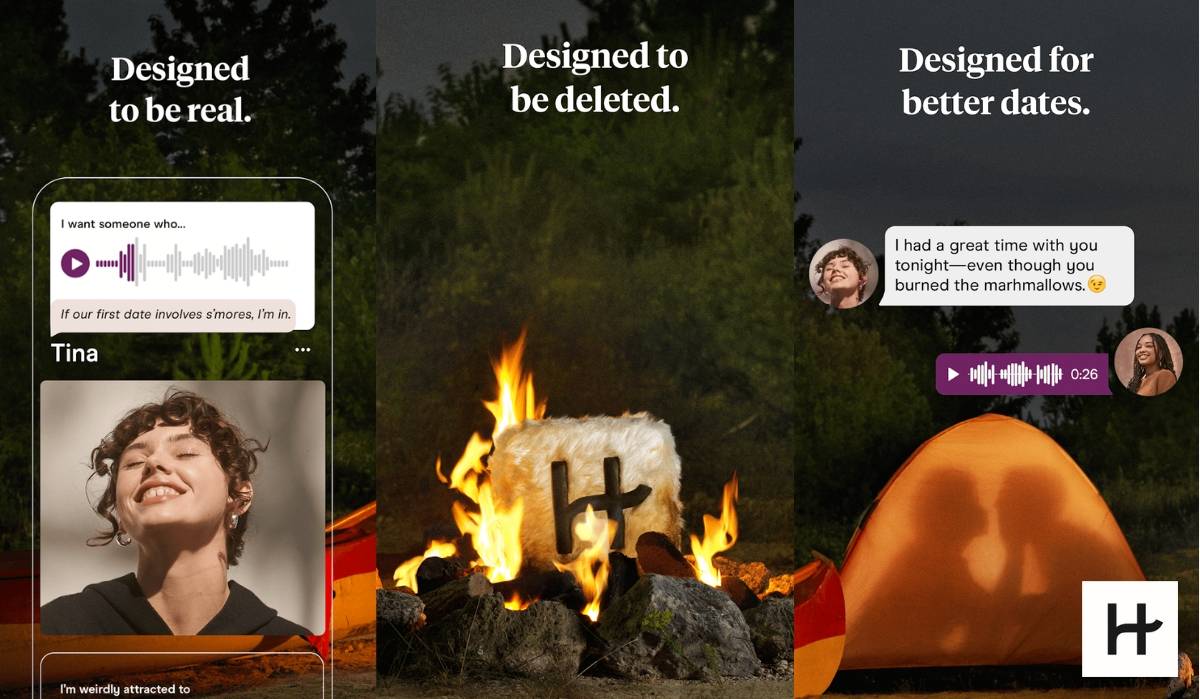 Hinge has earned its reputation as one of the top dating apps, especially if you're searching for a meaningful match. What sets Hinge apart from the crowd is its clever use of algorithms designed to help you find long-term dating partners. Hinge isn't about mindlessly swiping left and right; it's all about matching based on interests and preferences. 
So, this app might be your best bet if you're in for a long-term relationship. One standout feature is how Hinge uses users' taglines, captions, interests, pictures, and likes to find common ground. Plus, it has a unique and inviting user interface with its aesthetic charm. Like other dating apps, Hinge also has a premium version where you can send unlimited likes, get advanced preferences, and more.  
Some more features
With a video date, one can save time and decide whether meeting someone in person will be enjoyable.
Indicate interest in a person by liking and commenting on stories or photos shared by other users.
Comment on pictures and bios as well.
---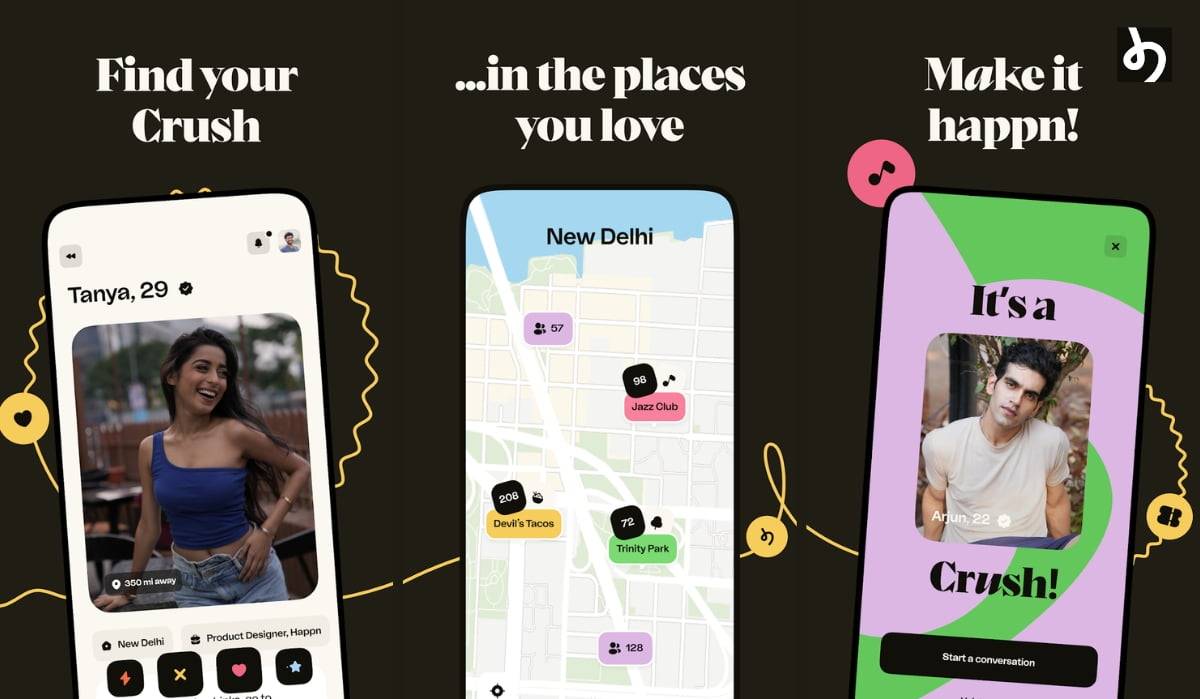 Moving on to the next app, we have Happn. Unlike Tinder and Bumble, Happn has a feature that sends notifications to users when they cross paths with someone else who also has the app installed. This allows users to check out each other's profiles and potentially make a connection on the spot. This feature relies on having location services and a stable mobile data connection turned on.
Even better, Happn seems to have solid moderation and anti-bot measures in place. This means you can chat with your matches, called "Crush," by sending them a "FlashNote," which they need to accept before you can start a conversation. This security measure helps keep scammers at bay and makes it challenging for them to create fake profiles. Happn is all about genuine connections, making it one of the best dating apps in India.
Some other features
Find people on a map with whom you have crossed paths using a timeline feature.
Using the premium subscription, you can return to a profile you accidentally left/skipped off.
Spotify songs can also be sent via chat.
---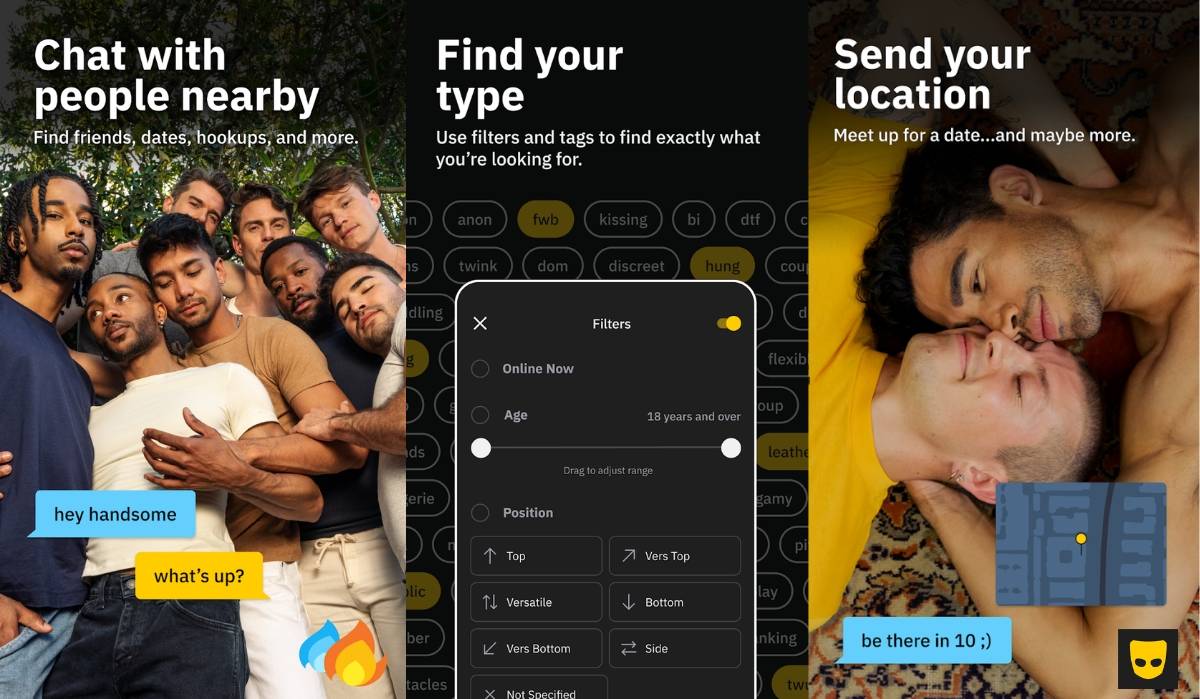 At last, we have Grindr, the only app on the list that focuses on the gay, bisexual, and transgender community. In the past few years, Indian society has started to become more open to the LGBTQ community. Therefore, Grindr has become a favourable dating app for community members. 
It provides a platform for those who want to explore potential matches within the LGBT category. It's free and ensures user anonymity. Grindr takes a fast and straightforward approach to connecting people. Plus, being location-based, it covers virtually every corner of the planet, making it a global platform for connections. In addition to its dating features, Grindr also strongly emphasizes safety and well-being. It provides a comprehensive digital security, personal safety, and emotional well-being guide. 
Some other Features
Casual dating is the norm here, so you don't have to worry about being tied to a long-term relationship.
You can appear offline to people you message by using Incognito mode.
Translating chat messages – Grinder allows you to translate messages between different languages.
---
FAQ: Best dating apps in India for Android and iOS
Which is the best dating app in India?
Tinder stands out as the most popular and best dating app in India. It pioneered the swiping feature, allowing users to express interest or disinterest in profiles with a simple swipe. Notably, it offers a unique "Message Before Match" feature, enabling users to send a note when liking someone's profile, increasing the chances of sparking a conversation. Tinder boasts a modern, user-friendly interface with robust privacy protection. Additional features include "Boost" to become a top profile, "Top Picks" for highlighting matches, and a vast database searchable via filters.
Why is Hinge considered a top dating app in India for meaningful relationships?
Hinge focuses on meaningful matches through algorithms that consider interests and preferences. It encourages thoughtful connections and offers a unique interface. Premium versions provide unlimited likes and advanced preferences.
Who is Grindr designed for, and what features does it offer?
Grindr is designed for the LGBTQ+ community, focusing on gay, bisexual, and transgender individuals. It offers a connection platform, emphasizing safety, anonymity, and global reach.
How does Happn work differently from other dating apps in India?
Happn sends notifications when users cross paths with others who also have the app. This real-time feature allows users to check profiles and potentially connect immediately. Happn emphasizes genuine connections.
Also Read: