Uninterrupted music sessions are essential, so music player apps are necessary for music enthusiasts. These apps provide top-notch audio quality and user-friendly interfaces and effectively organize your music library, making your favorite tracks easily accessible. Moreover, while streaming music is convenient, it can consume significant mobile data. So, we've also featured some top offline music players to address this issue. With many music apps available on the Play Store, identifying the perfect fit for your requirements can take time and effort. So, we've prepared a list of Android's best music player apps.
These are the best music player apps for Android that you should try
---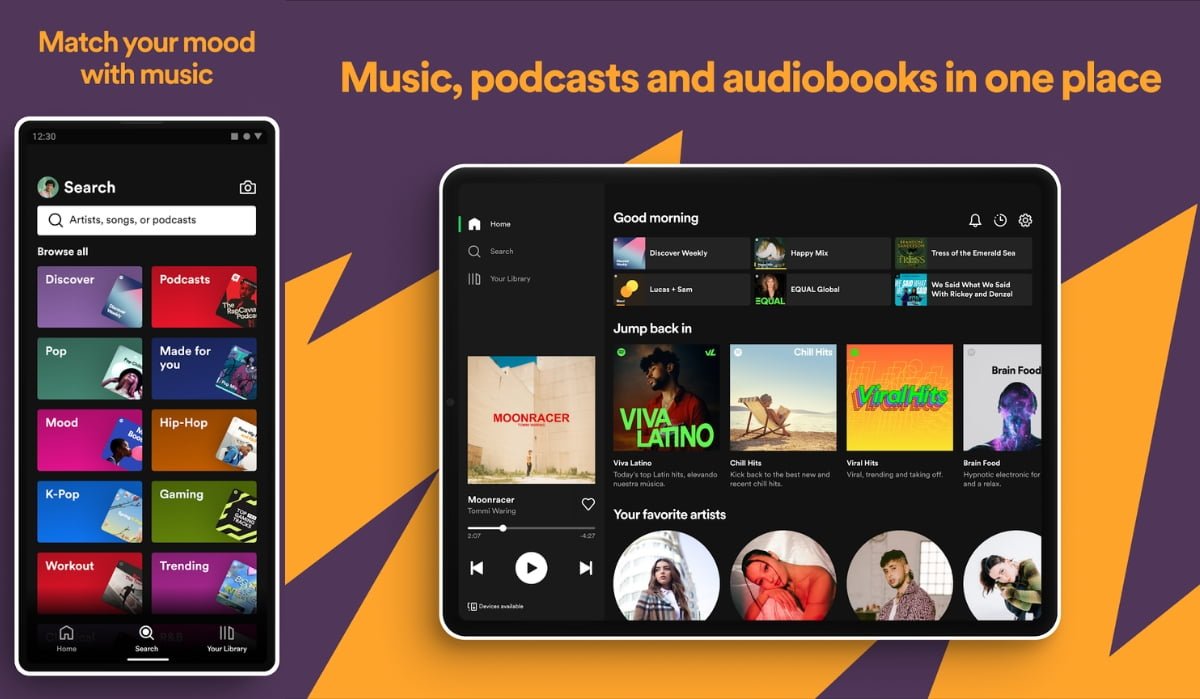 Spotify consistently takes the lead of the best music streaming app, and it's easy to see why. It stands as the ultimate music streaming app out there, hands down. With Spotify's widespread availability, you'll always need help accessing your tunes. One of the gems of Spotify is its personalized suggestions, crafted from your music history and regional trends.
The platform boasts an immense library covering various genres and artists, not to mention its podcast support. If you're into kicking back with some discussions, many podcasts are ready for you on Spotify. Upgrading to Spotify Premium, the paid version, hooks you up with perks like song downloads for offline grooving and crisper audio quality. It is truly a one-stop hub for all your music and podcast cravings.
---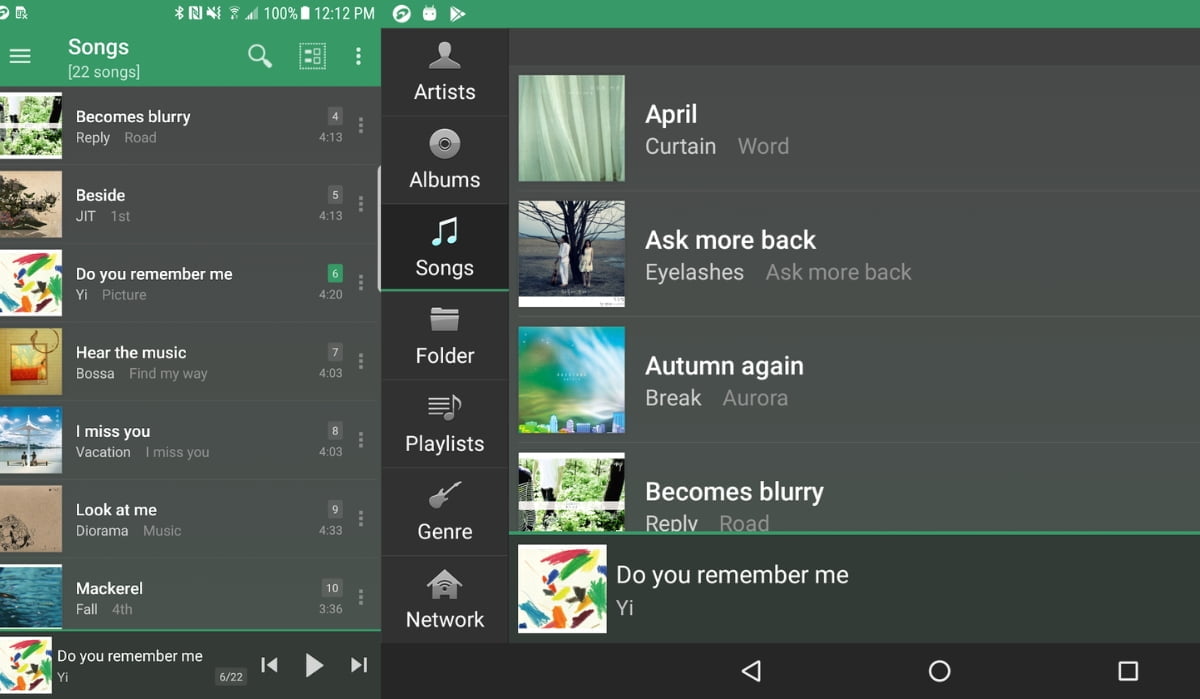 In the past few years, JetAudio has come out as one of the best offline music player apps. It's a versatile player that handles most audio formats while integrating audio effects.JetAudio excels at playing locally stored music. Its impressive offerings include a 10-band equalizer equipped with 32 presets, a suite of effects including reverb and x-bass, playback speed control, and more.
The premium edition takes it up a notch with a rare 20-band equalizer. Beyond its standard features, a range of in-app plugins can be acquired, encompassing an audio enhancer, visualizations, and more. The free version offers so much that many users might not find the need to upgrade, although it's worth noting that the free version is ad-supported.
---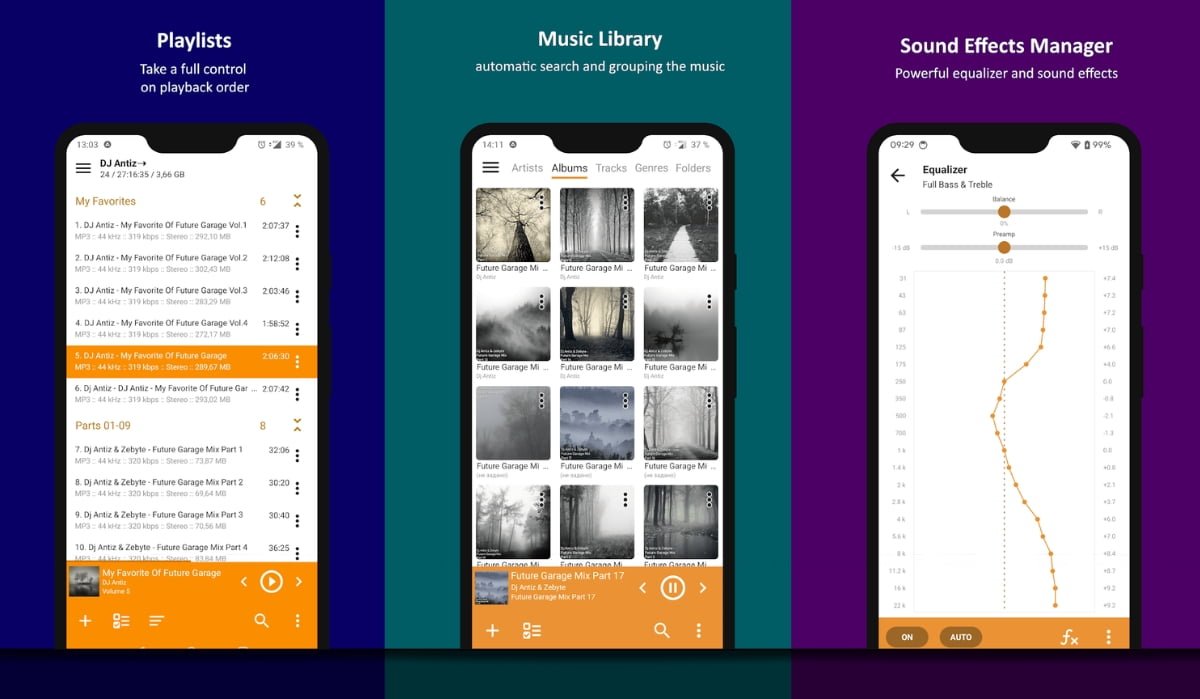 AIMP's core focus is providing swift access to your go-to music lists. This offline music application adopts a no-nonsense approach—it efficiently plays your music without distractions. It handles many audio file formats, spanning both lossy and lossless types. A standout feature is its inclusion of a 29-band equalizer, a rarity in most music players.
AIMP initially has a simplistic interface aligned with flat design aesthetics. This simplicity serves the purpose of a friendly user interface. Furthermore, the app offers customization options for themes, responsive gesture control, and the display of criteria in file names during playback. If your music life revolves around playlists and the sequence in which you enjoy songs matters most to you, AIMP is one of the best music player apps for you.
---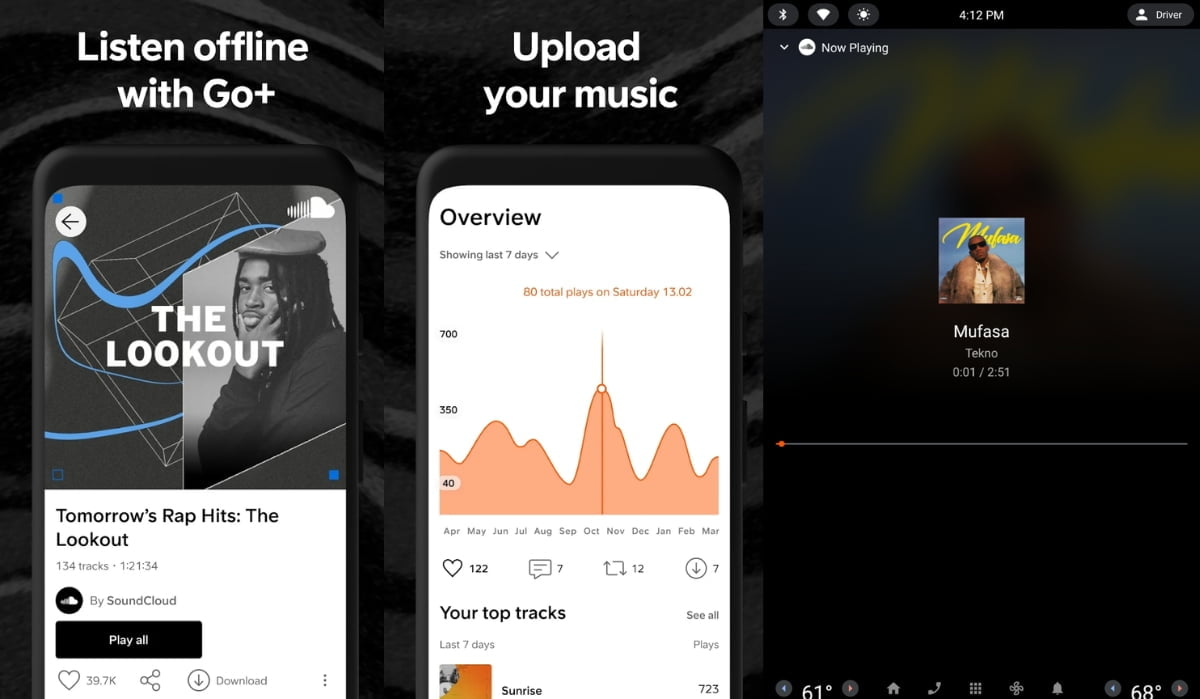 In comparison to other music streaming apps, SoundCloud offers a unique combination. It brings together content from established professionals and independent musicians. The platform's broad musical spectrum has diverse offerings, particularly from indie artists and emerging talents.
SoundCloud is an open platform where individuals can upload their songs and compositions. This approach results in an impressive collection of over 275 million audio tracks. It is also possible to download favorite tracks without charge with the artists' permission. In cases where downloads are enabled, certain actions, like following an Instagram page, may be required to access the MP3 files.
---
Poweramp Music Player (Offline with Key)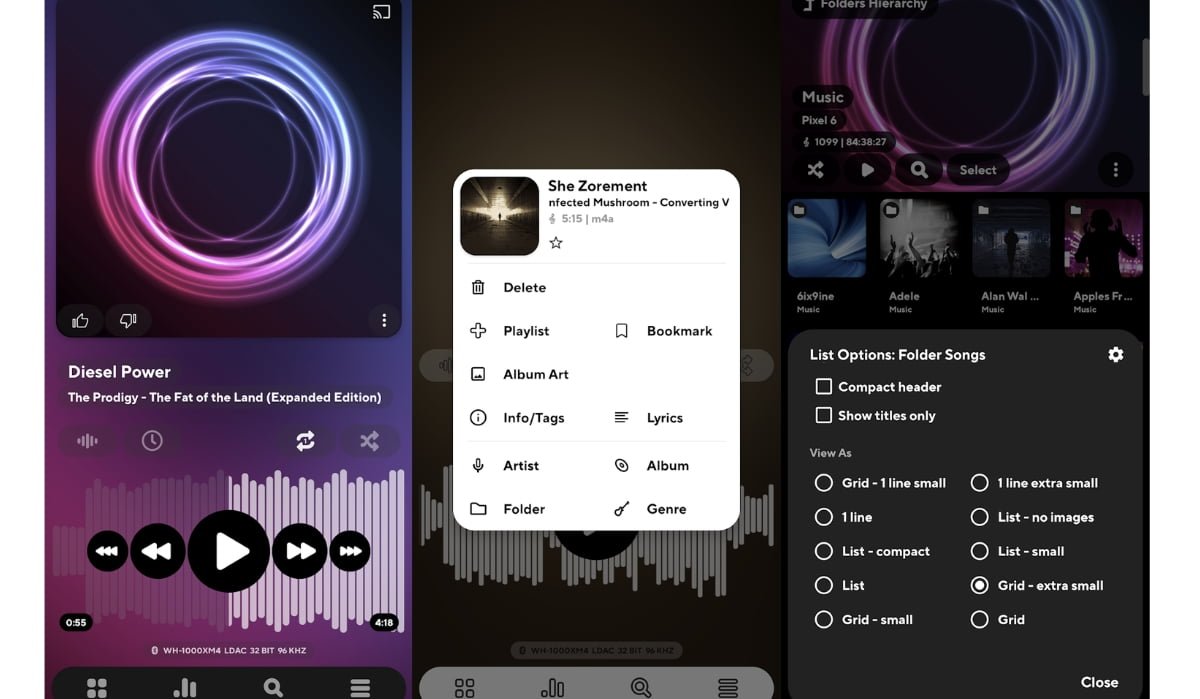 Just like its name suggests, Poweramp lives up to its reputation. In terms of functionality, Poweramp truly covers all bases. It's got everything from a 10-band equalizer and gapless playback to cross-fade and replay gain. On top of that, there's a handy built-in tag editor and cool extras like dynamic queues.
If you're an audiophile – you can easily tweak bass and treble through a user-friendly equalizer interface. Navigating around the app is a breeze whether you're handling playlists, streams, or your entire song collection. Plus, you've got a range of animated visualizations to pick from, adding a touch of vibrancy to the interface. All these perks make Poweramp one of the best music players for Android.
---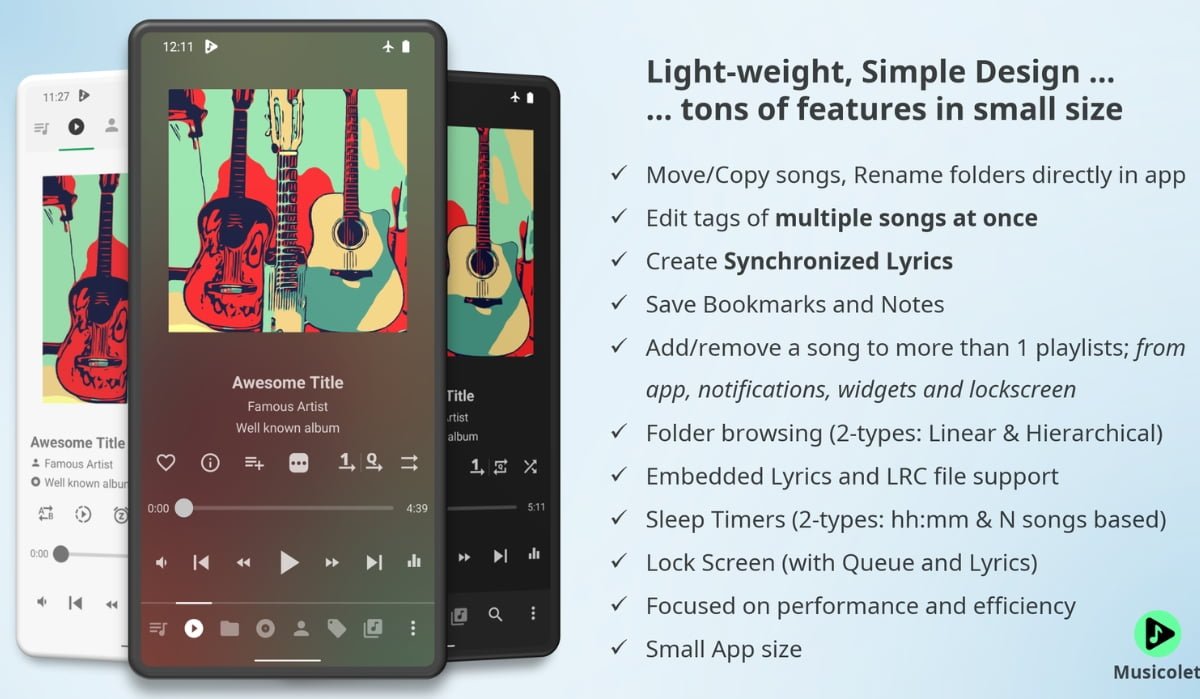 Musicolet braces simplicity as a music player app without any unnecessary things. It offers a great offline experience with a lightweight user interface and a small APK size. If you're a fan of hassle-free queue management, Musicolet delivers. If you're dealing with a vast music collection, the batch editor for tags and album art comes to the rescue.
In terms of playback features, Musicolet leaves no features. It includes embedded lyrics, gapless playback, sleep timers, and shortcuts to access your favorite albums or playlists swiftly. The app boasts Android Auto support, along with light and dark themes and a nifty backup and restore function. It's completely free, without any in-app purchases. For those seeking a no-nonsense music player that does the job, Musicolet is an excellent choice.
---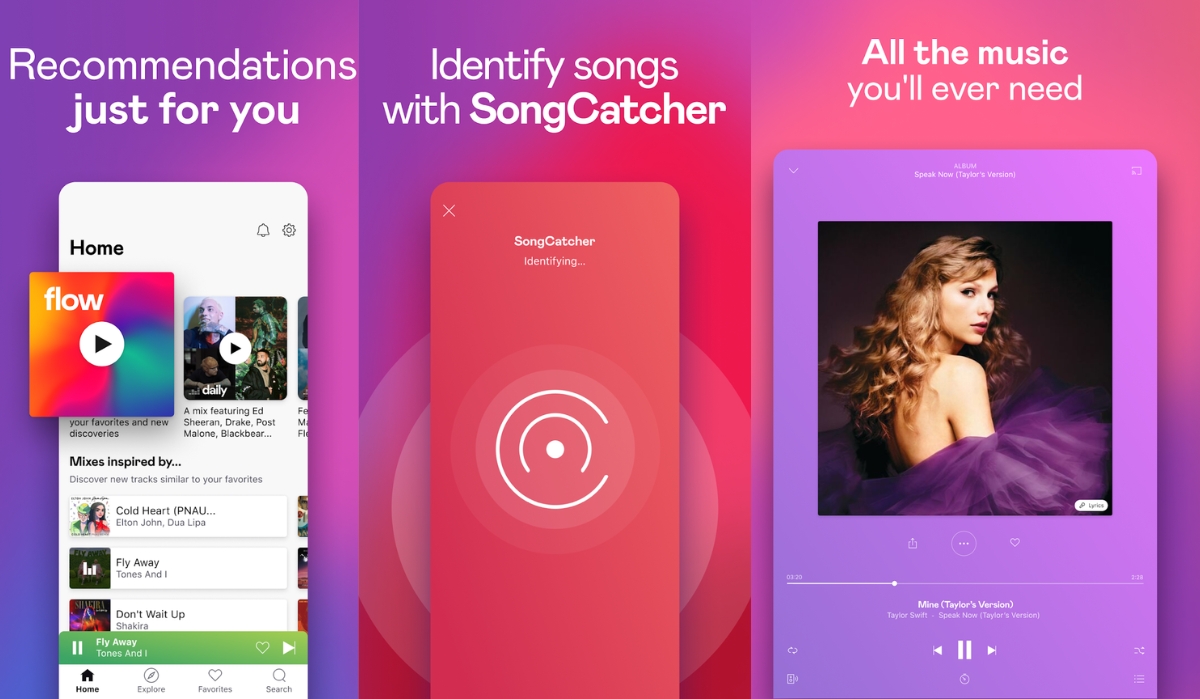 Continuing down the list of the best music player apps for Android, we have Deezer. Deezer allows users to upload their MP3 files from a desktop. It's a noteworthy choice for those seeking an independent service and aren't necessarily audiophiles. However, its recommendations and playlists might not be as comprehensive as those of its top rivals.
It features an appealing interface, a substantial library, and the capacity for CD-quality streaming. Deezer parallels Spotify in terms of its feature lineup, even matching the offerings of its Premium version. The app presents both a free, ad-supported version and a Premium version, allowing users to select from a range of perks like download recommendations and access to an extensive collection of music tracks and podcasts. If Spotify doesn't align with your preferences, Deezer might be the ideal fit for your music streaming needs.
---
Music Player & MP3 Player (Offline)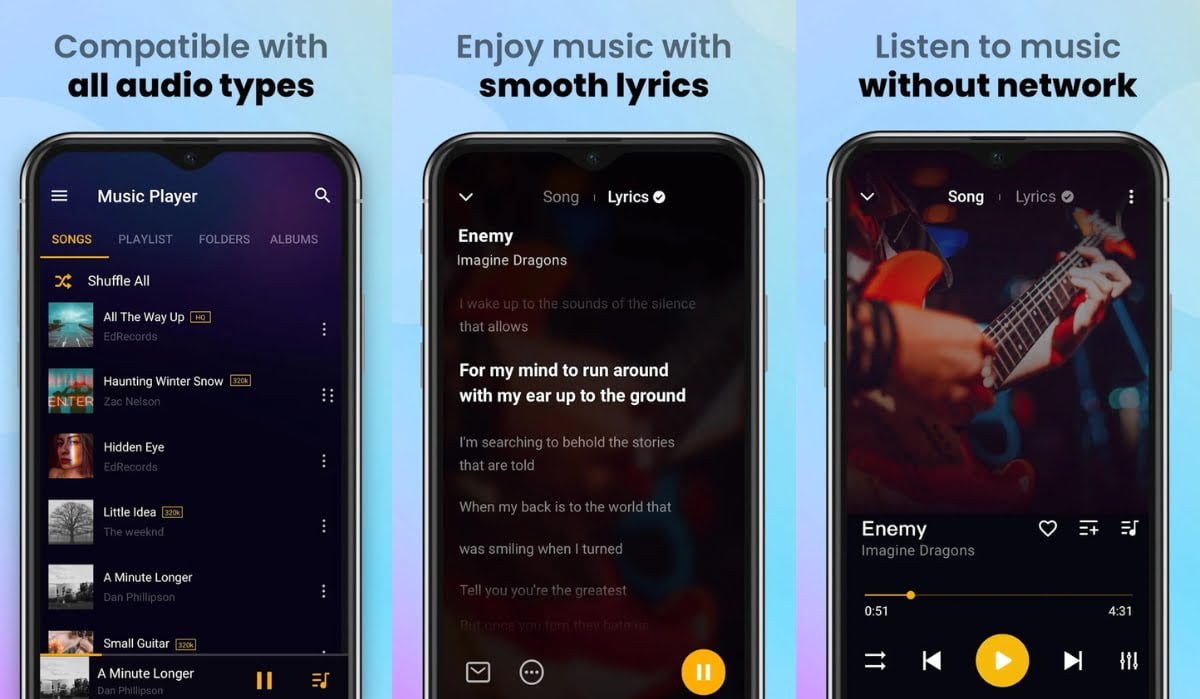 This user-friendly music app allows you to enjoy music stored on your Android device alongside an extensive online music catalog. It goes the extra mile by tailoring music recommendations based on your listening patterns, mood, searches, and more, ensuring that music remains an integral part of your daily life.
The Music Player app offers a striking equalizer, comprehensive format support, and an elegant user interface. You can effortlessly browse all the songs on your Android device and relish music even without a Wi-Fi connection. This offline music player is readily available for free. Furthermore, it lets you download music onto your device and savor your favorite tunes even when internet connectivity is absent.
---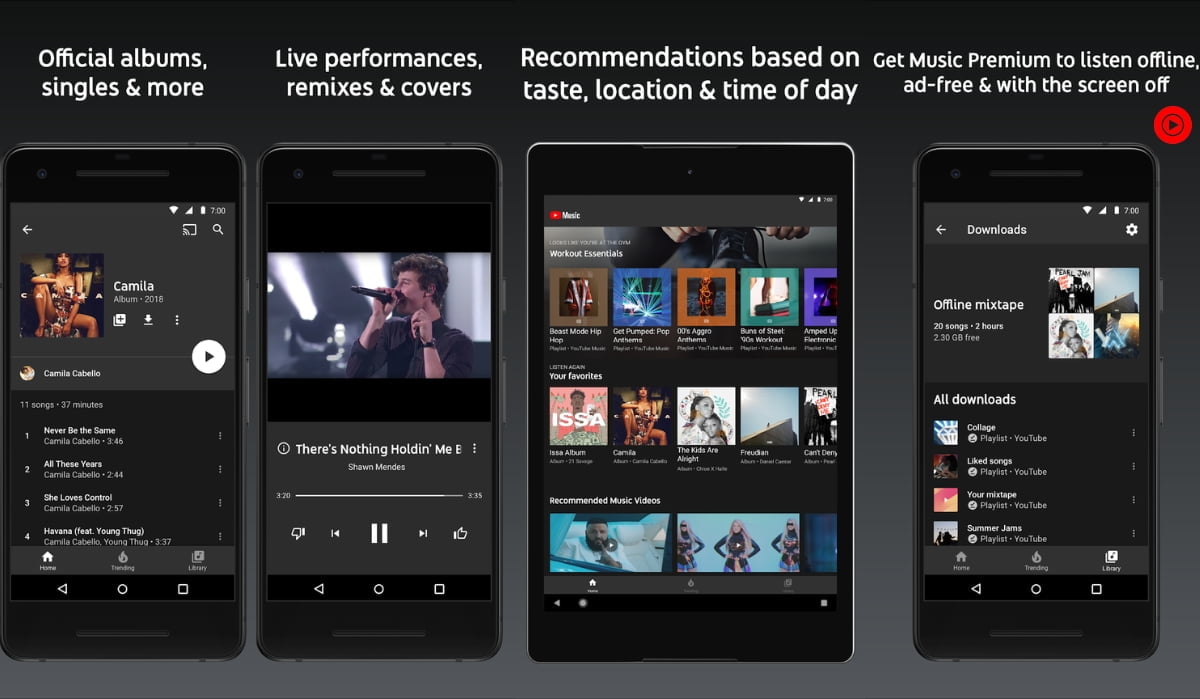 Despite sharing the platform with YouTube, YouTube Music is entirely different. It operates primarily as a music streaming service and doubles as a local music player. Fusing the renowned YouTube name and its massive popularity, it pairs these assets with an expansive library housing over 40 million songs. With YouTube, you can quickly dip into nostalgia by listening to all your favorite music from the past. This alone makes it one of the best music player apps for Android.
The user interface is commendable, with most features centered around streaming. If you opt for the paid subscription, it eliminates ads and unlocks perks like background playback. While the free version offers value, certain aspects might leave you wanting more. If you want to download songs to your device, YouTube Music also caters to this need.
---
Pulsar music player (Offline)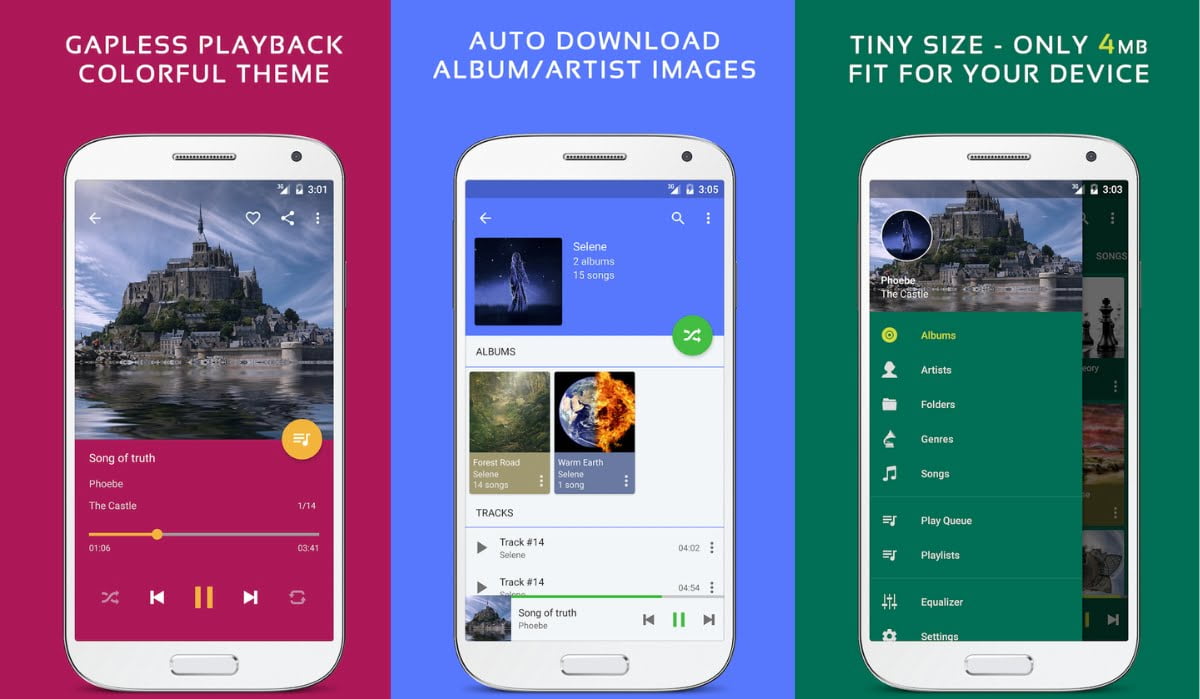 Pulsar Music Player places a strong emphasis on aesthetics along with music. It stands out as one of the best free music player apps, offering an excellent means of enjoying music on Android. Pulsar encompasses standard music playback functionalities like playlists and lyrics and support for Google Cast and Android Auto.
Opting for the app's subscription unlocks enhancements, including a five-band equalizer controller, nine presets, a bass booster, and a reverb feature. Beyond functionality, customization takes center stage. The app lets you personalize each theme by selecting colors for up to six interface elements. If you're looking for a proficient music player that allows you to harmonize its color scheme with the rest of your interface, Pulsar is an ideal choice.
---
FAQ: Best music player apps for Android
What is the best Music Player app for Android?
The best music player app for Android is often a matter of personal preference, but "Spotify" is a highly popular choice among Android users. Spotify offers a vast library of songs, playlists, and podcasts, along with features like personalized playlists, offline listening, and cross-device synchronization. It's known for its user-friendly interface and the ability to discover new music easily.
Which music player app is best for offline listening?
JetAudio is a standout choice for offline listening. This versatile music player supports numerous audio formats and offers a 10-band equalizer with 32 presets, audio effects like reverb, and playback speed control. The premium version even includes a rare 20-band equalizer. While the free version is robust, it comes with ads.
Also Read: