Best Apps to control someone's Android device: We are living in a smart world. Gone are the days when you could buy a feature phone for seniors and kids. With the world shifting towards the smarter side, everyone needs a smartphone these days. But, one of the hardest parts of helping someone is making them understand and adopt the smartphone and its features. While you can take their devices into your hands and help them, it is not always an option, especially in the wake of the pandemic and everyone is isolated at their homes.
So, are you wondering whether or not you can control someone's Android device remotely? Well, the answer is yes. Over the years, many things have been made possible thanks to Android and its app developers. You can completely control someone's Android device from the comfort of your home or wherever you are. In the ocean of apps available on the Play Store, it gets really hard to find the best apps that can control Android devices remotely. Hence, we have compiled a list of the best apps to remotely control someone's Android device.
Before we get started, I request the readers to use this power of controlling someone's Android device remotely for good. All the below-mentioned applications were created to help others rather than prank them or steal sensitive information. With that said, let us quickly start with the list of best apps to control someone's Android device remotely, shall we?
Best Apps to control someone's Android device remotely
1. AirMirror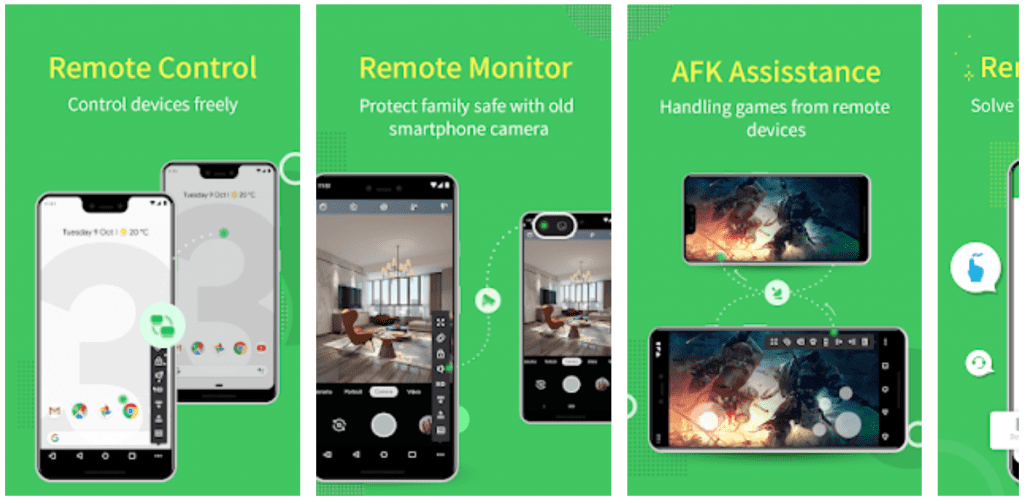 The first app on our list is AirMirror. As the name itself suggest, AirMirror fulfills the goal of controlling one Android phone with another. Do note that to get complete access to the application, you will need AirDroid installed on the target device (someone's device) and log in with the same account details. With over eleven thousand reviews and a 4.2 rating, the AirMirror is downloaded over a million times from Google Play Store. The crowd-pulling feature here is the One-way Audio recording. You can hear all the surrounding sounds from your remote device using this feature.
You can use the application without signing up. Users can get connected quickly by using a 9-digit code. You can send the target device screen-sharing request with one tap, and you will be able to see the device screen in real-time. Unlike many other applications of this kind, AirMirror provides a voice communication feature by which you can talk and control at the same time. Of course, there is an option to text chat if you feel like not talking on a voice chat.
2. TeamViewer Remote Control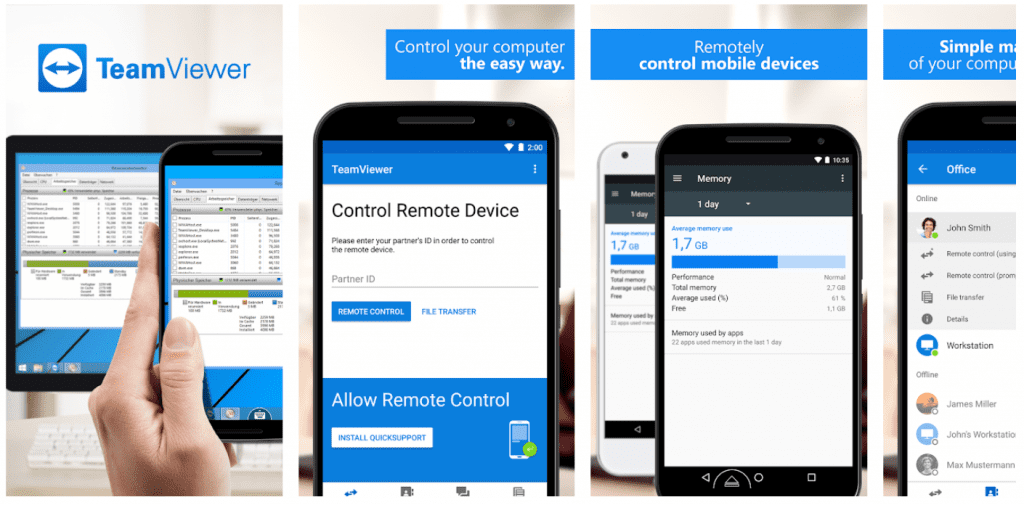 There will be no list of the best apps to control someone's Android device remotely without the presence of TeamViewer. TeamViewer is one of the best applications for controlling one device with another. The application was initially made available for Windows PCs over a decade ago. Using this application, you can remotely control any computer, phone, or tablet on the go. An application this old can, without a doubt, provide easy and secure access.
With over five hundred thousand reviews and four-star ratings, TeamViewer is downloaded over fifty million times from the Google Play Store. The list of devices you can control using this app is endless. You can control Windows, Mac OS, and Linux computers. You can control Android and Windows OS smartphones. Not just that, you can provide spontaneous support or administrator unattended computers like servers and etc. Another ground-breaking feature here is that you can transfer files in both directions and connect through a high-definition sound and video transmission.
3. RemoDroid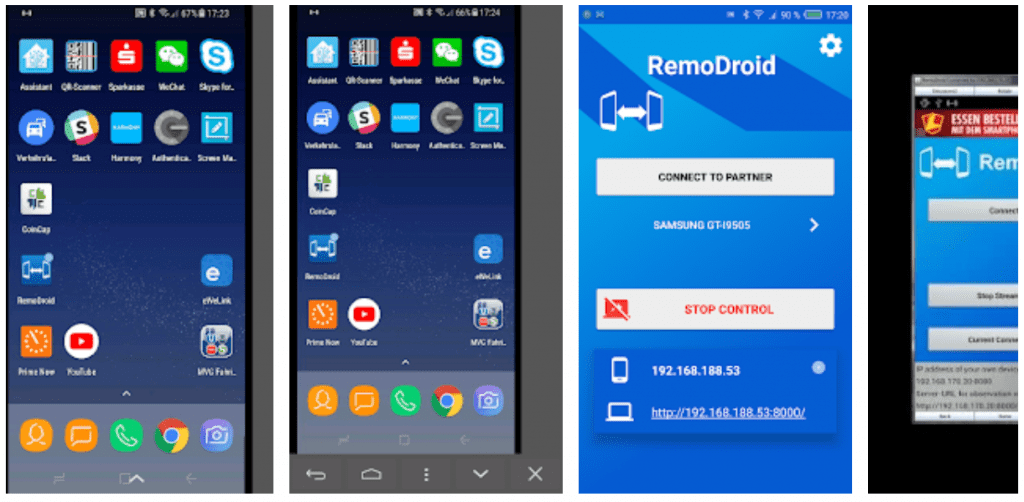 Like TeamViewer and AirMirror, RemoDroid is also one of the finest applications for remotely controlling someone's Android device. Although the interface of the application is boring and old, the implementation and usage are on the top. With over seven thousand reviews and a 3.5-star rating, the app has been downloaded over a million times from the Play Store. You can control diverse devices, including Android phones, tablets, Windows PCs, and Mac devices. Despite the description of the application reading that the app is in its beta state and could be buggy sometimes, we did not find any such issues during our testing. It is worth noting that you will need root permission to remote control your screen.
4. Inkwire Screen Share + Assist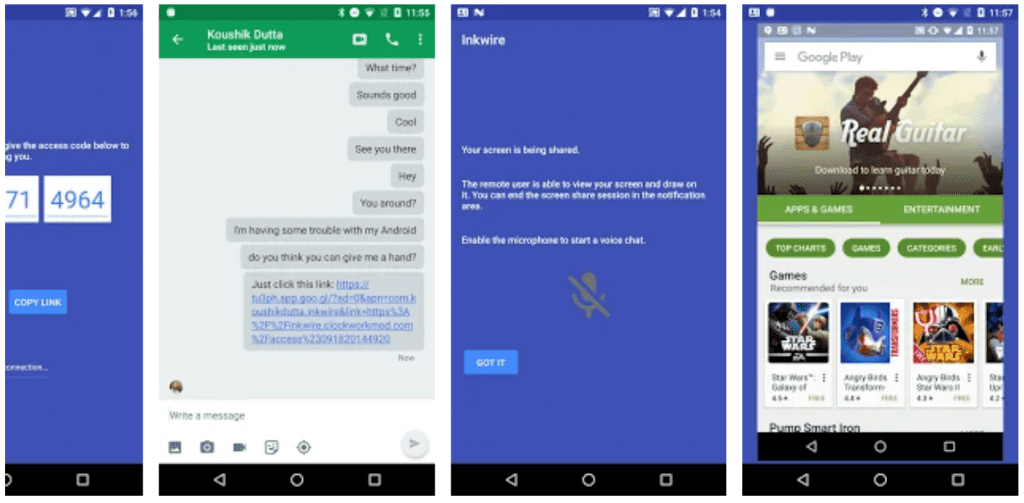 With over 3.6-star ratings and twelve thousand-plus reviews, Inkwire has been downloaded over five million times from Google Play Store. Coming from the house of ClockWorkMod, the application itself is very popular for the features it houses. For those who aren't aware, ClockWorkMod is otherwordly also known as CWM. The CWM has been integral to Android custom development during its initial stages. They had developed some amazing custom recovery and root files for many Android devices, which now is taken over by TWRP (TeamWin Recovery Project). Well, the custom ROM and recovery is a story for another day. Now, let us come back to Inkwire.
Despite not having any groundbreaking features and elements, the Inkwire has become a go-to for various users for its overall stability. Features here include the ability to request control within a few taps, the ability to voice chat, and draw on their screen to guide them. The interface of the application is well-polished, and we did not find any issues throughout our testing.
5. ApowerMirror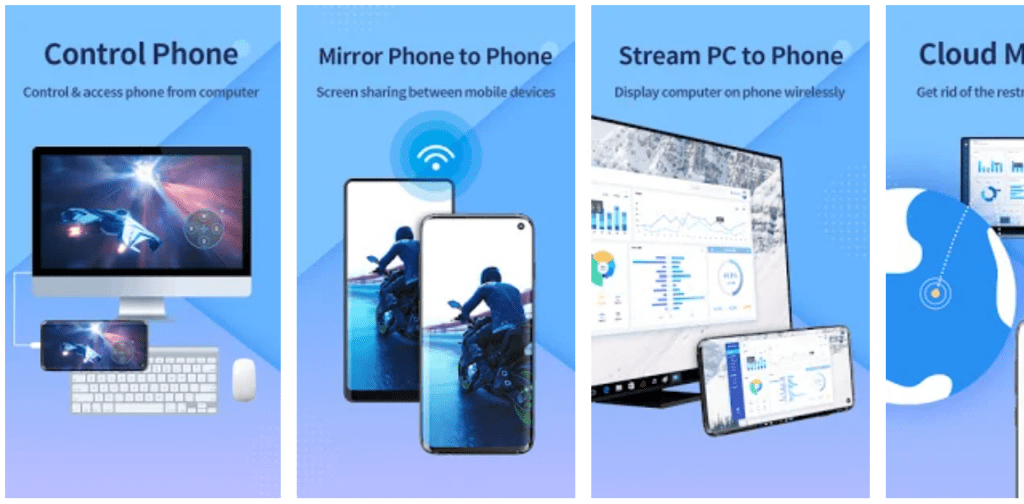 Yes, we have saved the best for the last. ApowerMirror, as the name suggests, is one of the most powerful and best apps to control someone's Android device remotely. The features here are endless. You can remotely control others or your Android device from a PC or a Mac. You can also fully control devices using the mouse and keyboard. How cool is that? The app allows you to cast and share your Android screen to the PC using USB and WiFi. You can also record your target phone's screen from your device directly using the application. With about four-star ratings and forty-three thousand reviews, ApowerMirror has been downloaded over five million times.
With that, the list of our best apps to remotely control someone's Android device comes to an end. We recommend trying and testing out every app on the list, as all of them have strengths and flaws. If you do not have much time to test the apps, I recommend you go with either TeamViewer or Apowermirror. With that said, it is time for me to bid you adieu. For more posts like this, stay tuned with us. Until next time, stay techy!
Also Read: