If you are looking for all-in-one earphones which you can use on mobile as well on PC then Plextone G20 can be the ultimate choice for you. Here I am sharing my experience with this new gaming earphones, so read this article and know it worth to buy or not.
Box Content
Opening the little box of the Plextone G20 delivers quite a pleasant surprise. Plextone has included a bunch of extras with the earphones, including two different types of ear tips, stabilization fins (S type gel), line clip, cable separator and necessary manuals. The company also include a pair of memory earbuds, which offer ultimate comfort and better noise reduction. Along with this, you will also get computer audio transfer line cable and 0.6m long audio extension cable.
Plextone G20 Specification
Driver size: 10mm
Impedance: 32+15%Ω
Frequency Response Range: 20Hz-20kHz
Sensitivity: 102+3dB
Resistance: 16Ω
Wire length: 1.6m +0.6mm
Microphone: Yes
Volume Adjustment: slider
Call & music controls: Yes
Weight: 17g
Warranty: 1 year
Design & Build
I am quite impressed with Plextone G20 in term of design and build. The earphones look very sporty and premium with green and black colour. The green colour gives quite a gaming feel, that we want from this earphones. But if you don't like green colour, then don't worry you also have a red colour option.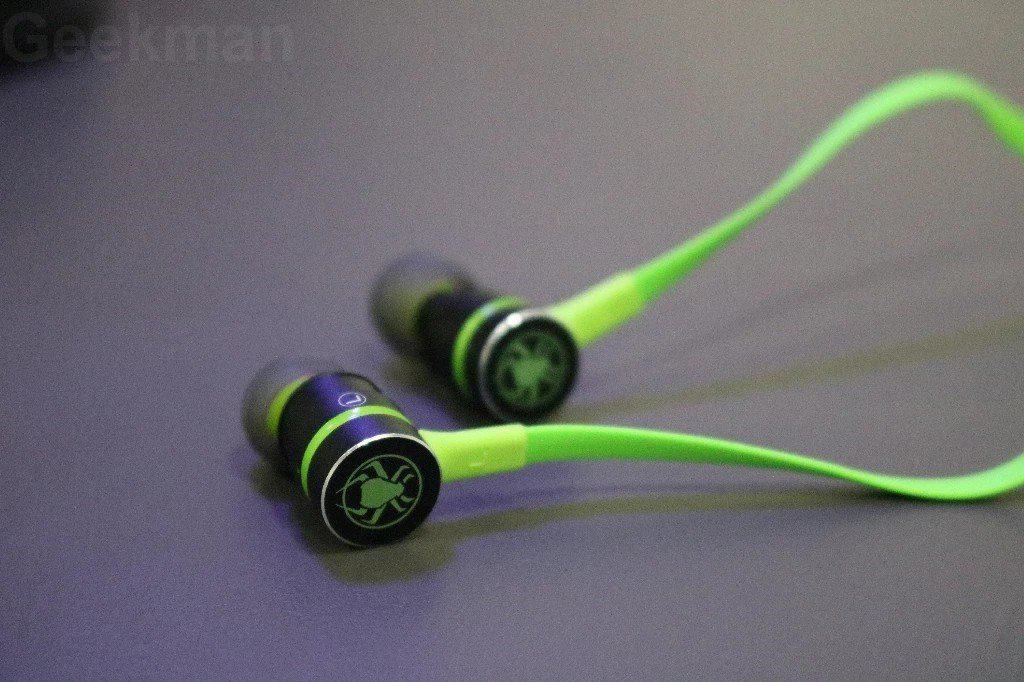 The main module is made of very sturdy aluminium and in the centre of each module, you'll find the classic Plextone logo. The best part is that aside from the colour you won't notice any outrageously 'game-ish' designs. So, you can also use it as a normal earphone.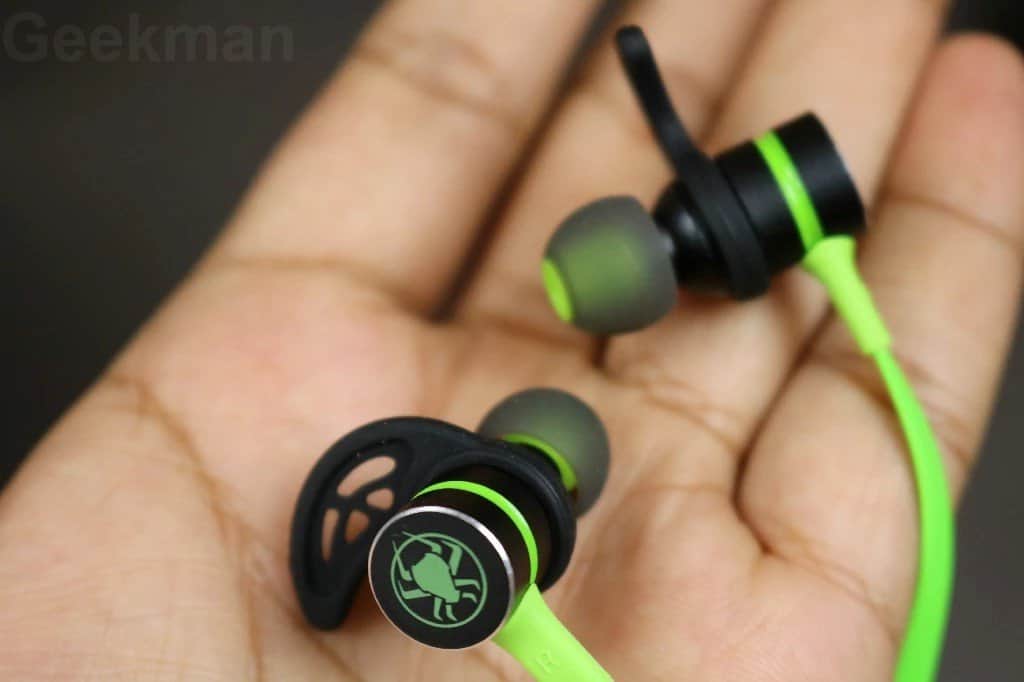 The gaming earphones also have magnetic ear tips, which help you to secure your earphones when you are not using them. I never saw this feature in any earphones at this price point.
A green colour flat tangle-free cable is another best part of this earphones. The cable is 4 mm wide and made of good quality material, which offers extra life to these earphones. The default cable length is 1.6m, which is the ideal length for the smartphone and laptop use. For the desktop PCs, Plextone has already included 0.6m extended cable with this earphones.
The control module and microphone on the cable connecting the right earbud. On the control module, you will get a volume slider and one multifunction button. Using this button you can control your music and calls.
Now moving to the end, there is a 3.5mm audio jack with L shaped design. The L shaped design provides you with optimum comfort while playing games on a mobile phone.
Comfort & Noise cancellation
The Plextone G20 is designed keeping gamer's needs in mind. As a gamer, you need to use headsets continuously for several hours every day and that means you need the most comfortable pair of earphones that you can get. In my experience, the G20 is offered good comfort, you can easily wear these headsets for 2-3 hours continuously. Yes, the module is quite long and stick out a bit, but still, the earphone offers decent comfort because of good quality silicone ear tips and lightweight design.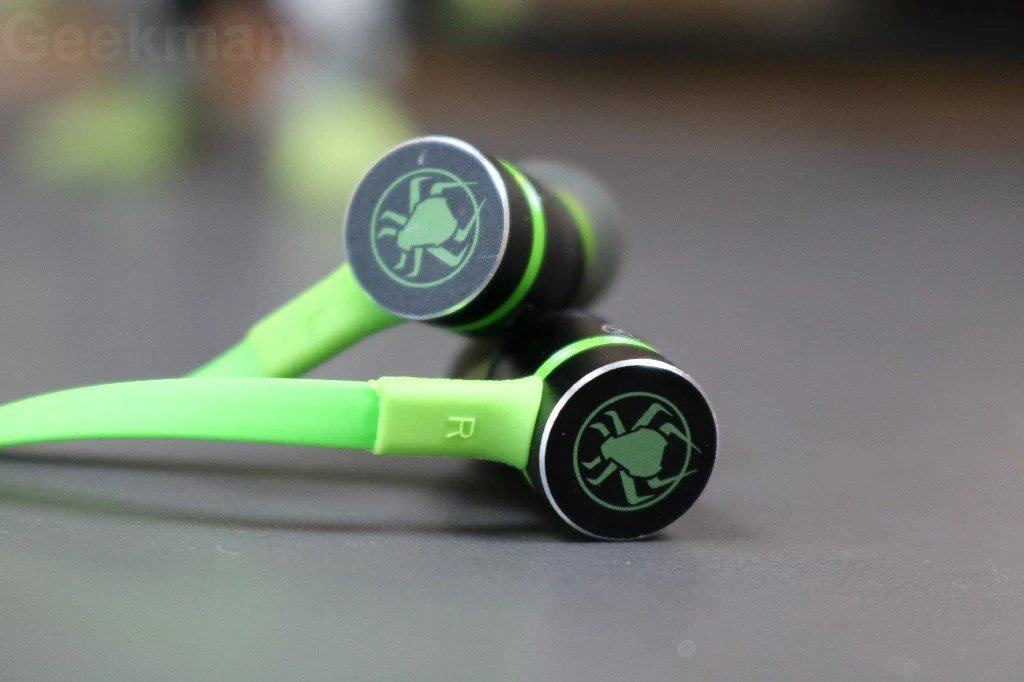 Another best part is that the earphone comes with memory earbuds, which give you ultimate comfort. You can also add S-shaped ear gal on it for more secure feating. Overall, I found the earphones is quite comfortable with the memory earbuds.
In this price range, we can't expect active noise cancellation, so we need to settle with passive noise cancellation. The design and memory earbuds really help to reduce unwanted outdoor noise. So you can focus on your game without any disturbance.
Microphone
The audio you get via microphone is really good. The voice on the receiver's end is all good and clean. But the microphone unit is a little bit far away from your mouth, so you will need to speak a bit loudly.
Sound quality
When it comes to gaming the G20 performs quite admirably as well. I was pleasantly surprised by how well it handles positional audio in games such as PUBG mobile and Apex. It has 10mm large speaker drivers which deliver amazing sound clarity with impressive bass response. The Bass sound is very loud and deep, which is good for gaming sound. But the bass is not so controlled which is make it uncomfortable for some peoples.
The vocal and treble sounds are clear and clean on the gaming side, but for normal music genres, it's not so good. Of course, these are gaming earphones so we can't expect balance audio like any other normal earphones.
Final word
Although the Plextone G20 offers all the things you want in a premium gaming earphone at a budget price. For gaming, the headset really does excel. So if you want to buy gaming earphones under 2000 Rs, just go for it. More info please check full review video on my Youtube channel: Geekman.
Buy now