Almost every person on the internet has a Google account. But not everyone knows how much data is collected while you use it. Your Google activity history is always recorded whether you use Google's search engine, cloud storage, or YouTube. Most people trust Google since it has a record of being transparent.
Nevertheless, you may want to access your Google history and check all the data for yourself. And if you don't want specific data being recorded, then learning how to delete history on a Google phone or PC is also important. In this piece, we are going to cover all of that.
---
What activities are Stored in a Google Account?
If you are an active user of Google's services like Search Engine, YouTube, or any other, then certain activities are recorded, which are as follows:
Google search history.
YouTube history.
Location history.
Map history.
Device access history (Android).
---
How do you see all your Google history?
To access your Google Activity History:
Step 1: Go to the My Activity page in your Google account.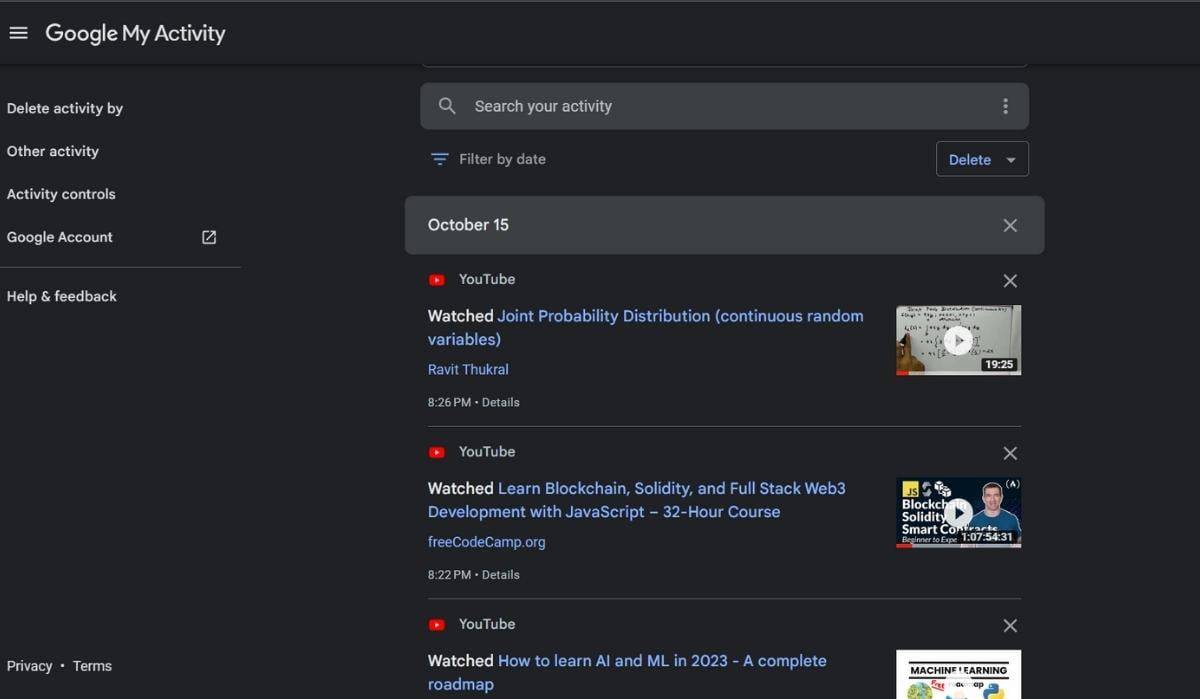 Step 2: Select the activity from Web & App Activity, Location, or YouTube history.
In Web & App activity, you can choose specific Google services and access their activity history.
If you're looking for something specific, use the search function. Once you've done that, scroll down to see a list of all your recent activities. And if you want to organize things even more, you can filter your activities based on the product or service you are using.
---
Things to Remember Before Deleting Your Google Account History
Here are some important points to keep in mind before you decide to delete your activity history:
Once you delete your history, it cannot be retrieved or recovered.
Some Google apps may still track your activity on the device, even if you're not logged in.
You have the option to set up auto-deletion for the tracked history.
Deleting your history won't prevent newer activities from being automatically recorded.
If you prefer, you can choose to disable activity tracking altogether.
Since the activity history can't be recovered, you must decide whether those data are necessary before deleting it. But a better option would be knowing how to back up the Google activity history.
---
How do you back up your Google account activity history?
To back up your data before deleting your Google Activities log, you can use the Google Takeout feature and follow these steps:
Step 1: Go to your Google account home page.
Step 2: Click "Manage your data & privacy" from the Privacy and Personalization section.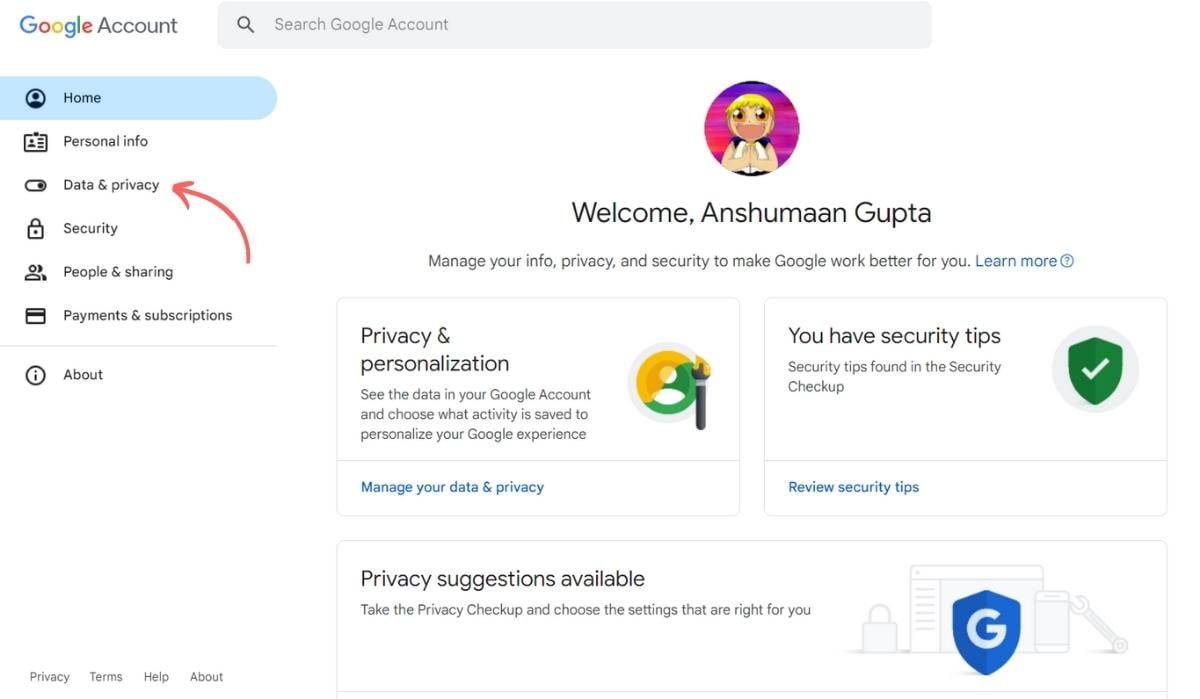 Step 3: Now, Scroll and click "Download your data" to proceed.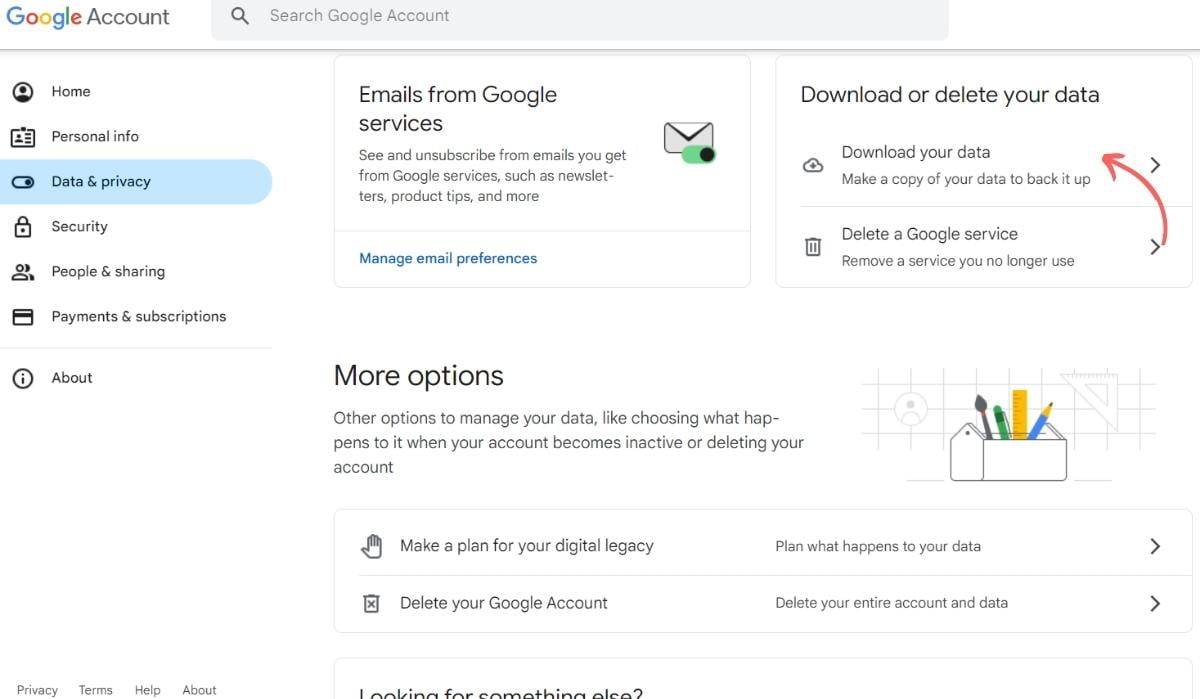 By default, everything is selected, but you can deselect options if you don't need all the data.
Step 4: Select the specific services that you need to recover.
Step 5: Hit "Next Page." Now, you can customize the export.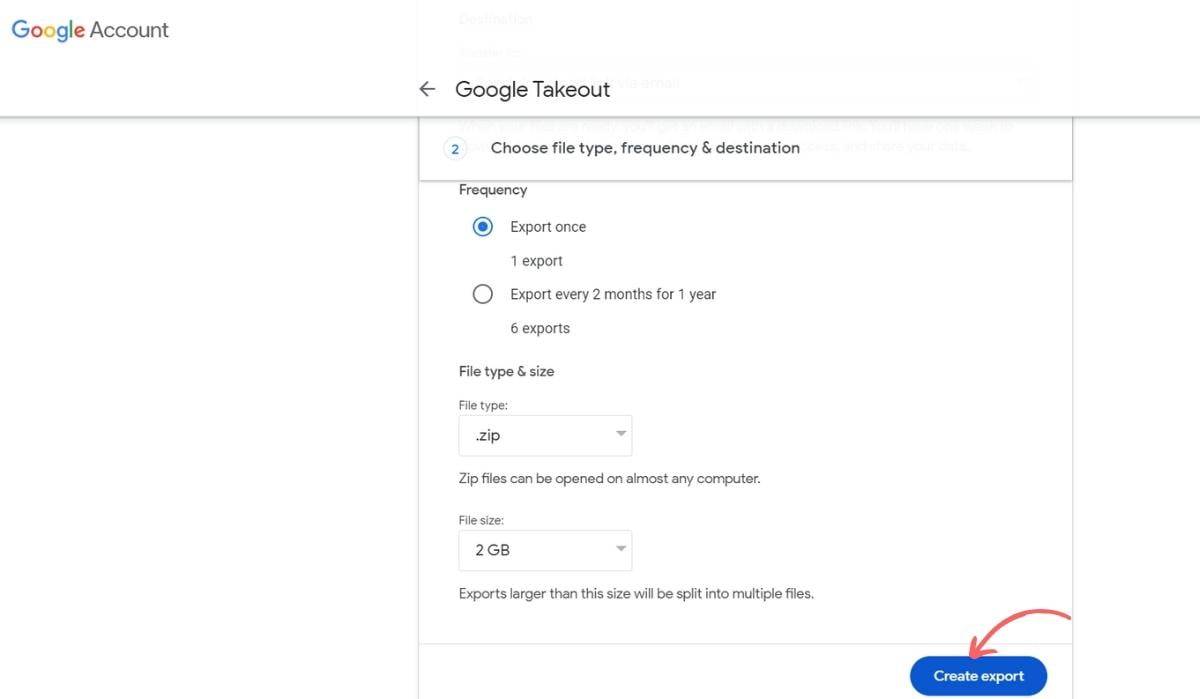 Step 6: You must select the file type(either .zip or .tgz), method of receiving the backup, and size ( from 1GB to 50GB).
You can receive the backup via a link to your email or choose to add the backup files to your Drive, Dropbox, or One Drive.
Note: If you have a lot of data associated, this process can take days to complete. So, you should wait for it to finish before deleting your search history and other activities.
---
How to Delete Your Google Activity?
Deleting your Activity history is not that complicated. Google has provided sufficient customizations to delete specific activities with ease.
When you visit the My Activity page, you'll see a list of all your recent activities listed there.
Delete One Activity At a Time
If you want to remove a specific item from your activity history, whether it's your Google search history or device access data, you can do it easily.
Step 1: To delete an activity, locate the item you want to remove and look for the "X" button next to it.
Step 2: Click on that "X" button. The item will be deleted from your activity history.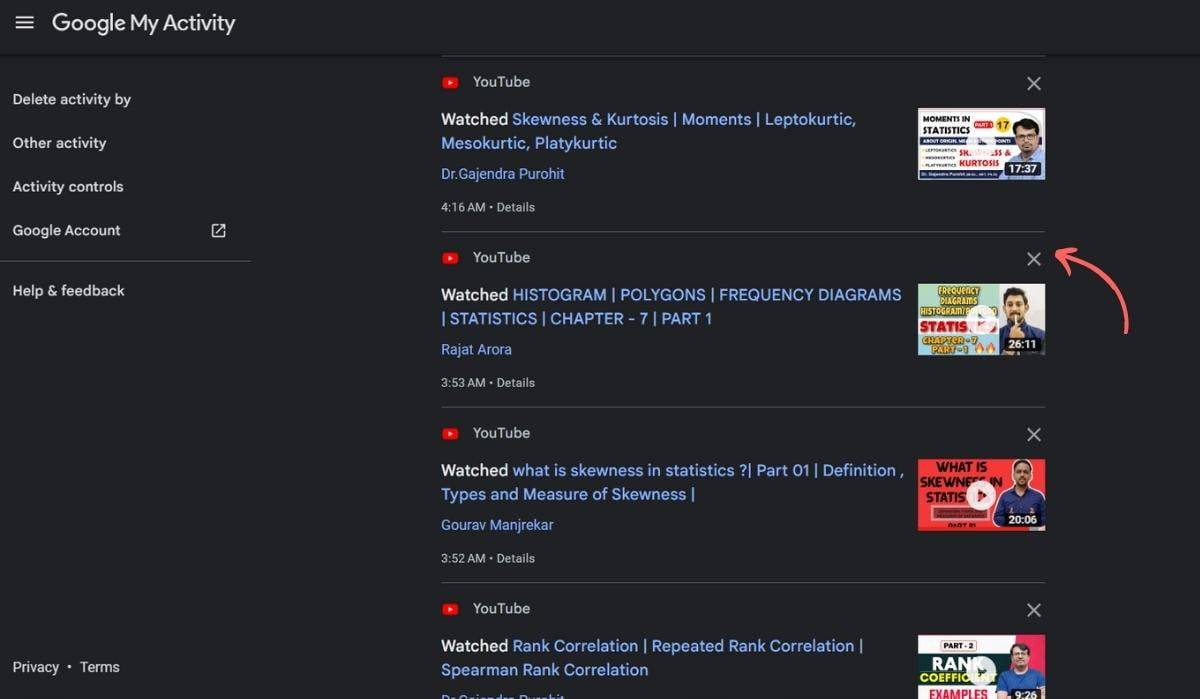 ---
Delete Activity according to date and product.
The More advanced method includes filtering products by date and product. To use this feature:
Step 1: Select "Filter by date & product," Then select the time frame.
Step 2: Either go with the default options or manually input your custom date.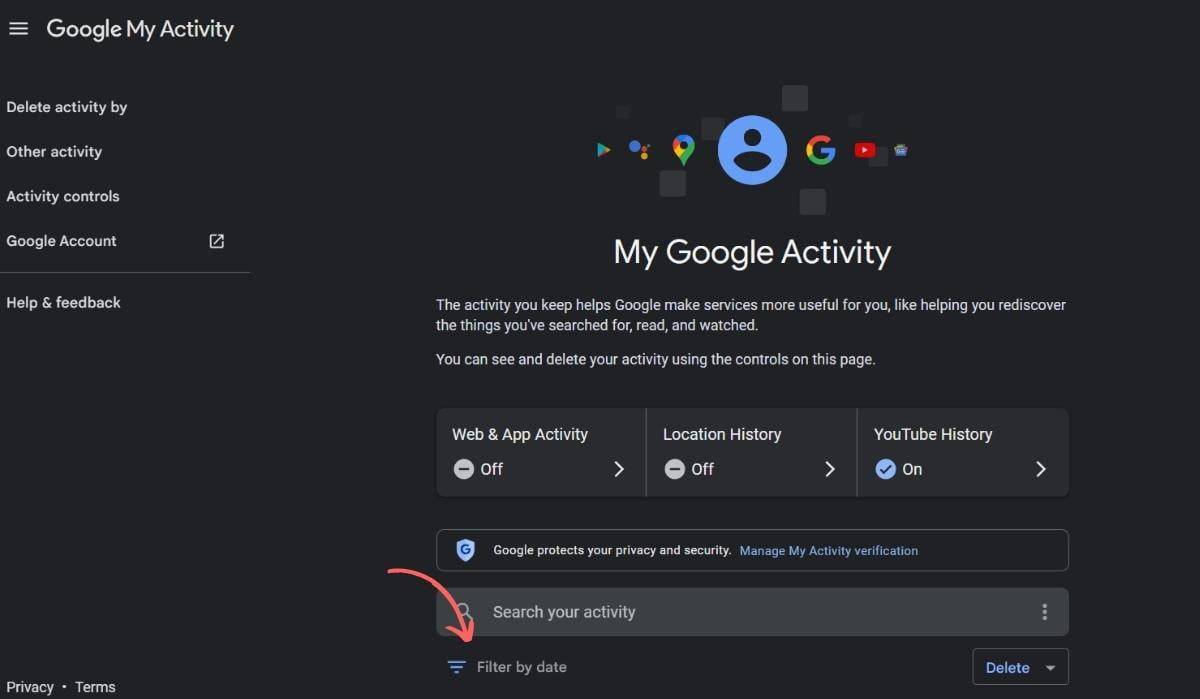 Step 3: If you want to delete the activity history of all services, hit " Select all." If not, then select the services whose activity you want to delete.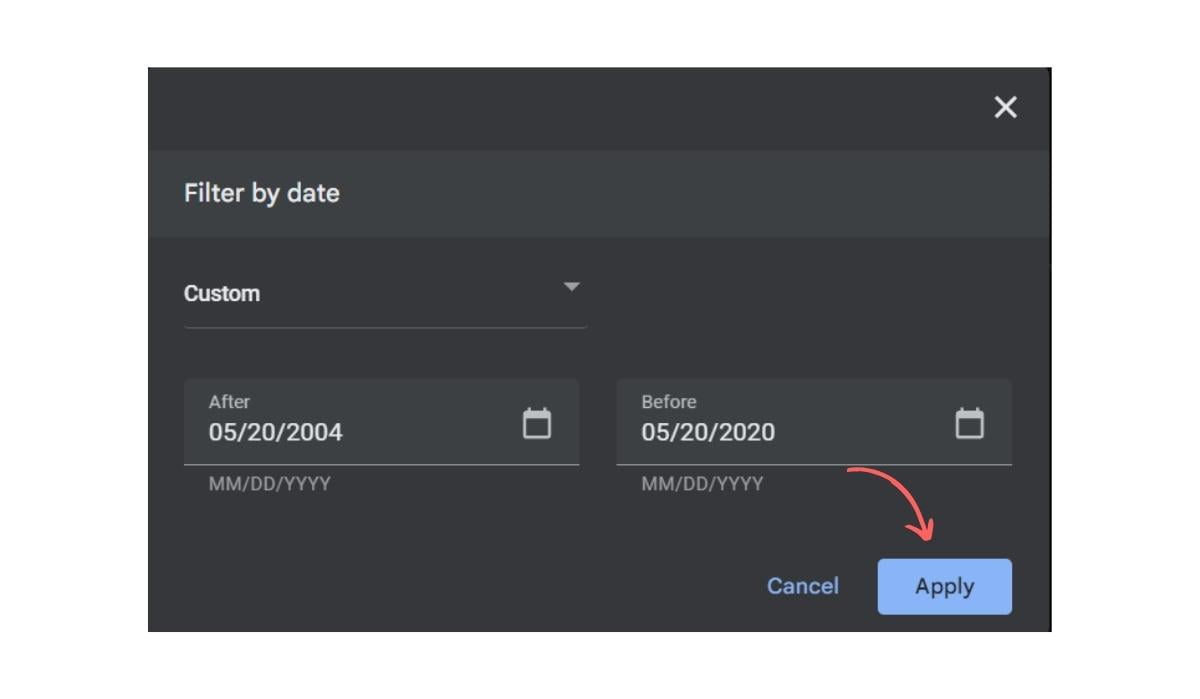 Step 4: Hit "Apply," and you will get the overview of the activity history. Now, press " Delete Results."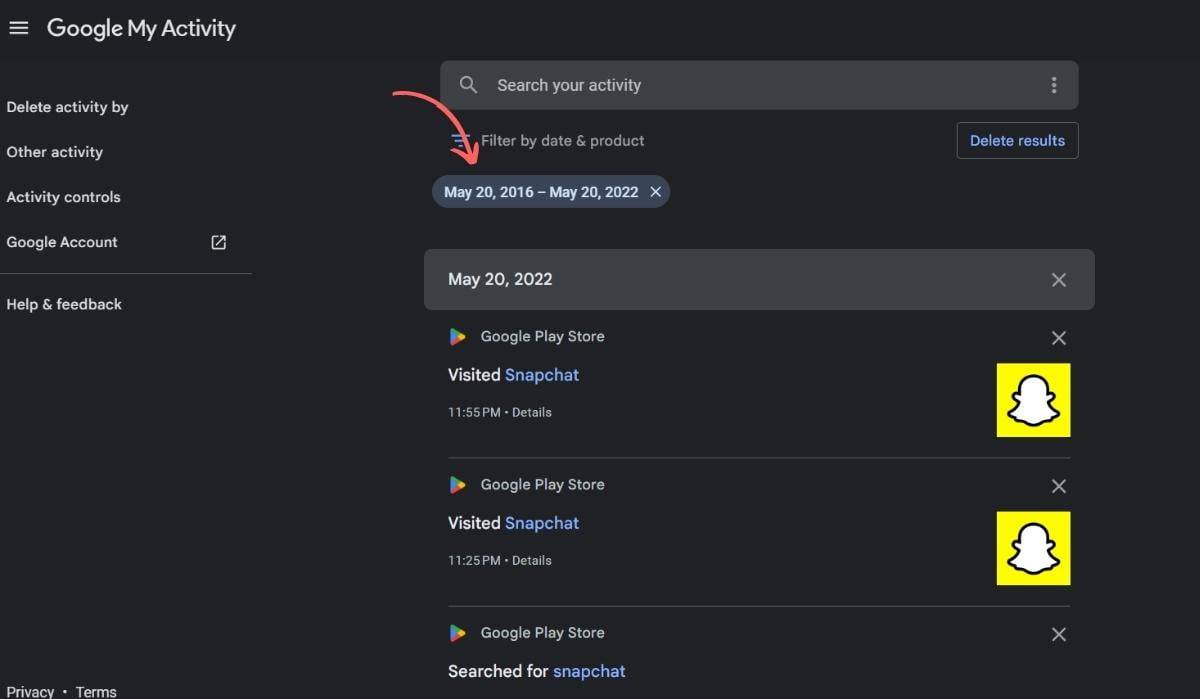 Again, your activity history data will be permanently deleted, so make sure you back it up if you need it.
---
How do you auto-delete Google Activity?
You surely don't have enough time to delete your activities on a timely basis. So, to solve that, you can automate your delete process. To enable auto-delete for each category of activity:
Step 1: Inside my Activity page, look for the "Web & App Activity" category and click on it.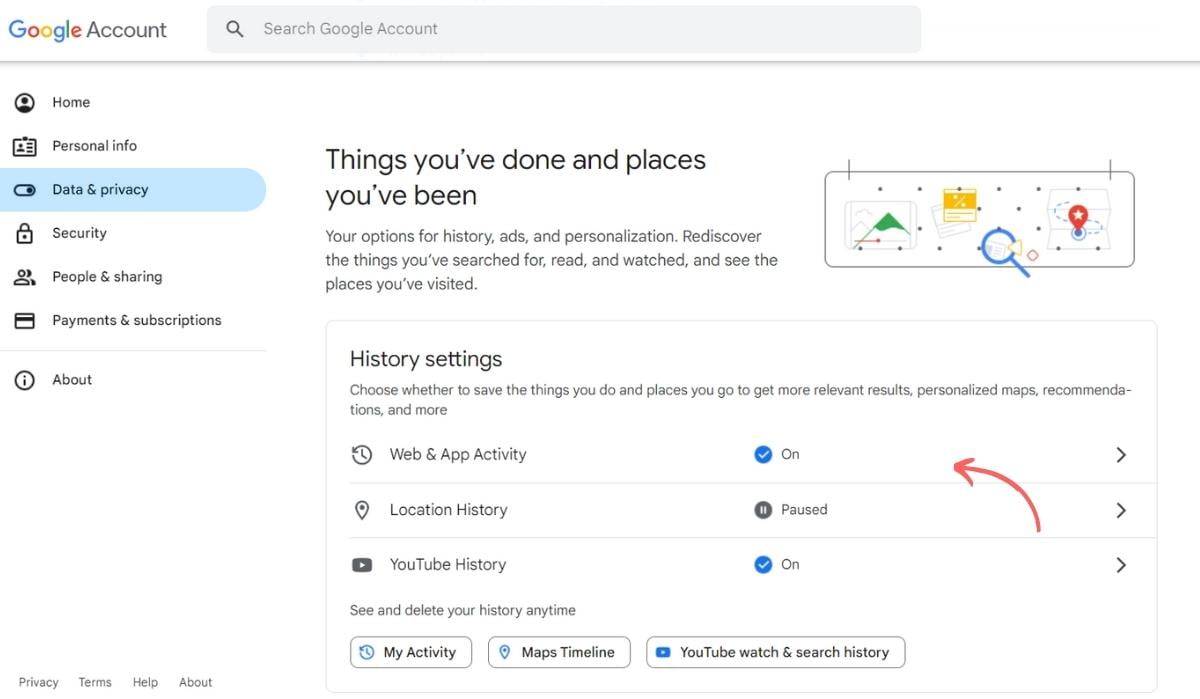 Step 2: Find the auto-delete option, which is initially disabled by default. So, enable the auto-delete feature.
You can select a specific Google service and set the auto-delete feature.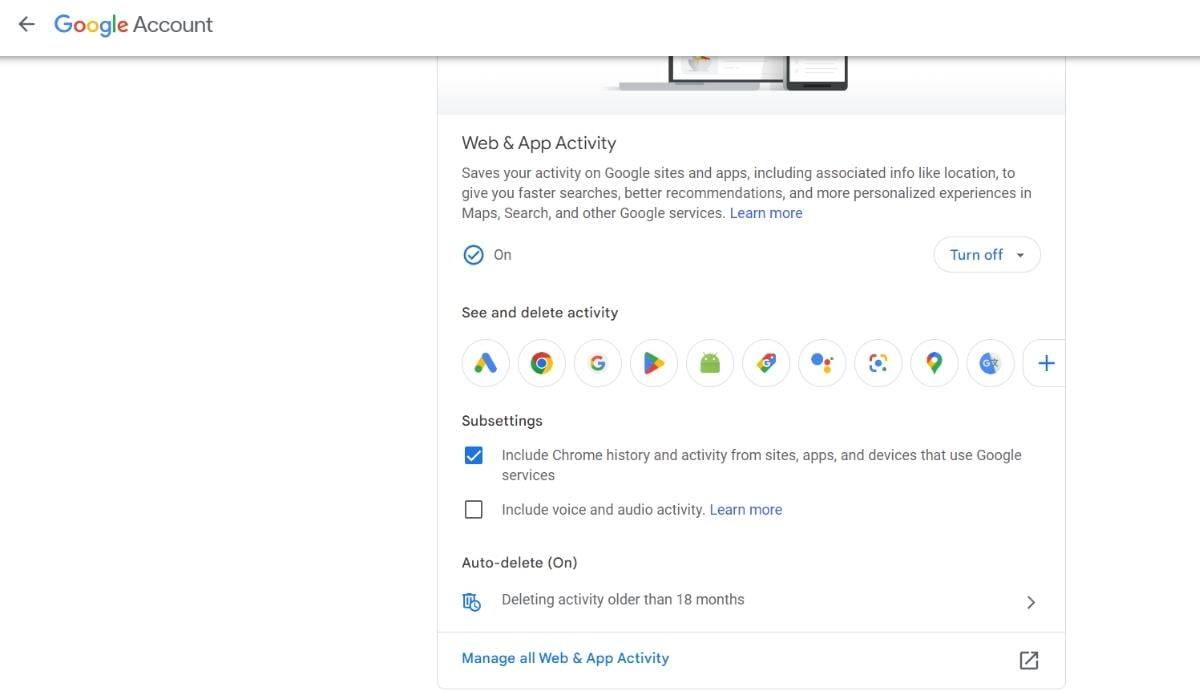 Step 3: Finally, Choose the time range of activity that you want to be automatically deleted and hit "Next."
Note: You can only auto-delete activities older than three months. You'll need to follow the manual deletion steps mentioned earlier for a more recent activity within the last three months.
---
Should you disable Google Activity tracking?
You may want to reconsider before Disabling Google tracking activities since it has certain drawbacks.
1. If you disable all activity tracking, you won't be able to access any of your history once you enable it again. This means you'll lose the ability to review past searches and activities.
2. Personalized recommendations, which are based on your activity history, will be affected. Disabling tracking means Google won't have the data to provide tailored suggestions or content.
3. Your device access history won't be saved, so the chances of facing security issues will be high.
4. If you disable this, Google won't store your device's location data.
If these cons don't matter, you can disable Google Activity Tracking by:
Step 1: On the My Activity page, click on any activity you want to disable tracking( Web & App Activity, Location History, YouTube History).
Step 2: You'll see a toggle switch once you click on an activity. Turn it off to disable tracking for that specific activity.
---
Wrapping Up
Most people don't really bother checking or managing their activities, but if you care about your privacy, it's smart to review or delete your history now and then. Google holds information about your search usage but not the actual search content. You must delete your Whole Google Account if you want to clean everything.
---
FAQ: How to Find Your Google History and Delete All Activities
How can I access my Google Activity History?
To access your Google Activity History, follow these steps:
Step 1: Go to the My Activity page in your Google account.
What types of activities can I find in my Google Activity History?
You can find various types of activities in your Google Activity History, including Web & App Activity, Location History, and YouTube history.
How can I see a list of my recent activities in Google History?
After using the search function, scroll down to view a list of all your recent activities.
Also Read: