If you looking good quality gaming PC cabinet in the Indian market with a budget of Rs.6000 to 10000, then you come at right place. Because today, I am reviewing an interesting looking case from MASTERBOX product line, the Cooler Master Masterbox MB511 RGB cabinet. So read this whole article and find out if this is the right choice for your next gaming build.
Cooler Master Masterbox MB511 Specification
Motherboard Support: ATX, Micro ATX, Mini ITX
Materials: Steel, Plastic, Tempered Glass
Dimensions: 496(L) x 217(W) x 469(H) mm
Expansion Slots: 7
Front Access: 2x USB 3.0, Audio In & Out (supports HD audio), Reset, Power
2.5 SSD: 5 (Max. 6)
3.5/2.5 drive: 2
Front Fan: 120mm x 3, 140mm x 2
Top Fan: 2 x 120mm, 140mm x 2
Rear Fan: 120mm x 1
Front Radiator: 120mm, 140mm, 240mm, 280mm, 360mm
Rear Radiator: 120mm
Top Radiator: 120mm, 240mm
GPU length: <410mm
Cable Routing: 19mm
Overall Design & Build
At first glance, Cooler Master Masterbox MB511 gives quite premium and oddly clean for the price point that its being offered for. The cabinet is futuristic in terms of design with an aggressive mesh front panel which is partially vented for better airflow and is made out of premium quality plastic while the rest of the body is black and made out of good quality aluminium sheet which doesn't feel flimsy at all from any angle.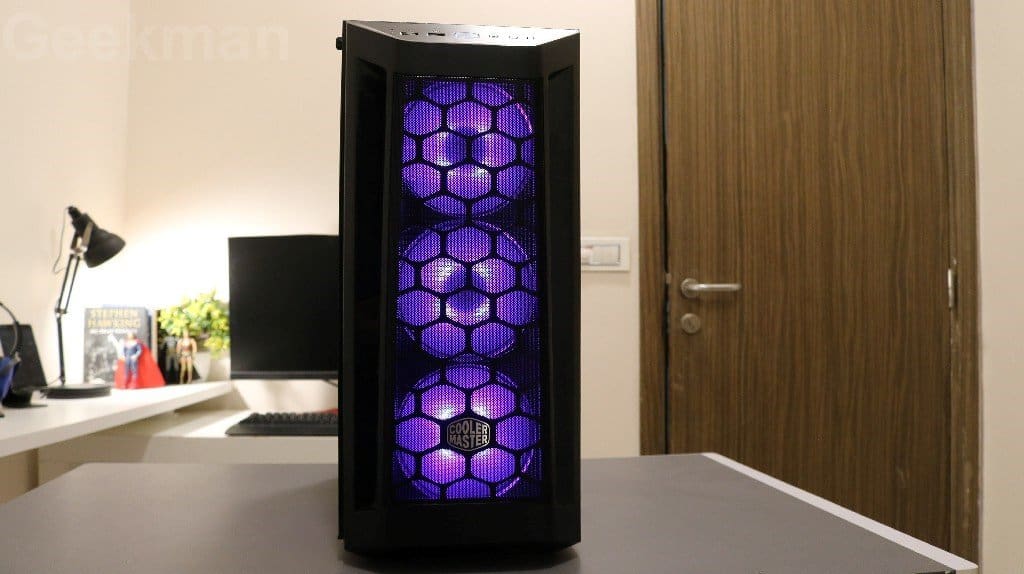 Front side
As I mentioned earlier, the majority of the front face is translucent with a mesh front, which makes the blades of all three front fans stand out. A mesh front panel would have been far better for airflow. The mesh is quite transparent with small holes so it is able to stop finer specs of dust. The front panel is also removable for easy cleaning.
Inside obviously we have the Cooler Master MasterFan Pro 120 RGB fans which are rated at 1100RPM. These three RGB fans give quite high-end looks to this cabinet. For RGB light, Cooler Master has already bundled the Molex fan connector, which can easily change fan colour even if the motherboard in use doesn't provide three or more onboard fan headers. For optimum performance, you can also add two 140mm fans or up to 360mm radiator.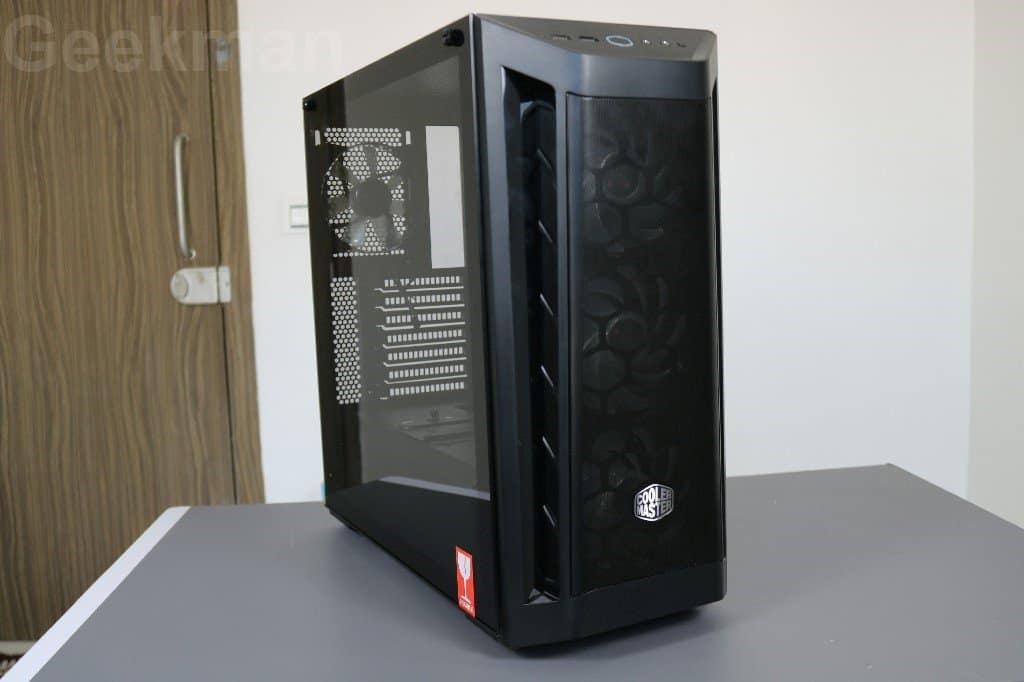 Topside
On the top, Cooler Master Masterbox MB511 has a removable magnetic dust filter which you can use them for fresh air intake if required as well as below you can also install two 120mm or 140mm fans, as well 240mm or 120mm radiator.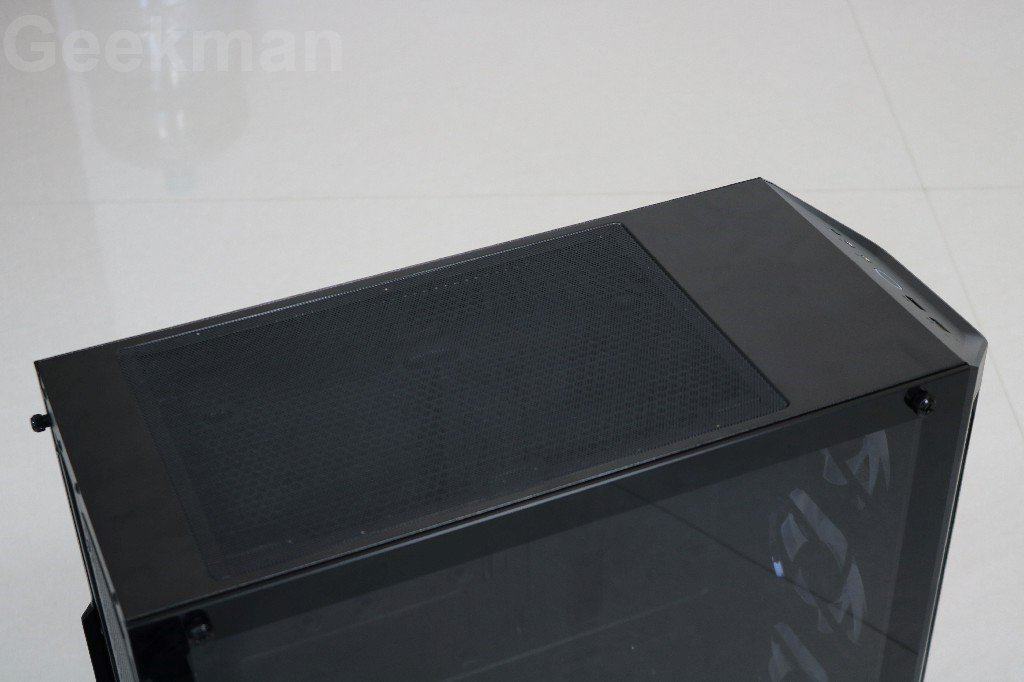 The Front header has the white LED illuminated power button in the shape of the new CM logo, a reset button, audio jacks and a two USB 3.0 ports. Yes, USB Type C is missing but it's a minor issue considering the price point of the case.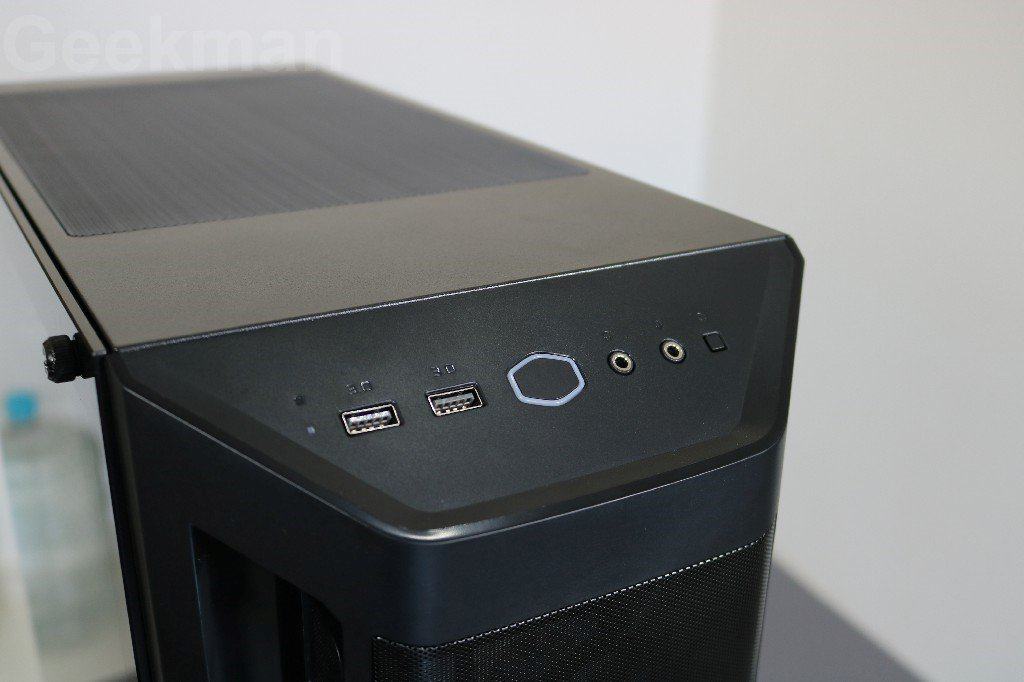 Rear side
At the back, the Masterbox MB511 sports the standard seven expansion slots along with a 120mm exhaust fan. On the bottom, it has a 180mm PSU clearance which is more than enough for most of the PSU in the market. You can also install a 120mm radiator along with the exhaust fan.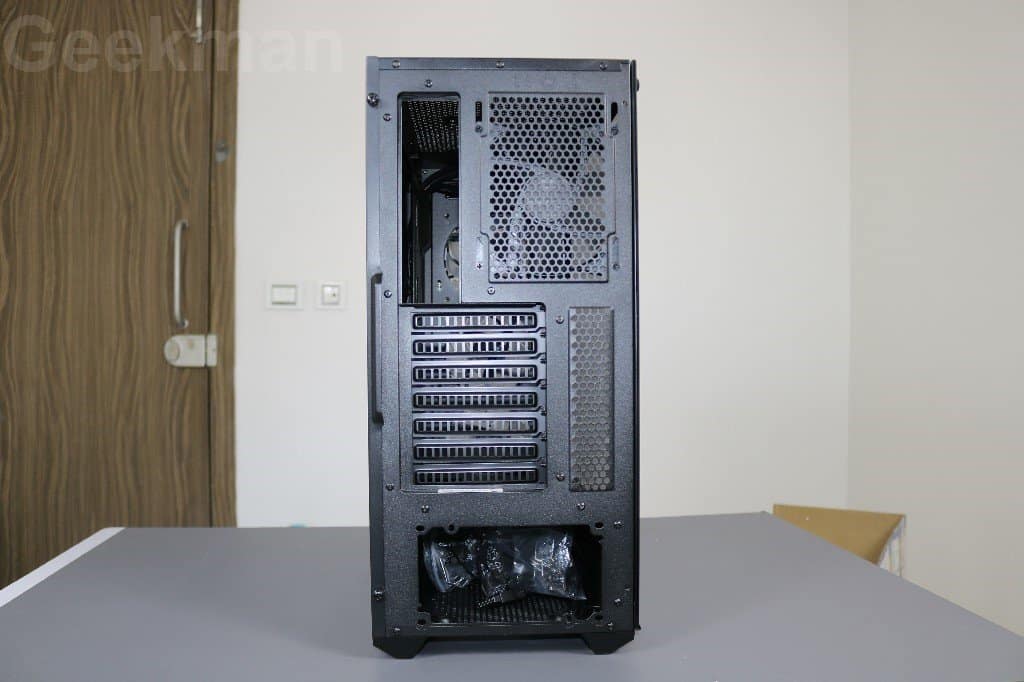 Bottom side
Underneath the MB511 is clean and smooth with nothing strange protruding out and we can see the thin layer of air filter for the PSU air exhaust.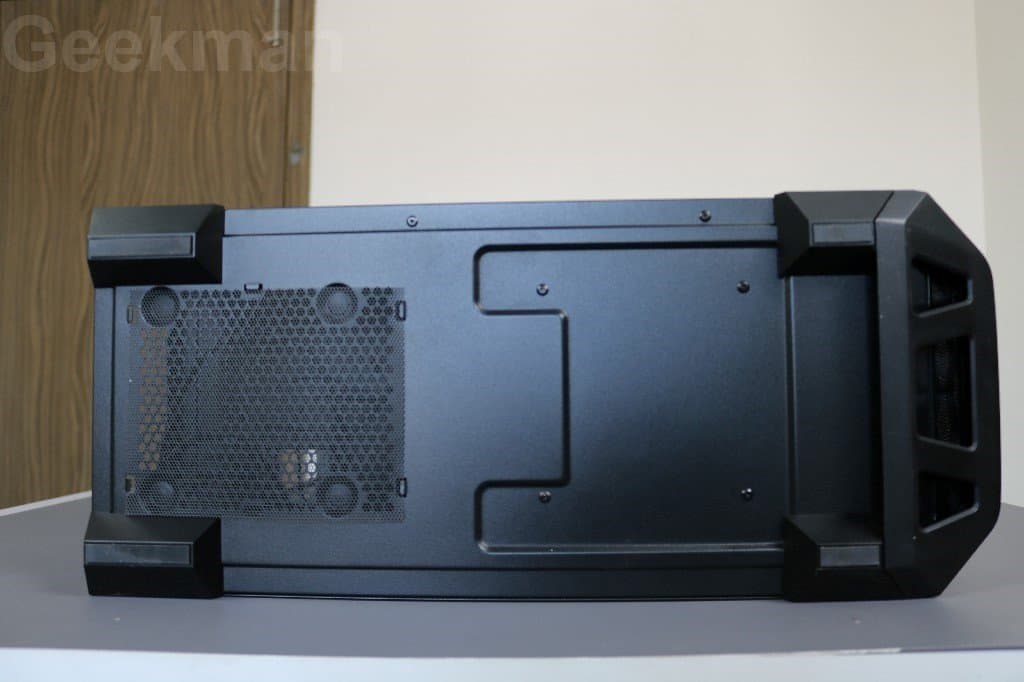 Right side
There is a 1-inch space on the back side to stuff the cables away and easy to make a clean build in this case. Here you also find two SSD mounts on the back the of the motherboard tray, as well as a pair of plastic hard-disk trays in a cage at the end of the PSU bay. Do be aware that the SSD mounts at the rear don't have removable trays, so you'll need to fasten drives using the provided screws prior to installing the motherboard.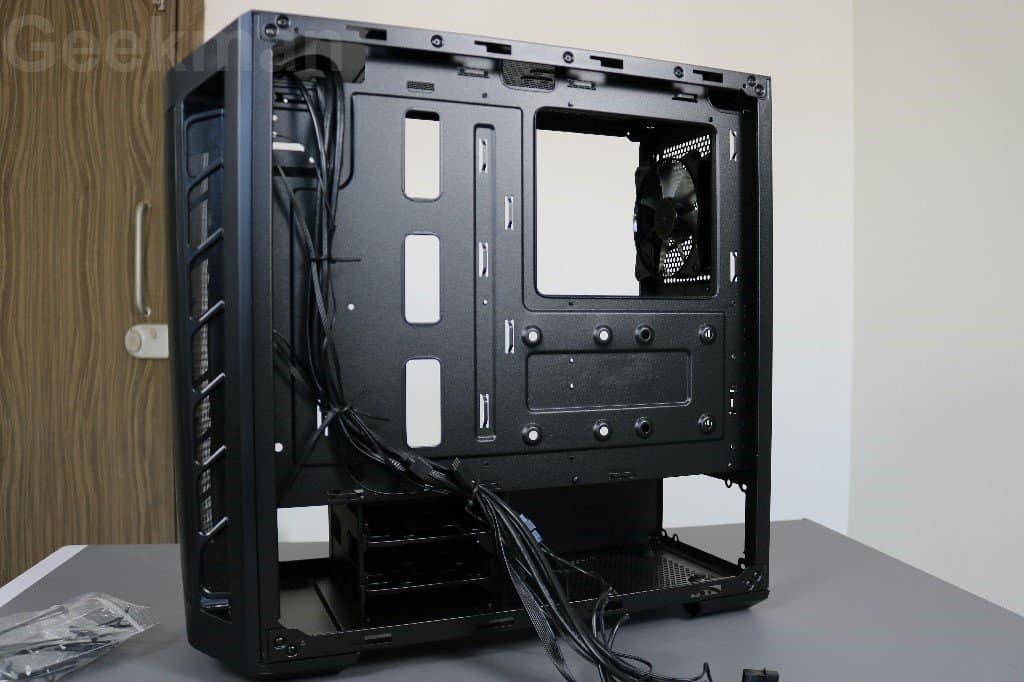 Left side
The left side of Cooler Master Masterbox MB511 is completely transparent with an edge to edge 4mm tempered glass. You can easily see all the components from outside. Because of only 2 screws and side panel bracket removing the side panels is very easy.
All the thing is exceptionally clean and well laid out in this Cooler Master cabinet. When you open the glass panel, you will easily notice dual chamber design, there is a separate PSU shroud that is running through the entire length of the chassis ending just before the front fascia.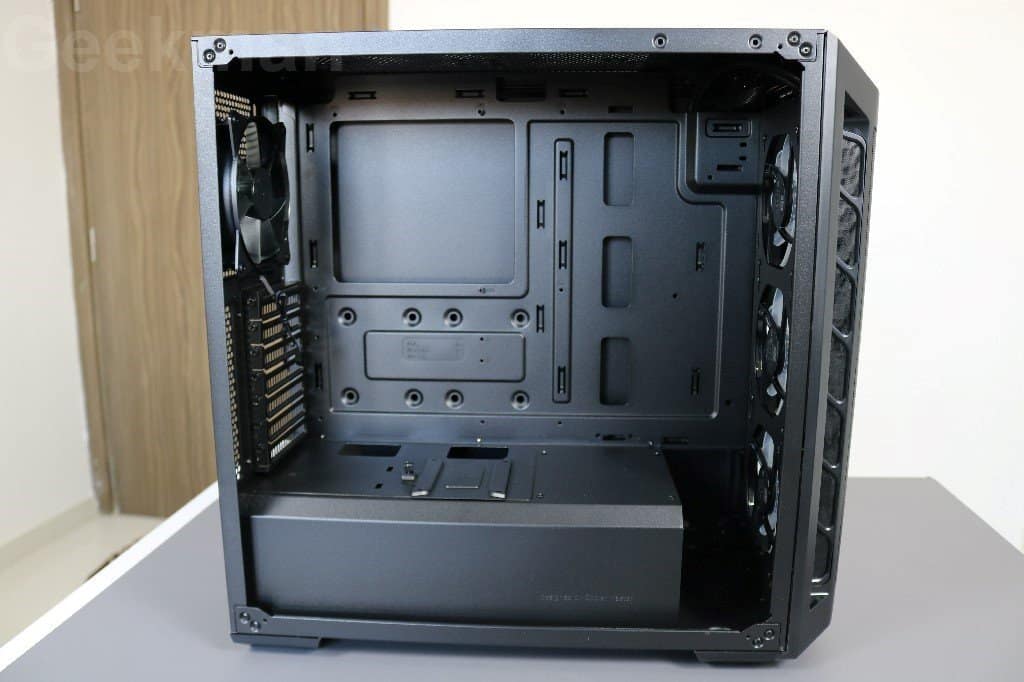 The cabinet supports any micro, mini, and ATX motherboards and graphics card lengths of up to 410mm, which covers even the longest cards in the market today. Also, the MB511 have plenty of space for mounting reservoirs or pumps in case one intends to do a custom cooling setup.
The right amount of Cable holes are available above and to the side of the motherboard tray, as well as in the top of the PSU shroud, making it easy to pass wires to all onboard ports. The cable routing holes aren't lined with rubber grommets, which is a clear sign of cost-cutting but that's not a vital feature anyways & I'm happy that Cooler Master has concentrated the funds on more important features over here.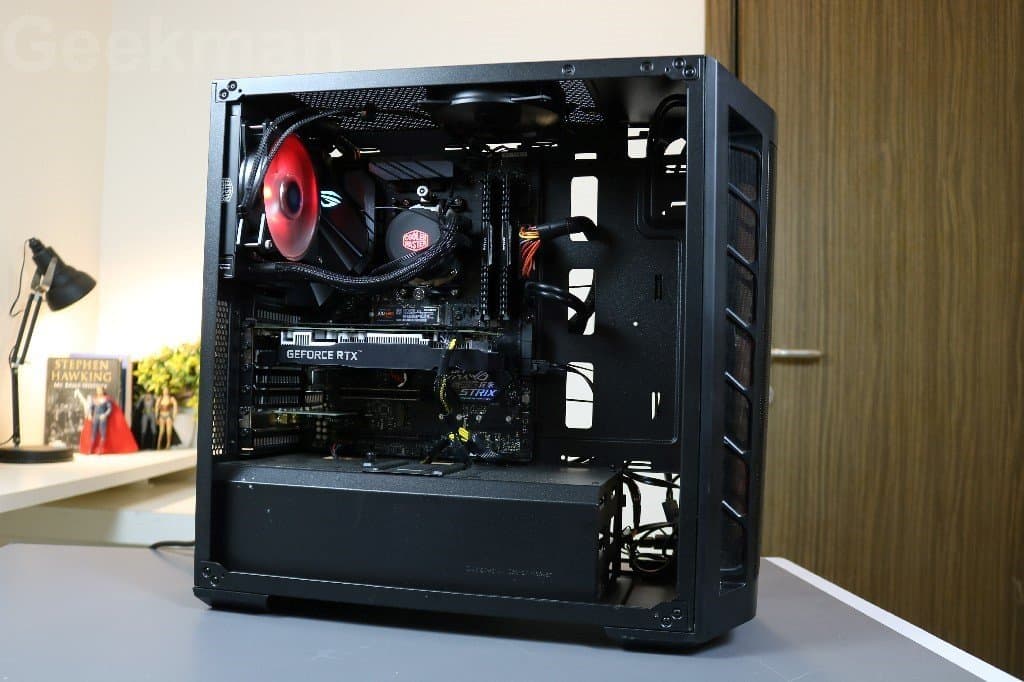 Performance & Thermals
The MB511 has a good airflow due to the complete mesh front panel and 4 pre-installed fans. And I say again, it has plenty of options for radiator and fans. You can install two more fans on top for fresh air intake or exhaust. There is you can also install 240mm and 120mm radiator. For more high-tech gaming build you can also install 360mm radiator on front. So, if you are planning to buy this cabinet, then you should not worry about thermal, I can say with the claim.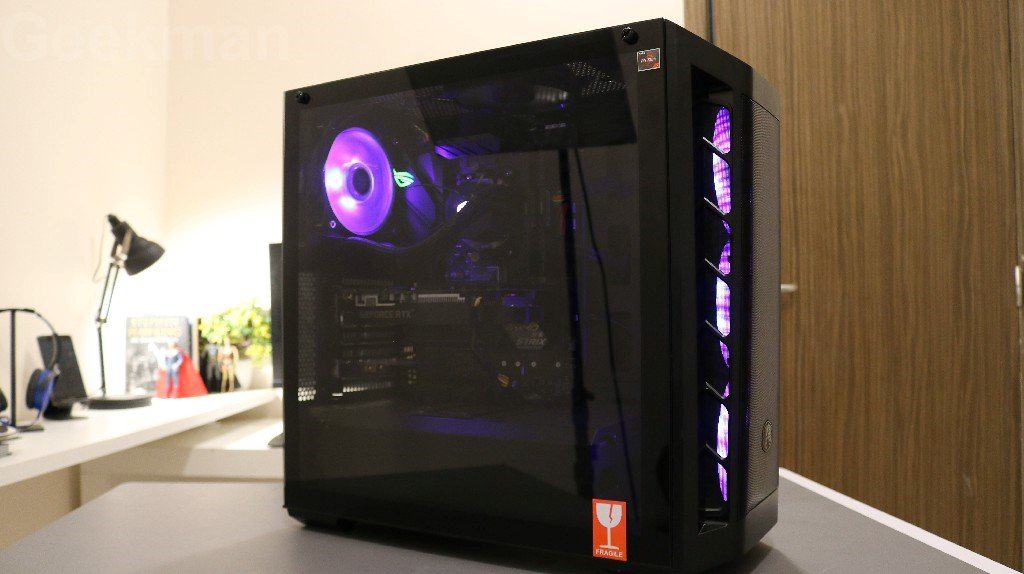 Final word
Overall, The Cooler Master Masterbox MB511 RGB Gaming Cabinet is ideal if you are building a Gaming PC with a budget of Rs. 70,000 to Rs. 1,00,000 . The cabinet has a strong build quality and a classy look. It also comes with good airflow and various sized fans and radiators support. Ultimately, this one is one of the best gaming pc cases under 7000 Rs. More info please check the full review video on my Youtube channel Geekman.
Buy now