The Xiaomi recently launched its new made in India 20000 mAH Mi power bank 2i for Rs.1499. You can choose the 10,000 mAh capacity or the 20,000 mAh capacity. This is 20000 mAh Mi Power Bank 2i Review. If you have any questions, please comment on Post, and you also ask questions on Youtube.
20000 mAH Mi power bank 2i Unboxing
The packaging is really simple, same as previous. The only change is 'made in India' tag added on front. We get a micro USB cable and User manual with this power bank. The cable quality is quite good. Please note, there is a security code on the packaging of the Mi Power Bank, which can be verified on its official website. Scratch the coating to see the verification code and check if the power bank is original or not. You can also watch Mi power bank 2i unboxing video on my youtube channel.
Mi Power Bank 2i Specifications
ABS plastic body
Capacity: 20000 mAH
Battery type: Li-Po
Quick Charge 3.0 support
Intelligently adjusts power output
low power charging
Two output ports, 5.1V, 2.4A MAX
Input, 5V, 2.0A
Two-way fast charge
9 layers of circuit chip protection
Weight: 359g
Dimensions: 69.6W X 149.5H X 23.9D mm
Design & Build
The 20000 mah Mi Power banks 2i have ABS plastic body that gives them solid build quality and premium look that you don't expect in power banks in this price range. Honestly, I prefer plastic over the metal casing, the reason being that a plastic casing doesn't scratch easily and is not as slippery as metal. It has a textured pattern on the front and the backside, that aims to improve grip. It also helps to improve the look. The plastic casing of this power bank makes for a far better finish, it doesn't make the surface very slippery as the aluminium design. The casing is also scratch-resistant.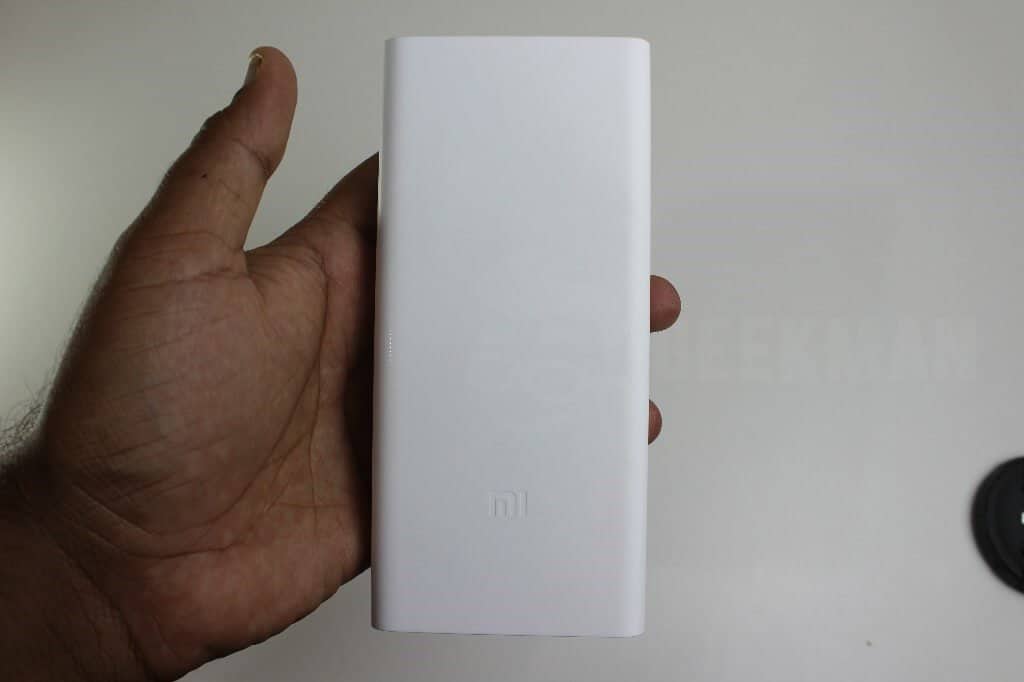 The 20000mah Mi power bank 2i available only on white colour option. I think Xiaomi need to give other colour options because white colour can be easily dirty. It has curved corners and has Mi branding on the front. It has two 2.4A(5.1V, 9V/12V15W MAX) USB output ports (fast charging) and micro USB input (5V,2.4A) port on the top side. There is a four-LED indicator light at the top of that shows the charge remaining, with each LED corresponding to a 25% charge. The power bank automatically switches on and off as soon as you connect a device, but there's a dedicated power button on the right as well.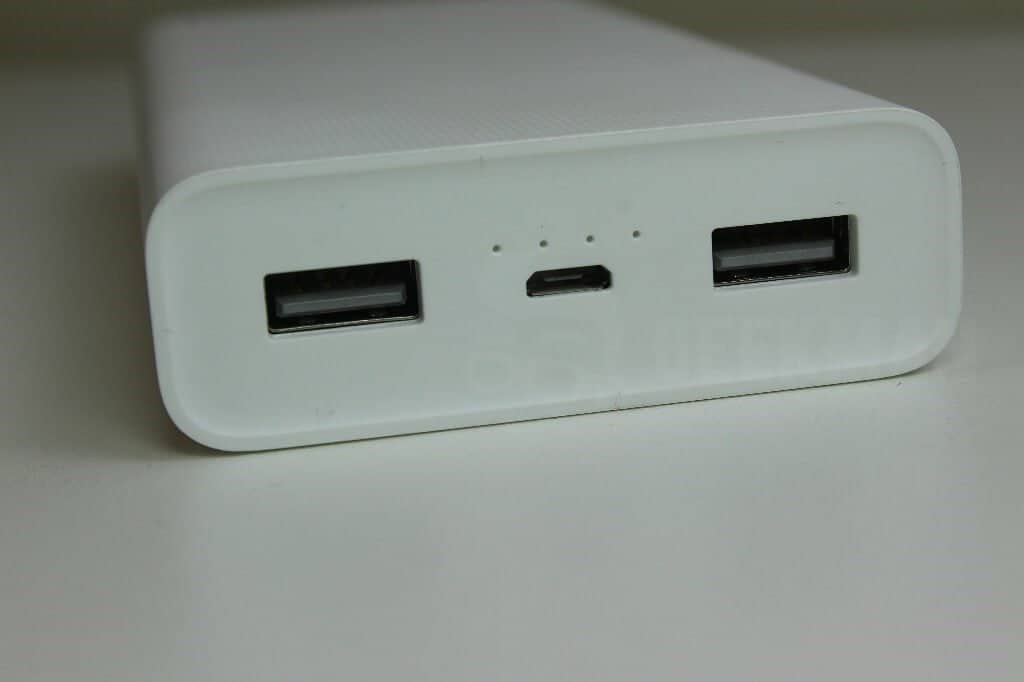 The Power bank is not too much bulky compared to the huge 20000mAh capacity. With an overall weight of 359g, the power bank is lighter than other 20000 mAH power bank, which is impressive. The best part, there is no heating issue while charging or discharging. The dimension of Mi power bank 2i is just 2.8 inches wide, 5.8 inches long, and 0.94 inches depth.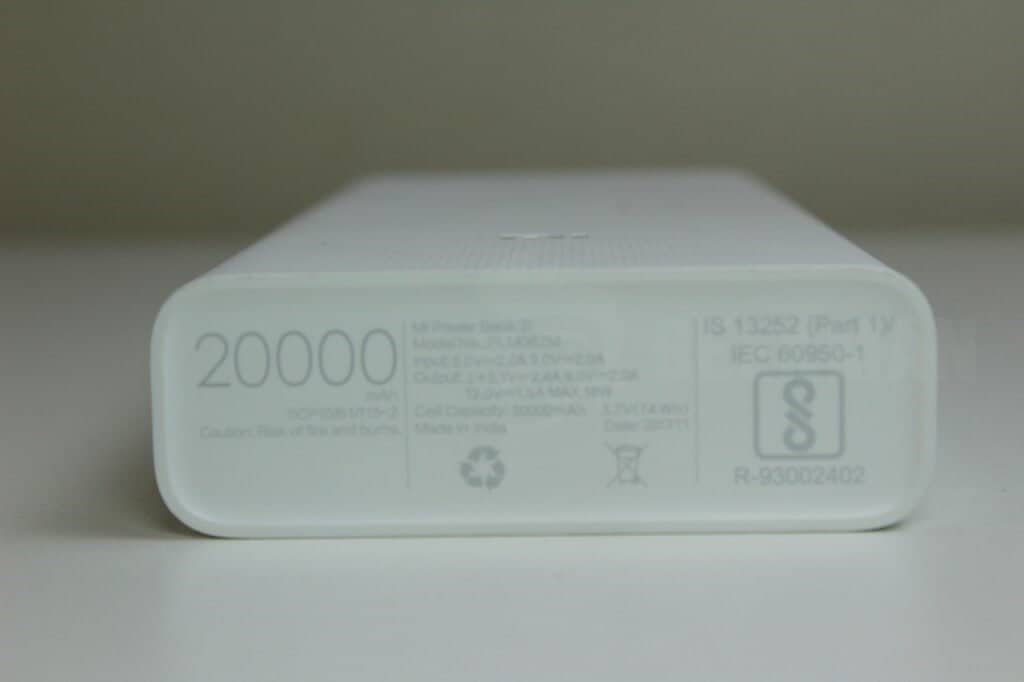 Capacity & Charging
The new 20000mAh Mi Power Bank 2i has features six high-density batteries from Panasonic and LG. The USB power control and charging chips of this power bank are made by Texas Instruments, which are far more reliable than what's commonly used in other power banks in this price range. It can deliver 13000 mAH capacity out of 20000 mAH, as 85% charging conversion rate claim by Xiaomi. Power lost during voltage conversion is a common problem in power banks, so don't expect full capacity in any power bank.
The 20000 mAH Mi power bank 2i charge your 3000 mAH battery-powered phone for 3.2 times. It means you can charge your iPhone 7 for 7 times and Mi A1 for 4.1 times. times. During the test, this power bank charges my Oneplus 3t(3400 mAH) for 3.8 times.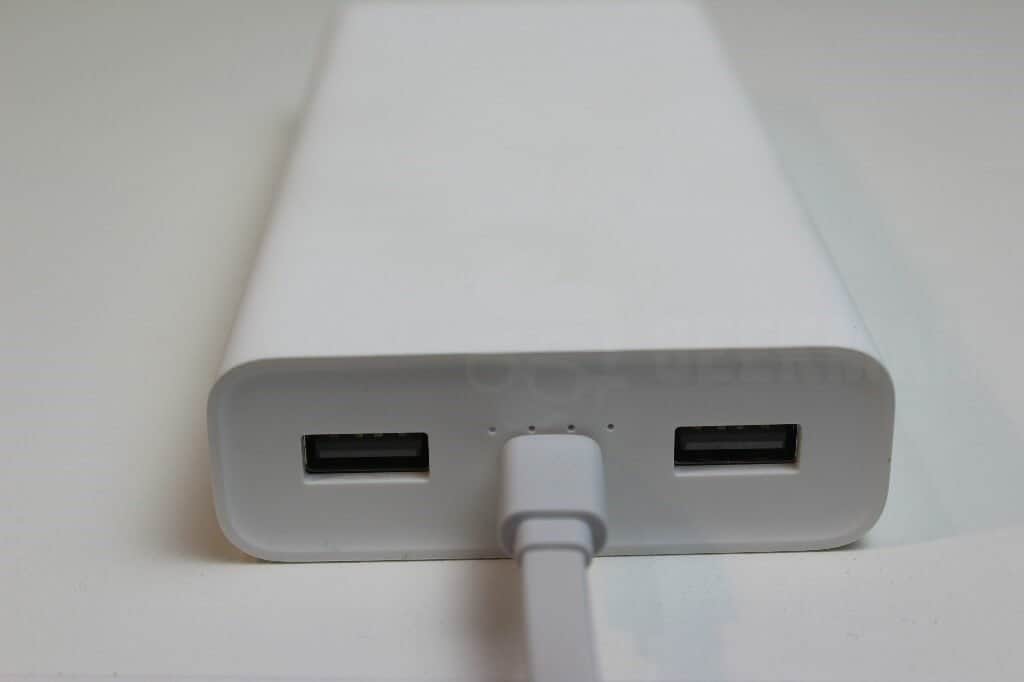 The best thing about Mi power bank 2i is that it supports 'Quick Charge 3.0' technology. It only works when you are charging using a single port. And of course, It supports fast charging in both ways. The 20000 mAH Mi power bank 2i has a two 2.4A (5.1V, 9V/12V) output USB ports so it can quickly charge your phone compared to others. It charges 3000 mAH battery powered phone within 1:30 hours. If your phone supports fast charging.
This power bank support 2.0A (5.0V) input. If you use a fast charger(2.0A or 2.1A), it takes around 9 hours in full charging. With 18W/2.4A charger, it takes only 4 to 5 hours in full charge. Basically, actual charging time depends on your wall adapter.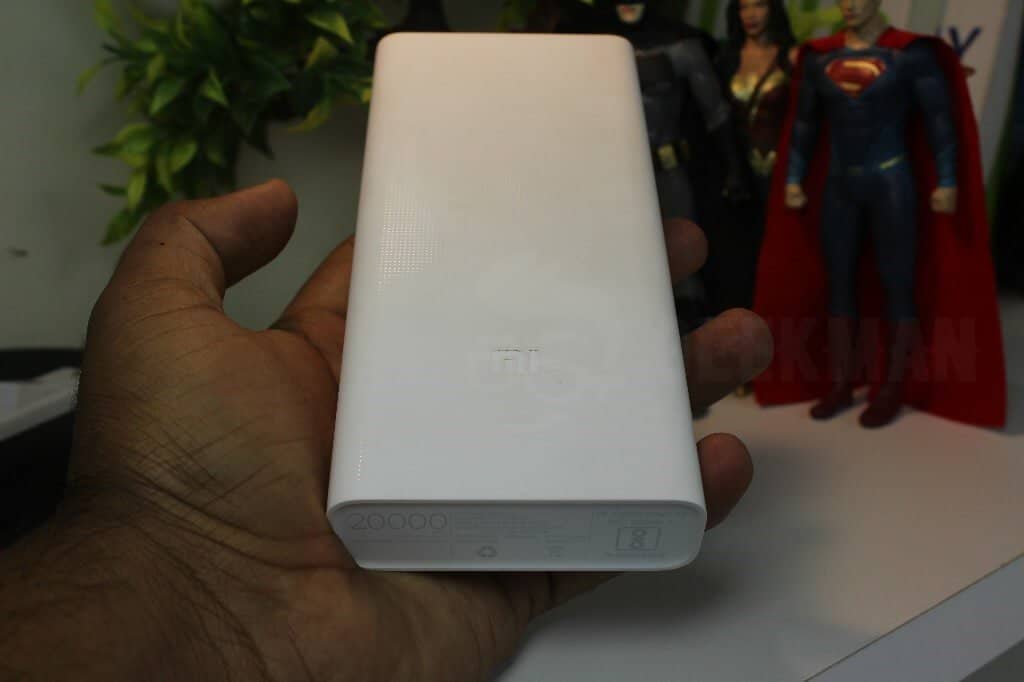 It also comes with 'Intelligently adjusts power output' feature, so you don't need to worry about your smartphone input voltage. The 20000 mAH Mi power bank 2i feature a low power charging mode, specially designed to charge low power devices such as a Bluetooth headset and Fitness tracker. To start low power mode press the power button for two times, once done you will find the LED blinking in the sequence which means the power bank is in low power mode. Another interesting thing, it comes with 'Pass through Charging' capability. This enables you to charge the power bank and your phone all at the same time.
Safety Features
The 20000 mAH Mi Power bank 2 comes with lots of safety features.
Protection from Output Overcurrent
Reset Mechanism
Temperature Resistance
Output Overvoltage Protection
Protection from Short Circuit
Input Overvoltage Protection
Protection from Overcharge and Over-discharge
Protection from Incorrect Insertion
PTC Protective Circuits for the Cell
Should you buy it?
Overall, Mi power bank 2i is highly recommended for the impressive build quality, huge capacity, and affordable price tag. And the main thing, quick charge support. For its asking price, the 20000mAh Mi Power Bank 2i offers a lot. We can't expect much more at this price. I would say this is simply the best 20000mAh power bank you can buy at this time in India.
Buy now