Grooming is a part of our life. Not only fashion models but professional also prefer clean or short-styled beard over a rugged appearance. For each body area, there is a dedicated machine available in the market. However, it is tough to buy and store all of them. Good thing is that in this situation multipurpose grooming kit comes in handy that offers complete grooming. It takes very little space in your grooming table and offers full grooming. Whether you want to style your beard or want a clean shave look, the Syska HT4500K will do the job for you. Let's take an in-depth look at this trimmer to know more about it.
Box Content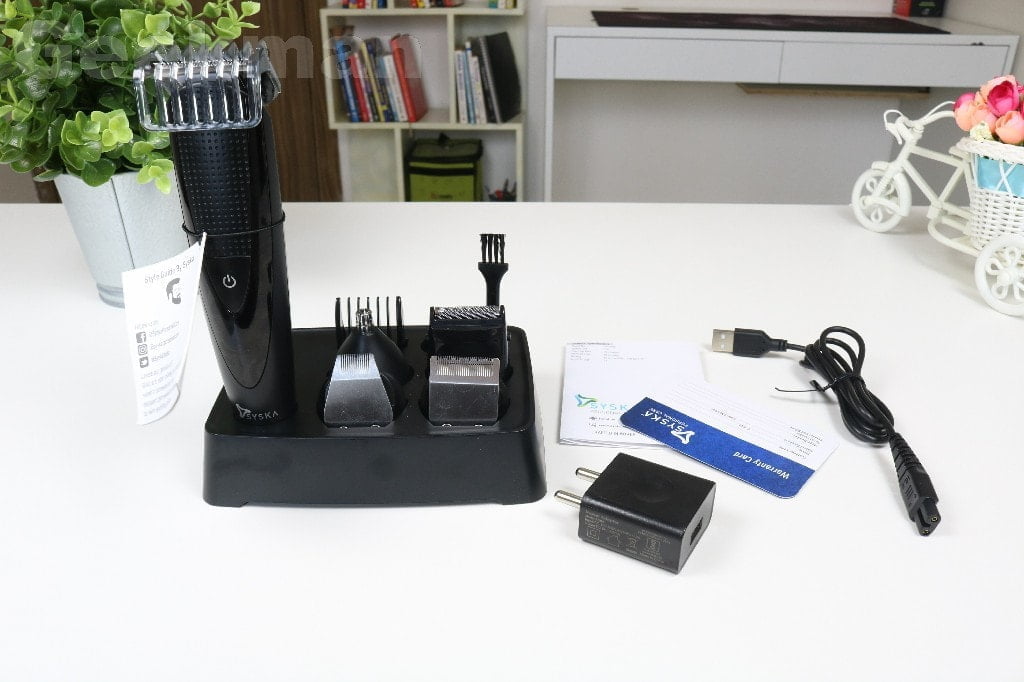 Paperwork: User manual and warranty card.
USB charging cord and Power Adapter.
Charging Dock.
Attachments: Beard blade, Shaver, Nose Trimmer, Small Trimmer Blade, Precision blade.
Small Cleaning brush
Design & Build
On the design front, the Syska HT4500K looks really stylish and premium. The all-black colour finish gives it a luxurious appeal. The best part is that It doesn't have too many fancy buttons to create confusion for newbies and elders, the operating and using is really easy.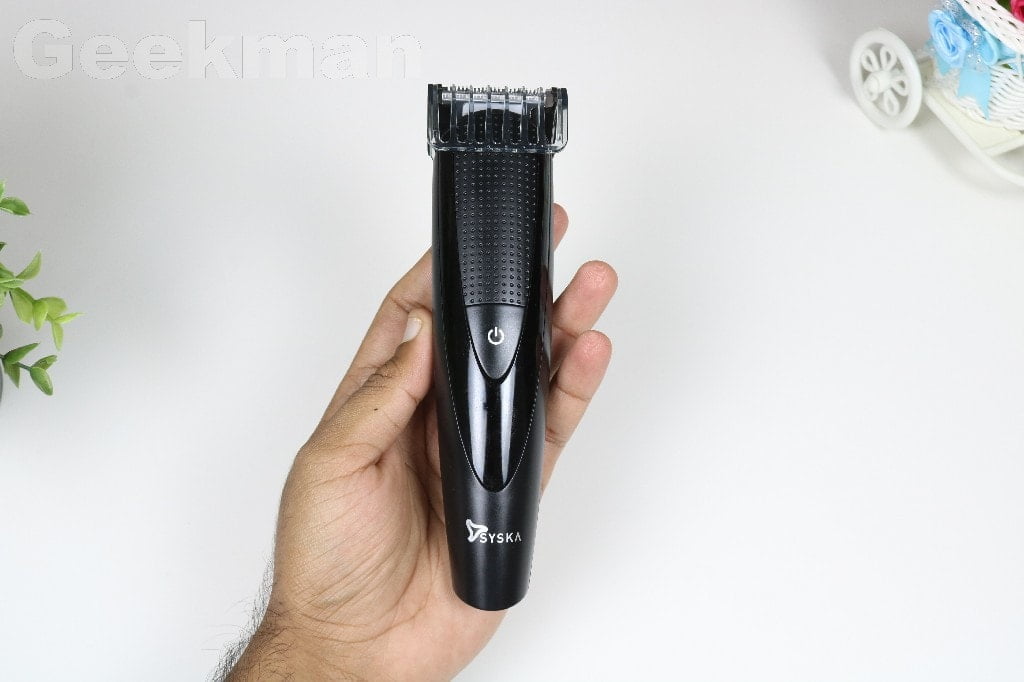 The Trimmer is made from high-quality plastic material, but still its very lightweight (Only 159 g). It is ergonomically designed to fit in the hand perfectly, and you can use it for hours without feeling any discomfort in your hands.
Syska HT4500K Trimmer Main Features
IPX7 Waterproof Rating
The trimmer comes with an IPX7 waterproof rating, so you can use it while dry or wet shaving both. Apart from this, the waterproof feature makes it easy to clean. You can simply clean the machine under running water assisted by the included cleaning brush.
Cord & Cordless Use
Sometimes it's frustrated to see that when you're in hurry to go somewhere and your trimmer is down. Good thing is that the Syska HT400K can be used both cord and cordless.
Dedicated Charging Dock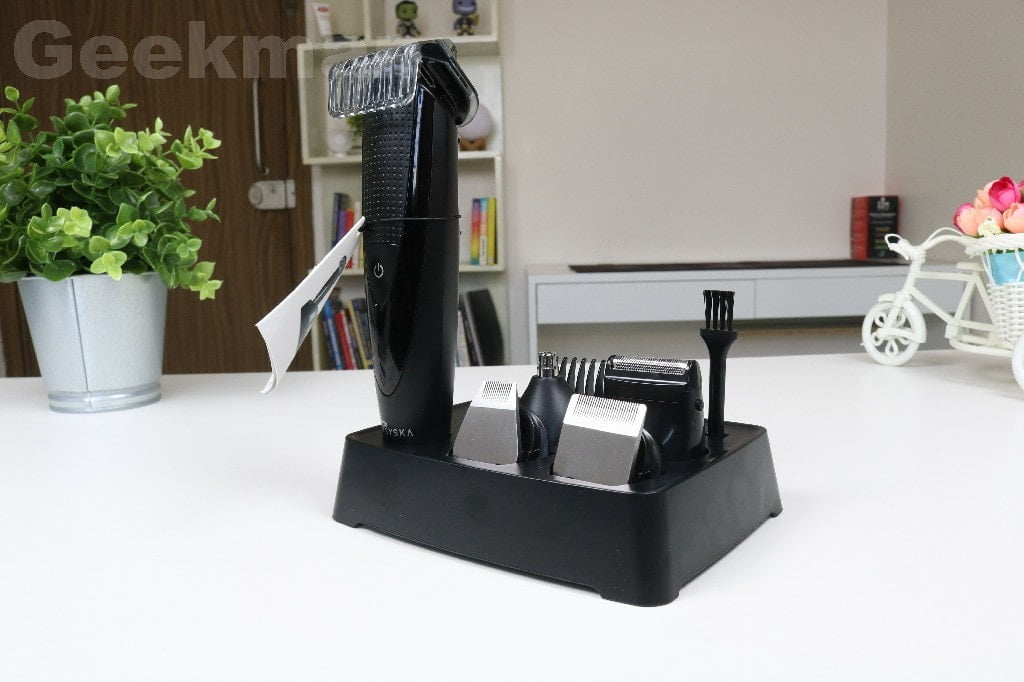 The HT4500K comes with a dedicated charging dock where you can put all your attachments and the trimmer itself. You just need to plug in the power cord with the charging dock and the trimmer at his respected place. It will automatically start charging.
Good Battery life
Syska claims that the HT4500K provides up to 60 minutes of running time after charging it for 90 minutes. For some people, 90 minutes charging time is much but it's still far better than those Philips trimmers who take a whole night to charge the trimmer. In terms of battery life, I'm fully satisfied with this machine because 60 min of the running time is more than enough to do complete body hair grooming.
LED Battery Indicator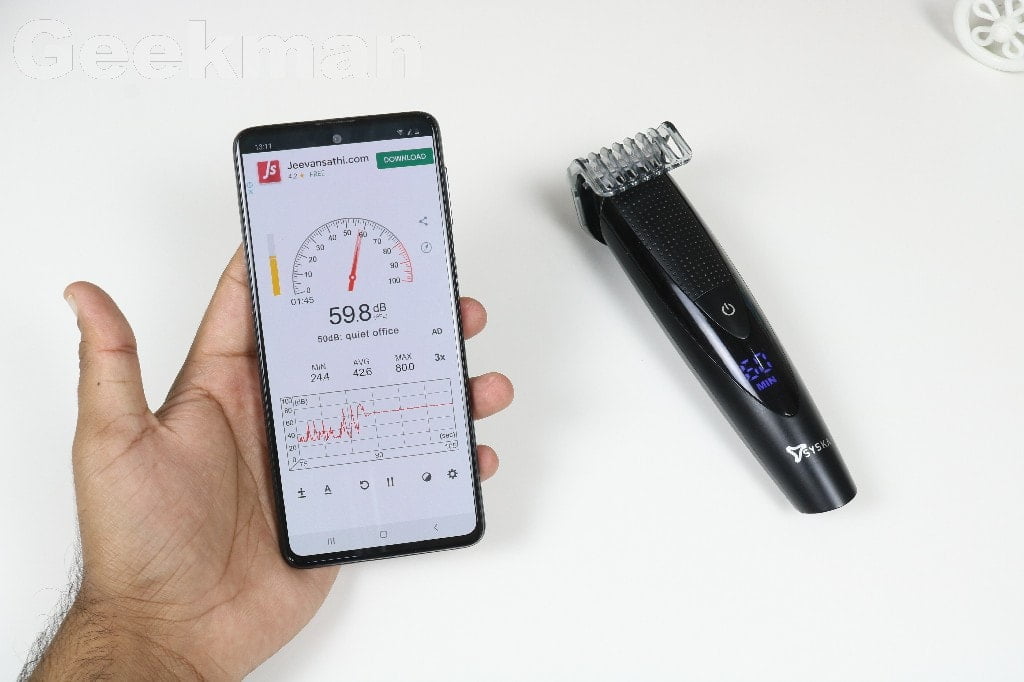 It comes with a dedicated LED display that shows the remaining battery life in percentage along with other important notifications such as charging indicator, travel lock indicator, etc. This allows you to charge your trimmer when it gets discharged. It's not a necessary feature for a trimmer but still comes in handy for many reasons.
Travel Lock
You will get a travel lock that comes in handy when you travelling anywhere with this shaver. By press and hold the power button for 4 sec you can turn on the travel lock and do the vice versa to turn off. Travel lock completely locks the trimmer and it will not get started accidentally in your bag until you turn off the travel lock.
Precise Length Settings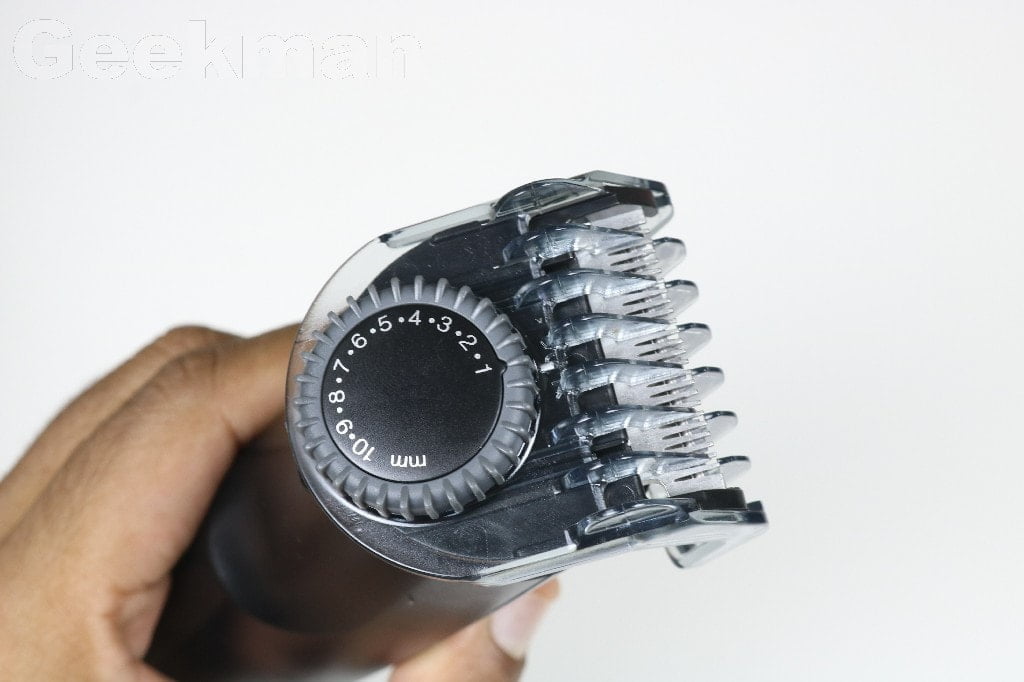 The attachment you get with this machine comes with a special jog dial that offers 20 length settings. You can precisely set your beard and for small corners it a dedicated small attachment that helps you to adjust your moustaches and sideburns as well.
Precise and Efficient Cutting System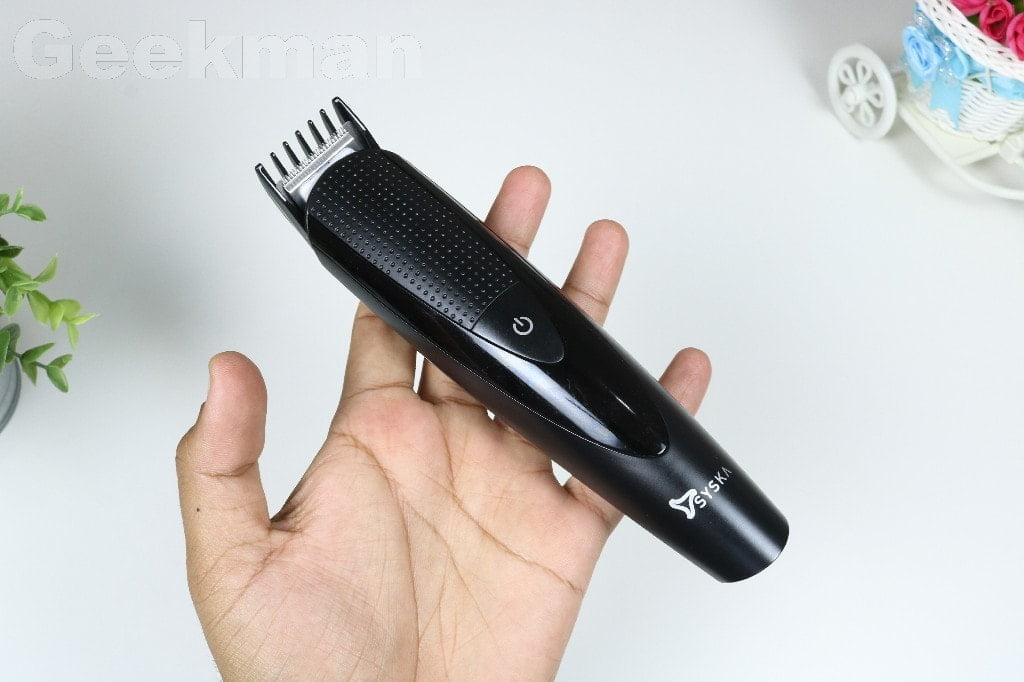 The Syska HT4500K comes with SensoCut Blades which precisely cuts your beard every time. On the advanced side, the blades are self-sharpening and don't require any oiling even after prolonged use. It has all the necessary attachments to trim or shave your body hairs from any area. You don't need to buy any separate machine to trim your body hair. This multipurpose grooming kit offers 20 length settings that provide accurate styling for your hair and beard.
Skin Friendly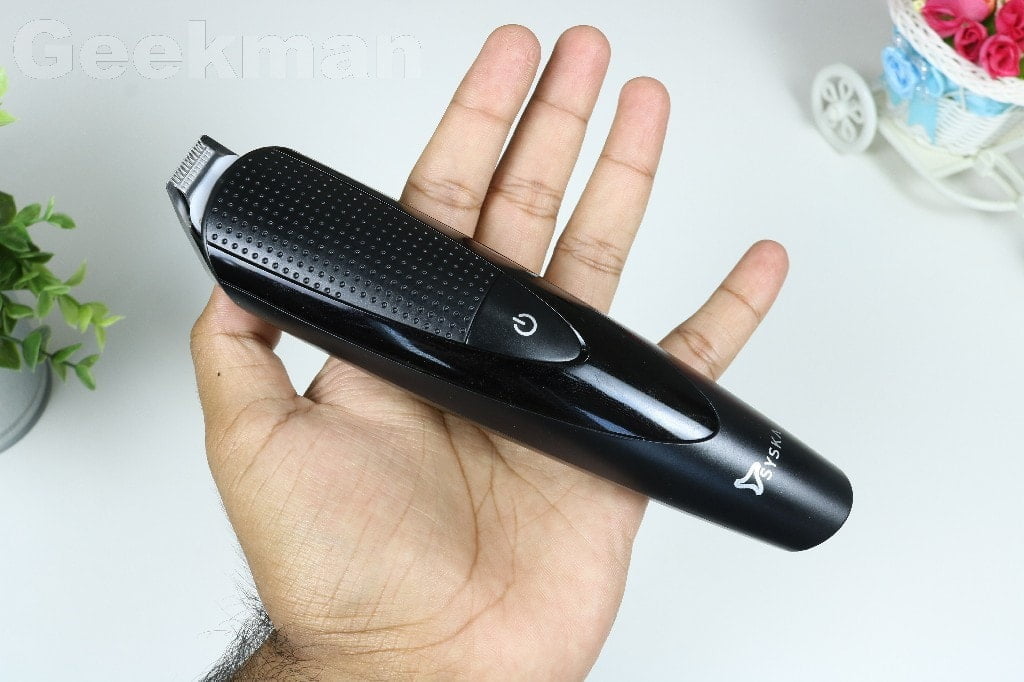 Whether you have sensitive or hard skin the Syska HT4500K blades adapt itself according to your skin types. You will not get any patches or spots while using this machine on your skin. Not only facial hairs you can even use this machine to cut the bushes down there (Pubic hairs).
Multipurpose Grooming Kit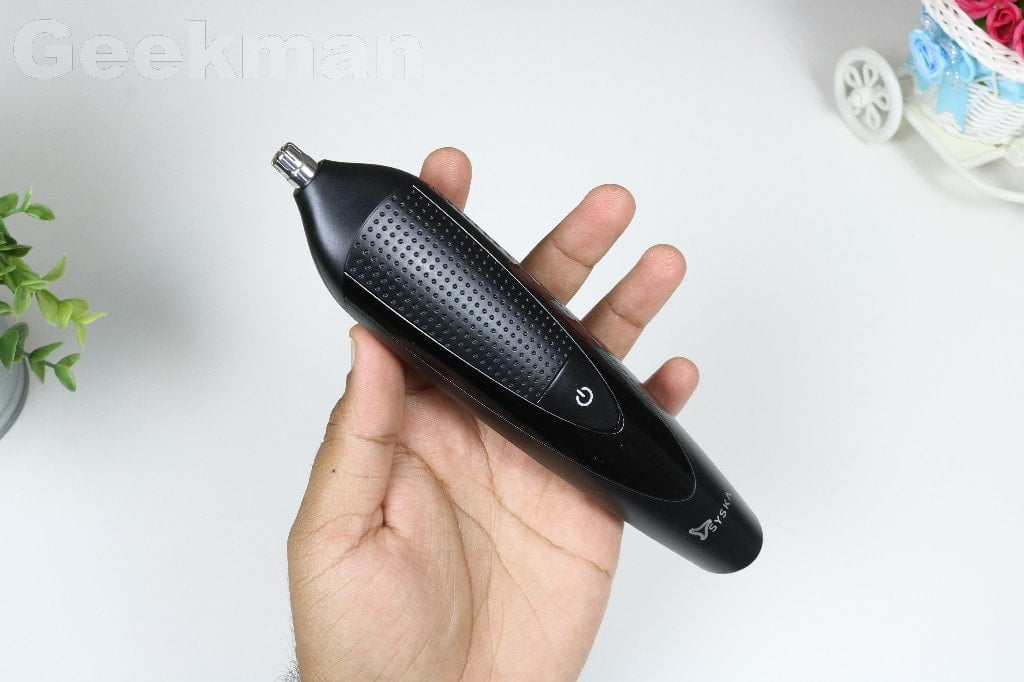 As it's a 5-in-1 head-to-toe multipurpose grooming kit that comes with the benefit of hair clipper, trimmer, shaver, nose trimmer. If you love the clean shave look then use the foil shaver attachment and if you want to style your beard and hair then use the trimmer attachments. You will also get one small precision blade attachment for better beard styling. To take care of all your grooming needs the Syska HT4500K also comes with a nose and ear trimmer attachment.
Final Verdict
All in one, the Syska HT4500K is the best budget value for money full-body Multi Grooming Kit. More info please the full review video on our youtube channel: Geekman.
Also Read: