With AI on the rise, ChatGPT has been a hot topic in every sector of technology. The impact of ChatGPT has been prominent in various sectors, including messaging platforms. The integration of ChatGPT with such platforms allows AI content in every text Message. So, such a feature is wanted in the most popular messaging app–Whatsapp.
If you want to know how to use ChatGPT on WhatsApp, you've come to the right place. We gathered some Whatsapp AI bots that will help you integrate ChatGPT on WhatsApp.
---
How to use ChatGPT on WhatsApp through BuddyGPT
BuddyGPT is based on the GPT model 3. For usage in Whatsapp, this model has been tweaked to sound more natural in a conversation so that users won't feel like they are actually texting a bot.
To set up BuddyGPT on Whatsapp, follow these steps:
Step 1: Go to the official BuddyGPT website on your mobile
Step 2: Click on the "Try for free on WhatsApp" button. If prompted, click "Open."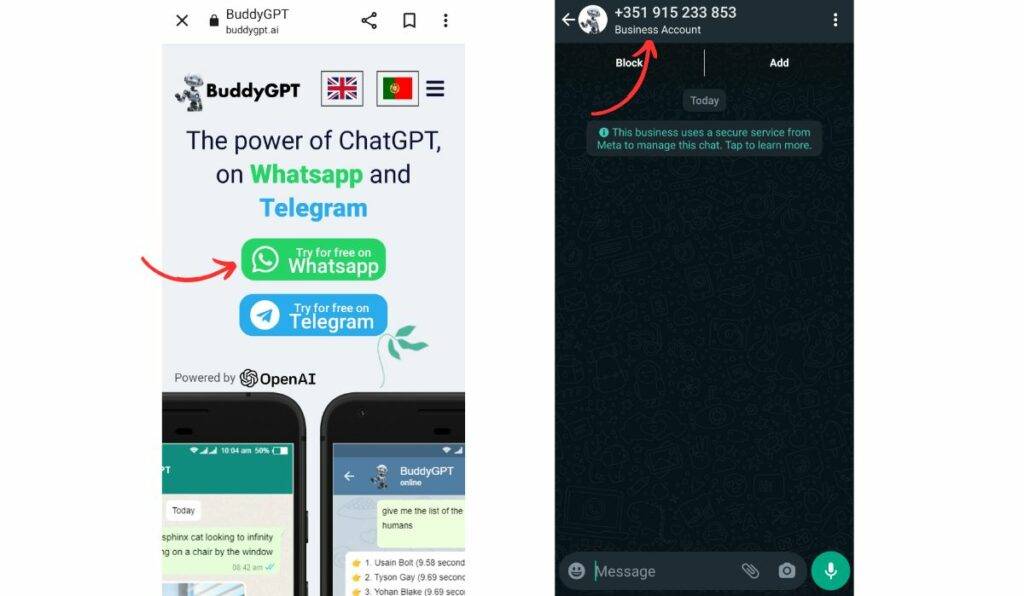 Step 3: Type "Hello" in the chat screen and select your language from the menu. Click "Send."
ChatGPT will send some messages detailing its commands and limitations.
Step 4: Begin using BuddyGPT on WhatsApp by typing out your prompt and sending it.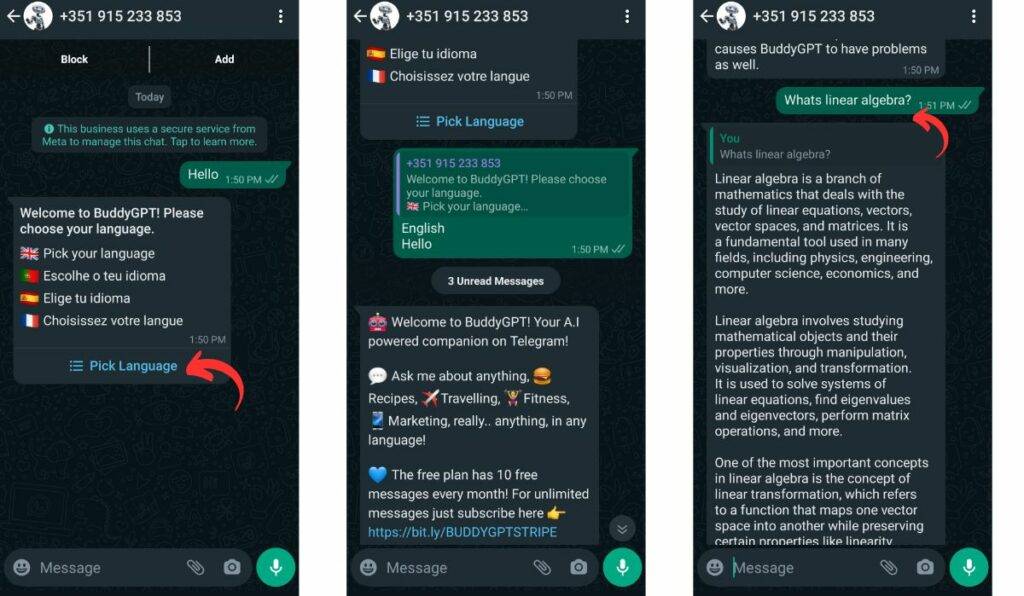 The chatbot provides quick and accurate responses, and you can even generate AI images. However, note that there is a limit of 15 free messages and 5 images per month. To get unlimited messages and 5 images, you can purchase the Texty Plan for $3.92 per month.
---
How to use ChatGPT on Whatsapp through Shmooz AI
The next bot is Shmooz AI, which is similar to BuddyGPT since it is also based on the Open AI GPT3 model. You can follow the steps below to set up BuddyGPT on Whatsapp:
Step 1: Open the official Shmooz AI website on your mobile device.
Step 2: Tap the "Start Shmoozing" button.
Step 3: Tap the "Continue to chat" button to be taken to the chat screen.
Step 3: A message will already be typed for you in the message box (Let's Shmooz). Simply send it to start chatting with the bot.
Step 4: Now, chat with Shmooz AI on WhatsApp, just like ChatGPT.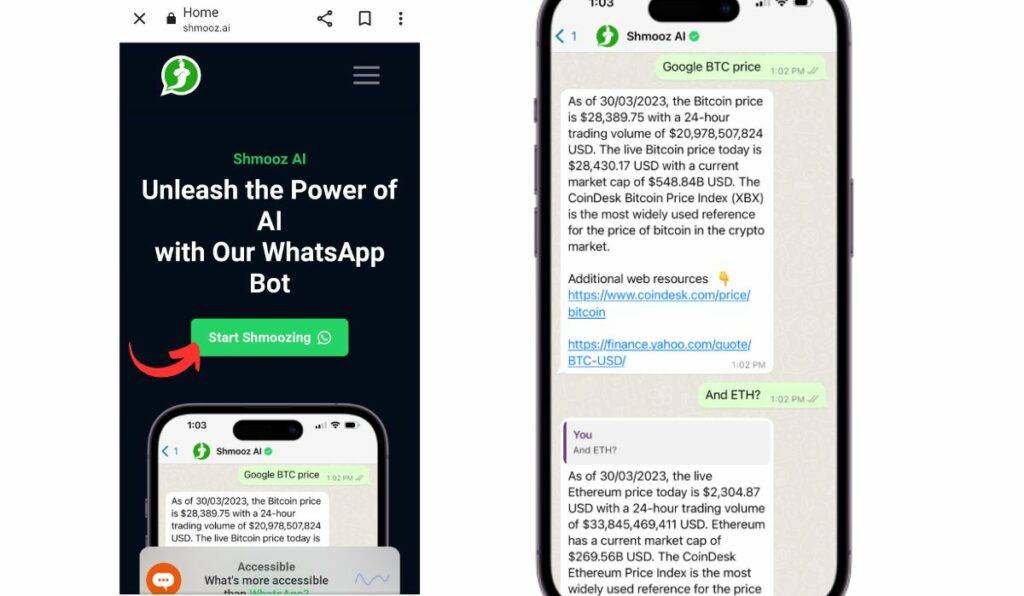 Cost: Keep in mind that Shmooz AI is a paid service that only offers 5 free messages. After that, you will need to sign up for a premium subscription, starting at $9.99 per month, for unlimited access.
---
How to use ChatGPT on Whatsapp through WizAI
The last bot Which you can use to integrate ChatGPT in WhatsApp is WizAI.
WizAI utilizes the GPT-3 LLM to generate advanced and accurate responses. To set up WIzAI on Whatsapp, follow the steps given below:
Step 1: Click on the given link to go to the official WizAI website on your mobile device.
Step 2: Press the "Get Started" button to open WhatsApp automatically. Give permission by tapping the "Open" button if asked.
Step 3: You can start chatting by typing anything and sending it.
Cost: Initially, you have 5 free messages available, so use them wisely. Once you exceed this limit, you will need to pay $5.99 per month.
---
Final Verdict
So, this is how to use ChatGPT on WhatsApp with three different methods. Remember that the messages are limited, and you must purchase the respective subscription to use the service more often a day. Using these bots, you can even integrate ChatGPT into Telegram. If you want to check out more ChatGPT-related content, you can look into the Best ChatGPT alternatives, or if you want to upgrade your ChatGPT experience, you can check the Best ChatGPT Chrome extensions.
---
Also Read: