ChatGPT is currently at its peak popularity, and anyone on the internet who doesn't know ChatGPT must be living under a rock. Millions of people from all age groups use ChatGPT regularly. A lot of those people may be using ChatGPT without unlocking the full potentiality of the chatbot. ChatGPT chrome extension is one tool that can enhance the Chatbot and unlock a whole new plethora of features.
With these Chrome extensions, you can integrate ChatGPT into different websites or generate automatic prompts. We have you covered if you're searching for the best ChatGPT chrome extensions. Listed below are 10 ChatGPT chrome extensions, each with its own unique set of features.
These are the best ChatGPT chrome extensions that you should try
---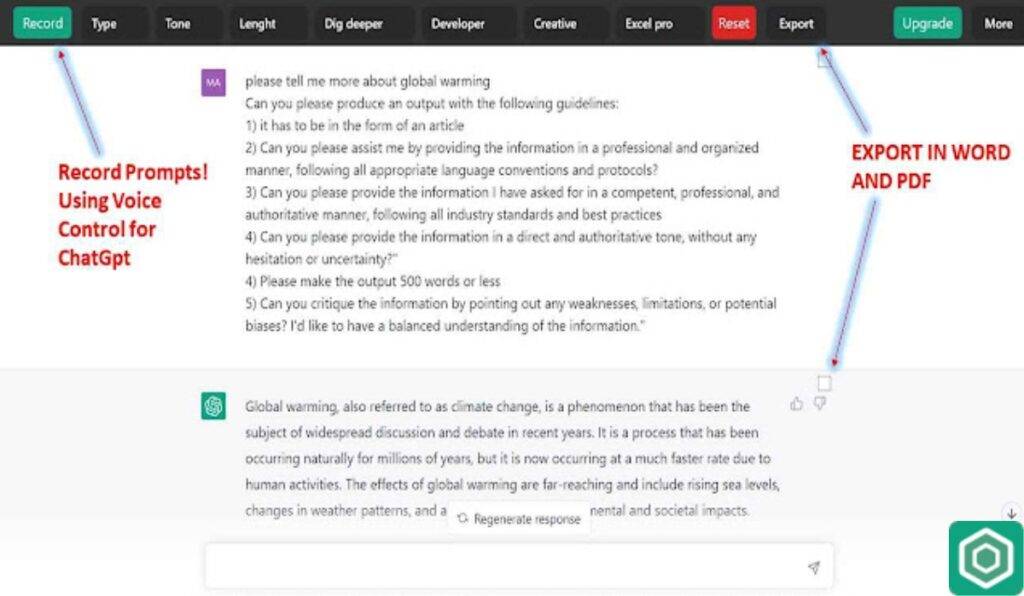 Want to boost your ChatGpt skills like a pro? Look no further than the "Ultimate Toolbar GPT." Inserting prompts and writing tones can be annoying while using ChatGPT. This tool simplifies the process by providing 200 combinable prompts that allow users to tailor their chats using various methods, styles, and objectives.
You can even speak to ChatGpt using voice prompts, making it easy to dictate your ideas and get them transcribed in real-time. This tool will especially come in handy for students since it can easily export your outputs in Word or PDF formats. So, whether you're working on a school project or need to send a quick message, you can easily share your work with others. Once you add this extension, all the features are neatly arranged in the "Bar Section" at the top of your ChatGPT home screen.
---
The WebChat GPT is my second choice on the best ChatGPT Chrome extensions list. Many people use ChatGPT to extract various information, so users might wonder if the information is factual. Since "ChatGPT is limited to the Data from 2021," it still lacks the latest information (post-2021). The Best ChatGPT chrome extension for fact-checking and overcoming that problem is WebChat GPT.
The extension enhances ChatGPT's capabilities by providing additional relevant web results to supplement the chatbot's responses. By entering a prompt, users can prompt ChatGPT to search the web for relevant links and display the results, which are then used to compile additional information. While this extension slightly increases the length of the chatbot's responses, the additional information provided can be valuable to users.
This feature includes filters such as time, region, and the number of results and can be toggled on and off as needed. However, it is crucial to remember the potential for plagiarized content, as this feature raises concerns.
---
When using ChatGPT, correct prompts are essential since they result in the outputs. "The better the prompts, the better the outputs." In terms of prompts, AIPRM chrome extensions outshine the other extensions on this list. This tool has a community built inside it with prompt templates, and users can even share their prompts inside this shared space.
You can choose the community/topic from SEO, Marketing, Saas, and even 'software Engineering.' With the SEO, marketing, and sales topics, you get all the prompts to boost your site's ranking and get more traffic. It's just like social media, but for ChatGPT prompts. You can save and share your favorite prompts with the community and even like, comment, and share other people's prompts. Its social media-like feature makes it unique compared to other extensions.
---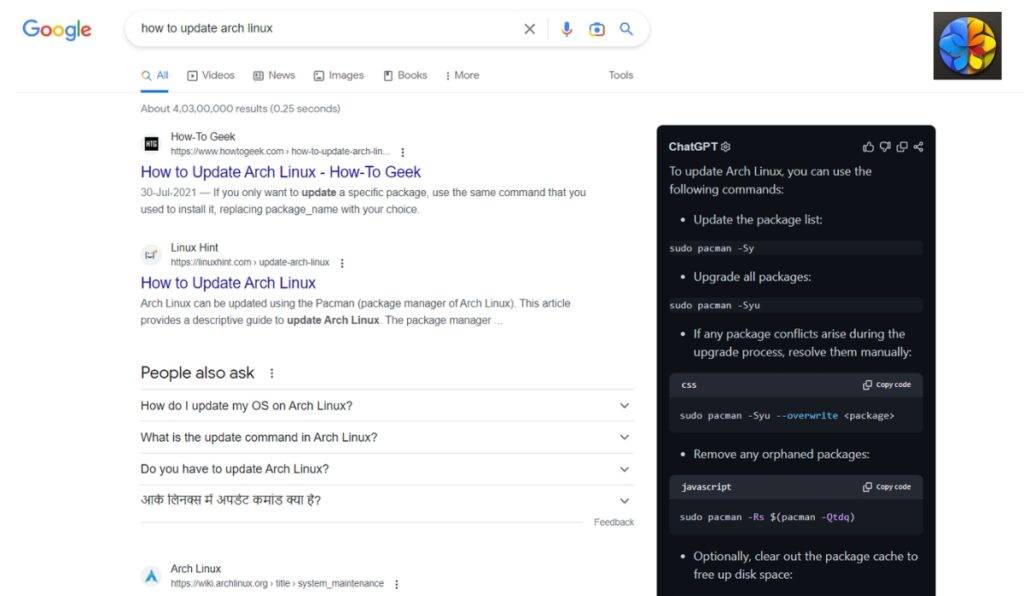 This tool is perfect for someone researching on google and using ChatGPT at the same time. Manually copying and pasting the information from the browser to ChatGPT is inefficient, so to fix that issue, you need "ChatGPT for Google." This chrome extension enhances your Googling experience by integrating ChatGPT into the search engine. All you have to do is log in to OpenAI using the extension to start using it.
The simple-to-use aspect makes it one of the best chrome extensions, all you need to do is set up the tool and use Google as you would normally do. You will get a new ChatGPT panel on the homepage when you search for a topic. This panel renders all the information about the searched topic and provides a summary of fine-lined data. The extension doesn't require any prompts since it takes your queries as prompts.
---
Youtube Summary with ChatGPT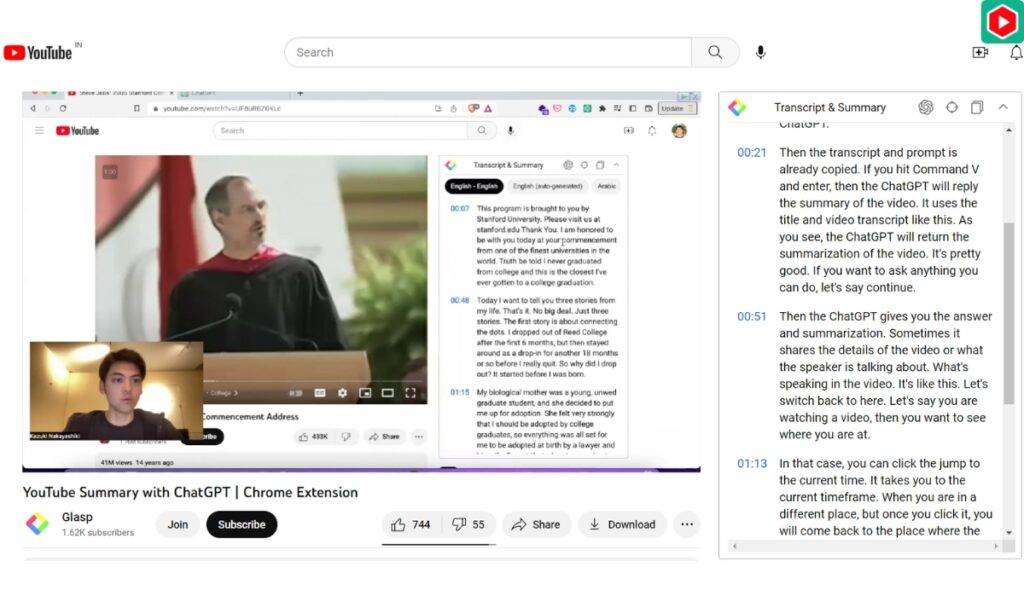 The creators of Glasp (a chrome extension known for its highlighting features) have introduced a new Youtube Summary tool combined with AI. For the impatient ones browsing youtube for quick information and who don't want to indulge in long videos, this chrome extension is for you. Any video you play on the website will have a YouTube summary box next to it when you have installed and logged in.
If the video transcript is available, then this tool copies and pastes the entire transcript, and using a command, it generates a brief summary of the video. After receiving the summary from ChatGPT, the user can either choose to continue or end the conversation. The extension can effectively save time for most videos with clear audio. Moreover, While browsing videos, you can also instantly access the video summary by clicking the summary buttons on the thumbnail.
---
While the "Youtube Summary with ChatGPT is only limited to videos." This extension provides a summary for text contents on the web. Once you open a content, click on the extension, then a small tab will pop up where all the content will be summarized.
This Chrome extension functions similarly to Sparknotes, providing condensed information on web pages in one or two paragraphs. It can be useful for quickly reading articles, emails, and blogs, but its use for documentation is uncertain. The extension is integrated into chrome and funnels information from ChatGPT, so this extension won't function when the chatbot is at capacity. Other potential uses for the extension are not immediately clear but may exist.
---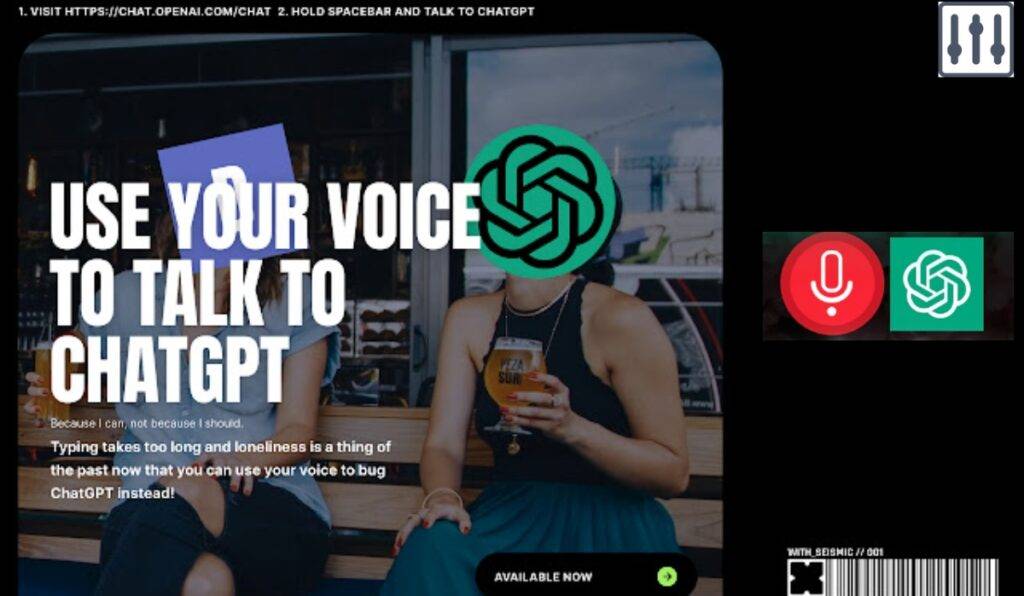 If you want to chat with ChatGPT by voice, this extension will help you with exactly that. ChatGPT can receive voice inputs using this chrome extension, which can be efficiently compared to writing prompts.
The Prometheus add-on hovers on the right side of the ChatGPT conversation window and doesn't block you. To start a conversation, simply "Hold Spacebar and talk to chatGPT." This is one neat functionality that Prometheus offers and makes it the best ChatGPT Chrome Extension for those who want a voice assistant-like experience. You can even Customize your language by clicking 'Prometheus Options' in the top right.
---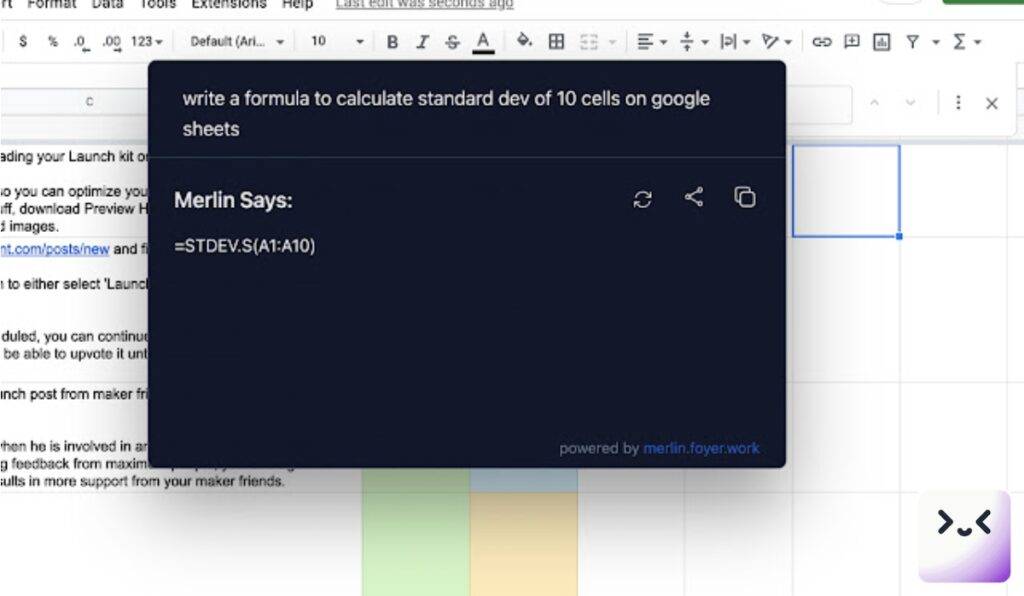 Since not everyone uses Google Chrome, using "ChatGPT for Google" is not an option to integrate the chatbot into the search engine. That's where Merlin comes to play. It is a ChatGPT-powered extension that works across all browsers. After you install the extension, you can enable it by pressing the CTRL (CMD on Mac) + M keyboard shortcut in the browser.
The user interface of the extension has a modern design with rounded corners. To use it, you simply enter a query similar to how you would on ChatGPT, and within seconds Merlin will provide you with a response. This extension can be used on any webpage throughout the entire browser. Therefore, if you require a rapid response to work, It can help you reply to tweets, create formulas in Google sheets, and summarize or rewrite the on-page text.
---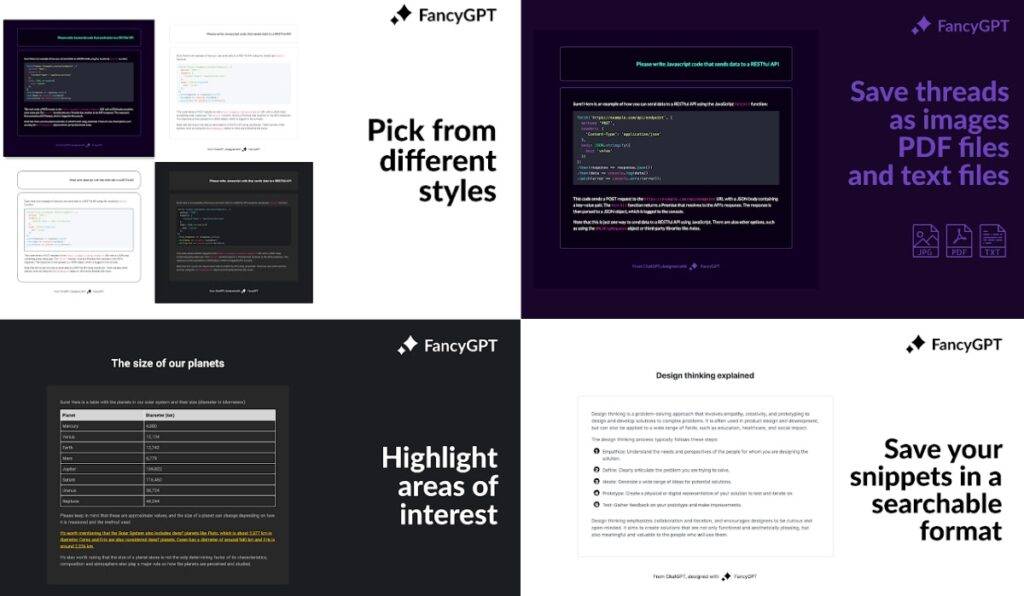 Lastly, Fancy GPT makes its way into our list of the best ChatGPT Chrome extensions because of its design. If you want to redesign your ChatGPT conversation to make them visually pleasing, then Fancy GPT could do just that. This extension adds different design elements which make the chat look more interesting. Once you have a full conversation with ChatGPT, you can use this extension.
You can export visually appealing code snippets, tables, lists, and other items in different formats, which you can use in different projects and assignments. You can choose which messages to include or exclude when sharing and select from a range of styles, such as neon, sketch, dark, and light. With all these features, FancyGPT makes it easy to share and preserve your ChatGPT conversations in an attractive and user-friendly way.
---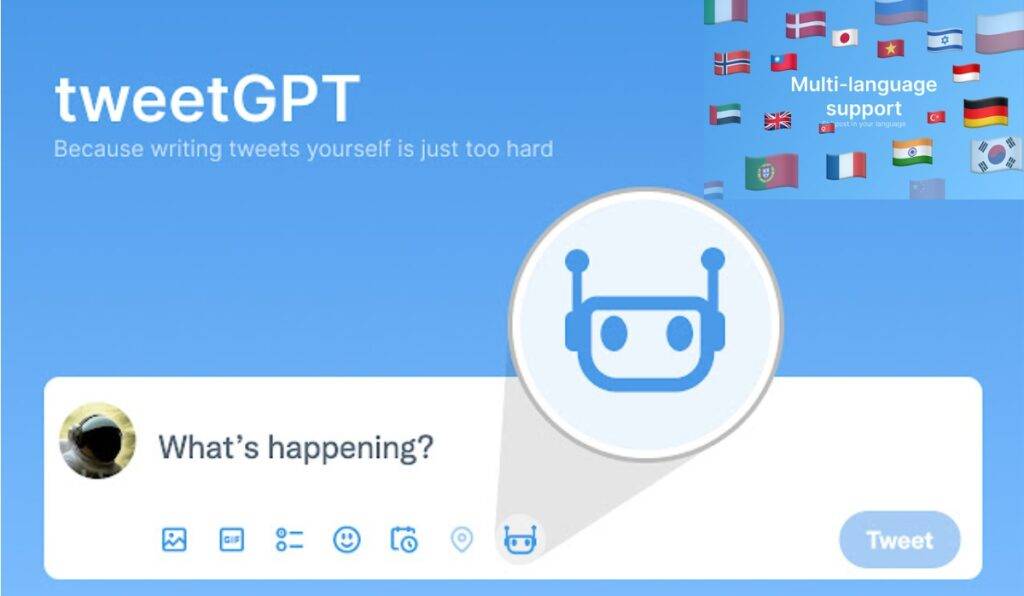 This ChatGPT chrome extension is for all Twitter users. With TweetGPT, the chatbot is integrated into your Twitter, So there is no need to open a separate new tab for ChatGPT. People who use ChatGPT to make tweets can use it to make their tweets sound more impactful and professional.
After installing tweetGPT, you will notice a robot icon in the "New Tweet" pop-up. You can set various writing tones for your tweet or replies by clicking this icon. TweetGPT supports a range of tones/moods, such as funny, snarky, optimistic, excited, smart, and more. You can continue using these categories to create new tweets, which many users find amusing. Overall, tweetGPT is considered one of the Best ChatGPT Chrome extensions for Twitter Users.
---
These were some of the best ChatGPT Chrome extensions to enhance your ChatGPT experience. I will love to know which ChatGPT Chrome extension you like the most. Do let me know in the comments section below!
Also Read: