With the advancement of AI, many sectors of the internet have been automated. One notable industry which AI has impacted is the creative industry, especially in the art sector. Thanks to AI, Even a person with the least creative knowledge can create a masterpiece out of thin air. You can create anything that you visualize in your mind by providing a text prompt to the AI art generator platform. So, creative abilities or technological expertise are not required at all!
Since the DALL-E 2 AI art generator blew up, other programs have come to light too. People may be interested in finding the best AI art generators since so many are available online. We gathered some of the best AI art generators services and put them together in a list.
These are the best AI Art Generators that you should try
---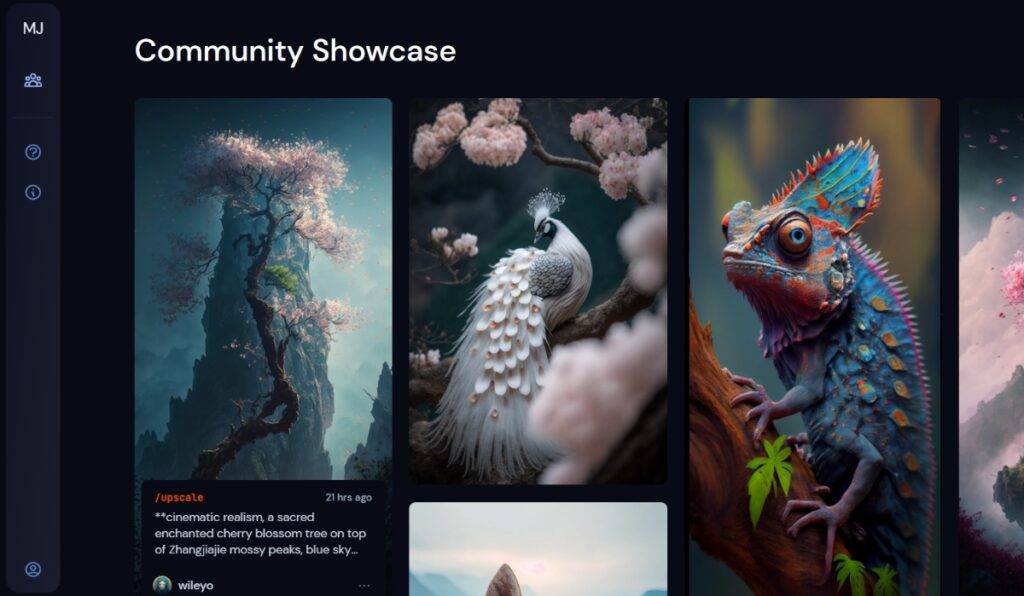 If you want exceptional quality in your AI art, then Midjourney is here for you. Midjourney produces AI art of such high quality that one of its users even won a competition in the Digital Arts/Digitally Manipulated Photography category.
Like DALL-E, you enter a prompt, then the program will output multiple images, which you can upscale. MidJourney stands out from other AI art generators because it's hard to differentiate between AI-generated images and those made by humans. To Access the tool, You must sign up on its official waiting list. Once approved, you will receive an invitation to a Discord server to engage with the tool and generate artwork.
Key Features
Uses Advance AI to generate images from text.
It uses Discord and has a community.
Best image quality
Free 20 images trial in the discord chat.
As for the pricing, Midjourney provides a free trial; after its completion, you need to pay 8$ per month to use the service.
---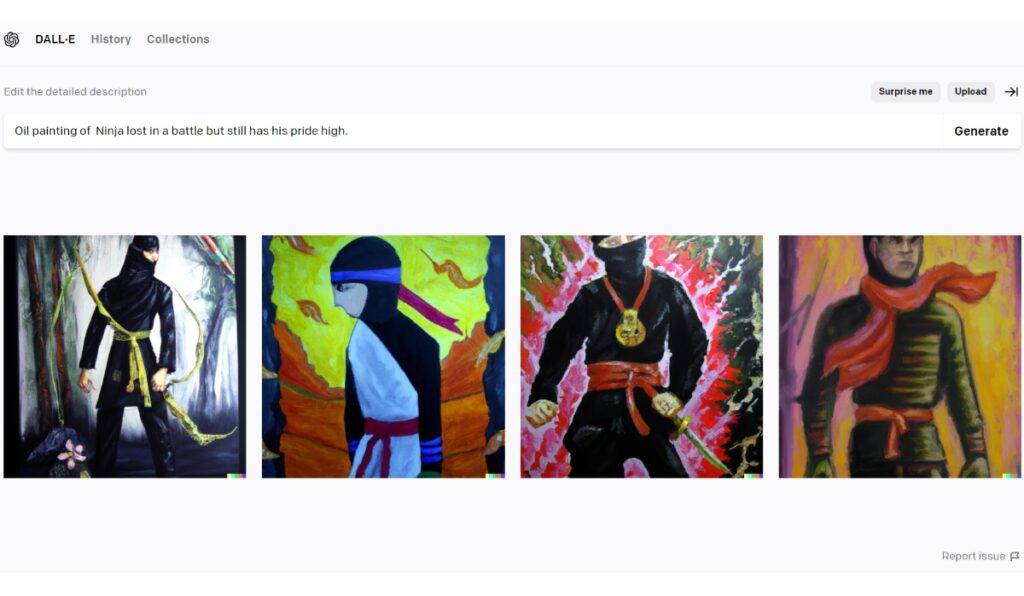 DALL-E 2 is developed by Open AI, the same company that created the popular chatbot ChatGPT. Since its launch last November, the AI art generator has managed to become the most popular one in the scene.
To create Art, you simply enter your desired prompt, and DALL-E 2 will create four images based on your prompt. Make sure you provide sufficient details to bring your concept to fruition. The program is user-friendly and generates outputs within a matter of seconds. If you're unsatisfied with the outcomes, you can make minor adjustments and give it another try. Once you find the right image, you can rescale that image to make it more realistic.
Key Features
Your prompts are accurately depicted.
Hyper-realistic images.
You can use the paintbrush to edit images with AI in highlighted areas.
Generate multiple images with a single prompt.
As for the pricing, the service is free, but if you require additional credits, a cost will be involved. For each credit, the tool produces four images. Also, Limited free credits are replenished every month.
---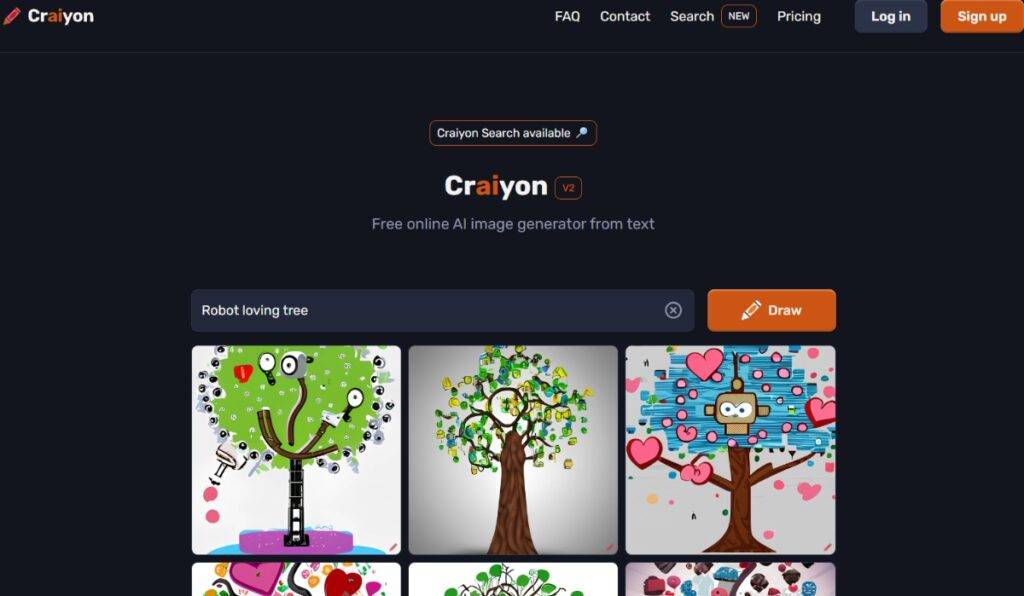 Moving on to our best AI art generators apps and websites list, we have Craiyon. Formerly it was called DALL-E Mini, but it is not affiliated with Open AI's DALL-E. As mentioned above, DALL-E 2 has gained popularity due to its AI-generated images and art. Craiyon is just the lighter version of that.
With that being said, Craiyon does lack accuracy and quality, but it's simple to use, and a friendly user interface makes up for it. With unlimited text prompts, you can tweak your image until you get the desired results. Therefore, you can let your imagination run wild and create any picture you like.
Key Features
Unlimited prompts.
Simple User interface
Outputs multiple images
Craiyon is completely free to use, and there are no limitations while using this AI art generator.
---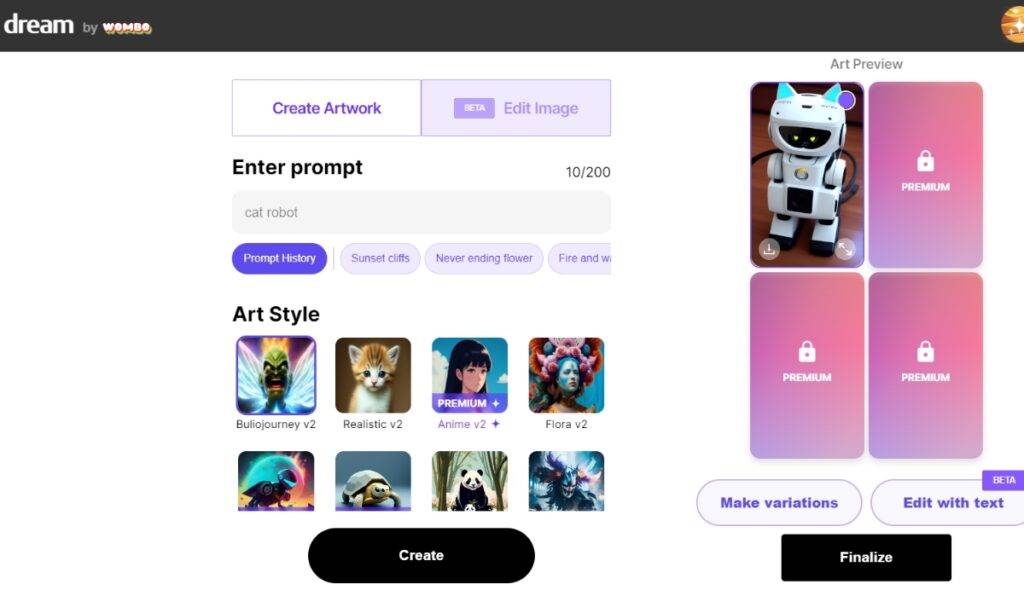 Dream AI art generator stands out from other programs because it can quickly adapt to the style you desire with the help of a reference image you upload. This feature alone makes it better than other AI image generator apps.
With Wombo Dream, the aim is to make art creation accessible to everyone through technology by utilizing the power of AI. Just type in any idea, pick an art style and watch as the AI transforms your idea into a stunning painting. This way, anyone can bring their creative ideas to life in seconds using the AI generator. There are plenty of styles to choose from, so you're sure to find something you like.
Key Features
Multiple outputs
Different Art styles to choose from.
A community inside the app for sharing and learning.
Completely free to use
---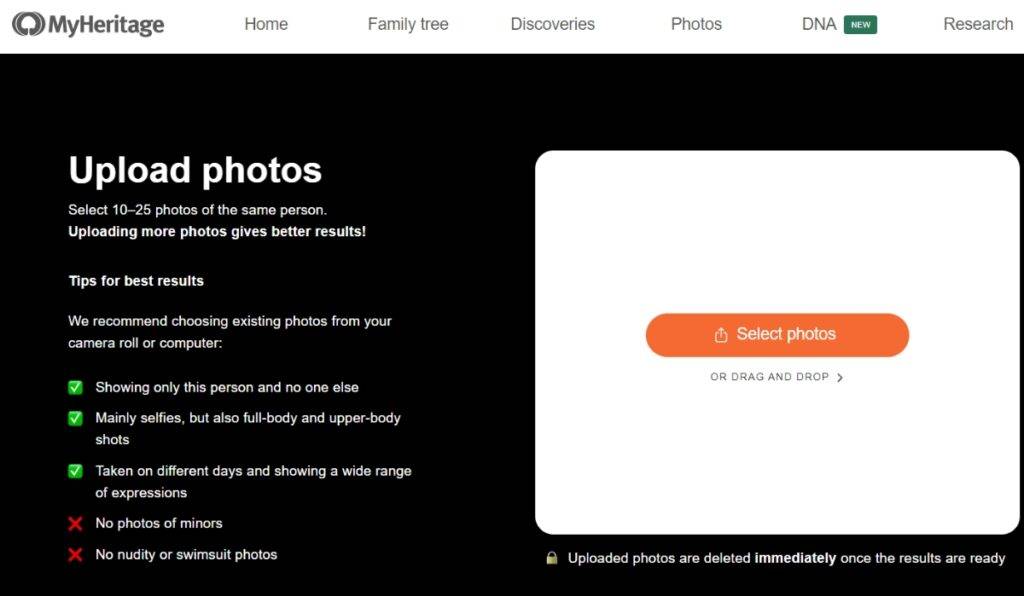 Myheritage went viral when people started using its feature to animate old photos and make trends about it by showing it to families and friends.
MyHeritage utilized their "AI Time Machine" to generate the photos, which involved inputting 10 to 25 user-provided pictures to produce lifelike portraits that depict how a person would look as they age. Using the animated feature, you can even bring historical family photos to life. You can combine even your pictures with different historical eras and art to generate a new image.
Key Features
Multiple filter selections.
Your portraits throughout history.
Great quality images.
Signing up for MyHeritage is free and provides a limited free trial. The premium plan costs around 101$ per year for the mobile application.
---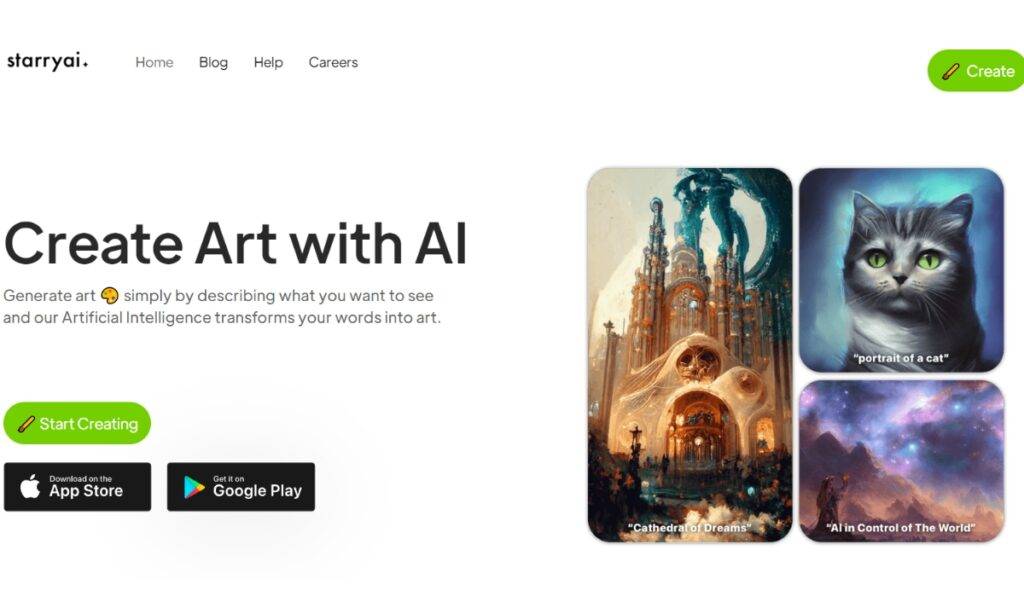 If you're looking for the best free AI NFT art generators, you can opt for Starry AI. It is a cross-platform AI art generator that can create NFT art based on your ideas. Starry AI is available on all platforms, including Android, IOS, and the web.
You simply enter a prompt and let the AI make the art. There are no restrictions on using the generated image. So you can use them for personal or commercial purposes. Although technology is continuously advancing, Starry AI has already produced some incredible examples of art. The greatest advantage of Starry AI is that it is free to use, and it also offers a premium version.
Key Features
Accessible through Android, IOS, and the Web.
Free NFT generator.
Text to images with great quality.
The pricing for Starry AI includes a 1-month Pro subscription for $11.99. Additionally, there are two options for purchasing 40 credits: a pack for $15.99 or a premium option for $7.99.
---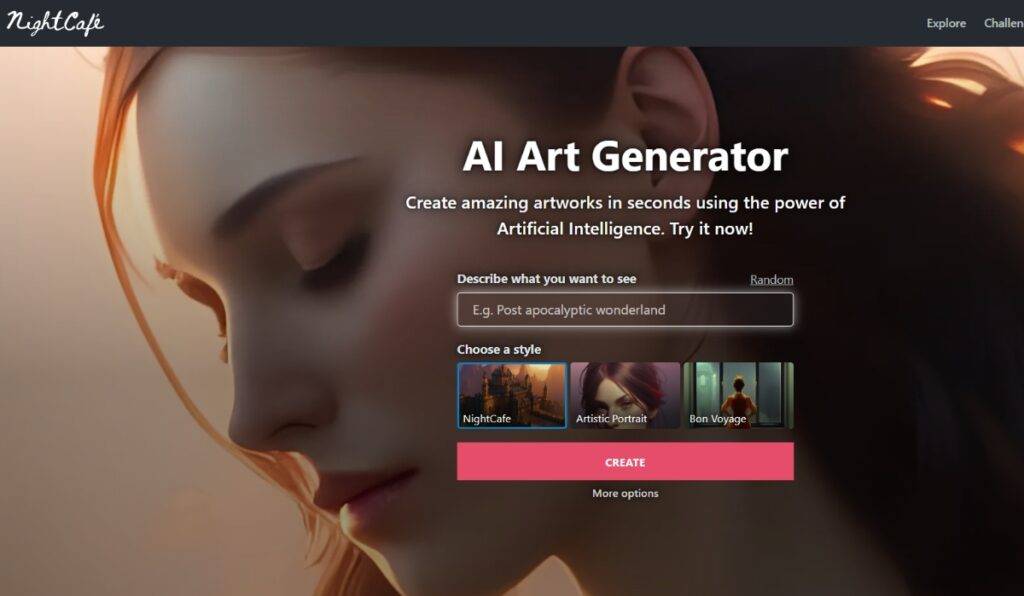 Nightcafe is perfect for a newbie who's starting in AI art. Thanks to its multiple AI algorithms, it is a famous program among AI art enthusiasts.
Similar to other web-based AI art generators, all you need to do is add text prompts, and Nightcafe will output multiple images. Every image it generates is unique, and you can upscale the images of your liking. Nightcafe works on a credit system, so the more credit you have, the more images you can generate. To gain more credit, you can either purchase them or engage in different community activities.
Key Features
Community to interact with other AI creators.
Credit earning system.
Print-on-demand service to print your art into merchandise.
Several Art modes and AI algorithms.
The premium plans include:
AI Hobbyist, at $9.99 per month with 100 credits per month.
AI Enthusiast, at $19.99 per month with 250 credits per month.
AI Artist, at $49.99 per month with 700 credits per month.
AI Professional, at $79.99 per month with 1500 credits per month.
---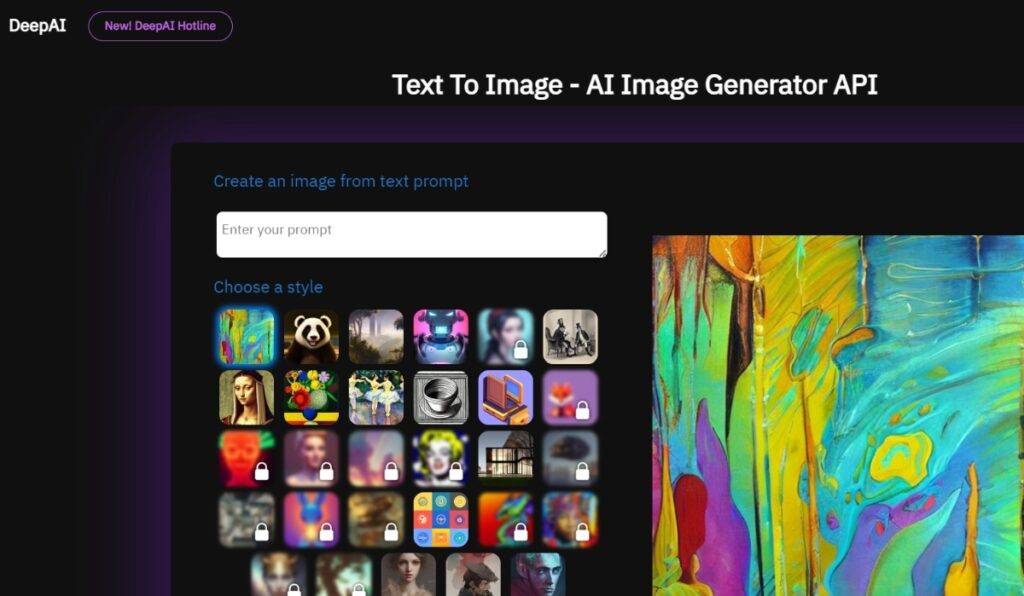 DeepAI has been a pioneer in the field of AI painting generators since 2016, offering open-source software for generating unique and customizable AI images. This AI art generator is also text prompts based.
Users can generate unlimited images and adjust minute aspects of the image, such as detail, color, texture, and other features. Additionally, DeepAI can generate resolution-independent vector images from uploaded illustrations. Developers can even leverage DeepAI's API to integrate the platform's capabilities into other software projects. One of the benefits of DeepAI is that it is a free online tool that requires no downloads or additional setup.
Key Features
Open source software.
Generate multiple images for each text prompt.
Free to use and has no limitations.
---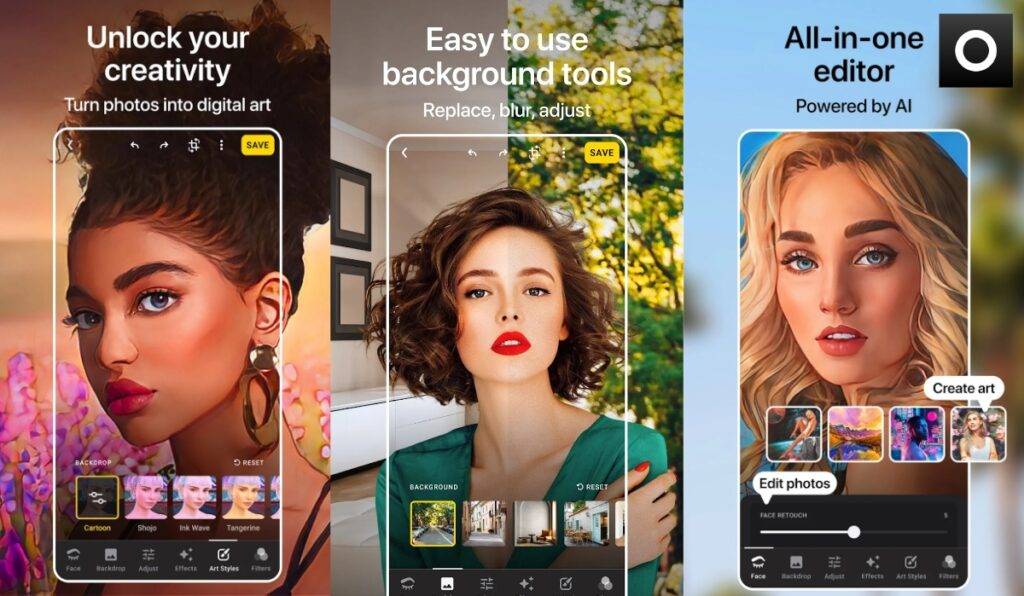 Lensa AI is an app that creates photorealistic Art portraits of individuals from a few selfies. With the app's awesome features, you can even change your photographs into superheroes and anime art theme pictures.
This is not a prompt-based program like most others on this list. But you can convert your images into different kinds of art forms with Lensa AI. This app also offers a variety of filters and editing tools that make it easy to enhance your photos and remove unwanted background blur. In addition, it includes a background editor with a range of cool effects that can be added to your photos with just a few taps.
Key Features
Turns portraits into digital art.
Easy to use one-tap tools.
You can save up to 3 AI-infused images per day. The subscription starts at ($1.99 weekly, which is the cheapest option), 4.99$ per month, and $29.99 for an annual subscription.
---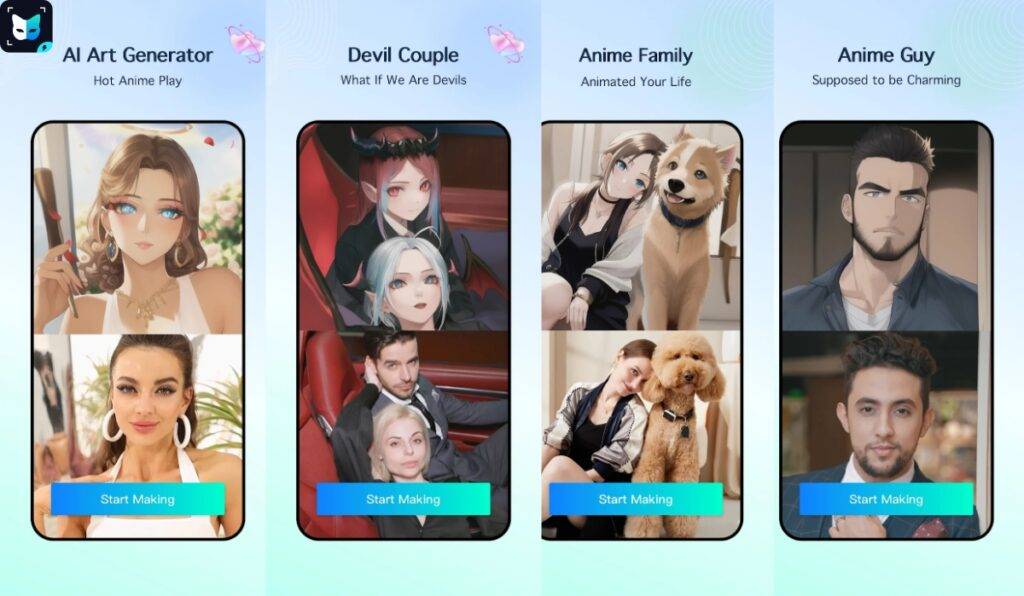 If you want to create your avatar in various art styles, then FacePlay is the app to use. You may have seen those TikTok challenges where pictures get turned into animes, well most of them are made from Faceplay.
Unlike other AI generators that only allow for the creation of new AI artwork with text or photos, FacePlay-AI Art Generator also includes a face swap feature with a large selection of photo and video templates. You can explore a range of styles, including sci-fi, war-damaged, art painting, cartoon, and cyberpunk. Faceplay also includes video features, which let you infuse AI into your videos.
Key Features
AI-generated images with various art styles.
Catalog of video templates.
For an Ad-free experience, high-quality export, and a larger catalog of templates, you need to pay for the subscription, which costs 2.42$ per week.
---
Also Read: