Manually Transcribing Audio to text is one of the most time-consuming and difficult tasks. Therefore, a tool that can assist in transcribing audio and videos is definitely required. That's where AI Transcription Tools come to play. The recent boom in AI has led to the development of different AI-powered tools, and AI Transcriptors are some of the best AI tools out there.
This AI Transcription software is not always 100% accurate, but it's better than not using one. It takes little to no effort to transcribe audio and video through these tools, so fixing some errors in the output won't be a hassle.
If you're someone scavenging for the best AI transcription tools on the web, we got you covered. In this article, we will discuss the transcription tools available for various professional tasks such as business, content creation, education, and more.
---
What are AI Transcription Tools?
AI Transcription Tools are AI-based Software that can transcribe any video or audio into text format. They use machine learning(ML), a branch of artificial intelligence, to analyze, evaluate, recognize, and interpret speech patterns in audio recordings. The software uses this technology to generate a transcript of the spoken content in the audio file.
AI transcription services are helpful for various tasks, including interviews, meetings, lectures, audio and video recordings, and more. Each AI transcription tool functions depending on its capability. Some provide multiple speakers and timestamps, which is excellent for performing tasks faster and navigating through the audio and video files.
---
Factors that Affect AI Transcription Tool output:
Type of Machine Algorithm and models.
The audio quality of Audio or video file.
Accent and Background noises.
Unknown language for the AI model.
---
Advantages of Using an AI Transcription Tool
AI Transcription Tool is a "Life hack" for all transcribers. There are many advantages to using these tools, such as:
Time-saving
Cost-effective
Scalability for business that requires a large volume of audio and video transcribing.
AI Transcription tool is accessible from anywhere.
---
These are the Best AI Transcription Tools that you should try
---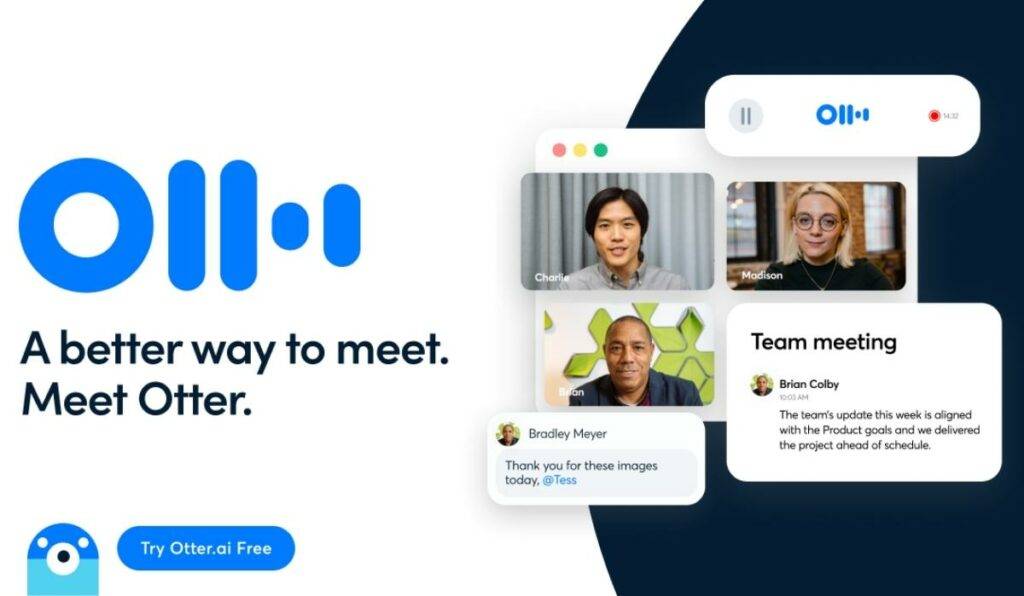 Otter is an award-winning Audio Transcription tool thanks to its real-time audio and video converting feature. Its AI-powered note-taking system allows you to create a note of your meetings automatically and interviews making it perfect for team works and collaboration.
Otter can be linked to your calendar and connected with popular video conferencing tools like Google Meet, Zoom, and Microsoft Teams. Once set up, Otter Assistant will join your meetings and take notes automatically. With the tool, you can perform fast transcription and engage in collaborative features like adding comments, highlighting notes, and assigning actions.
Otter's interface is very streamlined, and one notable function is the ability to create summaries of key points and provide an automatic summary. Additionally, Otter Assistant has a robust search function that allows you to search notes by specific criteria such as speaker and date range. Thanks to all these features, Otter is one of the best AI Transcription software on the web.
Highlight Features:
Real-time captions
Editable time codes and time stamps
Playback options
Two-factor verification for security
Meeting Analytics
Platform: IOS, Android, Chrome extension
Cost: For personal use, there is a free plan with basic features. The educational plan is also available, but the pricing may vary based on the institution's requirements. For businesses, an enterprise plan costs $30 per user per month.
---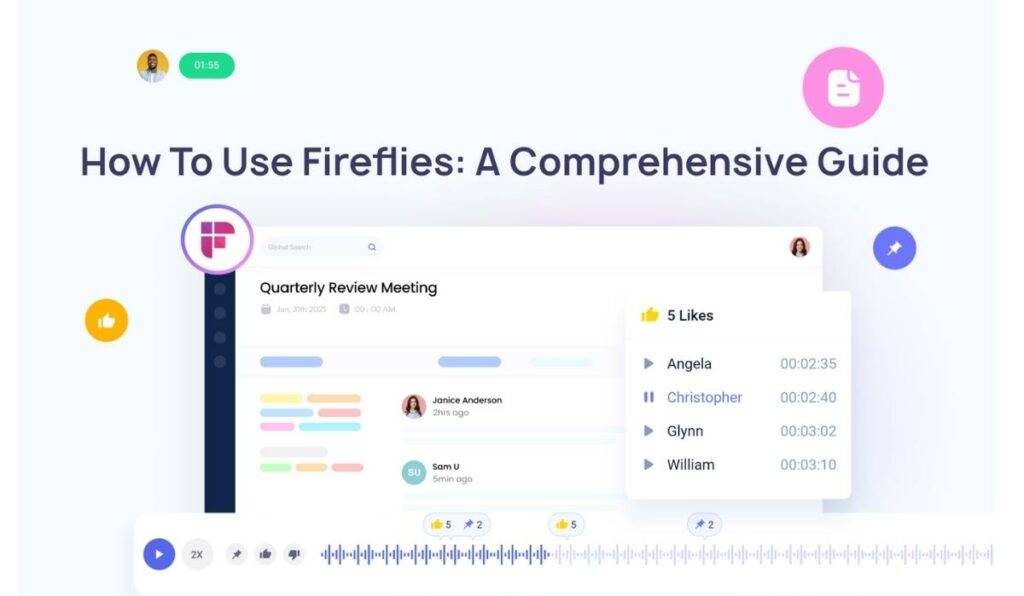 Fireflies is a voice assistant that helps to transcribe and record notes during meetings and other similar sessions. It is a perfect alternative for Otter.AI since it is cheaper and used by over 60,000 businesses.
Like Otter, FireFlies can be integrated with popular meeting services like zoom, google meet, and Microsoft teams. Using this tool, you can automate your meeting sessions and record, transcribe and search voice conversations. Considering its features, it's quite affordable, which proves that you're getting back every penny you paid.
With the search feature in the tool, you can easily find important topics in the meeting transcript. Other features include adding comments and pinning specific sections of the transcript to make them visible to your team members. It has great collaboration features for those who want to use it in teams and lets you annotate and mark up sections of transcripts for easier evaluation and reference.
What sets this tool apart is its conversation intelligence, which tracks key metrics such as who speaks the most during the meeting. This allows for analysis of the meeting's efficiency and potential improvements. Moreover, Fireflies can also be used with business applications like Slack, Trello, Hubspot, Asana, and others.
Highlight Features:
Advance Analytics
Search Menu Options
Integration with Slack, Hubspot, and more.
Platform: Browser, Chrome extension
Cost: The tool offers three pricing plans: a free version with unlimited usage but limited to 800 minutes of storage, a Pro version that costs $18 per month, and a Business Plan which costs $29 per month.
---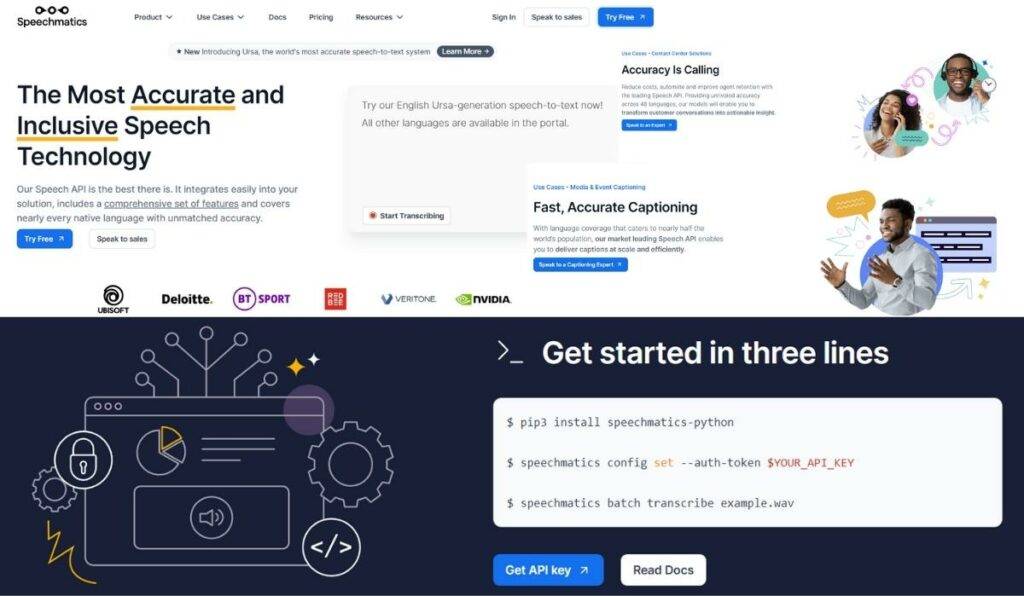 Speedmatics is a cloud-based AI tool for transcribing speech into text. With advanced machine learning algorithms, it can convert live or recorded speech into text. The recorded text can then be saved and organized by the Users, so later the important parts of meetings and interviews can be viewed easily.
The highlight feature of Speedmatics is its ability to transcribe audio, even those filled with background noises, accurately. So, it is one of the best AI transcription tools for accurate transcriptions. Since it can differentiate speakers in a meeting, it is a perfect tool for transcribing group meetings and sessions.
This tool also allows batch-transcribe audio and video files automatically, with the added ability to split and merge files as needed. Furthermore, users can customize transcription settings to meet their specific needs.
One notable feature that makes this tool diverse is the support for a wide range of languages and dialects; with this, you can transcribe audio files in your language (If supported ). In summary, it is an excellent tool for converting speech into text that can be used personally or integrated into your existing systems.
Highlight Features:
Accurate Transcription
Support for Multiple Languages
Batch Translation
Customizable
Platform: Browser, API
Cost: There are three different options for using the service: a free plan that allows up to four hours of audio transcription per month, an on-demand plan, and an enterprise plan with a cost that varies based on how it will be used.
---
Sonix is one of the latest AI transcription tools used by leading educational institutions like Stanford University to popular multinational retailers such as Sephora. The highlight feature of this tool is its ability to transcribe over 40 languages.
Sonix offers fast transcription, and users have started to receive accurate outputs while using it in different language formats. Plus, its streamlined User Interface, Word-by-word timestamps, and Automatic speaker identification opt for a great user experience. You can highlight specific transcript sections and add comments or notes, making it easy to break down the text file and review it later.
If your audio/video file contains a lot of jargon, you can use the custom dictionary available in this tool. Using this feature, you can store specific words relating to a particular industry, and Sonix will later recognize that word for more accurate transcription.
Sonix makes editing and exporting text a breeze, with a wide range of customizable export options and integrations available within the app. Moreover, you can even translate languages with automated translation features and include subtitles for foreign videos.
Highlight Features:
Automated Subtitles and translation
Text exports into several formats
A customizable media player with analytics
Automated Summaries
Platform: Browser
Cost: The first is a pay-as-you-go model, which charges $10 per hour of transcription. The second is the Premium plan, which costs $22 per monthly user. Finally, the Business plan pricing is determined based on the size of the team and the organization's specific needs.
---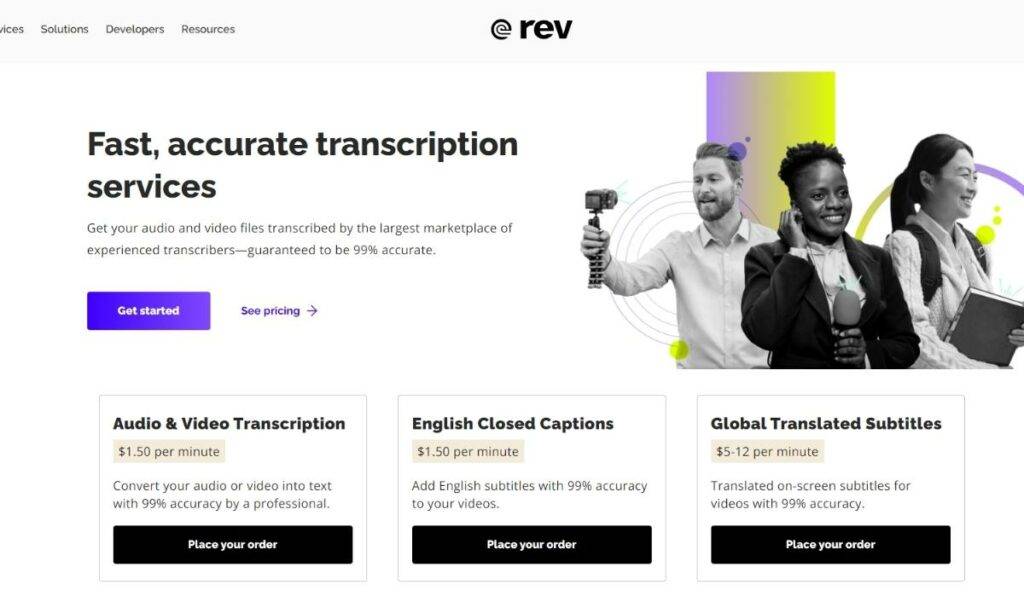 Rev is trusted by businesses of all sizes across various industries, thanks to its combined AI and Human transcribers feature. This combo makes it one of the most accurate AI transcribers in the market. There are several transcription-related services offered by this tool, including English captions and global subtitles in multiple languages.
Rev is not a complete AI tool since it also uses human transcribers, but you can choose between human or AI transcriptionists before converting your audio or video file into text. All of Rev's human transcribers are a network of thousands of freelancers with the most accurate speech recognition AI. So, you can even rely on humans to get your task done.
Rev also offers a mobile app that is very easy to use, making it one of the best AI Transcription tools for smartphones. Also, Integrating the API into your system is simple and straightforward, so anyone wanting to add custom features can do it with ease.
It also helps identify speakers during meetings and interviews, just like most of the other tools featured in this article. Regardless of the dialect or accent used in the audio, the tool delivers accurate output, thanks to its AI language model.
Highlight Features:
A high level of accuracy and speed
Speaker identification
Time index function
Platform: Browser, Android, IOS
Cost: The first subscription plan is a pay-as-you-go option, which charges $0.25 per minute of transcription. The second plan is the Rev Max plan, which costs $29.99 per month and includes unlimited transcription services.
---
FAQ about AI Transcription Tools
Is there any free AI Transcription tool?
A few open-source AI transcription tools, including Kaldi and Mozilla DeepSpeech, are entirely free to use. Nevertheless, AI transcription tools usually come with a subscription fee and may offer only a limited free trial.
What is the cheapest AI Transcription tool?
If you're looking for affordable AI transcription software, TranscribeMe is the cheapest option out there, with a rate of $0.07 per audio minute. Temi offers a free trial for files under 45 minutes and charges $0.25 per minute. Remember, it's important to have good-quality audio recordings for accurate transcriptions. Some of the cheaper AI transcription tools may have less capability to generate accurate outputs, so that's one thing to consider.
How accurate are AI transcription Tools?
In most used cases, AI transcription tools can produce 90 to 95% accurate output, which is the standard. But different factors, such as background noises, accents, language, and AI language models, can affect the accuracy. So revising and checking the text output before official use is best.
---
Also Read: