Instagram is a primary chatting place for some people. Since Instagram is the hub for sharing pictures and other media, many conversations take place inside the app. So, privacy is a primary concern among Instagram users.
One way to ensure privacy is to hide conversations on Instagram. Hiding the chats in Insta refers to shifting them from primary to general or putting them on the archive. So, if you don't know how to hide chats on Instagram, we will show you the method to do it.
---
Hiding Chats On Instagram Without Deleting Them.
Unlike Messenger, where you can archive a chat to hide it, Instagram has no way to hide chats completely. There's no direct way to hide the chats, so you must go through different settings.
How to archive chats on Instagram through vanishing mode. 
Instagram's no official archive chats option, but you can temporarily hide older conversations through vanish mode. 
Here are the steps to archive a chat using the "Vanish" mode:
Step 1: Open the chat that you want to archive.
Step 2: Long Swipe up on the chat until the icon turns "purple" to turn on the "Vanish" mode.
Step 3: The conversation inside the chat will disappear from your screen, indicating it has been archived.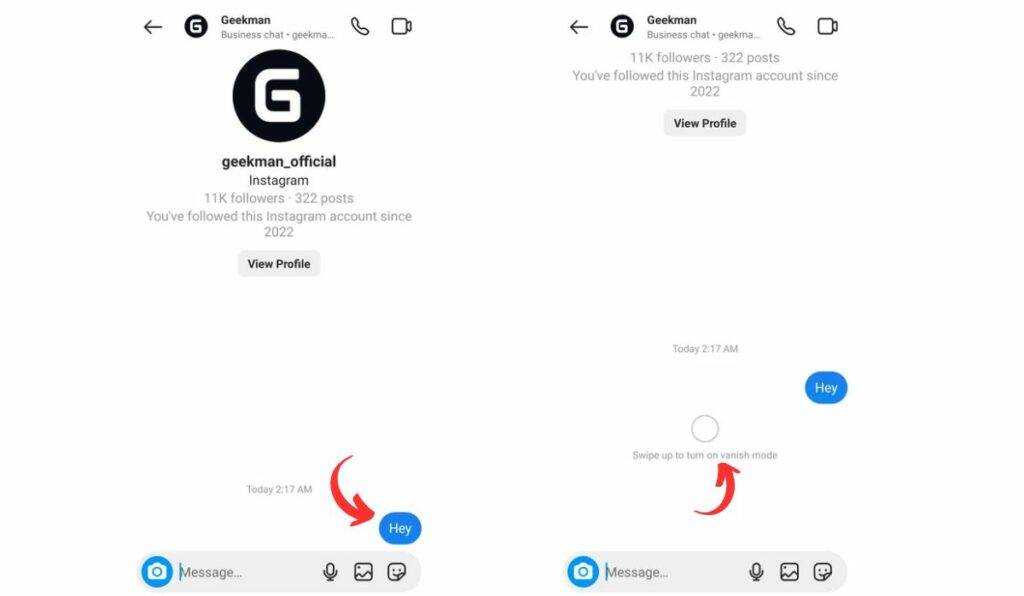 Step 4: To view the archived chat again, long swipe up on the screen again.
Though the vanish mode hides your conversation, the chatbox with the person is still visible, so if you want to hide the chat, you can try the next method completely.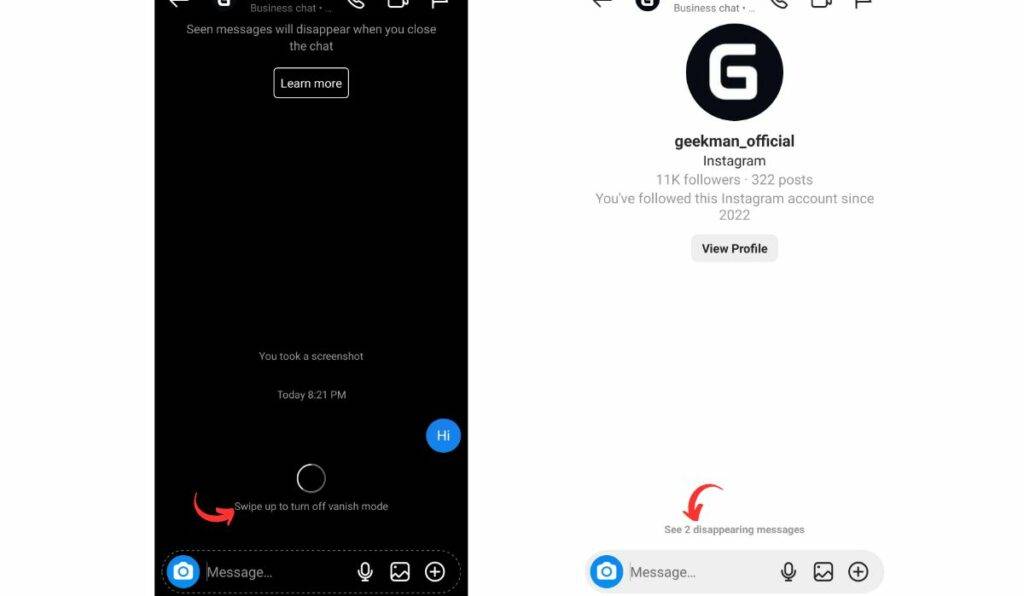 Note: Any conversation in vanish mode is automatically deleted once the message is seen and you exit the chat.
How to hide chats on Instagram (Professional Account) 
First, you must switch your personal account to a professional one. Here are the steps to switch to a creator account on Instagram:
Step 1: Launch your Instagram app and click on the profile icon.
Step 2: Tap on the menu icon (three stacked lines).
Step 3: Go to "Settings." Under "Settings," tap on "Account."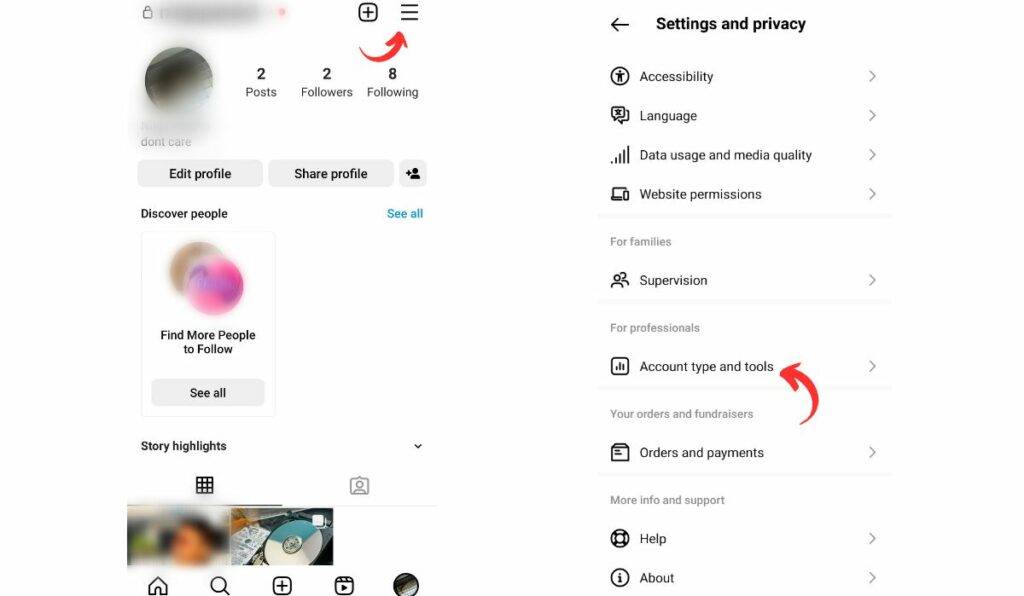 Step 4: Scroll down to the bottom and tap on "Switch to Professional Account."
Step 5: Tap on "Continue" at the bottom of the following four pages until you get to the list of professional categories.
Step 6: Select any category that best describes your account, and tap on "Done" at the bottom of the page.
Step 7: On the next page, select "Creator," then click on "Next."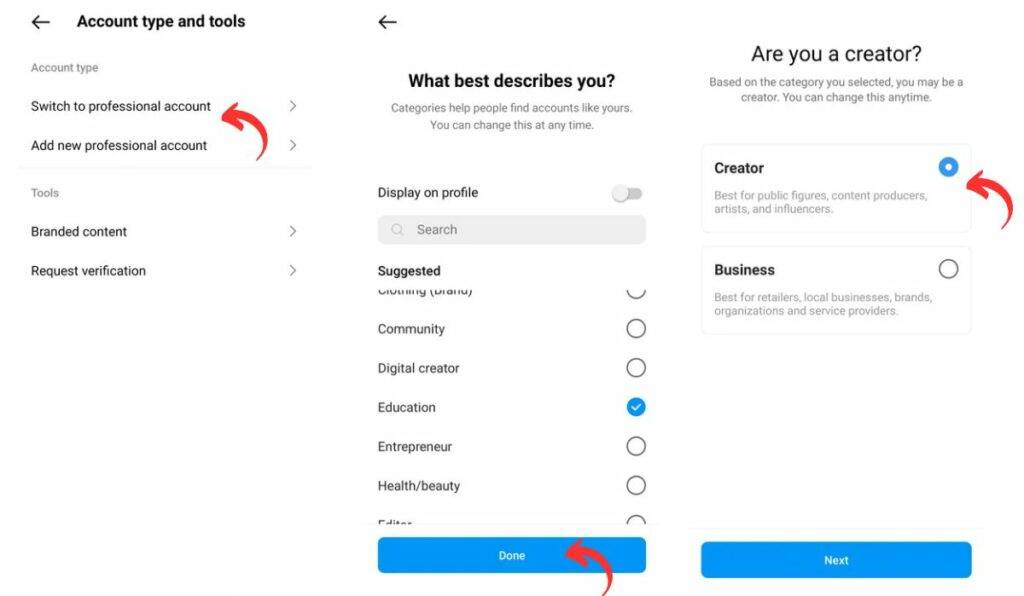 Step 8: A page that reads "Changes to your safety settings" will pop up. Just press "OK"; you may change the settings later.
Now that you've switched to a professional account, you can add some details to your profile later.
How to hide chats on Instagram through a creator account:
By moving the chat to the general section, you can technically hide the chat by moving it from the visible primary section.
To move a chat to the general section:
Step 1: Open the direct messages.
Step 2: Scroll to the chat you want to hide and swipe left on it (or long-press on Android devices).
Step 3: Select "Move to General."
Now the chat is moved from your visible primary section. You'll need to tap "General" to view the messages hidden in the general tab.
---
Wrapping up
So, these are the ways to hide your chats on Instagram. As mentioned above, there are no direct methods to hide chats on Instagram. For hiding your older conversation, vanish mode is perfect, but your conversion won't be saved in vanish mode. So you need to switch to a professional account and move your chat to the general section. Switching to professional has additional perks too, so you might want to switch to a creator account anyways.
---
Also Read: