There's a wide selection of good USB mics available, but it's safe to say that the quality choices begin to dwindle when you dip below the (5000 Rs) $50 line. The FIFINE AmpliGame A6V, priced at 3000 Rs (35$), aims to be one of the few super-affordable options worth recommending.
The FIFINE AmpliGame A6V is a gaming-focused USB condenser microphone designed for game streamers, podcasters, and anyone who might be putting themselves out on YouTube or Twitch. The budget mic comes loaded with useful features, like an inbuilt detachable pop filter, shock mount, RGB lighting, touch-sensitive mute button, and gain control. It sounds excellent and offers plenty of flexibility, making it an ideal microphone for streamers & podcast users and earning our Best Buy's Choice.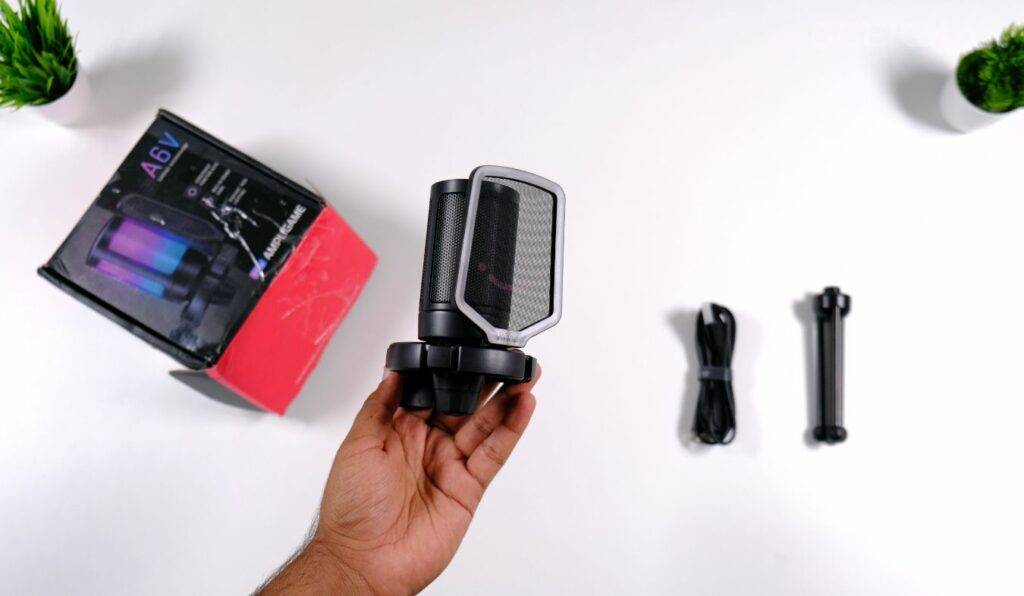 FIFINE AmpliGame A6V Specs
| | |
| --- | --- |
| Type | Condenser, USB, USB Type-C |
| Polar Pattern | Cardioid |
| Bit Rate | 16-bit/24-bit |
| Sample Rate | 44.1kHz-192kHz |
| Frequency Response | 60Hz-18kHz |
| Sensitivity | -40±3dB |
| S/N Ratio | 1kHz﹥70dB |
| Color | Black, White, Pink, Blue |
| RGB | Automatic, 7 mods |
Who is the FIFINE AmpliGame A6V for?
Streamers and Gamers who want a mic that is affordable and super simple to use, and a bit better than a headset mic.
Teachers who host online classes and want something affordable that offers better quality.
Beginner Podcast and voiceover artists who want good quality recordings at affordable prices.
Like RGB lighting.
Don't mind missing out on a few features.
Not, if…
You need a professional studio microphone with multi-polar patterns
Customizable RGB, or don't want RGB.
Anyone who needs a compact mic to take on the go.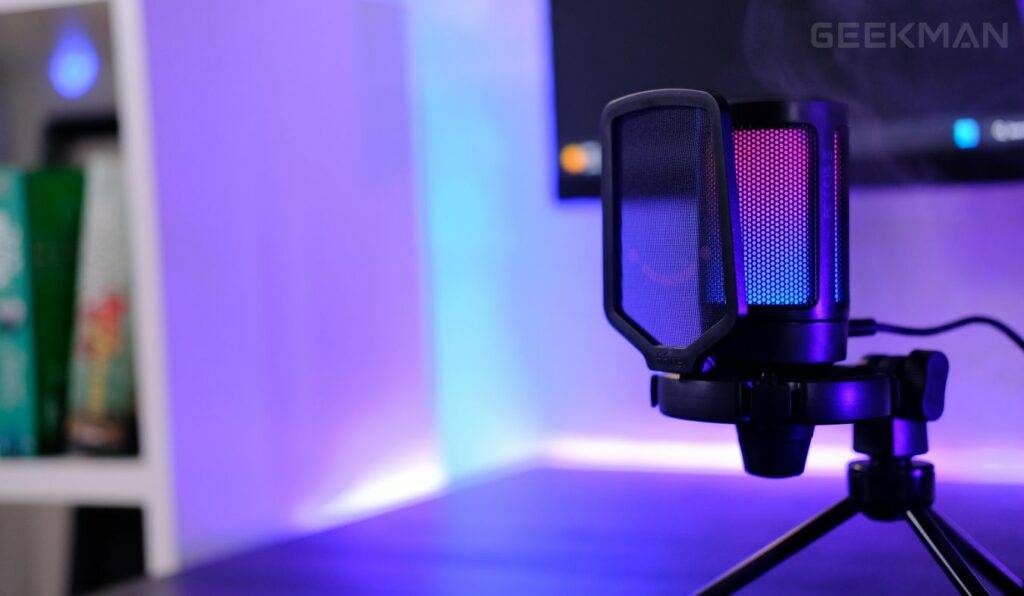 Design & Accessories
The FIFINE AmpliGame A6V is a 6-7 inch cylinder measuring 2.3 inches across. 90% area of the cylinder's sides are metal grilles over the internal plastic shell, through which the microphone's RGB lighting glows. Yes, RGB light is one of the prime selling reasons for this FIFINE microphone. The RGB light is not customizable (can't expect it at this price point), but still, the preset seven different dual-color RGB mods give you the vibe you are looking for. It looks good with the overall design.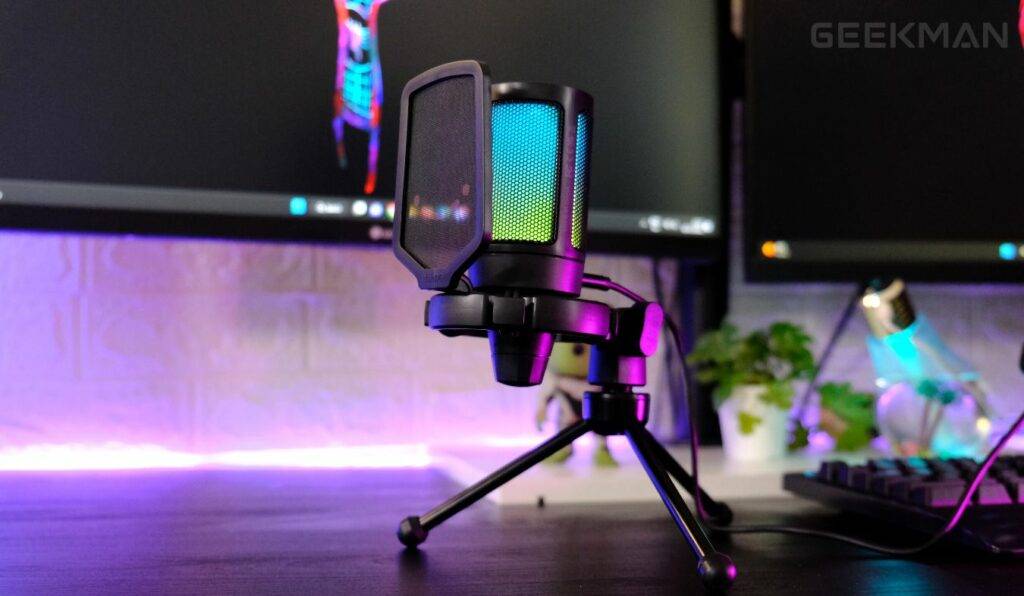 Another prime thing about the mic is touch responsive mute button doubles as a top cap, which also turns off the RGB lighting when the mic is muted. I don't need to explain to you how convenient this feature will be during live streaming or online zoom calls.
The AmpliGame A6V has a built-in shock mount, it feels a bit cheap in contrast, but we can't complain at this price point. The shock mount also has a 5/8 mount adapter to install the tripod stand provided with the microphone. You can also mount this microphone on the arm's stand with the help of the same mount adapter.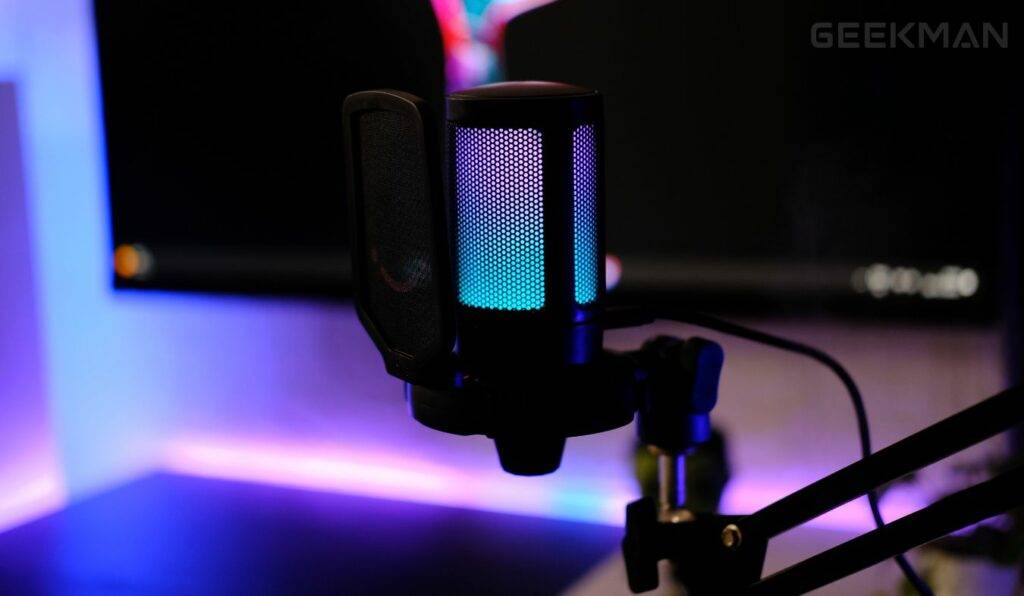 The shock mount also has a direction adjustment knob that allows the mic to swivel vertically, so you can easily point it toward to sound source. The given tripod is sturdy, so you don't have to worry about it falling over while you reposition it. The tripod + microphone combo is tall enough, so it can easily point straight at your mouth; you don't need any extra setting arrangement.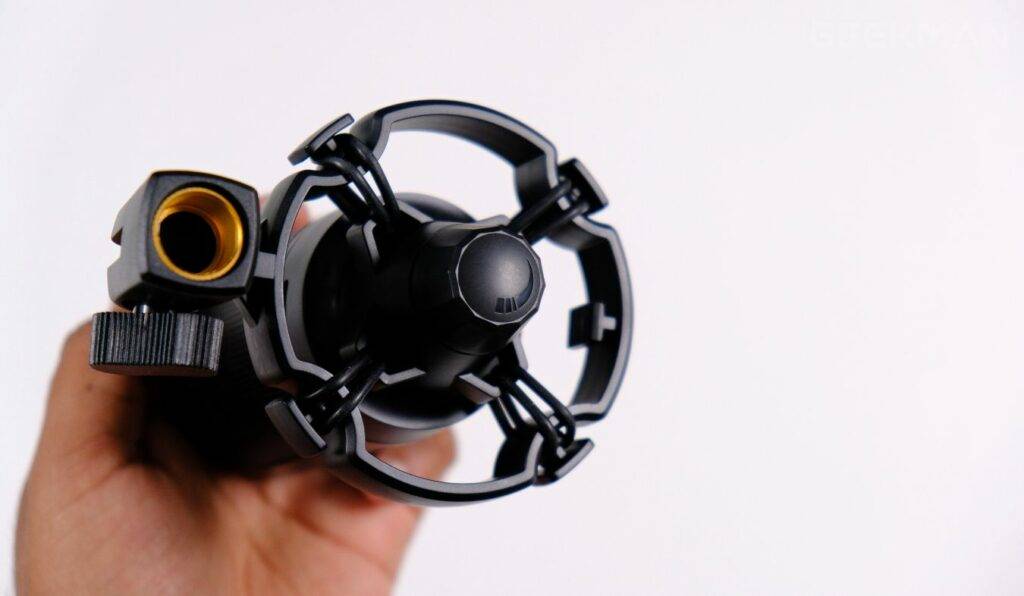 You already noticed that the microphone has an attached pop filter with a smiley face. The pop filter is detachable, so if you don't need you can remove it, but you will not. The pop filter is thin but still enough to prevent sibilance. At the bottom, it has a gain dial to increase or decrease the microphone's sensitivity.
What's missing? Well, it's hard to complain for 2700 Rs ($35), but there's no headphone jack for direct monitoring.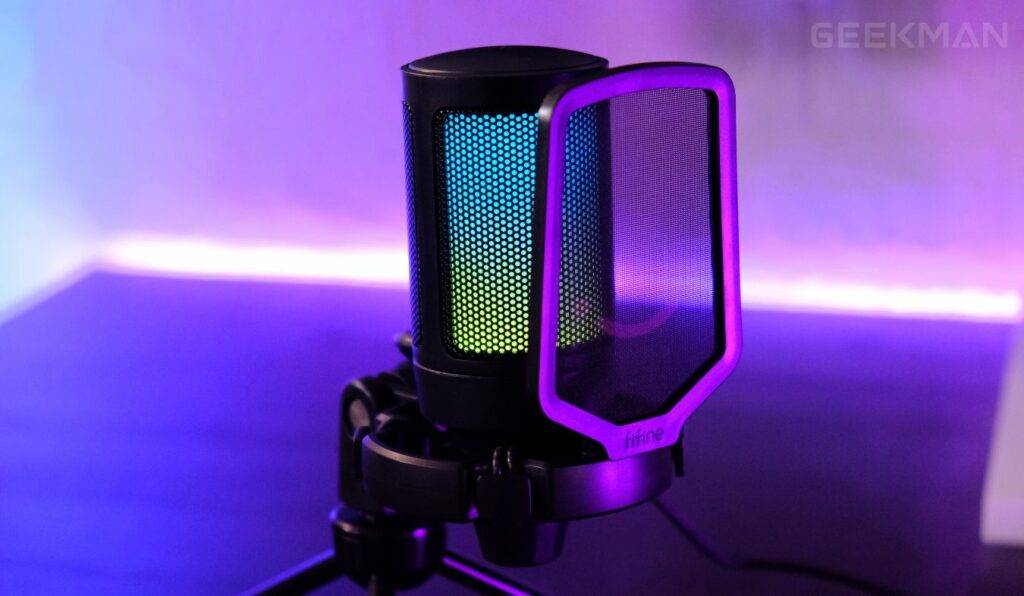 Compatibility
Even if you're not streaming, wanting a better mic to play with is only natural. The FIFINE AmpliGame A6V is compatible with PS4, PS5, PC, and Mac systems via the USB Type-C to USB A cable. You don't need any driver or software to use this microphone; just plug and start.
Performance
The FIFINE A6V support only one pattern, 'Cardioid,' which tends to reject more background noise from the sides and anything behind it. This pattern is well suited for most vocals, placing the focus squarely on the person speaking. Of course, this pattern can easily pick up mouse clicks and keyboard noise, but don't worry too much; your streaming software's noise gate plugin will manage this easily.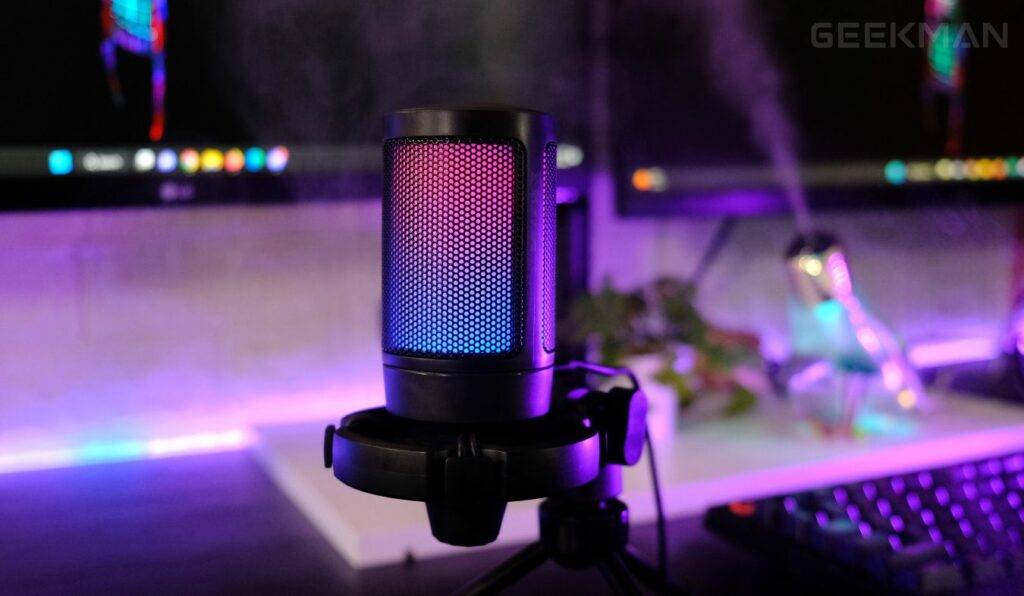 The AmpliGame A6V microphone supports a frequency response of 60Hz to 18kHz. It's sensitive to -40dB and samples at 44.1kHz to 192kHz with up to 24-bit bitrate. These specs provide enough data for post-production if you want to go in that direction. You can pop this mic down in front of yourself and tune your voice in many different ways in your favorite audio mixing program. Even though I'm not a professional audio engineer or musician, I was able to lay down pretty simple vocal-based music tracks. Of course, professional musicians definitely do not use USB microphones to record, but it certainly works for very basic music recording in a pinch.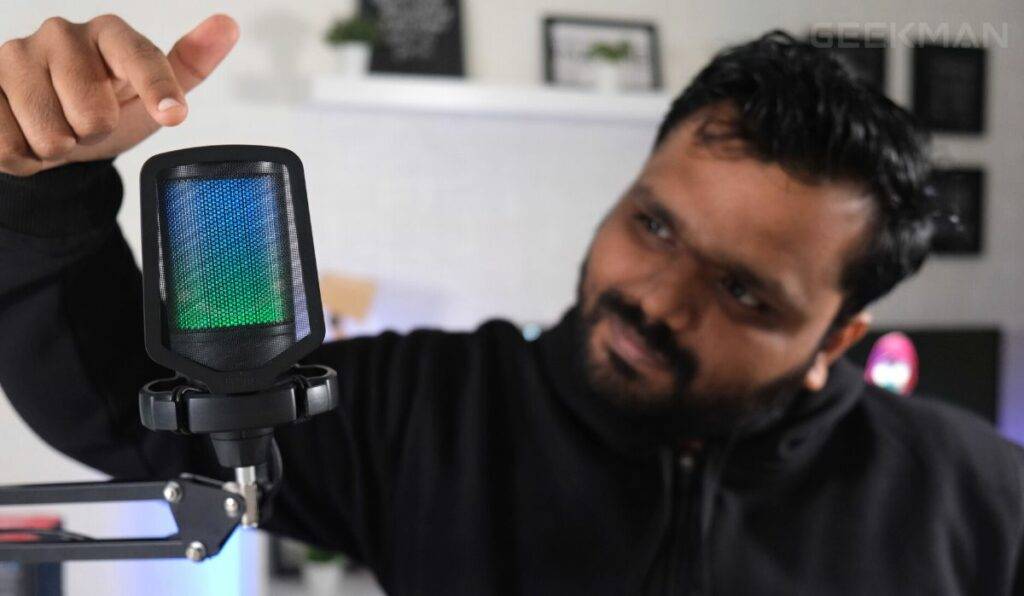 If I want to compare this microphone with one of the most favorite mics in recent years, ' Blue Yeti,' I don't want to because the price difference is too much, but still, I have to do it for a better idea. The audio could be clearer and more natural compared to Blue Yeti or HyperX Quantcast. Since the A6V is only around $30 (3000 Rs), this is likely due to the cheaper electronics with a high noise floor. Again, it sounds alright and even a little. The FIFINE AmpliGame A6V sounds very good for its price; just don't expect near-studio-quality as you get from Blue Yeti or HyperX QuadCast.
AmpliGame A6V Sample (With Gain Control):
AmpliGame AmpliGame A6V Sample (Without Edit, 6-inch Distance):
Should you buy the FIFINE AmpliGame A6V?
The FIFINE AmpliGame A6V does everything it promises to do, or it can also be said that it delivers much more than what we can expect at this price point. And maybe this is the reason why it is one of the best-rated microphones on Amazon in this price range.
While it is not a studio-grade microphone (no USB microphone really is), it records decent audio in various scenarios, and the background noise it picks up is manageable. Plus, the inbuilt detachable pop filter is a welcome addition. The limited RGB lighting looks cool, and even though you can't customize it, the microphone looks great on your working desk or gaming desk.
Overall, the AmpliGame A6V is definitely worth the money if you want a microphone for streaming and podcast use that sounds great without putting too much pressure on your wallet.
FIFINE AmpliGame A6V Review In Hindi
Also Read: