Lightweight gaming mice are a need now especially for the esports gamers who play games like Valorant & CS Go regularly. These mice are quite popular among gamers for their pinpoint accuracy and fast-moving ability.
If you have recently researched a lightweight gaming mouse, then you will surely be aware of the common design trend, the honeycomb design. This design is especially common among big brands. This new design trend allows manufacturers to create small holes in the plastic shell making the mouse extremely lightweight.
The gaming mouse we will be reviewing today follows the same honeycomb design trend and has an extremely lightweight and sturdy body. Cooler Master MM711 is an ultra-lightweight gaming mouse that could also be named as an improved version of the MM710 which was another gaming mouse from the same lineup.
The MM710 was even more lightweight than the MM711 but had some build quality issues which Cooler Master has fixed with this mouse. This mouse is easily available in the Indian market at a price of around Rs. 3500.
Cooler Master MM711 Specifications:
| | |
| --- | --- |
| Type | Optical, Wired |
| Colour | Matte Black, Matte White, Glossy Black, Glossy White |
| Sensor | PIXART PMW3389 |
| Chipset | 32 BIT ARM CORTEX M0+ |
| Memory | 512KB |
| Polling Rate | 1000Hz |
| Tracking Speed | 400 IPS |
| Lift-Off Distance | < ~2MM |
| DPI | Up to 32000 |
| Mouse Buttons | 6 |
| Cable | Fixed ULTRAWEAVE, 1.8M |
| RGB | Yes, Wheel & Logo |
| Software | Yes, MasterPlus |
| Weight | 59g |
| Dimension | 116.5 X 62.4 X 38.3 MM |
| Warranty | 2 years |

Box Content
Inside the box, you don't get much included. Just the gaming mouse and a few extra add-ins. The user manual and extra pair of PTFE feet.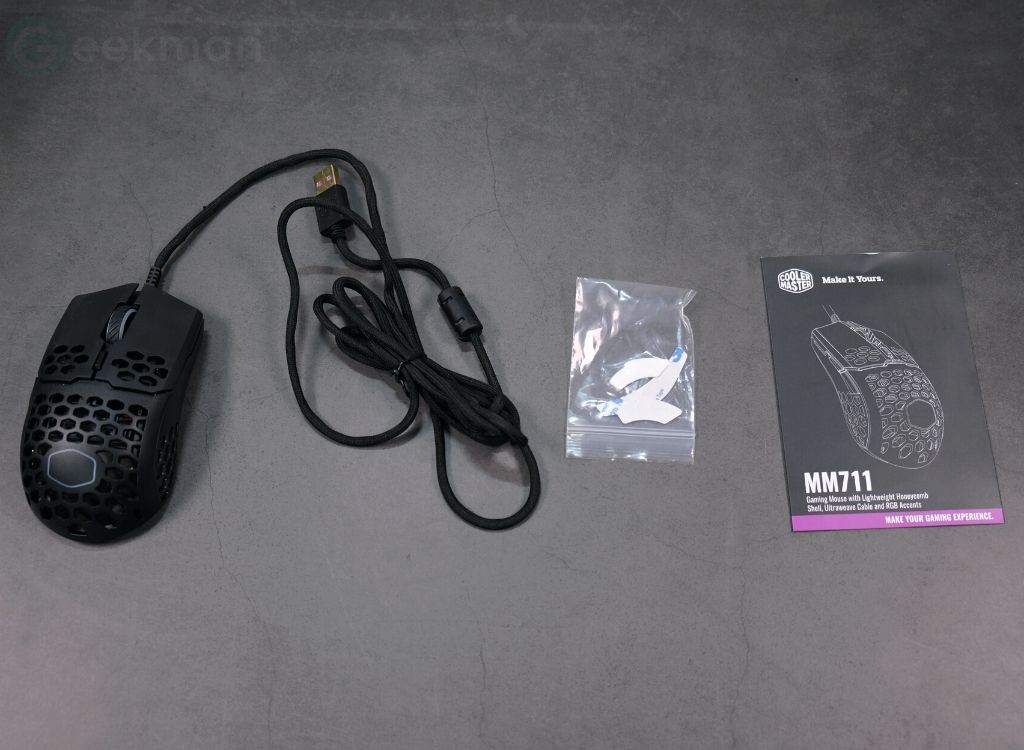 Design, Build & Comfort
Starting on with the best part of the mouse, its weight. The Cooler Master MM711 weighs close to 60 grams which makes it an ultra-light gaming mouse.
The mouse has a total of 4 variants, Glossy White, Matte White, Matte Black, and Glossy Black.
As already mentioned above, the majority of its body is adorned with a honeycomb design. This honeycomb design may seem a little uncommon to the new eyes but you should get used to it as this is the new market standard for the lightweight gaming mouse now.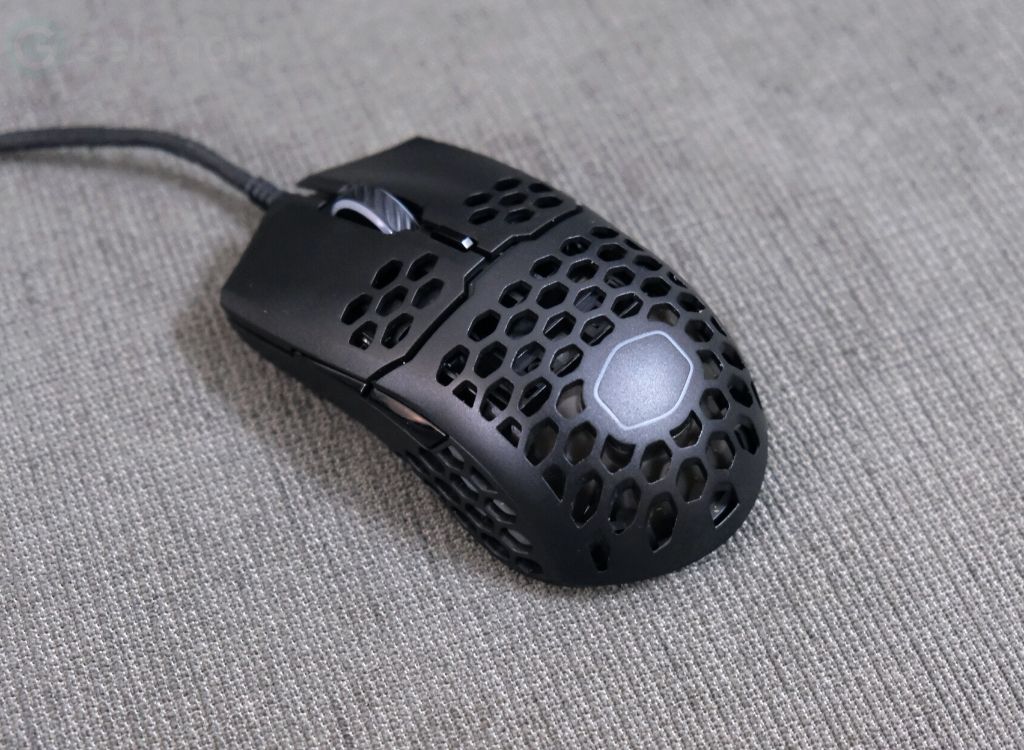 The palm rest of the mouse has RGB lights placed right beneath it which can be easily seen thanks to the same honeycomb design.
It has an ambidextrous shape making it suitable for all grip types especially for the claw type grip which is very common among gamers now.
The Cooler Master MM711 is a little on the smaller side when it comes to its body size which makes it idle for people with small to medium-sized hands. People with a big-sized hand may find it a little uncomfortable to use.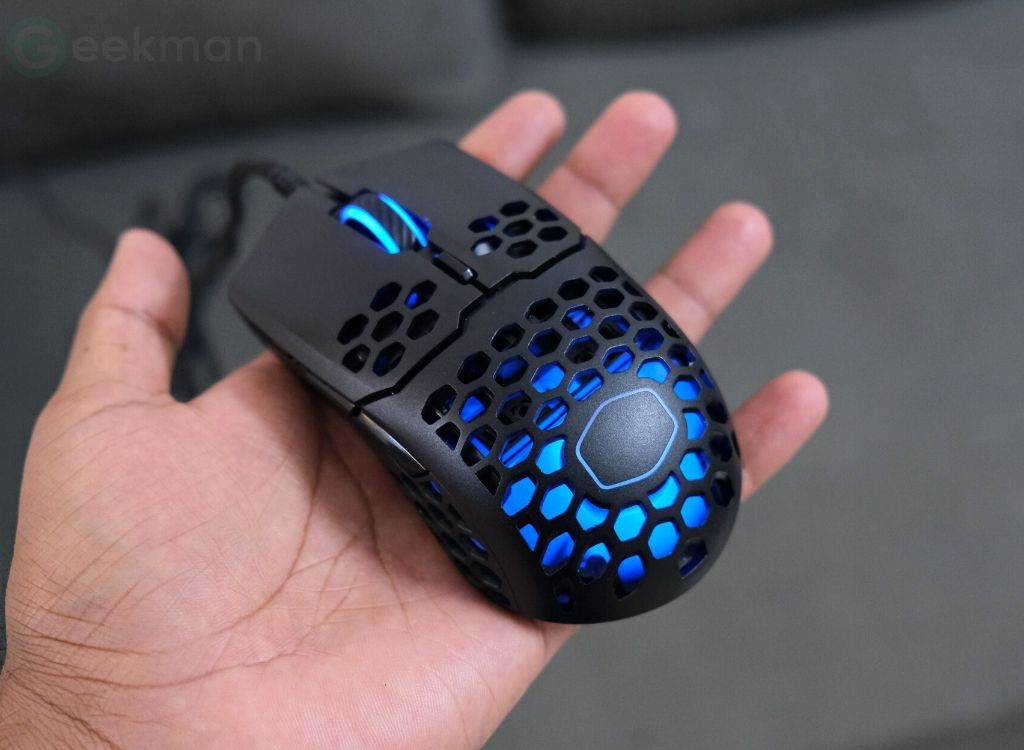 Now coming on to the build quality of the mouse, MM711 has a decent build quality when compared to the other mouse following the same design pattern.
The bottom of the mouse has PTFE feet attached to it which is a common term now especially to gamers. For those who have not heard this term before, PTFE is a material that allows the mouse to smoothly glide on all types of surfaces.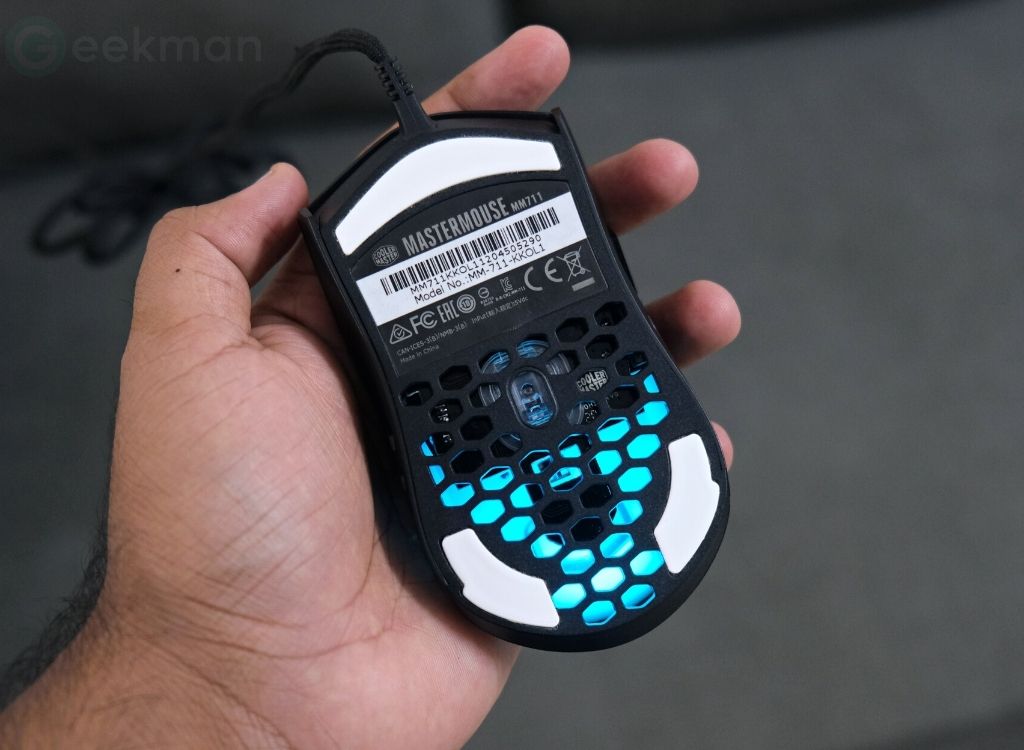 The mouse is attached to a 1.8-meter long braided cable with a gold-plated USB connecter. The cable quality is pretty good and gains our trust in terms of durability just after the first touch. The cable is also protected by a piece of rubber that keeps the cable at a straight position protecting it from getting snapped.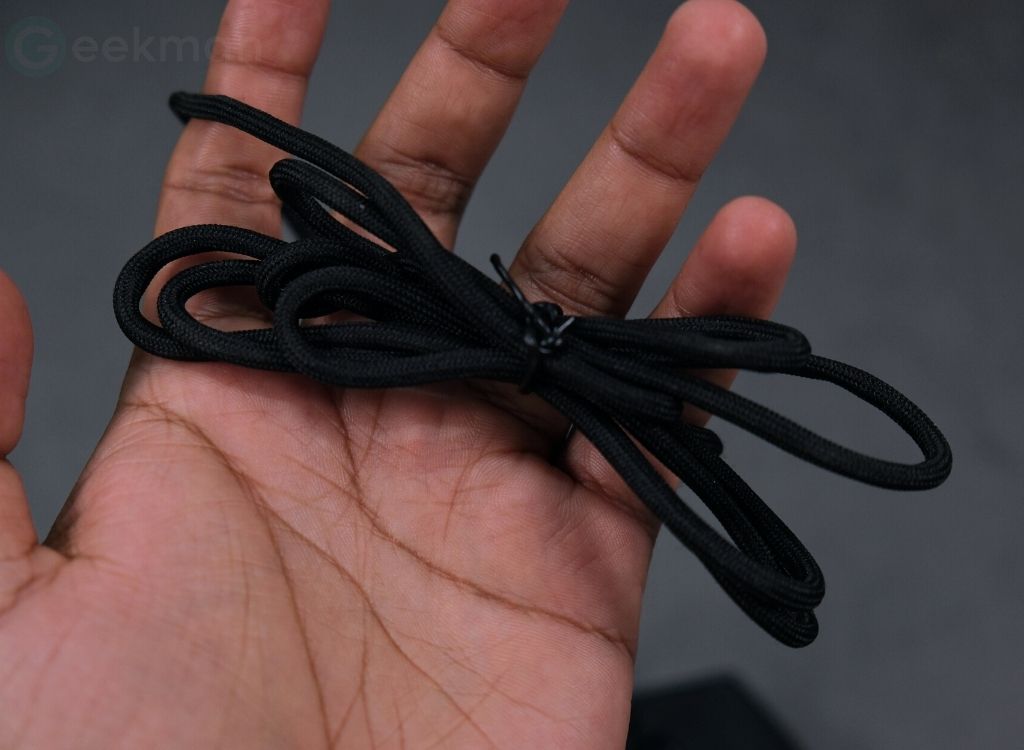 Features
The Cooler Master MM711 has a total of 6 buttons out of which 2 are placed on the left side of the mouse. There are no buttons on the right side of the mouse making this mouse suitable for only right-handed people.
The scroll wheel of the mouse has RGB lights placed below it which enhances its look and is rubberized which ensures a good grip on it.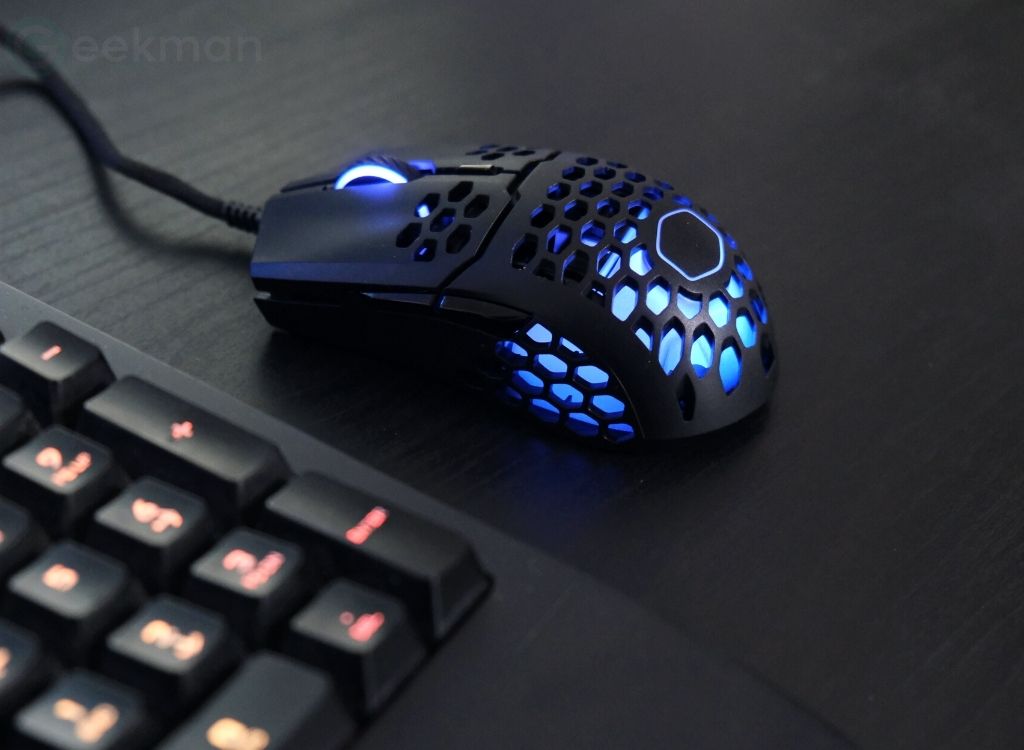 Cooler Master has offered Omron switches for the left and right-click of this mouse. These switches are well known for their comfortable and satisfying click sound.
The mouse has a polling rate of 1000Hz and it offers a tracking speed of 400 IPS which allows it to quickly respond during the gameplay. It has a lift-off distance of <~2 mm. The mouse offers a max DPI of 32,000 which is more than enough for most of the games today.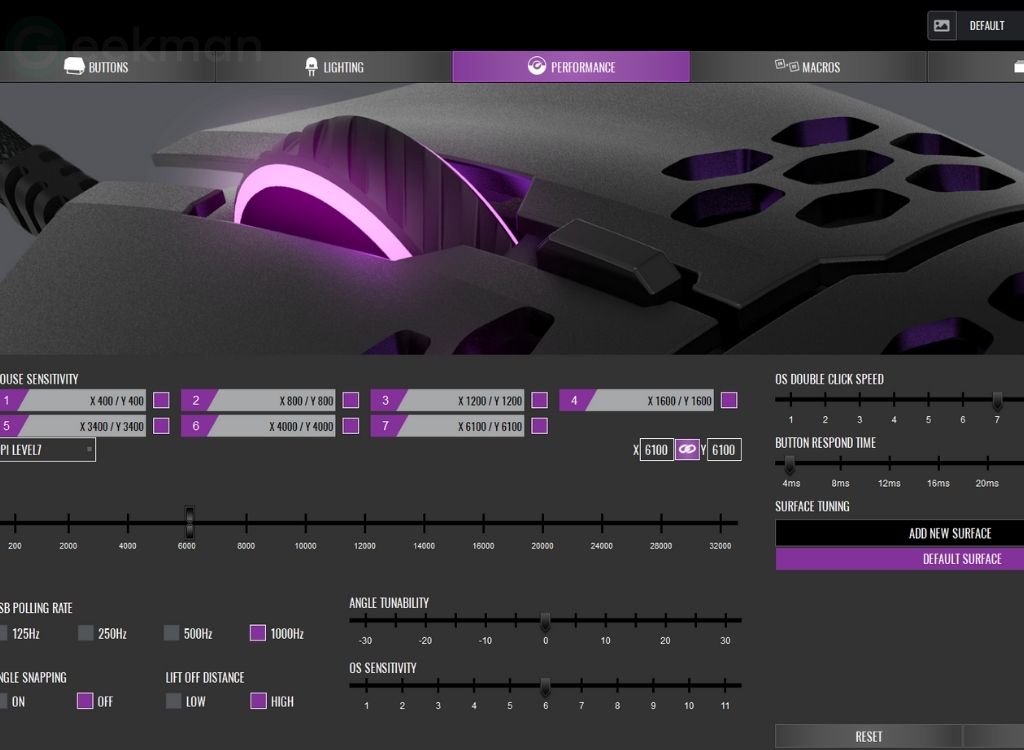 The mouse comes along with software which the company likes to call the Cooler Master MasterPlus+. This software offers a lot of customization options that allow you to set multiple DPI presets, RGB customizations, set macros, and more.
The software also offers settings like Angle Snapping, altering Lift-Off distance, changing Angle Tunability, and changing OS Sensitivity.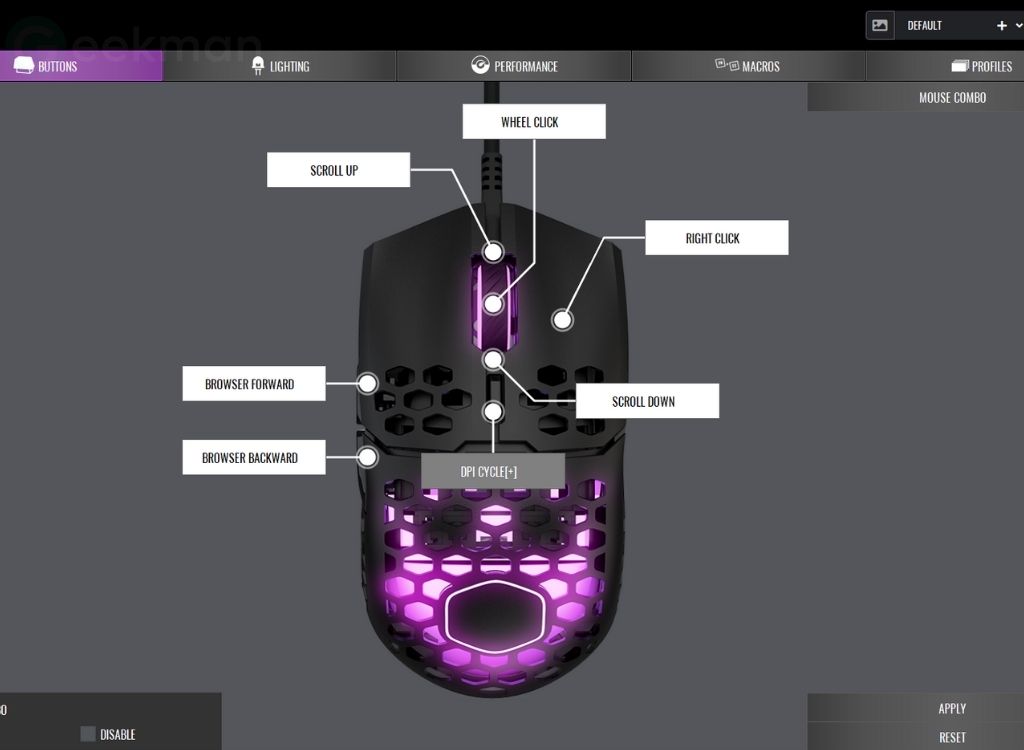 Performance
The Cooler Master MM711 features a Pixart PMW3389 sensor which is one of the top three gaming mouse sensors in the market right now. It uses a 32 Bit Cortex M0+ chipset with an onboard memory of 512KB.
The mouse sensor is very accurate and when paired with a lightweight body, it takes the gaming experience to a whole another level.
By default, you will get 7 preset DPI settings which you can change using the compatible software. You also get options to change the USB polling rates ranging from 125Hz to 1000Hz.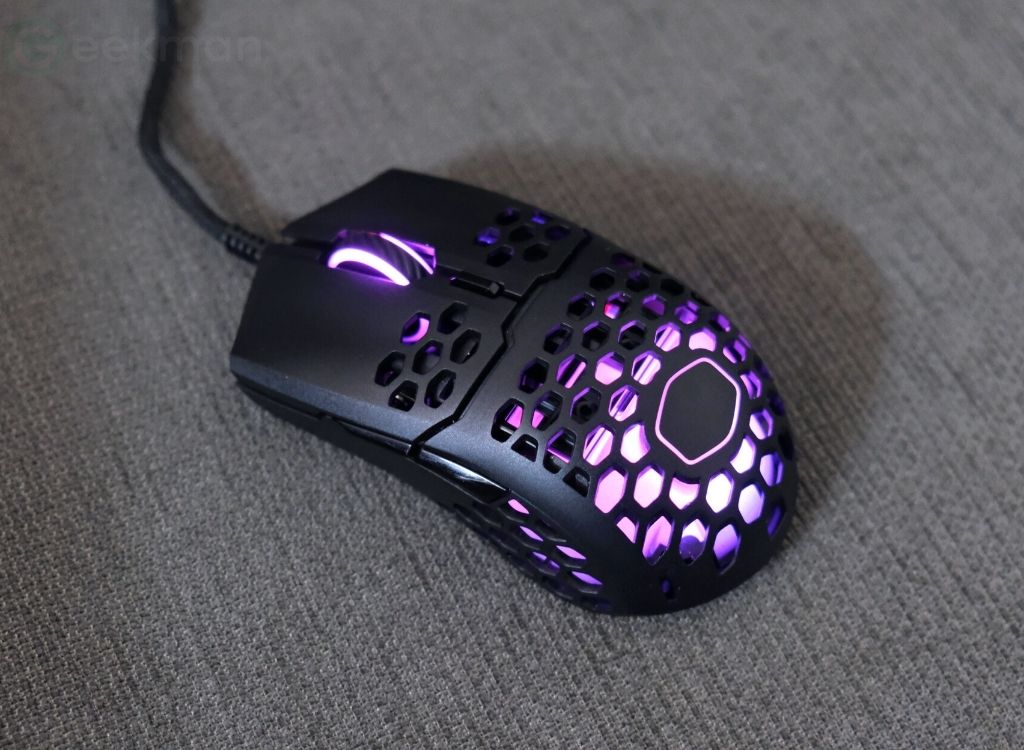 If you are habitual of using a heavy mouse then it may take a while for you to get used to it, but once you get used to it, there is no going back to any other heavier mouse.
The ultra weave cable makes the mouse almost feel like it's wireless and thanks to the PTFE feet, it glides smoothly on all the surfaces.
Final Word
Now, coming to the most important part, is it worth your money?
Well, the Cooler Master MM711 is an excellent gaming mouse as it comes packed with one of the best gaming sensors that you can get in a mouse of this price segment. The sensor is very accurate and when paired with a high DPI, it offers a phenomenal gaming experience.
The mouse is extremely lightweight, thanks to the honeycomb design pattern it follows. The lightweight body of the mouse enables quick movements, especially when playing games like PUBG or CS Go.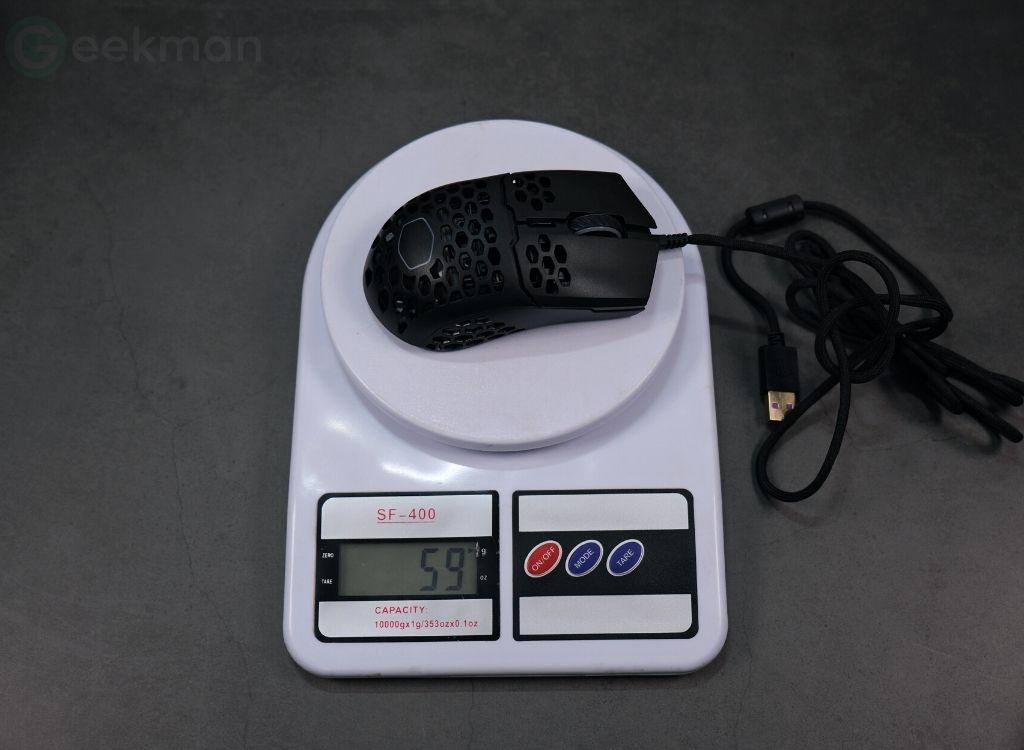 If you are looking for a gaming mouse with a lightweight body and an accurate sensor, then this mouse is probably the best mouse you can go for in this price segment.
Although if you have big-sized hands then the small body design of this mouse may feel a bit uncomfortable for you to hold on to.
Other than that, this is probably the best lightweight gaming mouse you can get in this price range. For More info, please check the detailed review video on our youtube channel: Geekman.
Cooler Master MM711 Review In Hindi
Buy Now

Cooler Master MM711 Competitors & Ulternative
Rs. 3,324
Rs. 5,057
as of 02/10/2023 10:51 pm
Rs. 9,878
Rs. 14,323
3 new from Rs. 9,878
as of 02/10/2023 10:51 pm
Also Read: