The SteelSeries Aerox 3 Wireless (2022) is an ultra-lightweight wireless gaming mouse that weighs only 68g. Yes, you heard it right, only 68g inclusive of its built-in battery. I chose the SteelSeries Aerox 3 for personal use, but believe me; the decision was not that easy because there were a ton of options available in the market.
Alongside the Aerox 3, I had a total of six other noteworthy choices, including – Logitech G Pro X, Logitech G Pro Wireless, Glorious Model O, Logitech G502 X Plus, Razer Viper V2 Pro, and HyperX Pulsefire Haste. However, after careful consideration, I ultimately settled on the SteelSeries Aerox 3. In this article, I will share all the reasons behind my choice. Additionally, I will also share my one-month use experience and the pros & cons of SteelSeries Aerox 3. So, stay tuned till the end of the article.
SteelSeries Aerox 3 Wireless Specifications:
| | |
| --- | --- |
| Type | Optical, Wireless |
| Connection | 2.4GHz Wireless, Bluetooth 5.0, Wired |
| Battery Life | Up to 80 hours 2.4GHz, Up to 200 hours Bluetooth |
| Shape | Ergonomic, Right-Handed |
| Grip Style | Claw, Fingertip, or Palm |
| Colour | Black, White |
| Sensor | SteelseriesTruemove Air |
| Acceleration | 40G |
| Polling Rate | 1000Hz/1ms |
| Tracking Speed | 400 IPS |
| Lift-Off Distance | < ~2MM |
| CPI | 100 – 18,000 |
| Mouse Buttons | 6 |
| RGB | Yes |
| Software | Yes, SteelSeries GG |
| Weight | 68g |
| Dimension | 120.55 X 57.91 X 21.53 MM |
| Warranty | 1 year |
Wireless
Wire Version
Box Content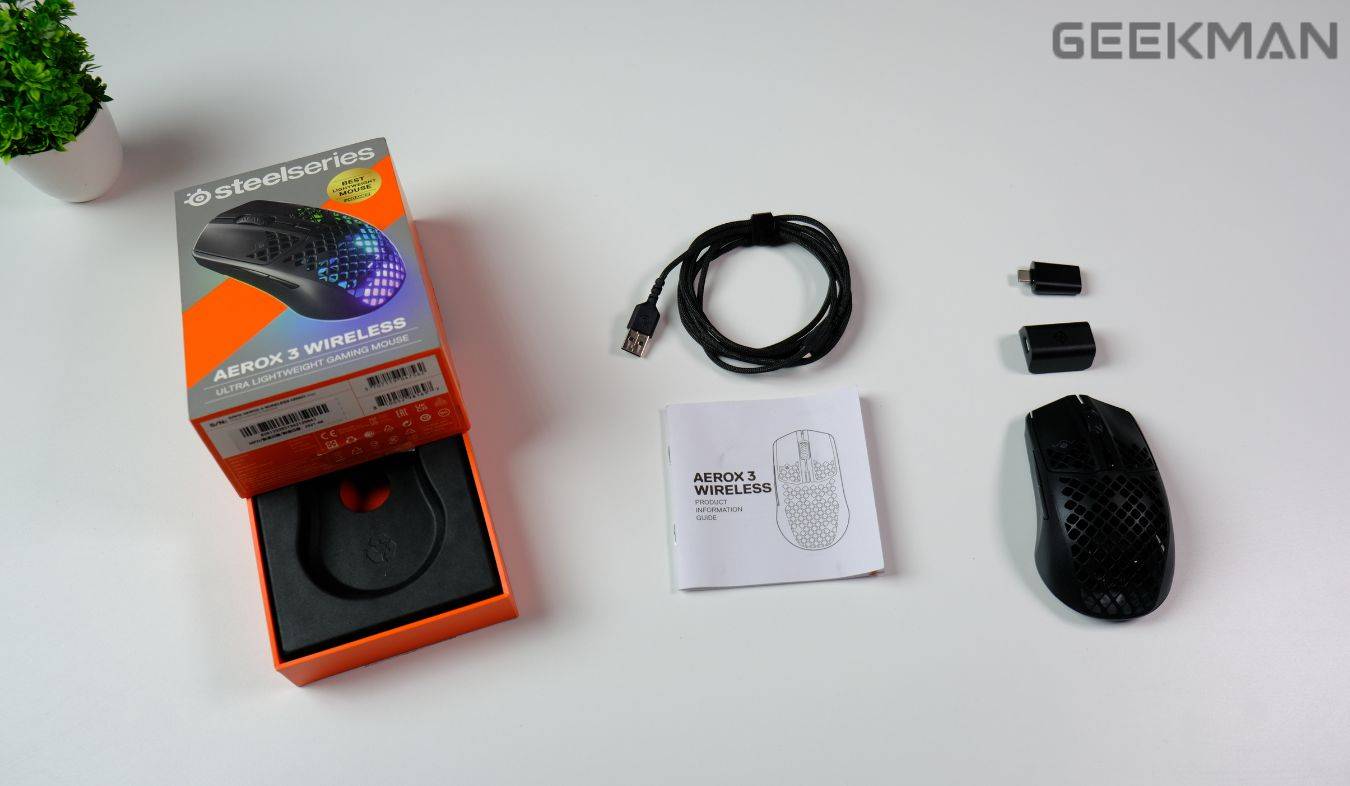 SteelSeries Aerox 3 Wireless in Onyx colour
Type-C to USB A 2.0 1.8m braided cable
USB Type-C 2.4 Ghz Wireless adapter
USB Type-C extension adapter
User manual
Connectivity- Lag-Free Victory
One good thing about the SteelSeries Aerox 3 Wireless is that it has USB Type-C compatibility. This is one of the reasons why I prioritized this gaming mouse. Other popular options like the Logitech G Pro, G Pro X, Razer Viper V2 Pro, or the even new G502 X only offer USB A adapter connectivity. Additionally, the G Pro series uses micro USB for charging. I know this is not a big deal for gamers, but USB Type-C is a better option for future use.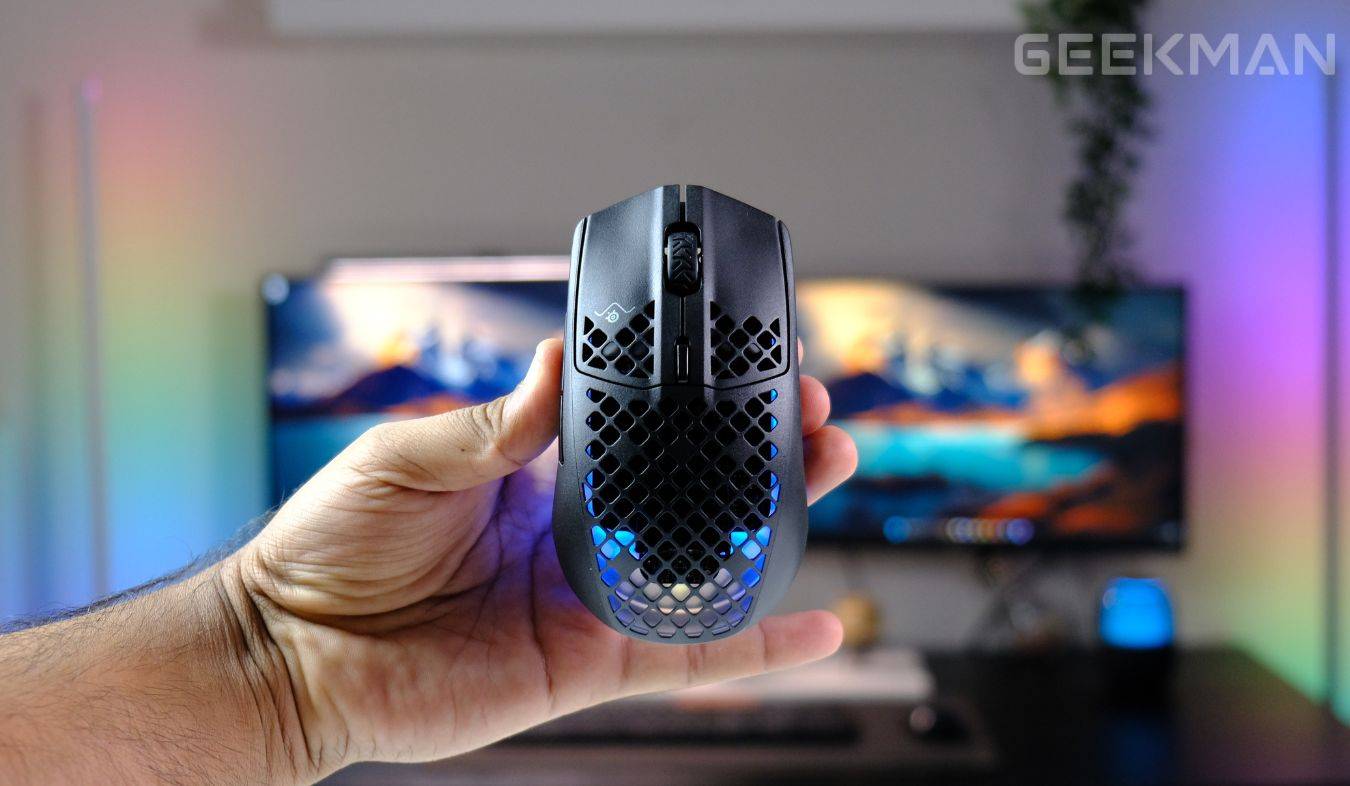 In the future, gaming laptops and PC motherboards may gradually have fewer USB-A ports. Apple has already discontinued it. So, if you plan to use the mouse with a MacBook, having USB Type-C should be on your priority list. Moreover, if you want to play games on a tablet or connect the mouse to your phone, you won't need an OTG adapter. It can be used directly. So, there are many benefits to having USB Type-C.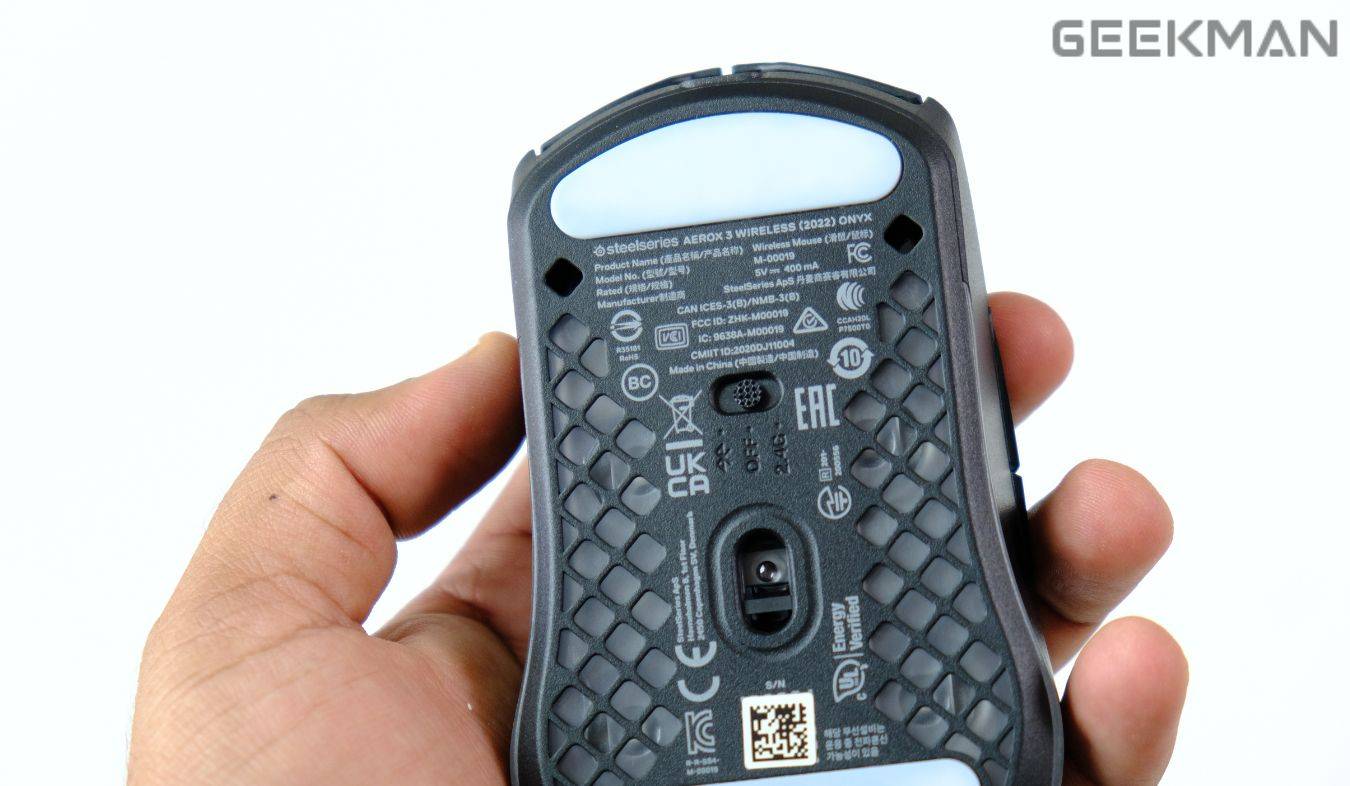 Moreover, in addition to charging, you can also use Aerox 3 as a wired gaming mouse. The SteelSeries Aerox 3 also offers a Bluetooth connectivity option that you won't find in its main competitors. Gamers might not use Bluetooth because it can result in a higher polling rate and response time, impacting performance, especially in FPS games. However, for non-FPS games and general use, having Bluetooth connectivity in a mouse is a plus point. Compared to a wireless dongle, using Bluetooth makes it easier to connect the mouse to devices like a TV, smartphone, or tablet.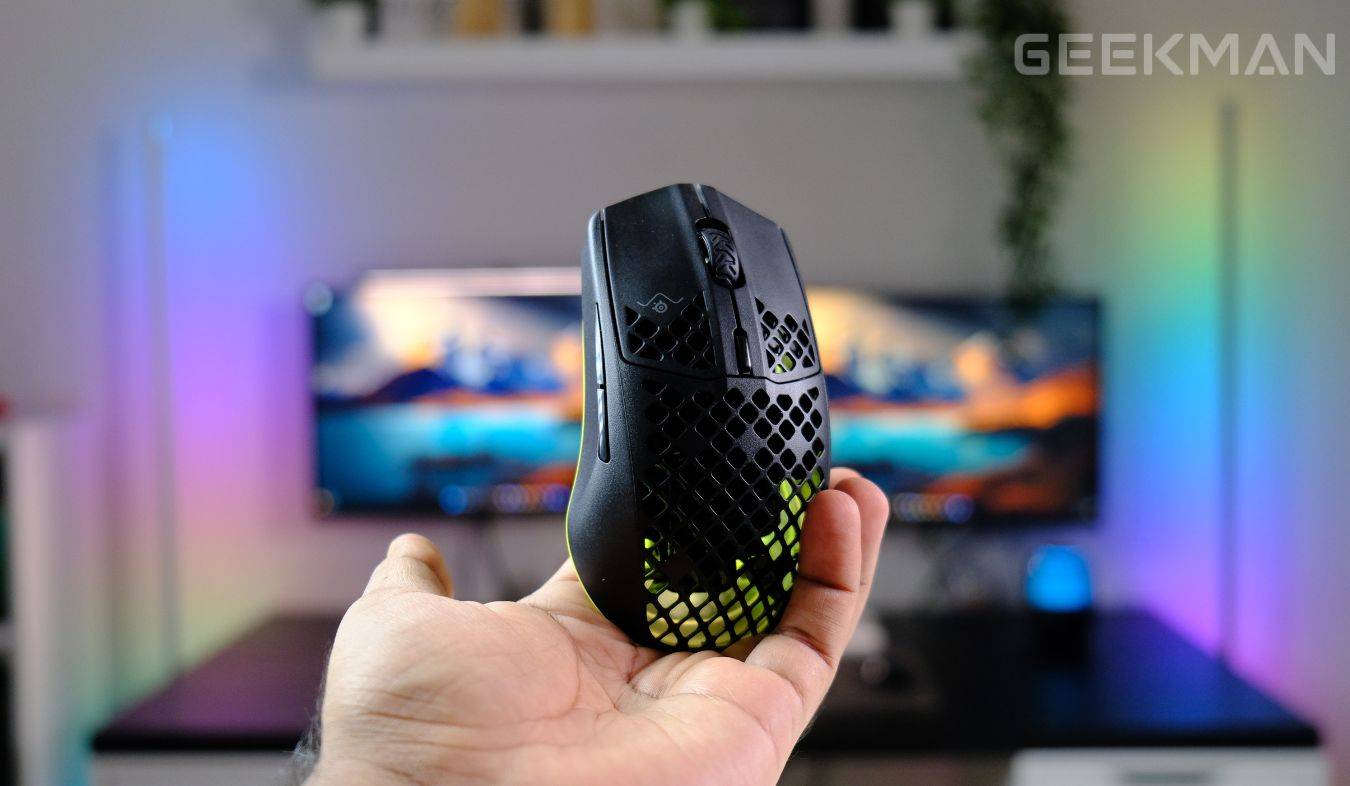 I've tested the SteelSeries Aerox 3 with all three connectivity modes—wired, wireless, and Bluetooth. There's no difference in the polling rate and response time between wired and wireless modes. In wireless mode, there's no noticeable latency, delay, or input lag, so you get the same solid connectivity performance as a wired gaming mouse. So, for the connetivity, I give five out of five to Aerox 3.
Weight: Only 68g!
Let's talk about the build and comfort. The first thing that catches your attention is how incredibly light it is. Weighing just 68 grams, it's even lighter than the Logitech G Pro and Glorious Model O. It's rare to find such light weights in wireless gaming mice, as the battery adds some bulk.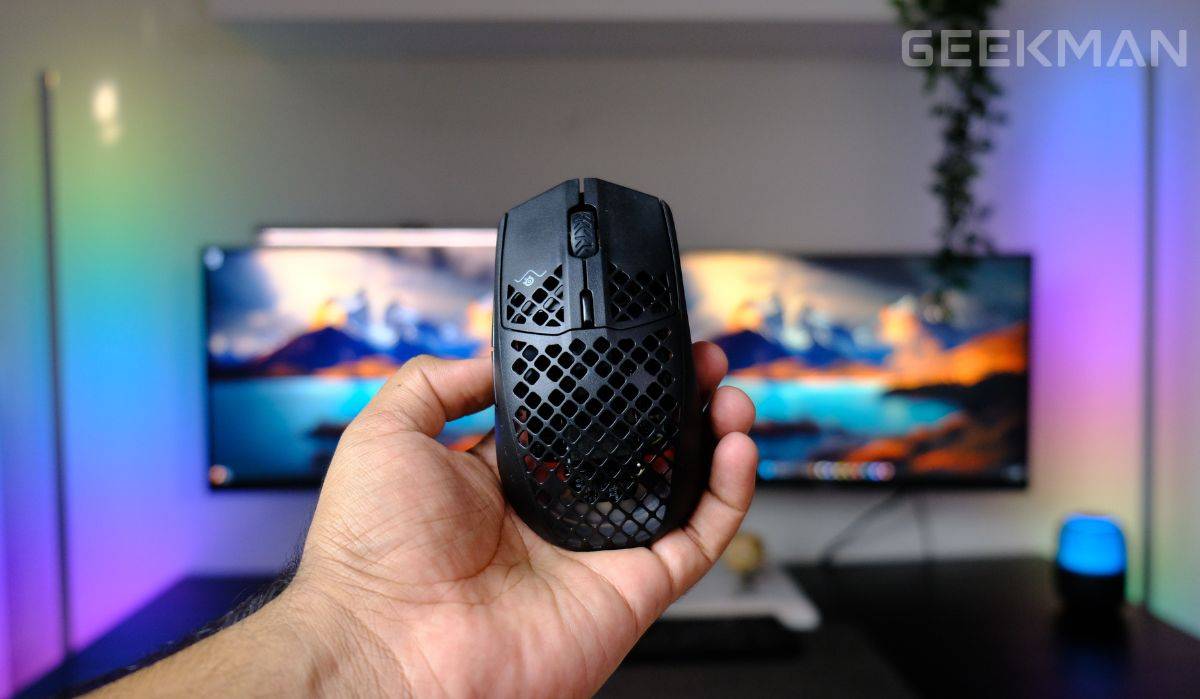 However, SteelSeries managed to create a lightweight design by using a honeycomb pattern, slimming down the PCB board, and utilizing their energy-efficient TrueMove Air optical sensor. This sensor performs almost as well as the popular Pixart 3335 but is even lighter. And the best part? It consumes less power, so they can keep the internal battery small. So, these are all the reasons behind the SteelSeries Aerox 3 lightweight build.
If you're a fan of lightweight gaming mice like me, then the Aerox 3 Wireless will be right up your alley. However, I understand that not everyone prefers lightweight mice, so if that's the case for you, it might not be the best choice. But if you haven't experienced an ultra-light mouse before, I highly recommend trying it. It dramatically enhances comfort and gameplay. You can play at low DPI settings and make quick, precise movements like flick shots.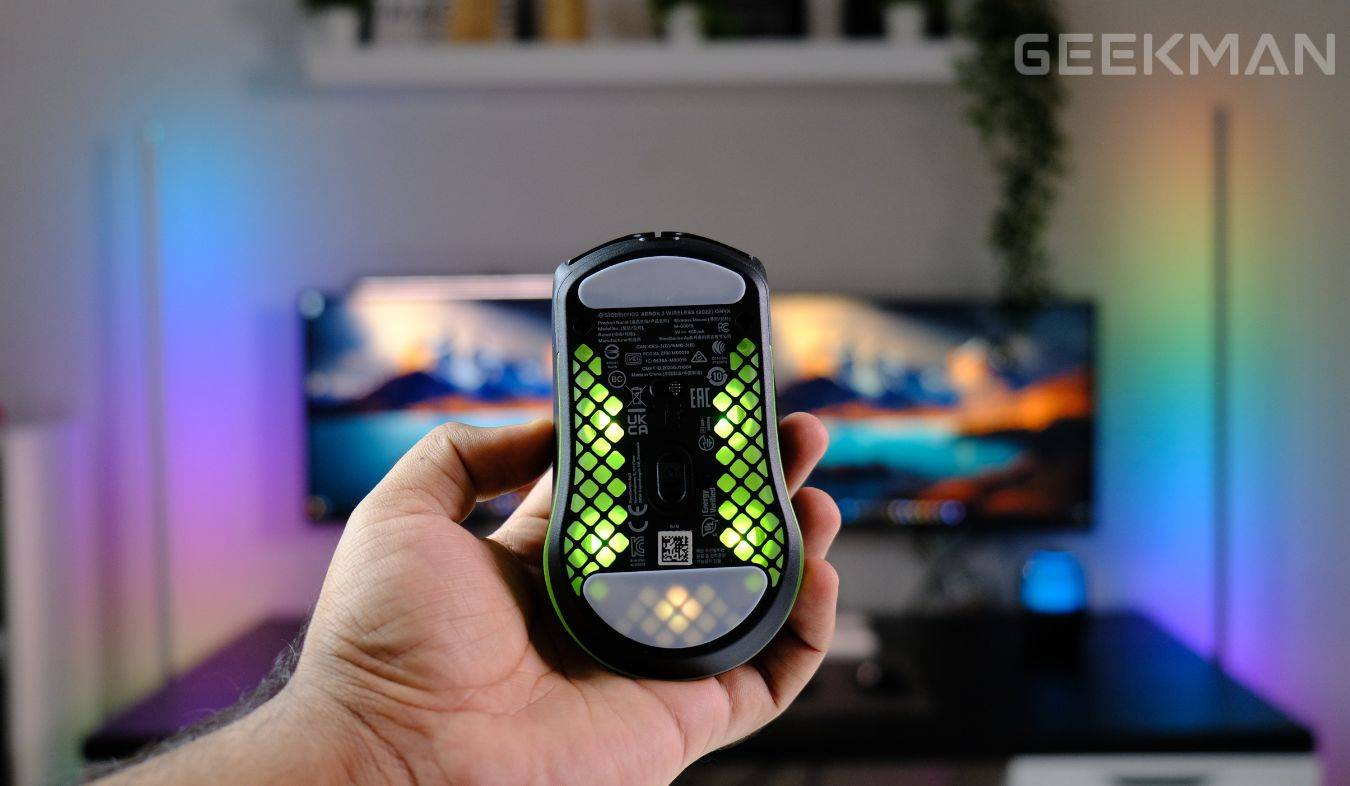 Design, Build & Comfort – Perfect
The design-wise, the Aerox 3 is a slim and medium-sized gaming mouse. It is available in black and white colour options. Around 60-70% of the mouse features a honeycomb mesh pattern, which serves two purposes. Firstly, it allows for good air circulation, preventing sweaty hands, especially in hot weather conditions. Secondly, the RGB lights shine through these honeycomb holes, creating a cool-looking gaming vibe. This mouse also has an IP54 rating, providing protection against water spills. However, it is susceptible to dust accumulation, but the large mesh holes make it easy to clean.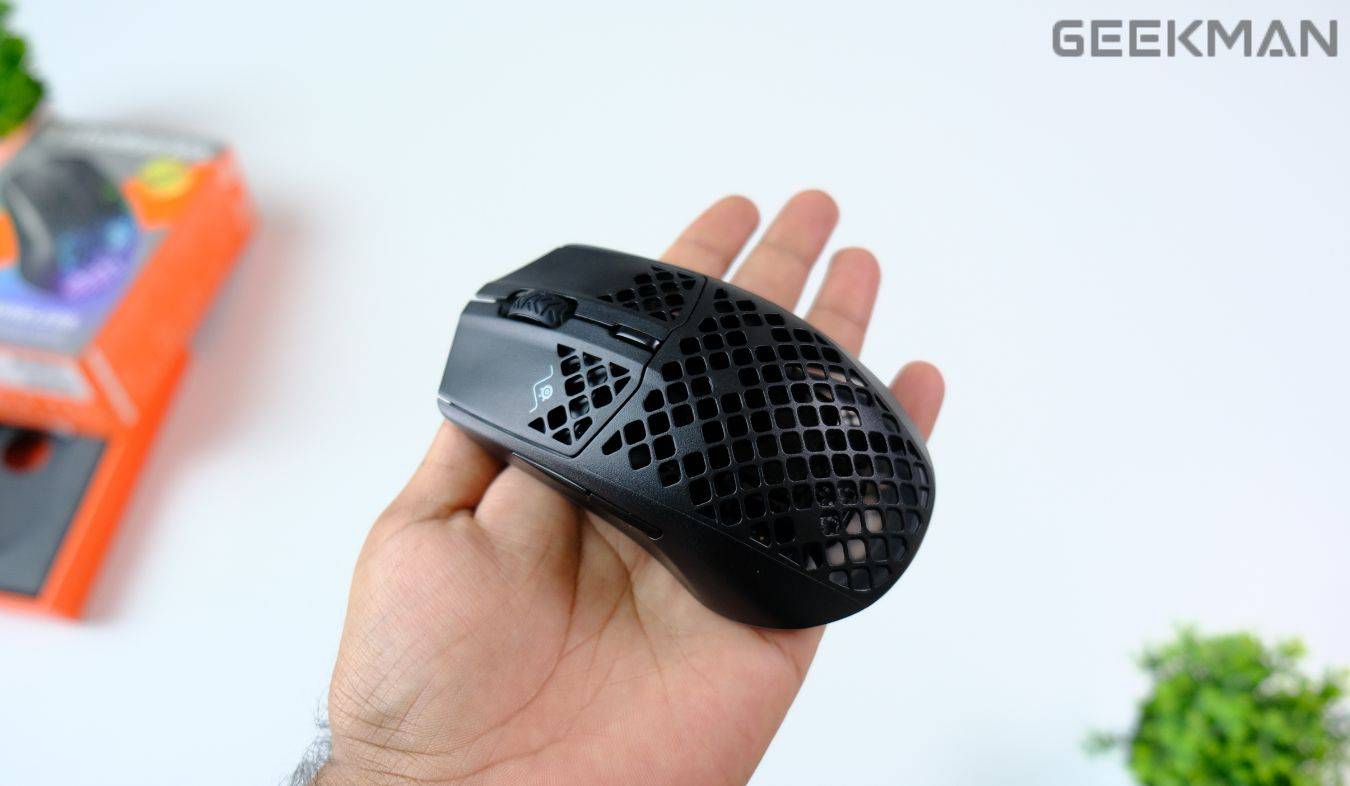 Overall, the design of the SteelSeries Aerox 3 is very comfortable. I didn't need extra time to adjust to the switches. It's designed for claw and fingertip grips, which are common in gaming mice. However, the curved end of this mouse also provides decent comfort for palm grip use. It may not be as comfortable for gamers with large hands using a palm grip, but it should work well for medium and small hand sizes. It is comfortable for claw and fingertip grips, whether you have small, medium, or large hands.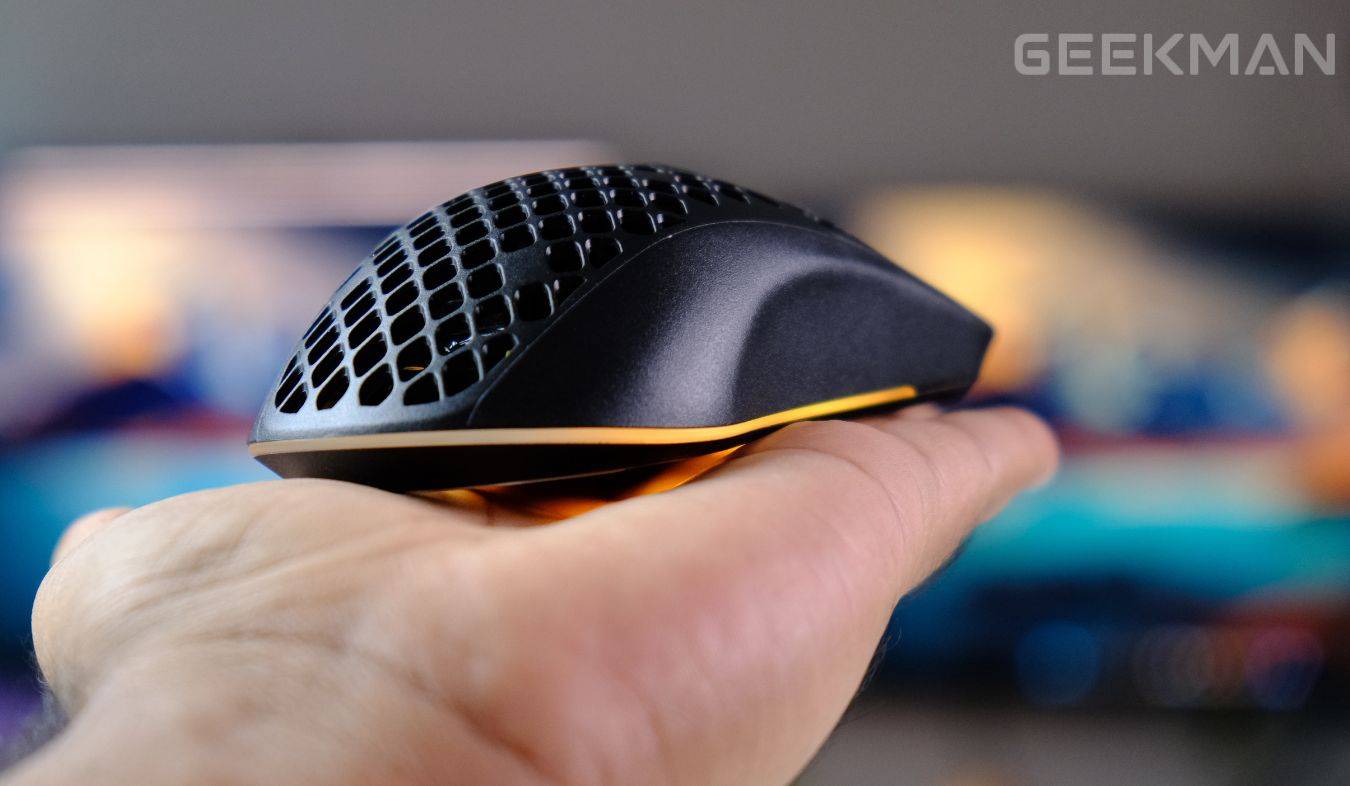 The build quality of the SteelSeries Aerox 3 is decent. I wouldn't say it has the best build quality, as I have seen better build quality in other honeycomb design mice. Some parts of the mouse feel a bit flimsy, but it's also possible that compromises were made in the build to keep it lightweight, and that can be acceptable. So, we can't say that the build quality is bad, but it could have been better.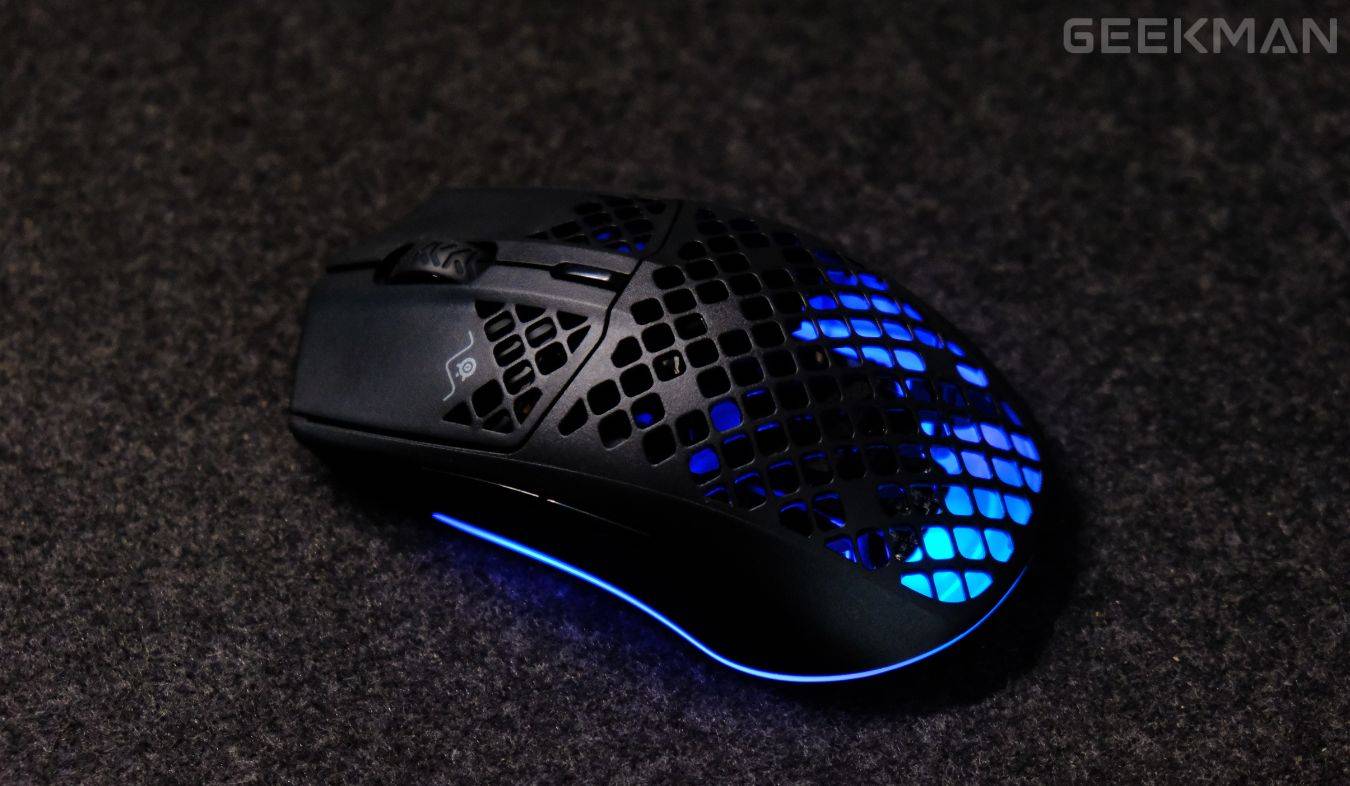 The Aerox 3 wireless has a total of 6 buttons, all of which are customizable, including the scroll wheel. The primary buttons are equipped with golden micro switches, although the SteelSeries does not mention any brand, but based on the click sound, I believe they might be TTC golden switches. The TTC golden switches are of good quality and provide satisfying clicks. In terms of feel, they are quite responsive and smooth, offering a great clicking experience. Additionally, the switches are dust and waterproof with an IP54 rating, which extends their durability. However, it's worth noting that the click noise is slightly louder (but it feels cool!).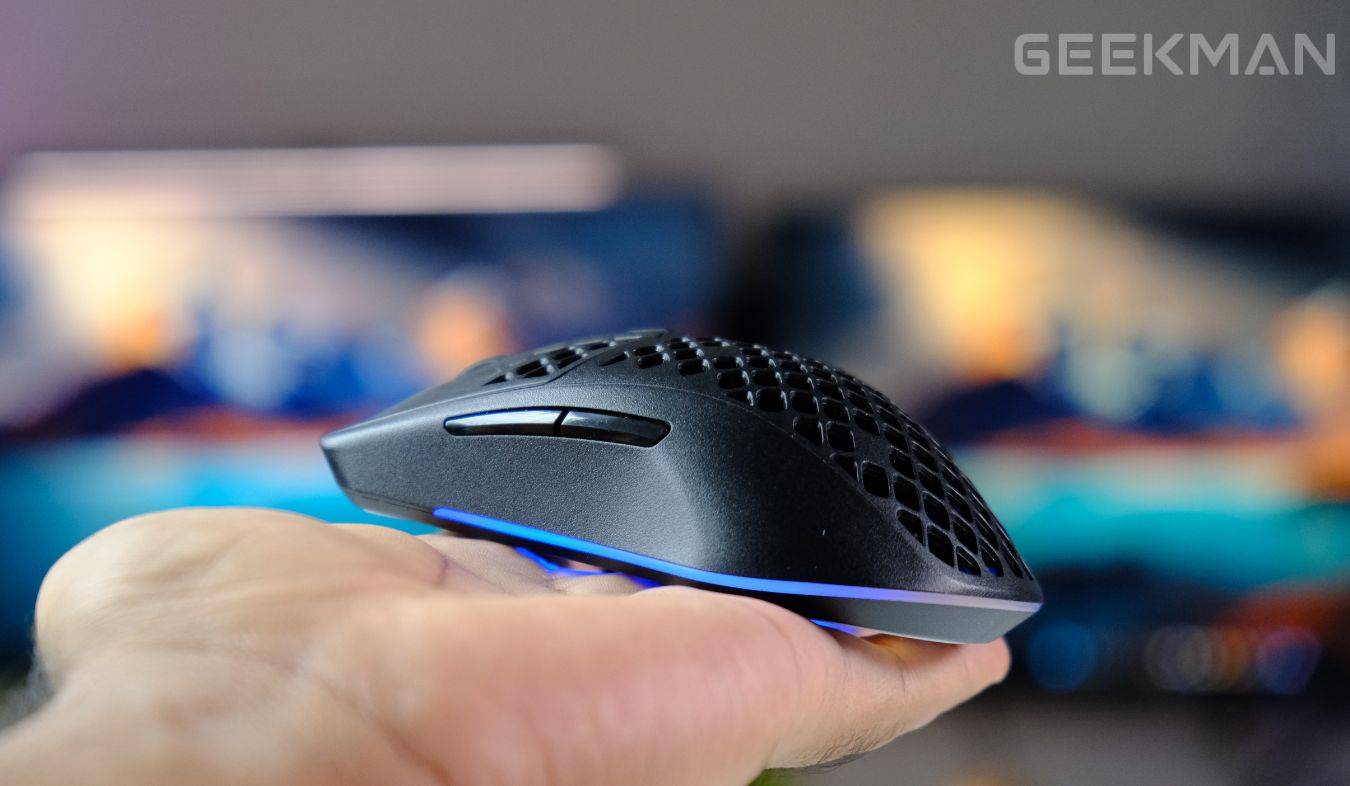 I really liked the quality of the scroll wheel of Aerox 3. It is perfectly tuned for gaming, not too hard or smooth. The side buttons on the left side are easily reachable. These buttons are slim, but there are no issues with using them. However, it is important to note that the side buttons are only on the left side because this is a right-handed gaming mouse. In terms of design, it is comfortable for both left-hand and right-hand use, but left-handed users will have to compromise on the side buttons, which may not be suitable for most users.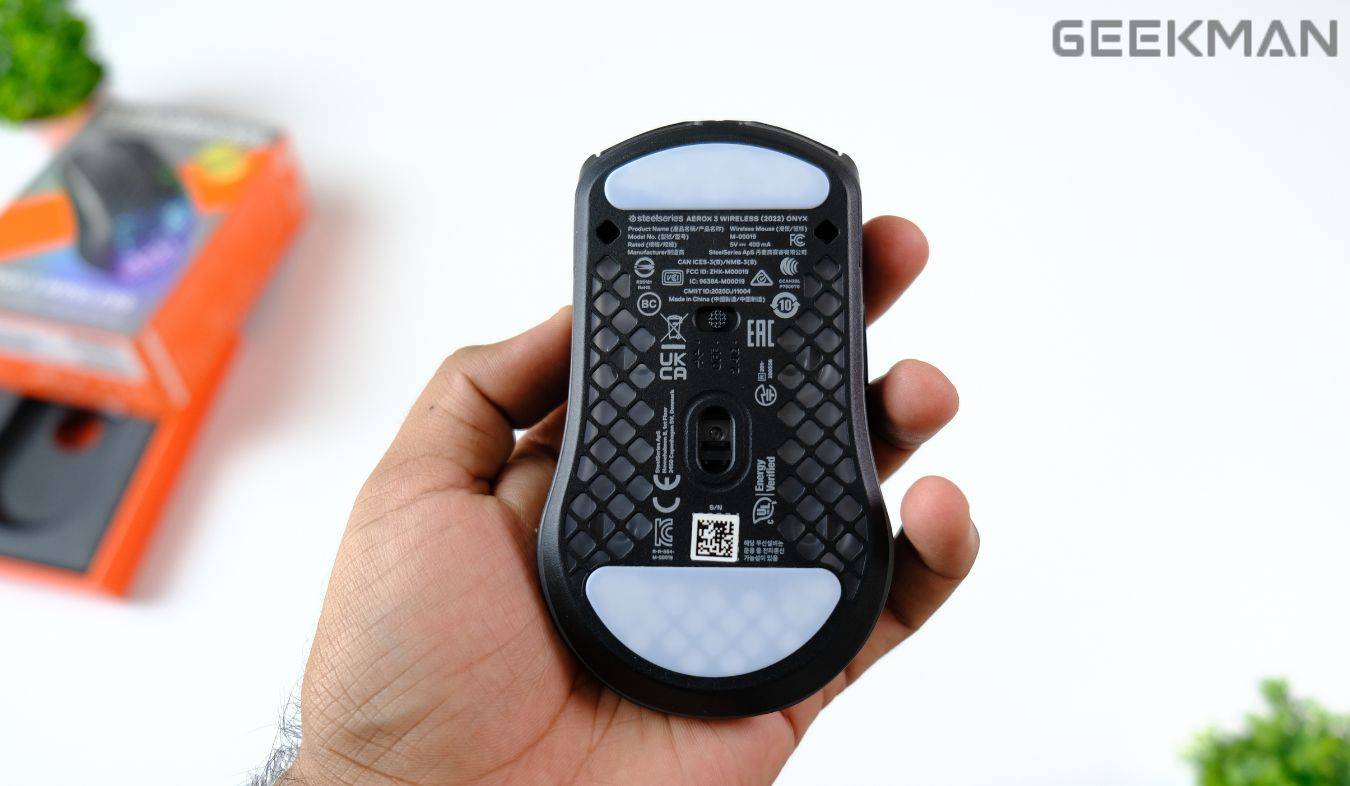 The Aerox 3 Wireless is incredibly smooth, thanks to its upgraded PTFE feet. It operates seamlessly on both speed and control mousepads and can even be used without a mousepad without any issues.
RGB – GG
To access all the settings and RGB customization options, you will need to download the SteelSeries GG software, which is available for both Windows and Mac. Like Logitech G Hub, SteelSeries GG is a universal software for all SteelSeries products. It is user-friendly, well-optimized, and easy to use.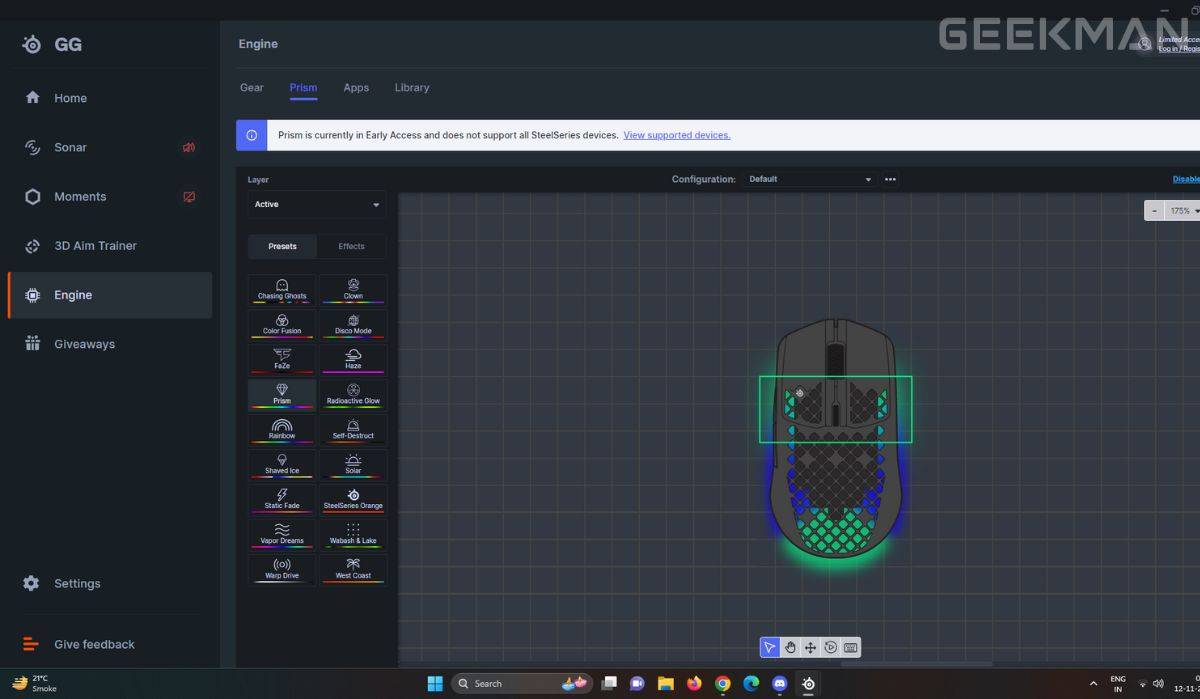 If you have used any SteelSeries product before, you may already be familiar with SteelSeries GG software. The RGB customization options are quite extensive. With this software, you can explore various preset RGB effects. The Aurox 3 SteelSeries Wireless features three RGB lighting zones, and each zone can be customized individually. In addition to custom effects, you can adjust animation speed and duration and explore numerous other options.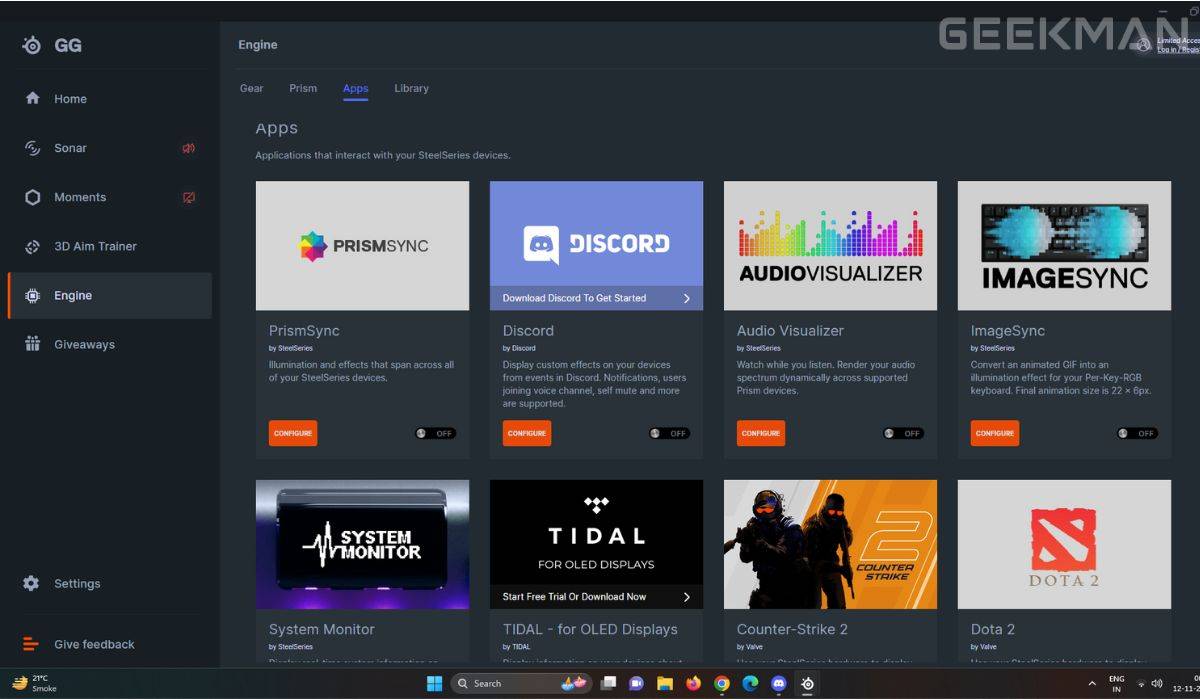 Moreover, the software allows for music synchronization and special game-related RGB effects, displaying in-game information like health or money through RGB lighting. A Discord mode even indicates different activities on Discord through RGB lighting. The range of options available for RGB customization truly makes the SteelSeries Aerox 3 one of the best RGB wireless gaming mice on the market.
Battery – Reliable
Speaking of battery life, I am not sure about the exact mAh capacity of the battery, but SteelSeries promises up to 80 hours of battery life with the Type-C dongle and up to 200 hours of battery life with Bluetooth. I have personally tested it with the wireless dongle and got approximately 30 hours of battery backup.
It's worth noting that your actual battery life may vary depending on your usage. Factors such as keeping the RGB lighting at full brightness and continuous usage will impact the battery life. Nonetheless, even though these numbers may not be the best, they are reasonable for a lightweight RGB wireless mouse. You can expect it to last for around two days without charging.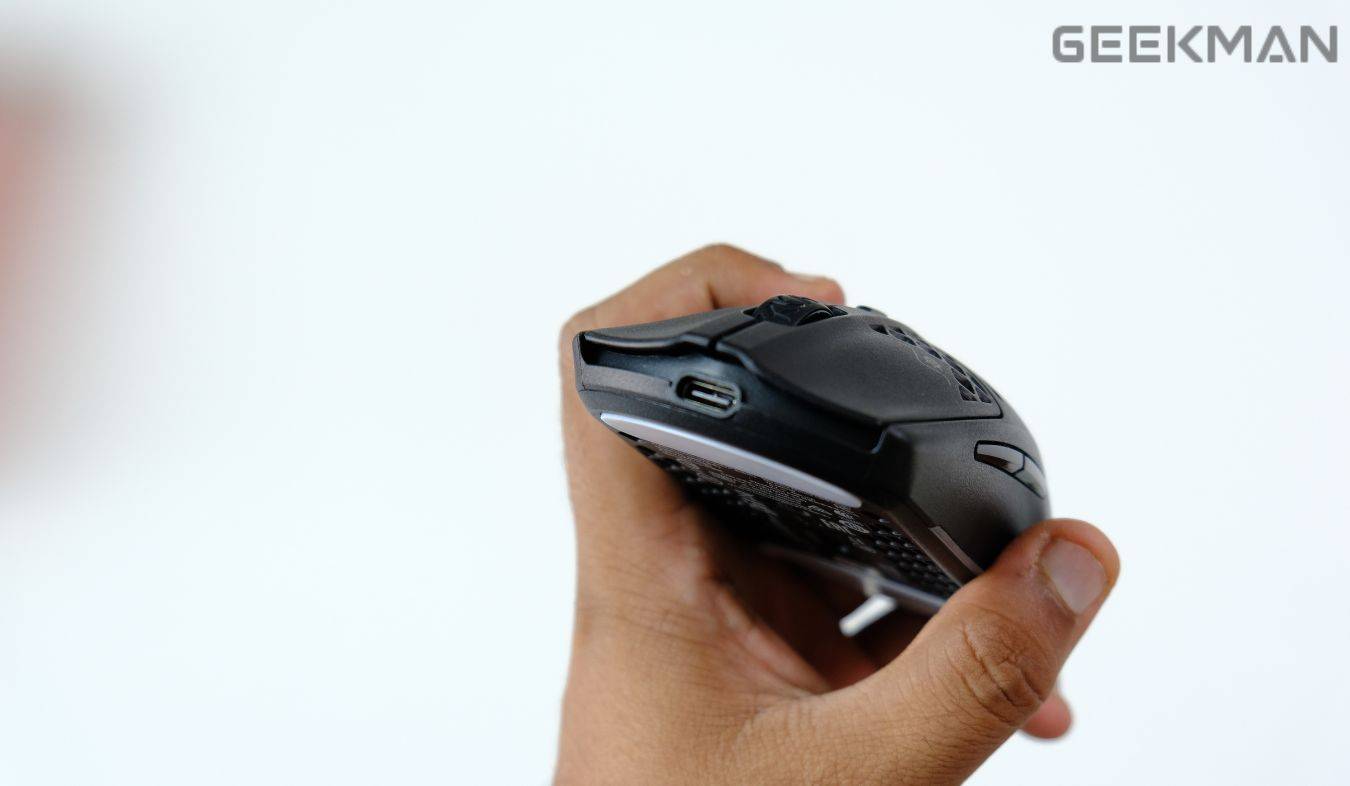 What's impressive is that I didn't feel frustrated even during a month of use when the battery eventually drained. Firstly, the mouse charging speed is very fast, taking approximately 1 hour to reach a full charge. Secondly, it can be used as a wired gaming mouse while charging, so you can continue gaming or working without any interruptions.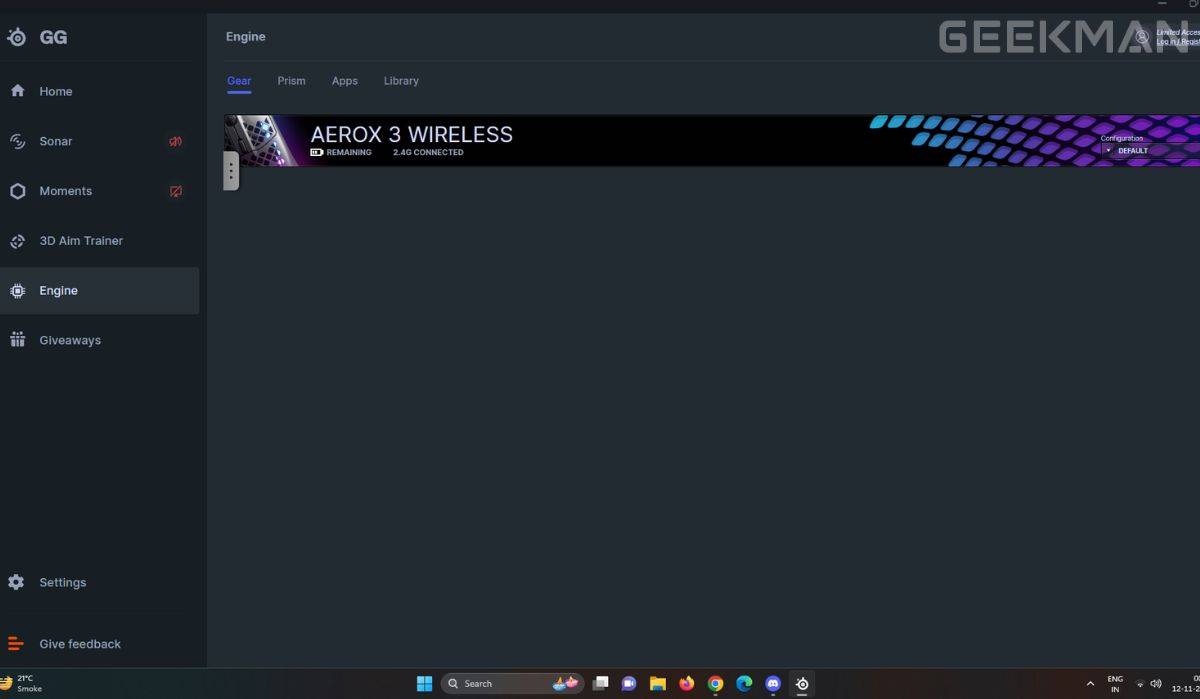 The SteelSeries GG software also shows the remaining battery and charging status on the screen, so you will know when it is fully charged or running low on battery. The only issue I have here is that the software doesn't show the battery percentage. If it did, it would be much better. Knowing the remaining battery would be quite easy.
Save The Battery!
The SteelSeries Aerox 3 Wireless also features a sleeping mode similar to other wireless gaming mice. You can customize the sleep time anywhere from 1 minute to 20 minutes. The shorter the sleep time, the longer the battery backup will be. Unlike the previous variant, I did not face any issues with sleep timing in this new version. It quickly wakes up from sleep mode.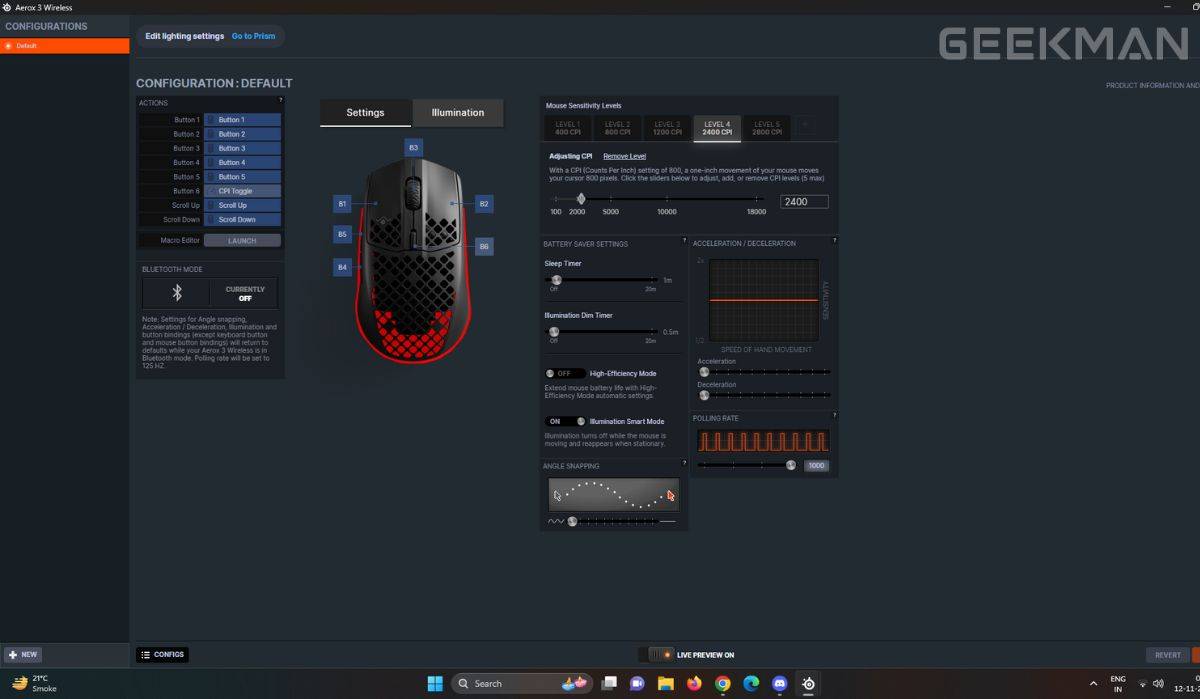 Additionally, it has an illuminating mode where the RGB lighting turns off automatically when there is no mouse movement. As soon as movement resumes, the RGB lights turn back on. I found this feature interesting and wish it was present in all wireless mice. It significantly contributes to preserving battery life.
Performance
In terms of performance, this SteelSeries Aerox 3 Wireless is equipped with SteelSeries' TrueMove Air optical sensor, which is almost identical to the Pixart 3335. While it may be a slightly older sensor, it still holds up well in the market due to its promising performance. It offers a wide range of CPI (Counts Per Inch) options, from 100 to 18000, and provides 40G acceleration and a maximum speed of 400 inches per second (IPS). The sensor's accuracy is impressive, making it highly recommended for professional gaming.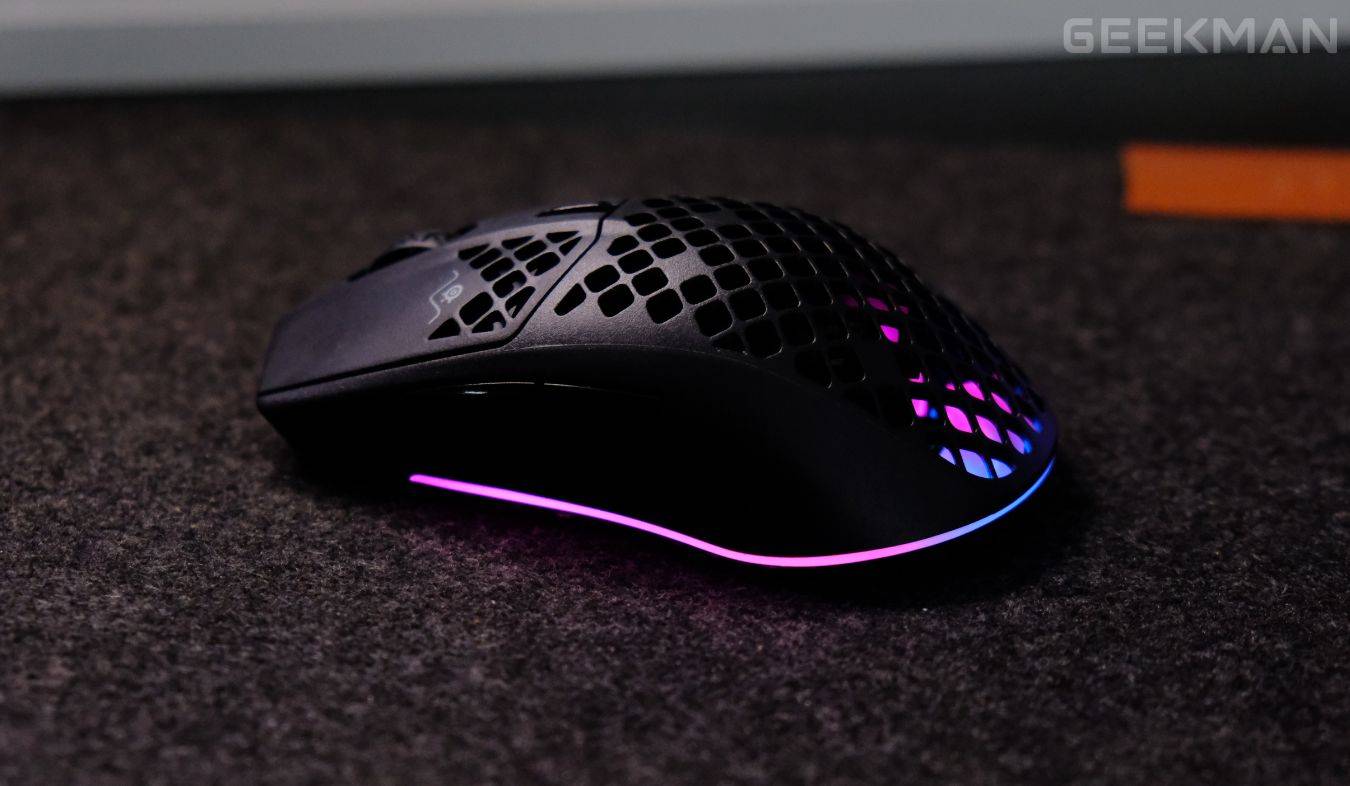 All essential mouse-related settings can be found in the software. You can customize the CPI anywhere from 100 to 18000 to suit you best. You can also set preset levels, allowing for easy switching with the CPI button on the mouse. Furthermore, this Aerox 3 has onboard memory, ensuring that all your settings are always stored.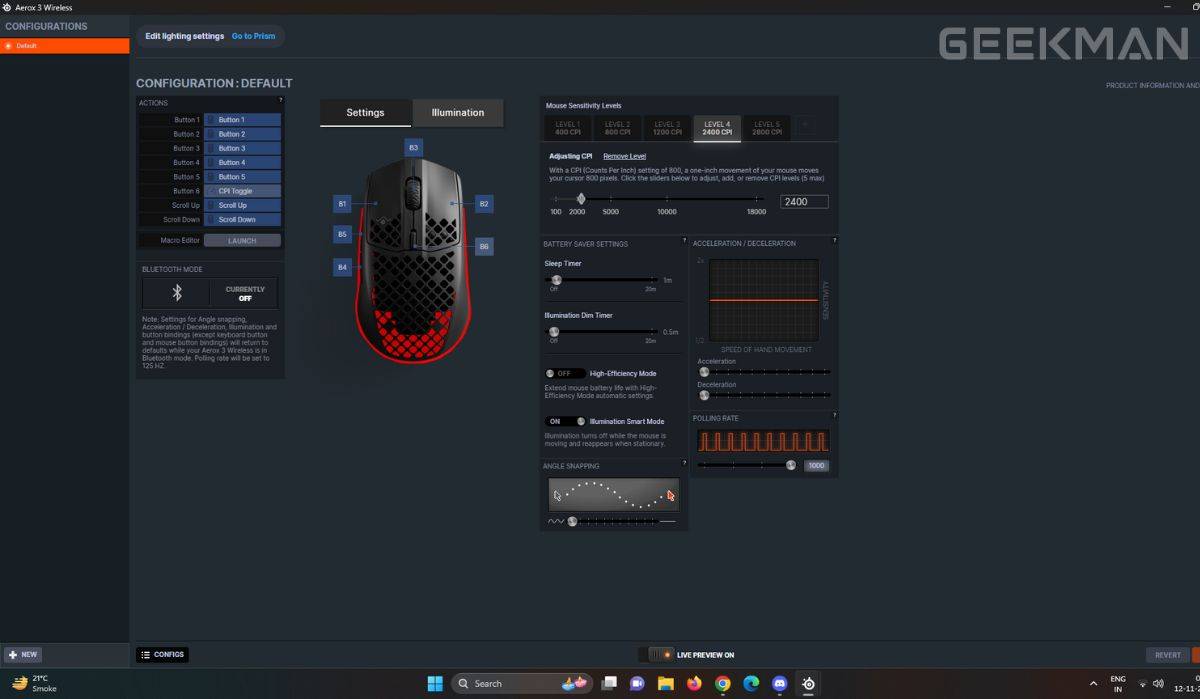 Additionally, you have the option to adjust acceleration or deceleration, enabling you to fine-tune your mouse movements. Other settings, such as angle snapping and polling rate adjustment, are also available. Furthermore, you can program the buttons and use the macro editor to create macros for more customized gaming experiences. Overall, the SteelSeries Aerox 3 offers all the essential gaming-related settings you need for a seamless gaming experience.
Worth To Buy SteelSeries Aerox 3?
The SteelSeries Aerox 3 Wireless is a gaming mouse that truly stands out in the crowded market. Its lightweight design, coupled with a long-lasting battery, makes it a top choice for gamers. The perforated design keeps your hands cool and ensures a solid grip during intense gaming sessions. While the aesthetics might not appeal to everyone, it embraces the lightweight design trend, delivering a wireless mouse that's not only affordable but excels in crucial areas.
Having used it extensively in games like CS: GO and PUBG, I can vouch for its performance. The accurate sensor allows for lightning-fast and precise swipes, which is crucial in competitive gaming. The RGB lighting adds a touch of flair, and with limitless customization options, you can make it truly yours. The USB Type-C and Bluetooth connectivity options are a welcome bonus, providing versatility for different setups.
Overall, the SteelSeries Aerox 3 is a promising wireless gaming mouse that offers a well-rounded experience. It doesn't boast anything extraordinary but its is a solid package overall. From its comfortable feel to feature-rich software support, it caters to gamers' needs. If you're into FPS games, this mouse comes highly recommended, providing a satisfying gaming session overall.
Wireless
Wire Version
SteelSeries Aerox 3 Review In Hindi
Quick Compare
The SteelSeries Aerox 3's closest competitor is the Glorious Model O. They are comparable in terms of price, design, and features. Both offer USB Type-C connectivity. However, the Model O has a slightly better build quality and sensor, but its software may not be as favourable, and it lacks support for Mac users. Additionally, the Model O does not have Bluetooth connectivity.
Two other main competitors in the market are the Logitech G Pro X and the original Logitech G Pro. Both Logitech models have superior sensors, lower click latency, better build quality, and slightly better battery life compared to the Aerox 3. However, they lack RGB lighting, USB Type-C advantage, and Bluetooth connectivity. Moreover, the Logitech models come with a higher price tag.
Ultimately, your choice will depend on your specific requirements. If budget is not an issue and RGB lighting and USB Type-C connectivity are not priorities, then you can consider the Logitech G Pro series. However, if you are looking for the best lightweight RGB wireless mouse with an ideal price tag, then the SteelSeries Aerox 3 is the way to go without any second thoughts.
Also Read: