If you have recently searched for a budget gaming mouse under Rs. 2,000, then you might be known the fact that three gaming mice mainly dominate this segment.
The first and second mice are from the famous brand Logitech and are called Logitech G402 and Logitech G102.
Meanwhile, the third mouse comes from a famous gaming brand named the Razer DeathAdder Essential. So today, we have got our hands on this budget-friendly gaming mouse, and we will be sharing what we think about it.
The Razer DeathAdder Essential is a budget gaming mouse from Razer's famous DeathAdder series and is easily available under the price bracket of Rs. 1500 (20$).
Specifications:
| | |
| --- | --- |
| Type | Optical, Wired, right hand |
| Colour | Black, White |
| Sensor | Pixart PMW3328 |
| Polling Rate | 1000 / 1ms |
| Tracking Speed | 220 IPS |
| Liftoff Distance | >=2mm |
| DPI | Up to 6400 |
| Acceleration | 30G |
| Mouse Buttons | 5 |
| Cable | 1.8 long normal cable |
| RGB | Yes, Only green |
| Software | Yes, Razer Synapse 3 |
| Weight | 95g |
| Dimension | 127 x 62 x 43 mm |
| Warranty | Two years |

Box Contents
Starting with the box contents, you will get a user manual to help you understand how the mouse works, a Razer logo sticker, and then the mouse itself.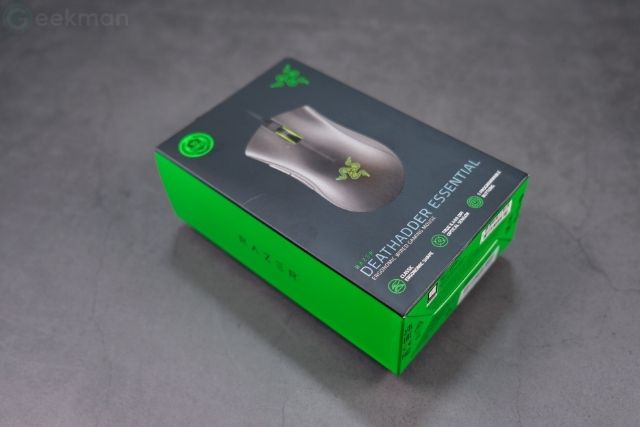 Build Quality & Design
Now, regarding the build quality of the Razer DeathAdder Essential, Razer has done quite an impressive job. You will fall for it the moment you first pick it up. The mouse is very well built and feels very durable in your hand. It has a better build quality than most others in its segment.
Despite its cheap pricing, it has the same size as the other models from the same family.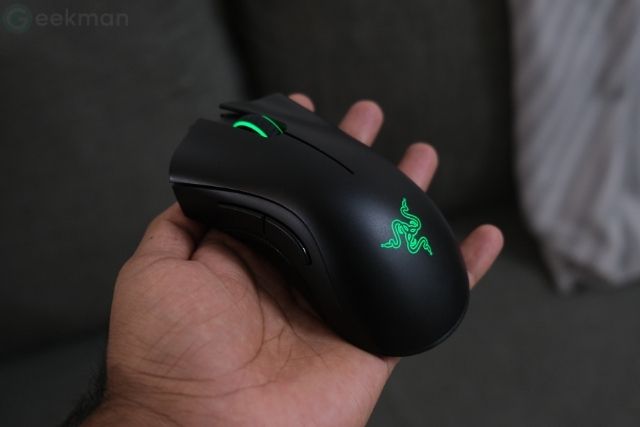 The mouse has a pretty simple design and is designed only for right-handed users. The buttons and scroll wheel are very well built and feel premium with every single click.
The left side has two buttons and a little texture at the bottom, while the right side also has the same texture that adds a little grip to the mouse.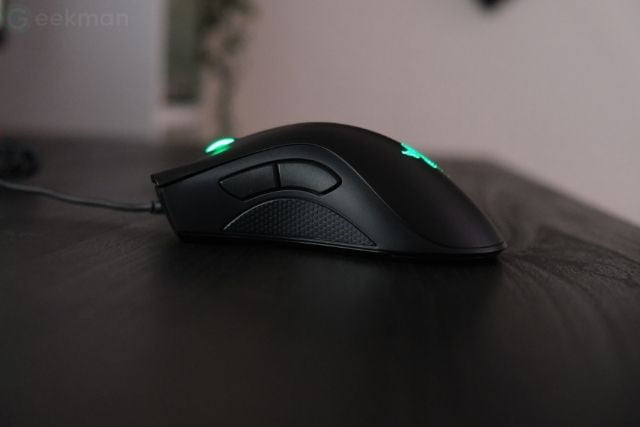 It has a Razer logo at the top of it, which glows up when you plug it into your computer. You won't get any RGB lights in the mouse instead, Razer has placed a green-colored LED light that lights up the Razer logo.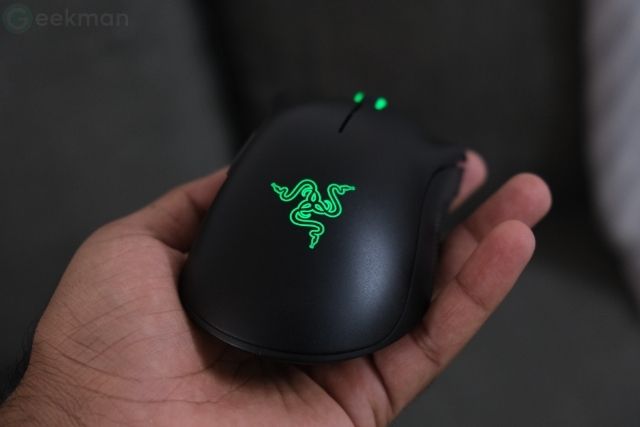 The mouse weighs around 96 grams, which I feel is lightweight enough for most of the games out there, including PUBG PC, Valorant & CS Go. The bottom of the mouse has PTFE feet that allow the mouse to make smooth movements. The 1.8–meter long non-braided cable which is made of good quality materials and will not break that easily.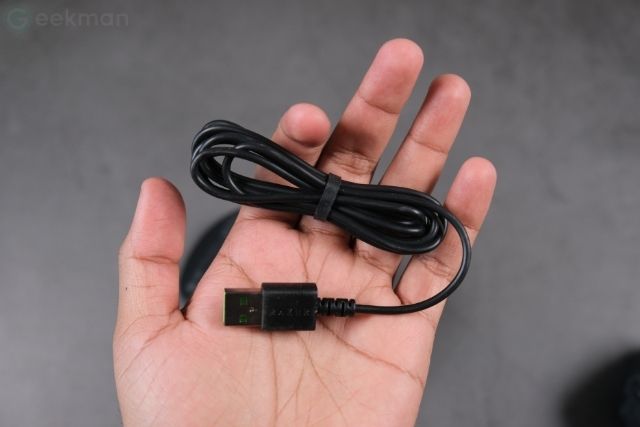 Comfort
Coming to comfort, the Razer DeathAdder Essential is mostly made of hard plastic and is comfortable enough for prolonged usage.
The mouse has a perfect weight that makes it light enough to bother you while also being heavy enough not to be called an ultra-lightweight.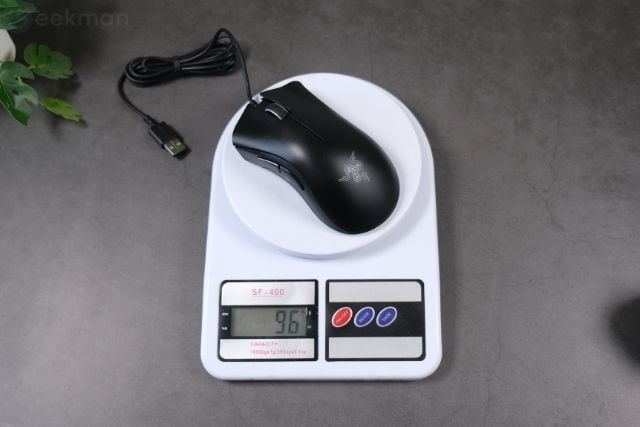 The DeathAdder Essential uses Omron switches for the main buttons, which are very satisfying to click; meanwhile, the side buttons are also nicely placed, which reduces the chance of accidentally pressing them while still being within reach of your thumb.
Overall, the Razer Essential is very comfortable for all types of hand sizes and is easily compatible with all grip types, recommended for palm and claw grip users (best in this price range).
Features
The Razer DeathAdder Essential has a total of 5 buttons that you can easily customize using the compatible software. Regarding the software, Razer uses the Razer Synapse 3 for customization, which is pretty easy to use.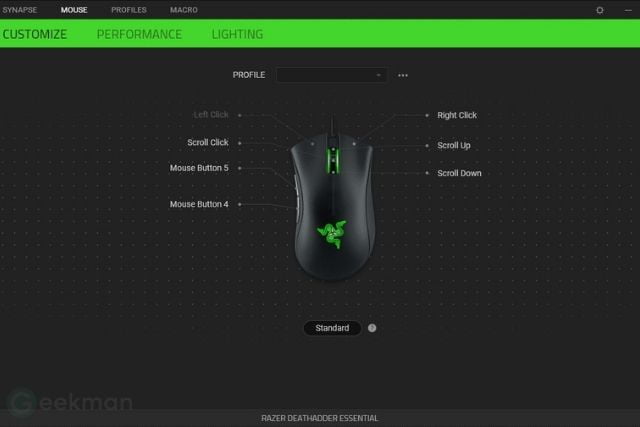 This software offers all the basic customization options which you can expect at this price point. You can also change the polling rate of the mouse, sensitivity, and lighting.
The Razer DeathAdder Essential lacks RGB lighting, which you can easily get in any other mouse in the same segment. Although you will get a single LED light that looks very good with the Razer logo, the software will allow you to use a breathing effect with it or change its brightness.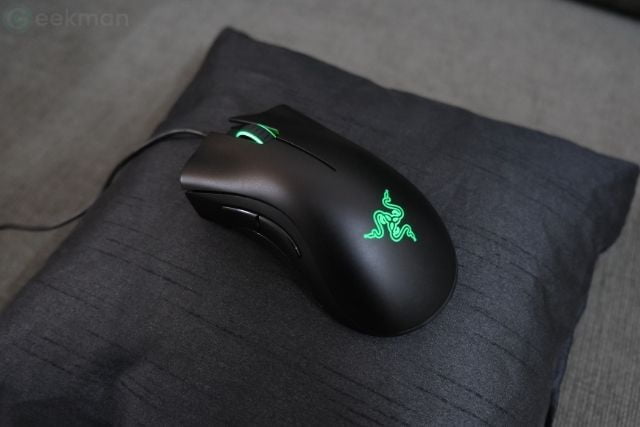 If you're a gamer, personally, your focus would definitely be the gaming performance rather than other perks like the lighting effects it offers. So let's not waste more time and jump on to its actual performance.
Performance
You might be wondering how this mouse actually works when it comes to gaming, and that's the most important thing to look for in a gaming mouse.
The mouse uses PixArt's PAW3328 optical sensor, which can offer a maximum DPI of 6400. Of course, there are mice in the same segment that offer more DPI than this, but I think it is enough for most gamers.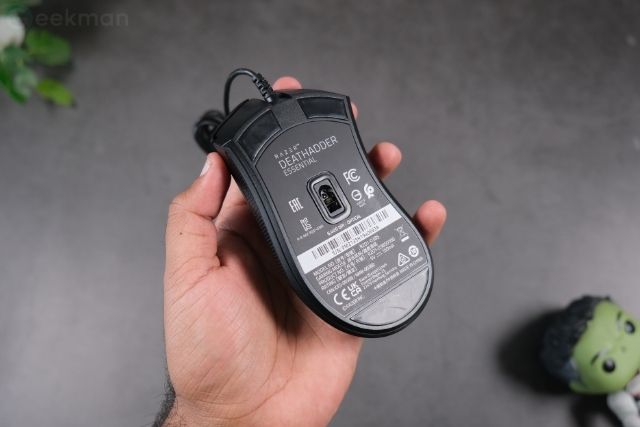 The PAW3328 optical sensor can be called a mediocre gaming sensor since it's neither the best gaming sensor Pixart has to offer nor belongs to their latest list of sensors, but definitely performs well enough for the price it comes at.
The 1.8-meter long cable does a good job of offering a latency-free experience without being bothersome in between your gaming sessions.
By default, the mouse offers 5 DPI stages which you can preset from the software. Unfortunately, this mouse offers no DPI switch, which is a little disappointing, but you will have to cut off some things if you want a good gaming mouse at this price point. However, you can simply go to the software and shift your DPI stage from there.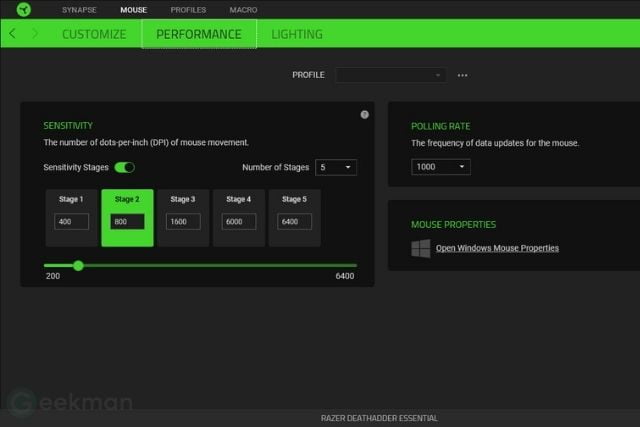 The mouse offers a maximum polling rate of 1000 Hz, which is the rate at which your mouse refreshes each second; the more, the better. You can also choose between 125 Hz, 500 Hz, and 1000 Hz from the software if you need to change it.
The mouse has a minimum liftoff distance of 2 mm and offers a maximum tracking speed of 220-inches per second, which is decent for most games.
Verdict
Finally, should you invest in this mouse or go out looking for other better options in the market?
Well, the Razer DeathAdder Essential is an excellent gaming mouse for the price tag it comes at. It has a good 6400 DPI sensor that provides consistent tracking during gaming sessions.
The mouse is very well-built and feels very durable when compared to other available options in the same price range.
This mouse has a low liftoff distance and low click latency with a DPI that can go as low as 200 and as high as 6400. It has a size that suits almost all hand sizes and grip types. However, people with small hands may have a little problem with the claw or fingertip-type grip.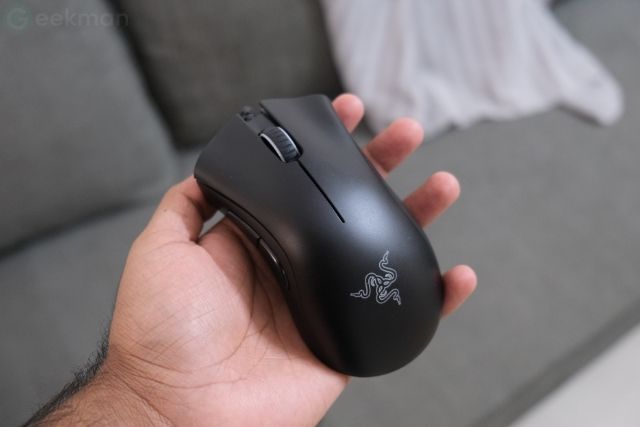 It weighs about 96 grams which are not considered lightweight in this new era of ultra-lightweight gaming mice, but personally speaking, I would go for a mouse of this weight without a second thought in my mind.
Although it lacks a DPI switch, it could be a turnoff for some gamers as they're habitual to switching DPI between their gaming sessions, which they will surely miss in this mouse.
Also, there is no onboard memory on the mouse, so you would have to download and set up the whole software on a new device if you want to customize it on multiple devices.
This mouse is well suited for someone who is a beginner-level core gamer or a casual gamer who doesn't want to spend a lot of money on a gaming mouse but still wants a mouse that satisfies their gaming needs. Overall the mouse is a good offering and very well justifies its price tag.
Razer DeathAdder Essential Review In Hindi

Razer DeathAdder Essential Alternative
Also Read: