Buying a good gaming headphone is no easy task, especially in the budget price range because there are a lot of options out in the market, and as you know, not all of these gaming headphones are equally well designed and comfortable. Many gaming headsets suffer from low-quality sound and compatibility. I've reviewed several gaming headsets in the budget price range, so I know how to avoid these pitfalls.
A few months back, I reviewed the EKSA E900 gaming headset and I was quite impressed with it and this is the reason why it tops our list of best gaming headphones under Rs 2000. Well, there is also a Pro version of this gaming headphone called 'EKSA E900 Pro' and it comes with 7.1 surround sound and looks like a great option for gamers; And even for regular users. Here is my full detailed review of the EKSA E900 Pro gaming headset.
Box Content
Before we get started with the review, let's check out what else is in the box apart from the headsets.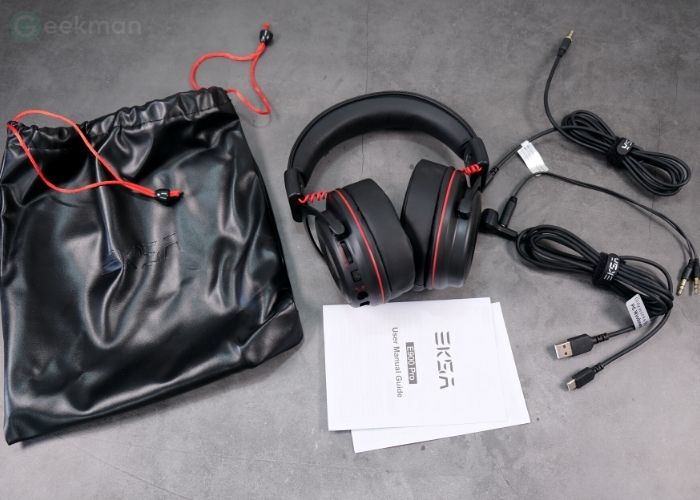 User manual
3.5mm AUX cable
USB-C to USB cable
Y Splitter cable
Leather carry pouch
EKSA E900 Pro Gaming headsets
EKSA E900 Pro Specifications
Supprt devices: PC, Mobile, TV, PS4, PS5, Xbox One, Nintendo
Interface Type: 3.5mm/USB cable (for 7.1)
Driver Size: 50mm
Headset Sensitivity: 115dB -121dB
Speaker Impedance: 32Ω
Frequency: 20Hz~20KHz
Microphone Sensitivity: -42dB (±3dB)
Design, Build & Comfort
First things first, let's talk about the design and build quality. EKSA E900 Pro are well-designed gaming headphones. I really like the overall look of these headphones. They are matte-black and red color all over, and just look really good.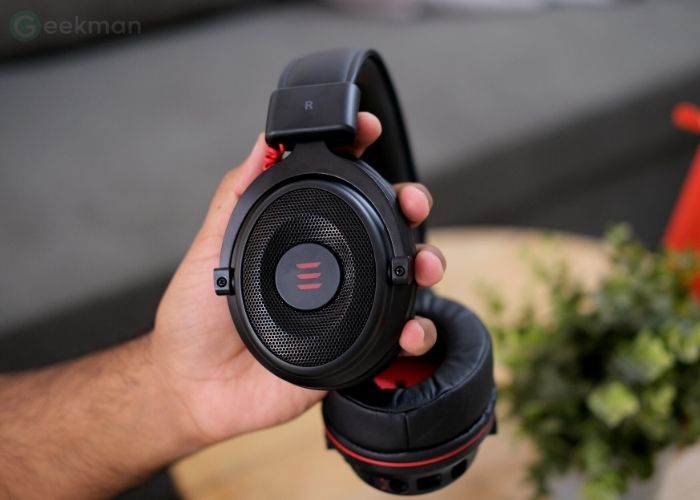 The first thing you'll notice is the soft cushioning. There is very soft and thick cushioning on the earcups as well as the headband area, which makes the headsets quite comfortable even for long hours of a gaming session. I used this gaming headset for continued 3-4 hours while playing my favorite game PUBG PC, and I found the headphones are quite comfortable.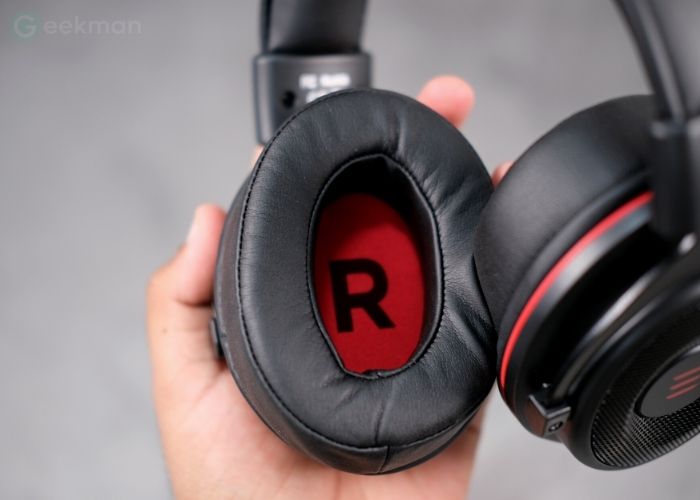 Of course, due to the good quality construction material, it is not very lightweight. That said, it's not too heavy for comfort. It's just enough weight (250G) to assure good quality construction, without any cheap plastic build. Indeed, the entire frame is constructed from aluminum. This makes it very durable. As a result, you're looking at gaming headphones that will last you for years if you so desire.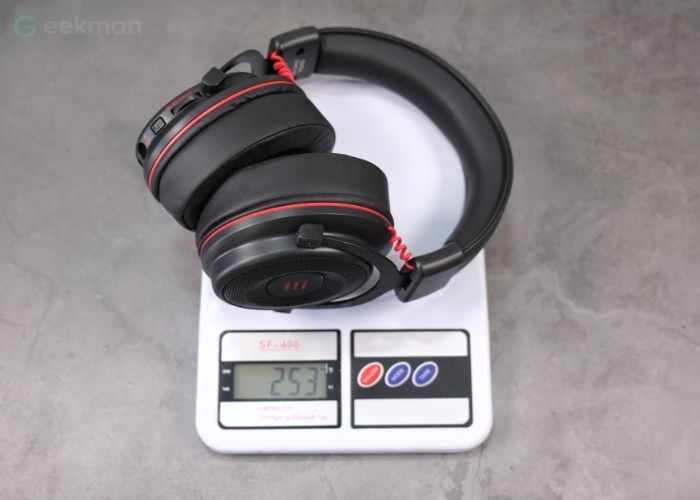 It also has RED LED light branding on the top of each earcup, and when you turn them on it looks really good and gives the headphones a distinct gamer feel, without overdoing the color.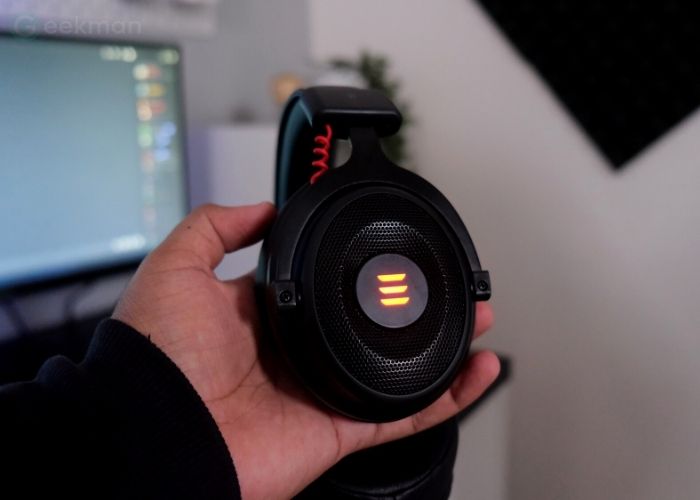 Speaking of buttons and ports, the right ear cup is completely empty, which means only works as a speaker. All ports are placed at the left ear cup. There, you'll find a volume dial and microphone mute button. Along with that, there is a USB Type-C port for desktop and laptop users and a 3.5mm Aux port for connecting other devices.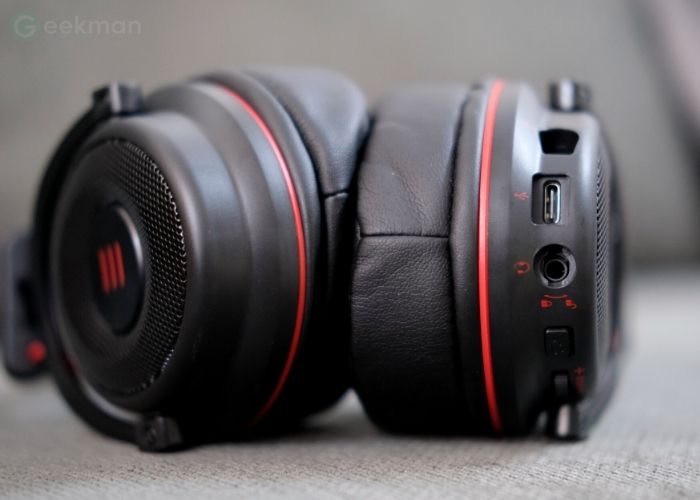 The only complaint I have with the design is with the mute button and volume control wheel. I think it was difficult for me to find the volume wheel while wearing the headphones. It's a small detail but would have been better if it was on the other side.
Finally, there's a small 3.5mm plug for the detachable boom microphone. The mic is a bit stiff, but it should be well-positioned for the majority of gamers. The advantage of the detachable mic is that you can also consider this headset as simple headphones. Just detach the microphone and you can also use these headphones outdoor.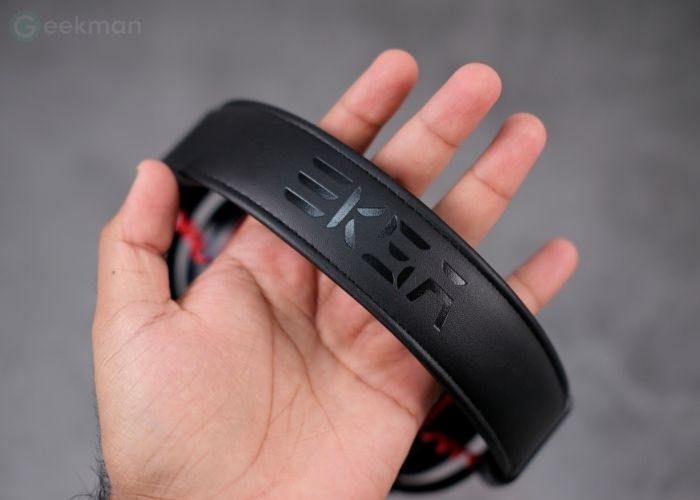 Connectivity & Compatibility
As I told you previously, you can connect the EKSA E900 Pro two ways. The first is to use the 3.5mm Aux cable. This allows you to a wide variety of device compatibility including the mobile, PlayStation 4, Xbox, or Nintendo Switch. Yes, you can also use it for PC and laptop.
But for laptops and desktops, I think USB is the most ideal option with more functionality because it allows you to use 7.1surround sound. Keep in mind that this function will only work on PC and use also require the " EKSA Gaming Headset ' tool on your system.
Yes, you can use this headset straight out of the box, but for 7.1 and better control, you have to download the software. The tool is very light and easy to use. It offers various features and control for microphones and speakers. The speaker options include volume control, equalizer, sample rate control, 7.1 virtual speaker shifter, Xear SingFX, Vocal fading, and Xear Surround Max. These all functions work very decently, especially environmental effects worked surprisingly well. The vocal fading also worked good and Key shifting was fun as well.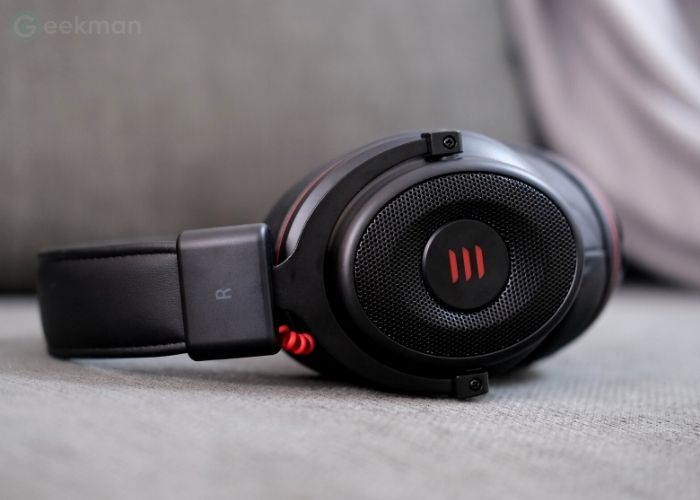 The last thing I like to add is that the detachable cable is very convenient to use. You don't have to deal with any dongles or splitters and are also not worried about the dangling. And in case if the cable is broken you can simply buy another one from the market, which will improve the lifeline of your gaming headphones.
Microphone
The microphone is a core part of a gaming headset, so let's talk about it. Honestly, I am quite surprised by the quality of the Mic. I tested the microphone quality for several hours while playing Valorant and PUBG, and during the game, my teammates are quite happy with my microphone output. I had a fan on in my room and my friend said he couldn't hear it at all. The EKSA E900 Pro uses an acoustic noise-canceling capsule which does a decent job quieting the background noise.
Overall, this mic is far better than I expected for the price. The E900 Pro proves that it's possible to get a good mic on a basic low-cost gaming headset.
Sound Quality: Gaming Experience
EKSA boasts of the 2x 50mm large drivers that are the heart and soul of the E900 Pro. For gaming, the sound quality seems adequate. I tested these headphones while my daily PUBG PC and Valorant gameplay. And I did enjoy playing games with these EKSA headphones. I used Logitech G335 as my daily gaming gear and I didn't find any difficult to switch to E900 Pro for a few days.
The overall sound output is very deep and reaches well-balanced frequencies. As result, you can hear high-pitched sounds like whistles and dings just as well as you hear grenade explosions or a car engine.
For an even better experience in games, the E900 Pro supports 7.1 surround audio as well. Generally, the surround audio doesn't very impressive in budget gaming headsets, but here with EKSA E900 Pro things are a little different. The 7.1 surround audio work really good and it definitely helps you to improve the gameplay. It can make it a lot easier for you to find enemies' locations and vehicles approaching directions.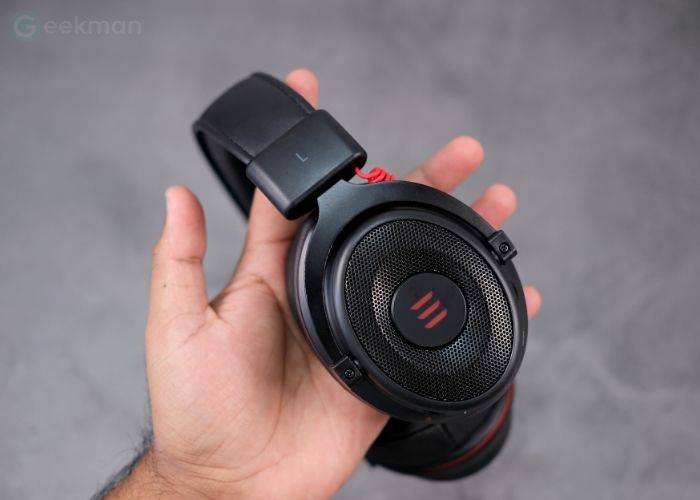 As you'd know, E900 Pro is specially tuned for gaming, so if you're expecting an amazing sound quality while listing to music, you're mistaken. However, the music listing experience with headphones is not too bad, much better than other gaming headphones in this price range.
The EKSA E900 Pro has a little bit of high bass, and that's good for EDM music, but not so much in genres like classic rock and metal, where the mids and the highs require to come out better. And sometimes, the high note is too shrill and annoying and you can hear the audio breaking at high volumes. Overall, the EKSA E900 Pro may be average for music, but much better for gaming and movie watching.
EKSA E900 Pro: Best At This Price!
It's very difficult to find a decent gaming headset in the budget price range that makes happy every gamer. However, the EKSA E900 Pro seems to come very close in that regard. It comes with a decent design and builds, along with good gaming sound quality. Moreover, it's also very comfortable.
Overall, if you're looking for a good pair of gaming headsets that are also ideal for watching movies and listening to music, the EKSA E900 Pro is a solid choice. It's affordable, and feature-rich, and won't leave you disappointed with gaming sound quality.
Buy Now: