The budget IEM market has undergone a bit of a revolution over the past five years. It was kind of a jumpstart a few years ago when KZ showed how to make a budget IEM that punches well beyond its weight. Since then, many other audio companies have sprung up for a piece of this ultra-competitive market. CCA is one of those, and it is also a sub-brand of KZ Audio. Although, CCA has made a different identity in the market with some good quality IEM earphones. I daresay that CCA has once again proven its mastery at bringing great sound quality at increasingly accessible prices (approx. Rs.1590, 18$-20$) with this new CCA LYRA.
In this article, we will take a look at the new CCA LYRA IEM earphones and understand what they can deliver and where they can improve.

CCA LYRA Specification
Drivers: 10mm Dual Magnetic Dynamic Driver
Frequency Response: 20 – 40000 Hz
Impedance: 28Ω
Sensitivity: 113.18dB±3dB
Connectivity: 3.5mm
Pin Type: 0.75mm Recessed 2pin (QDC)
Cable: Silver Plated Oxygen-Free Copper, 120±5cm
Mic: Yes
Warranty: 1 Year
Box Content
Nothing to see here folks: the CCA LYRA comes with simple packaging i.e. a small white box with an image of the item on the front and specifications on the back.
Inside the box, we find the CCA LYRA, a detachable silver-plated copper cable, a user manual, and 3 pairs of (small, medium, and large) silicone ear tips.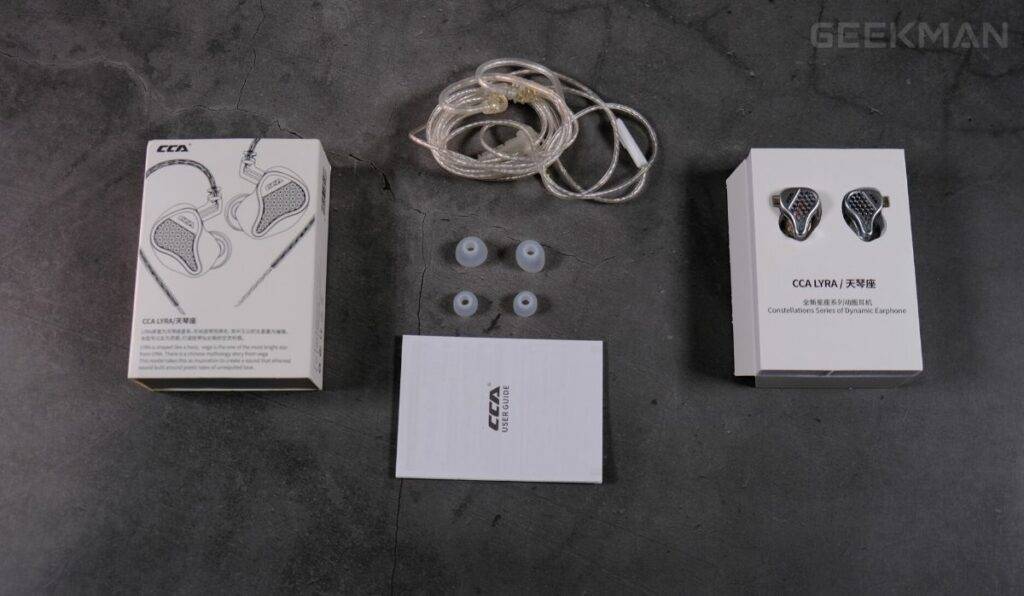 Design & Build
As they say, you don't change a winning team, so CCA/KZ is still using the same design factor that we found on their other recent best-selling IEMs (KZ ZSN Pro X, KZ Zex, CCA CRA). That means the chunky-shaped shell, is relatively small, and it's transparent, exposing the innards – something I always find cool!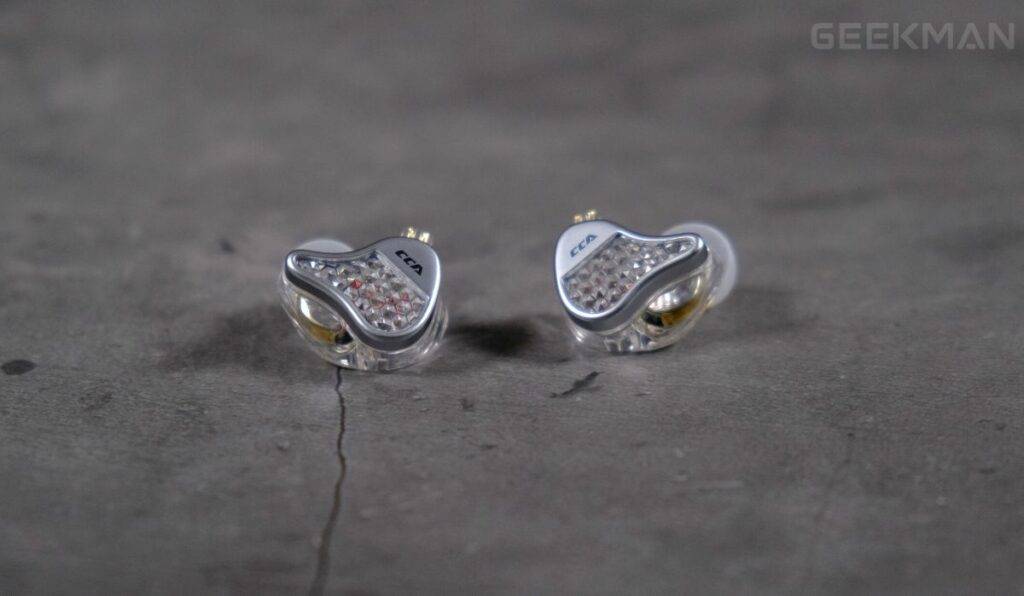 The photos don't do this justice, the IEM is stunning and looks very premium and expensive. The CCA Lyra has a transparent polycarbonate shell with a diamond-cut design. The best thing about the design is that the driver unit is clearly visible from the outside, and it's very fascinating, at least for me.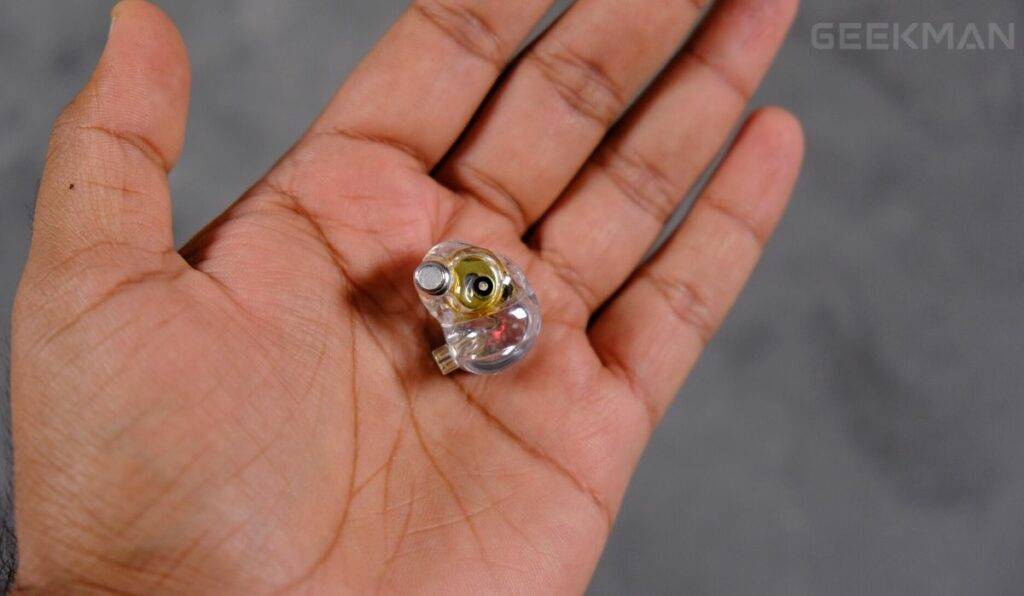 The shell has a metal ring around the outer portion of the face plate, and the nozzle is also polished with metal with a pronounced lip. After the transparent side, the main attraction in the CCA LYRA is the reflecting faceted portion of the face plate; it looks like coated with Rhinestones.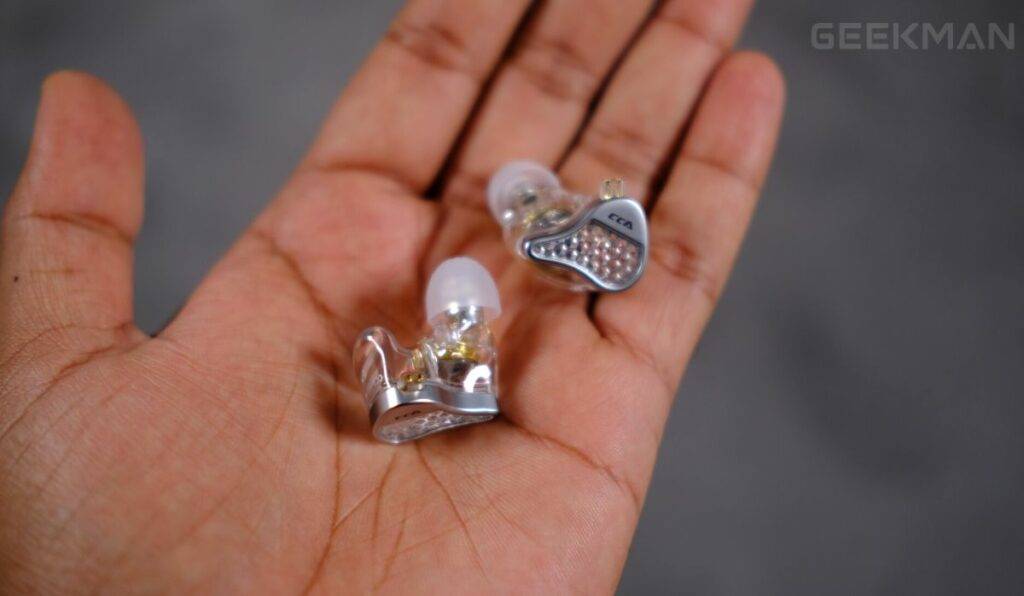 The LYRA build quality is better than one would expect from earphones in the sub-1500 Rs (18-20$) price range. I didn't find any corner to criticize in the build quality department, including the cable.
The silver-plated oxygen-free copper cable (0.75mm bi-pin) is the same one that comes with the KZ ZSN Pro X or any other recent CCA/KZ IEMs. It's a decent cable and in my opinion, better than the old KZ twisted cables. It's decently malleable and has little microphonics. Again, considering these are budget earphones, the cable is quite satisfying.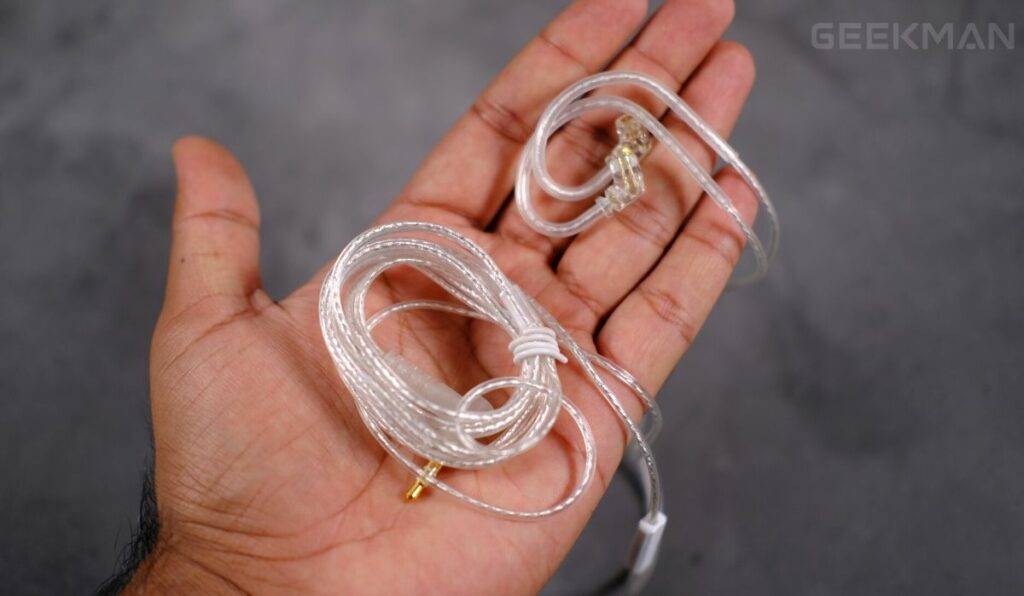 Comfort/Isolation
So is the CCA LYRA comfortable? You bet it is. Comfort is good, thanks to the relatively small-medium size and to the absence of hard edges. I can wear the CCA LYRA for a couple of hours for testing, and I barely feel any fatigue. Your experience may of course vary, as comfort is even more subjective than audio.
The Isolation is also good since the shell fills all the nooks and crannies of your ear and fits tightly. Once the music starts, you hear a lot less outside noise relative to how much you turn up the volume.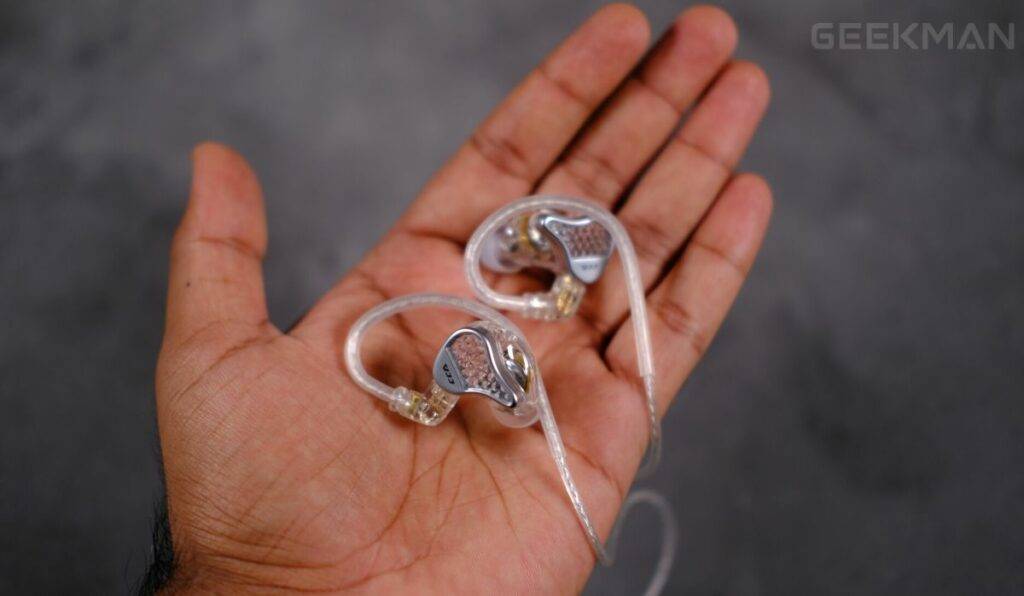 Microphone
The cable comes with a microphone and a single multifunction button that you can use to control music, respond to calls, and access voice assistants. The quality of the microphone is good (For a sound demo, watch our detailed review video on our Youtube channel Geekman). The microphone records audio decently clear, just what you would expect from a wired earphone of this price segment. So if you are thinking of using it for calls or meetings, then worry not, the CCA LYRA has got your back.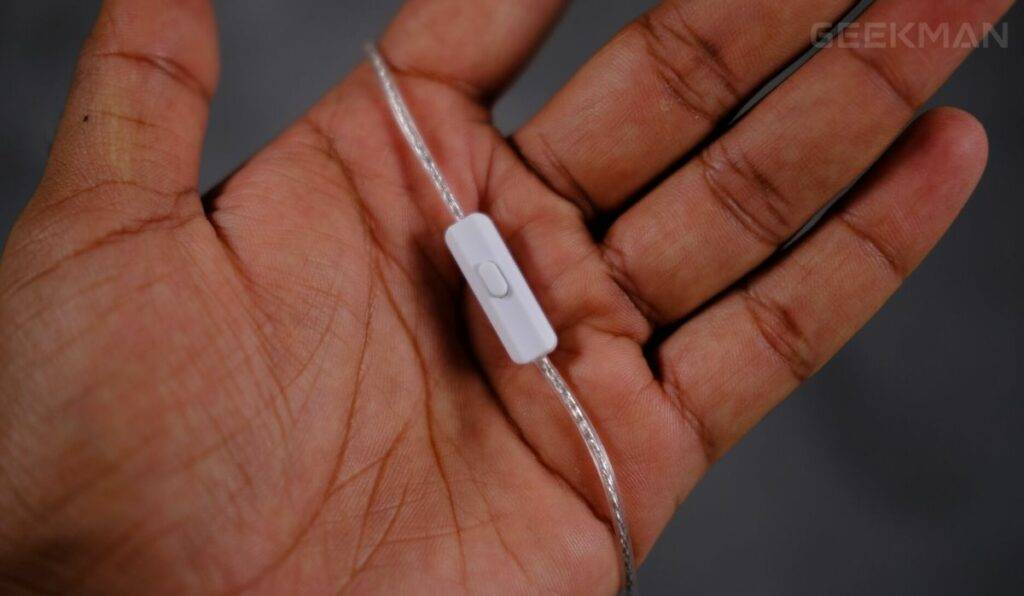 Audio Quality
Starting with technical, the CCA LYRA comes with 10mm dynamic drivers with a polymer composite diaphragm. I like to add that this new diaphragm martial is made by CCA engineers. The new update drivers promise you a full-range audio experience.
I tested the CCA LYRA with my smartphone, PC, and external DAC+Phone. While you don't need to think about its amplification. Yes, if you have, then it will defiantly improve your audio experience, but LYRA is extremely efficient, and it can easily be driven by almost any device, including a low-end smartphone.
First impressions of the CCA LYRA left a smile on my face. The CCA LYRA is not as dramatically v-shaped as its stablemates, which makes for a more balanced sound signature.
Bass
The LYRA has been tuned to deliver a mostly neutral and balanced sound but with a small lift in low bass registers. The bass is punchy but not overwhelming. I would even wish there was a tad more volume to the bass, as the bass has a really nice texture.
The best thing is that the bass doesn't overpower the music but provides enough thump to keep the music lively. The Sub-bass has a good Forse and brings some rumble to the audio without a lot of bleeds. Coming to the mid-bass, it has a good tone and texture, and the driver is fast enough that the overall audio is very clear and soft.
Overall, bass delivery remains clean and distortion-free, and the drivers are able to deliver the sound quite well without bottoming out. The bass is still slightly boosted, but less than one would expect from the phrase "V-shaped), and believe me, it's not the negative point.
For reference, The KZ ZSN Pro X and CCA CRA+ have a bigger midbass boost that makes them sound bassier. However, The CCA LYRA offers a soft snappiness bass response without being overfed, which gives more satisfaction of feeling fullness without being overfed.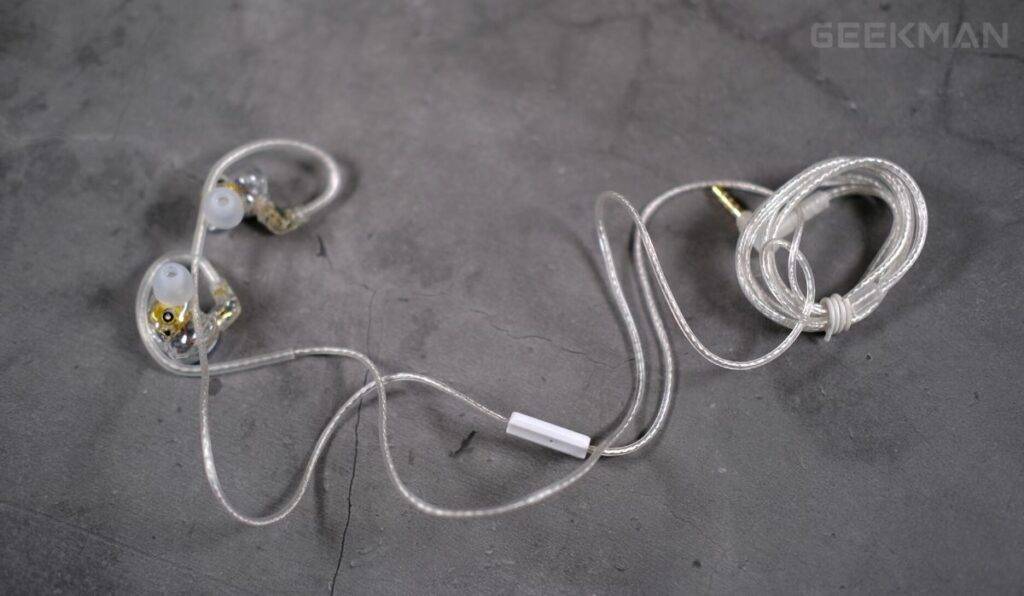 Mids
The mid-range performance is also great. Vocals have a great presence in the mix, along with percussion and string instruments coming through beautifully. The lower midrange is clean but warm and inviting, with good tonality and texture.
The response across the range is incredibly even, which means all frequencies in this range are getting exactly the amount of energy they should in the recording. The male and female vocals both feel well-balanced and not recessed or forward. While the midrange isn't as forward or clear as the CCA CRA, KZ ZSN Pro X, and CCA NRA, it's not recessed either. Vocals are articulate yet have lifelike body and fullness.
Treble
The treble performance is also decent. There is a hint of sibilance and sharpness in certain notes at upper frequencies, but the sound never gets harsh or fatiguing. Treble has just enough space and control to the overall audio; there are no weird anomalies giving them excellent tone. But I found that there is some limit in dynamics and detail in the treble range, and this is the only thing you need to note down. Yes, micro-detail retrieval could be better but what you get instead is a treble that's free of harshness and sibilance.
Presentation
The presentation of the CCA LYRA is stereotypically IEM-like. The soundstage is average, and imaging is mostly left, right, and center. Instrument separation is nothing special, but the sound doesn't feel cramped or congested.
Should You Buy CCA LYRA?
Absolutely. If you haven't figured it out, the CCA LYRA is a superb IEM with a mere price tag of 1500 Rs (approx$15 – $20) or so. These are exceptionally good value IEMs with one of the best tunings I've heard in this price range. I thoroughly enjoyed listening to it for this review and will certainly keep it as a part of my personal earphone collection.
It has a natural, balanced sound that many people are sure to love. It's also a great IEM for people who want good detail retrieval, a full-bodied midrange, and a non-fatiguing treble at the same time. If you are looking for full V-shaped or slightly more low-frequency enhanced tuning, then it will not be your first choice.
Overall, the CCA LYRA get a strong recommendation from me and are absolutely worth your consideration under this price range.
Also Read: