The KZ ZSN Pro X Hybrid Driver In-Ear circulates budget audiophile circles and is here to stay. These durable earphones feature a premium build and good frequency response. If you want a great pair of wired earphones that costs just over 1700 Rs (25 $), this is your best bet. So let's see if it meets your needs and what you might want to get instead.
Note: The pricing for these KZ ZSN Pro X starts from around 1700 Indian Rupees and you can get them from the HeadphoneZone which is the authorized dealer for the KZ in India.
Box Contents
In the box, you will be getting a user manual which we usually never care about, 3 extra spare pairs of ear tips, the main audio modules, and finally a 1.2-meter long transparent-looking silver coated cable with a detachable B-pin connector and an in-line microphone with a single button remote. For more info, please check the detailed review video on our Youtube Channel Geekman.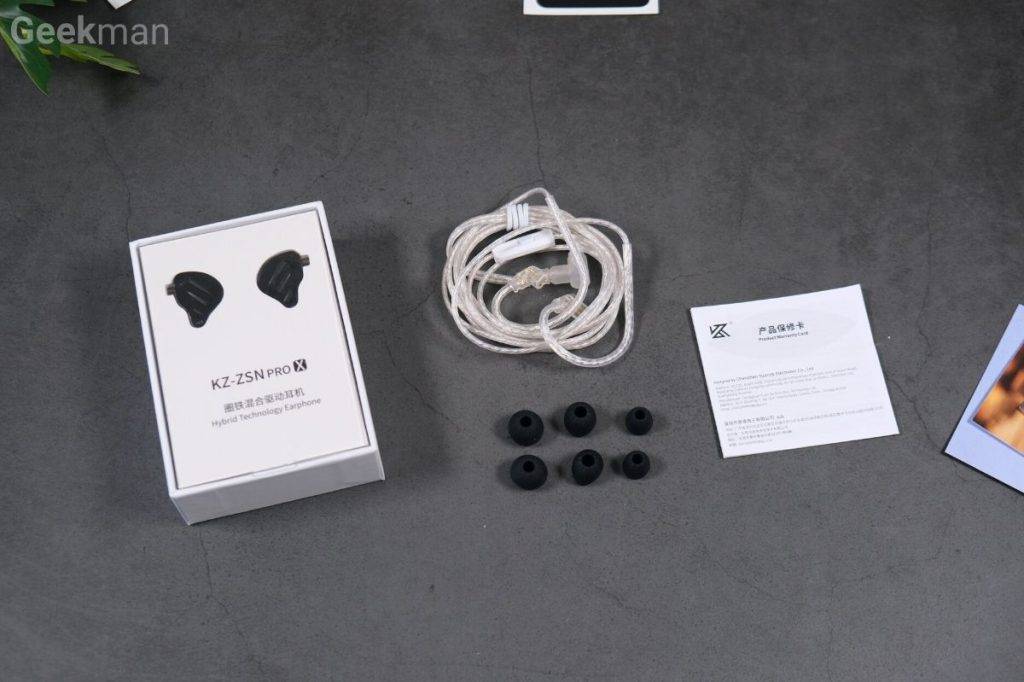 Design, Build & Comfort
Starting with design and build, the KZ ZSN Pro X looks really stylish and premium. The design may look very unique to many users. But any audiophile eyes will not waste a second to recognize these as it is a pretty common design in the IEMs earphones.
The inner shell of the earphones is made of transparent plastic that allows you to peek inside of your earphones meanwhile the faceplate is made of metal which is of black colour. There is also a Gold colour variant for the people who like to see it in the golden colour.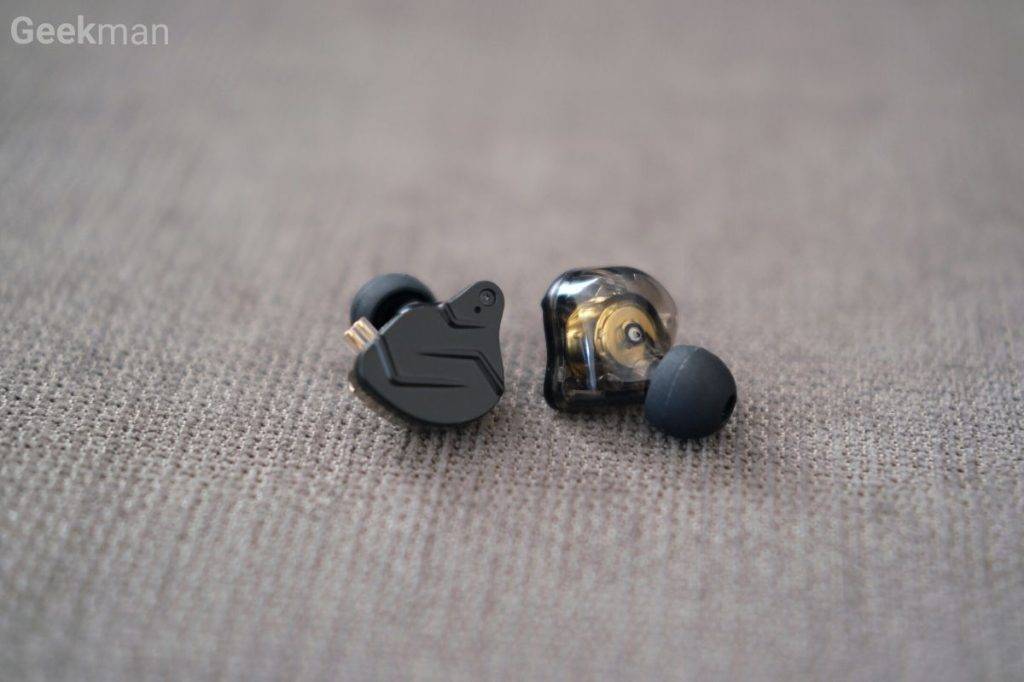 One thing that I really loved was its build quality. The earphones are very well built and have a premium look. Although the good build quality of the earphones pushes them a little on the heavier side but believe me, you will easily get used to it. The earpieces together weigh about 13 grams and with the cable included, the total weight jumps up to 30 grams.
The earpiece has a dual driver setup along with a B-pin connector which is another reason why it is on the bulkier side. Although the bulky size is not all about disadvantages, the big size of the earpiece offers good noise isolation and does a good job of blocking all the unwanted noises.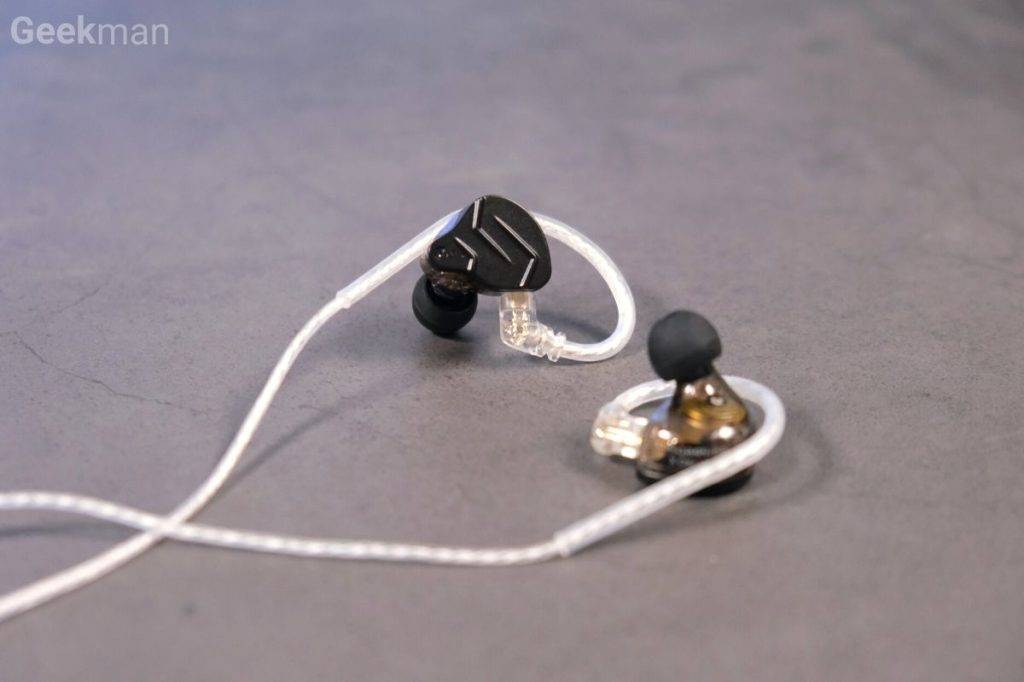 Now talking about the comfort, these earphones will undoubtedly take a day or two for you to get used to them but once you get used to them, there is no looking back. The earphone tip is tilted at a 120-degree angle and the cable acts as an ear hook that ensures a secure fit to your ears.
Talking about the cable's build quality, it is as impressive as the earphones themselves. It comes in a transparent casing and has a silver coating that gives a stylish look to it. The good part is that you can easily replace the cable by getting a spare cable from their website but I highly doubt you will be needing that since it's very well built.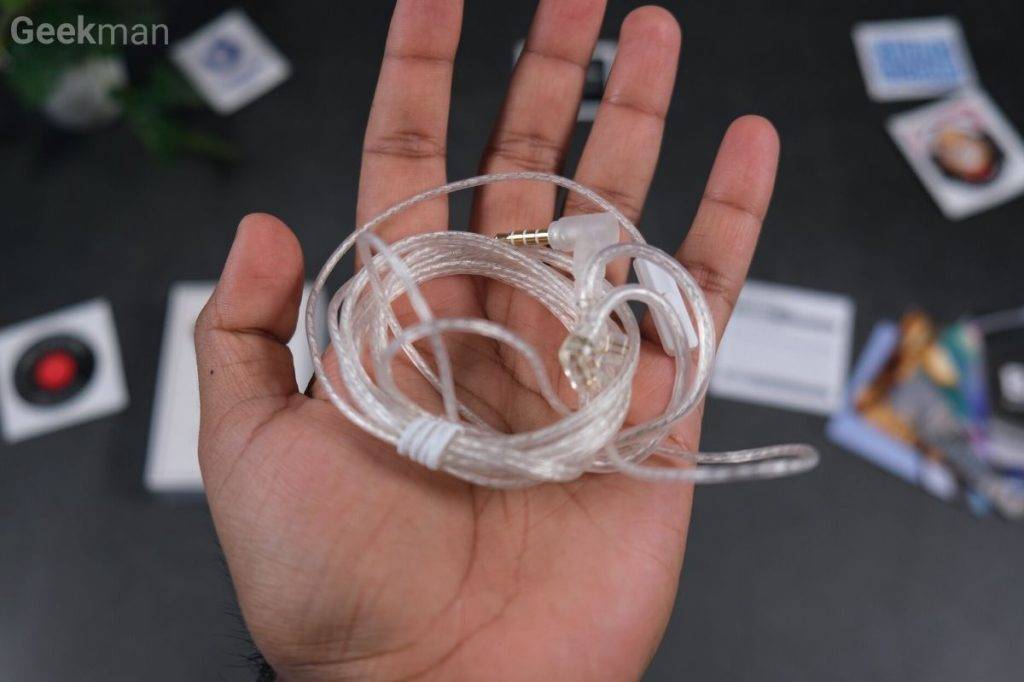 The variant I got was the microphone variant which has a tiny capsule on the cable with a microphone and a single multifunction button that you can use to control music, respond to calls, and access voice assistant.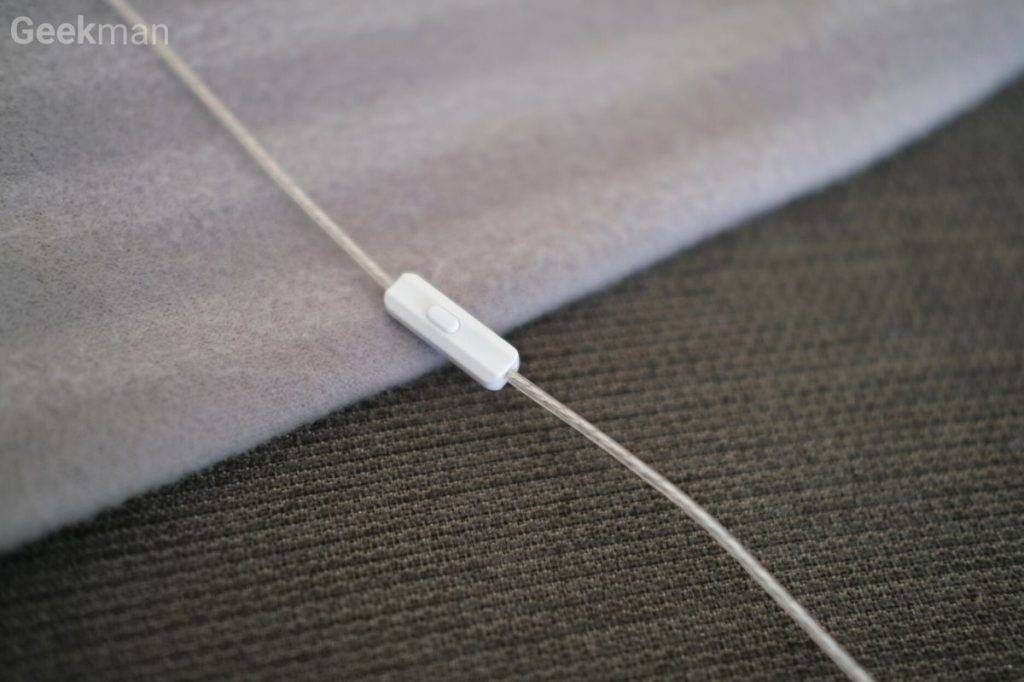 Since we are discussing the microphone, I will also like to share my experience with it. The microphone records audio which sounds nice and clear, just what you would expect from a wired earphone of this price segment. So if you are thinking to use it for calls or meetings, then worry not, the KZ ZSN Pro X has got your back.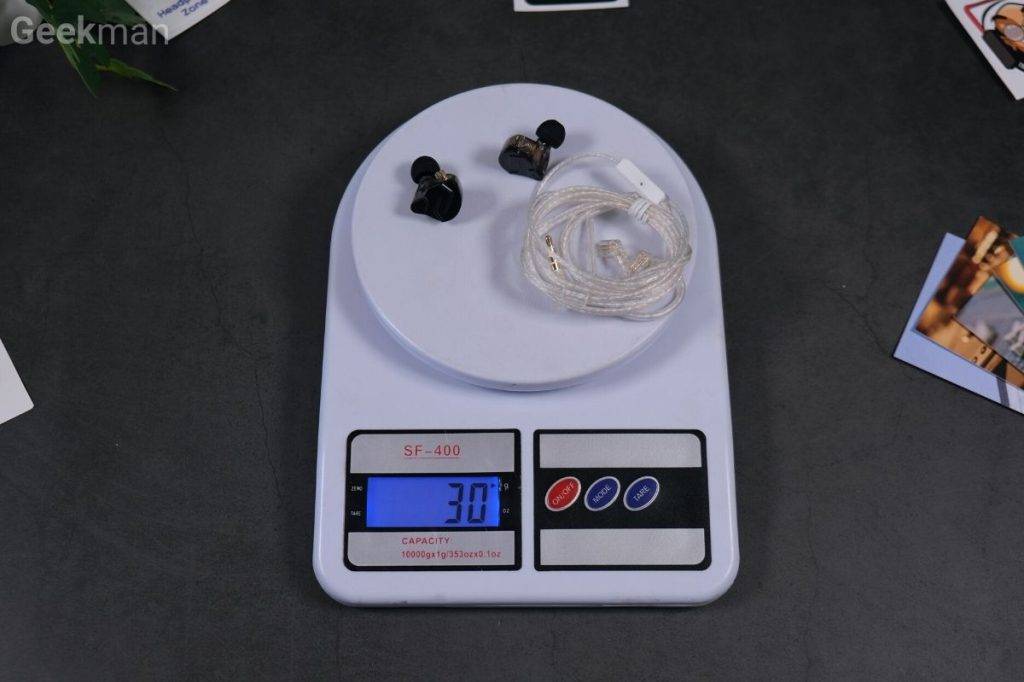 Sound Quality
Now coming on to the most important part of any earphone, its sound quality. The KZ ZSN Pro X has hybrid drivers with a main dynamic driver of 10 mm for the lower frequencies and a balanced armature driver for higher frequencies. It promises a frequency ranging from 7 Hz to 40,000 Hz with an impedance of 25 Ω and a sensitivity of 112 dB.
Enough of the technicals, you might be wondering what does it actually sound like?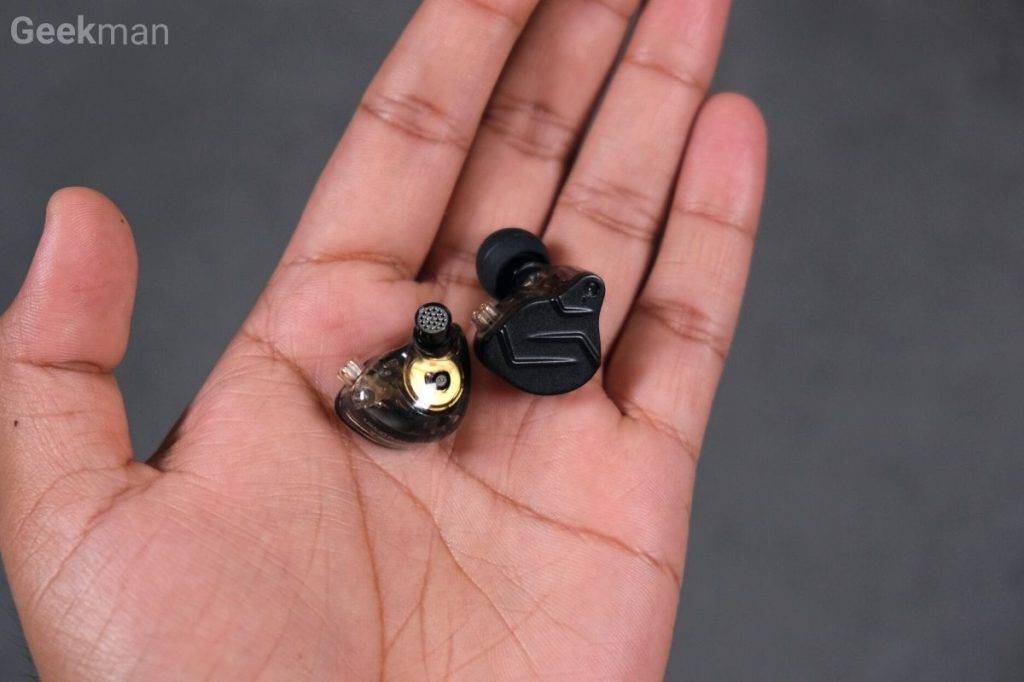 Personally speaking, the audio quality of the KZ ZSN Pro X really impressed me, and I can even say that they exceeded my expectations. These earphones are being marketed with the signature V-shaped tuning and the majority of other users like me are a big fan of it.
The audio output is pretty high which is what you would be expecting from a 10 mm large driver and even at the max volume, it manages to not lose its clarity which is another good part about it. It has a decently wide sound stage which is surely not the widest but is pretty good considering its price point and its competitors.
You will easily distinguish the high pitch instruments and the mids are perfectly balanced which offers a good amount of details in the vocals. Coming on to the bass note, you will not be getting a highly boosted bass but is decent enough to offer a good and energetic feel to it.
The KZ ZSN Pro X manage the low and mid-bass pretty well but I can't deny the fact that the bass on some tracks feels a bit muddy sometimes but overall it is well balanced and offers a good energetic experience.
The high notes and treble sound a little boosted which often sounds a bit sharp sometimes which could be considered as a downside but if I were you, I would ignore that considering the price it is being offered on.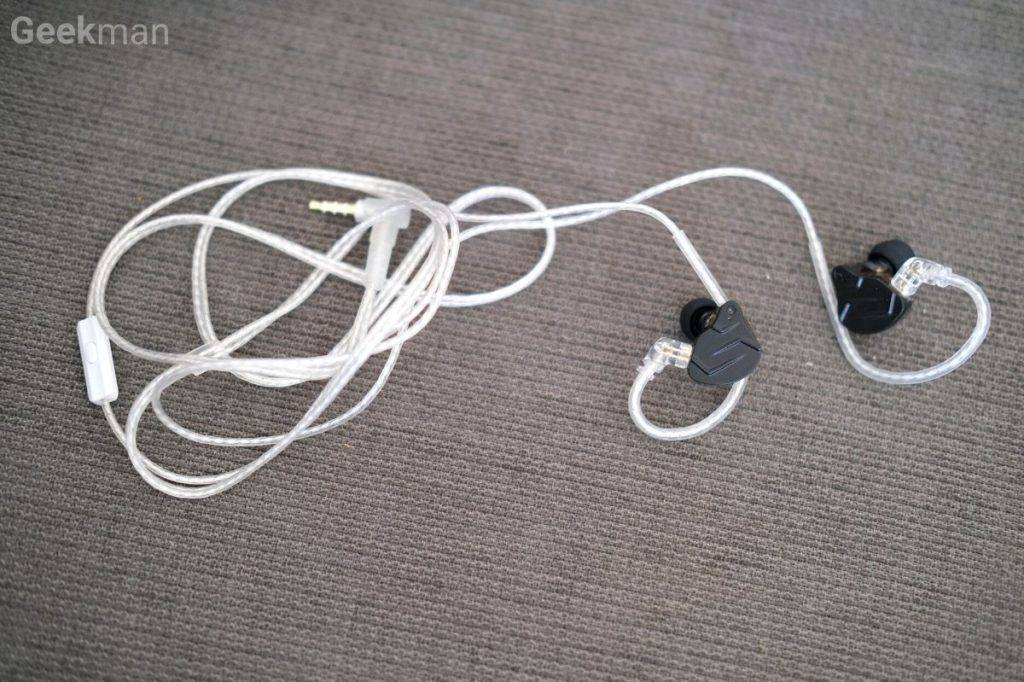 Features
Now coming onto the features, one feature that I was most excited about is its B-pin connector system. Since the earpieces have a detachable B-pin connector, you can simply detach the wire of the earphones and plug them into a different accessory and use it in a completely different way.
You can get a truly wireless adapter and plug in the earpiece to it and you will get TWS earbuds completely ready to use. Even if you don't want to upgrade it, you can just choose to replace the cable with a new one in case the original cable gets messed up which is rarely going to happen, thanks to its good build quality. The KZ also offers 1 year-long warranty which covers all the manufacturing defects.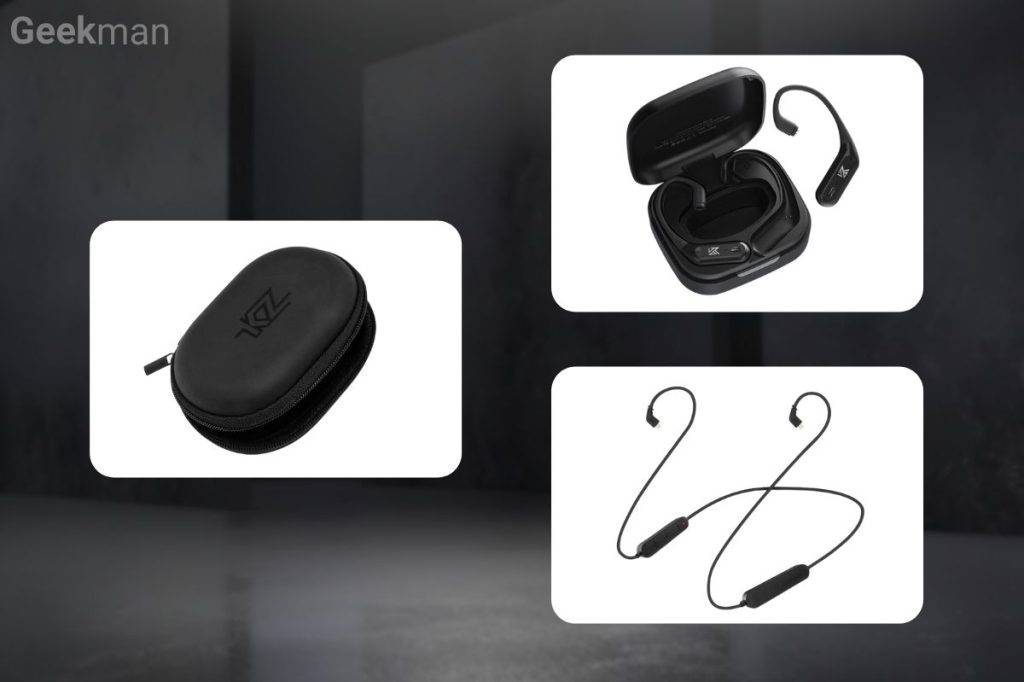 Final Words
Listeners who want excellent sound quality and don't mind spending a bit more should look into the KZ ZSN Pro X. This pair of earphones offer really amazing sound quality and features premium looking design and solid build quality.
It also features a B-Pin connection and this kind of audio connection extends the life of the product because it's easy to replace the cable when it frays, rather than buy another earphone. Overall, you can definitely buy KZ ZSN Pro X if you need sheer performance rather than gimmicks.
KZ ZSN Pro X Review In Hindi
Also Read: