Today, we have got our hands on one such headphone called the OneOdio Pro 10 from the brand called OneOdio that specializes in making studio headphones.
These headphones are easily available in the Indian market for around the price of Rs. 2,000 and promises a lot for the price it is being offered.
In this review, you'll get to know if it really bangs for the buck or is just another showoff. So let's quickly start without wasting much of our time.
Oneodio Pro 10 Specification
| | |
| --- | --- |
| Connectivity | Wired, 3.5mm, 6.5mm |
| Feature | DJ Headphone, Studio, Monitoring, Broadcast, Mixing, Tracking, Personal Listening. |
| Driver | 50mm Neodymium |
| Sensitivity | 110±3dB |
| Impedance | 32ohms |
| Microphone | Yes, In-line |
| Weight | 239g |
| Warranty | 2 Years |
Box Content
Starting with the box content, you'll get a user manual which most of us choose to ignore. Next comes a small carrying pouch that comes in handy when you want to carry it with you.
Then you'll have two audio cables out of which one has a 3.5 mm jack on both the ends along with a microphone which you can use to take calls while the second one is a long audio cable with a 6.5 mm connector on one end and finally the headphones themselves. For more info, please watch the review video on our Youtube channel: Geekman.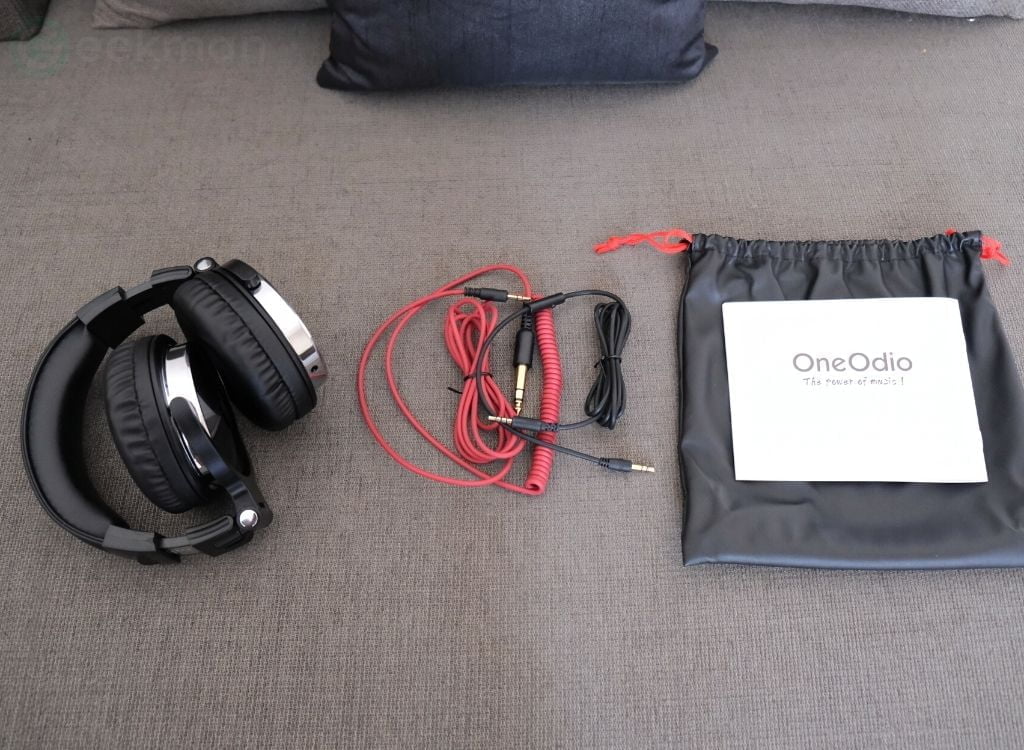 Design & Build Quality
Now coming on to the design, these headphones has a pretty minimal-looking design that still manages to look stylish. It has big round earcups with heavy cushioning.
These cups are mostly made of plastic with a glossy metal-like finish at the sides and the OneOdio logo at the mid.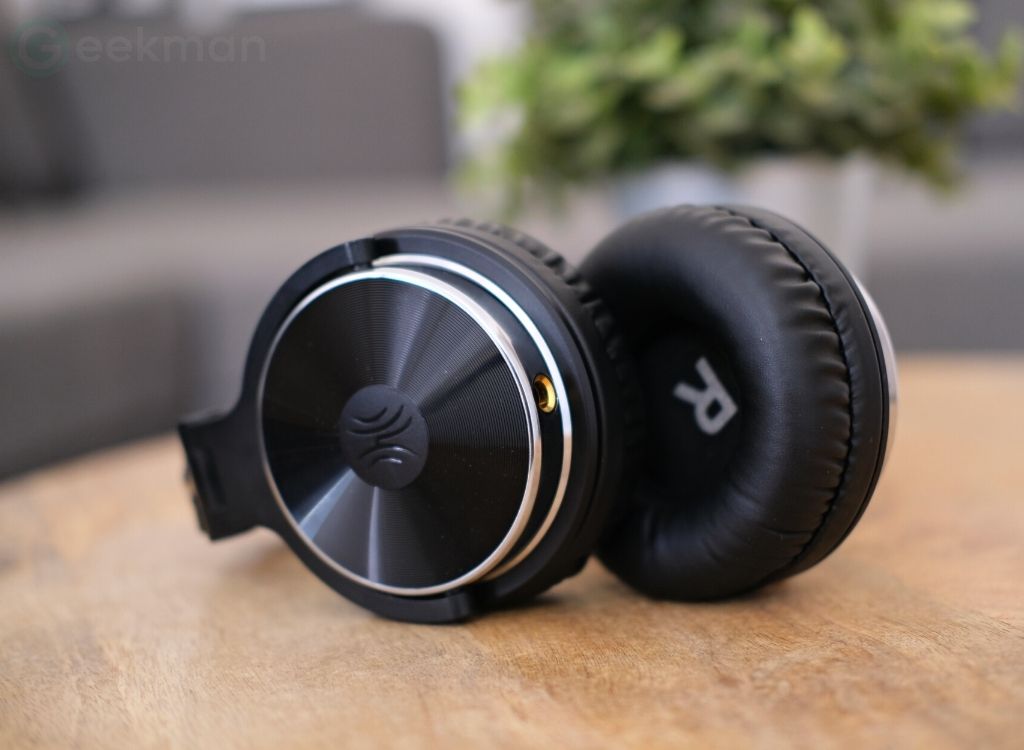 Even the headbands have soft paddings below them which makes them a little comfortable to wear. The headband is flexible enough to be twisted easily and has a leather-like texture on the top of it.
The leather-like finish on the top also has the OneOdio branding over it which gives a premium look to the headphones.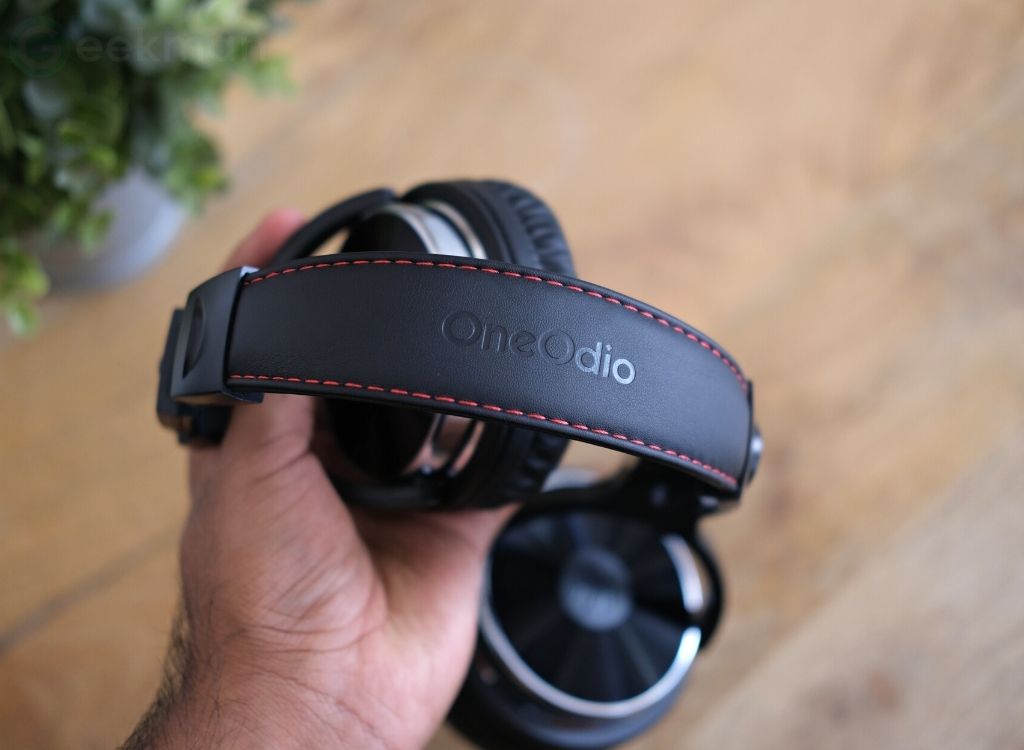 You can also adjust the size of the headband by simply pulling it from the sides. The headphones themselves are pretty flexible as they have rotatable hinges connected to the cups which can be turned at any side which makes them easy to use and carry.
The headphones are mostly made out of plastic and hence the build quality is decent at its best but you cannot expect much from a professional DJ monitoring headphone at this price point.
Although there is still some use of metal at the points like the headband which you'll see once you pull them out.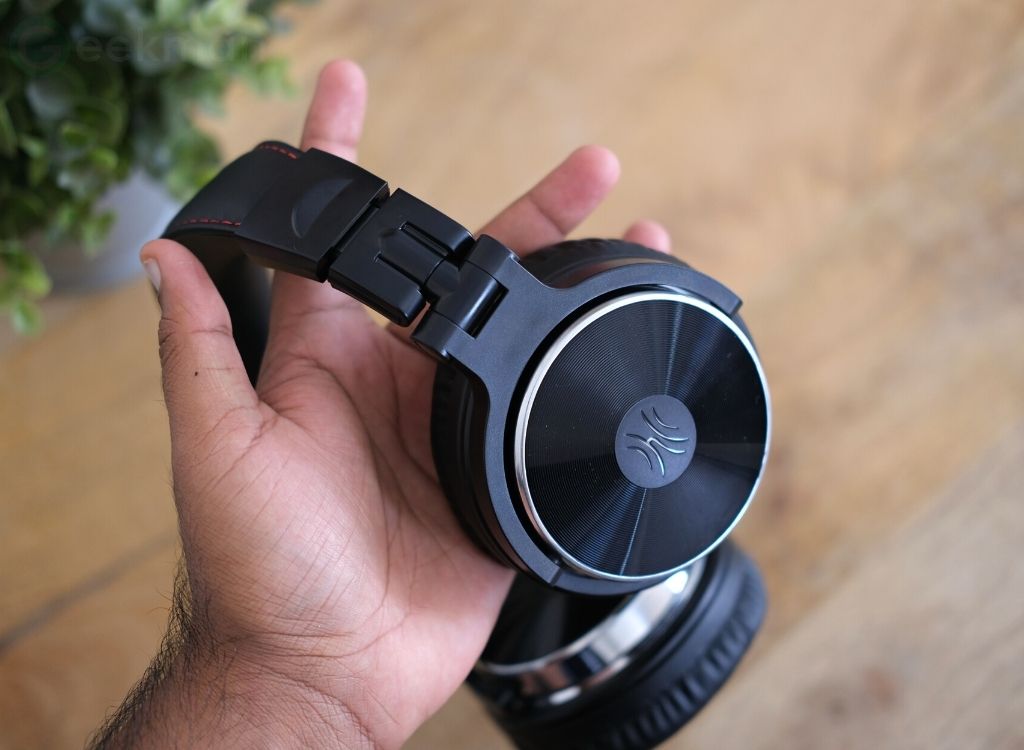 Features
Now coming on to the features of the Oneodio Pro 10, let's start with their practicality.
As mentioned already, the headphones are very flexible and the hinges connected to the cups make it even better. The hinges make them easily fold and allow them to be carried within the pouch or in your backpack.
The hinges also enable single side monitoring which is a very minor detail but is mostly loved by professionals. Both of the cups can be easily swivelled up to 90 degrees allowing you to use only a single cup on your ear.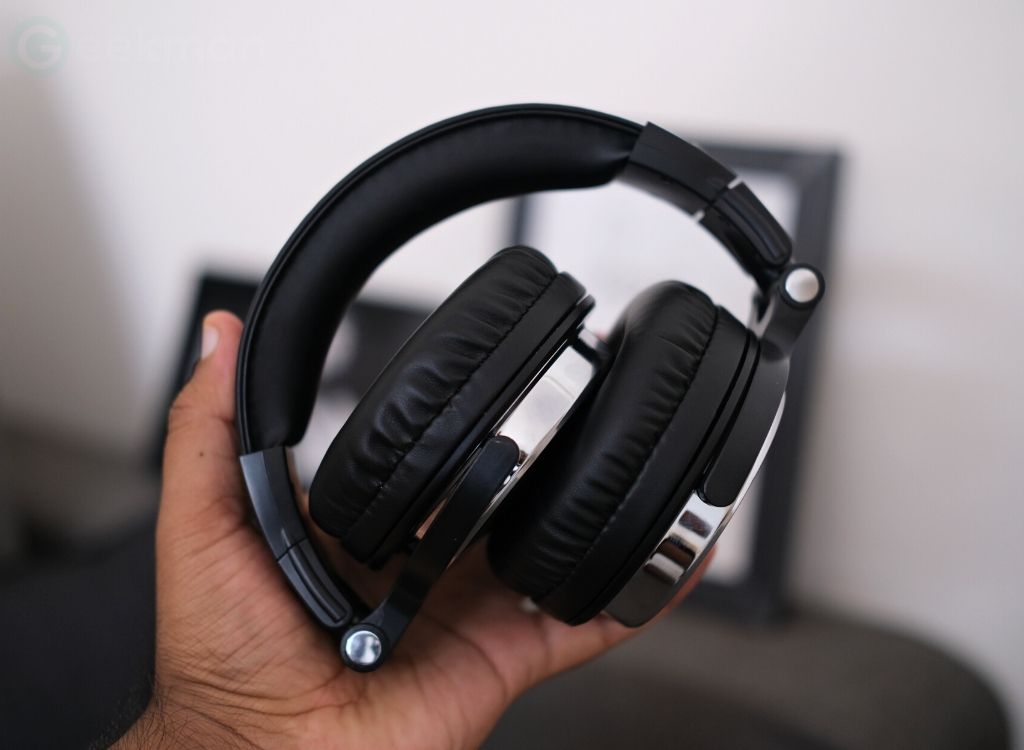 Next comes the in-line microphone which you will be getting along with the 3.5 mm cable. It has a multifunctional button that you can use to take calls, change music tracks, play/pause them, and the best of them all, access the google assistant using it.
The second cable is a 9.8 feet long DJ-style coiled cable that has a 6.5 mm plug on one end while a 3.5 mm plug on the other and the same goes for the headphones. The right earcup has a 3.5 mm jack while the left earcup has a 6.5 mm jack allowing you to use 6.5 mm as output or input or use two sources simultaneously.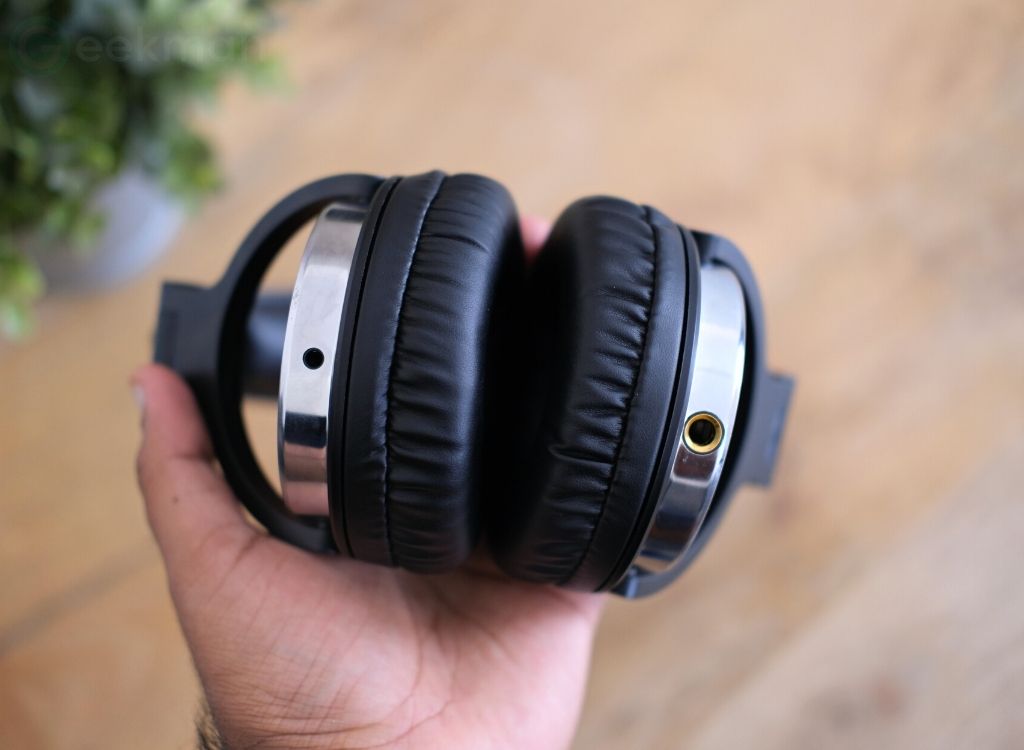 The OneOdio Pro 10 also allows you to share audio with another pair of headphones by simply plugging them into the other spare port of the headphone which is a very interesting feature for people who love to watch movies or videos with their friends or family.
Audio Quality
Now let's discuss the part that we loved the most, its audio quality. The OneOdio Pro 10 has large 50mm drivers with neodymium magnets that offer a phenomenal quality of audio in this price segment.
It offers is a clear sound with punchy bass and sharp high which in turn gives an good audio experience. But keep in mind, it's a DJ headphone and they don't need to offer a very wide soundstage or balanced audio. Instead what you get is a tight bass with crispy sharp highs. This is exactly what you get with the OneOdio Pro-10.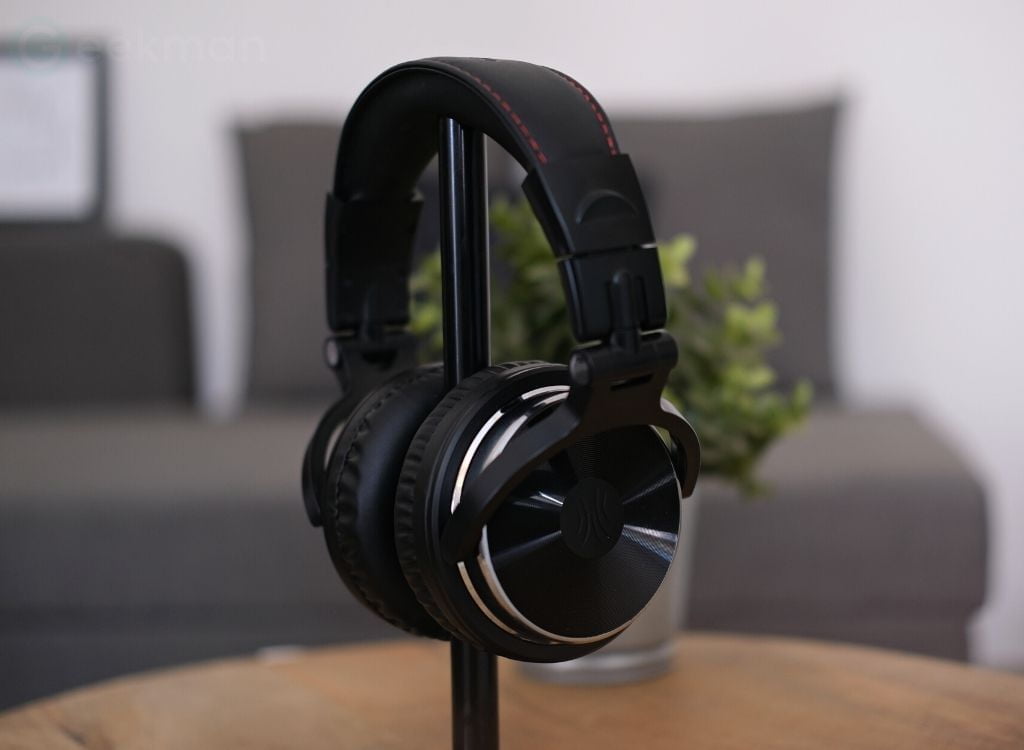 These headphones do an excellent job with the mid sound also. They are clearly audible without being irritating or uncomfortable.
OneOdio has also added a perfect amount of bass on these huge drivers. Some bass heads may still find it a little inadequate but they are perfect for the price it is being offered.
The best thing about the headphones is that the audio does not irritate or sound uncomfortable even when listened for long hours just like some other monitoring headphones.
Comfort
OneOdio Pro has done a great job with paddings, especially on the earcups.
The headband also has thick cushioning below it which makes it easy for you to enjoy music without irritating your head. The same goes for the ear cups, they are heavily cushioned which makes them comfortable enough to enjoy music for hours.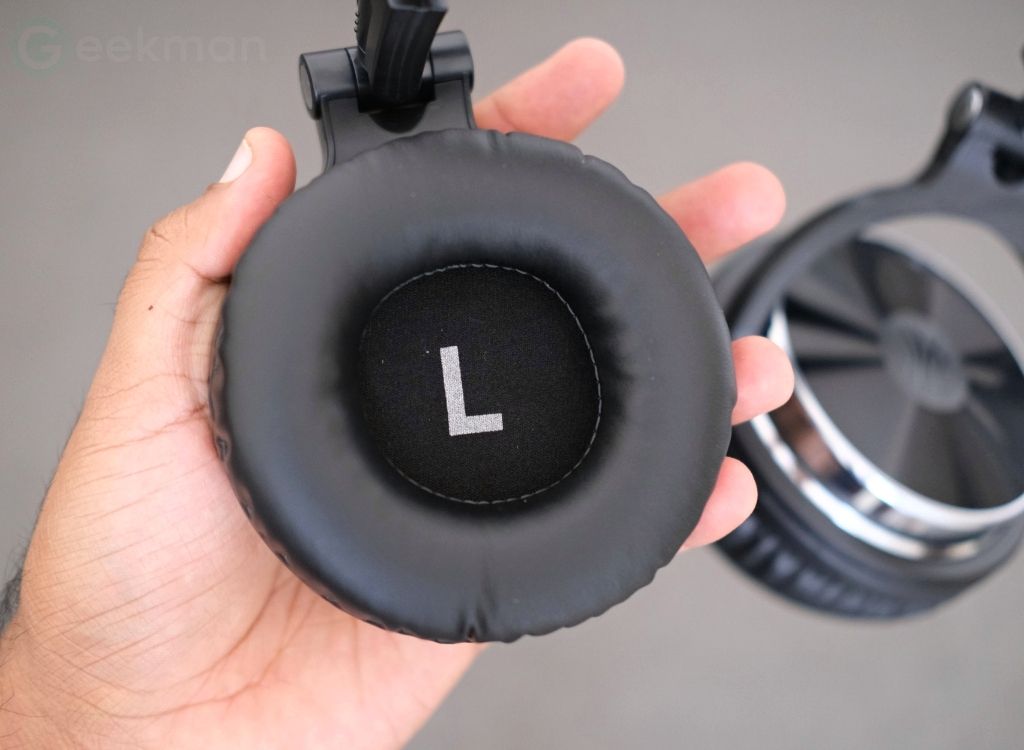 Although the cups are round in shape which makes them a little uncomfortable for people with big ears. Their size is not enough to cover the whole ear making the ear cups rest on the upper part of the ears which is okay for some hours but does become uncomfortable when worn for long hours.
Also, the clamping force of the headphones is on the higher side which makes it even more uncomfortable for the big-eared people although you can decrease the clamping force by extending the size of the headband.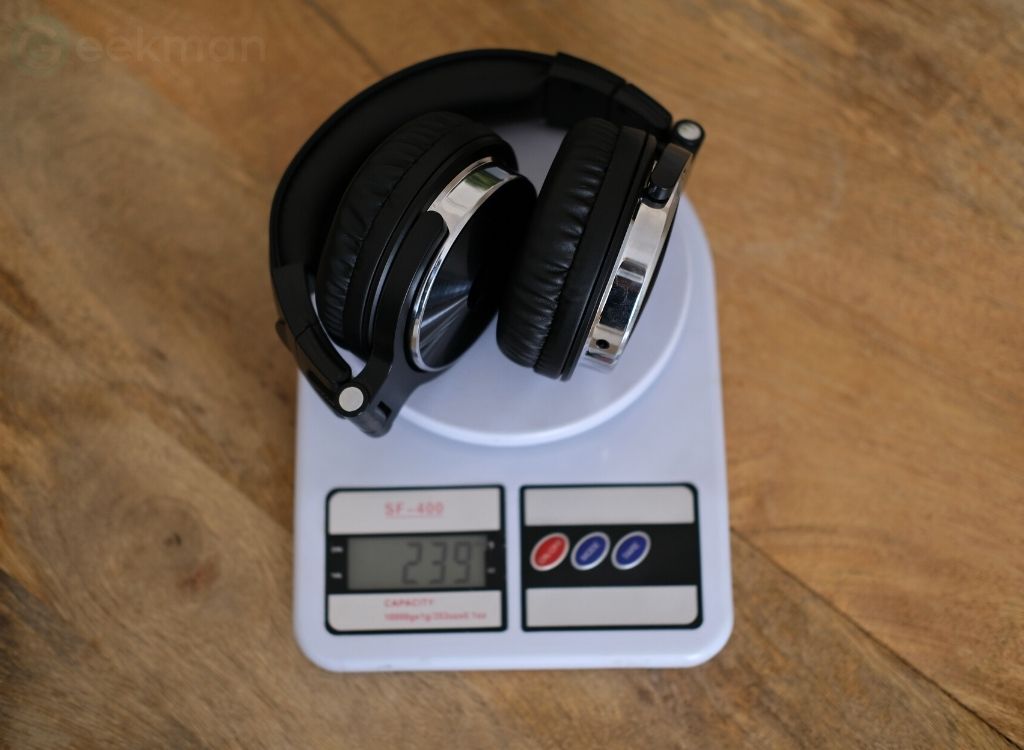 If you are someone with a pair of big ears, you may need to take these off after an hour for a couple of minutes and then you can continue to use them without any issues.
Verdict
Now coming onto the most important part, is it worth spending your Rs. 2,000?
Well, if you are someone who wants a DJ headphone or wants a headphone that has an excellent quality of sound, then this is undoubtedly one of the best sounding headphones in the market right now that you can get at this price point.
These headphones are comfortable enough to be worn for long hours although people with big ears may find them a little uncomfortable after some hours.
Apart from that, these headphones surely are a value for money product.
Oneodio Pro 10 Review In Hindi
FAQ
Can we use OneOdio Pro-10 as normal Day-to-day headphones?
Yes, the OneOdio Pro-10 are also ideal for casual users.
Can we use Pro 10 on mobile and TV?
What about after sales service?
OneOdio provide 2 year warranty with these headphones and they have almost 40 service centres across the country, so don't worry about after sales service.
The OneOdio Pro 10 have microphone?
Yes, it has in-line microphone with single button.
What is the difference between OneOdio Pro 10 VS OneOdio Pro 50?
The major difference between these two headphones is the build quality. The OneOdio Pro 50 also offer softer earcups, superior build quality, and slightly more balanced audio quality than Pro 10.
Also Read: