Hello friends, Today I come up with another power bank review ' Syska X110'. Before writing this review, I personally check and use this power bank for 1 week. I try to provide you with every minor detail about Syska X110 Power bank. If you have any questions, please comment on Post, and you also ask questions on Twitter and Facebook. Please visit my youtube channel and watch Syska X110 Power bank Review in Hindi.
Unboxing Syska X110
The Syska X110 comes in solid and beautiful White packaging. We get a user manual, Warranty card, and good quality mini USB cable. You can also watch Unboxing video on our youtube channel /Geekman for More information.
Syska X110 Specification
11ooo mAH capacity
Two USB output ports (1A, 2.1A)
Input 5v(1.5A)
6 Month warranty
Power On/Off button and Blue LED indicator
Over-charging and Over-discharging protection
Design & Build quality
The design of this power bank is quite good with an Amazing colour combination. I am very impressed with build quality of this Syska power bank. Syska use Good quality ABS housing material while making this device. I purchase Black-grey colour variant for review, but you can also buy White-blue and White-grey colour variants.
The top side of this power bank is empty, extract tiny faded Sysjka logo on the right side. A good part is Syska doesn't focus on branding like Ambrane.
On the right side, the Syska X110 has a two USB output port with 1A and 2A capacity with a label. On the bottom side, you found BIS rating and Specification.
The Power On/Off button, charging port and led indicator light on the main side. A blue indicator light gives a premium feel to this power bank. You can check remaining power of this power bank using a button. The indicator light also shows you charging progress.
The Syska X110 is lightweight compared to a capacity of this power bank, only 273g. The dimension is just 2.4 inches wide, 5.4 inches long, and 0.86 inches depth. You can easily carry this Syska power bank in your pocket because of compact size.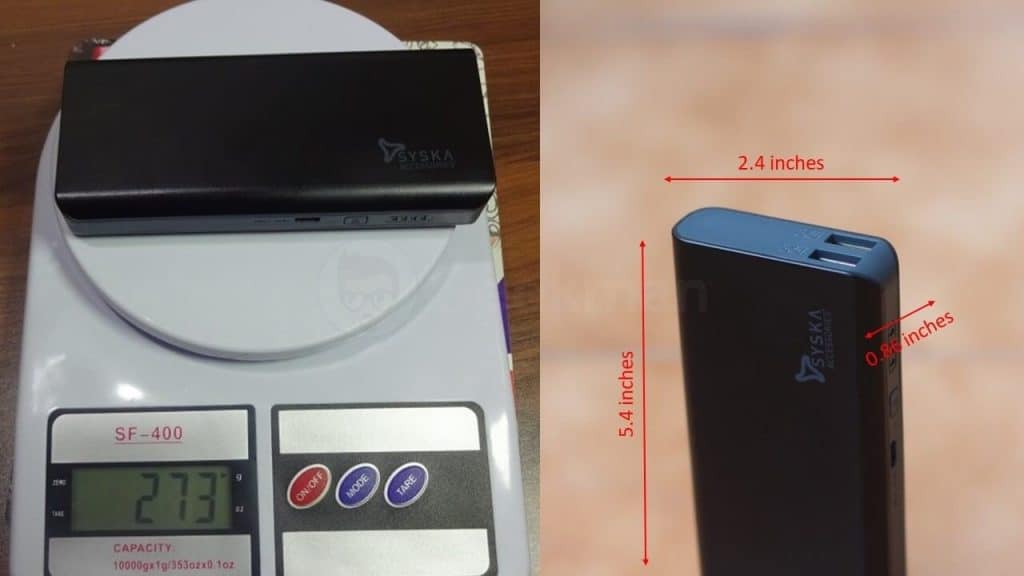 Performance
The Power backup of this power bank is average, not so good. We get 7800 mAH capacity out of 11000 mAH capacity. If you purchase this power bank around Rs.700, then it's good at this price range. Please note. There is no any power bank in the market comes with full capacity describe in a specification. You only get 80% of the total power. You can easily charge your 2500 mAH battery powered a phone for 3 times with Syska X110. There are 2 USB output ports where the first one gives 1V output voltage and another one gives 2.1V output. The 2.1V port full charge your 2500 mAH battery within 1.10 hours and 1V port charge within 2 hours. When coming to safety, Syska X110 comes with Over-charging, Over-discharging, and short circuit protection. The Smartphone, Tablet, Camera, USB light, Trimmer, and Fitness band working good with this power bank.
Final Word
Overall, I don't' happy with power backup of this Syska power bank. If you are a traveller and you need more capacity, then I highly recommend you to buy Ambreane P-1310. But If you need good design, solid build quality, and safety protection then buy this power bank. You need to compromise with Capacity. If you successfully buy this power bank under 750 Rs, then its very good deal. There are lots of other power banks available in a market when you read this post. But don't worry, we publish power bank buying guide every month. So, please check before buying.
Buy Now