Syska Economy 100 Power Bank Full Review
Hello, Dosto today I come up with another power bank review and this time I select Syska Economy 100. Here I try to present you every minor detail about this power bank with a required photo. f you have any questions, please comment on Post, and you also ask questions on Twitter, Facebook, and Youtube.
Syska Economy 100 Specifications
10000 mAH capacity
Two USB output port 1A and 2A
Overcharging and Over discharging IC protection
Weight: 269g
dimensions W x H x D: 61.4 x 138.3 x 22.1 mm
6 Months Warranty
Unboxing Syska Economy 100
You get Micro USB cable, Warranty card, User manual and main power bank unit in the box. Before using this power bank please read safety instruction out of the box. You can also watch Unboxing video on our youtube channel.
Design & Build
The design of this power bank is really deserved a standing ovation. It looks very stylish and compact. The colour combination of this power bank is very attractive. I purchase Black-red colour variant for review, but there is another White-grey variant available in a market. On the front, it has a unique Square texture design and on the side, it has a line texture for a battery grip. When coming to build quality, Syska Economy comes with solid build quality, thanks to Syska for using Good quality plastic.
On the front side, it has a transparent Syska logo and rest of area is empty with texture design. The back side, you found some specification and SR rating info.
On the right side, Syska Economy 100 has a micro USB charging port and 4 White LED indicator light. The White LED indicator light looks very classy with a colour combination of this power bank. There is no any power On/Off button in this power bank. There are two USB output ports 1A and 2A on the top side. The Best part of this Syska Economy, You can check remaining power with shaking.
The dimension of Syska Economy 100 power bank is just 2.4 inches wide, 5.4 inches long, and 0.87 inches depth. You can easily carry this Intex power bank in your pocket because of a weight of this power bank only 272 g.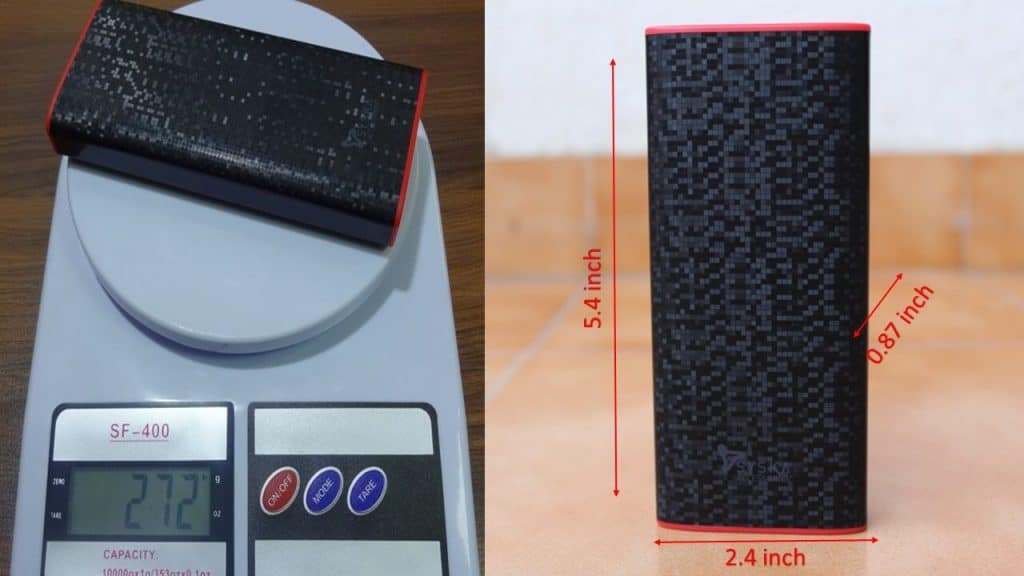 Overall, The design and build quality of this power bank are really good compared to price.
Performance
When coming to the performance, the battery backup capacity of this Syska power bank is not so good. The capacity of the power bank is 10000 mAH but as with all power banks it would give you the full power, you only get 80% of the total power. This Syska Power bank gives 7000 mAh capacity out of full capacity. It can charge your 3000 mAH battery powered phone for two times. There are 2 USB charging ports where the first one gives 1V output voltage and another one gives 2.1V output. The 2.1V port full charge your 3000 mAH battery within 1.5o hours and 1V port charge within 2,30 hours. These power banks don't get heated a bit even after hours of usage, that's good for safety. You can't charge fitness band with this power bank because there is no any on/off button, so it automatically cut the power after some time.
Conclusion
If you need power bank with Good design and decent performance, then buy this power bank without a doubt. But I don't recommend this power bank for a heavy user because of less power backup. If you get this power bank at discount price like Rs.600-700, then is value for money deal. If you looking for power bank with good battery backup, then buy Intex IT-PB11K and Ambrane P-1310. There are lots of other power banks available in a market when you read this post. But don't worry, we publish our list of latest best power bank in 1000, 1500, and 2000 every month in our buying guide section and youtube channel. So, please check before buying.
Buy Now