Sony recently added a new entry-level neckband to their C Series, which they call Sony WI-C100. This neckband is released at an introductory price of Rs. 1,699. Well, personally speaking, I have been a big fan of neckbands for a very long time, and the reason is the same as most neckband lovers out there. They are very comfortable to wear and are always connected, unlike the TWS earbuds, which you have to connect every time you want to use them and have to pack them back as soon as you are done.
Sony is a master in their audio quality, which is why people prefer to pick their products over the competition. I have tested numerous sound products from Sony, and they have never failed to impress me. It would be interesting to see what Sony offers at a budget price like this. So let's not waste any time and jump right into it.
SONY WI-C100 Specifications
| | |
| --- | --- |
| Colour | Black, White, Blue, Taupe |
| Connectivity | Bluetooth 5.0 |
| Codec | Supports AAC and SBC, DSEE |
| Driver Size | 9mm |
| Frequency Range | 20–20,000Hz |
| Sensitivity | – |
| Impedance | 32Ω |
| Battery | Up to 25H (60% volume) |
| Weight | 20G |
Box Content
Starting with the box contents, you get some basic paperwork and two spare pieces of ear tips that you can replace with the medium-sized ear tips that come in by default. And next, you will be getting your neckband which I got in Black color, but you can go with the Blue, White, or Taupe color variant. That would be all you get in the box, and I know your next question: What about the charging cable? Well, there is no charging cable at all, and Sony should have included one at this price point, but there is nothing that you can do apart from keeping a Type-C charging cable prepared.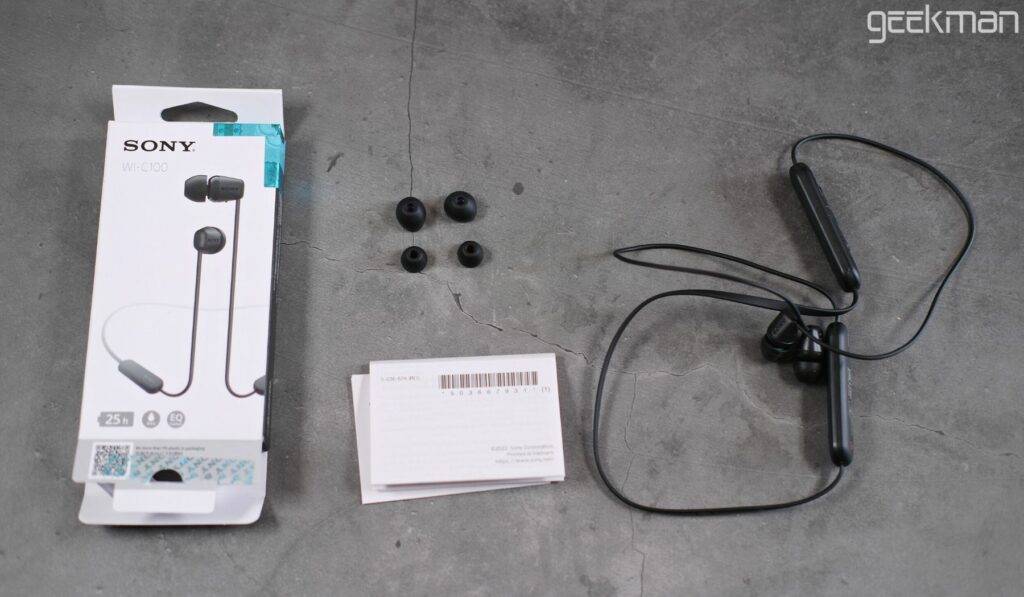 Design & Build
Moving on with the design and build, Sony WI-C100 follows a highly minimal and simple design which is not so common in the neckbands I have been testing lately. Well, this could turn out to be a good pick for those who prefer minimal designs, but at the same time, some may find it overly basic. The whole neckband is made out of plastic, and the build quality is average compared to the other neckbands in the same price segment. However, it is still worth mentioning that despite having a plastic build, the WI-C100 does not feels cheap by any terms, which is a good point.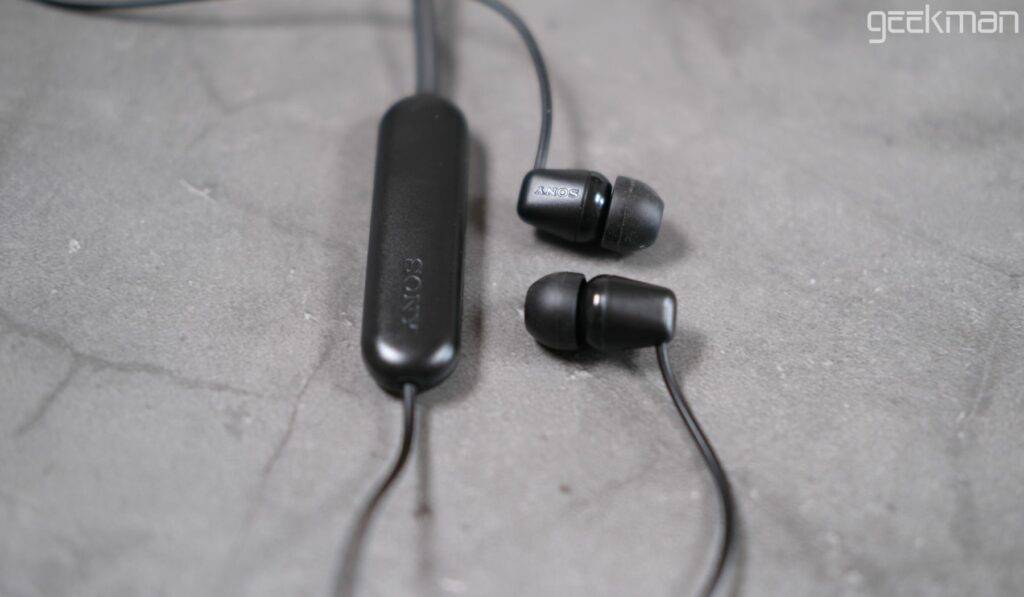 The plastic build on a neckband has its own advantages, but lightweight is the most significant plus point. It weighs only 20 grams, which makes it one of the lightest neckbands in the segment. This lightweight body makes it extremely comfortable when worn for a long duration.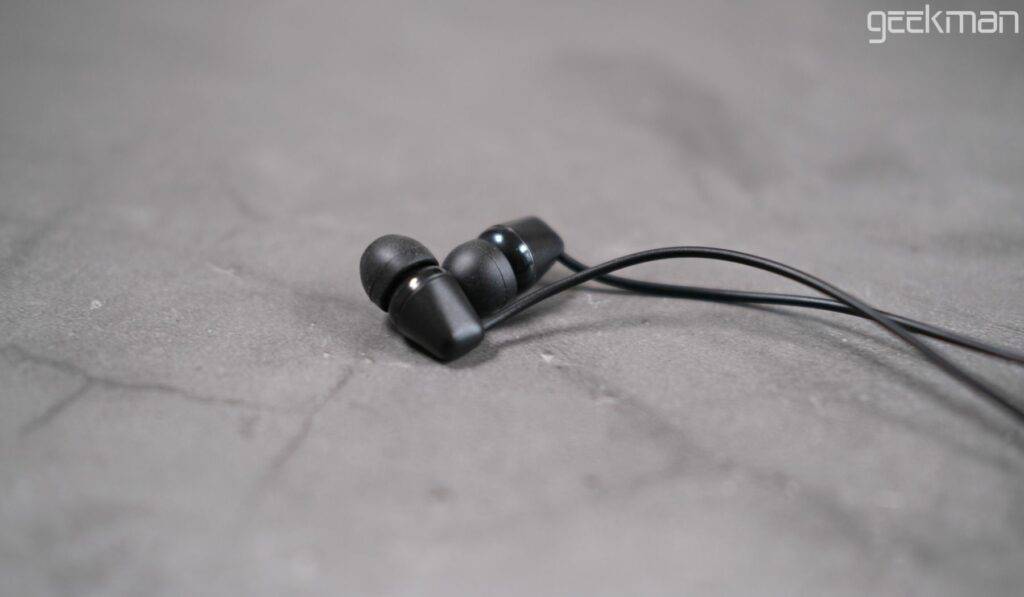 I would have loved it if Sony had offered magnetic ear tips with these, as they come in really handy in day-to-day usage. The neckband comes with an IPX4 rating, so you are free to wear them during your sweaty gym sessions.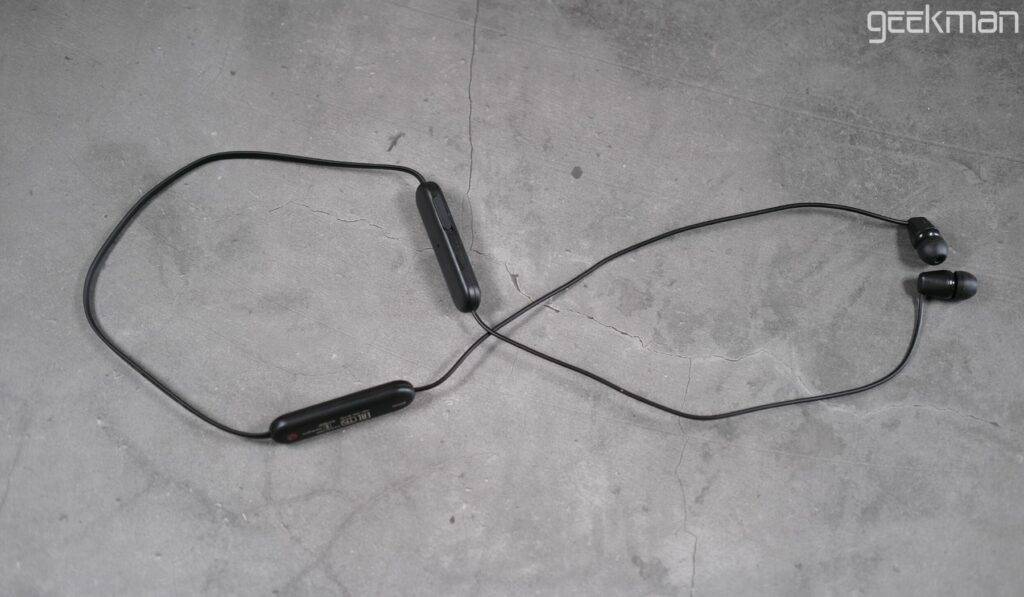 One complaint I have with these neckbands is that the wire of the neckband is fragile, and the length feels inadequate, which sometimes, during exercises or running, causes it to slide to the backside of the neck.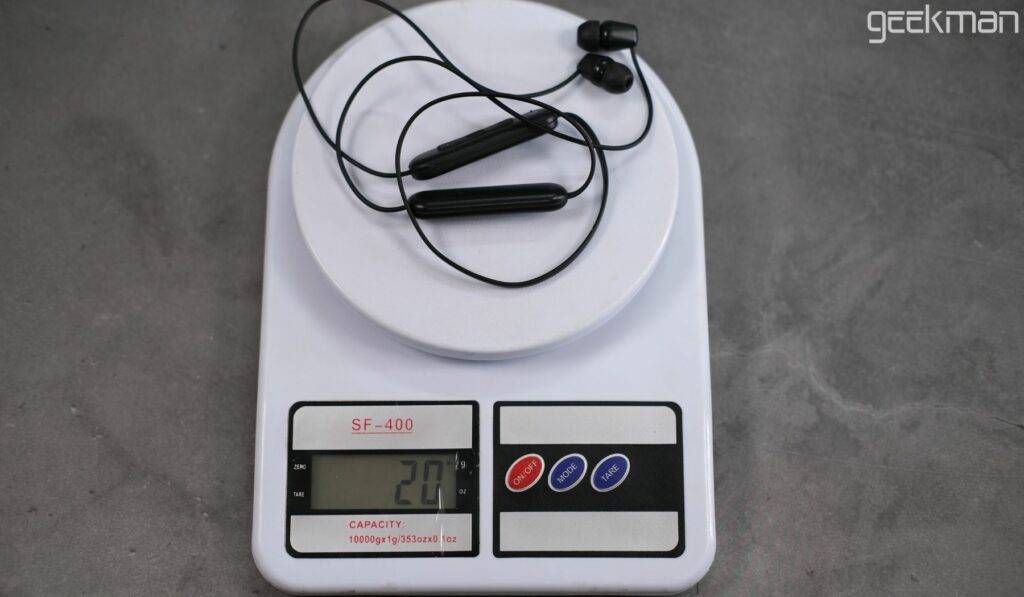 Comfort
Moving down to the comfort, the Sony WI-C100 would be a straight winner. The first main reason would be the lightweight body that I have already mentioned above. A light body of any wearable device acts as a plus point, especially if we are talking about a device meant to be worn for an extended period.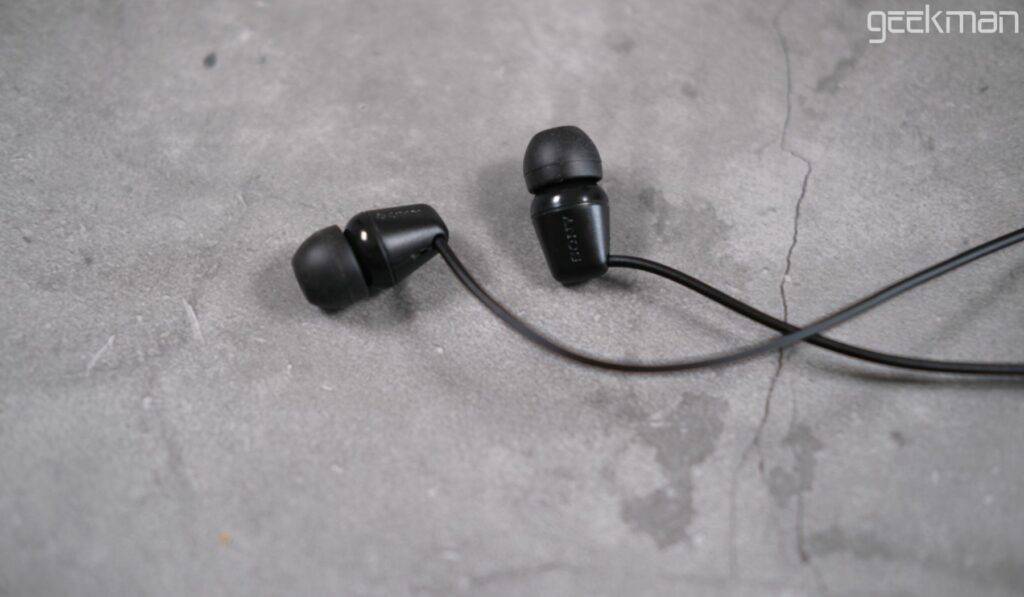 The ear tips are very small and have a unique shape that securely fits inside your ears. This shape also helps in canceling some background noises to an extent, which means you will not miss active noise cancellation that much. Since the wire is not that lengthy, there are no hassles of wires getting tangled.
Features & Connectivity
The neckband comes with Bluetooth 5.0 and Google Fast pair support, making it quickly pair with your smartphone. The central capsule has three control buttons that allow you to change volume, track, attend calls, and even access Google Assistant or Siri. You get a USB Type-C port on the same capsule to charge your neckband.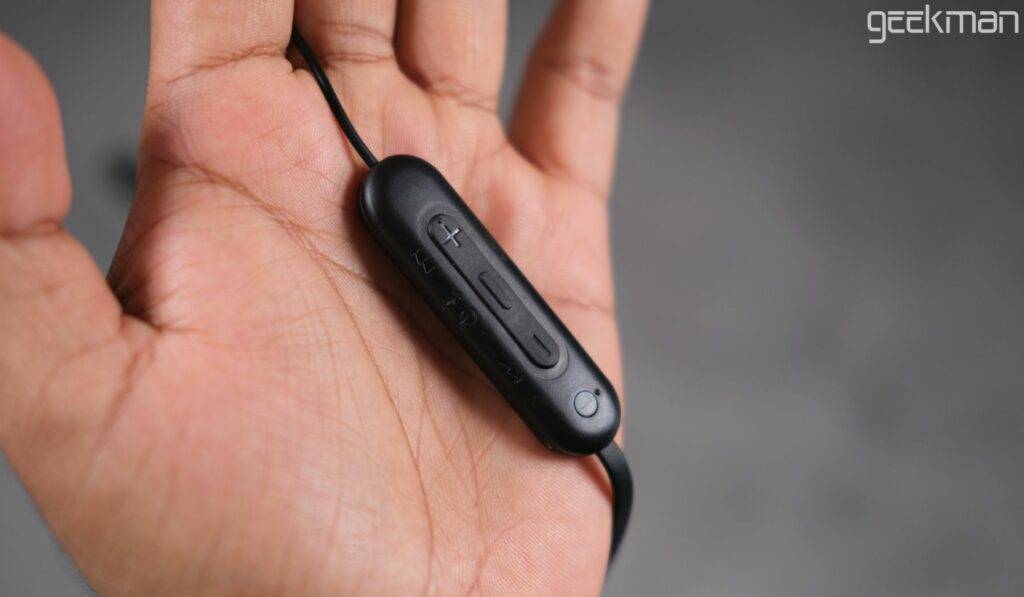 The neckband also comes with an inbuilt microphone, making it easy for you to take calls and meetings from the neckband itself. If we talk about the microphone quality, I would say it is pretty decent and similar to what you would expect from a neckband at this price point. It captures most of the background noises but still performs well enough for you to take calls and meetings from it without any issues.
Audio Quality
Finally, the part which most of you have been waiting for: the Audio Quality. Well, Sony has been known for the audio quality it offers and has stayed unbeatable in its segment for a while. The Sony WI-C100 packs 9 mm Neodymium drivers, specially tuned to sound more natural. It comes with SBC and AAC codec support; although Sony should have at least included their LDAC codec, sadly, it's not there.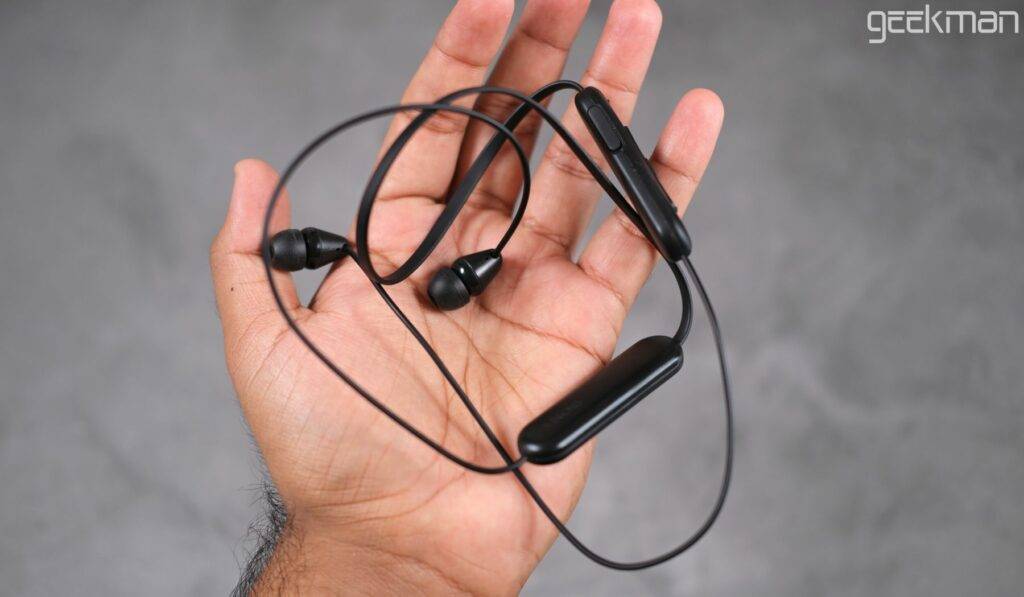 However, this does not mean Sony has not done anything impressive with these neckbands. They have done a fantastic job which will surely take your music listening experience to the next level. Firstly, it comes with Sony's DSEE (Digital Sound Enhancement Engine) support which you would mostly get on high-end Sony products. This engine enhances the audio quality, making it sound richer and more natural. To use this feature, you will need to install the Sony Headphone Connect app, which is available for both Android and iOS devices. You also get Sony's Equalizer, where you can choose from a bunch of Equalizer presets and even tune it as per your liking.
You also get Sony's 360 Reality Audio support which gives you an immersive 360 audio experience. Overall the sound quality of this neckband is pretty impressive. The audio volume is not very high, which does not hurt your ears. You also get a bass boost mode in the app, which you can enable if you are a bass lover.
Battery
The WI-C100 comes with quick charge support, which means a quick charge of 10 minutes can offer you a battery backup of about 60 minutes. If I talk about my experience, this neckband can easily provide a battery backup of 22 hours on a single charge which is a pretty decent number for this price point. It takes about 3 hours for a full charge.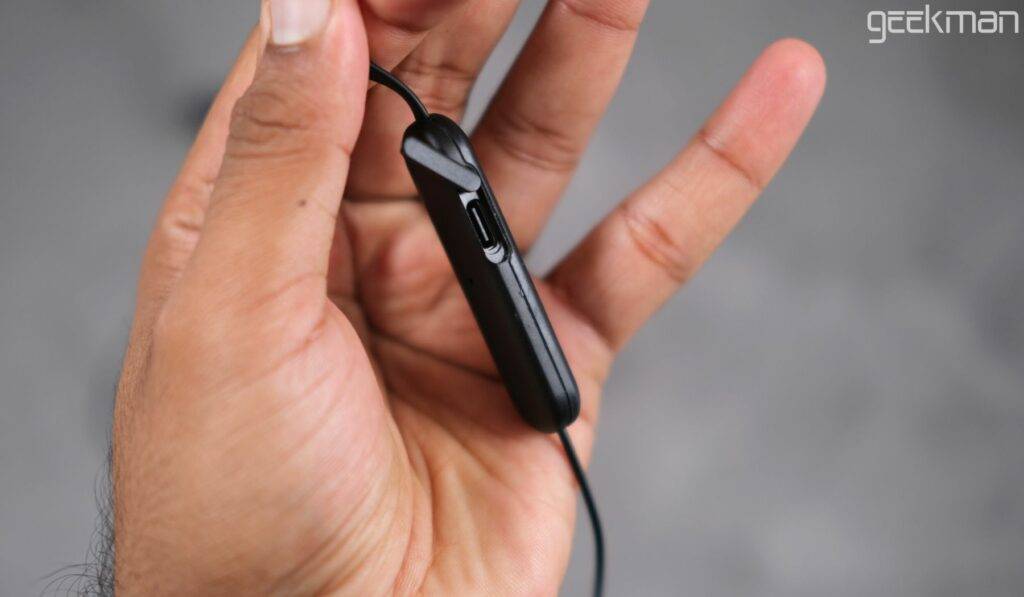 Verdict
Now comes the real question, is Sony WI-C100 a good purchase under Rs. 2,000? Well, if music and audio quality are your priority, then there is nothing that can match up to what WI-C100 has to offer. The sound quality is very impressive, and the other quirks like DSEE support and 360 Reality Audio support take the audio listening experience to the whole another level.
However, if your priority is a good-looking neckband with good build quality or a neckband with ANC support, you might need to look for better alternatives.
At last, this would be all from my side about the Sony WI-C100 neckband review. If you have queries regarding this product or any other general questions or suggestions, feel free to drop them down in the comments below, I will try to get back to you as soon as possible. Thanks for reading.
SONY WI-C100 Review In Hindi
Also Read: