I have tested numerous OneOdio audio products in the past, and OneOdio has almost always managed to impress me with its amazing sound quality. If you are yet to hear their name, let me tell you that OneOdio is a premium headphone brand that makes out some of the best-selling premium headphones globally.
Today, I have got my hands on the recently released truly wireless earbuds, the OneOdio F2 TWS. This stylish-looking TWS is easily available under Rs. 2,000, but if you are lucky enough, you may get it for as low as Rs. 1500 on Amazon. So let's quickly see what OneOdio has to offer this time.
Box Content
Starting with the box contents, you will get the same old boring user manual along with a USB Type-C cable to charge your earbuds. You get two spare pairs of ear tips that are in small and large sizes, which you change with the medium-sized ear tips that come placed on the earbuds by default. Finally, we get the earbuds that are placed inside the charging case. OneOdio offers the F2 TWS in multiple colour variants, I got the Black variant, but you can go with the Blue, White, Gray, or the Mint Green variant. For more info, please watch the detailed review video on our Youtube Channel: Geekman.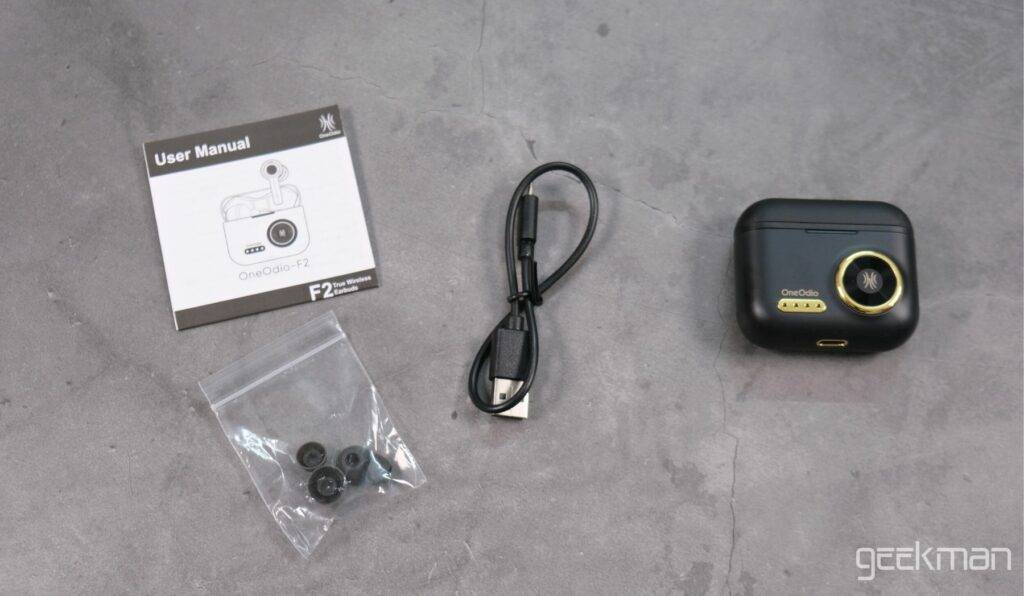 Design & Build Quality
The OneOdio F2 has a unique design that seems to take inspiration from a vintage radio, giving it a premium look. The black colour variant comes with a matte finish and has a golden touch on it. It is pretty well built and feels solid in your hands. The charging case and the earbuds look very similarly shaped to any other earbuds on the market. The earbuds are small-sized with circular touch controls in the centre that have a textured finish.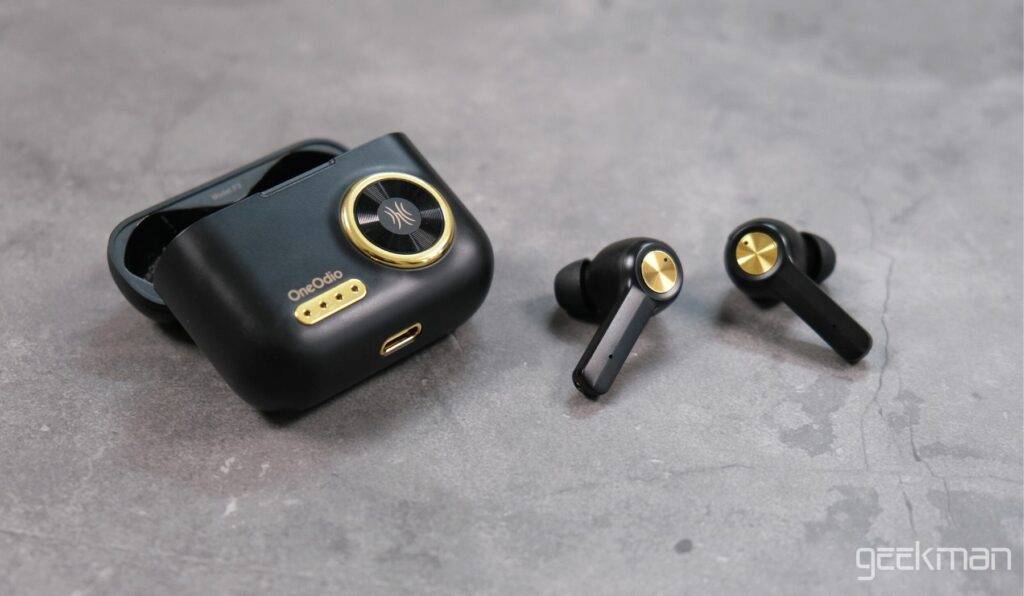 The earbuds are pretty lightweight, even though they look a bit bulky. Both earbuds weigh around 9 grams and about 50 grams with the charging case, making them easy to carry around in your pockets. The light weight of the earbuds also allows them to be worn for several hours, which adds up as a plus point in the comfort segment, which we will discuss in a while.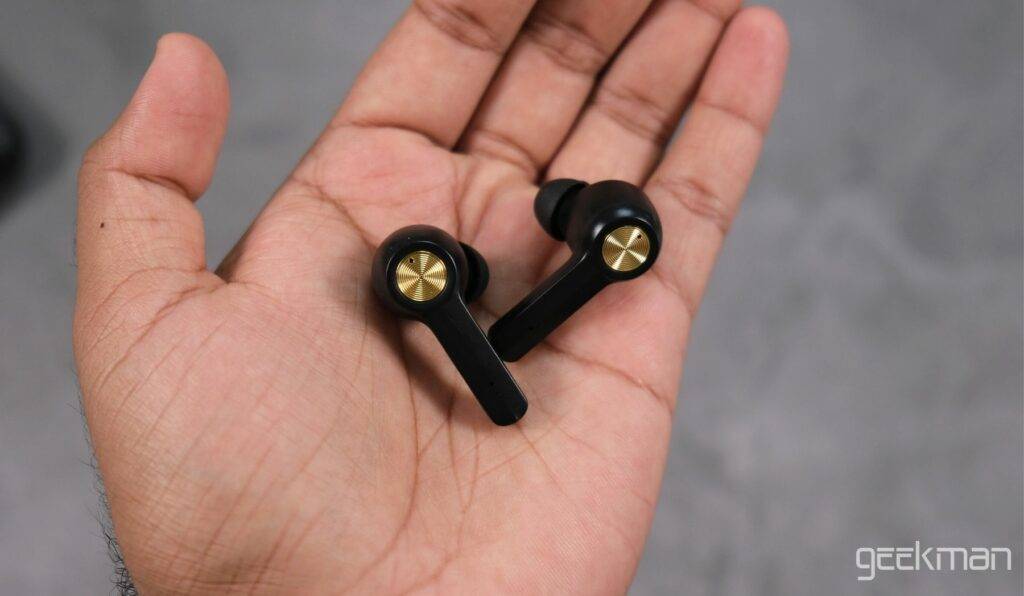 The charging case has a USB Type-C port at the bottom for charging and 4 LEDs at the front to tell you the battery status of the charging case. The earbuds also have an LED indicator on each of them. The F2 TWS comes with an IPX5 water resistance which means you can take them with you on your sweaty workouts without worrying about them. Although taking them for a swim would not be a good idea.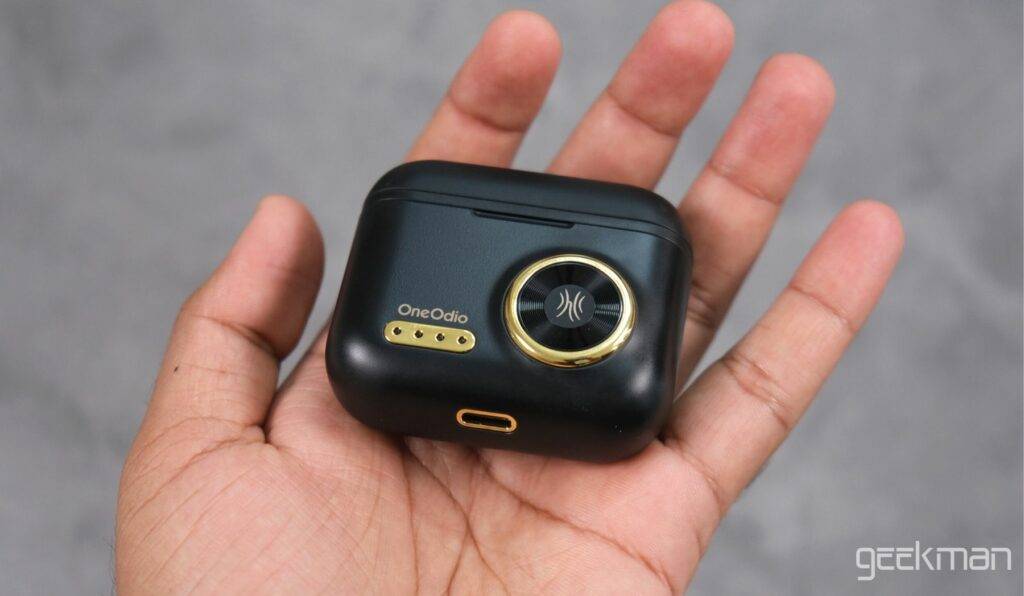 Comfort
Moving on to the comfort, the first thing which I really like about them was the angled nozzle of the earbuds that fit really well inside of the ear and prevents them from accidentally dropping or slipping out. This good fit also helps out in offering a good amount of noise isolation as it blocks out some of the background noises to an extent. As I mentioned earlier, the earbuds are very lightweight, so you can keep them in your ears for several hours without worrying about ear fatigue.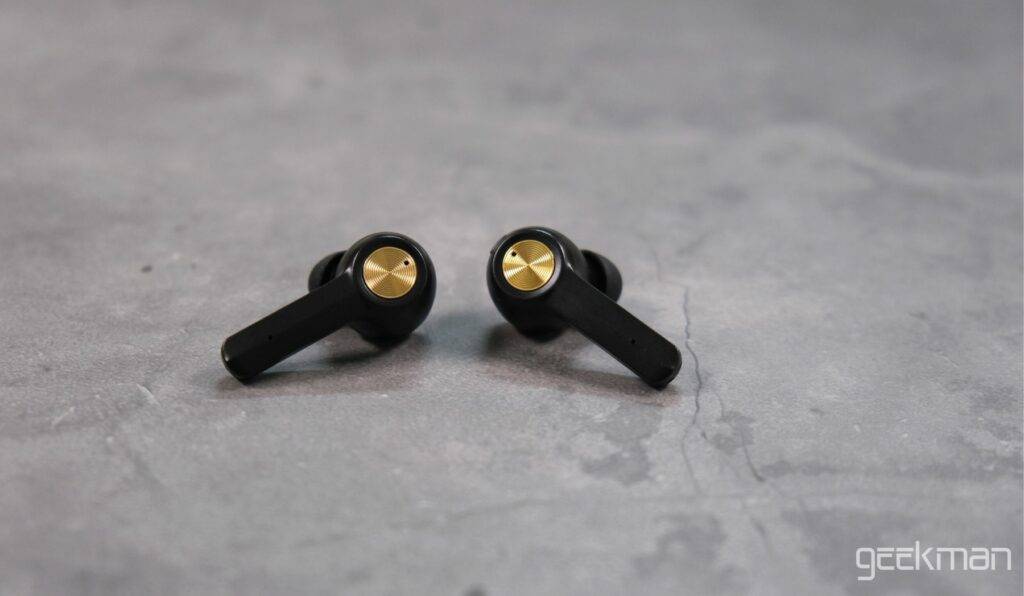 Features
Now coming on to the features, the OneOdio F2 TWS earbuds comes with Bluetooth 5.0 support which allows them to pair up with your Android or iOS smartphone quickly. The good thing I found out was it takes a little less time to pair with any of your devices than any other budget-oriented TWS earbuds in this price range.
The touch controls on the earbuds work very fluently without any issues. You can use them to play/pause music tracks, change tracks, and access the voice assistant. However, you won't get any volume controls that you won't find in any other TWS in the same price segment.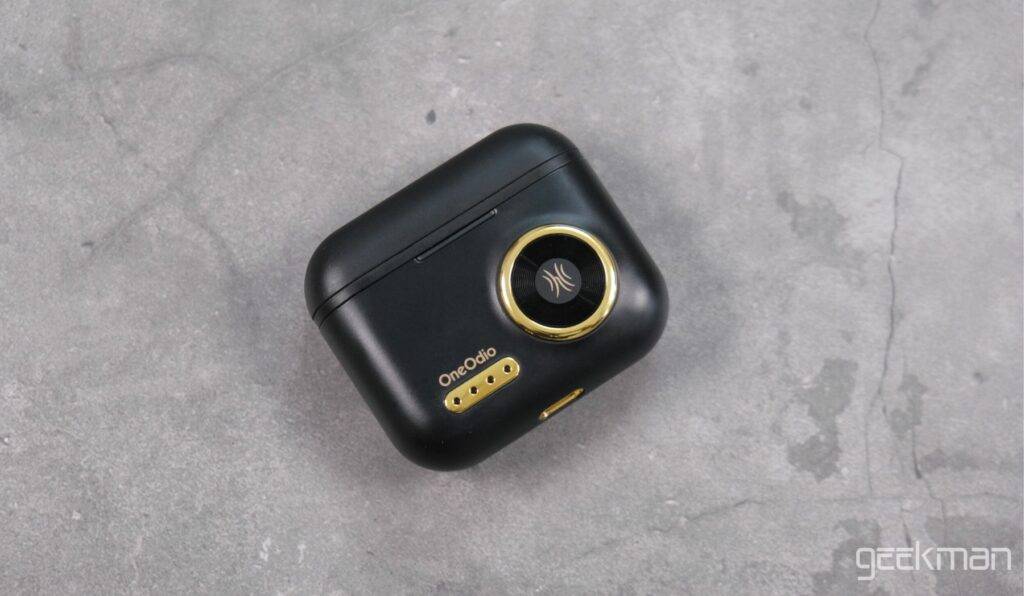 Audio Quality
Now let's talk about the audio quality, which is probably one of the most important points to look at when buying an audio device. OneOdio has again not failed to impress me with its audio quality, and I could say that it offers one of the best audio quality compared to some other budget-oriented earbuds. These are some of the best-tuned earbuds which I have tested in this price segment.
The sound quality is crystal clear, and the frequency is perfectly balanced, which is very rare to see at this price range. The audio sounds good and does not distort even when pushed to the max volume. The bass response is pretty good and offers a punchy output which I am sure most of you would like a lot. Yes, it lacks a little depth, but the output is impressive overall. The vocal and treble output is pretty well balanced, which enhances your song listening experience.
Since we are talking about the audio quality, we cannot miss the microphone either. The microphone works pretty well and captures little to no background noises, which is often a problem in budget-oriented TWS earbuds. It captures clear audio and has no distortion, making it perfect for taking on calls or meetings.
Battery
Now, if we talk about the battery backup, OneOdio F2 says the earbuds individually can last for about 8 hours and can offer a backup of 48 hours with the charging case. On the actual grounds, it offers a battery backup of about 5-6 hours on a single charge. With the charging case included, you can expect a battery backup of about 38 hours which is pretty decent for its price range. The charging case takes about 1.5 hours to charge the 800 mAh battery inside of it fully.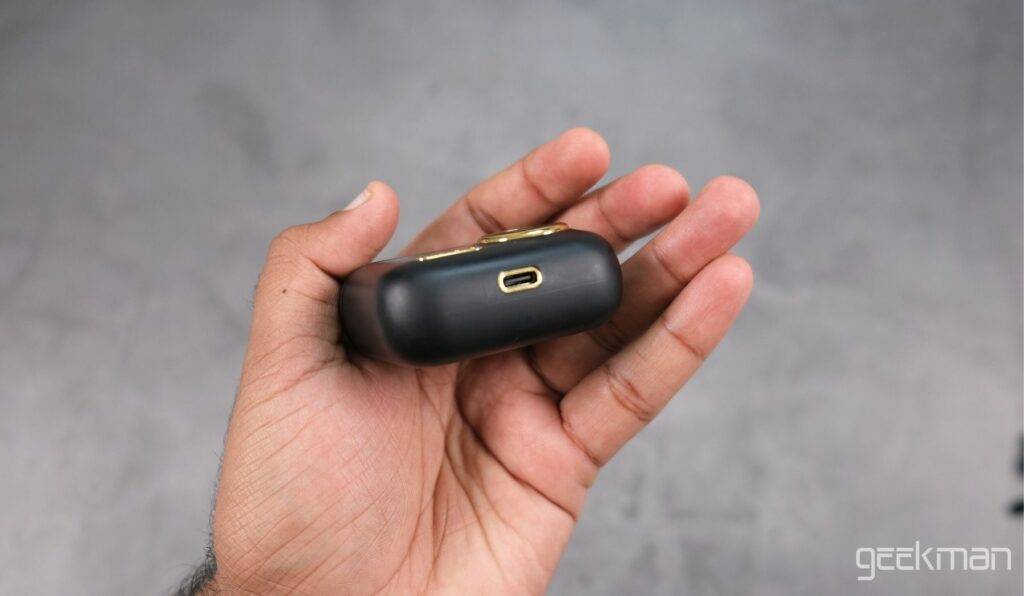 Verdict
Finally, coming to the most important part. Are OneOdio F2 TWS a good pair of TWS earbuds to buy at this price range, or should you look for some better alternatives?
The OneOdio F2 is one of the best-sounding TWS earbuds that you can get in this price range. The comfort is another strong point of the earbuds, and I can say they are one of the most comfortable earbuds in this price range. It comes with a good and durable build quality which I am sure would last for a while. The design of the earbuds could be a bit odd for those who like a minimal design, but if you put that aside, the OneOdio F2 is a pretty good TWS earbud at this price range.
If you have any questions or queries, feel free to drop them down in the comments below, and I will get back to you when I am on my coffee break. Thanks for reading.
OneOdio F2 Review In Hindi
Also Read: