Instagram reels are becoming popular day by day. Instagram reels are generally short videos of up to a maximum of a 1-minute length. Reels and Instagram videos are new-day content that people like to watch. With that being said, people are looking forward to downloading Instagram reels and videos they like to watch later. Though Instagram does not allow downloading Instagram video content officially, you do have the third-party options to save them on your Instagram account.
However, if you want to save or download Instagram reels and videos locally, worry not, as we have covered you. Though you cannot download Instagram content officially, various third-party applications are used in which you can download Instagram reels and videos.
Note: these methods below will work for both Android and iOS. However, you won't be able to download "private" Reels.
Download Instagram Reels Using Online Tools
There are various websites and online apps to let you download Instagram content without the need to install apps or software. These web tools also let you download Instagram reels and videos without any watermark or restrictions.
Here are some of my favorite online tools for downloading Instagram videos and reels:
Note: Using these tools, you can also download Instagram stories, IGTV Videos, Instagram DP, and photos.
Open your Instagram account and click on the Three Ellipses you see on the video or reel you want to download.
2. Next, click on the Copy Link option to copy the link for the video or reel.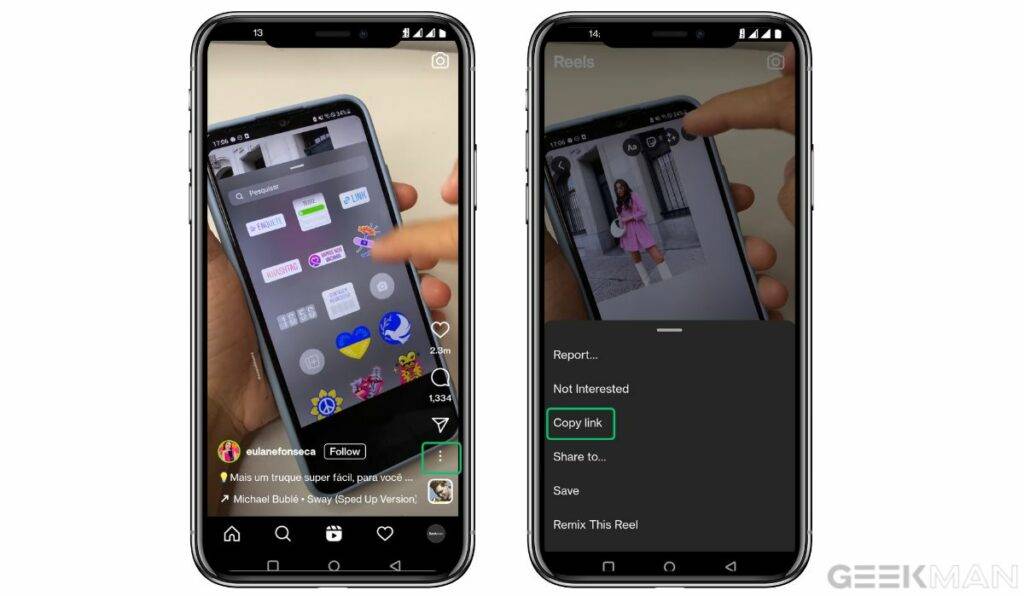 3. Visit any of the mentioned tools. For this example, I am going to use InstaFinsta. Tap on the "Reels" tab within the website and paste the copied link into the appropriate box.
4. Now, just hit the "Download" button and wait for the processing to complete. Once the process is done, you will be shown a preview of the reel video and a big download button. Click the button, and you will have successfully downloaded an Instagram video.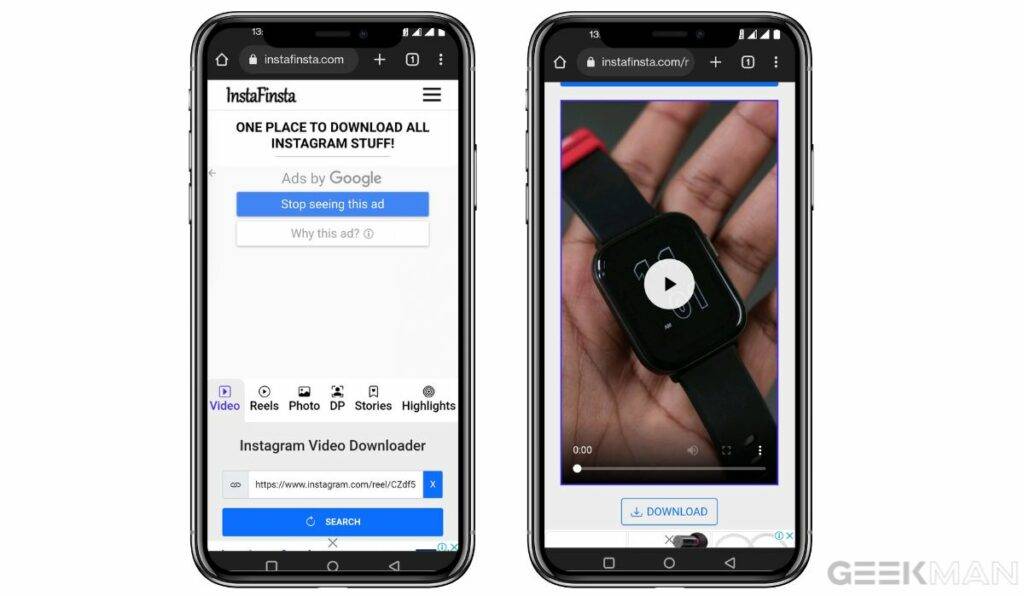 Download Instagram Reels and Video Using Dedicated Apps
Several third-party apps help you download Instagram reels and other media content. Here are some tried option
Reels Saver
Video downloader for Instagram
Instant Save (iPhone only)
Download the app on your phone. Grant all the necessary permissions it asks for.
2. Copy the Instagram video link you wish to download and open any of these apps. Just paste the link and click the Download button to save the video and reel it to your phone.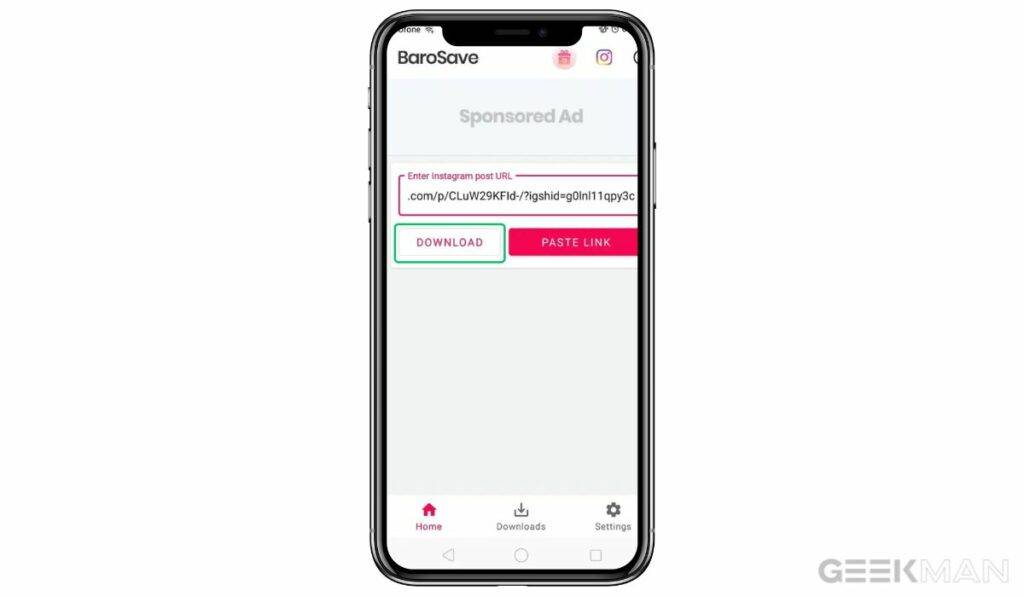 Bonus Method: Record Your Screen
Screen recording is the easiest way. All you need to do is swipe down from the top of the display, press the screen recording button, navigate to the Reel or video you want to record, and let your phone do the magic.
Once you've secured the footage, all that's left to do is head over to the Photo or Gallery app, tap Library, then go to the video or movie section. There, you'll find your recording.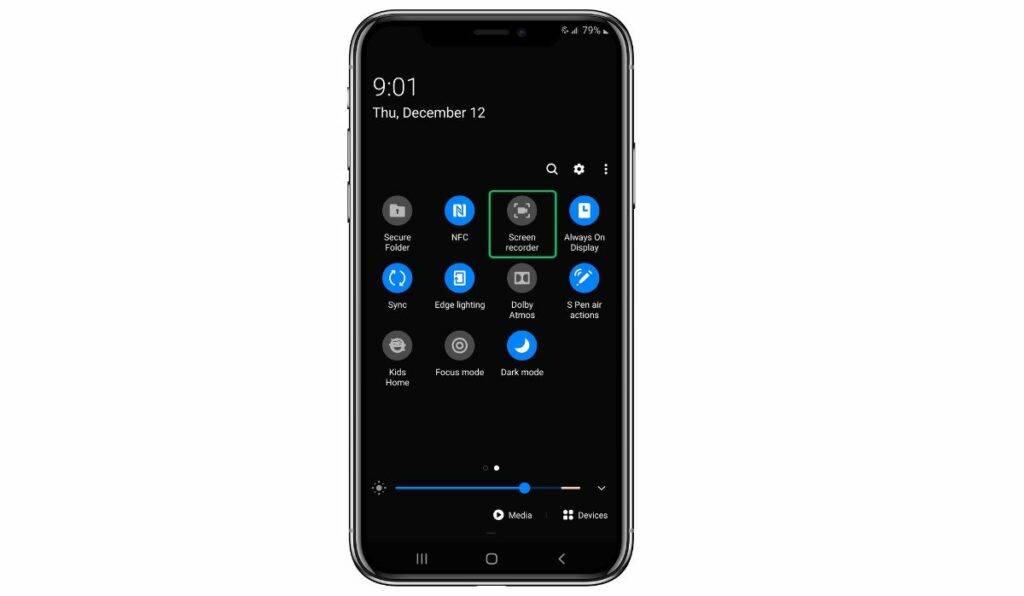 Bonus Method: Download Instagram Reels On Desktop
Sometimes you want to edit or color-correct the reel or video. In this case, some heavy-duty software will help. You can download or screen record Reels to your PC in a matter of clicks.
Streamlabs
OBS Studio
Filmora
Camtasia
QuickTime (built-in iOS feature)
Bookmark Or Save Instagram Reels To Watch Later
If you just want to watch an Instagram reel or video later, then you can just bookmark the reel instead of downloading it.
If you just wish to save Instagram Reels for future use, instead of downloading it, simply bookmark the Reel.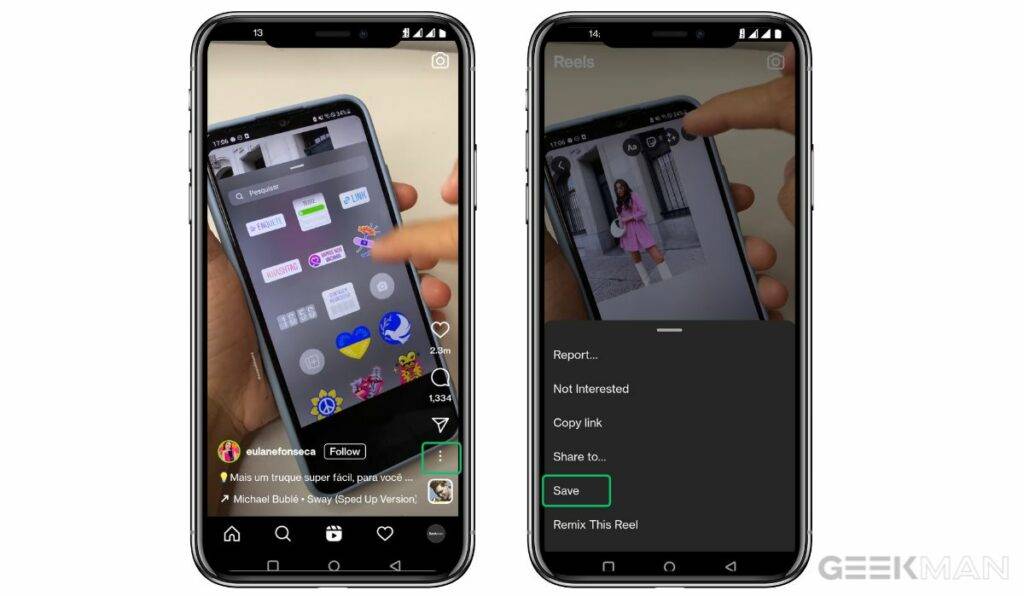 Open the Instagram Reel you want to save. Click on the three-dot icon and click the "Save" button.
To find the Instagram Reels you saved, navigate to "Profile screen > three-bar icon > Saved."
Tapping on "All posts" will reveal your saved posts, Reels, and videos.
Bonus: How to download your own Instagram Reels
If you want to download your own Instagram reels for feature use or want to post the same video on TikTok or other social media apps.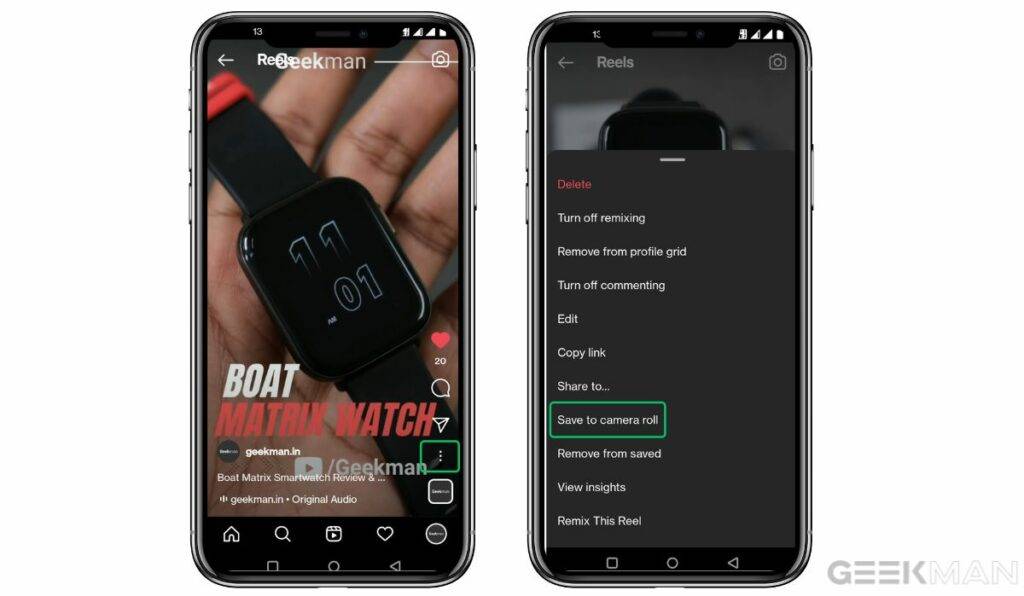 Open the Instagram app -> go to your account -> navigate to the Reels tab.
Find the Reel video you want to save, then tap on it to open the video up in full-screen mode.
Click on the three dots in the bottom right corner to open the menu. Then click Save to Camera Roll. The video will automatically save to your device.
Also Read: