EKSA T8 is a budget gaming headset that carries a price tag of Indian Rs. 1299. The EKSA T8 is one of the best gaming headphones under the 1500 Rs price bracket, and that's the reason I selected it for review. So without any further adieu, let us start the detailed review of the EKSA T8 gaming headsets.
Box Contents
Starting with the box contents, you will get the same old boring guide which will help you to better understand these headphones, but I feel pro throwing them aside XD. Next, you will get a wire splitter so you won't have any problems hooking it with your PC and at last, the headphones. I got these in the Red & Black colour variant but you also go for the Blue & Black colour variant. For more info, please check the review video on our Youtube channel Geekman.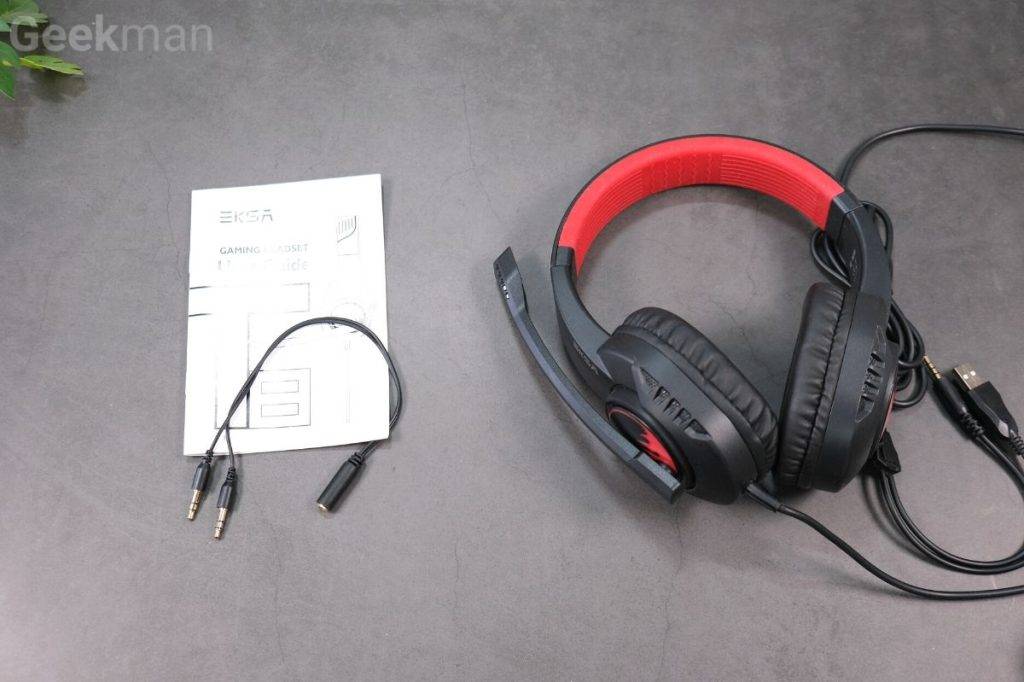 Design & Build Quality
Now hopping on to the design and build of these headphones, the first thing I noticed was their weight. Well, the moment I picked it up, I realized that these headphones are going to be pretty lightweight and when I weighed them, they weighed only 175 grams which surprised me a bit as most of the budget-centred headphones are often on the bulkier side.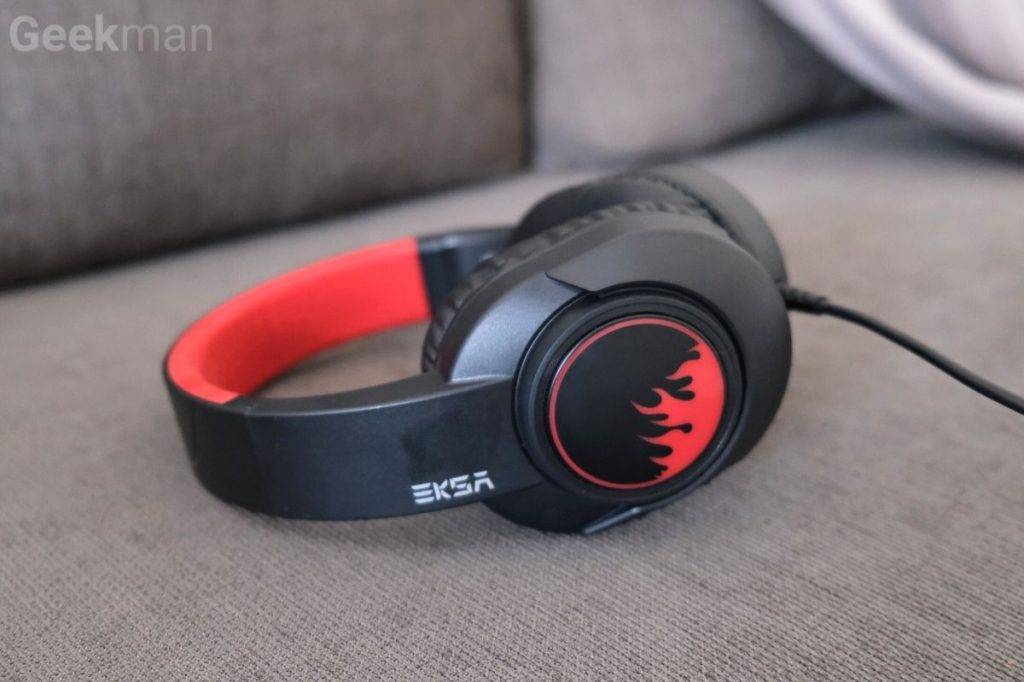 It is lightweight which makes it pretty comfortable for long hour usage but that also brings me onto another point i.e. its build quality. Since the headphones are kept lightweight, you will have to compromise a bit with their build quality. Most of the headphone is made up of plastic including the size expandable bands, they are also are made up of plastic. Overall, the design is pretty simple and average but it's worth it in exchange for the comfort you will get.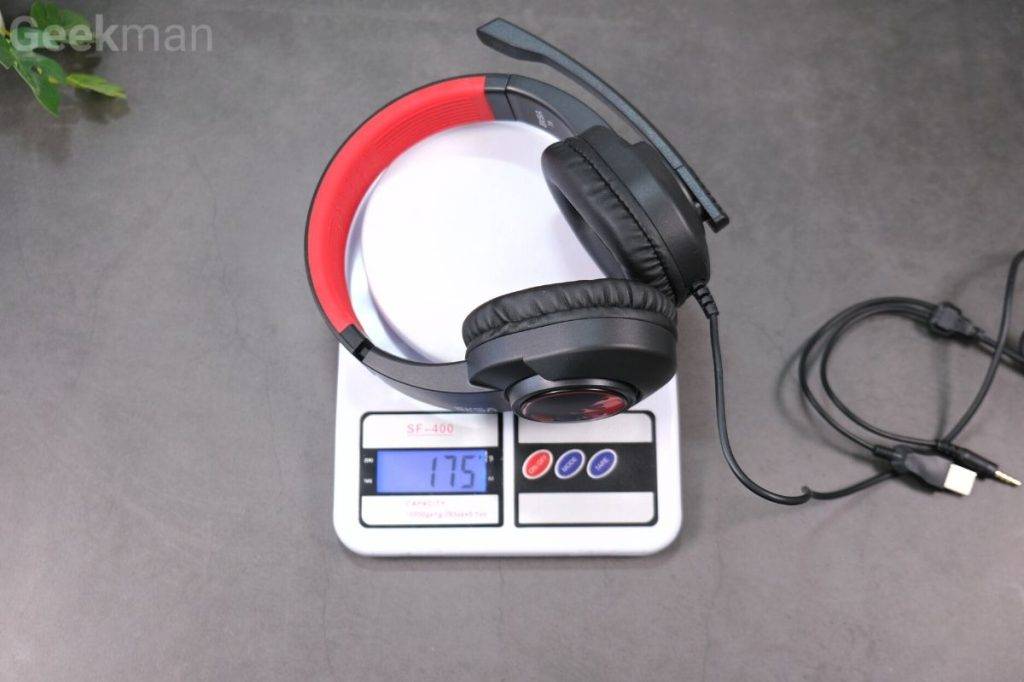 The headphone also has a boom mic connected to its left earcup which is again made of plastic and is neither flexible nor can disconnect but feels durable enough to stay with you for a while although it would be better if you take care of it.
They also have flame-shaped LED lights placed on both of the earcups which light upon plugging in the USB cable. These LED lights are not RGB and are not customizable either, they glow up only in a single Red colour which is fair enough for its price point. You can simply plug out the USB if you want to turn off the LED lights. These lights look pretty good with minimal theming and unlike most of the cheap budget headphones.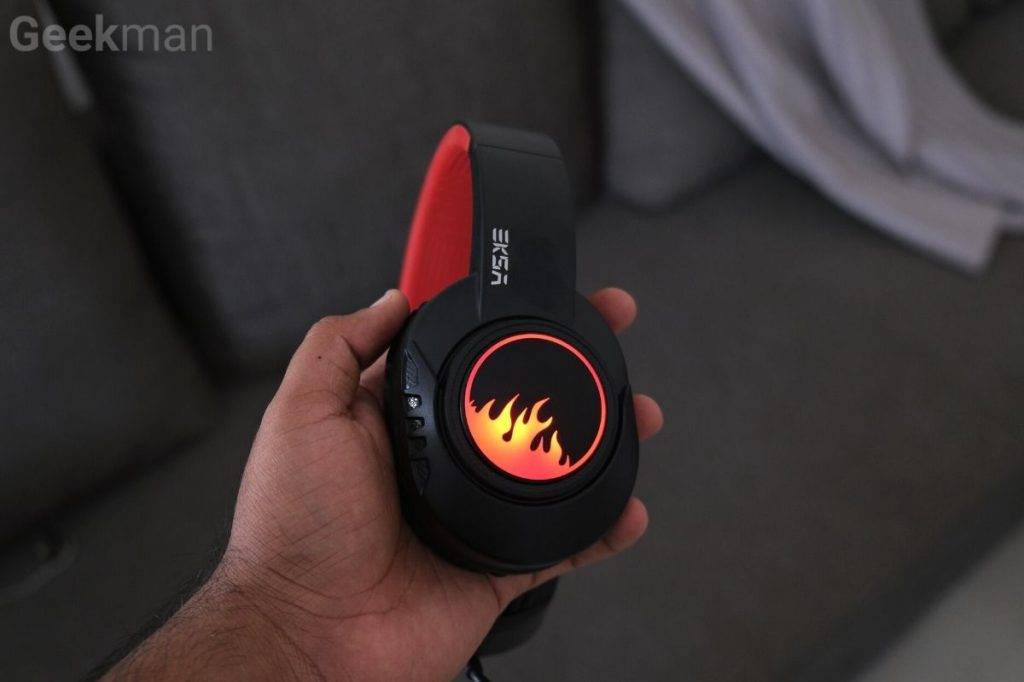 Since we are talking about the USB cable, I will quickly mention some key points about it. The headphone comes connected to a 1.8-meter long non-braided cable which is made up of pretty durable grade material. It has an in-line remote with a quick microphone mute switch and a volume wheel which I personally use a lot. At the other end of the cable, you will get a 3.5 mm headphone jack and a USB port which simply has the job of lighting up the headphones.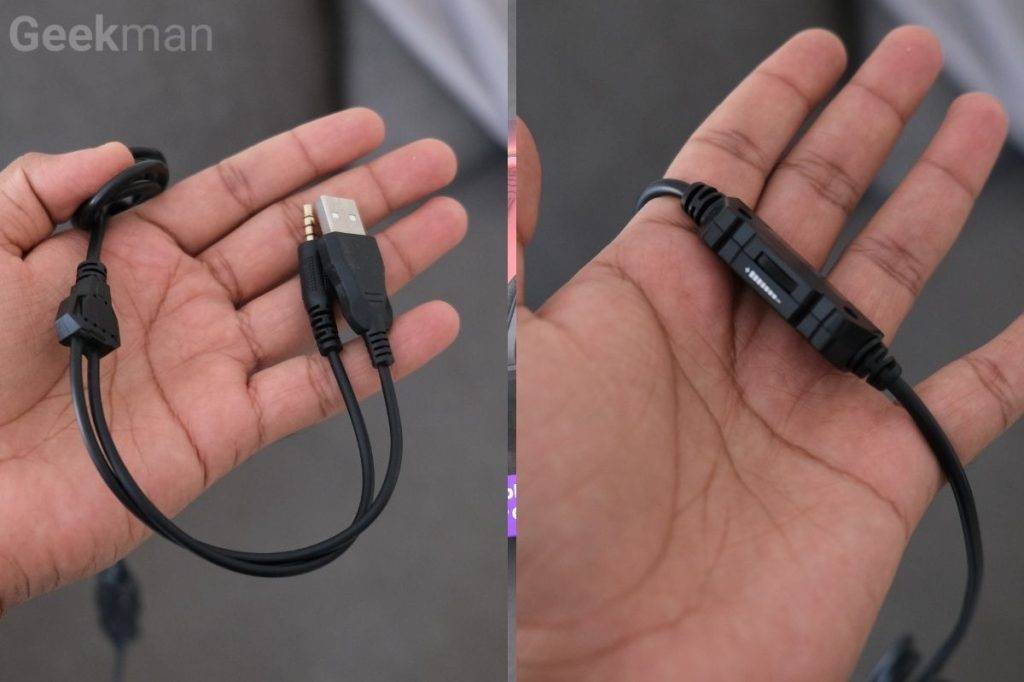 Comfort
Now the next important part is comfort which is a major concern for gamers. I am a casual gamer myself so I understand how a good gaming headphone can improve your in-game performance and similarly a bad one can totally turn the tables. There's nothing worst than a headphone that starts hurting your head in a while.
The lightweight of the headphones is one of the biggest contributors to the comfort they offer. I wore them continuously for 3-4 hours and they didn't feel uncomfortable at all. Another reason I consider them comfortable is the cushioning around the earcups that do both the job of providing good isolation from the background noises and making the headphones comfortable.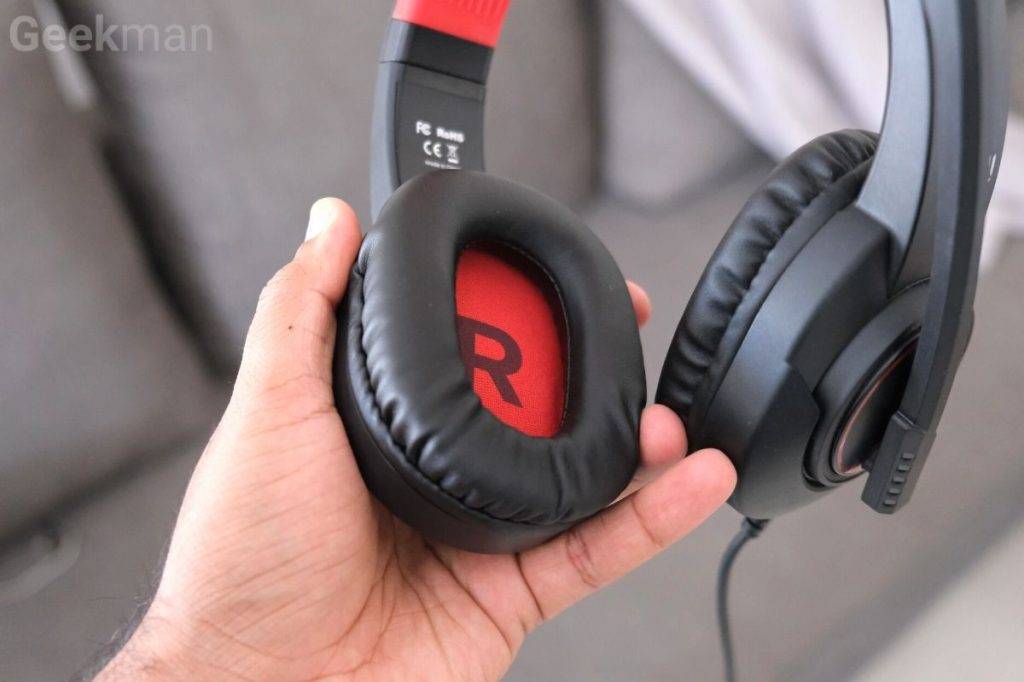 Although the headband misses any padding instead, they have used a silicone type soft material but would have been better if there was some kind of soft padding to it. Overall, the Eksa T8 is comfortable enough to easily allow you games for long hours. Even I tried gaming in it and was totally satisfied with it.
Audio Quality
Now coming to the audio quality which is surely a part you don't wanna miss. I tried it with games like CS GO and Valorant on PC and BGMI on my smartphone. What I most loved was its surround sound. You can easily understand the enemy footsteps direction, vehicle approach direction & the bullet fire direction which is a good part as most of the other headphones from the similar price segment often lack out or are not good enough to appreciate.
Now talking about the soundstage, just like most of the budget gaming headphones, the Eksa T8 also lacks a wide soundstage which I would not expect at this price point either. Meanwhile, the treble is kept a little sharp along with a good bass effect which makes your gaming experience pretty enjoyable.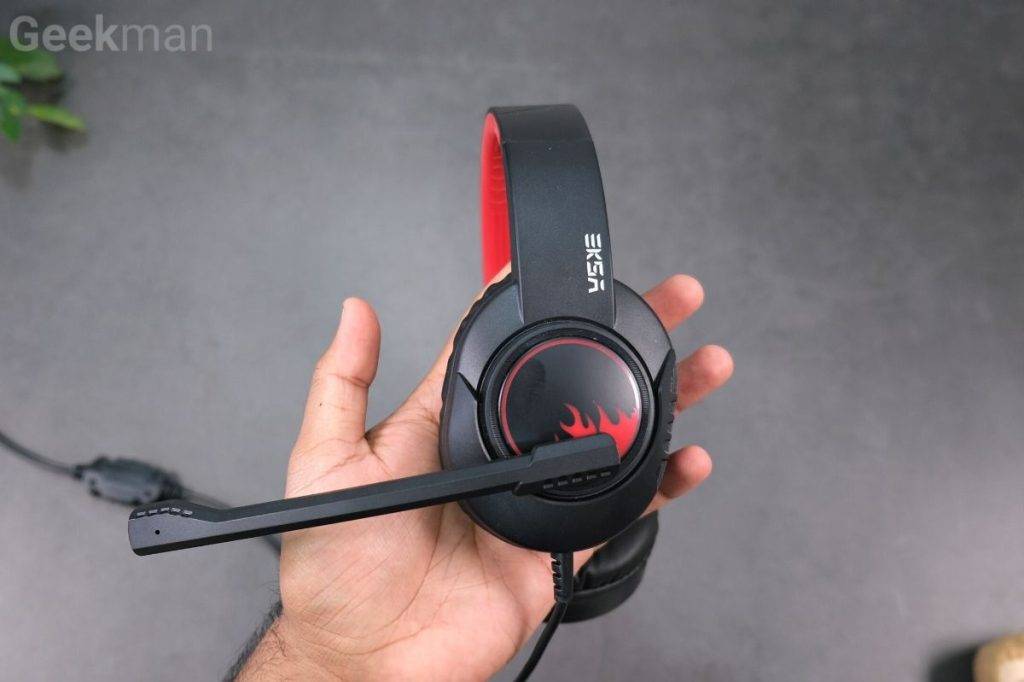 The EKSA T8 houses 40 mm drivers that are not that loud but to be honest you wouldn't need it to be that loud either. These drivers sound good enough and do not feel harsh at any moment of time so apart from gaming headphones, these can also be used for day-to-day use.
I also tested the microphone during the gaming session and it worked pretty decently. Apart from gaming, it can also be used for calls or meetings and they will get the job done without any problems.
So overall the audio performance of these headphones is pretty decent and you would surely enjoy it. Well, personally speaking, I was impressed enough that I can easily recommend it to someone close to me if they need gaming headphones at a similar price point, just for its sound quality.
Verdict
Now coming to the final part, are these headphones good enough for your money?
Well, these headphones have a good overall audio performance especially when it comes to their gaming performance. The build and comfort are pretty average just like you would expect from a headphone in this price range. The microphone works well enough too and can do the side jobs for you.
So overall, if you are a beginner gamer or a casual gamer who would like to have a pair of headphones that can offer a decent gaming performance under this price segment, then these headphones are for you.
With that being said, I would like to put an end to this review. If you have any questions, feel free enough to drop them down in the comments below.
EKSA T8 Review In Hindi
Also Read: