Last year in 2020 when Apple announced that they are not going to ship their latest iPhone 12 series with the chargers, there were assumptions for the other brands making the same decision later with their products too. The trend with no chargers in the box, that apple started would become an industry-standard soon. Just a couple of months later, Apple's arch-rival Samsung has announced the same for their Samsung Galaxy S21 Series. After their new announcement, these are the customers who are facing the problem of spending extra money just to buy a suitable charger. But that is the place where our role comes in the play.
Here we are with a list of some best and suitable Samsung Galaxy S21 chargers in India at an affordable and reasonable price. So let's get started.
Best Fast Charging USB Type C PD Supported Power Adapter & Wireless Charger for Samsung Galaxy S21
Stuffcool Napoleon PD65W
Samsung Travel Adapter (45W)
Spigen Compact Fast Wireless Charger
Eller Sante 42W PD 3.0 Wall Charger
Portronics Adapto 20 Type C 20W
RAEGR Arc 500 Type-C PD 10W
Spigen Compact Fast Wireless Charger
Spigen SteadiBoost Flex
Stuffcool Napoleon PD65W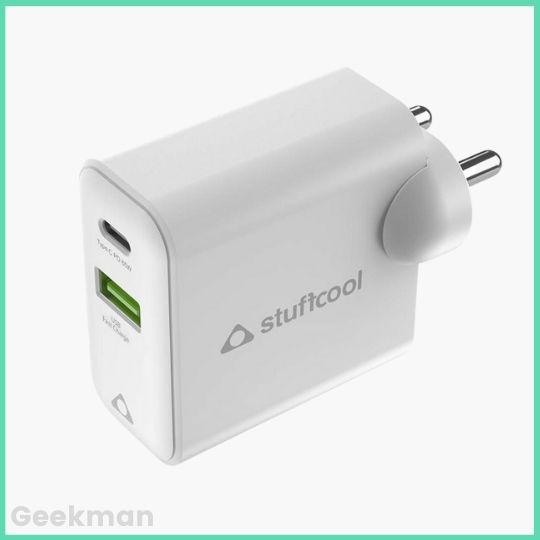 Stuffcool is a leading Indian brand in the mobile accessories field. So if you don't want to miss out on a top-notch charger for your Samsung Galaxy S21, then you must check this out. This charger provides 18W, PD18W Fast charging, 27W PPS fast charging, PD45W, PD65W fast charging methods making it a Universal Fast Charger. The charger comes in almost half in the size compared to other regular fast chargers.
The charger has dedicated double power output ports: one is a type C port with an output of 65W and one is a type a port with an output of 18W. And that's why you must need to have one like this. You can also use this charger for Macbook, iPhone, iPad and any other USB PD supportive windows laptop.
Samsung Travel Adapter (45W)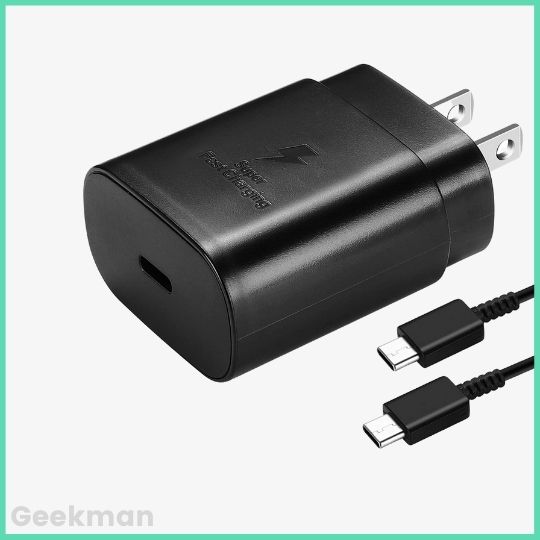 If you are searching official Samsung Galaxy S21 Chargers then here is the option. This Samsung USB Type-C travel Adapter provides Super-fast charging 3.0 max, 45W & 25W fast charging. The charger is supported for multiple Samsung devices like Galaxy Note 10, Note 10+ 5G, A91, S10 5G, A80, A70, etc., and can also be used with other future devices launched by Samsung. It has a USB Type-C interface. The charging speed may vary from device to device and according to the usage. For safety, ensure that you are using the accessories by Samsung only.
Buy from Samsung Official India Store.
Eller Sante 42W PD 3.0 Wall Charger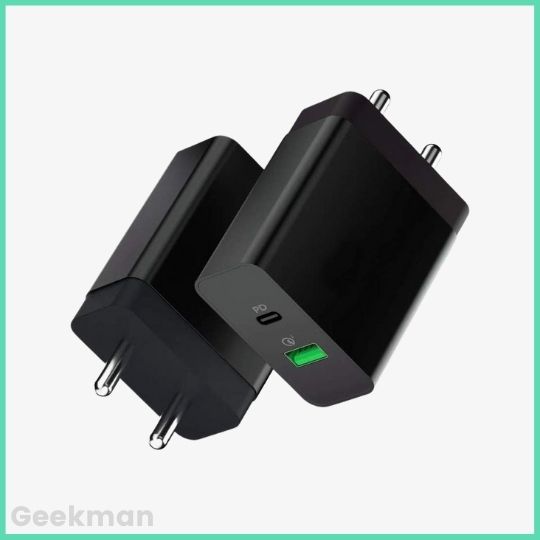 This USB Type-C Wall Adapter is manufactured by Eller Sante. This charger is available with a 3A fast charging single USB port that charges your device faster up to 4X times as compared to normal chargers. It is a two-in-one charger with a USB Type-C 42W 3.0 port and a USB Type-A 18W port, which will let you charge two devices at a time.
The advanced iSmart tech used in this device detects the power input and output and matches it with your devices. Which also makes it safe from overloading and harms during short-circuits.
Portronics Adapto 20 Type C 20W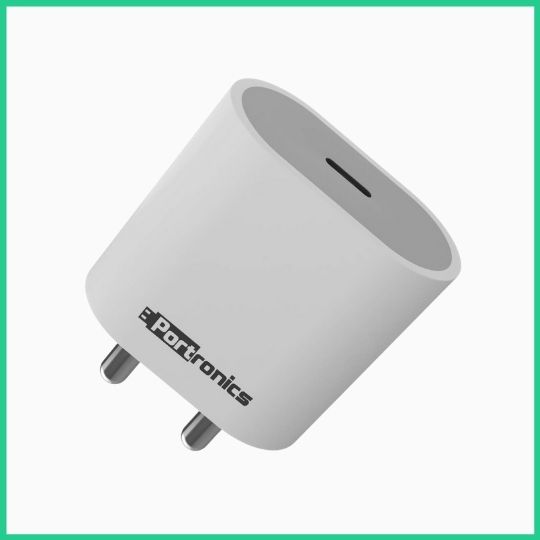 Another 20W Fast charger from Portronics. The Adapto 20 is a Type-C Fast Charger and compatible with all PD and QC compatible devices, including iPhone 12/12 mini/12 Pro/12 Pro Max, AirPods Pro, Samsung Galaxy S21 Ultra and Galaxy S21+. It is designed to charge your iOS and Android devices 3X faster than regular chargers. The PD adapter is best-suited with cables for Type C to Type C, and Type C to Lightning charging and connectivity.
Best Wireless Charger for Samsung Galaxy S21 Series
RAEGR Arc 500 Type-C PD 10W Wireless Charger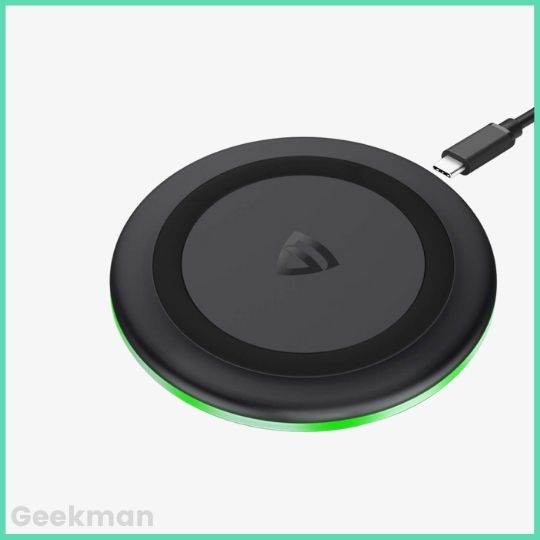 This is an ideal and affordable fast wireless charger for your Samsung Galaxy S21 Series phone. It is a Type-C supported PDQi-certified 10W wireless charger. The charger comes in 3 wireless charging modes: 10W, 7.5W, and 5W. The charger includes two USB cables: A type C-C cable for a USB Type-C wall charger and one for a USB type A-C cable for a USB type wall charger to connect. This charger is equipped with temperature control technology that takes care of the increasing temperature during usage and makes sure that your device is safe. For best usage, it is recommended to take off your mobile's back cover but also make sure that no other thing like a metal coin, credit card, or magnetic stripe is not attached to the mobile. This charger also works with materials like rubber or plastic too.
Spigen Compact Fast Wireless Charger 10W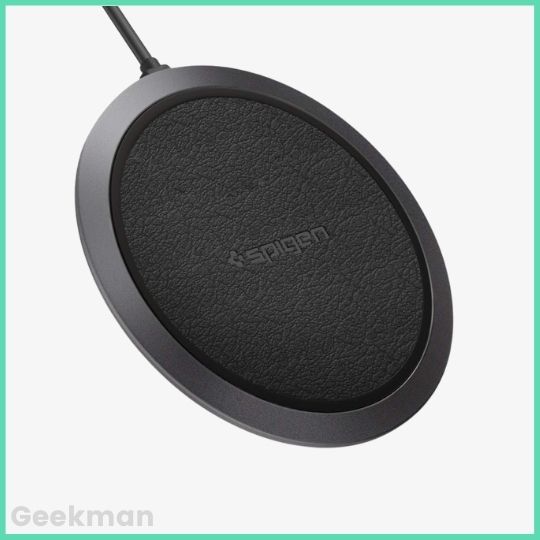 This charging device is developed by Spigen. It is a Qi-certified wireless charger that operates on power up to 10W for both iOS and Android devices. This charger for all the devices enabled with Qi and others. A QC 2.0 or 3.0 supported adapter is needed for quick wireless charging with a minimum Input power of 9v or 1.67A. This charger doesn't support any kind of USB connection. The charger is equipped with the latest IP technology that protects your devices from overheat, short circuits, etc. the charger also has Control Heat, Control Light, Smart IC chip protections including the advanced Qi, CE, FOD technologies that protect your mobile phone from all kind of damages during charging. Always make sure to take all kinds of cards and metal stuff out of the cover before charging.
Spigen SteadiBoost Flex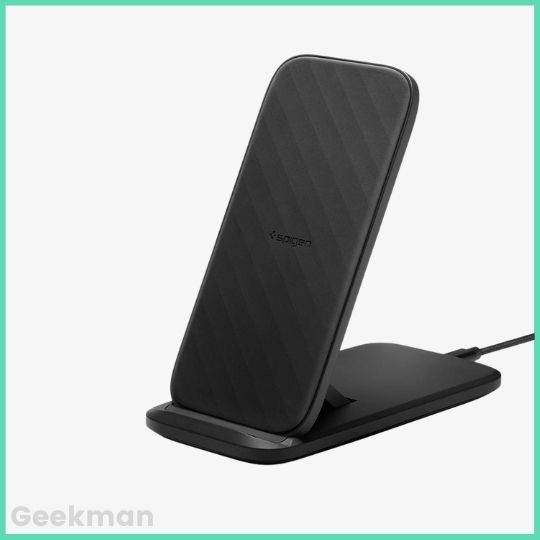 Here we are having another one manufactured by Spigen. This is a convertible wireless charger that operates on power up to 15W for almost all android, iPhone, OnePlus, and other Qi-enabled devices. The best part of this charger is that it is designed to transform between flat and stand mode. This charger works on power up to 15W for charging with all compatible Qi-certified mobile devices. A 3.0 quick charge adapter is required for wireless charging up to 15W with a minimum input power of 9V/2A.
Conclusion
Hopefully, you have now found a charger that you were looking for your Samsung Galaxy S21 series mobile phones. All the chargers listed above are good in both fast charging and security features.
Besides that, if you know about any other charger that can make up to this list, feel free to tell us in the comments. And please share your valuable feedback. Thanks for reading.
Also Read: