We all know that music is a universal language, and we all enjoy that. It often happens when we hear a glimpse of a song, and we absolutely love it; we know the beat or maybe a few lines of the lyrics, and We head on to Google and try to find a song, but all we get is a few irrelevant results that are totally different from what we are looking for. I know, I have been there myself, and that feeling is quite annoying.
Well, not anymore! I recently stumbled upon a similar situation where I needed to get a track name out of a small audio file, so I did some research and found a few music recognition and song finder apps and websites that made my job way easier. Today, I will share some of these apps and websites with you to help you find a song whenever needed.
These are some best music recognition and song finder apps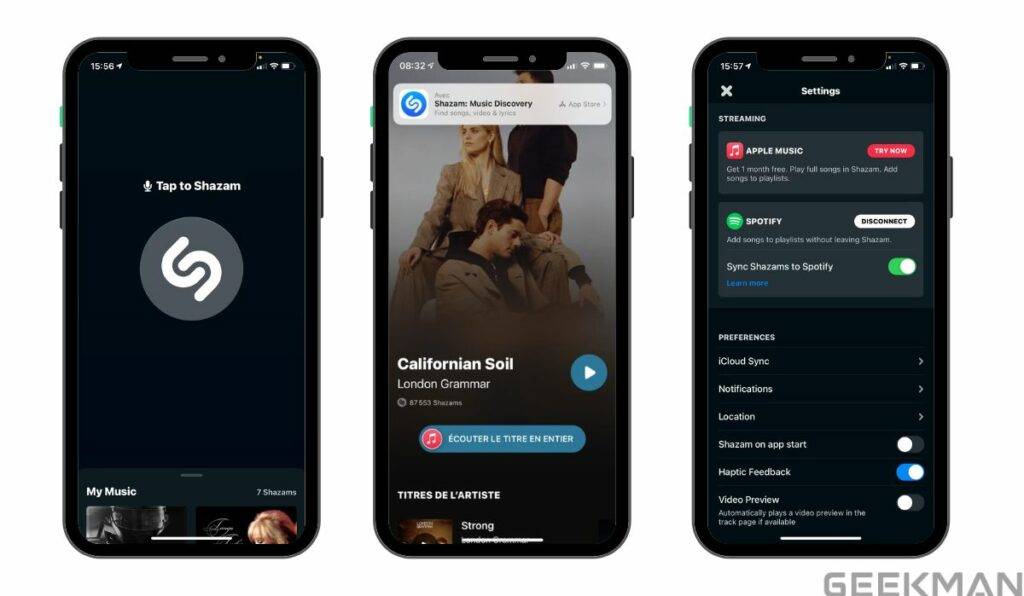 Let's start with the most famous app on our list that has music identification as its sole purpose. This app is so good at what it does that even some popular apps Siri use Shazam's database to look up a song you are trying to find. You can find any song with it within a few clicks, and that too on its first attempt, which makes it one of the best apps to recognize music.
The Shazam app is available for Android and iOS devices and works exceptionally well. You can easily recognize music and songs, and can even find lyrics for them. The best thing that I love about it is that it even works offline by saving a sample of the music and searching for it when it gets back online, which is quite handy. All the songs and music that it looks for are always saved on the app, so you can easily revisit them in case the song slips out of your mind.
Shazam has one of the best interfaces on a music recognition app. You just open up the app, where there is a big Shazam logo which you will need to click, and then the app starts to listen to the song that you wanna find. It not only checks for the song in the background but also on your apps which is another unique feature of the Shazam app that lets you find songs playing on other apps. This feature is called Popup Shazam and is one of the handiest features of the apps, especially when surfing through apps like Instagram.
From iOS 14, Apple has integrated the Shazam app directly into the operating system, so if you are an iOS user you don't even need to install the app separately, you can just access it by visiting the Control Center. Lastly, Shazam also has a Lite variant which is best suited for low-end devices.
---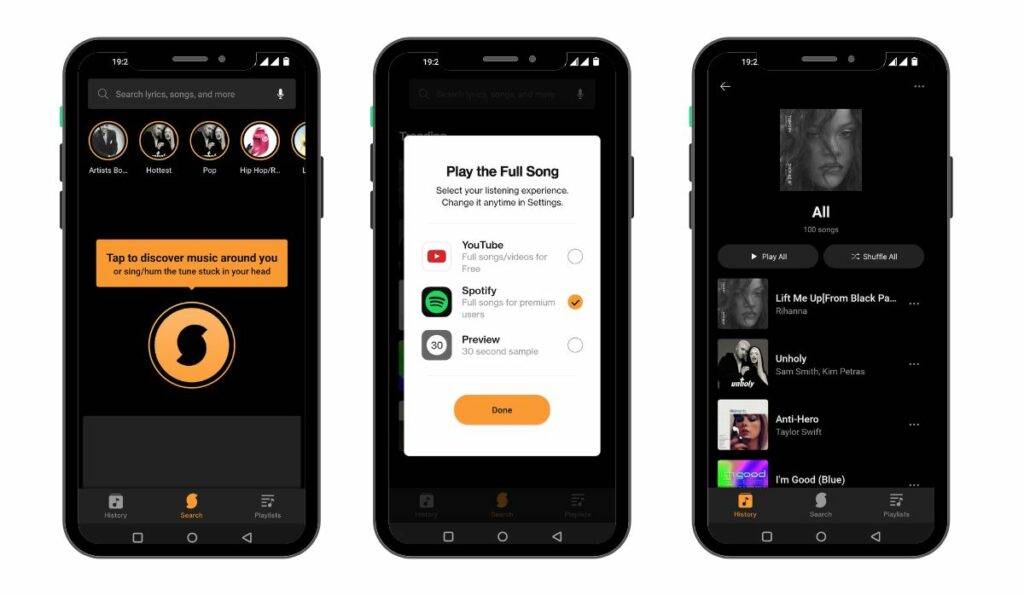 Now, moving on to the next app on our list of best music recognition and song finder apps, we have the SoundHound app, which comes packed with unique features. Well, of course, the app lets you recognize the music playing in the background, but that's not the feature that grabbed my attention. The biggest highlight of this app is that you can find songs just by humming the melody or a few lyrics of the song, which makes it quite useful.
The SoundHound also supports voice commands, so you can simply say," Hey SoundHound, what song is this?" and hum your song to find its name. This app comes in really handy in case you just know the melody of the song or just a few words of it. The app performance is similar to the Shazam app when it comes to music recognition accuracy and speed, which is another plus point. Furthermore, you can stream music from multiple platforms like Youtube, Spotify, and more, along with lyrics which is quite nice.
The interface is super clean and easy to use. Another good thing is that the app is available for Android, iOS, and even Windows. You can get the app for free, but it comes with ads; the good part is that you can pay to get an ad-free version.
---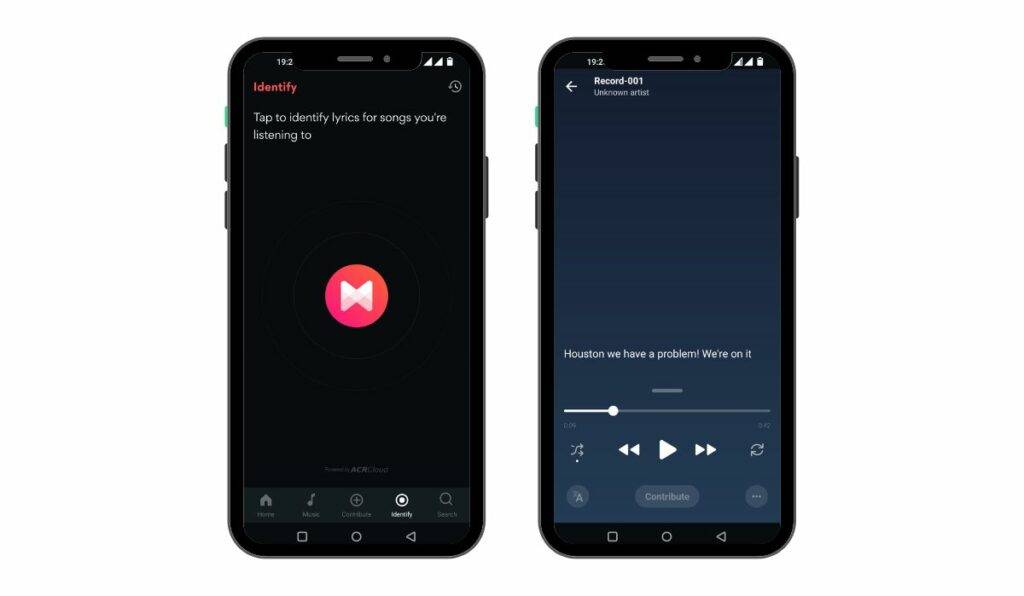 Moving down to our next app, we have the Musixmatch app, which is popularly known as a lyrics app, but did you know that it is also a great music recognition app that not only finds you the song that is being played around you, but also finds the exact same line with its lyrics which is really nice. The Muisixmatch is a really great app for those who love to enjoy music with its lyrics.
Well, I have used the Musixmatch app for quite a while, but this feature wasn't there at that time. Now you can tap that identify button on the bottom bar, and the app will find your music track in just a few seconds. Musixmatch uses the ACR Cloud for its music recognition, which works well and accurately.
Another good reason to use Musixmatch is that you can use is that you get numerous global and local language support for the lyrics, which means you can find lyrics in whichever language you like, which is quite unique. The Musixmatch app is available for Android, iOS, and Windows devices.
---
The next app on our list is another famous app, the Genius app. Well, Genius also features song finder features like our other apps above and uses ACR Cloud for finding your songs and works pretty well, but I felt the app is a bit slower than the other apps. If you put that aside, Genius is well known for its lyrics, and you will find lyrics for almost any song you want, so it could be a good pick in case lyrics are your main priority.
The app shows a list of the most recognized songs on Genius which could be a good way to check what's trending. You can also save the lyrics of the song you are listening to or just share it with your friends. The app interface is minimal and easy to use. You just need to tap on the hamburger icon, and you will get an option to identify songs. The app is free for iOS and Android.
---
Now let's move on to some apps that you already have on your Android Phone & iPhone that can help to recognize songs
The first such app or service on our list would be Google Assistant which almost every Android user has on their phone. Well, you can just activate or open the Google Assistant and let the app listen to the music, you will automatically get a button saying, "what is this song". You can also give a voice command by saying, "Hey Google! What song is this?" and the assistant will find the song for you. It not only tells you the name of the song but also gives you the links to the hosts where you can play it.
The Google Assistant not only recognizes songs using the music in the background but can also recognize using hum, whistle, or someone singing the song, which is quite nice. Google also offers a widget that you can simply place on your home screen so you can just tap the icon and let the Google Assistant do its job. This feature works well on all Android phones but is, unfortunately, missing on iOS devices. But worry not; ios users still have an option for themselves, and let's see what it is.
---
Now, for iOS users, we have Siri which is the built-in assistant app for iOS users. Siri can easily recognize music and songs on the app accurately. You just need to launch the Siri app and ask "What song is this?" after a few seconds of listening, it will tell you the name of the song playing. It also gives you the option to stream the song on Apple Music.
---
For Windows PC users, we have the Cortana app which can easily find the song for you. The Windows native assistant app can just be activated and asked " What song is playing? " " What is this song?" and soon it will come back with the song name for you.
---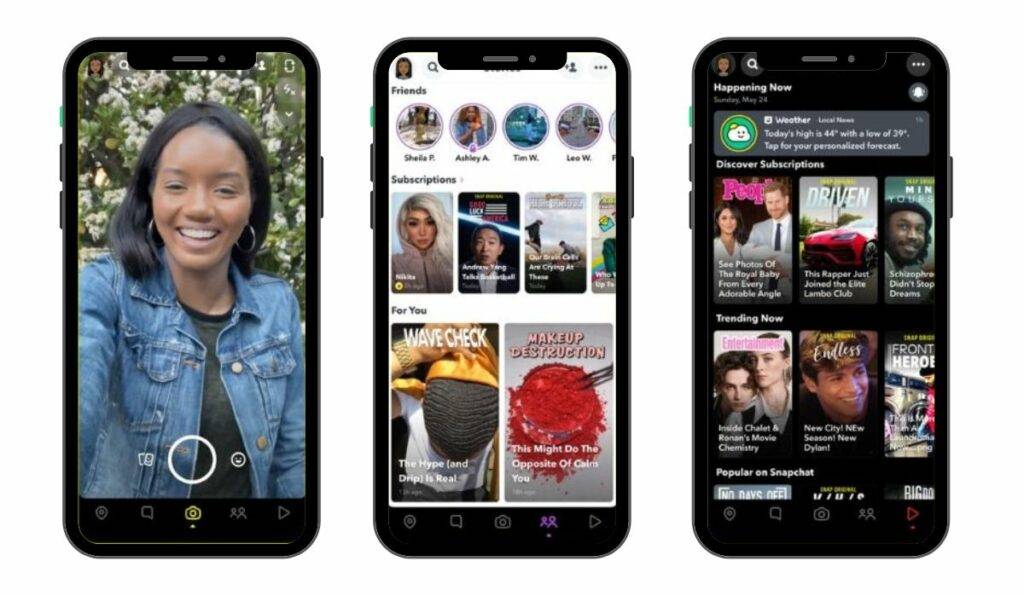 Finally, last but not the least, we have the Snapchat app which can help you recognize songs playing nearby you. You just need to hold on to the camera screen and after a few animations, the app will actually let you know which song is being played in the background which is quite nice.
---
Best music recognition and song finder website
Midomi
Song finder website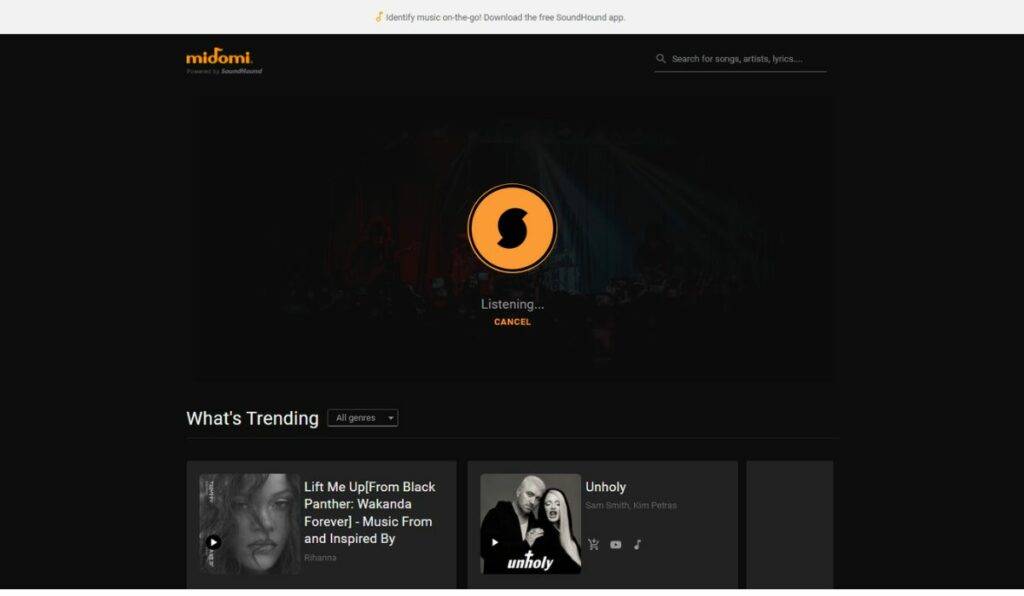 The first such website on our list would be Midomi which is owned by SoundHound. This site lets you recognize songs from any platform. Just open the Midomi website on whichever device you want and give it microphone access to listen to the song you wish to find. The good thing is that you can even hum or sing the song and Midomi will find the song for you which is quite handy. Midomi also gives you links to play the found track on Midomi, Spotify, and some other apps.
This website is quite useful for those who don't want to install any application on their smartphones and also for those users who don't have a lot of options for their devices.
---
Lastly, if you have any queries or suggestions, feel free to drop them down in the comments below and I will get back to you as soon as possible. Thanks for reading.
Also Read: