Over the years, Discord has risen as the best chat service for gamers and community chat. With time passing, Discord has integrated many new updates and features to improve user experience. One of the most special features is the integration of bots. Especially music bots it has allowed users to run music from the different platforms within Discord.
There are many discord music bots on the web, so if you're searching for one that suits you, we have you covered. We've compiled a list of the 10 best discord music bots as of 2023.
These are the best music bots for Discord
How to add Music bots to Discord server
To add a Discord music bot on your server, follow these steps:
Choose a music bot from this list.
Click on the provided link and Invite the bot to your server.
Finally, select the Discord server to which you want to add the bot, and then click on the "Authorize" button.
Once the bot is added to your server, you can use various commands to control the music playback. Each bot has its own set of commands, so you will need to refer to the documentation for the specific bot you are using.
---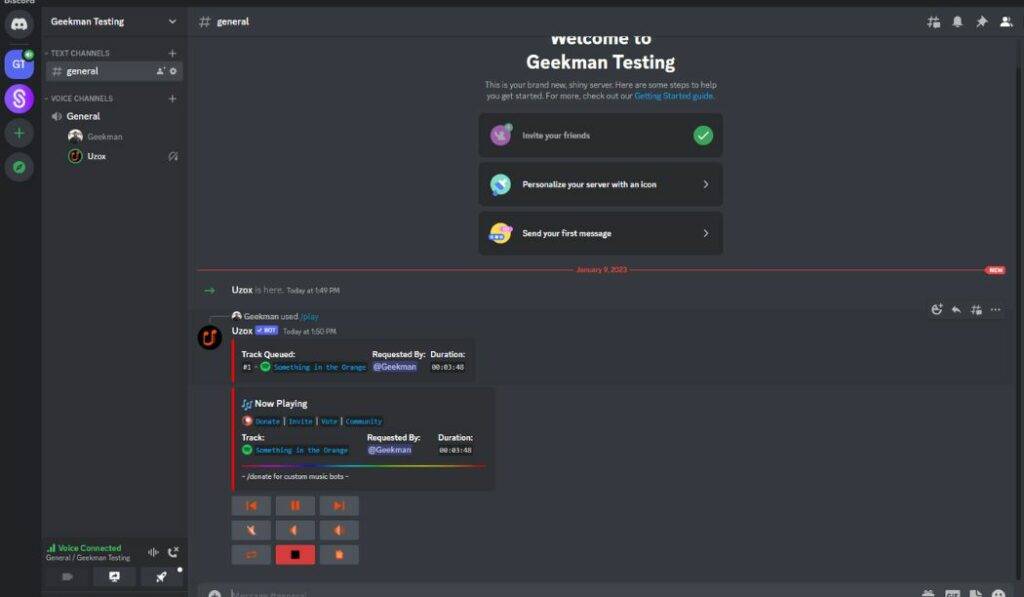 Uzox is one of the best music bots for discord since it offers premium music bot features for free. The bot utilizes Youtube, SoundCloud, Spotify, Twitch live streams, and other streaming services for music playback. It offers responsive playback support through which users can navigate through music easily.
The Bot offers many other useful features, including an audio filter, a personal playlist, queue control, moderators, DJ compatibility, and more. But the highlight feature must be the lyric support through which you can see lyrics to any song playing at the moment.
Check Uzox Bot
---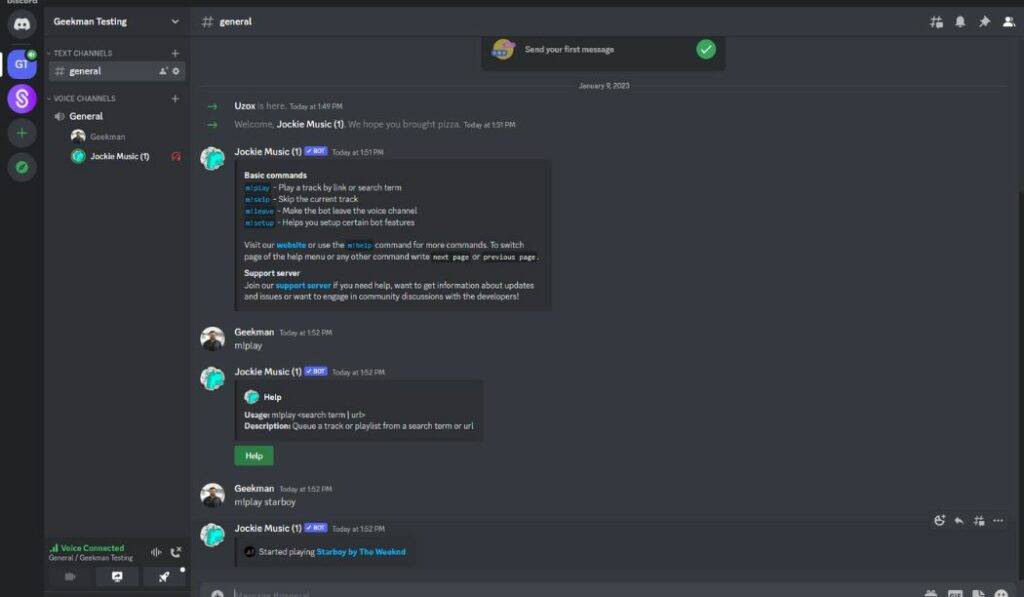 Jockey music has to be the best discord music bot since users can play music from major audio platforms like Spotify, Apple Music, YouTube, Deezer, TIDAL, Soundcloud, and many more. To play music, the user must run the "m!play" command and paste the link.
Jockey music is ideal for a discord server with many members since you can add up to 4 jockey bots in the same server. This makes it perfect for multiple music sessions, each with a different type of music. The bot also allows you to customize the sound profile by adding bass boost, karaoke, 8D, echo, distortion, and tremolo.
Check Jockie Music
---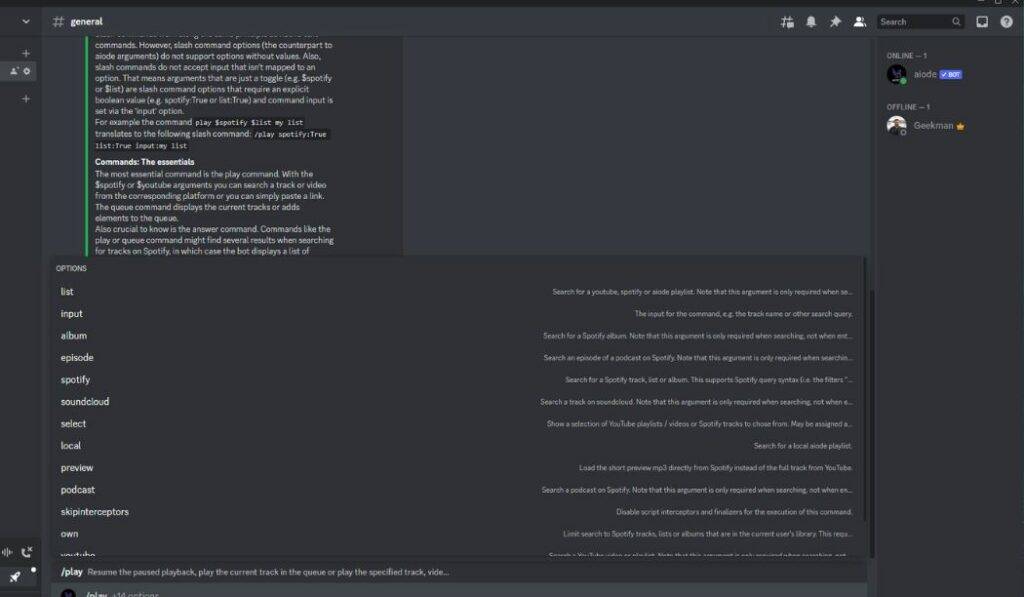 Aiode is recommended for someone who is a Spotify user since it can stream high-quality music straight from Spotify. It is one of the most famous music bots since Spotify is a widely used music streamer. You can directly search for Spotify songs and stream them from Aiode.
Aiode also supports other platforms like Youtube, Soundcloud, and Twitch. With Aiode, everything from custom bot commands to custom playlists is available. It even allows crossed playlists where users can collectively add songs from Spotify, Youtube, Soundcloud, etc. Aiode is a great choice due to its features and cost-free experience.
Check Aiode
---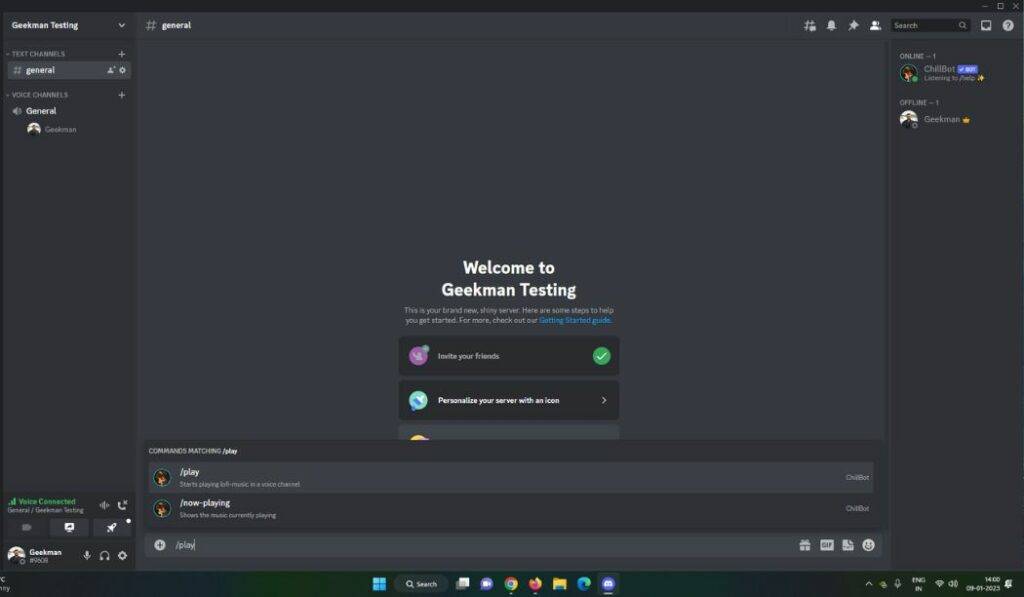 Chillbot must be the unique music bot on the list since it is more like a radio than a music player. Chillbot is basically a 24/7 Lo-fi song-streaming radio station. So, anyone who wants to listen to some chill beats and relax on discord can use Chillbot.
Since it's live streaming, you're always treated to a new lo-fi beat, but you can't play your own music since it's more like a radio. Thanks to its simple and easy playback controls, you can easily control the music through this bot. Chillbot is more stable and reliable since its backend system is maintained regularly.
Check Chillbot
---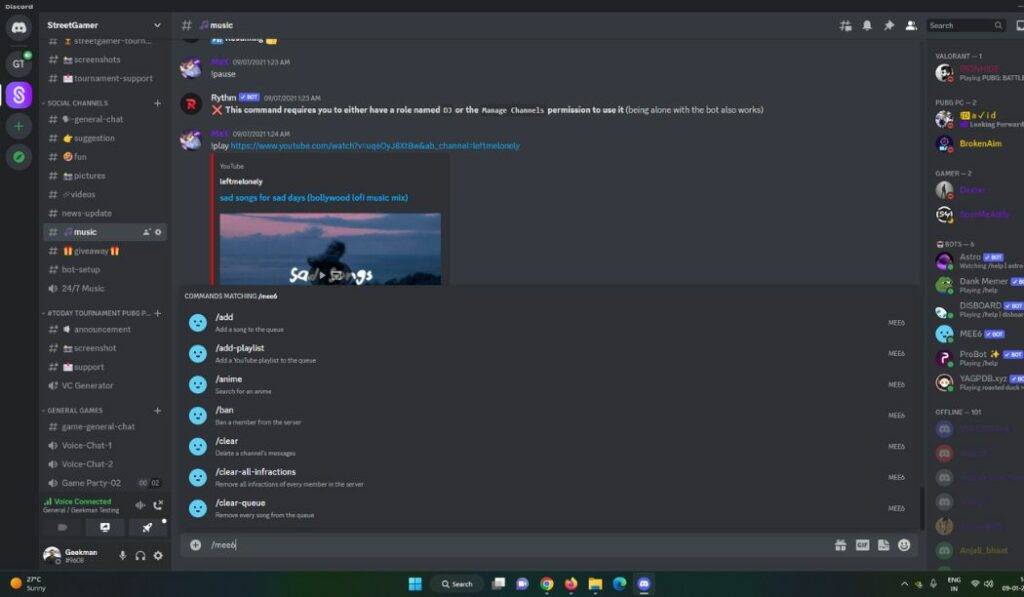 Next on our best music bots for the discord list is MEE 6. It is one of the popular music bots, well known for its command-less music system. In this music bot, users can control the music through a visual dashboard like an actual music app. With such an interface, users can easily play, pause or skip the music they're listening to.
The sad thing is that the music control dashboard is a part of the subscription. MEE 6 can play any song from various apps like Soundcloud, Youtube, Twitch, etc. Discord members can also vote for their favourite song through this music bot.
Check MEE6
---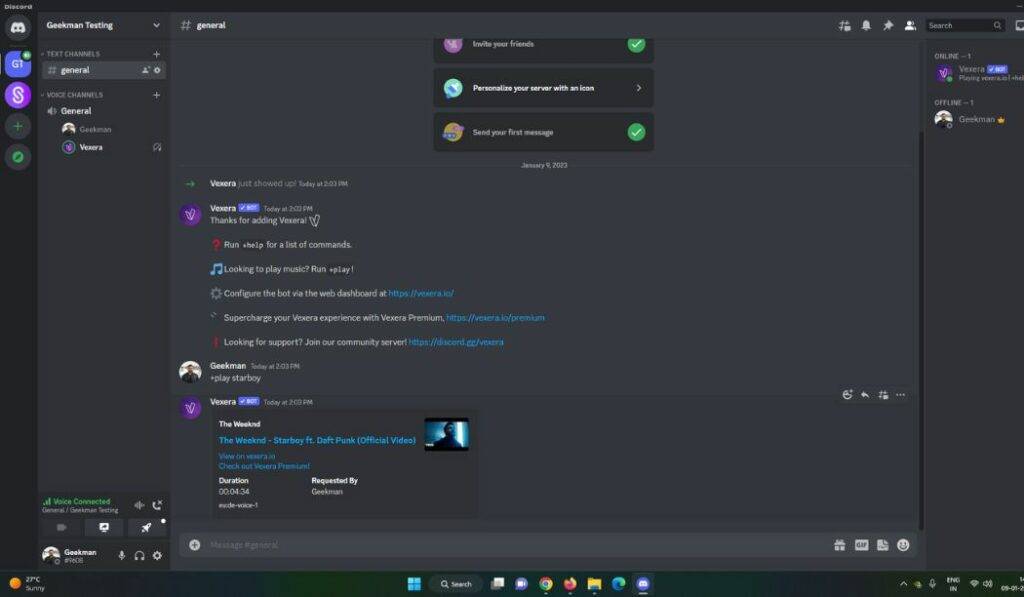 Vexera is another music-playing bot on the list which provides users with a smooth music playback experience. Just like Chip, Vexera also has music playback controls and queuing music.
The music in Vexera is outsourced from Youtube, so you can easily play any song, even the most recent one, without a hiccup. More than 300,000 discord servers have integrated Vexera into their server. So if you want something simple and free to use, a music bot Vexera is a good choice.
Check Vexera
---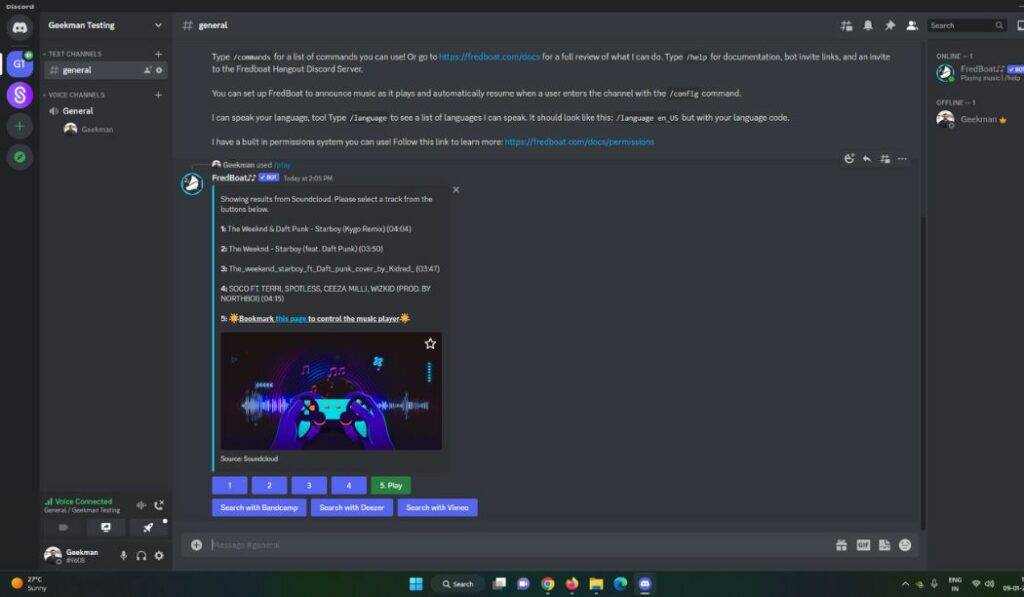 Freadboat is one of the user's favourite discord music bots. The bot offers high-quality music from YouTube, Soundcloud, Bandcamp, direct links, Twitch, and many more. The playback controls are similar to other bots, but what's likeable about Fredboat is the playlist features, due to which users can create their own music playlist.
You can play the playlist on repeat and not worry about random songs playing on the server. Freadboat also offers a built-in search feature that allows you to search for a song inside discord without having to paste a link which is just brilliant.
Check Fredboat
---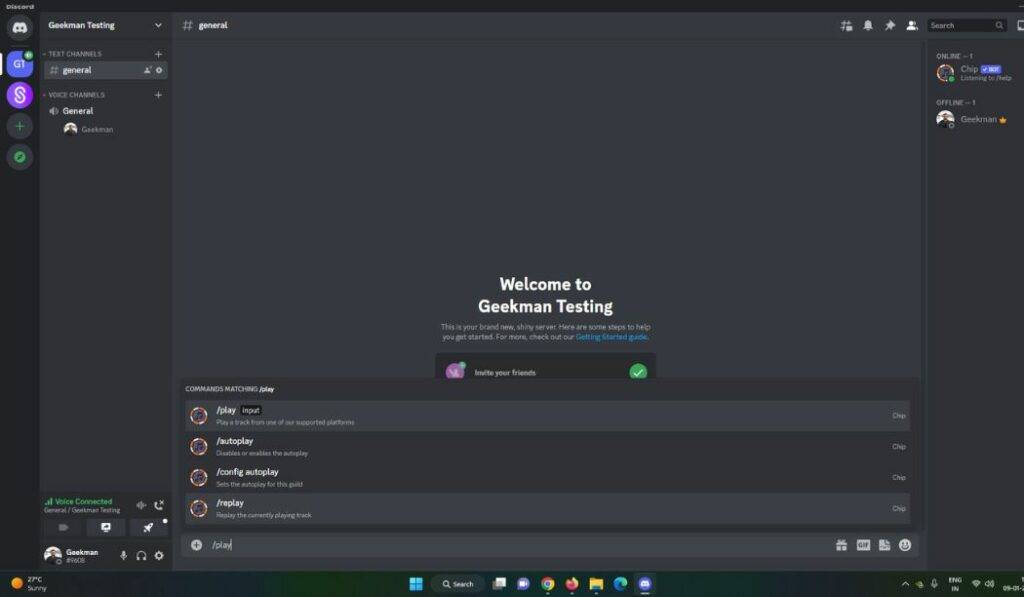 Moving on to our best discord bot list, we have Chip. It supports all major music apps like Spotify, Soundcloud, Bandcamp, etc. Chip has manual controls to play/pause, stop, skip, or check the queue. This makes it more convenient since users don't have to rely on commands to instruct the bot.
It's free to use, but if you want some premium features, you can subscribe to Chip bot's Patreon page to get additional features such as 24/7 playback, global volume controls, and audio effects like bass boost & nightcore. Chip bot is a good choice to elevate your music sessions in discord.
Check chip bot
---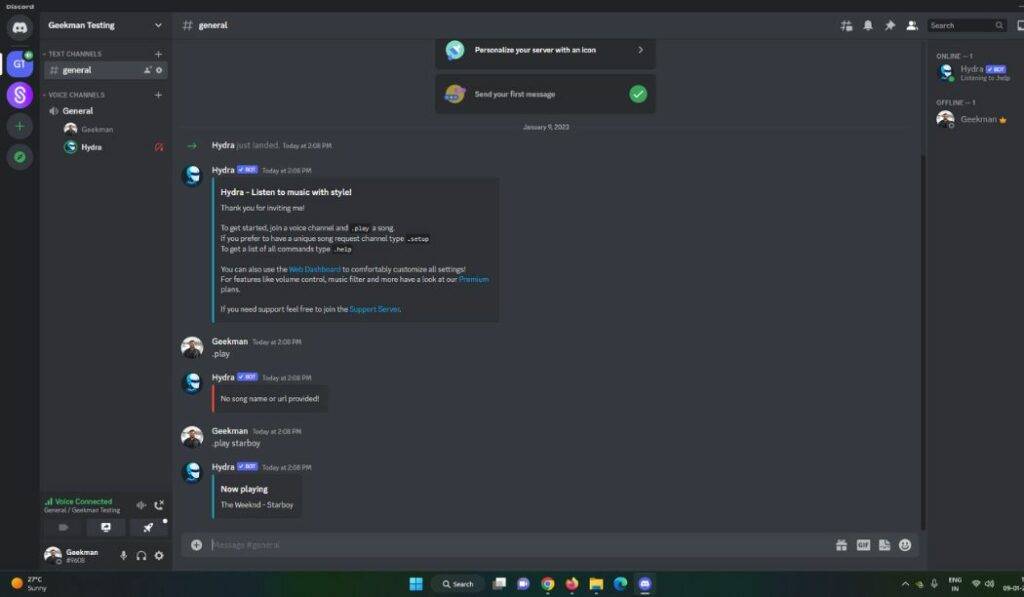 Moving on the list is the Hydra bot. What makes this bot impressive is the loads of features and customizability options. You also have the option to customize the web dashboard and the command list, providing a variety of features as well as a unique song request channel. Like other bots, you can play music from Spotify, Deezer, SoundCloud, etc.
If Discord members do not like a particular song, they can even vote to skip the track through the Hydra bot. It also offers 24/7 playback, unlimited saved playlists, and much more but at a premium cost.
---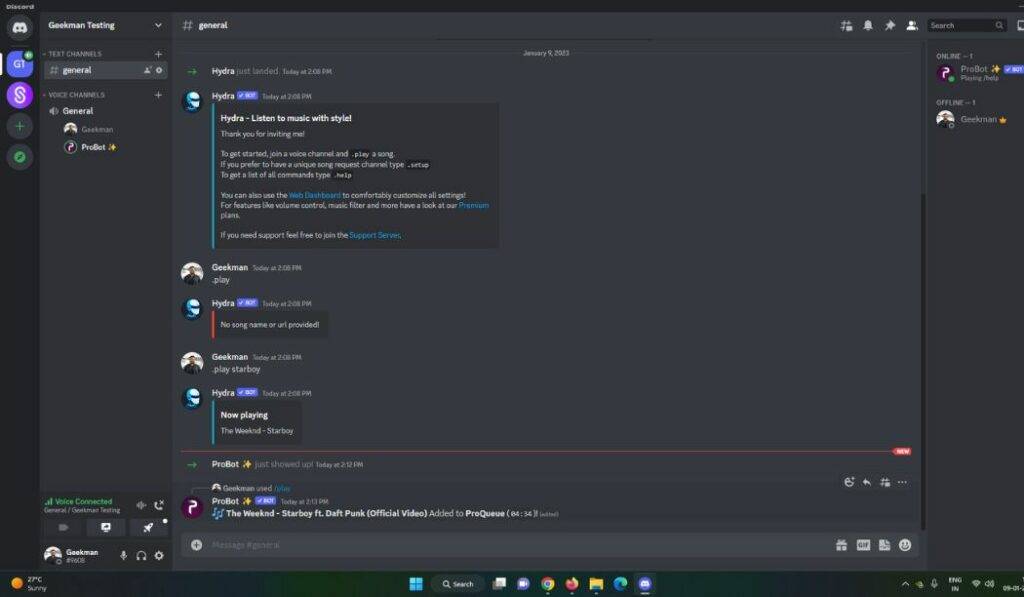 The last bot on our list is Probot. This bot is more than just a music bot. Probot has earned its spot on many Discord servers with its multipurpose system and high-quality music playback. The bot uses youtube for playing music and has numerous commands such as play/pause, skip, or queue up for music playback in your server.
Besides being a music bot, this is an all-purpose bot that can be used for many things, such as managing roles, administration tasks, and moderating comments. Probot is an all-rounder for any moderation in your server, or if you wanna, use it as a music player.
Check Probot
---
Also Read: