So, you are a music lover who has spent a long time with your old janky headphones that are no longer in usable condition and want to upgrade them, or you could be someone who is sick of using poorly sounding headphones and now planning to try out some headphones that your ears love, you have landed to a perfect spot.
Well, I have tested numerous headphones in different budget segments, so in this article today, I will share my handpicked list of some of the best headphones under 5000 that you can buy in India.
+1000 Buyers Get Their Next Headphone From Our List, Every Month. We update this list weekly so that you will get the latest and best headphones from the Indian market. Still, if you need any help, we are available 24/7 on our YouTube channel, Facebook, and Instagram.
These are the best headphones under 5000 Rs in India that you can buy right now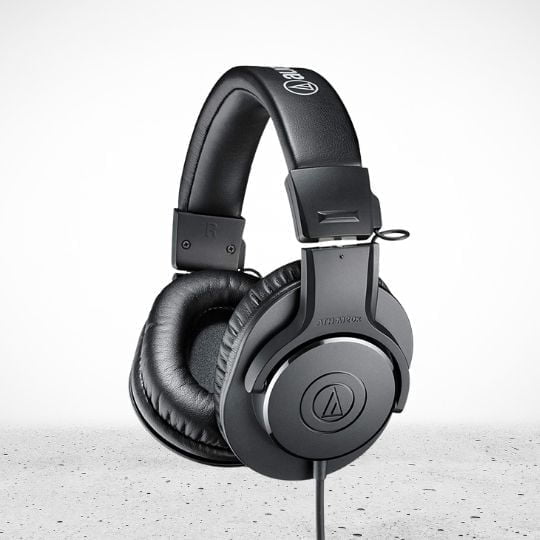 Well, Audio-Technica is a brand that everybody in the music industry loves. Don't feel dumb if you haven't heard their name before. It is more of a professional audio equipment maker that mainly has audio professionals as its target audience.
The Audio-Technica ATH-M20x is a professional-grade studio monitoring headphone, and it features a pretty neat and minimal design with no extra unnecessary design elements. The whole headphone comprises premium-grade plastic, giving it an overall premium look. They look bulky but still manage to weigh under 200 grams, which is pretty impressive compared to the other available options in the market.
Like most other studio monitoring headphones, ATH-M20x is also very comfortable. They can be worn for long hours thanks to their soft cushioning that offers good comfort to your ears and decent isolation from outside noises.
These headphones have 40 mm drivers that produce a good sound. The audio reproduction is incredible, and you can even say that the audio is pretty neutral sounding, which is what studio monitoring headphones are known for.
Now, let's quickly solve the next obvious question that comes to your mind, "Well, Prateek! We are casual users and no professionals; why would you suggest a studio monitoring headphone to us?"
The studio monitoring headphones are designed to be neutral and accurate. These headphones have an extensive frequency response and very low distortion, making them best for audio professionals and people who like to enjoy the music the way it is, and to be honest, I am one of them.
I think these headphones miss a microphone, as there is no built-in or inline microphone in these headphones, which some people may want. Still, since these are meant for audio professionals, Audio-Technica has not included them.
If you are a bass-head who only likes bass-boosted audio, you should read and find headphones that match your needs.
Show more +
Clear & flat sound definition

Neutral sound

Comfortable earcups

Good treble

Value for money
No detachable cable

Not for a bass lover

No mic
Main highlights:
Type: Wired, Over-Head, Closed-Back
Drivers: 40mm, Neodymium
Frequency: 15Hz – 20000 Hz
Sensitivity: 96dB
Impedance: 47 Ohms
Mic: No
Weight: 190g
Lowest Price (Update: 30 min ago)

---
Oneodio Pro 50 and Pro 30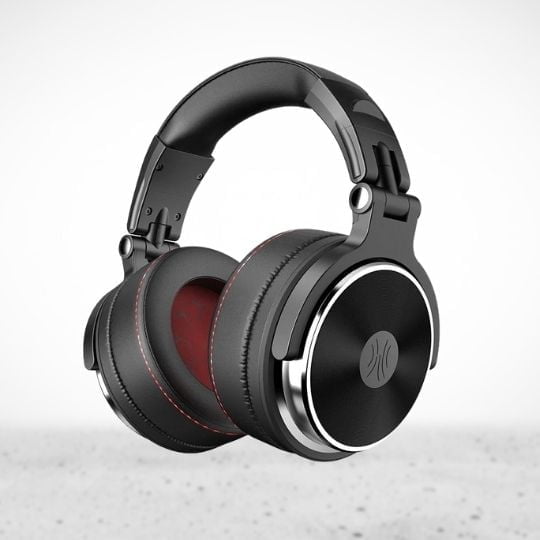 Now the second headphone on our list of best headphones under 5000 is the OneOdio Professional 50 and 30, similar to the ATH-M20x and also falls in the studio monitoring headphone category. However, a few key differences make it a good choice for you.
The first thing to notice about these is their looks. These are probably some of the best-looking headphones in this price segment. I have reviewed a few headphones from Oneodio in the past, and one thing they have in common is that they always manage to win my heart with their good build.
These headphones have very comfortable memory foam cushioning and big circular cups that can be swirled horizontally for up to 90 degrees and vertically for up to 180 degrees, making them easily portable and comfortable for long hours and a good choice for frequently traveling folks.
These headphones have two audio jacks, one 6.5 mm jack and the other a 3.5 mm jack, for which you will also get two cables, which means you can use any of them at your convenience. The 3.5 mm cable also has an in-line microphone that lets you directly take calls and meetings without switching to a secondary device.
Now, you might be thinking, what about the sound quality?
These headphones are powered by huge 50 mm drivers on each cup, making them capable of producing a vibrant and balanced sound. It has excellently tuned mids and highs. The bass output is pretty decent as well. Yes, the bass is not boosted, just like the ATH M20X, so I would not suggest these to bass heads.
Oneodio Pro 10 Review Detail Review.
On Youtube: https://youtu.be/QZmXNMJ_yOE
Show more +
Stylish design and decent build

Comfortable Fit

Crisp Highs and Deep Bass

Good accessory set

Value for money

Detachable dual-way cable
A little bit of harsh treble
Main highlights:
Type: Wired, Over-Head, Closed-Back
Drivers: 50mm, Neodymium
Frequency: 20Hz – 40Khz
Sensitivity: 110dB
Impedance: 32 Ohms
Mic: No
Weight: 190g
Lowest Price (Update: 30 min ago)
Pro-50
Pro-30
Pro-10
---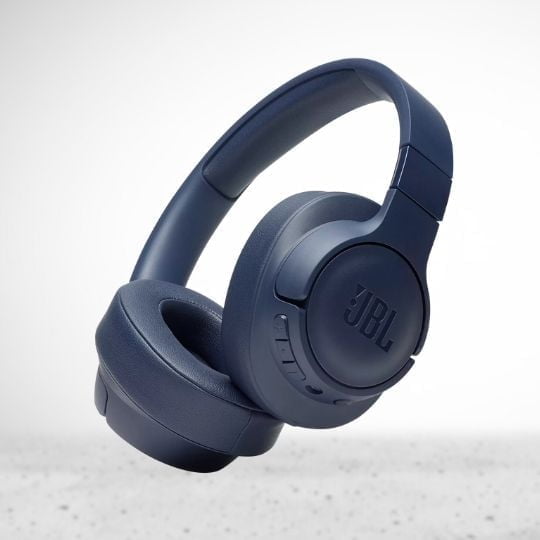 Now that you are here, I assume that the first two headphones were not your cup of tea; hence, this headphone is pretty different from the above two and will make more sense to casual users.
The JBL Tune 700BT is Bluetooth 4.0-powered headphones by JBL. These headphones can also be used with an AUX cable, which I like to use on my computer when I play games, as gaming on a BlueTooth headphone could be a big mess.
The headphones follow a minimal design with an all-black body, giving them a premium look. It has cushioning all over it, especially around the cups, making it comfortable for long hours. The good part is that it has all the controls integrated right into the earcups, making it extremely handy to change tracks or control the volume. The built-in microphone also works nicely, and the quality is decent enough for calls and meetings.
Now, coming to the audio quality, 40 mm drivers power these headphones, and the audio quality would not be an issue. Those bass heads who had to skip the above two headphones because they did not have boosted bass, their search ends right here. The Bluetooth works decently without connection issues and can easily last up to 20 hours at full volume, which is acceptable.
If you want Bluetooth-enabled headphones for casual usage, then these headphones will surely make a good choice for you.
Show more +
Good looking design

Comfortable and lightweight

Good V-shaped audio

Also, support AUX

Quick charging support
Controls are not very easy to use
Main highlights:
Type: Bluetooth 4.0, Over-Head
Drivers: 40mm
Frequency: 20Hz-20KHz
Sensitivity: 102dB
Impedance: 32 Ohms
Mic: Yes
Weight: 210g
Lowest Price (Update: 30 min ago)
---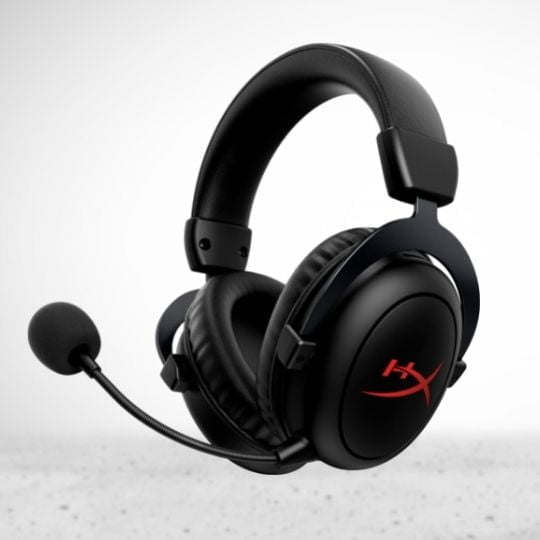 Moving on to our next headphone, we have the HyperX Cloud Core 7.1, which is a gaming headphone. and before you say, "I am not a gamer & this headphone is not for me", I would say you may regret skipping this later on, so carry on reading. It is one of the latest additions that HyperX has made to its Cloud headphones lineup.
The Cloud Core 7.1 looks very premium as the frame is built with high-quality polycarbonate material and aluminum, which feels sturdy once you have it in your hands. HyperX has done a good job of making it comfortable by adding a good amount of cushioning. As the name says, these headphones can offer a 7.1 virtual surround sound experience best suited for gaming. You get an adapter with them that can be easily connected to the 3.5 mm connector and give you a phenomenal surround sound experience. This adapter has some volume control switches and a 7.1 surround sound switch, making it easier to turn it on & off. The adapter is attached to an adequately lengthed cable that gives you enough length to plug into your PC.
Meanwhile, the headphones have a good quality braided cable with a 3.5 mm connector on its other end, making it compatible with most of our day-to-day devices. One thing I like about the cable length is that it is perfectly lengthed as most of the wired headphone cables are very long, which makes it good for PC users, but it kills the fun of using it with your smartphone. The HyperX Cloud Core 7.1 has the perfect length for using it with your smartphone, and when you want to use it with your PC, you can use the adapter to get some extra meters.
Finally, coming on to the audio quality, these headphones come with HyperX signature tuned 53 mm drivers that produce an excellent sound output that makes it good enough for gaming and normal music consumption, which is pretty rare in gaming headphones. The vocals, mids & highs are pretty impressive, and the bass is decent. So if you want a good pair of headphones with good quality audio and like to play games, these headphones are the best choice.
Show more +
Amazing build quality

Good comfort

7.1 all-around sound

Good microphone, Detachable
Main highlights:
Type: Wired, Over-Head
Drivers: 53mm
Frequency: 15Hz-25kHz
Sensitivity: 98dB
Impedance: 60 Ohms
Mic: Yes
Weight: 280g
Lowest Price (Update: 30 min ago)
---
Soundcore by Anker Life Q10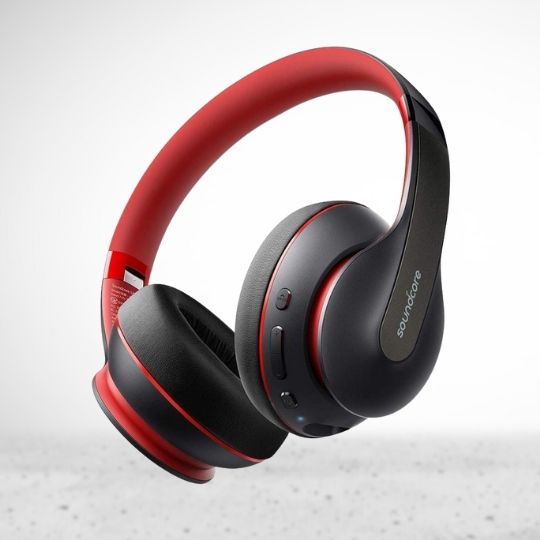 Now, moving down our list, we have one more Bluetooth headphone under 5000, called the Soundcore Life Q10 by Anker. It is the most affordable headphone on our list and has one of the best designs in the segment. These good-looking foldable headphones are made of plastic, making them lightweight. The headphones can be easily folded, which makes them a good choice for folks who like to travel a lot.
The earcups and the headband have good soft cushioning, making it fairly comfortable. One of the earcups has an in-built microphone for you to attend calls and meetings; meanwhile, the other has multifunction buttons for volume and track control. It also has a Bass-up button that can switch between balanced and bass-boosted modes, which I know bass lovers will love.
You get an AUX cable out of the box, which allows you to use it as a wired headphone. It comes with Bluetooth v5.0 support, which is quite impressive at this price point. Now, coming on to the sound quality, the Life Q10 comes loaded with 40 mm drivers, creating a decent amount of sound output. It's not the best on our list, but it is decent, considering its price. The Bass-up mode works great, and bass heads will surely love it; I can bet on that.
The headphones come with a USB type C cable for charging, and in just 5 minutes of charge, it can give 5 hours of backup, which is pretty impressive. Anker claims that it can last for up to 60 hours when fully charged, which is more than enough for daily usage. If you are looking for headphones that you can use while traveling and are comfortable for long hours, then the Anker Soundcore Life Q10 is the best choice.
Show more +
Good audio quality

Amazing battery life

Attractive design

Decent microphone

Comfortable

USB Type-C Charging

Low price
Main highlights:
Type: Bluetooth 5.0, Over-Head
Drivers: 40mm
Frequency: 15Hz-25kHz
Sensitivity: 85dB
Impedance: 16 Ohms
Mic: Yes
Weight: 400g
Lowest Price (Update: 30 min ago)

---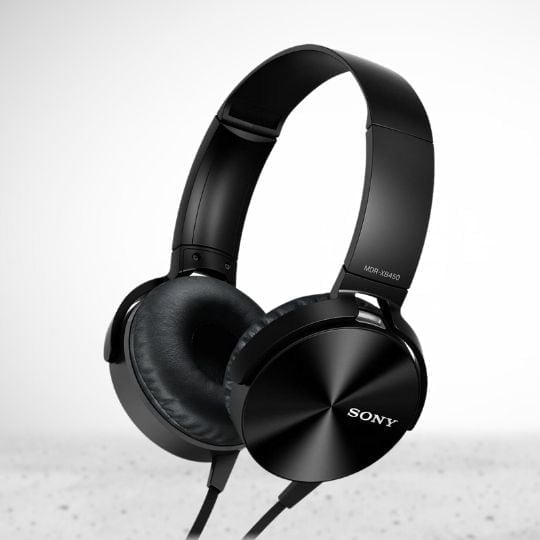 Well, Sony is a brand that needs no introduction, and it has been one of the biggest market leaders, especially in the headphone industry. The headphone we will be discussing now is the Sony MDR-XB450AP, and there is a similar model called the MDR-XB450, which is pretty similar, but the only key difference is that the MDR-XB450AP has an inline microphone that can be used for calls and recordings.
The headphone looks very good and has aluminum earcups with a glossy finish that gives a premium look to them. The headphones are lightweight, making them comfortable, but the headband is made of plastic and lacks cushioning, which disappoints me a bit, but we cannot expect much for the price it is being offered on.
The cups have soft cushioning and are pretty comfortable, but they fall on the smaller side, so if you are someone like me with a pair of big ears, you should look out for better alternatives. These headphones' earcups also house a 30 mm driver with excellent audio output and deep bass notes.
The cable has a convenient in-line remote and microphone to take hands-free calls anytime. It also has a tangle-free wire that is finely ridged. The pivoted design makes it easy to travel and allows you to use a single side without needing to put the whole thing on. If you're someone who needs some headphones that produce a good sound output and that is your only priority, then these could be a good option for you, but if you're someone who needs a headphone that has a good build and comfort as extras, then you should look out for some good alternatives.
Check our Sony MDR-XB450AP detail review.
Show more +
Stylish design

Very lightweight

Decent comfort

Flat tangle-free cable

Extra Bass

Decent audio output
Weak mid-range detail and texture

Average build
Main highlights:
Type: Wired, Over-Head
Drivers: 30mm
Frequency: 5-22,000 Hz
Sensitivity: 85dB
Impedance: 16 Ohms
Mic: Yes
Weight: 400g
Lowest Price (Update: 30 min ago)

---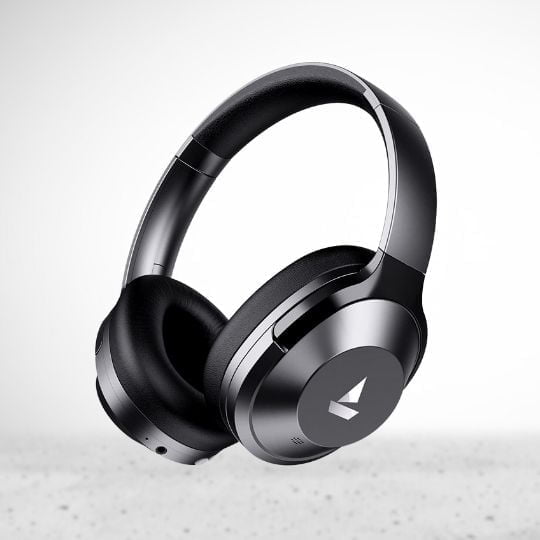 Finally, we have the Boat Nirvana 751 ANC, which I have recently tested out, and I think the list would have been incomplete if I had left these out. So these are not the first Boat headphones I tested out nor the best on our list, but these are surely an improvement over what Boat previously had to offer. It is a Bluetooth headphone with Bluetooth v5.0 support, but you can also use these with an AUX cable that comes with it out of the box.
Check our detailed review of Boat Nirvana 751 ANC
The headphones are beautifully built and have one of the best builds in the segment. Even though most of the headphone body is made of plastic, it still feels sturdy and premium. It has a foldable design with earcups that can be swirled for up to 90 degrees, making it easy to travel. The earcups have a good amount of cushioning and are big, allowing your whole ear to fit inside, and giving you good isolation.
The Nirvana 751 ANC, just as the name suggests, comes with active noise cancellation that can cancel out background noises at up to 33 dB, which works decently. Yes, it is not the best ANC in the headphones I have tested out, but since this list is not focused on the ANC headphones, I would not argue much. Moving onto comfort, one of the major key points of the headphones makes them a good choice for those who have to use them for a long time.
These headphones can run for about 40 hours on a single charge, which is pretty good for day-to-day usage. It also has a built-in microphone that allows you to make calls and attend meetings directly from the headphones. And last, we have to talk about the sound quality of these headphones, which I think is decent as its best. The headphone houses 40 mm drivers that create a decent sound output, which is again not the best I have heard but easily does the job. Boat headphones are mainly known for their signature sound with a bit of boosted bass, which I think they do well. I will not boast much about the audio quality, and yes, I am not a big fan of it, but if you put that aside, the good build and comfortable design make it a good choice in the budget.
Watch Boat Nirvana 751 detail review on our Youtube channel.
Show more +
Good design and build

Comfortable

Decent microphone

AUX support, foldable design
Poor sound quality

Average ANC
Main highlights:
Type: Bluetooth, Over-Head
Drivers: 40mm
Frequency: 20 -20,000 Hz
Sensitivity: –
Impedance: –
Mic: Yes
Weight: 270g
Lowest Price (Update: 30 min ago)
Also Read:
With this last headphone, I would like to end Geekman's list of best headphones under 5000 Rs you can buy in India. Well, I know I am not perfect, so if I miss out on something, please drop them down in the comments. I will try to resolve your query as soon as possible. Thanks for reading.