Xiaomi today launched its new Mi KN95 Mask in India after the launch of AirPOP which was launched in January last year. Mi KN95 Mask comes with the 4 layers of protection with the non-woven material, which is in outside for the filtering particles and innermost layer for optimum breathing respectively. Also, this mask has the two layers in the inner of the mask of melt-blown fabric for the bacterial and small particle filtration.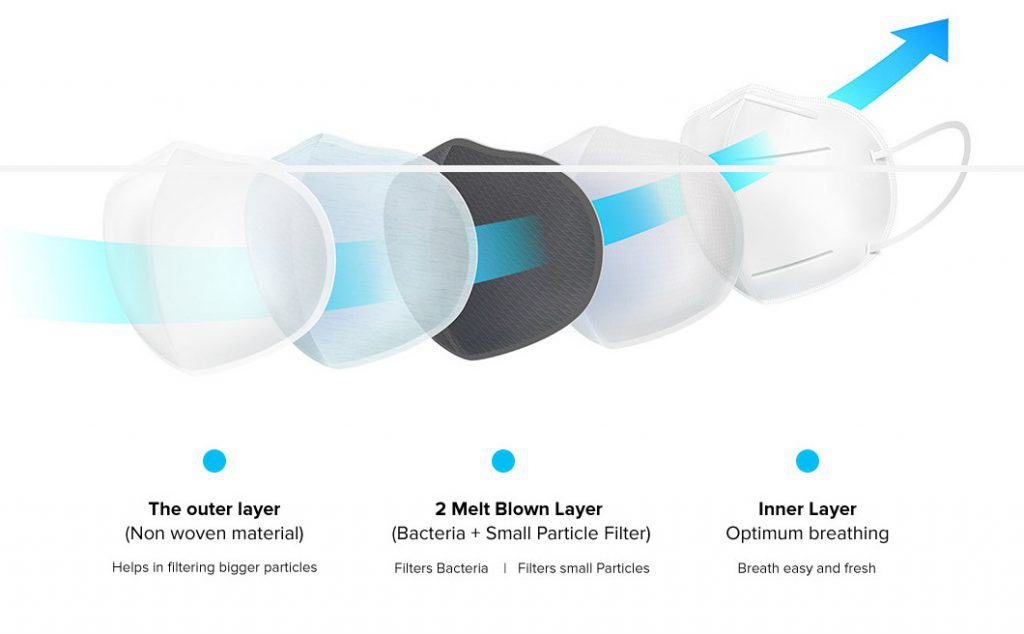 It includes 95 per cent + Bacterial Filter Efficiency (BFE) and also preventing possible particles which might vary between the dimensions 1-5 microns. The mask comes with the 95 per cent + Particle Filter Efficiency (PFE) which prevent entrance of nonviable particles which are fixed in size from 0.1 microns to 1 micron. The micro filtration material also used in the mask which is lightweight, soft and gentle on the skin ensuring that anybody could wear it for long hours.
The Inspiratory Resistance of the mask Mi KN95 lies in the 153.9 Pa and the Expiratory Resistance lies on 137.9 Pa which will provide optimum breathability and offers ample airflow. It also comes with the nose pin for a firm fixture which will help to provide no leakage so that user prevents fogging on the glasses. Also, it has the softer ear loops which make easy to user to wear it for a longer time without the pain around the ears.
Mi KN95 Protective Mask Specs
BFE is greater than 95% that is size equal to or greater than 3-micron meter
PFE is greater than 95% that is size equal to or greater than 0.1-micron meter
Comes with the 4 layers protection
Certification from GB 2626-2019
Easy to wear 10 to 12 hours without any issue.
The price of the  Mi KN95 mask is  Rs. 250  for 2 mask pack and for the  5 it will cost Rs. 600. MAsk will be available at the Mi.com, Mi Homes and Retail stores across India.