Indian smartphone accessories brand URBN recently launched its latest slim-compact power bank with 10000 and 20000 mAH capacity. The new URBN power bank comes with a very affordable price tag, USB Type-C PD support, 18W QC 3.0 with Two-way Fast Charging support, and more. Is the power bank worth the price? Check out the review.
Box Content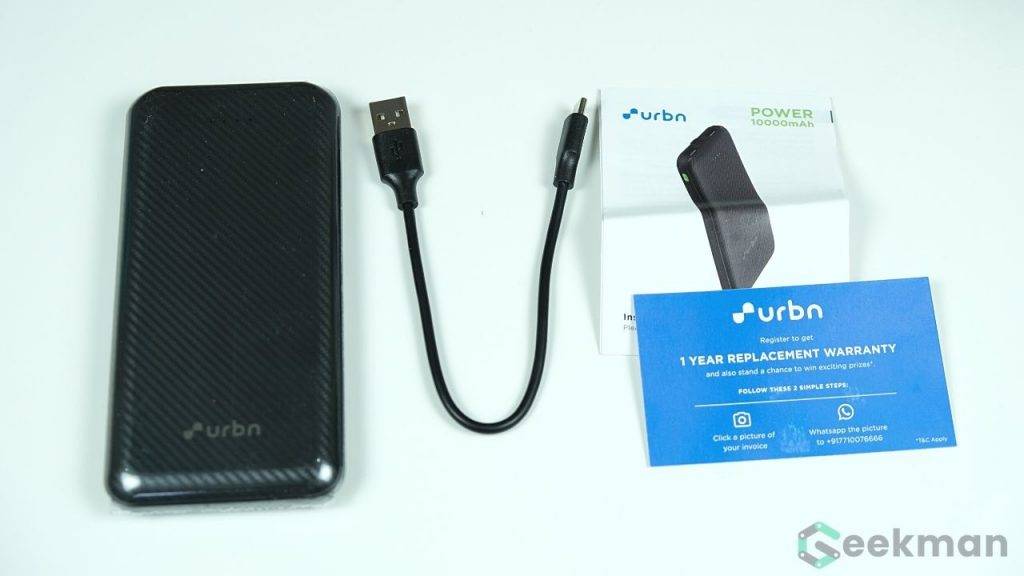 URBN Power Bank
USB Type-C cable
User manual
Warranty card
Design & Build
Starting with the design, the power bank has a slim and compact rectangular design with curved corners and a plastic body. It has a nice carbon fibre texture finish, which looks really premium.
The build quality is decent and definitely justify the price tag. But still, the body can easily be prone to scratches easily, so it is recommended to keep the power bank away from keys and sharp items when you carry them in a bag or pocket.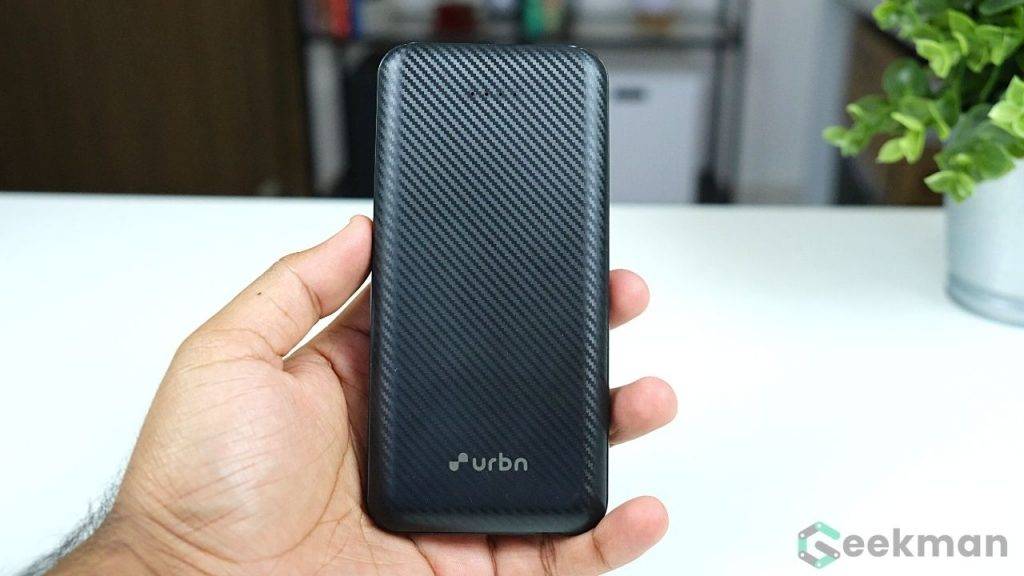 The best thing is that this URBN Power Bank is very slim and compact, measures only 14 x 6.8 x 1.5 cm and 218g bulky, which is very less than most of the power banks with the same capacity. Of course, the 20000 mAH variant is a little bit big and bulky, measuring 14 x 7.2 x 2.7 cm and 355g bulky.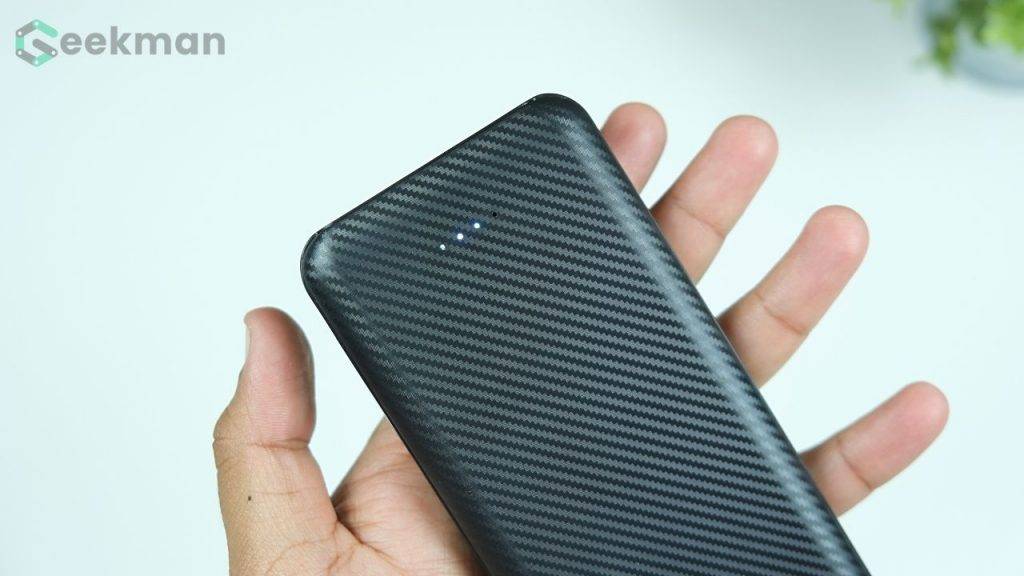 On the front side, there is a minimal URBN branding and four LED indicator light on the top The indicators light blink (one light for 25%, two for 50%, three for 75% and four for 100%) in white colour during normal charging and discharge, but the first LED glows in green while using power delivery or quick charge function for both input and output. There is a battery indicator button on the right side.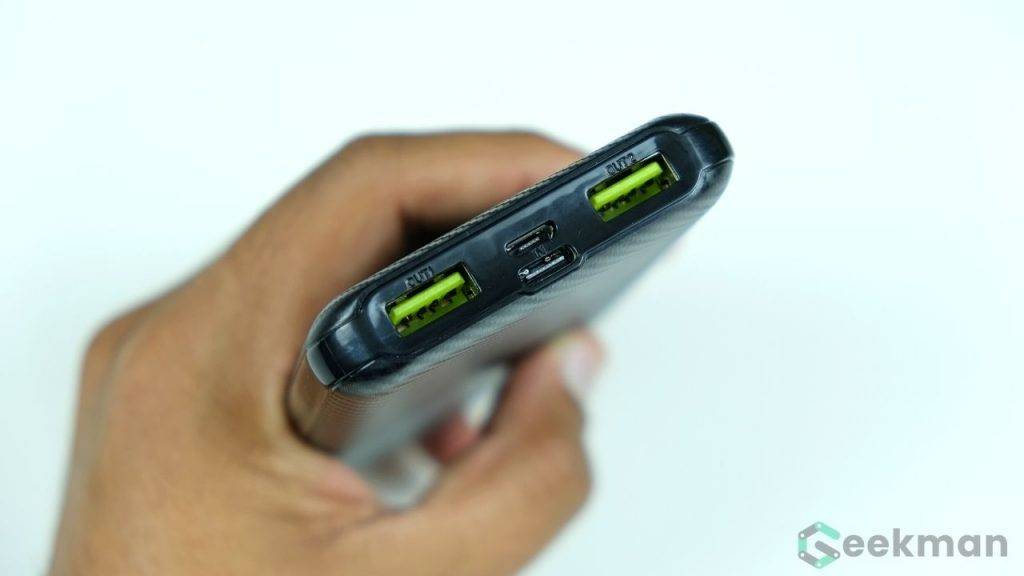 On the top, there are two USB output ports, both support a maximum of 18W Qualcomm QC 3.0 fast charging (5V/3.0A, 9V/2.0A, 12V/1.5A). Next to it is the USB Type-C port which supports a maximum of 18W (5V/3.0A, 9V/2.0A, 12V/1.5A) input and output both, along with QC 3.0 and PD 3.0 support. Yes, you also have a standard micro USB charging port as well (max. 9V/2.0A QC).
Performance
The company doesn't reveal the charging conversion rate of the power bank. But during our test, we found this URBN power bank offer a decent conversion rate same as other power banks with the same capacity (68 to 70% conversion rate). You can easily get 6500 – 6700 mAH capacity with 10000 mAH variant and approx. 14000 mAH capacity with 20000 mAH.
Coming to the charging speed, this URBN power bank charged itself very quickly, with my 18W QC 3.0 fast charger it takes only 2h 30 min to full charge itself. For the 20000 mAH variant, you need approx 4h 30 min.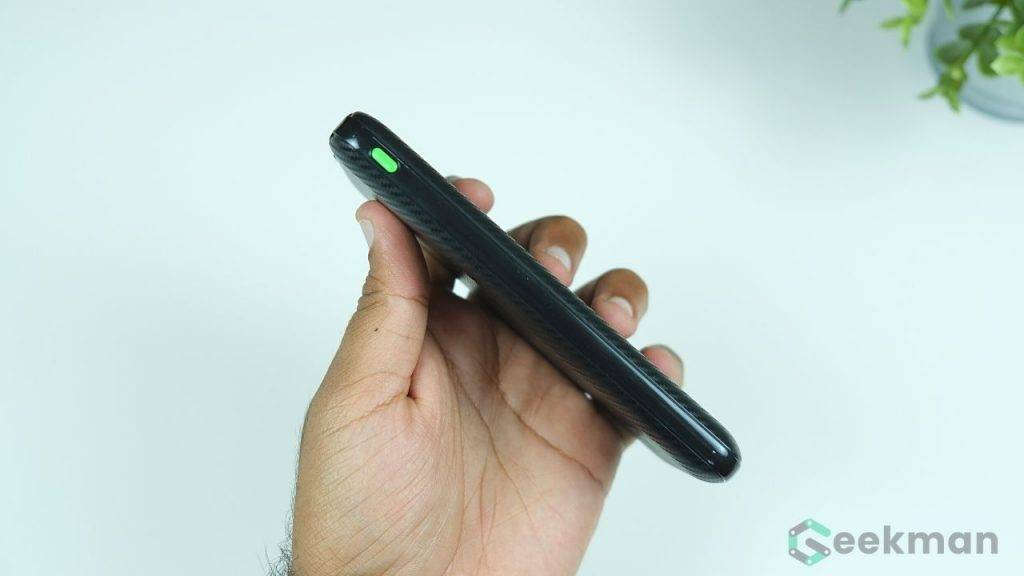 I tested this power bank with my Oneplus Nord and Samsung m51, and I found that 18W QC 3.0 work really well. It takes only 1h 15 min to full charge 3000 mAH battery-powered phone (if your phone support +18W fast charging). It's the average duration and all the 18W QC 3.0 supportive power banks take the same time.
Yes, it also supports PD 3.0 along with QC 3.0, so it can also quick charge your iPhone, iPad and even Macbook with respective speed. Yes, you can also charge other PD power input supportive windows notebooks, as well.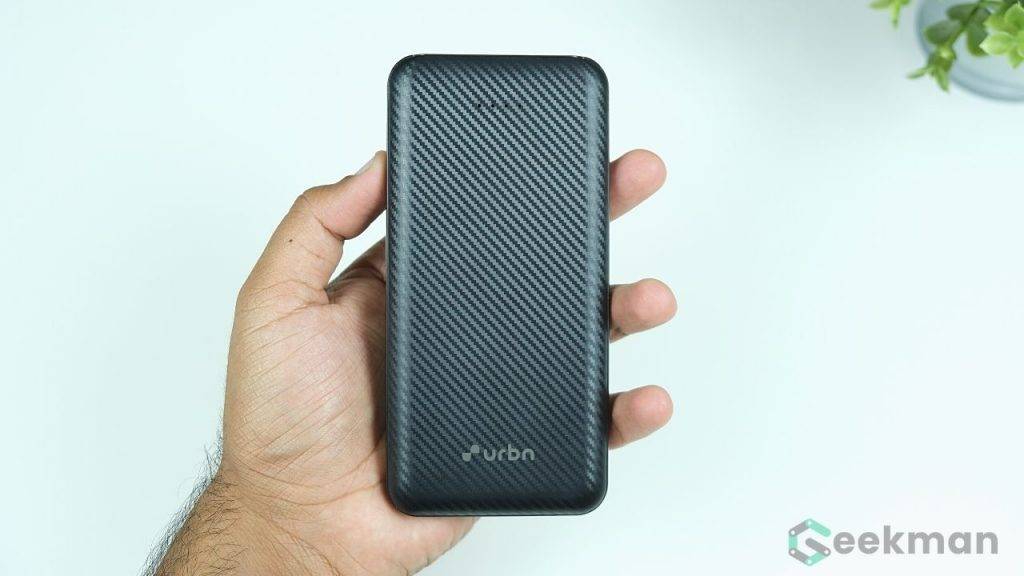 The best thing is that It can automatically recognize the device you plug and offers an ample amount of power required. I like to mention that, the power bank doesn't get heated even after hours of usage. It also comes with 12 layers of safety protection – over current, over-voltage, overcharge, temperature protection and more.
Final Word
Overall this URBN Power Bank is really value for money product and offers all the features that we can expect from the best selling power bank of 2021. And that's why we give it second position to this power bank on our list of best power banks under 1000 Rs. For more info please visit my Youtube channel: Geekman.
FAQ
Can I use this power bank while charging?
This Power Bank support iPhone?
Yes, it supports iPhone, iPad and even MacBook
Can I charge my laptop with this power bank?
If your laptop has PD supportive USB type C charging port, then yes.
What about after-sales service and warranty?
You get a 1-year replacement warranty on this power bank, for claiming the warranty you need to send the invoice photo to the company's WhatsApp number or email id.
Is it compatible with OnePlus phones?
Yes, 100%, with fast charging.